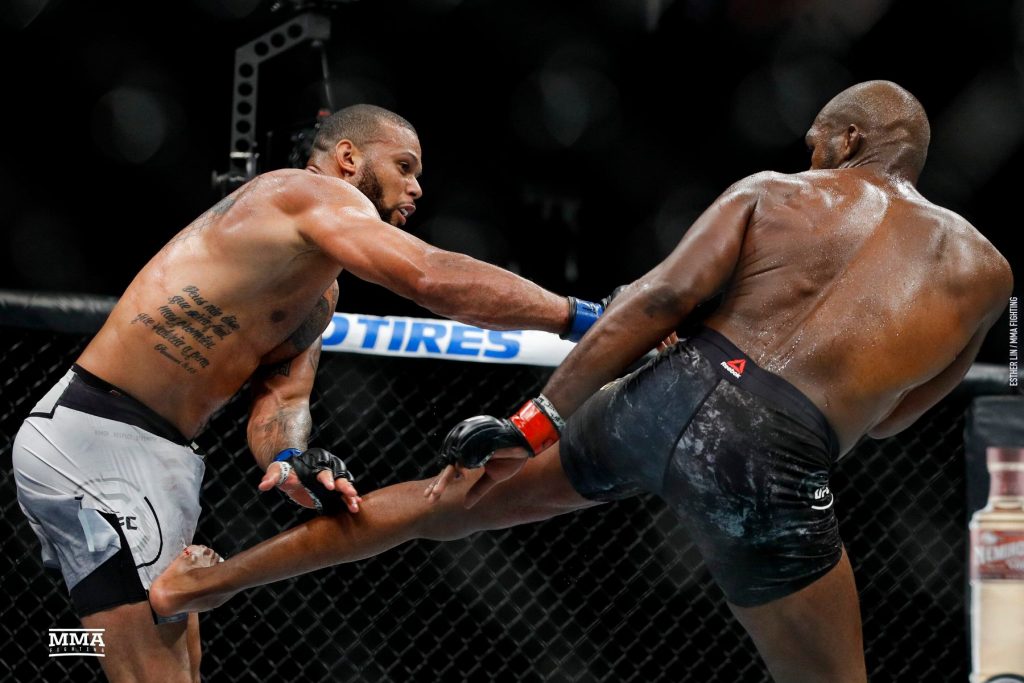 UFC 239 happened in the International Fight Week last weekend with the main card of light heavyweight title on the line, Jon Jones defends his belt against knockout artist Thiago Santos of Brazil.
It was not a fight that rouse up the fans. Santos busted his knees in the 2nd round which slowed him down significantly, but he was still very dangerous when he let his hands go. He was also still throwing hard kicks. Santos visibly looks hurt on the knees but Jon Jones was still very cautious. There was no attempt in take down and basically it was a 5 round kickboxing match. Jones spinning back kick & kick to the knees was very effective in slowing Santos.
Apparently Santos already had knee problems going into this fight. His coach "Tata" Duarte told MMA Fighting .com that their fight camp was delayed for more than one month as Santos knees was being fixed by Heather (Linden), physical therapist of the UFC.
They advised Santos to pull out, but Santos refused. The fight was close but Jones managed to edge out a split decision win. Jones admit to Santos being his toughest opponent with powerful hands & kicks. Jones left thigh was Santos' target in the first round, and Jones needed to be help by his team members as he limped out of the cage.
Jones admit it was a humbling victory for him and when asked on wheter he is interested in fighting in heavyweight against the winner of Stipe vs Cormier, he said he is but he still thinks that there's a lot to do in light heavyweight. He says that there are many new & young talents that is on the rise & he feels that he needs to stay in light heavyweight to solidify his legacy.
Jones also says that Thiago was such a gentlemen after the fight. He told Jones that when he comes to Brazil, he will bring him around & Jones said he definitely will hang out with Thiago anytime.
" I love it when athlete can have respect for each other, because ultimately we are martial artist, and that's what it's supposed to be originally."
pics from MMAFighting.com