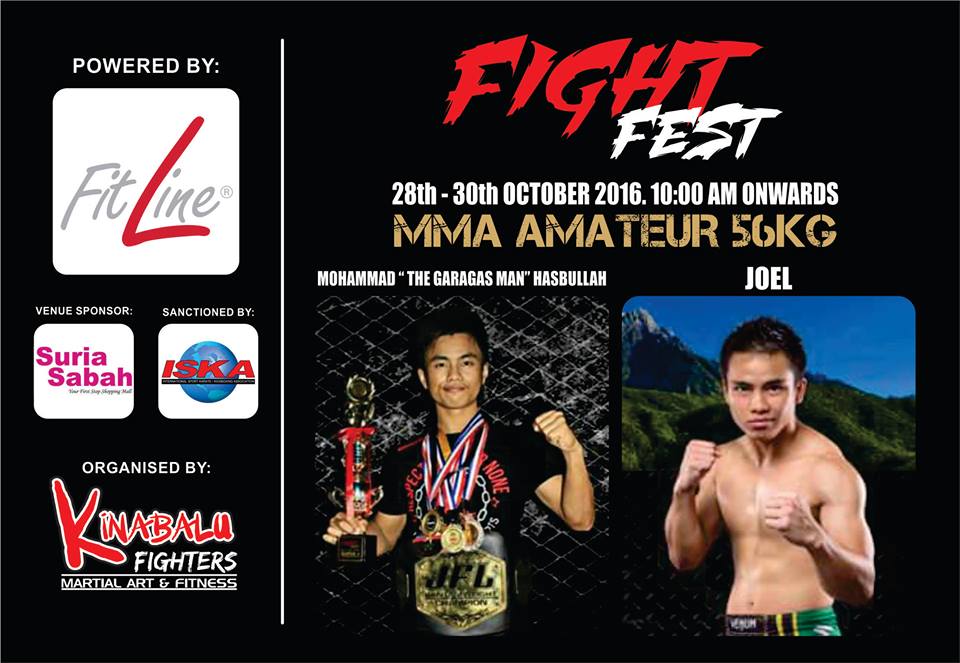 Fight Fest 3 will be bigger this year, as it combines not only fights ( grappling, K1 and MMA ) but also activities from the gaming scene (Cosplay & Console Games). There will also be trade booth from sponsors and retailers from the combat sports and gaming industry displaying and promoting their products.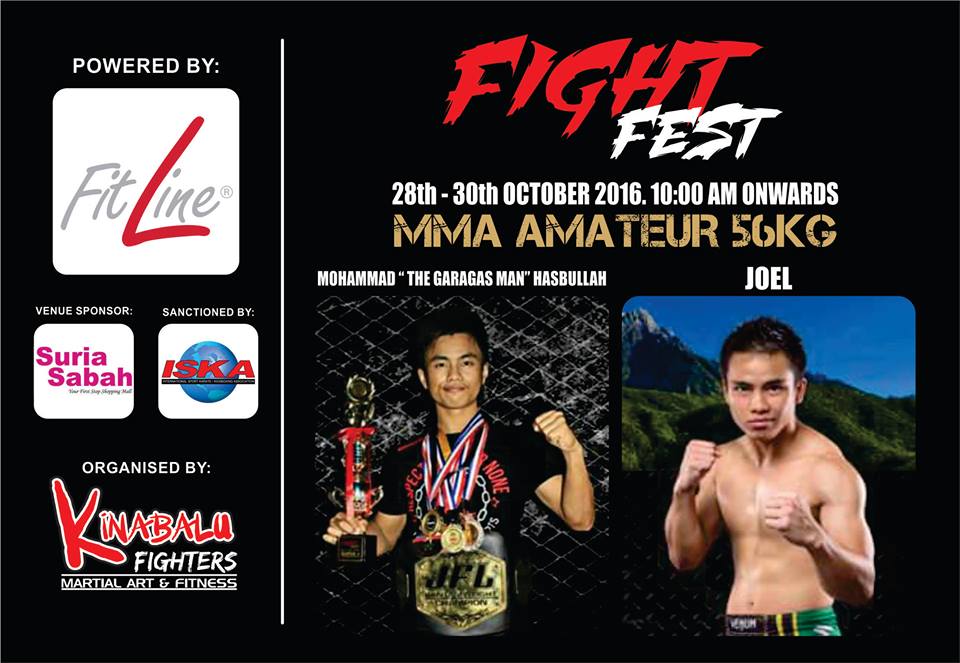 The highly anticipated fight for MMA will be Joel Nickolson Lawrence (Sabah Top Team) vs ( Md Hasbullah Sanmin) in the Flyweight category. Both are looking to capitalised on weight advantage by cutting from Bantamweight.
Joel is an ethnic Sabahan Dusun from Tambunan. He attended Sandakan Vocational College and came to KK to further his studies. Active in Taekwondo since young, he represented Sabah in national level competition and also in the MOHE-UMS International Taekwondo Fiesta.
Joel also does some coaching of Taekwondo under Courage Martial Arts Club. But to continue fighting competitively he began to look for an MMA gym to widen his repertoire, and found Sabah Top Team. Coming from TaeKwonDo background, with a 3rd degree black belt, his footwork is his main weapon. But he has add on wrestling and Luta Livre grappling into his arsenal through the guidance of coach Antonio Battistessa.
This year was he first attempt at MIMMA. And Joel did well and progress to Semi-Finals where he met eventual bantamweight Champion Damon Soo. He lost the fight by submission as his injured knee disable him to counter fast enough.
After a month of rest he signed up for Jesselton Fight League and fought Australian Nathan Hynes, winning by a front choke in round 2. ( check out his JFL fight here below)
Joel acknowledge that Hasbullah is a tough opponent. But he has come well prepared. He is polishing his ground game with Antonio Battistessa with more complicated Luta Livre move and brushing up on his kicks and boxing. Joel is confident that wherever the fight go, ground or stand up, he can dominate.

Md Hasbullah Sanmin, created an impact in 2015. In Sept 2015, He fought in Fight Fest 2 in Citymall. Competing in the Bantamweight super 4, he convincing win with great submission techniques to emerge as champion.
In Jesselton Fight League (JFL) Semi-finals match he went against the odds by winning vs the highly touted Ahmadjon Karimov from Gymbox Kuching. Hasbullah then progress to the grand finals in Oct 2015, and fought a crazy round of war vs Sabahan muaythai specialist, Dean Hamsah to emerge as the winner for the Bantamweight belt.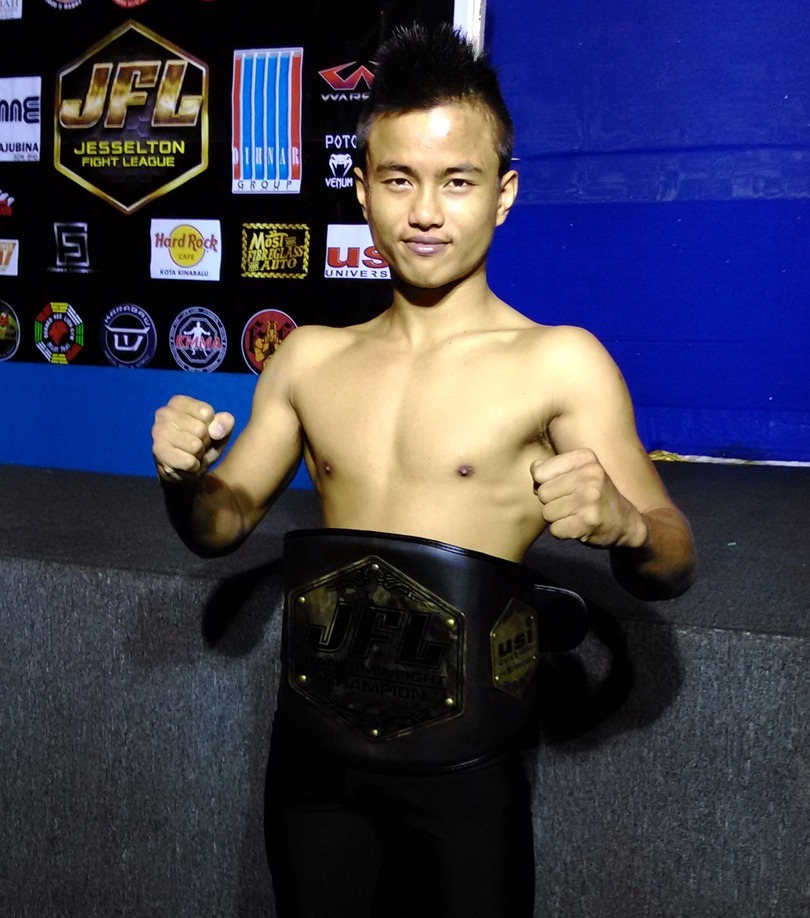 Then he further add to his collection the medals of Bantamweight champion from Borneo Amateur Challenge – Labuan in Jan 2016.
Hasbullah's journey in MIMMA was not as successful as in season 3, he stumbled in the ladder match, but this year he manage to reach semi-finals. Hasbullah explained that in Season 3, his lack of grappling skills was the cost of his lost.
But after that lost, he focus on his ground game, learning earnestly BJJ from Allen Solomon Chong and Luta Livre from his coach at that time Mohd Bakri of Keningau MMA, he also took seminar of Luta Livre from Coach Antonio Battistessa of Sabah Top Team.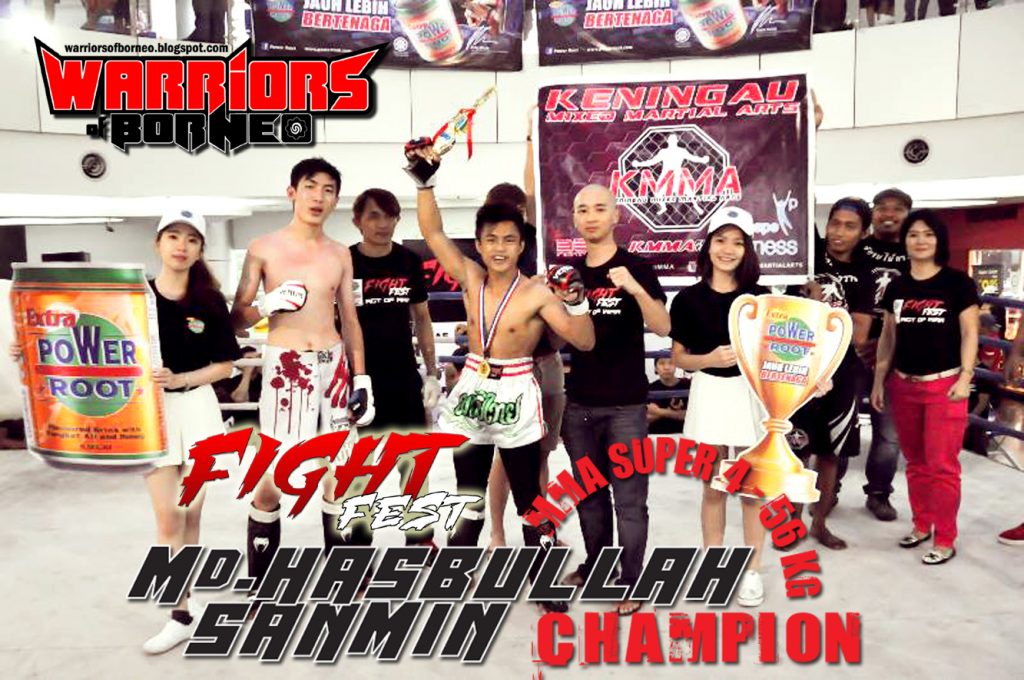 The improvement of his ground game is significant as can be seen from his victory in JFL, and Fight Fest 2. Even though he manage to improve on his MIMMA journey this year, but Hasbullah was not really happy with his performance. As this year he has venture out on his own. He now is in charge of Team karabaw Keningau branch.
Setting up the Karabaw branch, coaching and recruiting new members took up much of his time and he didn't have the time to train for his own fight. But now that Karabaw Keningau is up and running, Hasbullah have more time to focus on himself.
He promise that the old Hasbullah will be back and will put up a show for fight fans to enjoy.

Come and watch Joel vs Hasbullah. It's going to be a action pack weekend , don't miss out Fight Fest 3 at Suria Sabah.