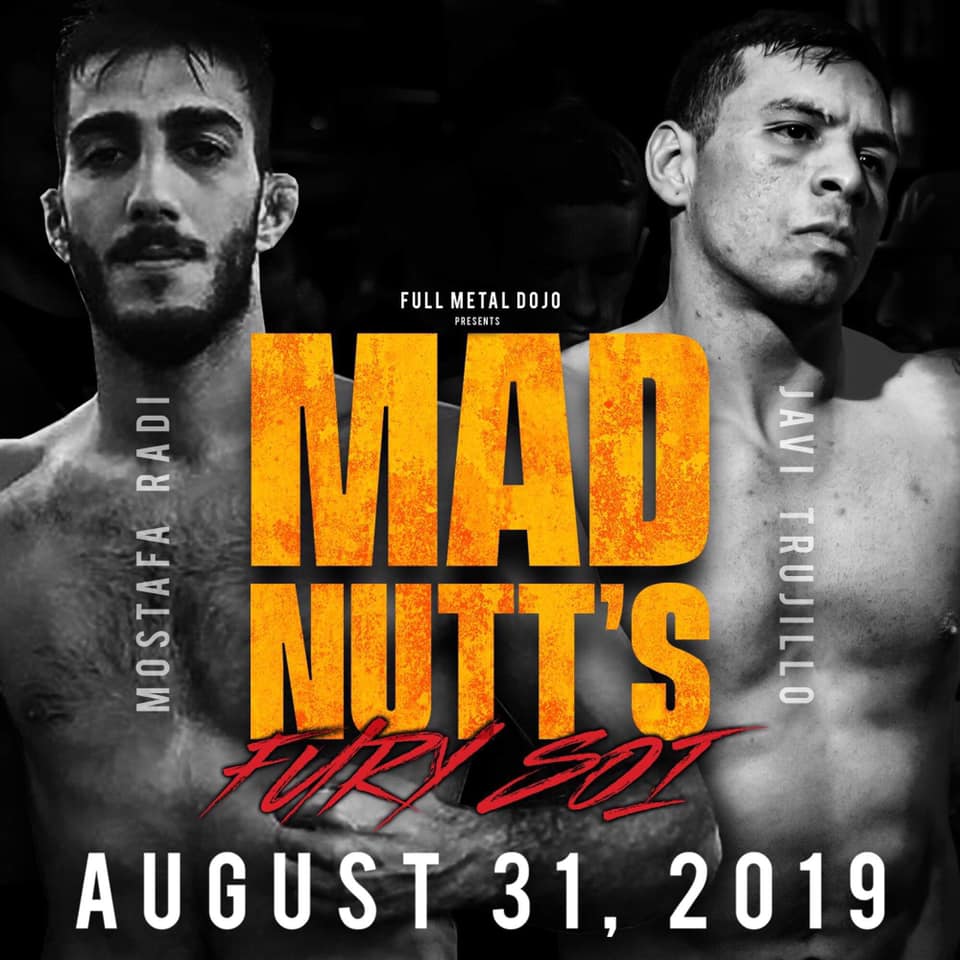 Full Metal Dojo held its first event for 2019, but this time it's presented as MAD NUTT Fury Soi. Held in Insanity Nightclub on 31 Aug 2019. MAD NUTT Fury Soi is a clever play on the name MAD Max Fury Road, Jon Nutt being the founder and head honcho for this and Soi means street or road in Thai. Jon being a fans of 80s action movies always had a theme for his event, which has made FMD a unique combat sports event that has a cult following.
Where else can you get a fight event that started with everyone standing still in respect as Jon Nutt sang the Thai Royal anthem in Thai, having security personnel that wears leather face mask, ring girls that looks like they belong to a Quentin Tarantino flick, referee with face paint on. The club setting enable crowds gets to feel the action much closer as they hear the grunt of the fighters and the impact of each strike clearer and bone clashing, perhaps even get a little splash of sweat and blood if you are close enough.
Even though MAD Nutt is a FMD spin off event, there was many preview video to hype up the bouts. See some of it here:
Originally MAD Nutt Fury Soi had 9 fights on the card, but a few withdrawal saw 7 bouts contested.
Below is the full results: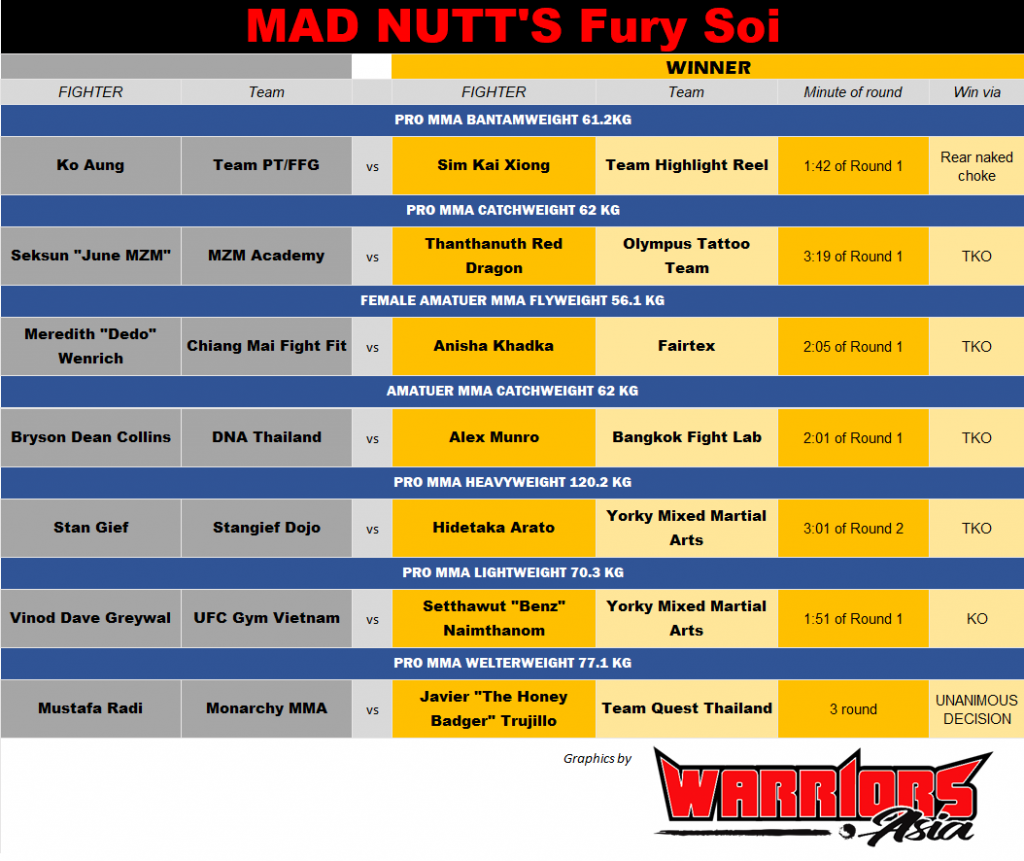 Fight 1 Pro MMA : Sim Kai Xiong defeated Ko Aung by RNC at 1:42 of Round 1. Ref : Kim Lee Tan.
This is both fighter's pro MMA debut. Ko Aung has superior striking experience being a Lethwei fighter, but Sim's grappling skills nullify all that advantage as he dominate the fight on the ground. From a perfect double leg take down to side control and progress to take the back for the rear naked choke finish. Sim is only 22 is currently studying at Singapore's Nanyang Technological University, year 2 in Sports Science and Management, but Sim has his eyes on gold and wants to go to the highest level possible for his MMA career.
Fight 2 Pro MMA : Thanthanuth Red Dragon defeated Seksun June MZM via TKO at 3:19 of Round 1. Ref : Adam Kayoom.
'Red Dragon' uses his 7 fights pro MMA experience to win with ground and pound on Seksun whom is debuting as a pro. Please some brand out there, sponsor these two proper fight shorts. Commentator got confused for a short while as both fighters wear red glove, only the tape colour was different. Would be nice to have the glove in different colour too as both fighters are full of tattoo looks similar skin wise.
Fight 3 Amateur MMA : Anisha Khadka defeated Meridith Wenrich via TKO at 2:05 of Round 1. Ref : Kim Lee Tan.
Nepalese Anisha first fight but she does not fight like a newbie. Exerting her domination with good ground game, mounted Meridith to shower down ground and pound for the win. As for this fight, the Diesel Diva rash guard wear by both is exactly the same. In my opinion Diesel Diva should have sponsor different colour /design to showcase their product more.
Fight 4 Amateur MMA : Alex Munro defeated Bryson Collins via TKO at 2:01 of Round 1. Ref : Adam Kayoom.
An exciting bouts as both were aggressive and goes for the kill. English teacher Alex with his Muaythai experience got a good clinch and threw a couple of knees to Bryson's right rib. The fourth one was the killer move as it drop Bryson & ref stepped in to stop the fight. Westerner always says we Asian looks the same, but I think Alex looks like Al Iaquinta…and they are both from New York!
Fight 5 Pro MMA : Hidetaka Arato defeated Stan Gief via TKO at 3:01 of Round 2. Ref : Kim Lee Tan.
One of highly anticipated fight dubbed as Street Fighter's Sangief vs E-Honda. Both debut as a pro here but in FMD rules where knees to down opponent, 12 to 6 elbow and soccer kick are allowed. Stan Gief came in for the kill with flurry of punches. Hidetaka ate many good shots, he seems to like it and came forward for more. "What do I need to do more to KO this fella?" this must have gone through Stan Gief's mind. As Stan Gief looses steam, it was Hidetaka's time as he connect with a few good shots. The last 2 minute of round 1 was spend with Hidetaka with side control giving his all trying to put away Stan Gief, but Stan Gief survived by the bell.
In round 2 again Hidetaka was on top, this time in crucifix position. He must have landed more than 20 short elbows on Stan Gief's left temple. Stan absorbed another 20 or so knees on the right side of the head! Ref seen more than enough and stepped in to stop the assault. I think Stan head is made of Vibranium, he didn't pass out, still able to sit up right after fight was stop.
Never doubt a fighter with dad bods. At 31 year old Hidetaka, a black belt in judo with a judo record of 48-13 lives in Bangkok Thailand and is one of the owners of the infamous Japanese restaurant chain Shakariki 432.
Fight 6 Pro MMA : Setthawut Benz defeated Vinod Dave Greywal via KO at 1:51 of Round 1. Ref : Adam Kayoom.
Vinod enters FMD cage for the 2nd time and we've seen how much heart he has in his last FMD fight vs Javier Trujilo. This time going against Benz of Yorky MMA, it was Vinod with the cage pressure in the first minute. Until they separated and Benz let's his hands go to end the fight.
Benz is only 22, but already holds an impressive 17-1 amateur record and 4-0 Muay Thai Record. He was also MFC MMA tournament champion & now improved his pro MMA record to 2-1. His coach Nicholas Lee believe this young kid is going to be Thailand's breakout MMA star and a potential to be Thailand's future world champion in MMA.
Fight 7 Pro MMA : Javier Trujillo defeated Mustafa Radi via UNANIMOUS DECISION. Ref : Kim Lee Tan
With 6 finishes in all the early fights, expectation for the main card to not go the distance was high. But both this two elite fighters are tough to finish.
In Round 1, Javier got Mustafa in a kimura, but Mustafa survived. Round 2 saw a very tight triangle by Mustafa that locked on for more than 2 minute but Javier amazingly survived it. But it took so much out of him, he looked like a dead man walking back to his corner.
Both fighters were like zombie in round 3. Movement slowed down a few notch as both were exhausted. But Javier succeeded in a single leg take down and a few knees & elbow seals the fight in his favour.
With 70% of the fights ended in round 1, gives crowd plenty of time to party & enjoyed the rest of the night with plenty of drinks, music & dance. Could this be a pre-event for a full fledge FMD event soon before 2019 ends? We still have a few months to go so keep yourself tune in to FMD Facebook for updates.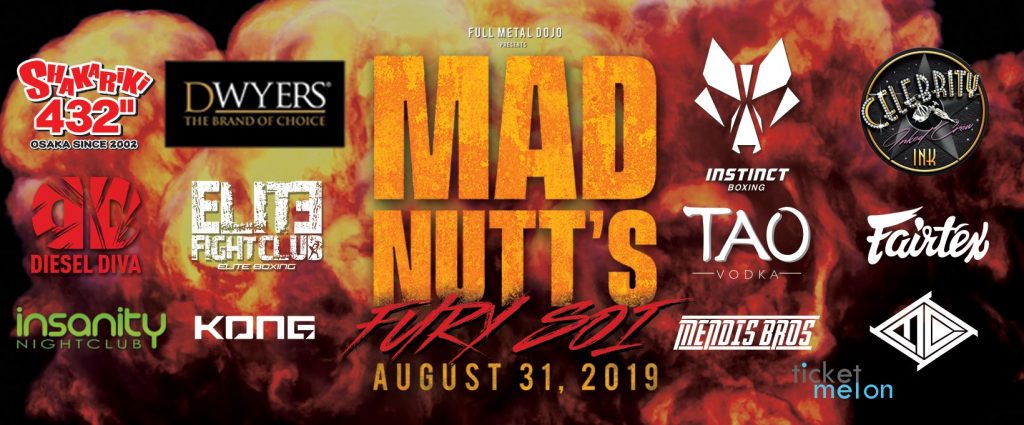 Fight pictures by: Singapore Maven, Pugil Pix, Martial Arts Thailand, and The Clinch Report