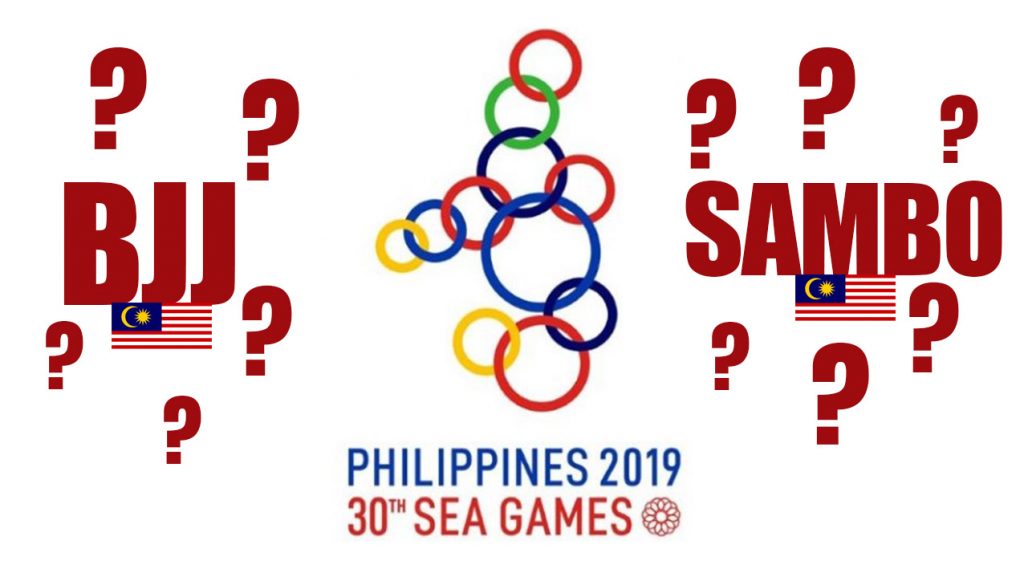 Play sports and you will learn about fair play, team work, build a never give up attitude, among others benefits. Train hard, do well and your results will speak for yourself. But that is not always the case, especially in Malaysia scenario.
Recently Olympic Council of Malaysia (OCM) president in a media interview, revealed that Sambo, Brazilian jiu-jitsu (BJJ), Soft tennis, Kurash, and polo events will not have a Malaysian team in the 2019 SEA Games in the Philippines this November.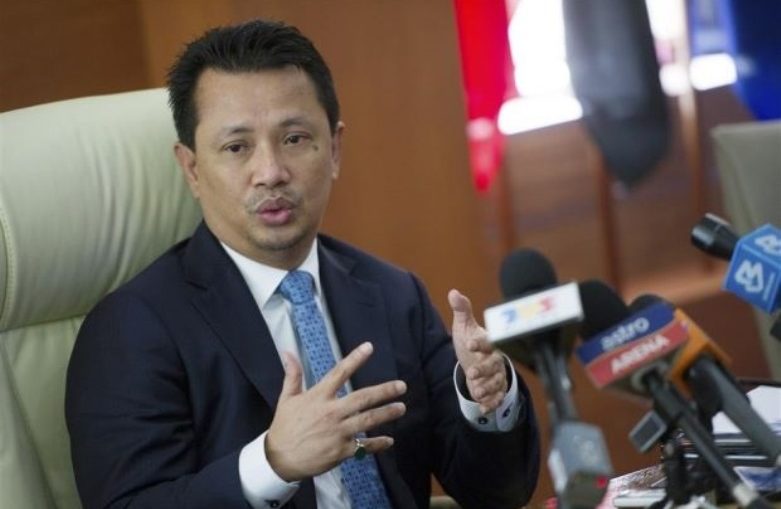 This is very sad news for Malaysia combat sports.
OCM President Datuk Seri Mohamad Norza Zakaria said the associations governing BJJ, Soft tennis & Polo have confirmed their non-participation, which is rather funny as I know there's no national bodies for BJJ, not sure about soft tennis & polo.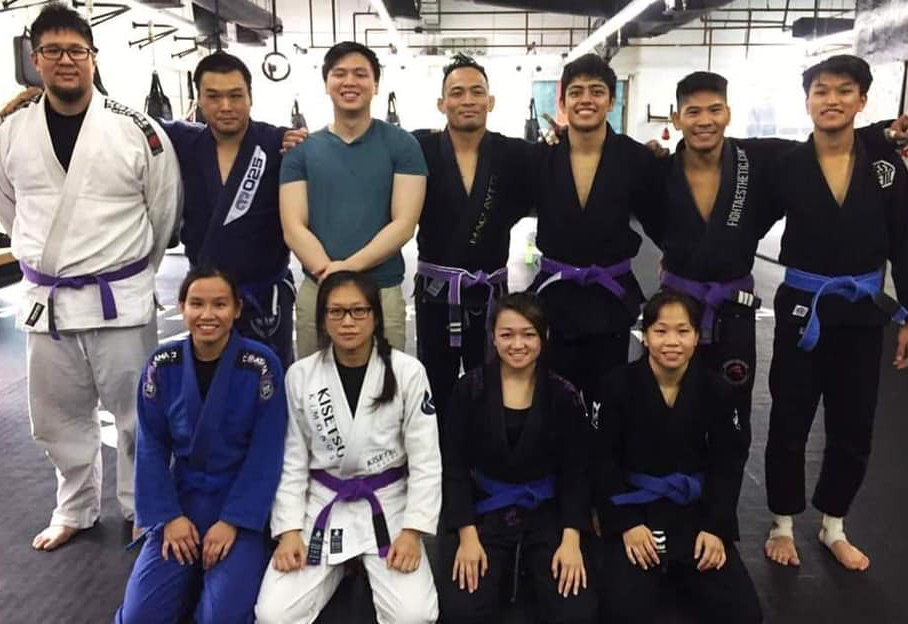 Some top exponent from BJJ just recently held their selection to formed Team Malaysia BJJ, among them are Darren Low – 2x MIMMA heavyweight champion, Cassandra Poyong – Gold Abu Dhabi World Jiu-Jitsu Championship 2019, Damon Soo – MIMMA two weight division champion, Gold medalist in 2019 Dumau Saigon Internationals BJJ. But it looks like no go for them. Even though we have a very talented bunch of Jiujiteros.
It still perplex me that why would the Jiu-Jitsu community organise a selection to pick their best, and then OCM said BJJ confirmed their non participation? Who did OCM talk to?
Malaysian Sambo Association (Sambo Malaysia) is also hard hit by the news.
In a interview with New Straits Times, Datuk Seri Norza Zakaria said:
"At the moment, they are on our KIV (keep in view) list. We have not made a decision.However, based on our decision after our last selection committee meeting, we decided to not send them (for the Sea Games).
"If there are no new development, and if everything stays the way it is, then we will not send them."
A rather conflicting statement don't you think?. KIV,…yet they already made a decision in last meeting?!  hmmmm…
In Norza's opinion, Sambo Malaysia have not done enough in terms of development to persuade OCM to approve their participation for the 30th SEA Games on Nov 30-Dec 11.
"As I have said, we have deliberated on this at the selection committee meeting. They do not have a proper development programme.
"We do not want to send them for a one-off event, if there is no development or involvement by the athletes when they come back.
"This is from the school level right up to the elite squad, we have to consider that.
"If they can convince us that they will strengthen their development programmes, then surely we will consider them, not just for the Sea Games but even for the Asian Games and other major tournaments,"
said Norza to Fabian Peter of NST.
This statement gave Sambo Malaysia secretary general Susan Cheah a big shock! Okay before we see what Susan have to say, let's talk about what is Sambo for the uninitiated. Sambo originated from the Soviet Union. Developed in the 1920s. Translated from Russian literally means "self-defence without weapons". It combined striking, grappling, throws and wrestling, much like what we know as MMA today. For SEA games, Sambo will be competed in the forms of sports Sambo ( no striking ) and combat Sambo ( striking with leg and hand allowed )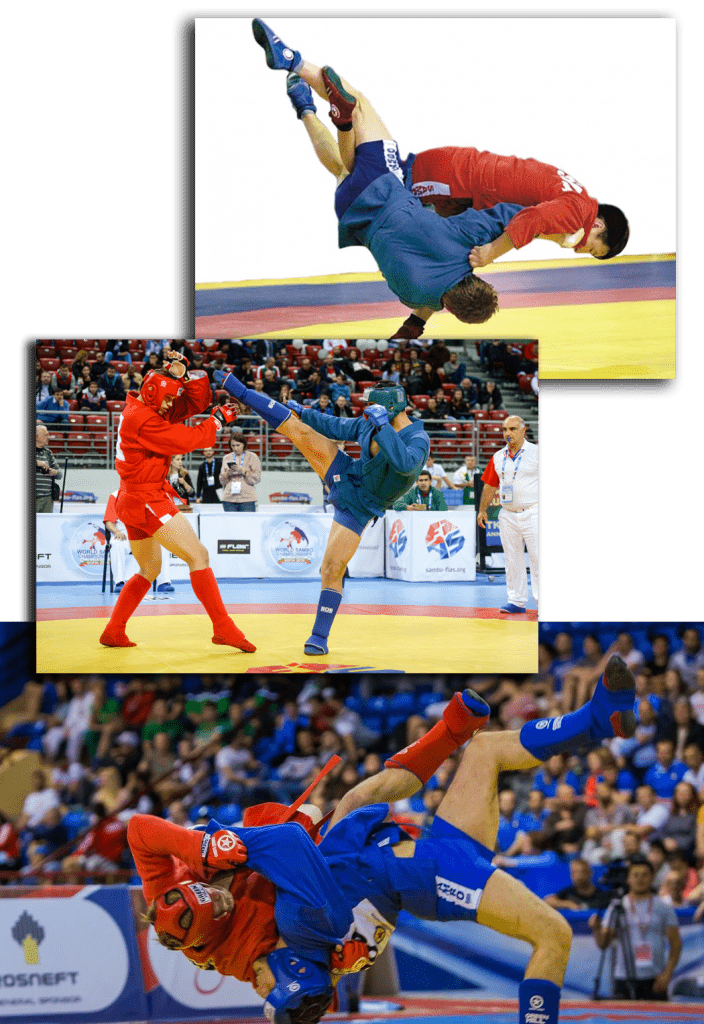 Infact two of the most well known Sambo exponent are, Fedor Emelianenko and Khabib Nurmagomedov. Many considered Fedor to be pound for pound the best MMA heavyweight in the world. Khabib is currently UFC lightweight champion and undefeated in MMA. Both of them develop their combat sports skills from Sambo.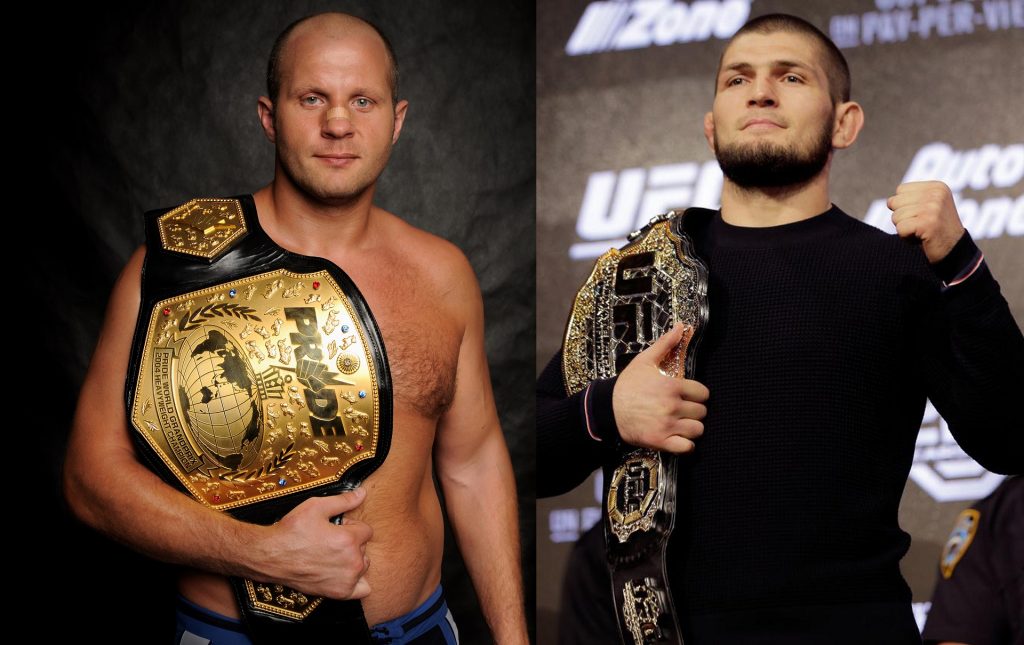 Okay now back to Susan.
Susan said Sambo Malaysia has been around since 2010. They have been active in training and competition. As Susan is from Judo Association of Selangor, the development of Sambo owes a lot to Judokas as they already have a good base in grappling. Sambo present a more exciting style and freedom for them to execute more techniques, hence the many Judokas became Sambo athletes.
The initial start was basically on their pure passion to learn as Sambo Malaysia does not even have a Sambo coach back then, basically the athletes learn through internet Youtube and from each others.
In June 2012, Kathleen Chin Yee Ling from SMK Taman Seraya in Ampang
and Esther Tam, both only 17 returned with a haul of three silver medals from the Asian meet.
Also in 2012, Chew Yen Peng, Kong Sook Yin and Desmund Liew Chien Yuet brought back a bronze medal each at the South-East Asia Open Championships at Bangkok.
In the 1st South East Asia Sambo Championship last year, Yousuff Daniel Bin Fauzi wins a gold. His team mates brought back another 1 silver & 5 bronze.
Most recently in June 2019, in the 2nd edition of South East Asia Sambo Championship, Sambo Malaysia created a splash when Team Malaysia scored 2 Gold, 2 Silver and 2 Bronze medals in Bandung Indonesia.( read my coverage on the event here )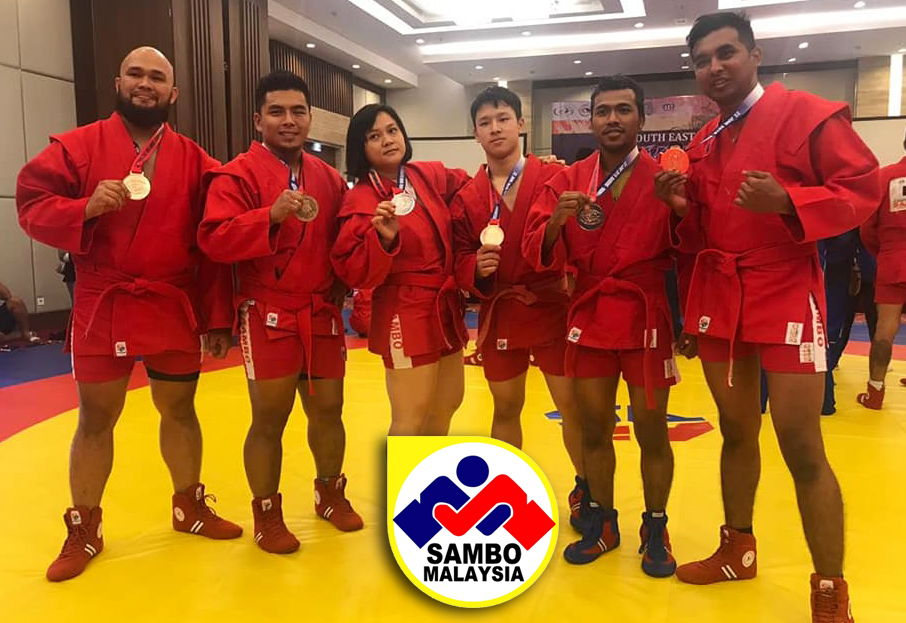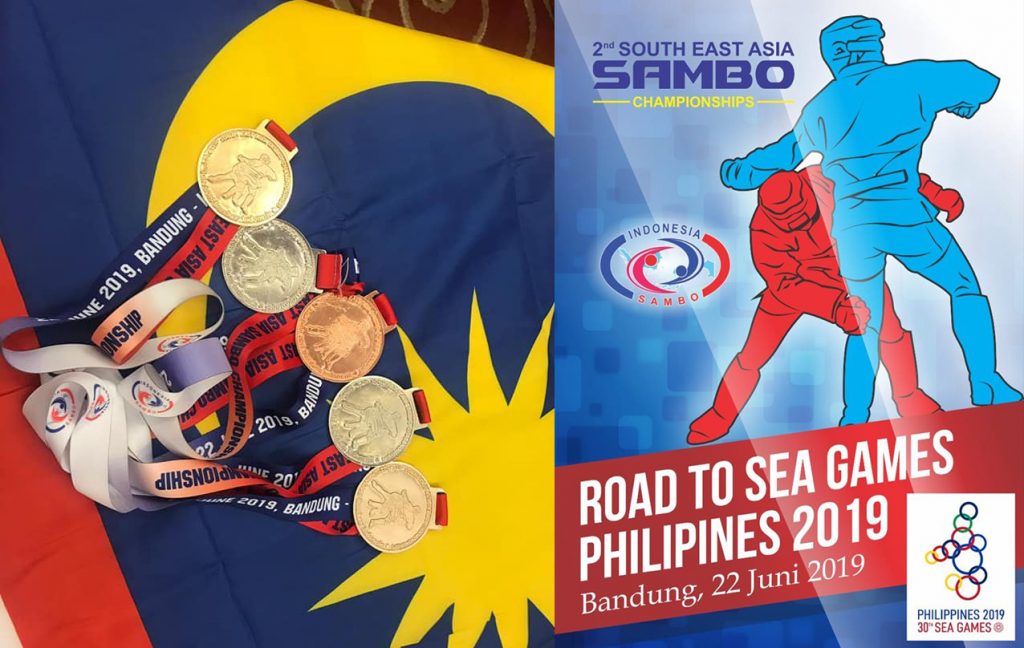 With that latest colourful results, Susan was confident that OCM will send a team to Philipines. But her hopes was dashed by Datuk Seri Norza's statement.
Susan strongly believe Malaysia has a very good chance to bring back medals. She already confirmed Mirage Khan's as part of Sambo Malaysia team. Mirage brings with him tons of combat sports experience, being a former Wushu Sanshou champion, then 2 times MIMMA Middleweight champ and a successful professional boxer.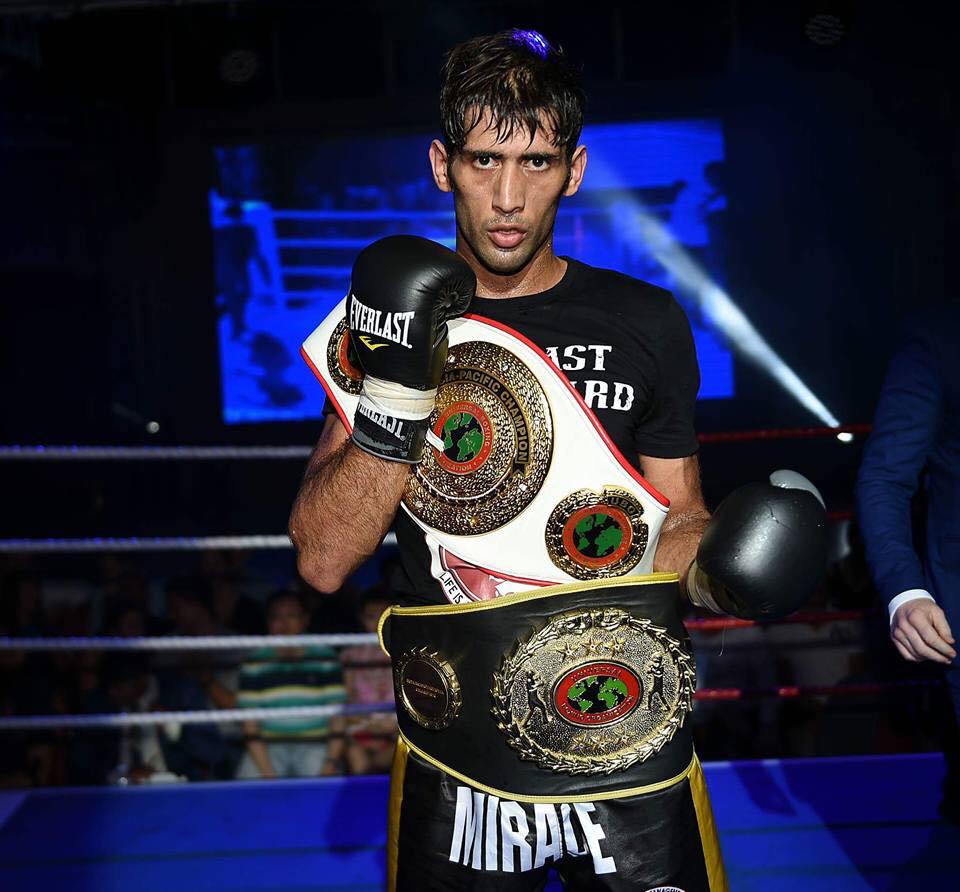 In the team is also 2nd South East Asia Championship gold medalist, Mohd Fakhrul Izzat or more well known as Mok Judo, whom is a former national Judoka and MIMMA season 5 middleweight champion.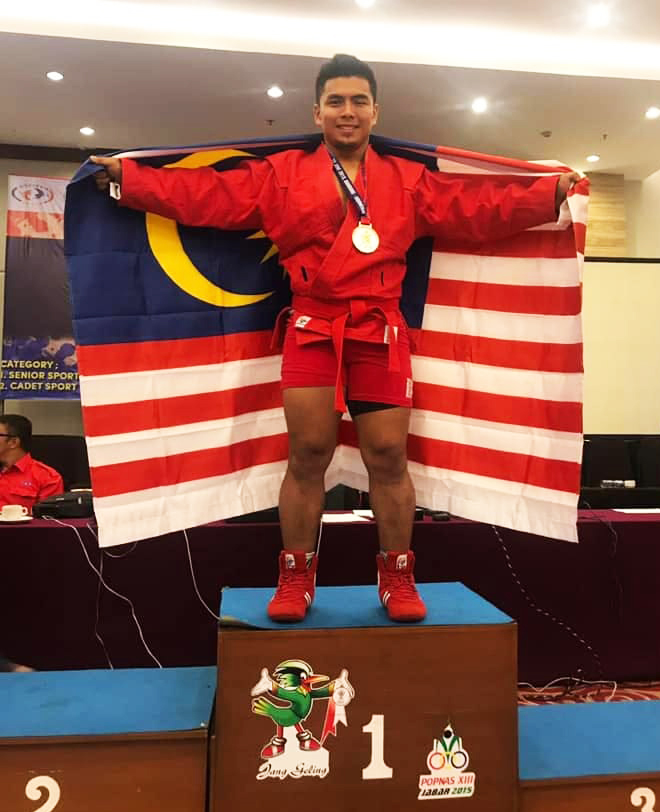 In Philipines, Sambo will have 7 Gold up for grabs. 2 for sports Sambo, 4 for Combat Sambo and 1 for team. In the total of 11 countries participating in SEA Games, only 6 countries will be sending team for Sambo ( 6 if we count in Malaysia )
As the secretary of South East Asia Sambo Union, Susan said she knows the strenght of each South East Asian countries. Hence her confidence that Malaysia stands a very high chance of collecting medals.
Susan said she recalled that Datuk Seri Norza in a statement in January 2019, that Malaysia will send team to Philipines' SEA Games not just for medal prospect athletes but also to build friendship among South East Asia countries through sports. So why are Malaysia not sending a Sambo team when the medals chances are very high and also in the name of sports friendship which can build the sports even further for Malaysia.
For SEA games, athletes under category A are fully funded by the OCM while those in category B fall into two divisions, B1 and B2. For those in B1, the associations representing them have to pay their athletes' expenses in advance, which would be refunded by OCM if their athletes return with medals.
B2, meanwhile, means the athletes' expenses are fully funded by the associations, regardless if they achieve podium finishes or not.
Susan said Sambo Malaysia will send in their fourth appeal to present their case again and Sambo Malaysia is very willing to be in category B, as long as OCM approve them to be part of Team Malaysia.
According to Susan, in terms of development, Sambo Malaysia has put in the works. Come Sept  Sambo Malaysia will send a team to the World Masterships Korea in September 2019. They will be attending a short training camp while in Korea. On 7th-11th Nov- selected Sambo athletes will be participating in the World Sambo championship in Korea.
"This year, we have received our gift from the International Sambo Federation of 2 expensive sets of competition mats, 100 sets of uniforms and 20 sets of combat gis.
For the SEA Sambo Games, we will be sending a female license referee and an ITO ( International technical officer)."
Wow getting free gifts & officials from Malaysia in SEA Games! This to me is a great recognition from International Sambo for their Malaysian partner, looks like foreigner value Malaysian Sambo effort more than our own people.
As a combat sports fans I hope OCM decides in favour of Sambo & BJJ; very much because we have many great talents in BJJ and Sambo that do well in their particular sports, but it also forms a great foundation for athlete to progress to MMA.
Even if we don't have medal prospect, we should send a team as grappling as a combat sports has gain huge popularity lately. We need to feed this interest while its hot so that more people take up the sports.
Philipines is not holding back, they are sending their best to compete. Even roping in Philipines pro MMA superstar Mark Streigl whom will compete in Sambo. Let's hope for a miracle news before the final dateline on 2 Sep, where OCM will finalise Malaysia's full contingent