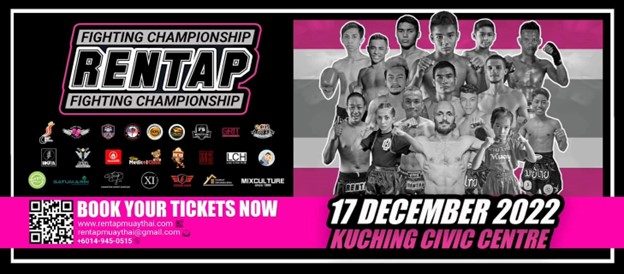 Sarawak is the land of the hornbill. Also the land with the heritage of headhunters tribes such as Ibans & Dayaks. This is also the birthplace of Rentap – an Iban warrior who fought against the British colonialist.
To experience the fighting spirit of the Sarawakians, come to Kuching Civic Center  this 17 DEC 2022, to watch RENTAP FIGHTING CHAMPIONSHIP (Rentap FC)
It's an all day event, featuring Muathai fight (amateur, semi pro and Super Pro)
39 bouts are scheduled. 28 amateur/semi pro which will happen in the day- time. Come night-time, the hi-light 11 Super Pro international fights will be held.
Super Pro fights are privately sponsored, and tickets and tables are going fast. Please check out the availability at https://rentapmuaythai.com/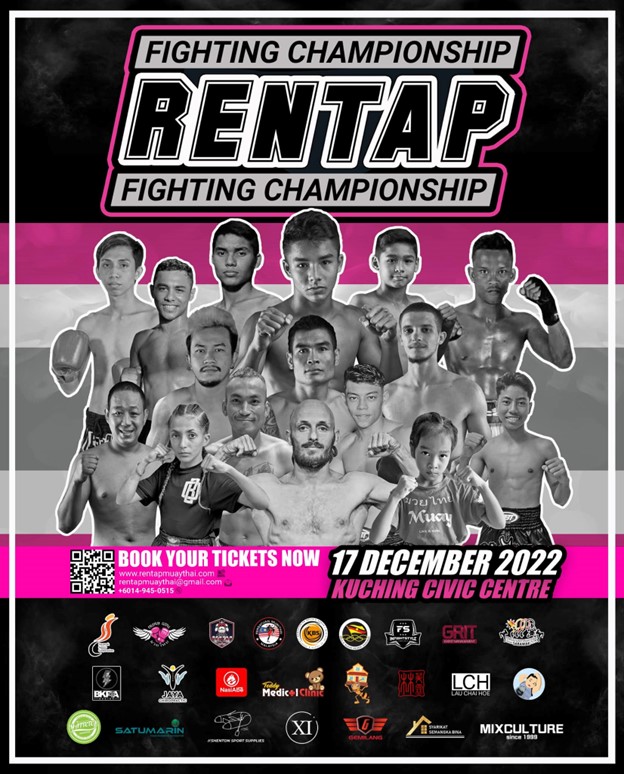 For this 2nd edition, it will be Sarawak vs International fighters. Featuring many top level Muaythai talents of Sarawak. In the 11 Super-Pro fights, the 3 Ghazali siblings will be the top names to enter the ring.
Elias Ghazali, Johan Ghazali & Mikail Ghazali
Their most recent achievements,…
The eldest brother, Elias fought at the famed Lumpinee stadium in the Fairtex Road to One tournament. He won by unanimous decision against Brazil's Jose Viera. For Rentap FC2 Elias will fight Kid Danger of Thailand in 61kg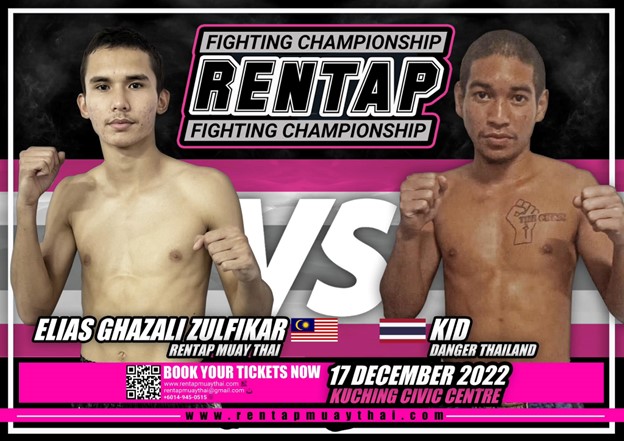 Johan or fondly call Jojo is IFMA World champion and  Malaysia Games (Sukma) gold medallist . He recently fought on Petchiyndee Promotion at Rangsit Stadium and won by 4th round TKO against Runglek So Chaicharoen. For Rentap FC2, he will fight against a French opponent – Nassim in 58.5kg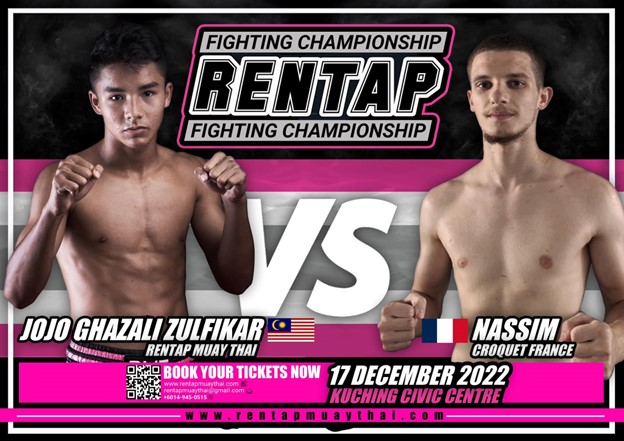 The youngest, Mikail 'Miki' Ghazali fought at Thaphae Stadium Chiang Mai and won by 4th round KO against Petchpaya. This 17 DEC he will face Thai – Kukmanthong at 41kg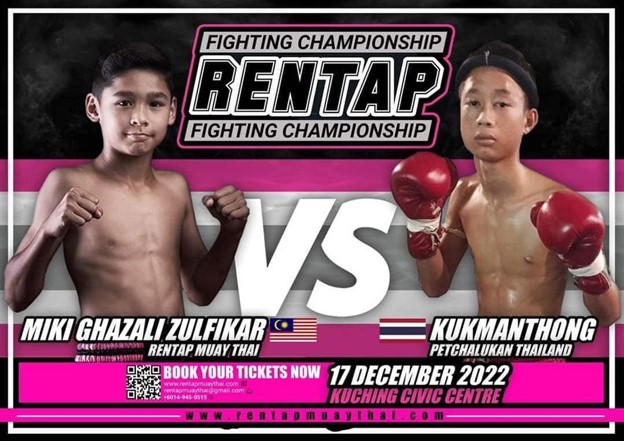 Canadian/Palestinian fighter, IFMA silver medallist and Canadian national junior fighter – Olivia Bahsous whom recently in Rentap FC1 won by 2nd round KO against Thai – Petchjarasding will also be featured in the only female pro fight for that night.  She will be fighting under Rentap Muaythai Gym vs Chumbaa of Thailand at 31kg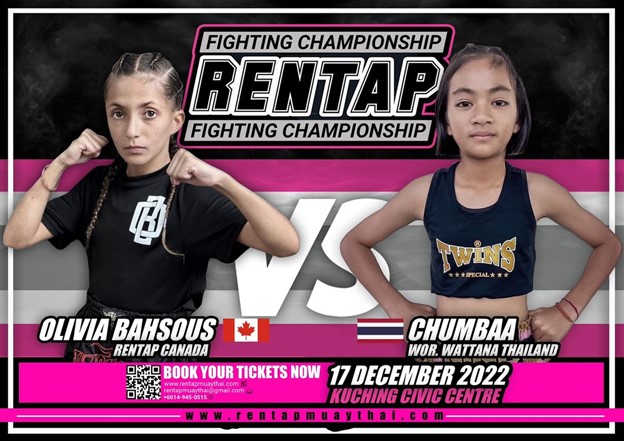 IFMA World 48kg Champion Muhammad Rifdean Masdor will be back to his homeland Sarawak to fight Muengubon of Thailand, this time he will move up to the 51kg category.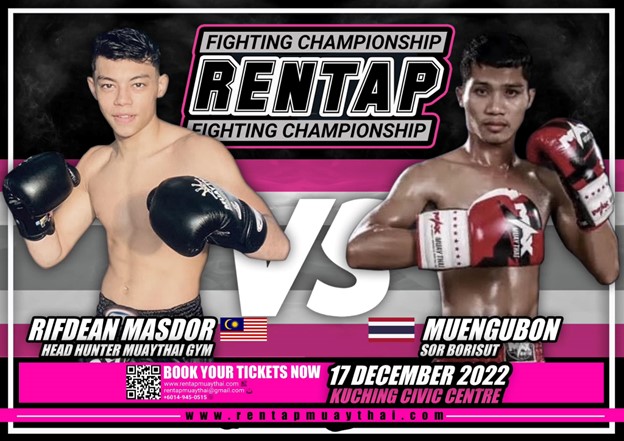 Kabilan Jevelan, SUKMA bronze medalist & 2018 World Kickboxing I-1 champion, a young Sarawakian with Indian & Kayan heritage, whom is serving in the Malaysian Airforce will fight in the 60kg category vs Pong of Thailand.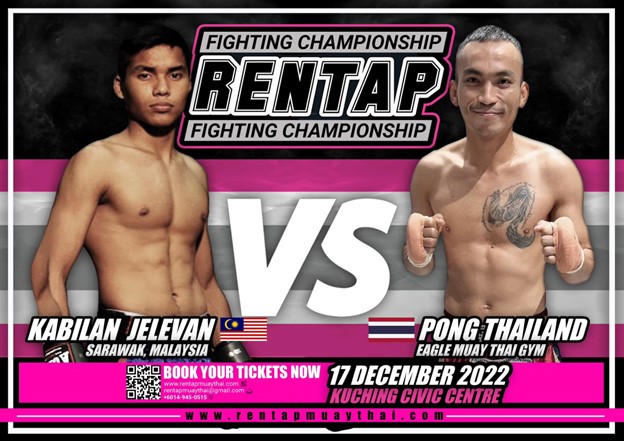 Another Sarawakian with mix heritage of Iban & Indian, Boy Prtasarathee will represent Rentap Muaythai Gym to fight against Leungchai of Thailand.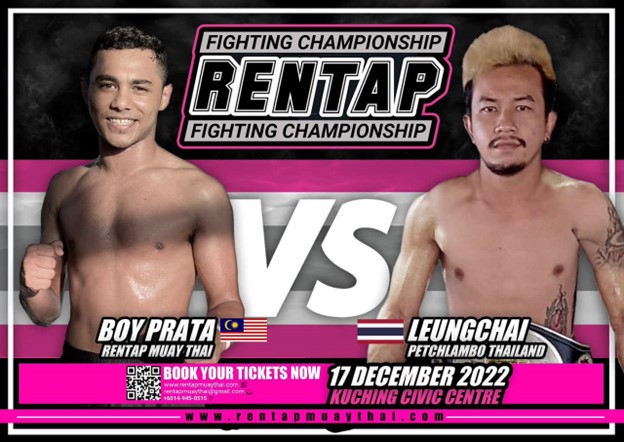 Home boy Aman Koboi , the SEA Games 2019 silver medalist & SUKMA 2018 will take on Wassuf the SUKMA 2019 Champion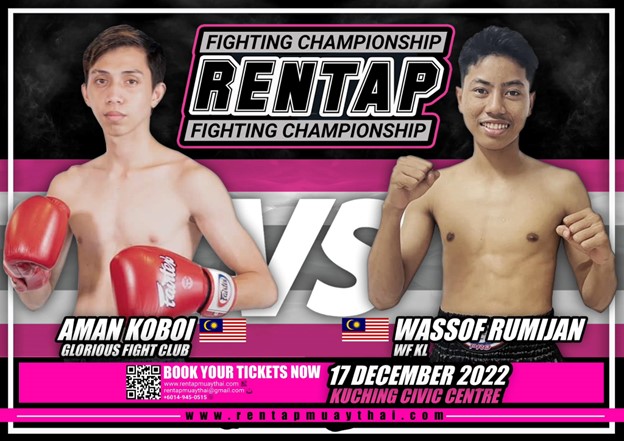 Other Sarawakian feature on 17 DEC are: Cherilyn Chan, Psg Muaythai, Awangku Abdul Rahman.
Rentap Muaythai Gym trainer- Yong, will represent his homeland Thailand to fight against Malaysian Maliki Singa Hitam. And to close the night with a bang, the head coach of Rentap Muaythai himself, Addy Singpayak will enter the ring against Suquet of France as the main event of the night.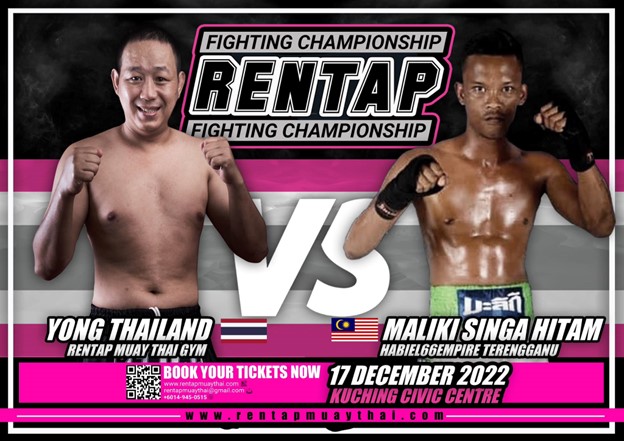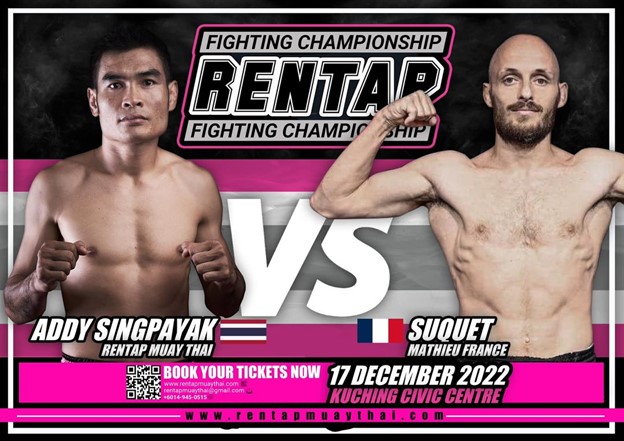 Rentap Fighting Championship (Rentap FC) 17 Dec is the 2nd edition. The 1st RentapFC event was successfully held in June 2022, also at Kuching Civic Center. Total 26 bouts were competed (11 amateur, 7 semi pro and 8 super-pro)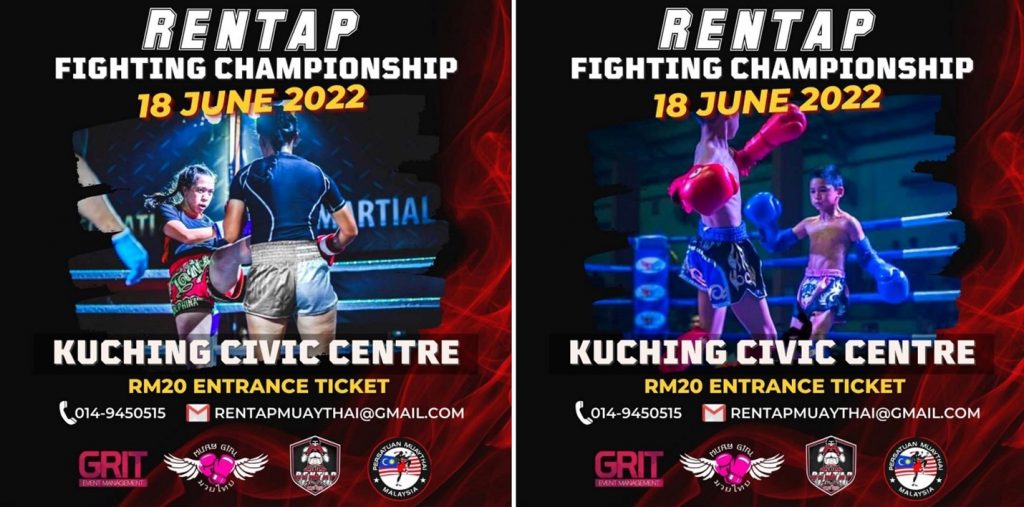 Organised by Muay Girl Promotion, Rentap Muaythai Gym & supported by Grit Events.
Jennana Johnson & Dolphina of Muay Girl Promotion said they want to bring the world attention to Sarawak as a great venue for sports tourism, at the same time giving Sarawak talents a good platform to shine.
These two ladies plays the roles of everything for Rentap FC, from marketing, technical to operation.
They would like to give a shout out to Awang Saifeluddin of Grit Events whom has guide them & help them in many ways in event management.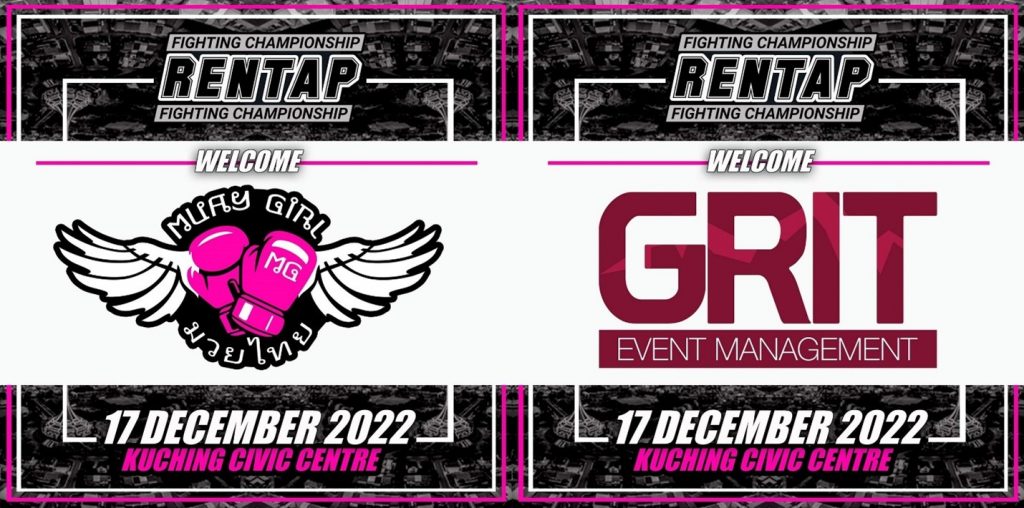 Also to Kelantan Muaythai Channel whom will be covering the event live in their FB page.
As the mother of the 3 Ghazali siblings, Jennana would have her hands full. But thanks to the close-knit Rentap Muaythai Gym team, she feels at ease even as so many things are happening & needs to be done around her.
It's not the first time all her 3 sons fight at one event. The boys practically grew up in the gym environment, so they are used to the hectic schedule when a fight is around the corner. All Rentap Muaythai Gym coaches, trainers & teammates help each other to polish their techniques & keep each other motivated.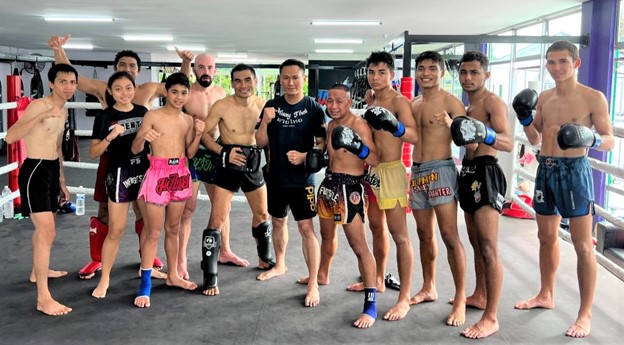 Tickets going fast! So quick book yours now at http://www.rentapmuaythai.com/ or call 014-9450515
Free Seating / Standing: RM25.00 per ticket. VIP Table (8 Seats): RM2000.00 per table
If you can't be there, you can get a feel of the excitement by getting yourself the official Rentap FC t-shirts.