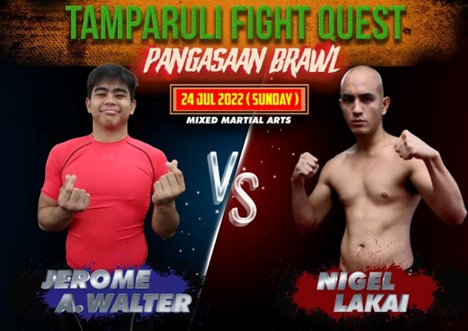 TAMPARULI FIGHT QUEST Feature MMA fight – 77kg
JEROME 🆚 NIGEL
…………………👊🏼…………………..
Jerome Andrew Walter( 27 )
Team : Jiujitsu in the City
Height : 170cm
Fighting weight : 77kg
Normal weight : 83kg
Jerome has been training in Brazilian Jiu-Jitsu for 6 years. Nick name "Joy Boy". He may still have a white belt on his waist and a baby face but don't let that fool you as this guy is relentless & aggressive in the cage.
He is coach by Richie Ismail Celestial  (former MIMMA season 1 Grand Finalist). Jerome started training in striking just one year ago but over the years has won multiple Jiu-Jitsu competition.
1-0-0 in MMA as he debuted in Rampage 8  March this year
Jerome is currently working at Kedai Basikal Sweet Tai as a clerk
What makes u wanna fight in TFQ? what is the motivation? :
"Gaining experience for future career. I am motivated by excellence."
…………………👊🏼…………………..
Nigel Lakai  (29)
Team: Tribe Mixed Martial Arts/Warmonger Training Academy
Height: 187 cm
Fighting weight: Welterweight/Middleweight
Normal Weight: 85kg
Nickname The Slenderman, due to his lanky figure, Nigel is the brother of Nathaniel Lakai (MIMMA 5 Lightweight Champion )
Nigel began his martial arts journey with Muaythai, then progress to BJJ and eventually combine both in MMA. He has more than 15 fights. In MMA he has a record of 4-2-0 gaining experience from Ultimate Beatdown in Johor & Octagon Fighting Championship in Penang
He runs the business at DNNCO Integrated Sdn Bhd. which specialize in Oil & Gas & construction maintenance work, from scaffolding to blasting & painting services, trading, rental, manpower supply etc.
What makes u wanna fight in TFQ? what is the motivation?
" I love fighting, just like how some people like playing golf, like playing futsal and saw a lot of my homies join the tourney. so, why not, its been awhile."
Nigel represent Tribe Mixed Martial Arts, a brand he founded in Feb this year and he fights out of Warmonger Miri.
Nigel has big plans for Tribe MMA, he wants to build it as a brand that promote combat sports, creating contents, organizing events & apparels.
…………………👊🏼…………………..