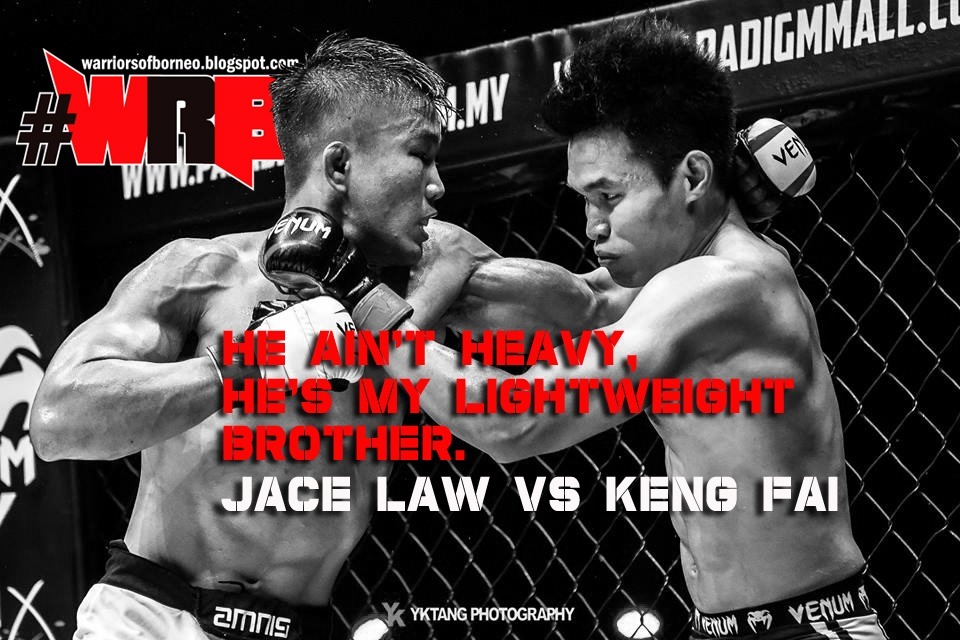 original pix by YK TANG
Fight of the Night! If MIMMA gives out this award, I believe on 8 OCT 2016, the bout should go to Lightweight bout of Jace Law vs Hui Keng Fai (KF). It was a highly anticipated fight, as both are known to be slugger and it's either going to be a short match with KO in the book or a breathtaking marathon of slugfest.
Well, it turned out to be the latter, (check the pre-fight analyst here).
Jace was already given the nickname of JKO from Matt Pellino (MIMMA's host & announcer), since season 3 last year. This comes from the power he has in his hands that can put opponent to sleep, which is how he won the belt beating cop Mohd Hasrul in round 1 in 2015.
Keng Fai was given the name Hurricane which signify the way he don't waste time and always looking for a finished. He step into the grand final bout with 4 fight win streak that all ended in round 1.
Round 1, KF open with a jab, immediately Jace counter with a jab cross, the cross tag KF. KF doing the aggression as he stalk Jace from the center, throwing lighting jabs. But each strike, Jace counter back with combos of powerful left and right. Twice Jace connect with a front teep. KF switch stance and threw a left round house, connected flush on Jace's head as he ducked too low to his right. They both exchange left right. Jace tags KF with his right. They separate. Couple more spurt of punch exchange. Both looking for a KO strike.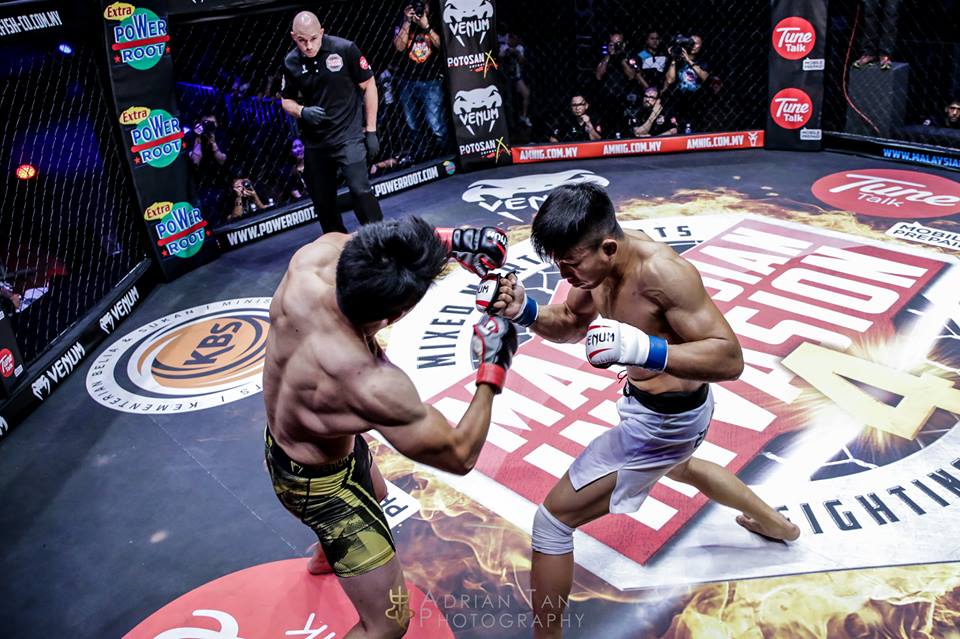 pix by ADRIAN TAN
Jace low kick on KF's front leg which had a knee guard on. KF returns with a low kick of his own, then he went high and connect, immediately follow with a right hook but Jace parry and they both exchange punches in bunches in the pocket. KF connects with another low kick and another high kick that miss.
Round 2. Jace attack with combos. KF use low kick followed by swings. Both are not standing still, when one attack the other will counter with combos. KF low kicked, checked by Jace. Jace connects with a upper cut and straight right that penetrate KF's guard. Jace with a 3 punch combos. KF attacked with jabs, then a beautiful front push kick that moved Jace backward. Reset. KF lunge with jab, Jace counter left right, the right found the target, KF counter left, also hit the spot. KF moved in again with a double left, Jace counter with right upper cut, glazed KF. KF feint with a right and went low for a single leg. Pushing Jace on the cage and grind there. Jace defends the single leg attempt. KF disengage and they both starts exchanging blows.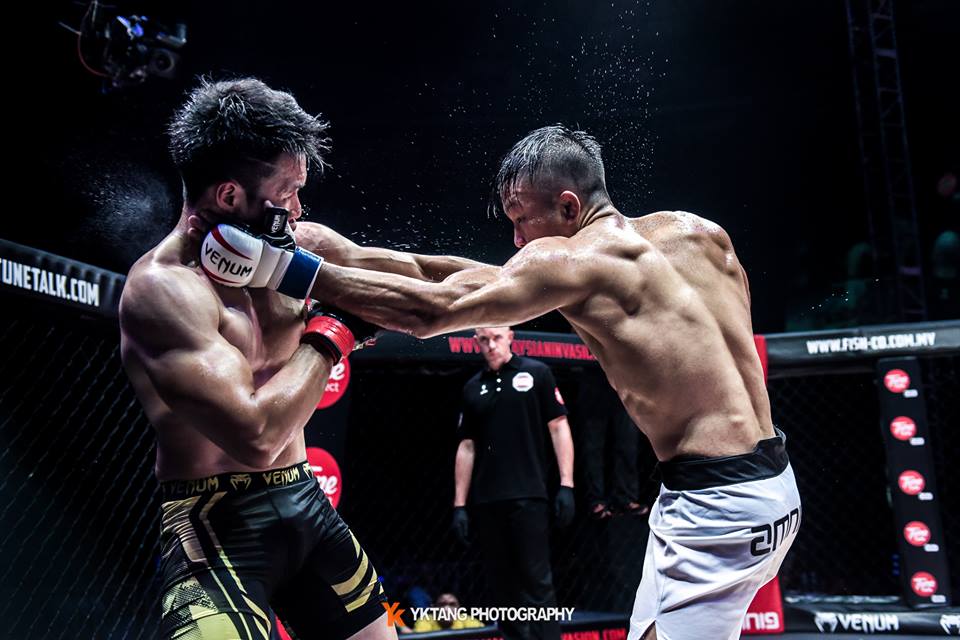 pix by YKTANG
Couple more 1-2 exchange from both. KF the one pushing on, Jace able to roll with the punches. At 10 seconds mark, KF missed with a front push. They both come at each other, Jace able to duck and roll under KF's huge left hook, came back up, missed with his left but the followed up with his right hand connect hard, KF counter with left but Jace protected in the pocket as he duck low to bring up his left hook again but KF covered his right side with his glove.
Round 3 was a crazy one. Both went at each other, blows by blows. Jace with the better head movement roll under a couple of punches, but both landing shots. KF eating the heavier punch, but his is like a train, kept on pushing forward. Fatigue may have set in as Jace s hands speed slowed down as he lowered his hands.  KF still coming forward throwing combos and connects with a few body shots. Jace countered, swinging for the fences. With the hard punches that found the target many times for both, these two was definately in superb shape as they were still standing and able to trade punch combos. What a satisfying round to watch!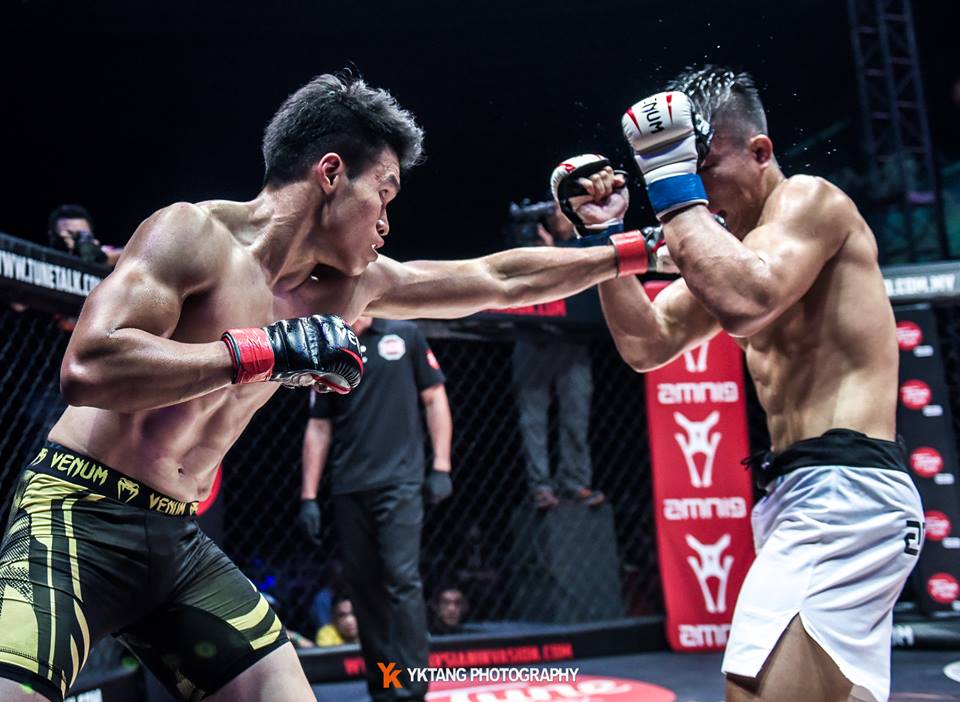 pix by YKTANG
KF looks fresher at the start of round 4, but his face was busted up more than Jace. This round both slowed down. Each exchanging punch counter. KF found home a few jabs. Jace still able to duck and roll to make KF's miss with his bombs. Jace lunge in with a 1-2 combo, KF counter right met Jace's face as he ducked, Jace followed up with a back fist, didn't land flush. Right before round ends, Jace caught KF's kicking leg and executed a sweep.
Final round. Both still exchanging 1-2. Both connecting again, Jace still rolling avoiding KF hooks. KF have better head movement this rounds. Both still swinging at each other. KF connects with his hooks. KF got a head clinch and blasted a few uppercuts. They disengage and back to trading combos from arms lenght. Jace still able to connect with his counter.
KF level change and went for a double leg, succeeded and he got side control. Taking his time, he then moved to full mount. Jace seems too tired to defend. KF starts landing multiple right bombs from top position. Jace wants to avoid further damage as he sat up, but KF was quick to take his back, and got a rear naked choke. The choke was on Jace's jaw, but KF squeezed hard and Jace tap out at the 2:30 mark.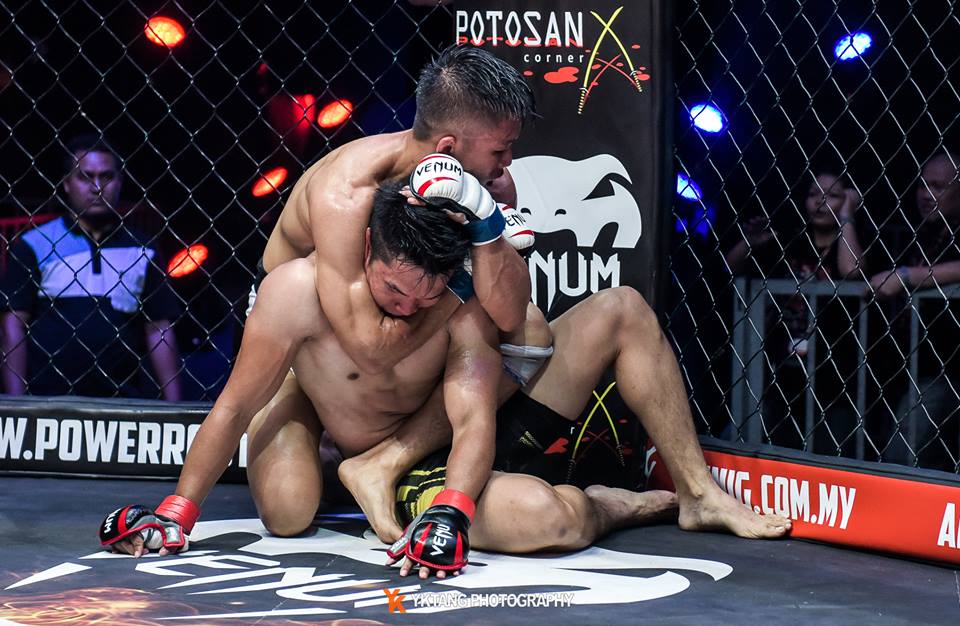 pix by YKTANG
An absolute war by this two warriors! Kudos to both fighters for showing great fighting spirit. These two showed to us how far our MMA athlete has come in terms of technique and durability.
We have a new champion in Hui Keng Fai, like a relentless train with blazing machine gun hands that keeps pushing forward. As for former champion Jace, fatigue may have cost him the fight but he surely display high level crisp boxing and a big heart.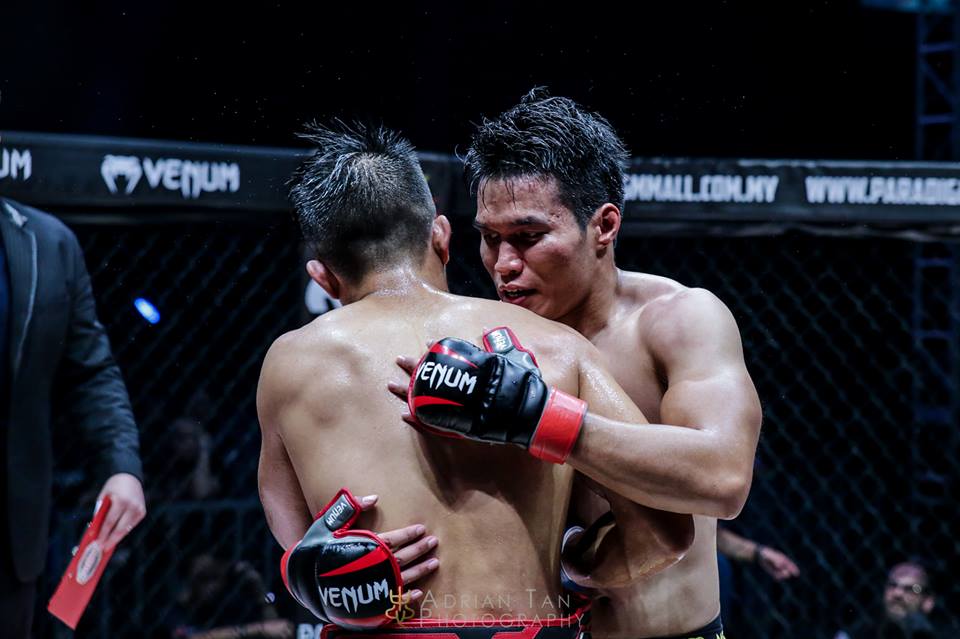 pix by ADRIAN TAN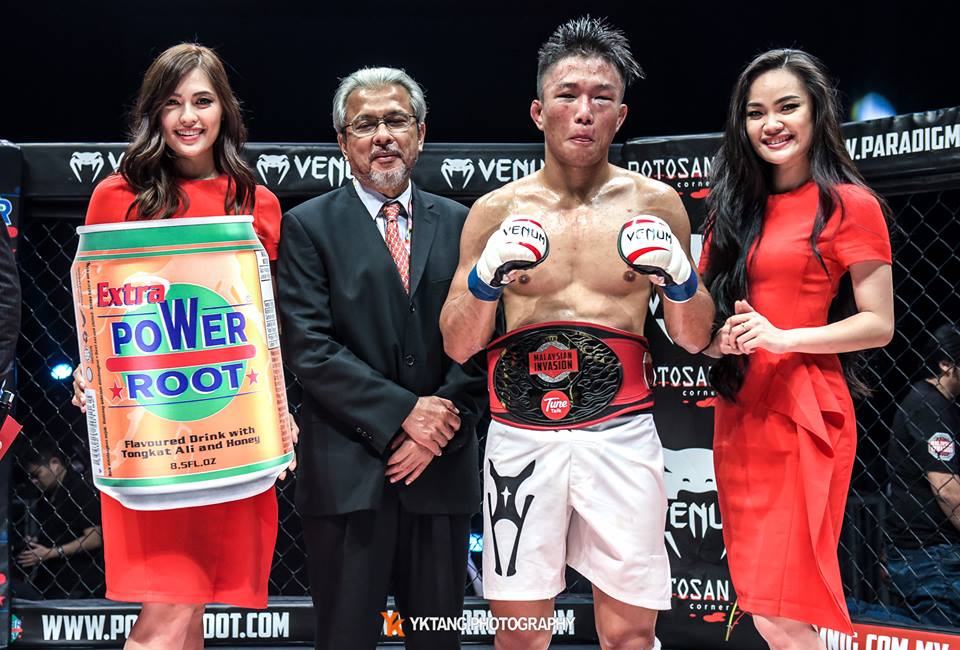 pix by YKTANG
WRB caught up with the two for a post-fight interview.
Keng Fai went back to class the next day at HELP Uni, even with a swollen knuckles and fingers.
Did your game plan went according to plan?
Game plan was not to get hit and finish him quick. Clearly didn't go as planned hahaha. 
I underestimated the speed of his hands, I expected them to be slow and heavy, but no, they were fast, heavy, and came from odd angles, Jace was pretty unorthodox. His rhythm was different.
Matt seems to have courted some heat with some one sided commentary, what do you think of it
Matt might have helped me, I recall him implying that if the fight went to the judges decision I would lose, that urged me even more to finish the fight.

You said in pre-event interview that you don't really train kicks…but in that fight you threw quite a number of kicks. You had a knee guard on, but still you threw more significant kicks…was it planned?
The knee guard was just to cover a scrape from a fall while running on the road. I dislocated my finger and my pinky was as big as my thumb, I could not put power into my right hands, that's why I had to throw kicks.


How was the victory celebration?
No fancy celebration, just good food with good friends and family. Back to training. Not happy with my performance.

Do you find Lightweight to be your permanent choice?
I'm fighting again at 67kg just 3 weeks after MIMMA 4. On 29th Oct. At a boxing match. Eventually I'll make a permanent move to featherweight, which was where I started anyway. I fought at lightweight for MIMMA because I didn't want to be cutting weight all year round for the preliminary matches.
What do you think is the key to your victory?
I think I'll improve so much more after this fight. I'm happy and relieved I won. But I am very unsatisfied with the way I won. Back to the drawing board. I took a lot of damage I could have avoided. I did not fight smart.
————————————————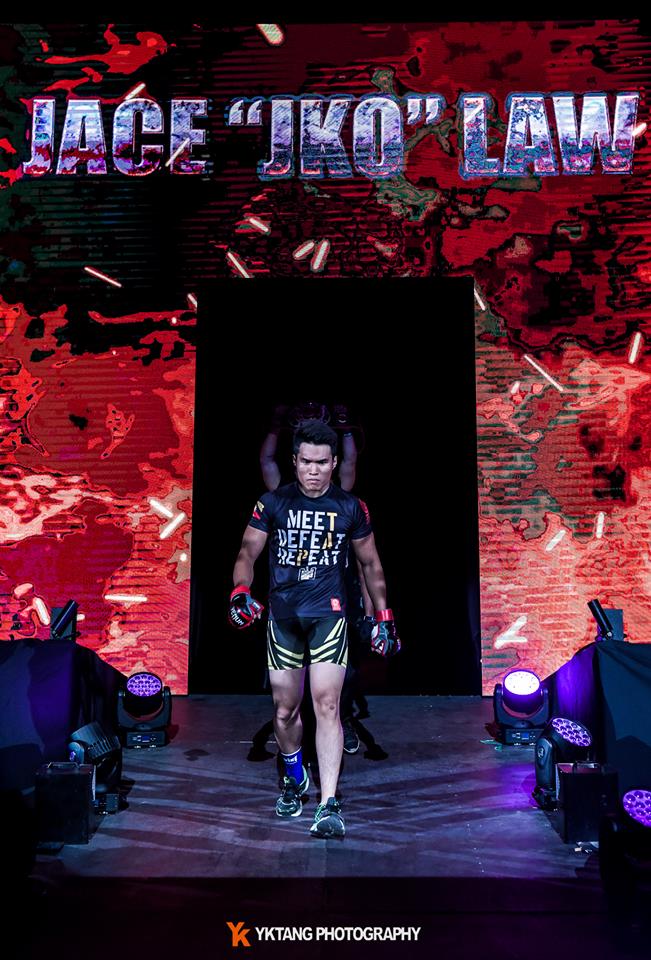 WRB also talk to Jace Law.

Can you take us thru the fight…what was your game plan?
Striking and countering…looking for openings to land my strikes.. head movements and cutting angles. There were no specific game plans as you know Matt wasn't with me for this fight camp. I just sharpened my skills to prepare for this fight.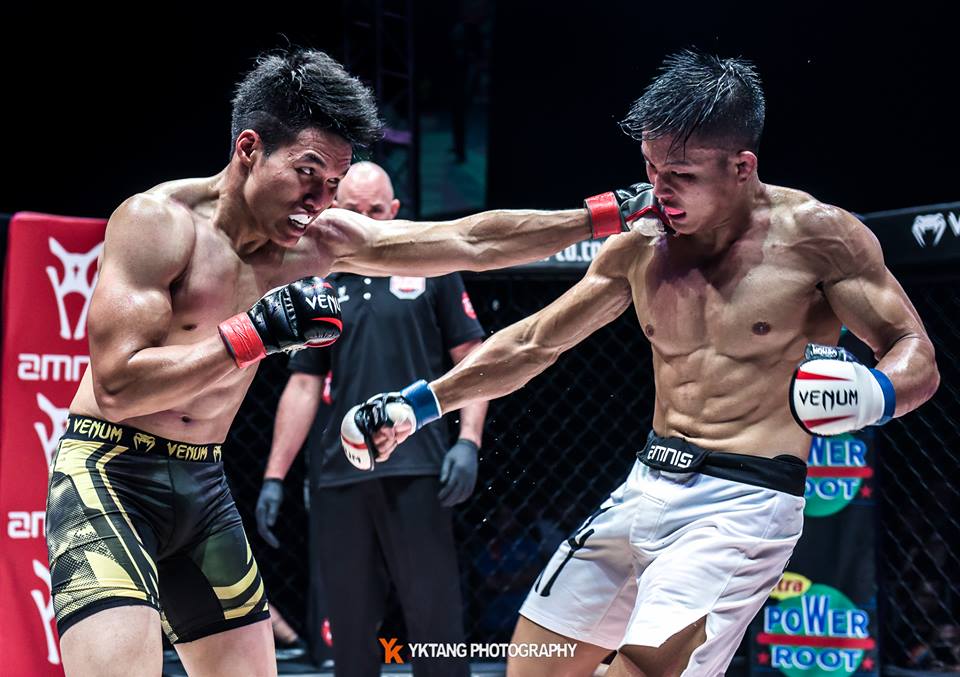 Were you satisfied with your performance?…was preparation/ fight camp good? 
You can never be satisfied with your performance, being away from the cage for a year and going straight for a 5 round fight is pretty demanding. My lack of endurance made me slow in the 4th and 5th rounds, but overall I'm thankful I didn't totally gas out coz that would be embarrassing. 
I believe you wanted to keep the fight standing…and your boxing was spot on. But were you surprise he kept on coming?
I wasn't surprised I knew he was tough, Keng Fai had the eye of the tiger, he was exactly as hungry as I was when I was hunting for the title in MIMMA 3.. and that hunger gave him the edge to win the title. 
After this, would you be focusing on improving your ground game/take down defense…or training more to improve even more on striking to make sure you put people to sleep?
Yes, definitely.
Most title fight this time last longer than expected…quality seems to went up a notch vs 2015..what do u think? 6. How has the support been?…any message for supporter? 
The quality has definitely improved since the previous season. Just goes to show how competitive the sport of MMA is, either you evolve or you perish in the past.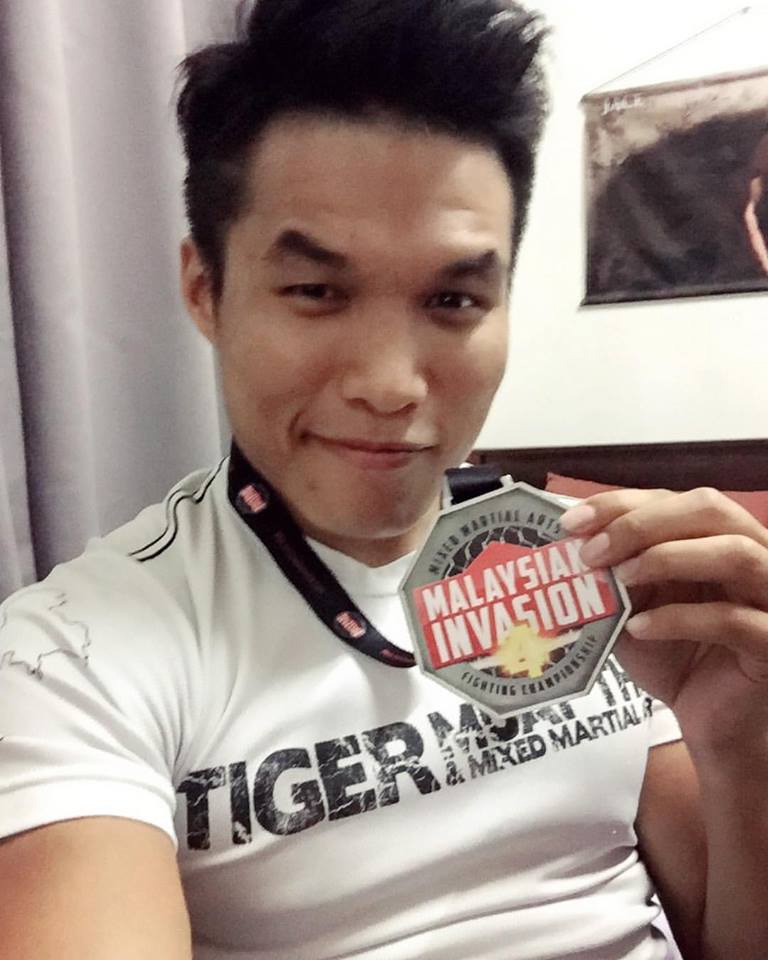 How has the support been?…any message for supporter?
Support for me has been tremendous, I sometimes pinch myself coz its hard to believe I have so many people that support me… I just want them all to know I appreciate it very much.
Future plans?
We'll see…  : )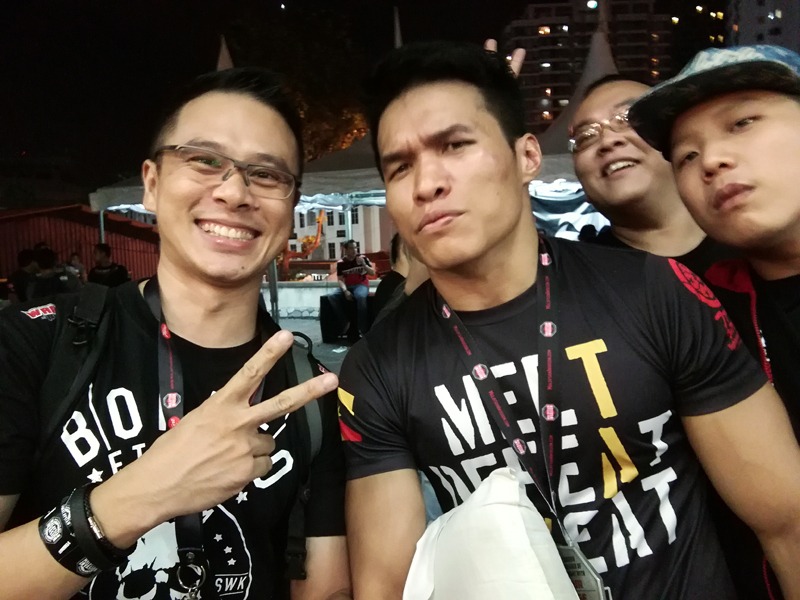 Jace feeling proud his face is still intact