MIMMA 4 is turning up the furnace…it's getting hot in here! The flame has been up a few notch for the semi-finals. Happening this weekend, 6-7 Aug at Paradigm Mall, Petaling Jaya. Earlier in April MIMMA holds its tryouts in a few locations in Malaysia, namely; Penang, Johor, Kuching, Kota Kinabalu and Kuala Lumpur, and then it moved on to the ladder match and subsequently the quarter finals in end May before the fasting months starts.
For the Semi-finals, this is where the men are separated from the boys. Its where fighters with more refine skill sets are at. The fights will be tougher and the pressure to win higher. This year's Semi-finals are a mixture of some newbies to MIMMA and also some experienced MIMMA 'veteran'.
For the uninitiated, MIMMA is the premier amateur MMA tournament in Malaysia. Touted as the biggest, and the most well organized MMA tournament in Asia, if not the world. Sponsor by Tune Talk and strongly supported by the Ministry of Youth and Sports Malaysia, MIMMA has produce many talented MMA athlete that now compete professionally in big MMA promotions around the region. Names like Keanu Subbha, Allen Solomon Chong, Adrian Tham, Agilan Thani and Muhammad Aiman has become household name in the Malaysian MMA circle.
In its fourth series now, we can see fighters evolve and improve. They are now more balance in their skill sets. More fighters now come prepared, strikers has added grappling and wrestling into their arsenal. While ground fellas are now equipped with boxing skills and more muaythai strikes.
From the first MIMMA in 2013, the numbers of martial arts gym has also increase significantly. More people have taken up martial arts, the serious bunch one for competition, but a lot more for fitness and shedding weight.
MIMMA certainly has created a boom in the fitness industry too as more gym also introduce strength and conditioning classes to improve on fighters fitness. Fight moves are now also a norm in many aerobic classes.
Many regional competition have also emerged, such as Warriors FC in Penang, JFL (Jesselton Fighting Championship) in Sabah, Ultimate Beatdown in Johor, and BAC (Borneo Amatuer Challenge) in Labuan. Which gives fighters more opportunity to test their skills and increase their fight time to gain experience.
Few years back, hardly anyone outside of the martial arts circle knows what MMA stand for. Now at least if they don't know, most would surely have seen or heard about a match or two in the media. In short MIMMA has created an impact to Malaysia.
Lets look at the Semi-Finalist.Out of the 40 athlete. 11 are from Borneo (4 Sarawakian, 6 Sabahan & 1 reside in Sabah).
There are some good fight to look out for. Day 1 on 6 Aug, will see the repeat of Battle of Borneo in Heavyweight as Sarawakian Tsan Nieng Kai meets Sabahan Kent Tham. Tsan last year also meet Kent in the Semis. It was an all out war between the two as both huff and puff for 3 rounds which is won by Kent by unanimous decision.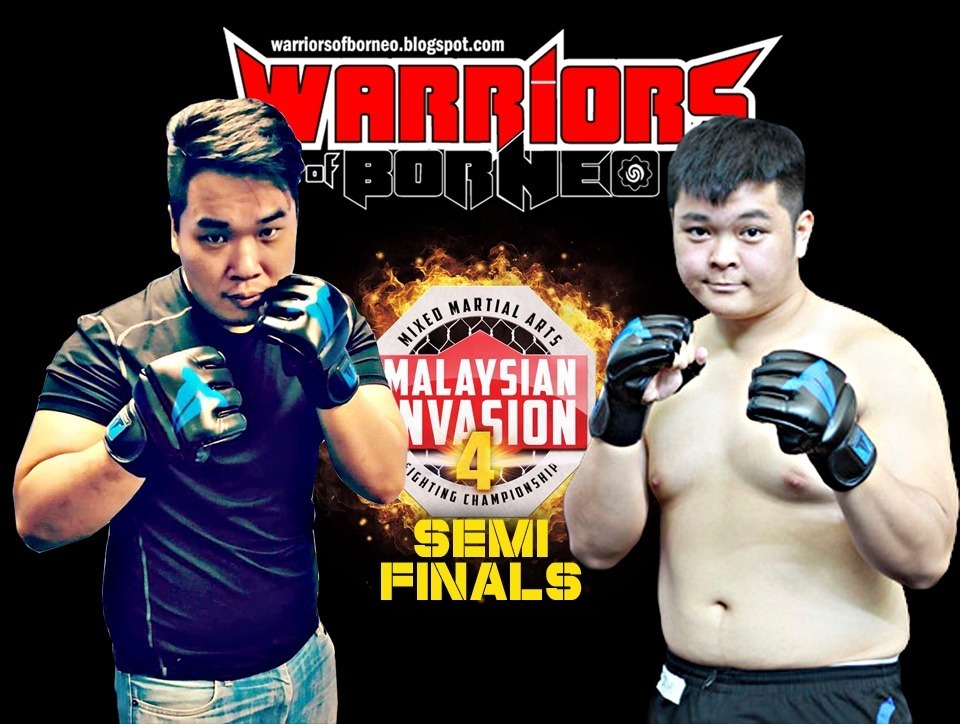 Tsan Nieng Kai vs Kent Tham
Kent moved on to contender fight but loss to Grand finalist from Penang, Niker Tan. Niker is also back again this year looking for a rematch with Sabahan defending heavyweight champion Darren Low whom he lost to in MIMMA3 Grand finals. But first Niker have to overcome Johorean Steven Yeoh.
Tsan last year represent Gymbox but has moved on to open his own martial art gym – MAD Fight Club in Kuching. Meanwhile Kent after the lost in MIMMA3 contender fights, fought on in Kota Kinabalu based JFL to emerge as its inaugural heavyweight champion.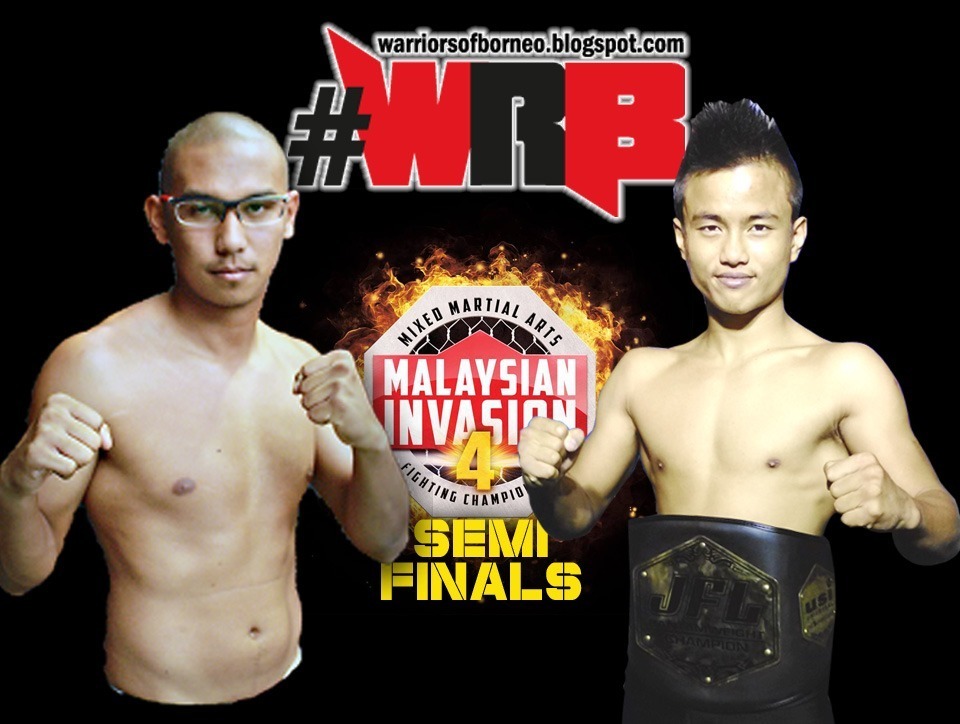 Md Zakhir vs Md Hasbullah
Flyweight fight to watch will be Md Hasbullah (Sabah) vs Md Zakhir (Johor). Hasbullah or nick name The Garagas Man (which means rogue / rascal in Sabahan Dusun language) is a fighter much improve from last year's MIMMA3 where he lost in ladder match due to lack of grappling skills. From there on he has polished up his game tremendously and with strong determination and pure fighting spirit has claim victory in Fight Fest, BAC and JFL.
He is the JFL bantamweight Champion, after a real hard battle of back and fourth with Din Hamsah. Before reaching final of JFL, He fought in the semi as a huge underdog to Ahmadjon Karimov ( MIMMA3 Foreign Pride Champion). In that fight after brushing off a fever he fought a constant back and fourth battle to emerge winner by unanimous decision.
His road to the MIMMA4 semis is a win by armbar in round 1 vs Fikhrul, and got a walkover win at quarterfinals as opponent pulled out.
Hasbullah's success largely was at the guidance of Keningau MMA coach Mohd Bakri, ( read about Hasbullah in my previous post ) but this year Hasbullah decided to took on a challenge to lead a gym on his own. Karabaw Gym Keningau branch opened in June this year and Hasbullah has been busy playing the role of head coach & preparing his own fight.
His opponent Md Zakhir, is considered a veteran in MMA, although just 24 this year. He fought in the early days of Malaysian MMA at events such as Malaysian Fighting Championship, Ultimate Beatdown & F3 around 2011-2013. Back this year to continue his martial arts journey, Zakhir is an experience and explosive fighter. En-route to the semi, he submitted Lennon Ginibun of Sabah in the quarter finals. Expect a trully explosive fight between these two flyweights.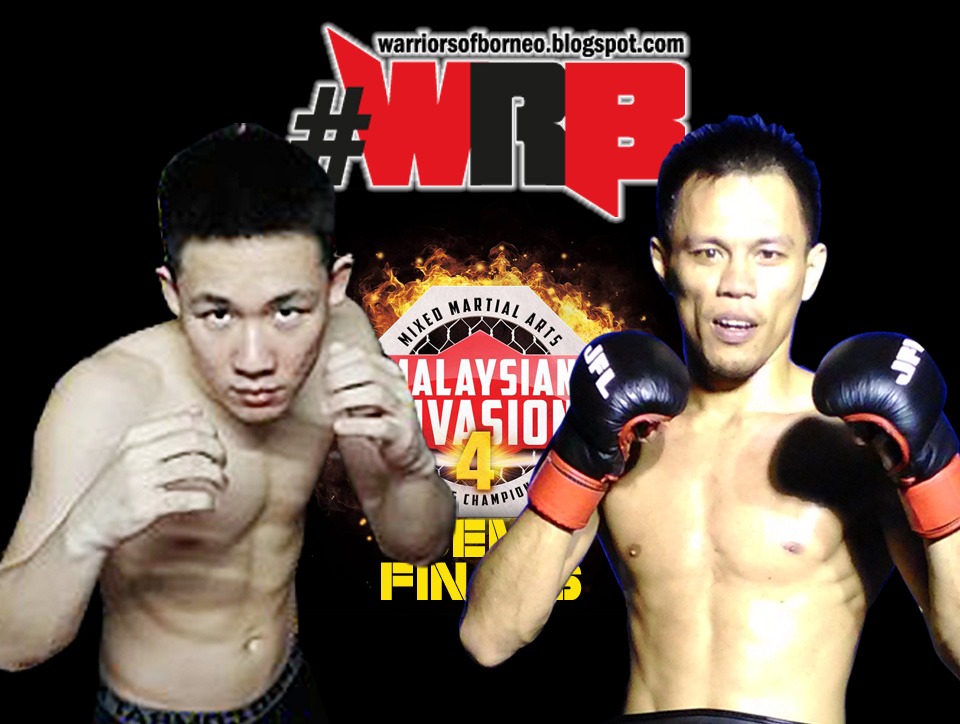 Hong Weng Hooi vs Eddy Kalai
On the other side of the semi finals for Flyweight, another Sabahan Eddey Kalai is fighting Penangite Hong Weng Hooi. Eddey is an ex national boxer and well experience in the fight game. Started his MMA journey with the 1st MMA event in Borneo, Borneo Fighting Championship in 2013. He joined MIMMA2 and reached the semis, lost to eventual winner Seah Zhang Yu.
In MIMMA3 Aug 2015, again stumbled at semis, this time lost to Dhiaal Amal, who went on to challenge Seah for the belt but lost in a thrilling battle. Eddey continued fighting in Sabah in Oct 2015 and won the JFL Flyweight belt.
He is also looking to complete the unfinished business of his younger brother, Effendey Kalai, whom was a grand finalist for MIMMA3 Bantamweight. Effendey suffered a controversial behind the head strike that resulted in him fainting. The match was announced a no-contest, hence making MIMMA4 Bantamweight belt vacant for this year's fighter to take.
Eddey's opponent Hong is the team mate of Seah Zhang Yu from 3S MMA Penang. Hong actually loss the ladder match fight to Trevor Salang from Miri Sarawak. But due to Trevor pulling out of quarter, Hong was offered to fight Ferdaus Gaban of KL & won the bout.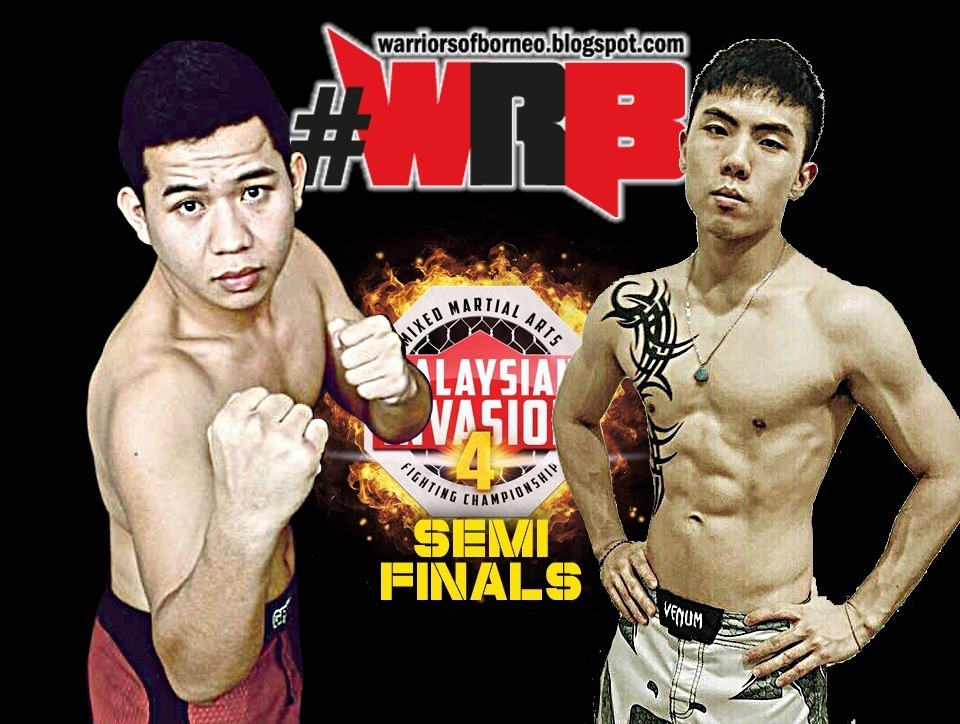 Hafizul vs Joseph Yap
I'm excited to watch featherweight fight of Sabahan Hafizul Hakeem vs Joseph Yap of KL. Hafizul from Team Karabaw Sipitang, Sabah is a spirited fighter. He tasted his first MMA fight in Ultimate Beatdown 14 in 2014. Wanting more, in 2015 before MIMMA3 tryout, he went to fight in Full Metal Dojo. All alone and on his own expenses in Bangkok, he lost the fight to a Thai native by guillotine choke. Armed with better experience he fought all the way to the Grand Finals of MIMMA3 to meet eventual champion Mohammad Aiman. Aiman has now moved on to fight at pro level.
As for Joseph, this young fighter is a prodigy trained by martial arts star Andy Teh Kim Huat of Elitze MMA. At 25 this year, he only started seriously training in Jan 2015. Under the careful guidance of Andy Teh teaching Joseph MMA and coach Effendey Kalai in boxing and Ngeoh Jian Cong in Brazilian Jiu Jitsu, Joseph soaks it all in like a sponge.
In March 2015 he debut in his first MMA match. Going in like a dynamite in Ultimate Beatdown 15 winning by TKO with punches. He was a feature fighter in 2015 MIMMA3: Contender Fight, winning that fight vs Uriel Yu.
Just last month in Penang's Warrior Fight Night appearing in the main card, he defeated Joshua Khiew ( MIMMA2 grand finalist) by TKO in a series of strikes in round 2. He is now on a 7 fight winning streak and all these fights are by TKO / submission. Joseph is looking to continue his winning streak and aimed to use his aggressiveness to win this match.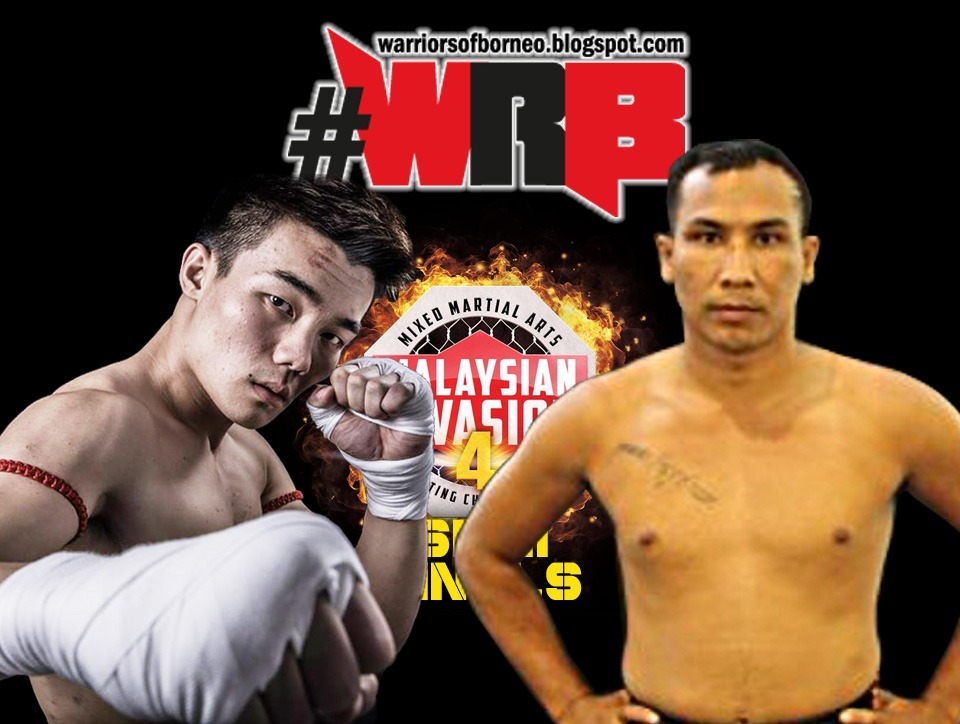 Bryant Tan vs Samsuri
Another Sarawakian to watch out will be Bryant Tan from Daro. Distraught by heart ache of a break up four years ago, he picked himself up and started training muay thai and became a muaythai specialist.
Watch out for his devastating muaythai low kick as he takes on Mohd Samsuri. His original opponent supposed to be Jasmond Sangeh but due to Jasmond's injuries Samsuri is offered the fight. Samsuri lost to Mohd Ezzat in the quarter finals. Ezzat is also in the other welterweight fight as he Faiz Faisal of Penang.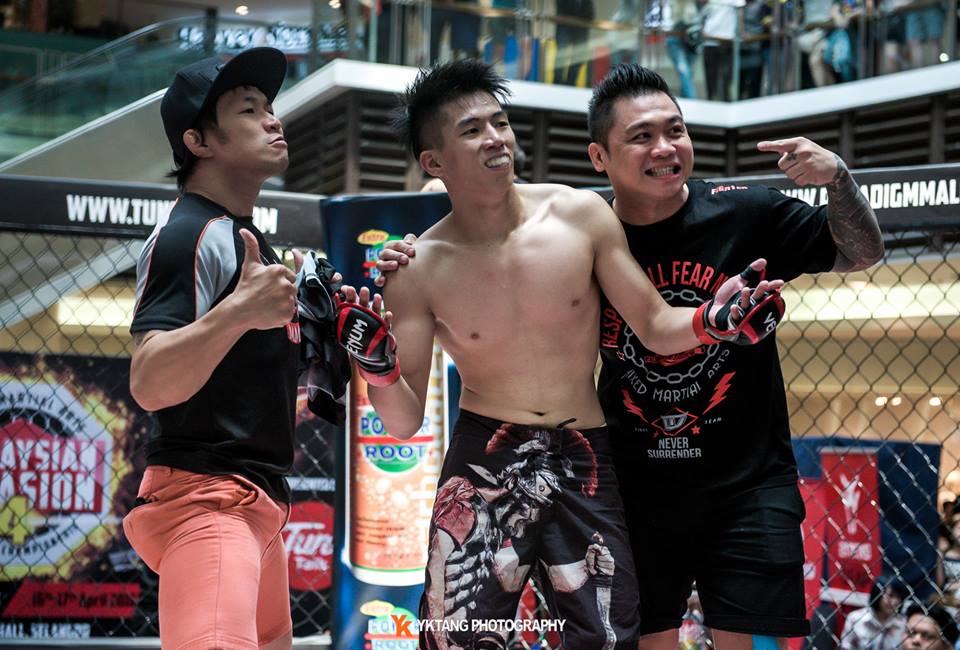 On to the Grand Finals for John Liew
Bantamweight BJJ prodigy from Alpha MMA Sabah , John Quincy Liew Ming Lun was looking forward to face Jessen Ong of 3S MMA Penang. But a horrible injury during training dislocated Ong's elbow and he does not have time to recover for this semi finals fight. This moved John directly into the grand finals, as there's no title holder from previous year due to the no-contest match Effendy Kalai vs Tee Jac Yeo.
John has background in boxing and trained by MIMMA1 Lightweight Champion, Allen Solomon Chong in BJJ and MMA will certainly bring his A game to the finals.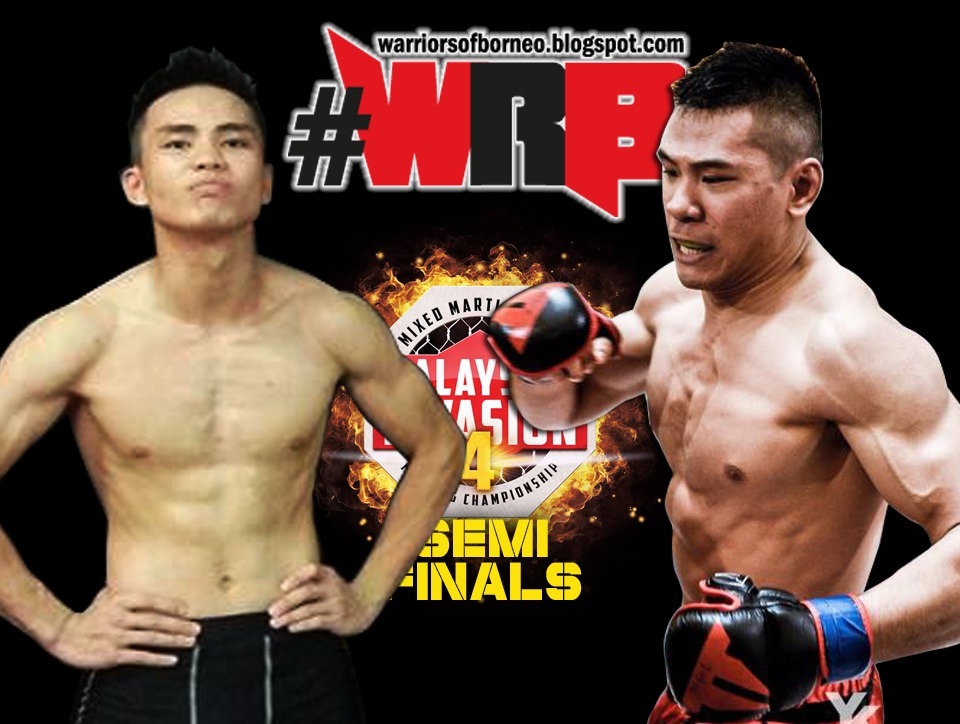 Joel Nickolson vs Damon Soo
The other two semi finalist, Joel Nickolson of Sabah Top Team and Damon Soo will need to battle it out to see who face John. Joel is a Taekwondo stylist but have been training MMA & Luta Livre under Italian coach Antonio Battistesa for a year.
Damon Soo is no stranger to the fight game. He has been around since MIMMA2 reaching quarter finals. MIMMA3 in the semi-finals losing a close decision to Hafizul Hakeem. Trully a specimen with his hulking physique to be able to fight at bantamweight. He has top notch submission skills and a heavy hand. He's back with a vengeance this year, securing two choke submission in round 1 in the ladder match and quarter-finals.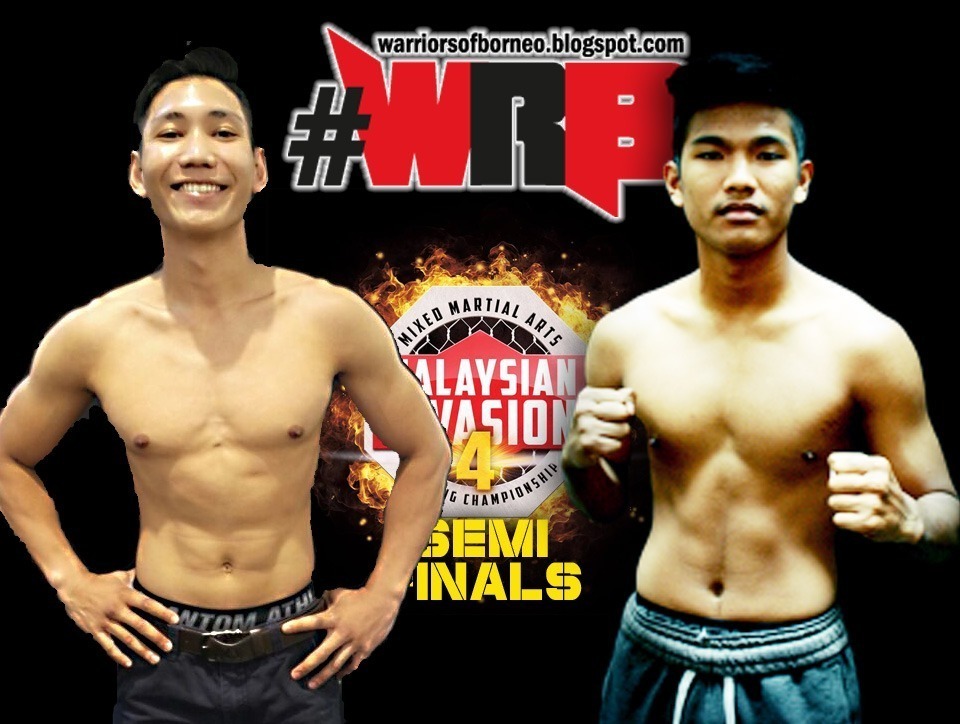 Fahim Noh vs Mohd Eswandy
18 year old Eswandy from Kuching has revenge in his mind. He is out to avenge his muaythai coach A.Karadech Seesombat or affectionately call Eddy. Eddy was the grand finalist for last year's Foreign Pride category. He fought Ahmadjon Karimov from Tajikistan, but lost emphatically in 39 seconds to Ahamdjon's strikes.
Eswandy has been training muaythai since 16 and was Malaysian national champion in 71kg two years in a row, 2014 & 2015. In fact he will fight at the national again a week after MIMMA semi-finals.
Eswandy train at SS Fighters and believe that his coach is still one of the best strikers in the game and he diligently learn from him to show that Eddy's pass on knowledge will lead him to the grand finals and win the belt.
But he is not forgetting about his ground game. His team mate in SS Fighter and Studio 23- 1st MIMMA Female champion and Sarawakian compatriot Joanna Yap is passing her BJJ knowledge to him. This grappling skills will come in handy as he face Fahim Noh. Fahim has good BJJ skills and is an experienced fighters from the early days of F3 Championship.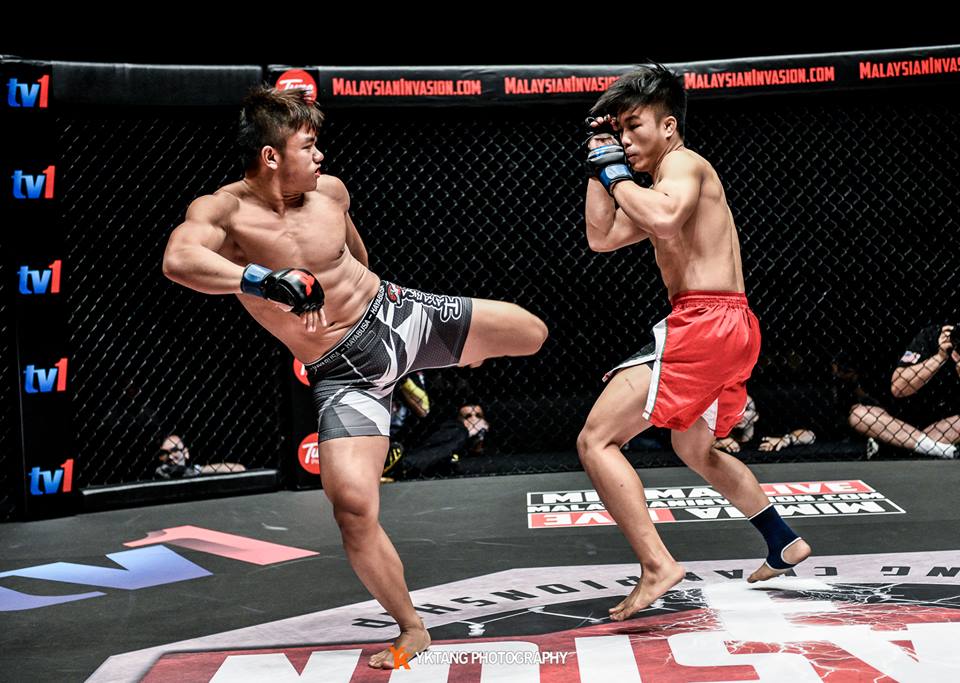 One of the best action photos by YK Tang of MIMMA3 Grand Finals last year: Nazri Sutari vs Hui Keng Fai
3 more stand out to pay attention to in this Semi-finals rounds are Hui Keng Fai of Muayfit KL, Singaporean Nazri Sutari and Theeban Govindasamy. Keng Fai 's current record is 12 fights, (9-3-0). A very explosive and well balance fighter to watch. He is MIMMA3 semi-finalist. Knowing he has huge potential, MIMMA offered him a feature fight vs Nazri Sutari in last year's Grand Final. And what a great idea that was, as both of them pull no punches swing for the fences. Keng Fai won by standing guillotine in round 1.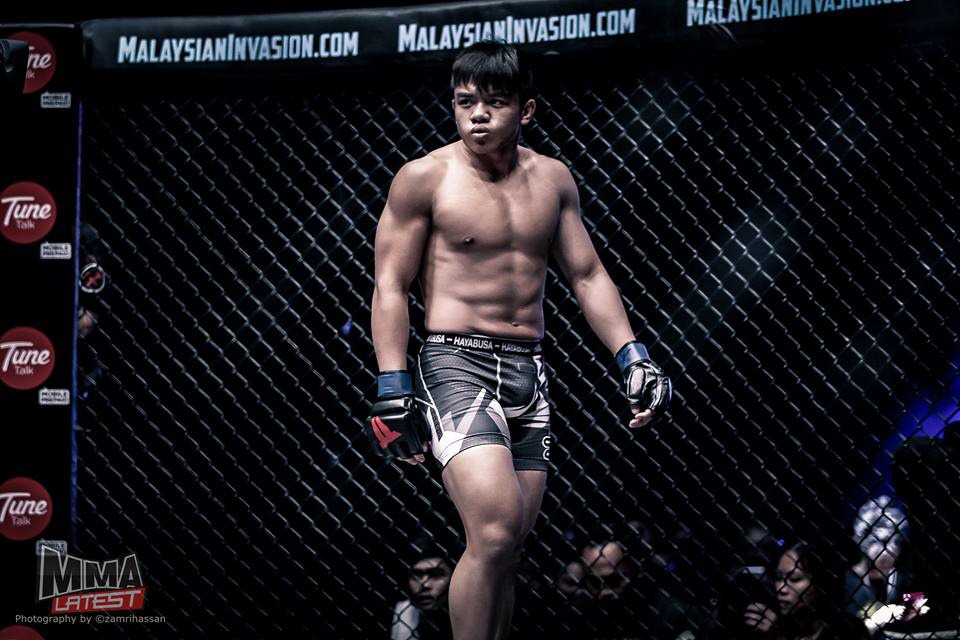 Pix by MMA Latest: You can bet Nazri will bring his top game in every fight.
Its really great that MIMMA introduce the Foreign Pride category last year, so that we can enjoy watching some talented non-Malaysian slog it out in the cage. Nazri Sutari is one of my favourite. This Singaporean nick name Pork chop usually walks around close to 77kg, but when it comes to fight week, he will cut to 70kg and looked ripped! A former national fencer he started his MMA career in Singapore promotion Rebel FC and Singapore Fighting Championship. Nazri is a risk taker and will not hesitate to throw caution to the wind to outstrike his opponent. I believe It's going to be a explosive match between him and Alfred Leko from Indonesia.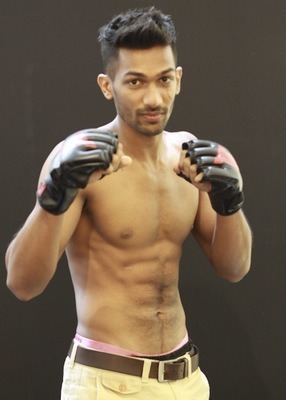 Theeban Govindasamy
Karate stylist Theeban will also vie for a spot in the Grand Finals. Theeban reached the semi-finals last year only to fall to Meeraj the eventual welterweight champion.
But again knowing the huge potential in him MIMMA offered him a fight vs Sabahan and MIMMA1 heavyweight champion Adrian Tham. Theeban uses his long reach and Karate move to control Adrian. But Adrian manage to dominate using superior BJJ skills to win the fight.
Fight fans, get your fan ready, or turn up the A/C. Don't forget to pour yourself an ice cold drinks….coz it's gonna be a hot hot semi finals. Make sure you tune in to RTM TV1 for some pass fights to warm up yourself. Check out MIMMA's website for live streaming.