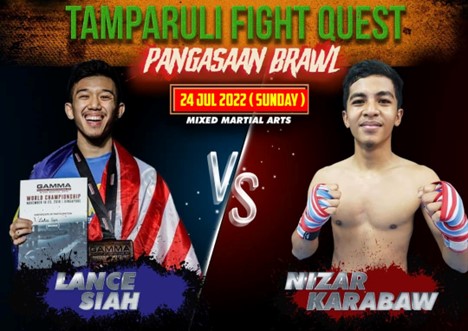 TAMPARULI FIGHT QUEST
Feature MMA fight
LANCE  🆚 NIZAR
……………👊🏼……………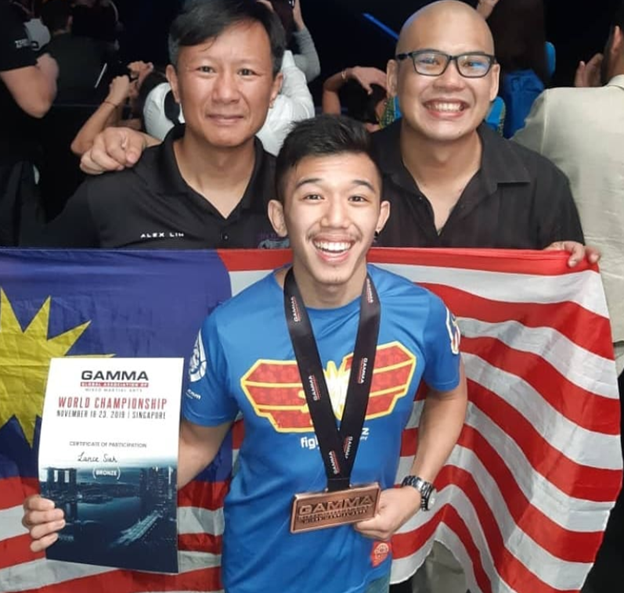 Lance Siah
Age: 27
Team: Monarchy MMA
Height: 163cm
Fighting weight: 48 kg – 52 kg (Strawweight)
Normal Weight: 50 kg
Lance was born and raised in Kuala Lumpur & studied Mass Communications in University, majored in Event Management and Advertising. He is currently working in account management and servicing in a company dealing with sanitizing. But will soon be embarking on a new job that is more fitting to the stuff he studied in University.
What type of styles u started with, have train in other styles?
" In my opinion, I don't have a certain style, I guess you could say I'm just one of those athletes that just follows whatever the coaches tell them to do, I guess that's why they call it Mixed Martial Arts, 😆"
Lance trains at Monarchy MMA& has an MMA record of 5 – 1.
" My biggest achievement in my MMA career up to date is getting Bronze for the GAMMA (Global Association of Mixed Martial Arts) world tournament, as I have tested my skills and remained friends with the amazing athletes/ fighters worldwide."
What makes u wanna fight in TFQ? what is the motivation?
" To be honest, I have always wanted to compete in Sabah, and would definitely love to thank Tamparuli Fight Quest for this opportunity. Not only that, my fiancé / future wife is from Sabah as well, gives me more reason to train hard and to represent her for the upcoming competition as well."
               …………………👊🏼…………………..
Nizar Arsad
Age : 22
Team : Team Karabaw Sipitang
Height : 162
Fighting weight : 52kg
Normal weight : 54kg
Nizar is born in Sipitang and started his martial arts journey in Karate at 13 years old. After 2 years of training he competed. He got a silver medal and felt that he can do this. The next few fight, Gold was still not in his grasp, but he persevere and finally get that glittering Gold medal. Up till today he has collected 6 Gold,4 silver & 1 bronze.
He is  self-employed, doing small businesses.
From Karate he then progress to Kickboxing & MMA. In Boxing and Kickboxing he has a fight record 14-5. He was Fight Fest 52kg Champion.
According to his coach Hafizul Hakim, Nizar has huge potential & believe he is top tier in the 52kg category in Sabah for striking.
Personally to Nizar he said the biggest factor for success in martial arts is having stamina & endurance. He believes that with good stamina & endurance will make the techniques better.  For this, training to him is an ongoing thing which he really put attention to.
He was offered a pro Kickboxing fight in Hong Kong in 2019, but as Nizar holds an IMM13 identification. He could not travel.  ( IMM13 are given to refugee, as Nizar's parents were refugee, as they escape southern Philipines in the 70s due to the arm conflict there ).
As a holder of IMM13, there's a lot of hindrance for travelling and this in a way hamper Nizar's progress in taking fights out of Malaysia. For TFQ will be Nizar's MMA debut.
What makes u wanna fight in TFQ? what is the motivation? 
" I want to show to my Friend, my team, and my family I will be a champion someday."
…………………👊🏼…………………..