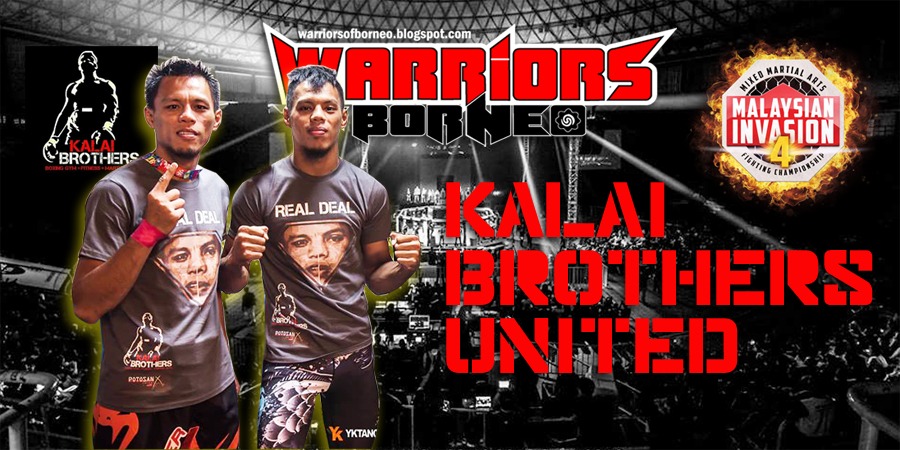 The name Kalai is synonym to Boxing. But boxing is not the only thing they are good at. Ex Sabah state boxer Kalai Mohammad, is an ethnic Sungai from Sandakan Sabah. Out of his 6 children, only 1 daughter, and all 5 of his sons are boxers. In the MMA scene, Eddey Kalai & Effendy Kalai are names is no stranger in the MMA circle. The other 3, Erwandy, Khairol & Ridhuan also has dabble into muay thai & MMA.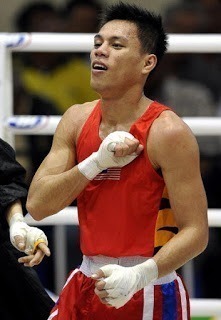 Eddey is the eldest brother. Eddey is an accomplished boxer, from the early 2000 to mid 2000, he was actively representing Sabah and subsequently Malaysia in Asia Games, Arafura Games, winning SUKMA gold, Malaysia Cup, and SEA Games. Boxing is in his blood. But after he finished his duty in the national team, Eddey was looking for another activity to keep himself fit & active. MMA looks like a good option and from 2013 onward Eddey began to ply his trade in the cage, beginning with Borneo Fighting Championship, beating another Sabahan boxer cum Muaythai specialist Randall Kadayum.
From there onward he began his journey in MMA by participating in MIMMA season1, 2, 3 & 4.
In 2014, season 2, he reached the semi-finals where he lost to eventual champion Seah Zhang Yu.
2015 Eddey was actively participating in two tournaments, in MIMMA & Jesselton Fight League (JFL). In MIMMA he again reached the semi-finals, this time Dhiaal Amal stopped him there. But for JFL, Eddey went all the way to the finals and beat Jason Gaban in a thrilling fight and was crowned the inaugural JFL Flyweight Champion.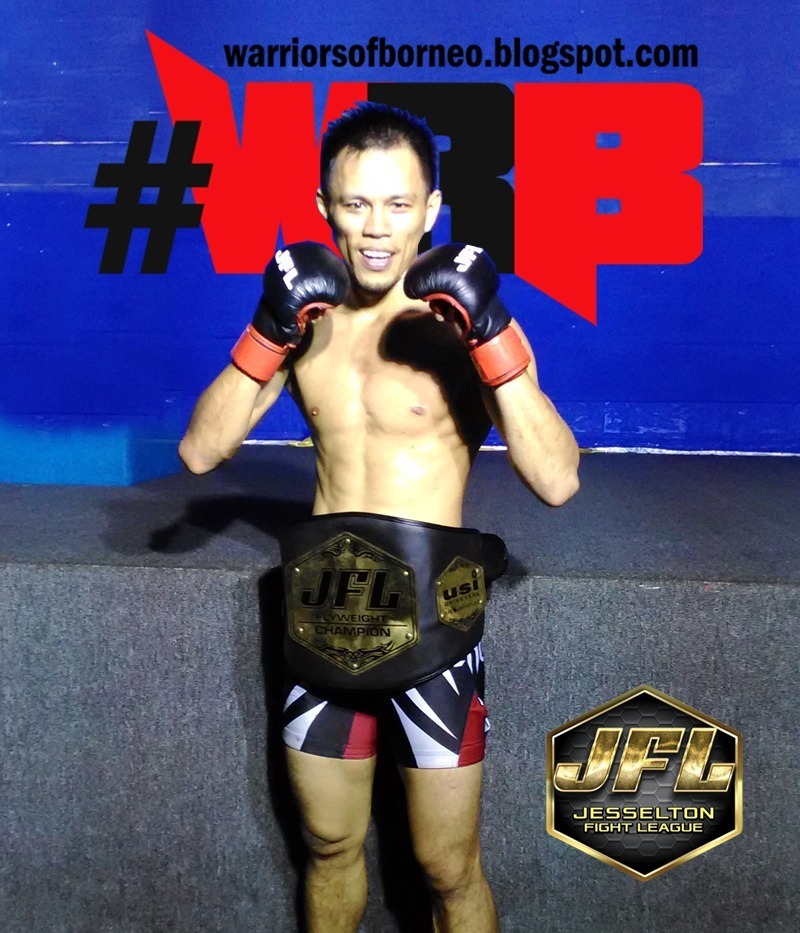 MIMMA season 4 this year, he was back in the thick of action. This time with better preparation he beat 4 opponents to reach the Grand Finals. In between MIMMA, he also kept busy by fighting at ONE Silat tournament.
In the Grand Finals MIMMA, Eddey put up a striking match vs Zhang Yu, but lost out to Zhang Yu via rear naked choke.
Nevertheless, coming from a striking background, Eddey has really improve on his ground game. He started with just watching on YouTube. From there on he apply what he watch when training with his students and his brother Effendey.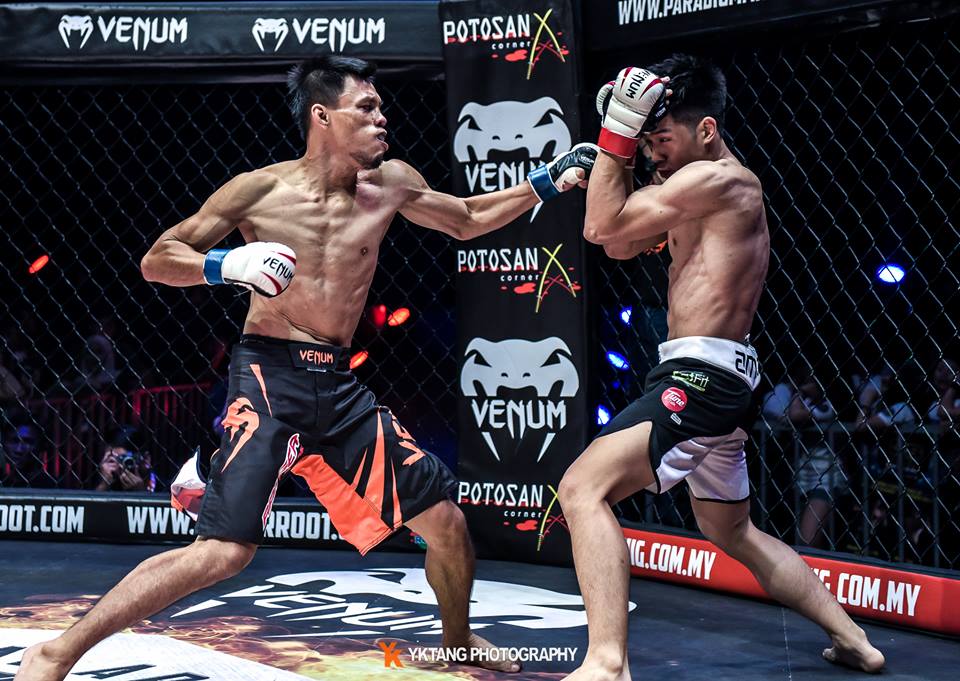 The improvement can be seen in last year's JFL when Eddey uses good sprawl and executed suplex. In MIMMA 4 earlier round, he was also able to mix his boxing skills with his wrestling and BJJ skills to control the fight. Even winning a silver in Copa Malasia (no Gi category) last year.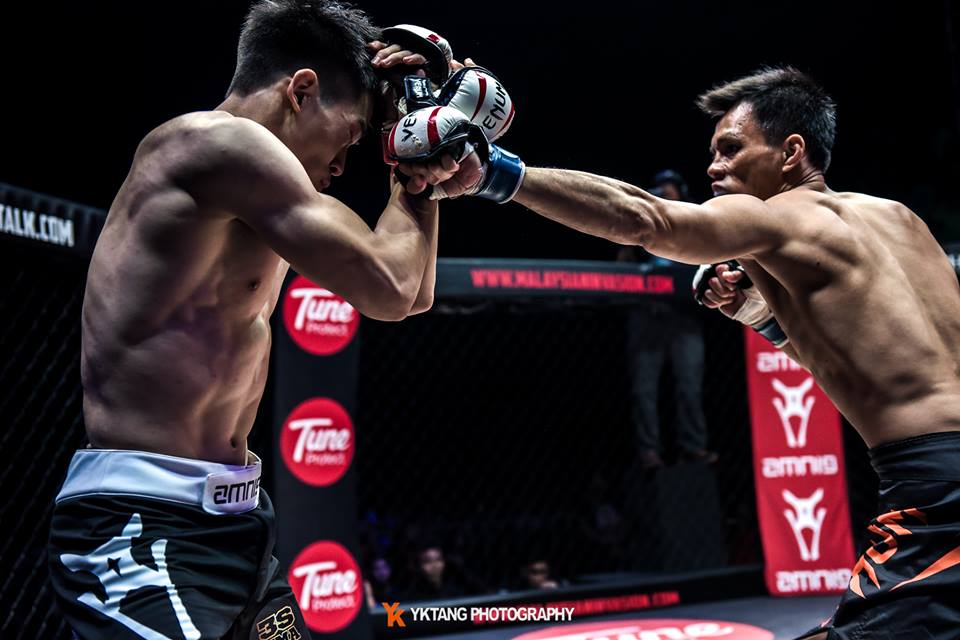 Eddey works in the Royal Malaysian Police Force. During preparation of MIMMA, being a husband and a father, his routine will start after he send off his family he will start training for 2 hours in the morning, then off to work. In the afternoon, he put in another 2 hours of solid training. Then pick his family home. Usually at night he will continue with coaching boxing at Kalai Brothers HQ, and sometimes he travel to Kelang to help Effendy coaching at ELITEZ MMA Academy
Ask on what was the most challenging thing during his MIMMA journey all these years, Eddey replied,
" My biggest challenge is to be merciless in the cage. In season 2 & 3, I kinda showed compassion. Hahaha but in season 4, I wanted to keep the medic team more busy."
Fighting at his age of 35 this year, I wanted to know what kept Eddey motivated, what kept him coming back for more?
"To just keep on doing it…, being constantly active is my motivation. I don't wanna stop. I enjoy being in the cage, just have fun. Furthermore I want to inspire the young talent in this sports and share with them my experience"
2 weeks leading to the match up with Seah in MIMMA 4 grand final, Eddey said he didn't train in full intensity as he was involved in a car accident. He rammed into the back of a car and bruise his knee. But being a fighter, he didn't use this as an excuse to stop, and kept on training through the pain.
Ask on what is his plan for 2017?
"I want to focus on preparing Effendy next year. He is young and has the potential to excel in this sports. It is not easy to make a living and fight at the same time, especially fighting at amateur level. I have three daughters and run Kalai Brothers Gym at Kepong. We opened up a bigger gym at Hulu Kelang, to be the HQ.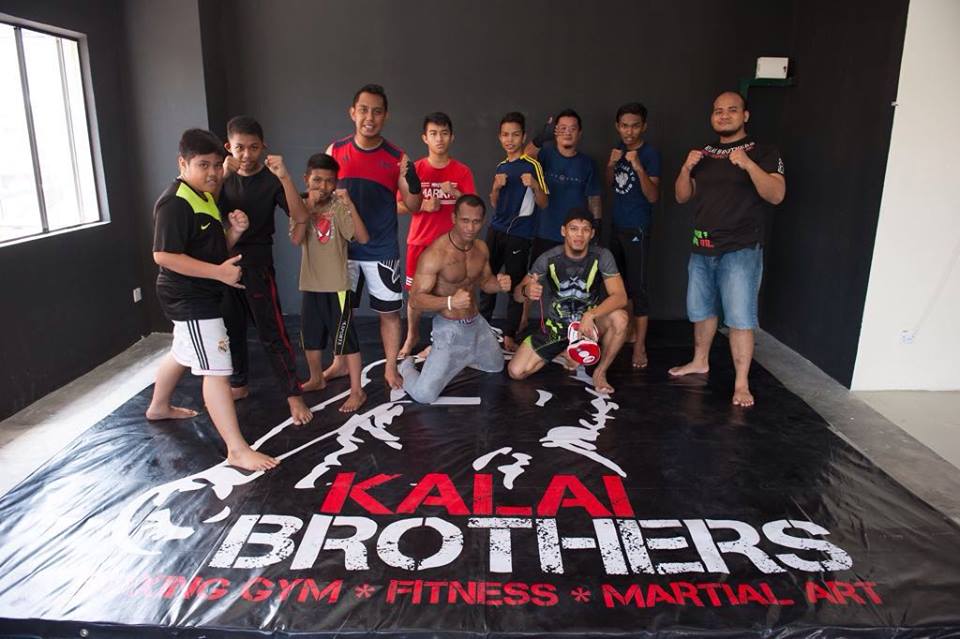 We use to train at MSN, but after not able to train there anymore, DeckTatoo (also known as North Borneo Headhunters) offered a place for us to teach boxing. Half of the place is his tatoo studio, the other half is the gym. I'm indebted to him for helping out as fellow Sabahan.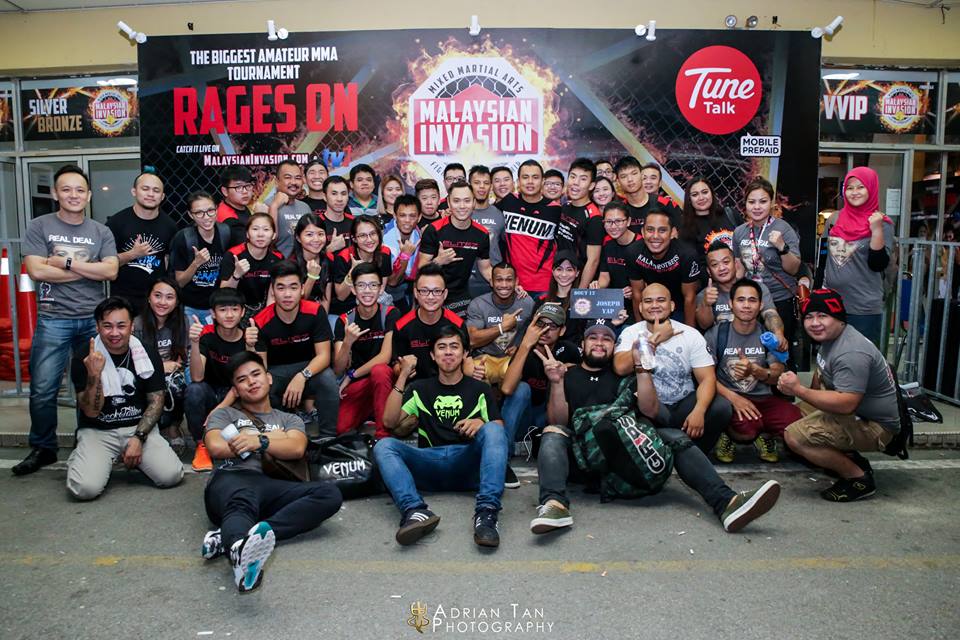 KALAI BROTHERS,  ELITEZ & VENUM supporters


The sad fact is the HQ will be closed. Due to some payment issue with the owner of the premise. The place was set up and I was waiting for the supplier of the mat, for 2 months we waited, but in the end he dissapeared! As we waited & the place not open for paying students yet, I use it for training to prepare for MIMMA grand finals. I told the owner that we will settle it after my grand final match. But owner is reluctant, so I will have to look for a new place.
I am not complaining, infact I am honoured to have a number of students that have stuck with us since the early days. Which is why I wanted to look for a bigger place to provide a more comfortable and better facilities for my students; and also a place I can use as centralised training for fight camp.
I would like to thank my sponsors too that has help me through my fight career, especially Potosan Corner whom provide me VENUM fight gear and RANGER energy drink
As for MIMMA 5, well who knows…if there's opportunity maybe I'll join again!"
——————————————
Effendy is the younger one at 25 this year. Effendy fight at bantamweight and has been a regular in MIMMA since 2013. With a record of 9-4-0, Effendy started off his first MMA bout in Borneo Fighting Championship in 2013. As his ground game was not polished yet at that first match he lost to Bruneian Noor Hidayat via submission. Subsequently he improve with 2 wins in F3 Championship. In 2014 Effendy joined MIMMA 2. Lost to Jenarten in the semi-finals.
Last year he participated again in MIMMA season 3. He also fought and win in Fight Fest 1 but in Jesselton Fight League ladder match he lost to Ahmadjon Karmiv (MIMMA 3 – Foreign Pride Champion). For MIMMA season 3 , Effendy defeated season 2 finalist Joshua Khiew of Penang Top Team. He entered the grand finals facing Johorean Tee Jac Yeo. But that bout was declared a no-contest, as Effendy pass out during an injury time out.
This year, Effendy didn't made plans to be in MIMMA. He was helping his brother Eddey and his team Kalai Brothers Boxing preparing and cornering them during the bouts. Until he was offered a bout in The Contender Fights, a rematch with Tee. The winner will meet the winner from Damon Soo vs John Liew's bout. Tee could not make it back as he has studies commitment overseas, which open the door for Effendy to enter the grand finals. Meeting Damon whom scored an unanimous decision over John.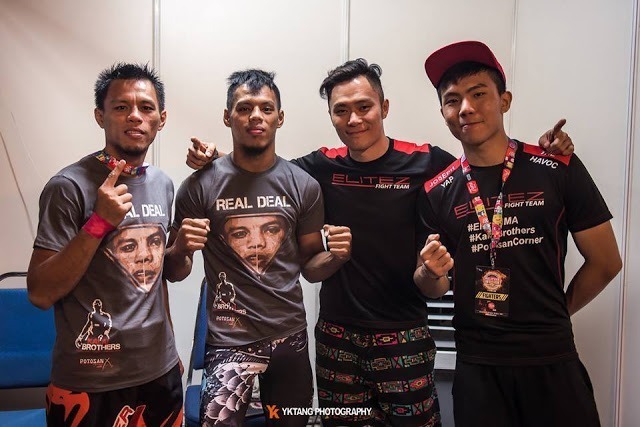 Eddey , Effendy, & Joseph Yap with ELITEZ founder Andy Teh 
Rushing to prepare in short timing, including a punishing training camp at Phuket Top Team, and juggling his coaching job at ELITEZ MMA Academy in Kelang, Effendy eventually made weight and stepped into the cage to fight for the first time in 2016. Before this he kept himself busy by participating in Pro Muaythai fight in Sandakan, in which he won over Ardi Jasnal.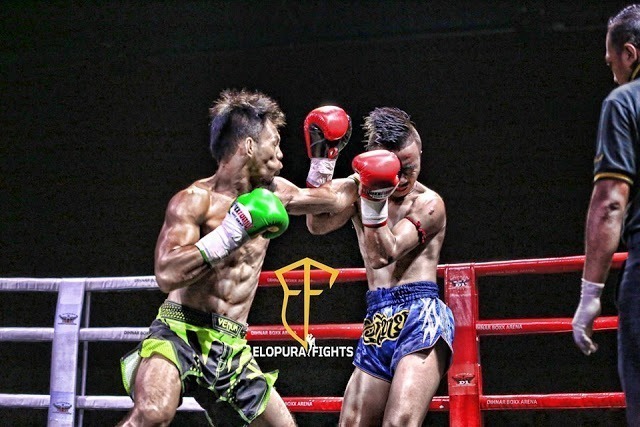 Effendey fighting pro Muaythai in Elopura Fights Sandakan in Sept 
Effendy vs Damon is a classic striker vs grappler match-up. Effendy clearly was looking for a knock out punch, with his hands cocking bombs, looking to land a huge counter. Damon was able to weathered the storm and even do some striking of his own. Brought Effendy down but surprisingly Effendy whom is not known for his ground game was able to get full guard and control Damon's posture and even attempt a gogoplata from rubber guard.
Round 2 started with good kicks exchanges from both. Damon duck under a left hook & clinch on Effendy's body, pushed to cage, trip the leg & took Effendy to the canvas. Effendy surprised Damon with a sweep. Effendy dropping punches but Damon got up. Effendy with a triple combos. Another sets of 1-2, & Damon return fire as Effendy back step. Damon with a strainght left & got a right underhook, stepped over Effendy's left leg & got his back. Effendy on both knees and Damon went for the choke lean back & got Effendy's tap.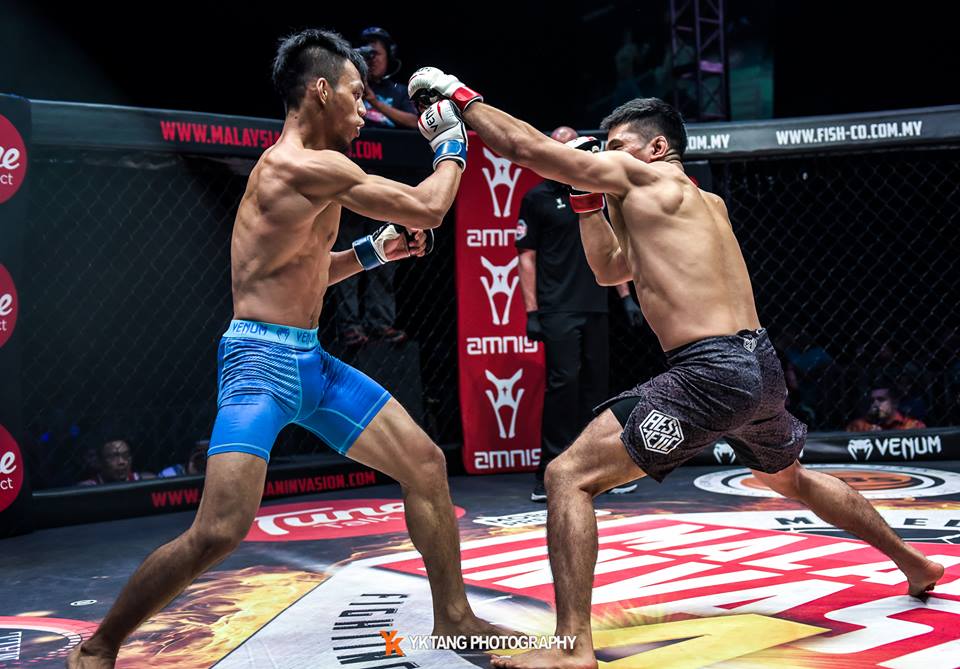 When after fight, Effendy said he was not in full battle mode. Because he wasn't expecting to fight for the belt. His training was mostly on his own. Not much sparring and his ground game mostly practice on a dummy. But the biggest factor affecting him was his mindset. He was so focus in preparing his brother Eddey that when Eddey lost, it kind of affect his focus on his own game. But he was glad to have the opportunity to stepped into the cage and fight.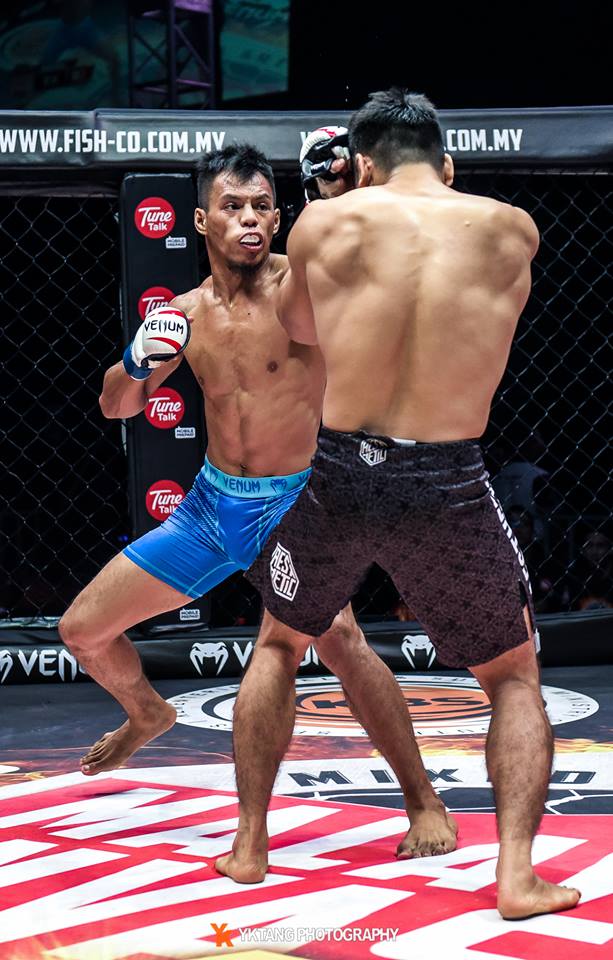 We won't see the last of Effendy yet. As he is still young and on the path of learning. With good preparation and right focus Effendy is a fighter to watch out for.