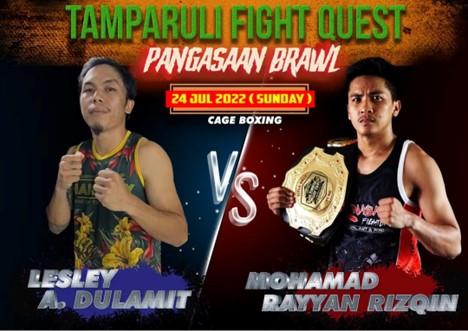 TAMPARULI FIGHT QUEST
Co-Main event : Feature Boxing fight
LESLEY  🆚 RAYYAN
             ……………👊🏼……………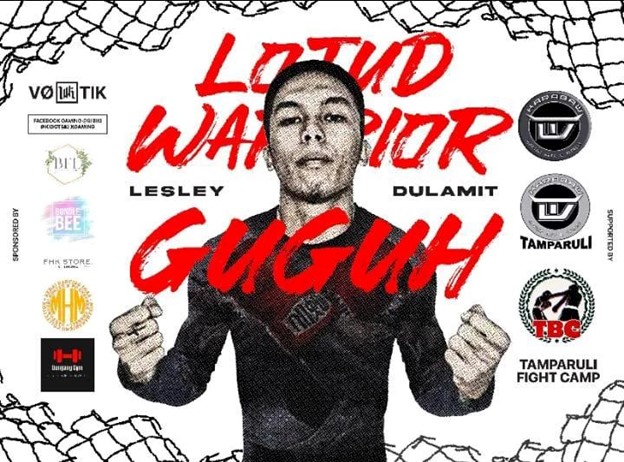 Lesley Dulamit
Age : 27
Team : Karabaw Tamparuli
Height : 170
Fighting weight : 57kg
Normal weight : 61kg
Lesley or more fondly call Guguh, isfrom Tuaran, a town 10km away from Tamparuli, his martial arts journey began at 13 when he picked up Tae Kwon-Do. This gave him a good foundation but he did not participated in tournament, instead he took part in Track & Field competiitons.
Then from his late uncle Jay Banding's encouragement, Lesley picked up Boxing by joining TUBA ( Team Tuaran Boxing ). Uncle Jay was an important figure in shaping Lesley's mind and heart as he always gave him support and motivation. One of his sweetest memories in Boxing was winning the Gold medal in 2015 President Cup.

He later join Team Karabaw Tamparuli and coach by Vallerio Gumbilai began to learn grappling and Muaythai which led him to eventually compete in MMA. He was also the first Sabahan to fought pro in a WBC Boxing event in Kuala Lumpur.
He earn a living working as a store keeper and also coach boxing in NteamKarabawinWisma Langat Jalan Penampang.
He was out of competition few years as he took a break, focus on work & the Covid19 restriction. He promise himself to be back competing this year and the first fight he took part in was Rampage 8
"TFQ 1 will be my 2nd fight this year, too early to retire, haha. My last fight was in 2017 with Randall Slayer (cage boxing) "
               …………………👊🏼…………………..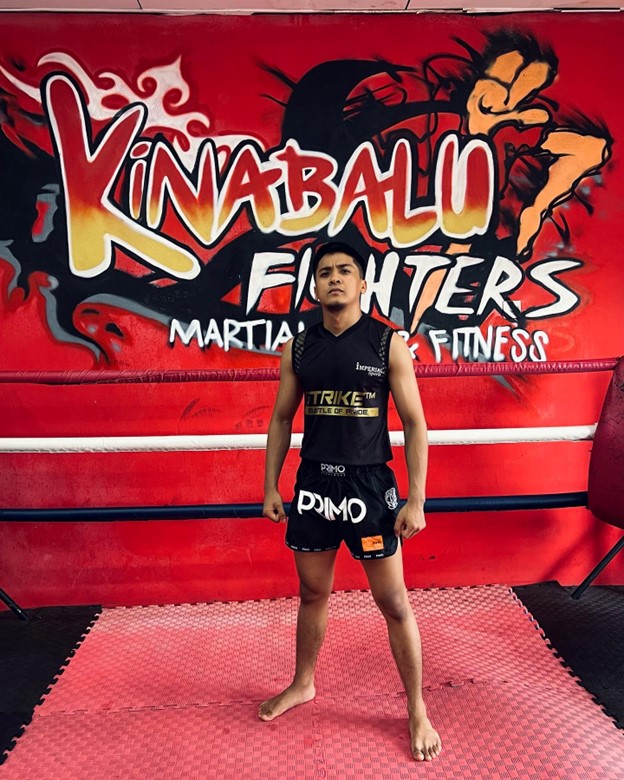 Mohamad Rayyan Rizqin Bin Mohamad Kassim
Age : 23
Team : Kinabalu Fighters Martial Arts & Fitness Centre
Height : 166cm
Fighting weight : 57kg
Normal weight : 58-60kg
Where u work now, what type of job?
"I'm currently the Muay Thai & Fitness , Kids Muay Thai Trainer at Kinabalu Fighters . Also a personal trainer, certified Muaythai referee & judge . I also am the Muay Thai Trainer at SM All Saints Muaythai Club."
Where you from ?
"I was born in Labuan but grown up all my life in Kota Kinabalu, my kampung is at Papar."
What type of styles u started with, have train in other styles?
"I've always been an active kid that was the smallest & thinnest. I got my first taste of martial arts when I joined one of my sister to Wushu training, then I had some time in Karate with Sensei Mao.  
After watching some Boxing & Muay Thai videos in Youtube, my interest grew.  
I didn't learn it from Youtube.  After searching around, my best friend told me about Kinabalu Fighters.
My first coach was the "Slayer" Randall Kadayum , I joined my first boxing class on a Monday night in 2012 . In just my second class was already a sparring session with the coach . Following next week only that I found out Kinabalu Fighters also offer Muaythai classes & that's how I started.
For a 23 year old, Rayyan holds an impressive record and achivements
He has over 30 fights ( Pro & Amatuer )  in both International and local events.
Notable  Achievement includes :-
Title Belt Holder for 51kg Sarawak Ultimate Muay Thai Championship
Fought for the Intercontinental 51kg Kunlun Fight Title belt Against Hong Kong's no 1 Ranked Fighter
Fought for the 51kg PMKL Title Belt at Stadium Titiwangsa Kuala Lumpur
Fought for the 56kg title belt for Strike Redemption Event in Brunei
Sabah Amatuer Champion at 48kg , 51kg & 54kg  . Borneo Champion at 48kg-51kg & 51kg-54kg . National Elite Champion in 51kg
2018 SUKMA 51kg Bronze Medalist For Sabah
What makes u wanna fight in TFQ? What is your motivation?
" Everyone have suffered badly for this past 2 years due to covid . I am not excluded, and recently we all know that mental health problems rates percentage have gone higher than ever. I am not excluded too. Some of my close relatives & friends might know what I've gone through but that is not the case. I am proud to say that I am a survivor of severe mental health & also I've healed a gut problem on top of that after almost 2 years of working towards healing.
But as I've promised myself, when I've reach my success it is not the end of the road. This is why I've decided to take part of this fight, and why my hunger & motivation is bigger than ever.
I'm dedicating this fight to all the people who are still suffering mental health & also general health problems. But I do want to make things straight first & foremost, some people might take me as an example fully to tell someone who is suffering & say "tengok si itu, tengok si ini boleh " . No peeps that's not how things work, so please I urge everyone to learn more about mental health so that they approach others in a proper way . Last but not least, nothing comes easy in life. You gotta take the opportunity in the tightest spot & work your ass off to achieve what you are working towards, so no matter how you much suffer, yes take a break & slow down but do the necessary work to reach your destination & leave the rest to The Almighty."