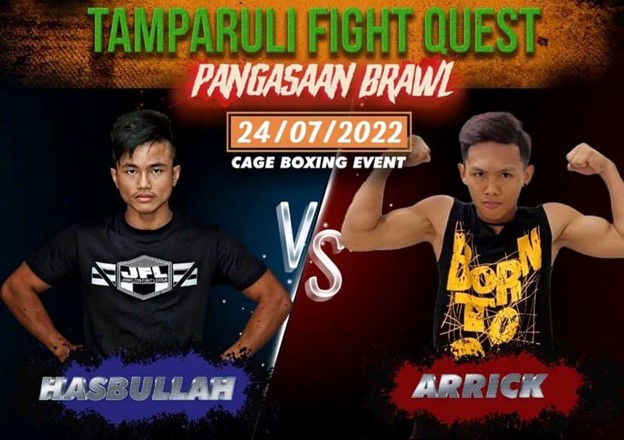 TAMPARULI FIGHT QUEST
Feature Cage Boxing fight
Hasbullah  🆚 Arrick
             ……………👊🏼……………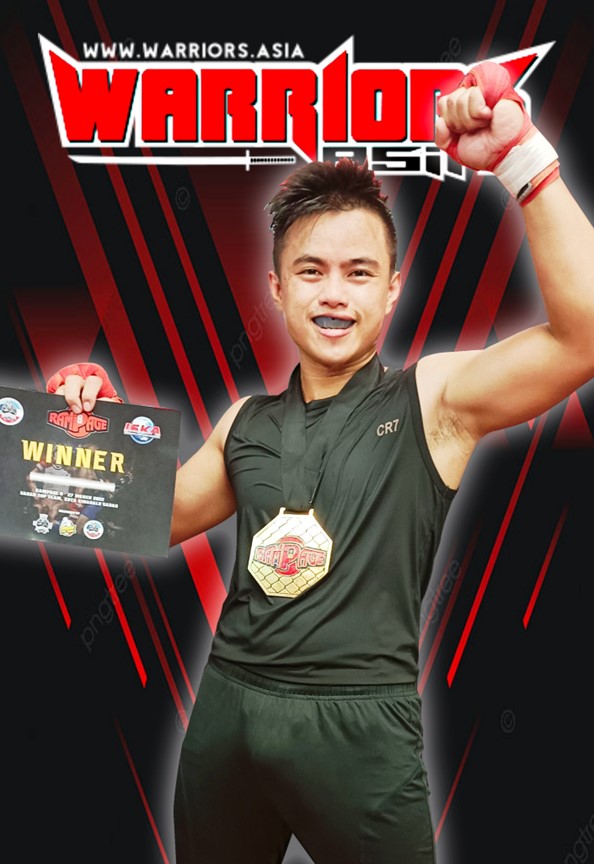 Mohammad Hasbullah Sanmin
Age : 29
Team : Garagas Fight Team
Height : 162cm
Fighting weight : 60kg
Normal weight : 63kg
Having a fight name Garagas which means tough & certainly suits Hasbullah. His fighting style is aggressive but over the years with maturity & improvemet he also has become a very technical fighter that also possesses huge knockout power
Hasbullah is from Keningau, works as coach in his Garagas Fight Team gym and also a therapist for sports injuries
He has been in martial arts since 2009. Started with Boxing , then progress to Kickboxing, Muaythai, BJJ & MMA. He started actively competing in 2012.
Fight Record:
BJJ: 19 – 15W 4L
MMA: 24 – 21W 3L
Sanda: 1 – 0W 1L
Boxing: 9 – 8W 1L
Muaythai: 11 – 9W 2L
Kickboxing (K1): 12 – 12W 0L
These are some of his notable achievements:
BJJ: Sabah Open BJJ – 2018
MMA: Bantamweight Champion Jesselton Fight League – 2014
Muaythai: The Best Of Sabah – 2015
Kickboxing (K1)
BMAEX ISKA 57kg Super 4 – 2017
BMAEX ISKA 57kg South East Asia Title – 2019
What makes u wanna fight in TFQ? what is the motivation?
"I want to increase my experience in Boxing, hence taking this Cageboxing bout, taking on the best Boxers in Sabah before competing out of Sabah. I want to be prepared and TFQ is a good platform for me to dust off any cage/ring rust.
My close friend Douglas Gumbilai offered me to fight, I didn't hesitate, no  thinking twice. I accept the fight even though I don't know who my opponent yet that time."
…………………👊🏼…………………..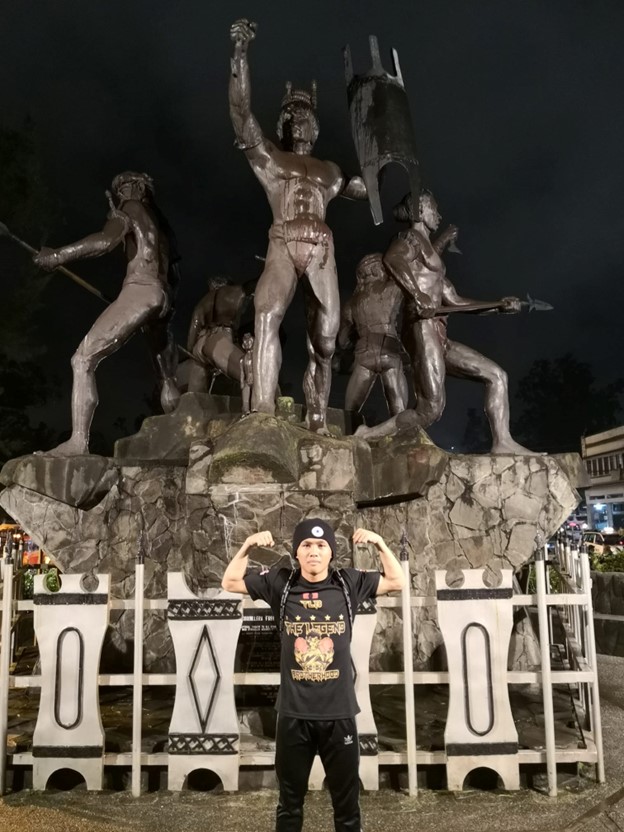 ARICK APAR
Age : 25
Team : TBC (TELENT BOXING CLUB)
Height :158cm
Fighting weight : 60kg
Normal weight :68kg
Arick is from Kg Bakut Tuaran.
Active in sports when he was a teenagers, into Futsal, Volleyball & even represented Sabah in Badminton. He had to stop Badminton due to lack of funds to train, & travel to compete.
His cousin was the one always encouraging him to join Boxing. Arick was not interested at all. But when he sees his cousin compete & won trophy, his mindset change. He felt the need to test himself & feel what is it like to be in the ring. So he started to train in 2013, guided by coach Larryboy & Jeffri Ismail.
He took part in Sabah Games (SAGA) representing the district of Tuaran in Boxing 46kg, and as of date have more than 30 fights in his record.
Among his notable achievements
Champion Mayor Cup 2014 (49kg)
Champion President Cup 2015 (49kg)
Champion Sabah Games (SAGA) 2015 (52kg)
Champion President Cup – 2016 (52kg)
Represent Sabah in SUKMA 2016 & 2018
Champion Mayor Cup 2017(49kg)
Train with Philipines national team 2016 & 2018
Bronze – Piala Remaja Trengganu  (49kg)
Bronze – SUKMA 2016.
What makes u wanna fight in TFQ? what is the motivation?
"I want to proof to everyone, especially my new team – TBC (TELENT BOXING CLUB), that I'm capable coach & also as a Boxer, able to compete with the best Boxer in Sabah."