The mood of Merdeka or Independence day will still in the air on 2 Sept 2016 when ONE Championship : Unbreakable Warriors held at Stadium Negara Kuala Lumpur goes down. It will feature 8 Malaysians fighting that night out of the 10 bouts.
Let's see what's instore for Malaysian fighters on Friday night.
Sabahan Hisyam 'Zephyrus" Sams from Borneo Tribal Squad will debut together with compatriot Mohd Aiman from Negeri Sembilan. But they won't be meeting as friends in the cage tomorrow night as both will face each other in a battle of Malaysian debutant.
Hisyam has 2 pro fights under him from Full Metal Dojo, his record at 1-1-0. Losing the last fight to Thai Veerayut Uttapan at FMD7, after a tough 3 round fight. Striking wise, Hisyam has good boxing, becoming the World Boxing Federation (WBF) Asia Pacific light heavyweight Champion at Singapore Fighting Championship 2 in Feb 2016. He will also rely on his experience from fighting muaythai & from winning two fights at ONE Silat will also be an important factor facing Aiman.
A character that can clearly define Muhd Aiman certainly is a warrior's heart. This young lad from Negeri Sembilan was the finalist for MIMMA in 2013 at Bantamweight, losing to Prabu Somanaidu. Following year In 2014, MIMMA season two, fought through the ranks and again reached the finals but he didn't made weight. Season 3 came & he started from scratch all over again participating in the try outs and eventually reached the finals and this time emerge victorious against Hafizul Hakim of Sabah.
Aiman has been training at Bali Muay Thai & MMA with his close friends the Subba brothers. In April this year he turned pro & fought in China at Kunlun Fight 41, losing to Korean Sung Bing Jo. He will be eager to get a win in his ONE debut. Aiman also has boxing experience and certainly has gained much improvement in striking & grappling from his training in Bali MMA.
Hisyam said that facing Aiman, he is ready to go ground or stand and strike. He firmly believes his coach AJ Pyro's game plan for him will work. Hisyam is proud to represent Sabah's BTS for this fight and he felt that fighting in ONE is a dream come true but he felt that the attention will be on Aiman and he is comfortable being the underdog.
Malaysian best known MMA siblings the Subba brothers will be in action together on the same night this Friday.
Gianni Subba the older siblings is also one of Malaysia's best MMA talent. At 24 he is already considered a veteran in ONE. First appeared for ONE way back in 2012 for ONE FC's 6th show. He has fought 8 times since then. Gianni is coming out of a lost to Philipino Geje Eustaciao in April 2016. Before that he chalked up 4 straight wins. He is keen to get back to winning ways to start to stamp his presence in flyweight and determine to put up an impressive win vs Brazilian Yago Bryan.
Yago represent Nova Uniao of Brazil. Famed as the gym that produce former UFC featherweight champion – Jose Aldo and former UFC bantamweight champion – Renan Barao. Yago's MMA fight experiences are mostly gained from his fighting days in Brazil since 2014. His 1st fight at ONE is at ONE: Pride of Lions in Nov 2015 where he challenged Dejdamrong for the Straw weight belt but lost in an unanimous decision.
Gianni's younger brother Keannu Subba is also trying to get back to winning ways after his last lost at Hefei China to Chinese flamboyant rising star Li Kai Wen. Keannu despite an elbow that was not fully recovered put up a great fight in 3 round but lost by unanimous decision. Before turning pro, Keannu achieved the pinnacle of Malaysian amateur MMA by winning the MIMMA featherweight belt twice in 2013 & 2014.
His opponent is Pakistani Wakaq Umar. Wakaq does not have a nice record in ONE. Losing 3 times before going back to his home land to fight at PAKMMA early this year and got a win by choke in the first round.
Another prodigy from MIMMA is Agilan 'The Alligator' Thani. Agilan tore through his opponents in MIMMA2 and became the welterweight champion. Trained under Samir Mrabet at Monarchy Gym, Agilan originally wanted to lose weight but got so skillfull he decides to fight as a living. Turned pro at ONE FC 25, Agilan is on a roll…with an impressive 4 wins in a row, all by finish. Especially his last fight where he dominate and TKO American Brad Robinson with punches in round 1
Trestle Tan of Philipines has stepped up to face The Alligator. Tan five losses all came by TKO / choke, holding a 4-5-0 record. But Agilan cannot take him lightly and treat him like an easy meat as all Tan's 4 win also came by TKO / Choke.
Malaysian MMA superstar, Peter Davis make a return to the oval cage this Friday night. Peter's was a financial consultant that dabbled into acting, modeling and coaching before committing to a fighting career. Malaysia's MMA growth can be partly attributed to Peter as ONE Championship & MIMMA use his marketable face & personality to promote MMA to the Malaysian public, and these worked effectively as we now see the high awareness of MMA among the Malaysians general public and the many young prospect that took up MMA inspired by him.
Peter's ground skill is top notch and he never gives up in a fight even though starting off being dominated. But his last fight at Kuala Lumpur in October 2015 did not end well. Facing Australian Adrian Pang who fought with a rigid stance that seems immovable, Peter suffered a devastating KO from Adrian's punches. But Peter took the loss in his stride & uses it to motivate himself back to fighting fit.
At 5-1-0, Peter's opponent, Shannon "One Shin" Wiratchai is on a 3 fight winning streak. Last fought in his home land Thailand in May 2016, he impressively TKO Burmese Kyal Ling Aung. If Peter is the poster boy of Malaysian MMA, Shannon could be the Thai version. Having a penchant for showmanship, Shannon will try to win the fans heart while trying to break the heart of Malaysian at the same night. Will he succeed? Only Peter Davis can prevent him from doing so.
We move on to the ladies…. Yes the darling of Malaysian female MMA Ann "Athena" Osman is back. After the crushing KO to Wushu champion Irina Mazepa in the same night as Peter's lost, Ann has gone back to the drawing board to polish up her skills. It seems like ONE keep giving her Wushu based opponent. Ann returned to the cage in ONE : Dynasty of Champions in Hefei China in July 2016. Her opponent was Egyptian Haiat Farag, a wrestler and also a Wushu champion. Ann weathered the storm of throws and punches that connected in the early minutes. Never one that gives up, her fighting spirit went on warrior mode as she look for an opening for her move, it came close to the end of minute 3 of round 1, she manage to grab Haiat's extended arm and bellied down with a reverse arm-bar, Ann took the win by submmission. Ann described Haiat as a real aggressive opponent but she reminded herself to stay calm and she manage to overcome the adversity to take the win. She attribute this all to her long time mentor and coach at Borneo Tribal Squad – AJ Pyro, training her not only on her physical prowess but also on mental toughness.
Ann will need all these as she will be facing another Wushu stalwart. Her opponent is a young 22 year April Osenio. April has fought only twice (1-1-0). Her win was over Australian Natalie Hills, in April 2016. Even though only having 2 MMA fight experience but coming from Team Lakay put her on solid foundation.
Team Lakay was founded in 2003 by MMA fighter by Wushu instructor, and Philippine Military Academy martial arts trainer Marquez Sangiao. Under Sangiao's charge, Team Lakay's fighters have grown into dominant warriors who are well versed in striking, wrestling, and submissions. And thanks to their high-altitude training in Baguio City, their fighters seem to be always on full gas tank. Notable MMA names from Team Lakay are Edward Folayang, Kevin Belingon & Honario Banario.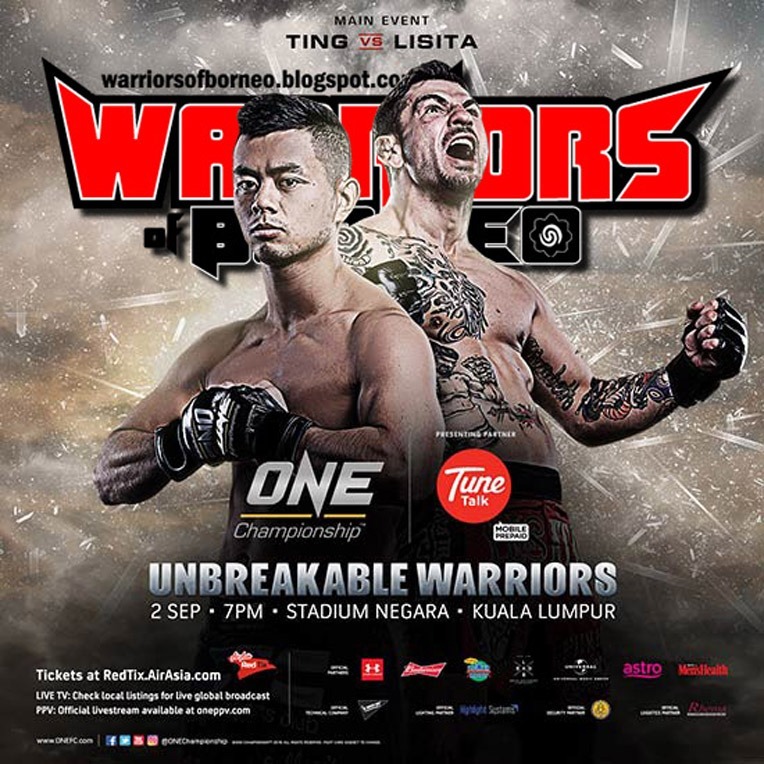 We now come to the main event of the night. Ev 'E.T.' Ting vs Ruthless Rob Lisita. His last fight was in Jan 2016, submitting Eric Kelly with a choke. Since then he has kept himself busy by coaching MMA and running sessions for the fight team at Saigon Sports Club at the same time training along many fighters who pop through the gym.
Ev lives and trains out of Auckland, New Zealand, and has amassed a stellar 11-3 record so far in his professional career. A winner of his last two bouts by impressive submission over top caliber opponents, Ting is one of the most talented fighters to come out of Malaysia.
33-year-old "Ruthless" Rob Lisita of Campbelltown, Australia, is known as a relentless offensive force, armed with powerful striking combinations intended to score highlight-reel finishes. But of late Lisita is on a 3 fight losing streak by choke / TKO. He is veteran fighter who has faced the best in his division and beyond.
Warriors of Borneo asked Ev on how is his preparation for this fight,…
" I spent first 4-5 weeks at Saigon Sports Club but will be acclimatizing and peaking last 3 weeks here in KL with my Malaysian team mates from Bali MMA, Monarchy and Klinch. My coach will arrive from Auckland to help me with my final details to peak for fight night"
On how this fight came about and how Rob has been calling him out.
"Rob Lisita was not a fight I was looking for as I always want to move up in ranks, yes he has been calling me out and this is what ONE insisted without another option. Rob is not an easy opponent for anybody and I am training for the best version of Rob Lisita"
Would you be asking for a featherweight title fight after a win over Rob?
"Yes I want my due title shot; I will have 6 wins and 6 finishes after this fight and being undefeated in KL. However if I really need to still keep proving myself then I will not decline"


Rob is a heavy striker…but his last fight was caught by Timofey early…wud u employ same tactics….start striking early?
"Robs last fight was much too short to study or find any patterns. Rob presents some threats however I am confident I have the right gameplan to get the W over Rob"
What have u been doing besides training ?…what's the thing that get your mind off training?..Any other hobbies or interest you indulge in?
"Recently being away from home where I indulge in all kinds of nature and apart from delicious food, I have been exploring the world of TV entertainment catching up with the latest movies and TV series such as Kingdom. However people often say I need more hobbies : P "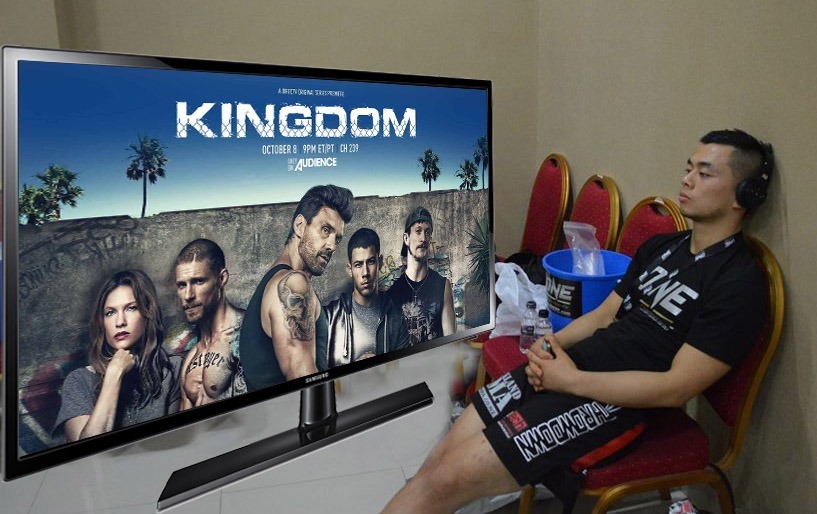 catching up on his favourite TV series
Warriors of Borneo wishes all Malaysian a great Merdeka week, and wishing all the Malaysian fighters the best of luck, Fight hard, Fight smart, Fight with all your heart!
Selamat Hari Merdeka Malaysia!