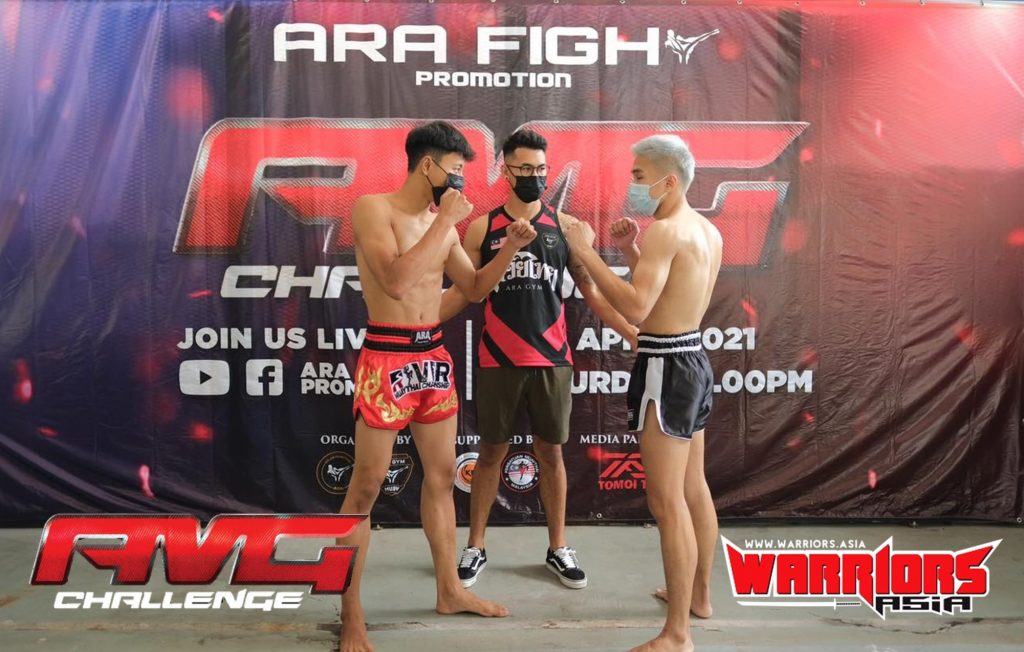 It has been more than a year since Malaysia went into shutdown during last year's MCO ( movement control order ) in March. The sports industries was severely affected. Especially contact sports such as Muaythai & other combat sports.
In 2021, many of us have learnt to follow the SOP for this covid19 pandemic, and when the latest MCO was lifted and SOP for combat sports competition are firmed up, many martial artist are eager to get back in the ring.  The thirst to put their training into competition is real. But not many organizer are willing to embark on this as they are many aspect to be taken care of with strict following of SOP to ensure the safety for the athletes & all that is involve.
ARA Fight Promotion will be the first to swing into action this Saturday 3 April with AMG Challenge.  6 pro rules Muaythai bouts will be competed featuring veterans and raising talents of Malaysian Muaythai scene.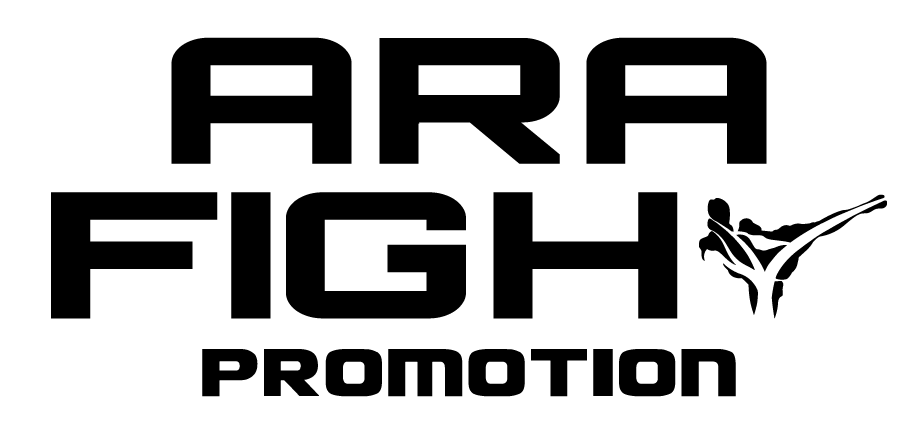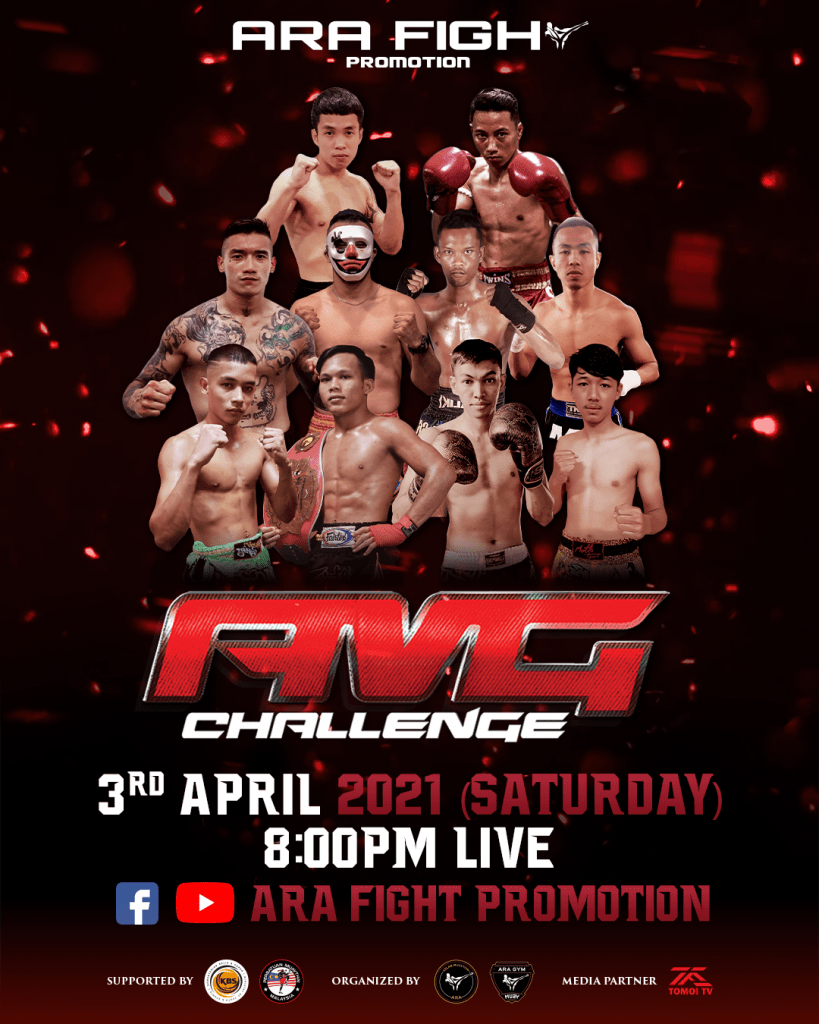 Before we go into the fight cards. We talk to ARA Muaythai Association ( Persatuan Muaythai ARA ) president Ikmal Zainal to find out more on the background of the event.
According to Ikmal, the original date planned for AMG Challenge was in April 2020, but due to the MCO, the event was postponed to 2021. ARA Muaythai Association has been organizing AMG Challenge yearly since 2016.
In 2019 they organized RIVER Muaythai in Malacca in conjunction with Malacca Grand Cultural Fest, which saw athletes from Singapore, Thailand, Vietnam, Philippine and Malaysia competing in a turn-out of few thousands' crowds.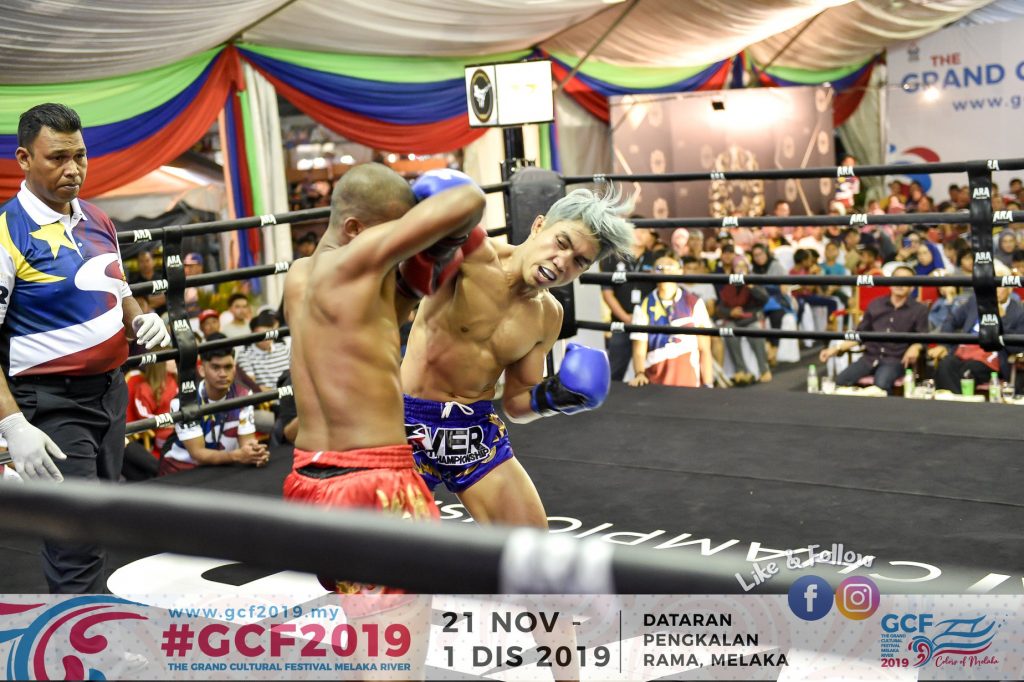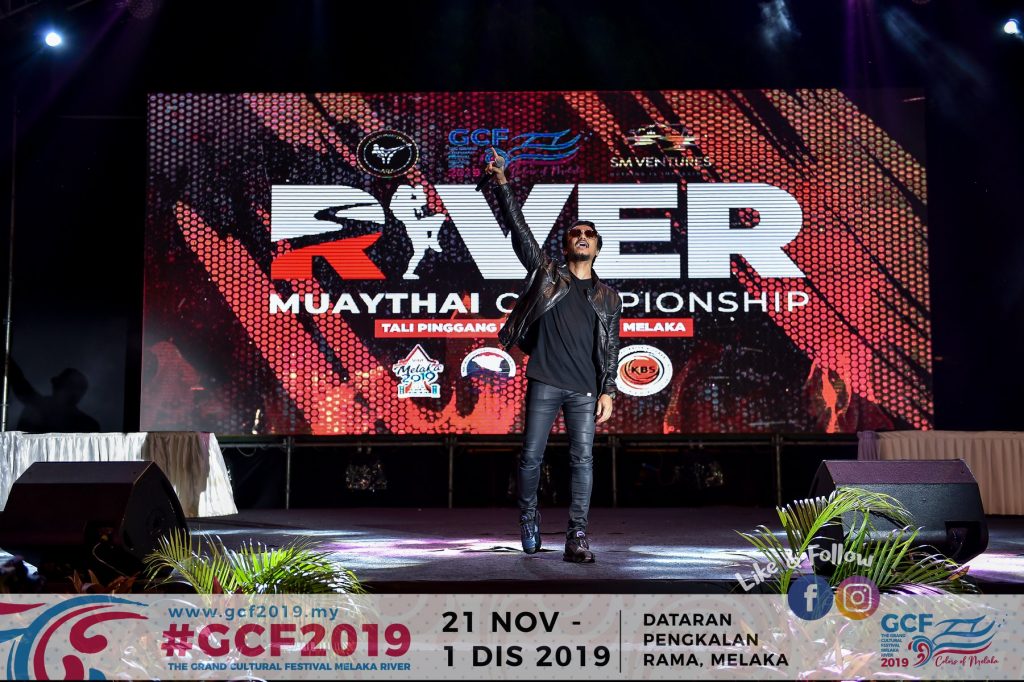 Ikmal is also the founder of ARA Muay Gym. He has caught the Muaythai bug since 2011 and trains passionately. After he graduated with a degree in accounting, he decided to put his passion into business by opening ARA Muay Gym. AMG is the abbreviation for ARA Muay Gym and he organized it as a way to promote his gym and the sports of Muaythai.
As a new businessman, running a gym in 2020 MCO was exceptionally challenging.
"The first MCO, all  gym was closed for continuously 3 months. If it have extended to four months, I think I would have closed the gym for good " said Ikmal. As MCO was lifted, classes began to start again but with limited people able to train. If not for his deep passion for the art of Muaythai, Ikmal would not have persevered.
Armed with the knowledge of the SOP of covid19 and the working paper for AMG 2020, he motivated himself to look positively in the future to ensure AMG will again be held. We are glad he did that, and we have ourselves a fight night tonight!
RTK swab test was done on 31 March to ensure all fighters are covid19 negative and weigh in was done in 1 April.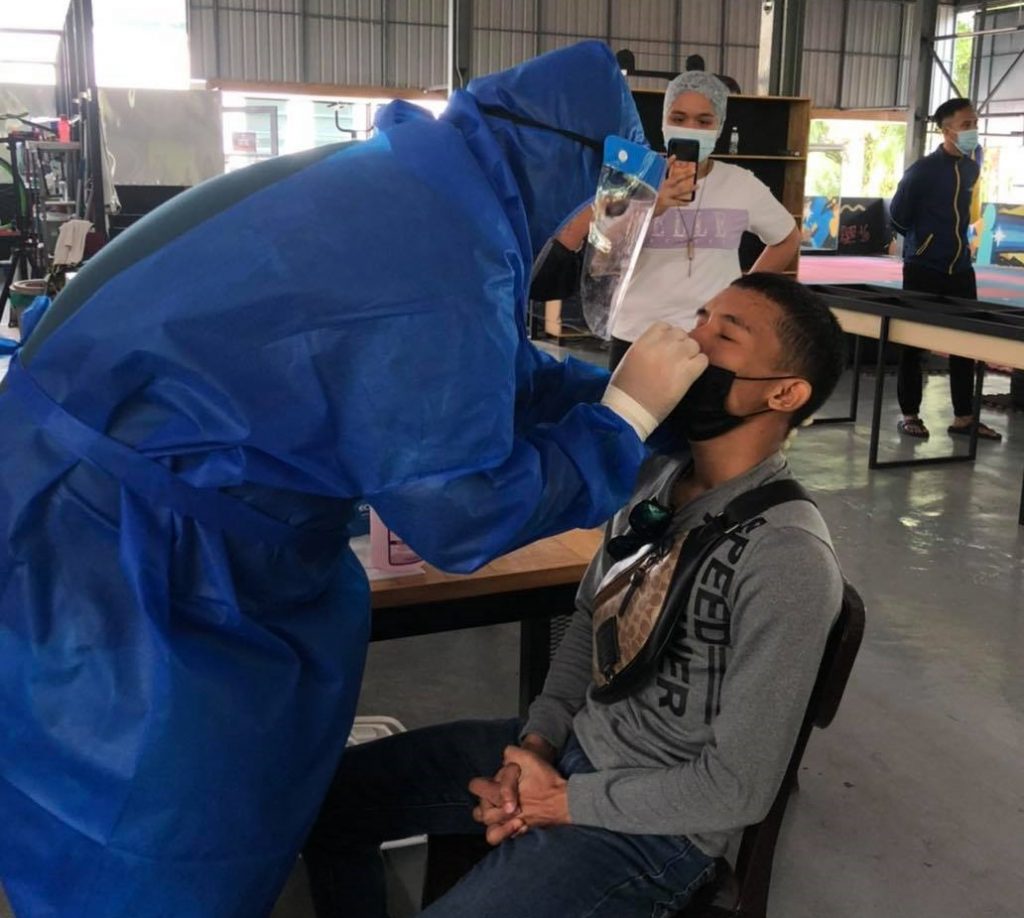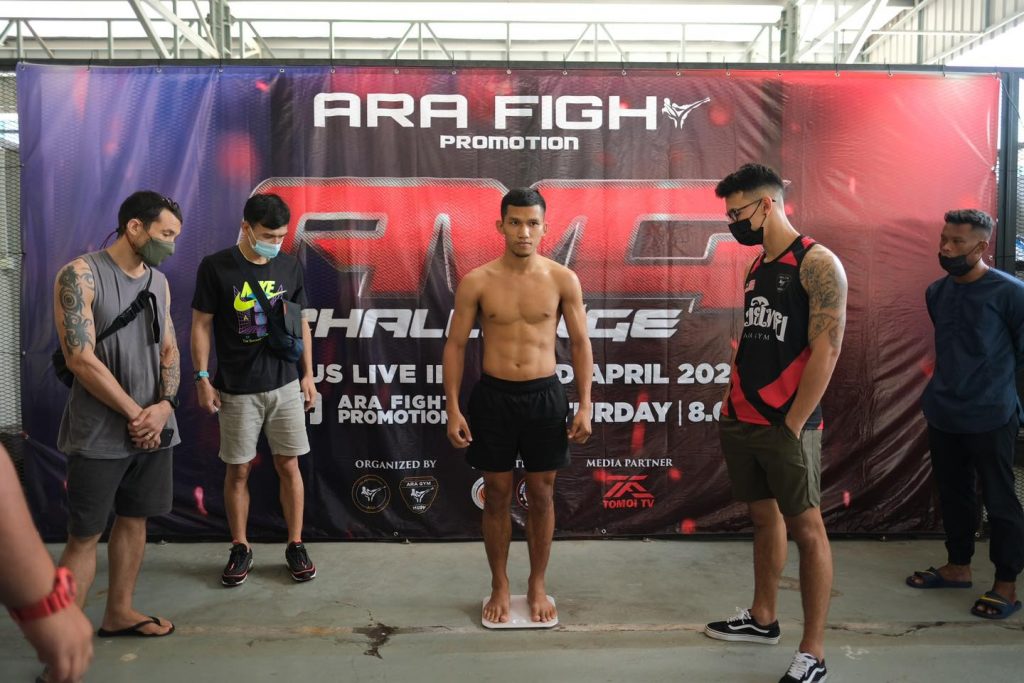 Due to unforeseen circumstances, there was a last moment slight change in the cards. The highly anticipated 71kg fight between Nidal ' King Joker ' vs Han will now see Han facing Robox CD. Both are veterans of the game with 30 fights in each of their record.
In the 58kg bout, veteran of 30 fights, Maliki Habiel 66 will now face Aiman Rodzi.
Raising star Aiman Koboi from Sarawak, representing Discover Muaythai will face Khairul Aizat
In another 58kg, bout 6 promise to be an all-out action affair as raising undefeated star Vincent Seaw of Sharks Muaythai, champion of 55kg in MADNESS SuperMuay Asian Challenge 2020, will be taking on Haitham of Singa Malaya, a young aggressive fighter that already have 30 fights with 26 wins in his record and the silver medalist of 2019 SEA Games in the Waikru Mai competition
Below is the confirmed fight card: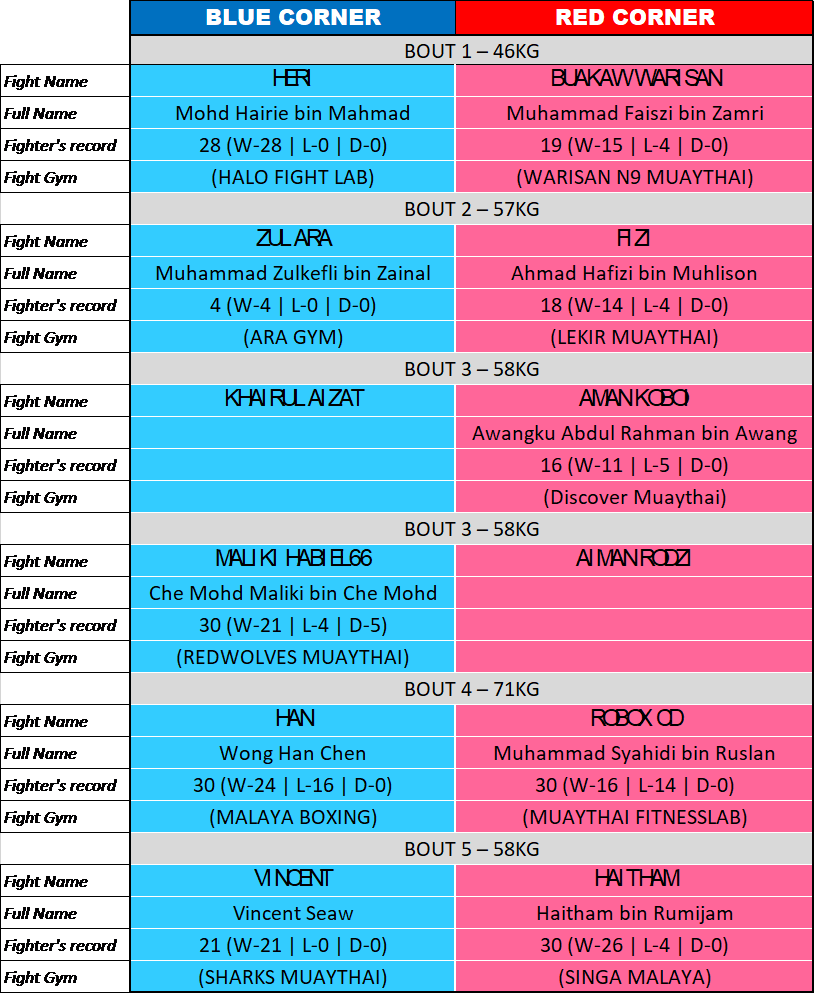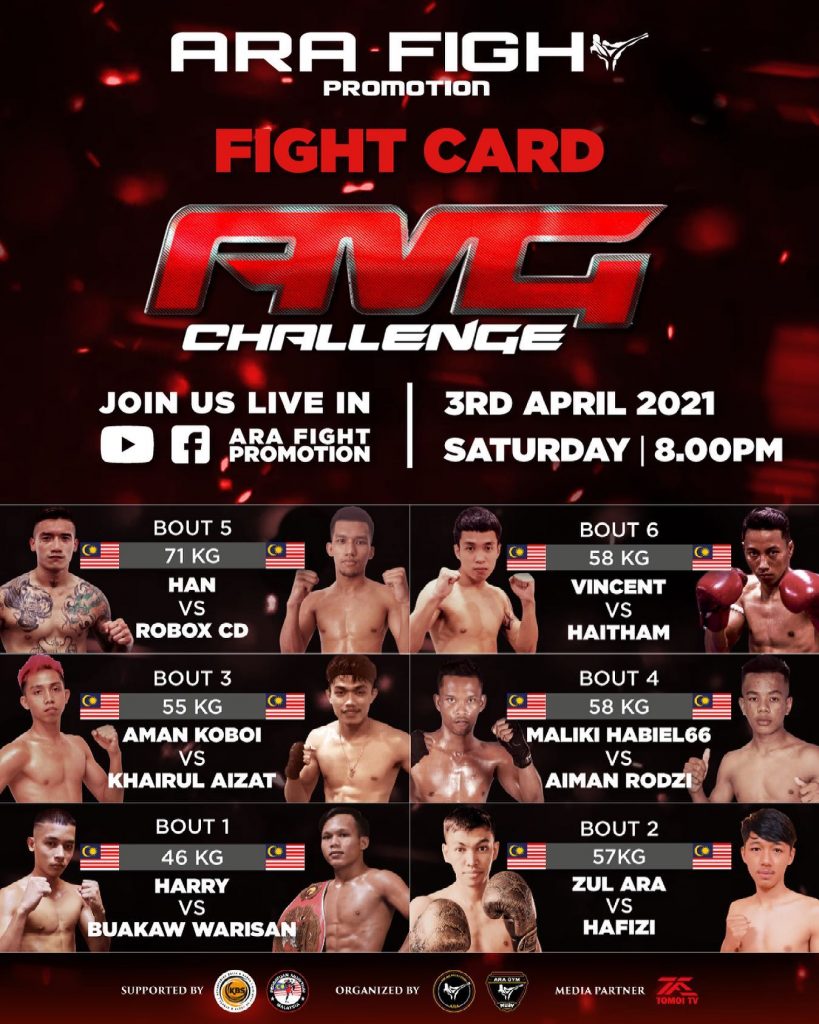 Ikmal said AMG Challenge will continue to be a yearly affair if all goes well with the improvement in the covid19 situation. He is also confident that as the vaccination program is being carried out, Malaysia borders will open again, and he has plan to organized a Muaythai event with Indonesia.
It was a plan set for 2020 collaborating with Indonesian promotion Ksatria Fight. The idea is to have a series of Indonesia vs Malaysia Muaythai challenge, looking into having a series of events in both countries.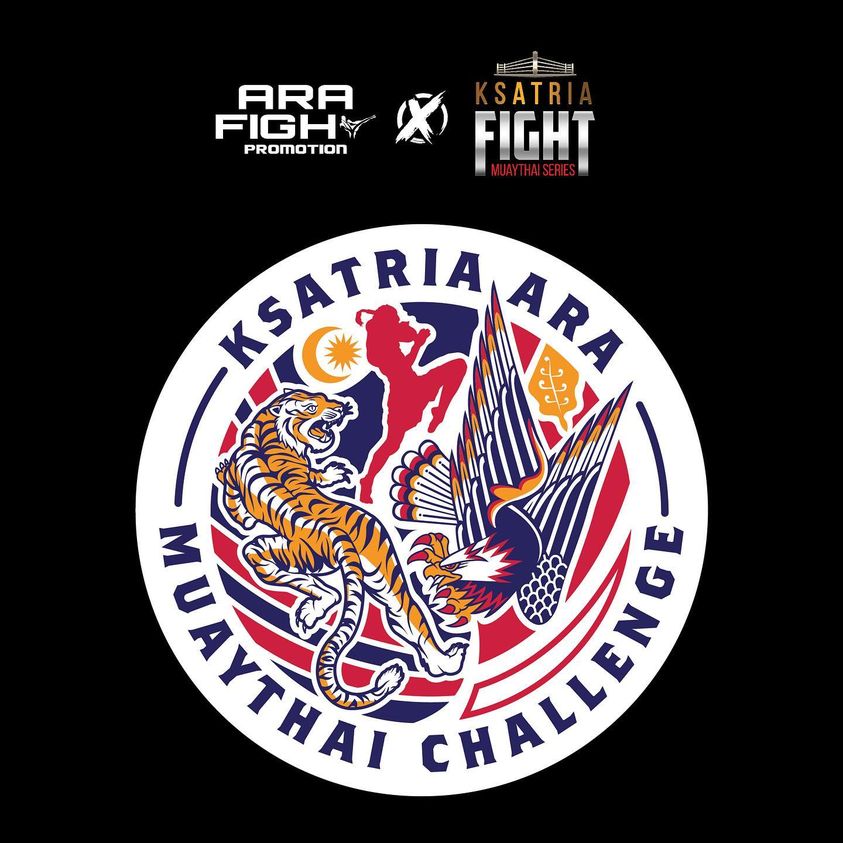 Warriors.Asia wishes Ikmal & ARA Fight Promotions all the best for the future and most importantly a great fight night on 3 April.
Due to the covid19 situation, this event will not be open for public attendance. You all can catch it live starting at 8pm in their FB page https://www.facebook.com/arafightpromotion/?ref=page_internal