JFL IV – Semi Finals
It's been a few weeks since I last wrote in my blog. Work has occupied my time, but JFL Semis is just around the corner & I wouldn't wanna miss it. I attended the weighing in today at Karabaw Gym KK. & manage to pick up a few stories.
As usual JFL head honcho / founder Sensei Rayner Kinsiong conducted the weighing in. All were smooth, except me sweating a ton…I feel like I was the one trying to make weight…
The Semis will be in Foo Chow Hall Bukit Padang, as the last quarter final in April. My opinion is this is rather a good venue, not too far and there are a few food outlets here, but anyway JFL organisers have also set up food & drinks stalls for hungry folks. Rayner has improve production level in the quarter-finals where spot lights are used to focus on the cage & smoke during the fighter's walk out.
Below are the fight cards
All made weigh except Fazdiana , whom has to pull out due to injuries. The Gymbox team did weighing in thru video & all was in order.
Main Event: Khairul Anwar vs Jace Law.
Most recently, Khairul came off a submission win over Chang CK with a rear naked choke in JFL quarters. Utilising his superior jujitsu, he was able to dominate the fight.
With a current record of 2W 1L. Khairul reached the semi finals of MIMMA in 2013 fighting as a featherweight.
Khairul is a BJJ practitioner and started training in 2011 at BJJ Borneo Damai, that's where he met Ritchie Ismail ( MIMMA 2 finalist ) and Adrian Tham ( MIMMA 1 Heavyweight Champ ), and has been training together ever since as team NOMAD.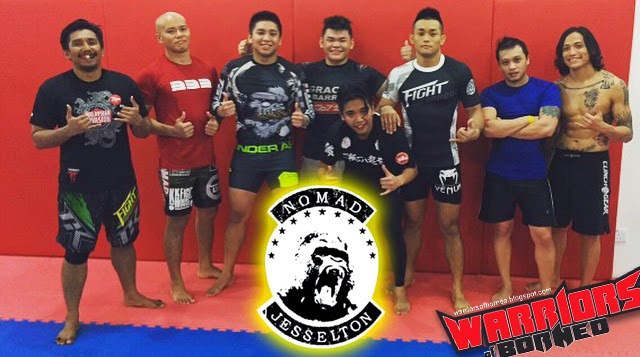 Khairul with his NOMAD brothers
Khairul works as an engineer in a government department. Despite the challenges of travelling for work which takes time away from training, he is focus and will train harder during the time when he's able to train
Nevertheless his team has prepare a specific game plan for him to execute in this fight. Khairul will look to stay focus and calm and follow through the game plan to achieve success.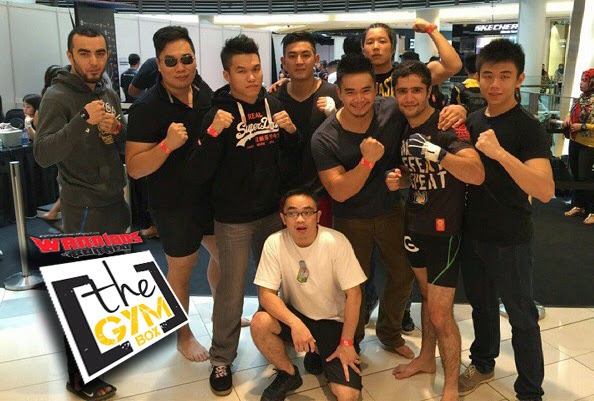 The Gymbox family at MIMMA3
This year Jace has set his eyes on winning both JFL & MIMMA3. Matt Pellino as his coach and cornerman has help him improve his striking and wrestling significantly. With every win he's feeling more confident and comfortable in the cage. Knowing Khairul has both Ritchie and Adrian in his corner and team mates , Jace is not taking this fight lightly and will give his all in this fight.
Co-main event : Ahmadjon vs Md Hasbullah
Ahmadjon defeated local favourite Effendy Kalai in JFL ladder match back in Oct 2014 via 2nd round tap out.
Get set for a action pack fight as Keningau MMA fighter Md Hasbullah will surely bring the fight to Jon
Co-Main Event: Eddy Kalai vs Faizal Dzid
A Lans Corporal in the Selangor Police force, Eddy is an accomplished boxer. Train under the police boxing program, Eddy has achieved many success in boxing, being champion of Piala Malaysia numerous time and representing Malaysia in 2006 Commonwealth Games in Melbourne.
Eddy's first foray into MMA was during MIMMA 1. Learning his ground game as he verbally puts it…from " Sensei Youtube " . Eventually Eddy realise that he needs proper training for this and has been on and off train at Karabaw gym whenever he is in KK and rolling BJJ with experience friends when he is in Selangor.
Eddy believe that BJJ and MMA is practical and can be applied to his work as a police. What he learns does come in handy a couple of times when he was on duty. Hence he's trying to accomplished more success in MMA to bring attention to his superior to get MMA into the Malaysian police training program which currently only focus on karate & boxing.
Aside from his duty as a police, Eddy keep himself busy in training new batch of boxer with a program collaborating with Majlis Sukan Negara in Taman Keramat Selangor.
Eddy knew that Faizal's background in Capoeira will see him being fast and his strategy will be to match Faizal's speed or be faster.
Co-main Event: Sakinah vs Valerian Rosario
Bringing the ladies into the co-main event is a good idea in exposing more female fighters and give motivation to other upcoming female fighters. Already we have 6 female fighters from Sabah qualifies for MIMMA3 ladder match which is the highest numbers from any state in Malaysia.
Now what we need to do is produce another fighter with the calibre of Ann Osman.
Will Sakinah vs Val be the one? Let's find out on 23.5.15 night.
Sakinah only started training in MMA in August 2014. Within a short period of time, through sheer hard work and determination, she has become Sabah's top female prospect.
Training out of Karabaw Gym, she was one of the 6 from Sabah that qualified for the MIMMA 3 ladder match, where she fought a hard fight vs an experience kickboxing instructor which Sakinah lost by Unanimous Decision.  She gain lots of learning from the fight and is more motivated to improve and do better in JFL.
Valerian Rosario is a Supermom. Wife to Samuel Lai, himself an active fighter in JFL & MIMMA, she's also a mother to a 2 year old daughter, working full time as a teacher in SK Bingkor Keningau and part time fitness instructor in Jacky's Fitness Club in Keningau. Where does she find the time to do all this?? In fact during this phone interview, Val was doing her laundry…wow!
I believe juggling all those role speaks volume for Val's capability. She took up BJJ when Samuel took her to his BJJ training class back in 2009 before they got married. They were training under Allen Solomon Chong ( Malaysian MMA pro fighter and founder of BJJ Borneo ).
Val learned boxing thru boxing coaches hired by BJJ Borneo, and has been training striking under the guidance of coach Antonio Batistessa in Sabah Top Team. Val fought in MIMMA3 ladder match in April this year and won her fight vs Wah Pei Yee of Johor.
No doubt time management is a challenge with so many role to play. her husbandSam help out a lot, where they will take turn to train. When both needs to train, then their daughter will tag along. A family that trains together stays together. But when it comes to what matters most…it's family to her.
Being a primary school teacher and a MMA fighter is surely an interesting position to be in. But val said she does not share her fighter life with her colleagues that much. They do not understand MMA that well according to her…not easy to explain to them. ..and she gets questions like…" macam karate ?"…" macam gusti kan? " ( it's like karate / wrestling right? )
Perhaps what Val needs to do is to just show the the winning medals…easier.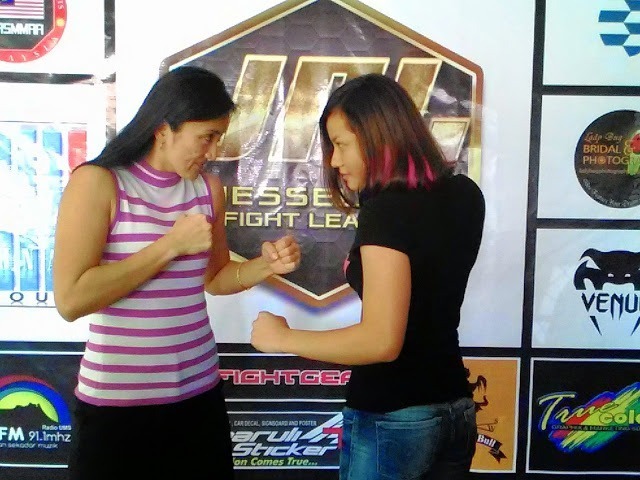 the staredown
Samuel Lai vs Md Noor Gani
This is my personal favourite…a fight in the undercard , Sam Lai vs Md Noor Gani.
Samuel Lai is on a 3 fight winning streak. Continuing from success in JFL ladder match to JFL quarter vs a tough Terrence Bungkilin ( which is now is team mate in Borneo Tribal Squad )…and most recently in MIMMA3 ladder match win via rear naked choke.
Noor Gani was Sam's ex team mate in Borneo Tribal Squad, so knowing that  Noor Gani is well rounded, he is ready on all level. Both of them are good friends. But when it comes to the time when the cage close, Sam will turn on his competitor switch. He's looking to end the fight early with a win…so that he can support and corner his wife in the co-main event.
Md Noor Gani represent Karabaw Gym Sipitang. He's runs a catering business and he does the cooking himself.
He is a practioner of Silat and has been practising it since he was 12. Eventually he cross train in Karate and Muay Thai to increase his sets of skills. But to him Silat is still a very practical and effective system. Not just for fights but also he practice the medicinal part of it ( Benteng Mukmin )where it comes in handy for recovery from injury for himself and also to help others.
Noor Gani believes that hard work is they key to success and he puts in the hard work after his job as a chef in the day time. Looking to extend his amatuer fighting career perhaps 1 to 2 years and looking to turn pro after that.
He is well aware of Sam's ground skills and will use his Silat's stance to sprawl and avoid take down.
So, it's all set …fighters get ready….let's have a great show!
Fight fans come and watch the fighter's journey towards JFl gold!
To all fighters, do your best to reach the final…the championship belt is waiting for ya..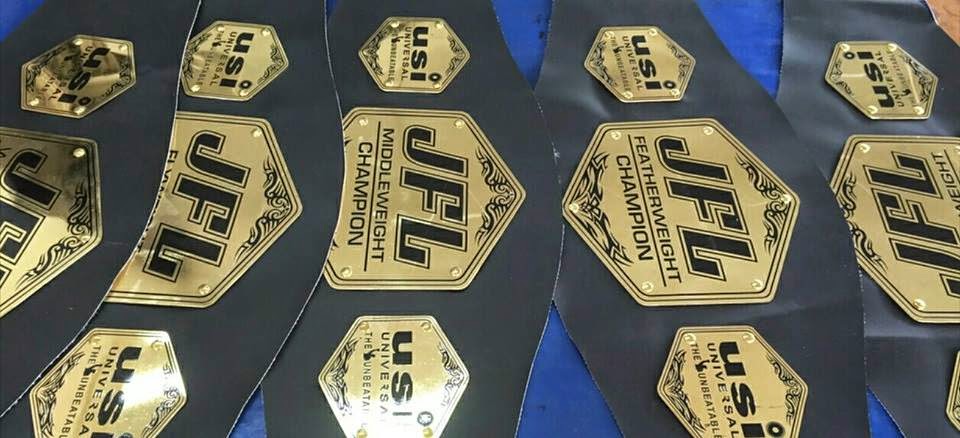 Which fighter's waist will this baby go on?