1Borneo, provides the venue for two days of martial art action!
MIMMA 3 Tryout in KK on 11-12 Apr 2015 was a great experience for me. Personally this is the first MIMMA event I've been to, I'm impress with the set up at 1Borneo concourse. It was a perfect place to bring this event closer to the general public. Spectators can view the 3 different stages of the tryouts, namely: Grappling Session, Striking Session & the Cage Sparring.
Tryouts will be done in 3 stages.

Grappling Session

Two competitors will be allowed two minutes to showcase their grappling skills to our grappling judges.

Striking Session

You will be allowed one minute to showcase your striking skill through padworks to our striking judges.

Cage Sparring

The final two minutes of the tryouts. You will be sparring in the MIMMA Cage with another contestant for two minutes.
Scores will be accumulated from the three Tryout sessions and MIMMA Officials will announce the shortlisted competitors on the same day for those that made it into running for Malaysian Invasion Season 2 Top 16.
(infor from MIMMA web page )
No doubt the attention was on the Cage Sparring session, even though the sparring session is done to see how participants put together their skills & techniques in combat. Fighters need to show diversity of techniques, level changes and great fighting spirit. This is to ensure they are ready to be competing at a higher level when the ladder match begins.
View of the arena was perfect from all floor of 1Borneo. Thanks to the new LED screen set up by the management recently, it provide a really breathtaking viewing experience as the action unfolds on a much bigger scale, to an extend when fans was more satisfied watching the action unfold on the LED screen rather then the real thing on the cage…: P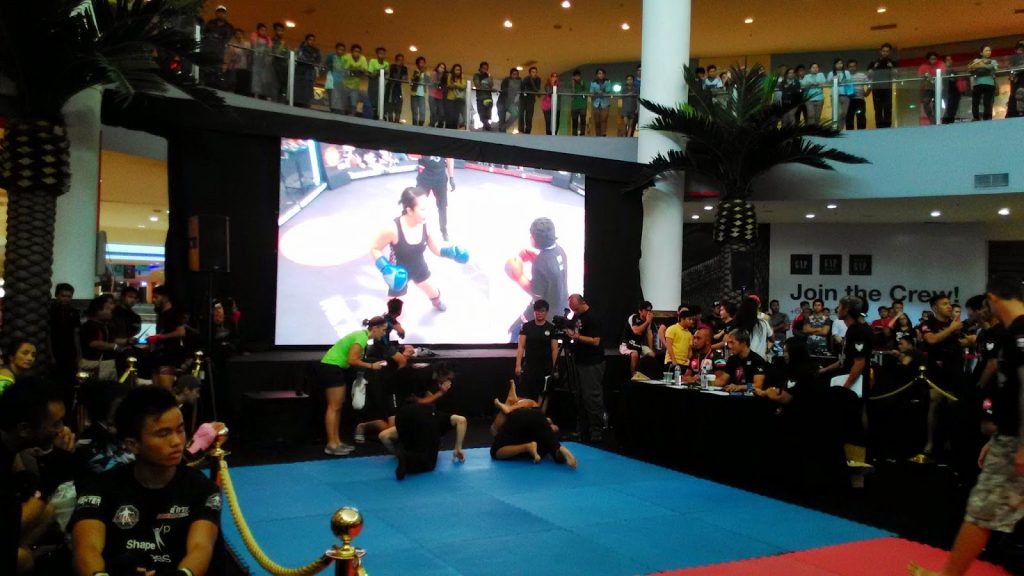 Huge LED to showcase the action
Throughout  both day of the event the host Matt Pelino (himself a MMA Pro fighter) and Jon Nutt (founder of Full Metal Dojo and also a fighter) took turn narrating some of the actions that is going on and gives explanations on techniques and criteria judges are looking out for a successful selection. Perhaps will be good also if MIMMA are able to provide a host that speaks in malay to reach out to a wider local audience.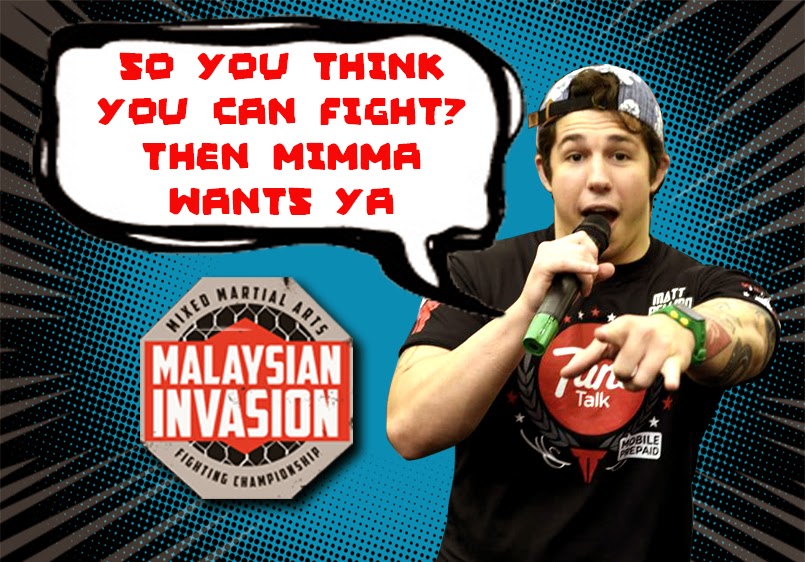 Matt Pelino, voice of MMA…attracting more female to take up MMA with his boyish face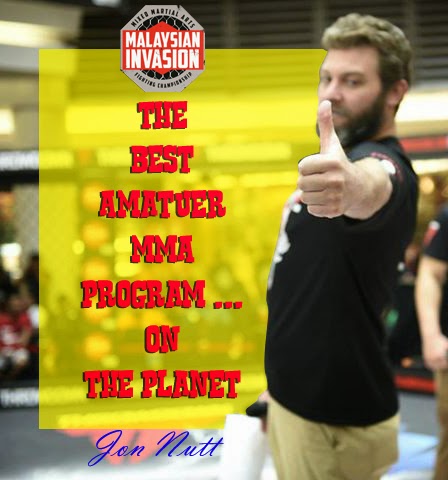 Jon Nutt, the MIMMA host with a voice of a rockstar & the perfect beard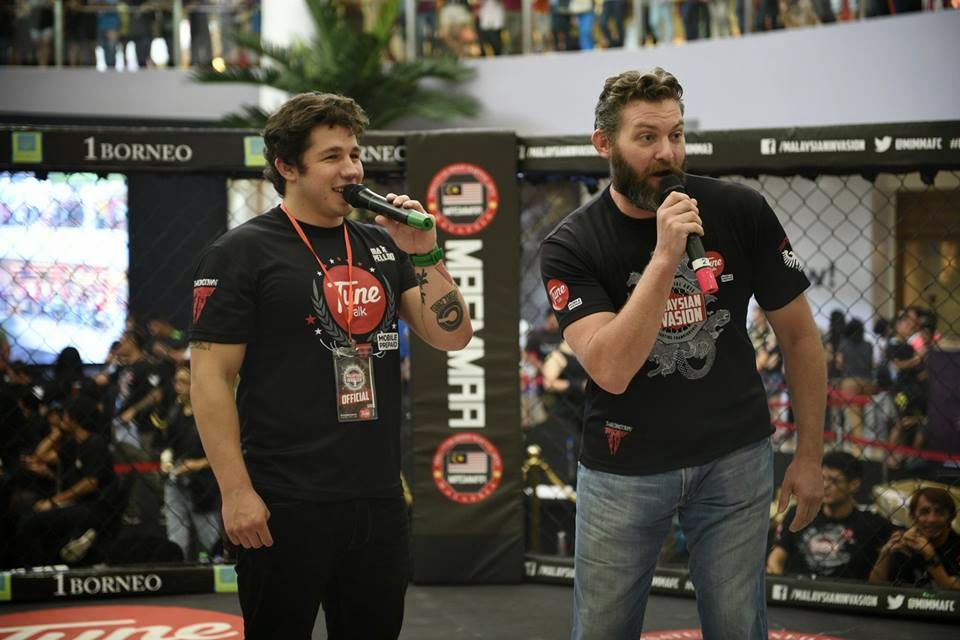 Together these two are dynamite
I've interviewed a few spectators, unless those who are involve in this industry, basically none of them understand much about the rules & techniques. Most of them just thought the objective is to go on full striking mode and KO the opponent.
Little do they know about the grappling aspect and counter move. most of them also does not realise that it's only a selection not a competition. For most this is the first time they are watching a MMA fight. A Dr friend of mine taught I was referring to Malaysian Medical Association when I mention MMA.
Some female spectators have the opinion that it is a violent sports but most of them agree that to be in this sports need lots of training and discipline which can benefit female in terms of keeping fit and learn self defense.
MIMMA is working hard to propel MMA to a higher profile and they are doing this by engaging the media actively. Already their effort is bearing fruits In this 3rd season. We already see a surge in new gyms around Sabah teaching MMA. Recently the MIMMA team won an award for best Social Media Campaign at the Malaysian Social media Week…kudos to the team!
The decision to televised MIMMA season 3 on TV1 is really a smart move. This I believe will propel MMA to a higher level of awareness and create many more new fans. TV1 reaches out to Malaysian in semi urban and the interior. I believe there are many untap talent out there and by watching MIMMA on TV1 may very well spark their interest to pick up this sports.
Below is an interview with a  MIMMA 's spokeperson
1. Overall how did MIMMA Season 3 selection in KK went?
All in all, the #MIMMA3 tryouts in KK went beyond our expectations. Last season, the KK tryouts has managed to impress us with a huge amount of talents but this year, the benchmark has been raised even more. The crowd in 1Borneo was also an important element in pushing the fighters to try their best. With the crowd actively involved and the intensity shown by the fighters, it is safe to say that the #MIMMA3 tryouts in KK in one for the books.
2. Any comments on depth & quality of Sabahan fighters vs 2014 batch?   
In 2014, Sabahan fighters came with the goal of testing the waters. A lot of unpolished talents and some of them were there for the experience and exposure. This year, they came to the tryouts and their goal has changed. A majority of them are well prepared, mostly because of the local gyms and also the local competition their competed in. Those unpolished talents in 2014, were ready to shine at the #MIMMA3 tryouts in 2015. With a collection of huge MMA names in Sabah, (Ann Osman, Adrian Tham, Rayner Kinsiong, Allen Chong, Aj Pyro, Darren Low), it is no surprise that the quality of Sabahan fighters have increase tremendously.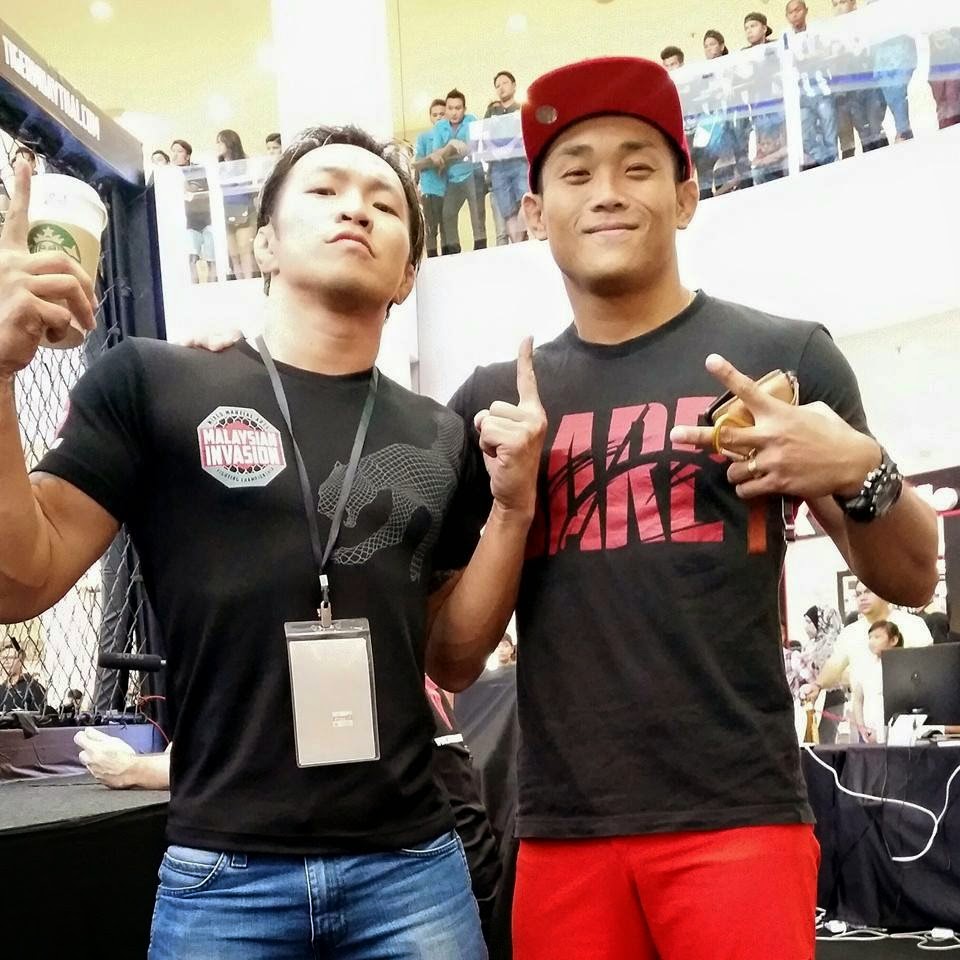 The champ in the house! Allen Chong MIMMA 1 – Lightweight champ and
Adrian Tham – Heavyweight Champ
What about Sarawak this year vs 2014?
For Sarawak fighters, they might not come in a huge number, but those who stepped up to the challenge were very impressive. In 2014, Everything is still new to them as this was the first time the MIMMA tryouts went into different states to unearth the talents. So those who came to the tryouts in Kuching were just there for the experience too. This year, we received a lot foreign fighters from Sarawak as a result of the new category offered in #MIMMA3 but the local fighter were at par with impressive show of talents.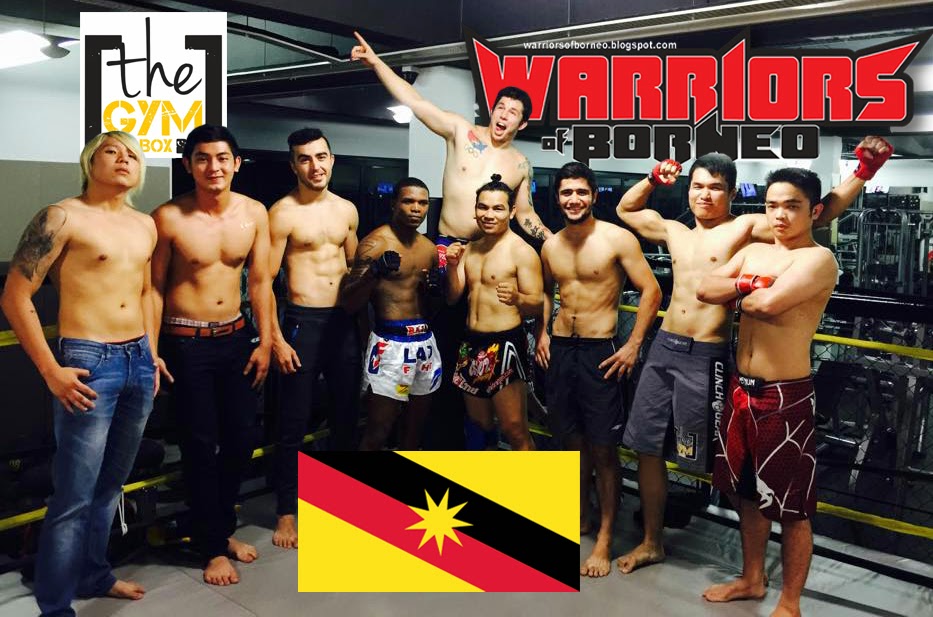 check out my previous post on Gymbox
3. Will we see Brunei included one day into MIMMA?
People from Brunei can already join MIMMA, they can compete in the foreign pride category. The original goal of MIMMA is to unearth local talents at the grassroots level in order to discover the new generation of Malaysian MMA champions. So if we include Brunei in the local pool, this will go against our original goal. Hence the introduction of the new Foreign Pride Category.
4. Local events such as BFC, JFL,D1FC ( muaythai ), Fight Fest …how do  see these events in context of MIMMA?
It is great to see these local events flourishing here in East Malaysia. These events are independently run, and they provide a great platform for local fighters to perform. Fighters will gain more experience from competing in such events. This is proven as most of those who came for the MIMMA tryouts are somewhat more experience than last season thanks to their involvement in the local events.
5. Generally Sabahan is known to have the physical structure of " pindik-pindik tagap' ( local slang ), means short, stout & muscular. Do u see this as an advantage or disadvantage?
Actually, the most important part that will give a fighter advantage is his discipline and passion towards the sport. If he focuses all his attention and train with a high level of discipline, he will surely outperform another fighter that is seen to have a physically advantage.
6. Aside from the techniques & skills, MMA fighters need to cut weight & have good diet & supplements to maintain performance & avoid injury, how does MIMMA educate & help fighters on this aspect?
Aside from our sponsors providing the right diet and supplements to maintain performance & avoid injury, we always be in contact with the gyms and trainers they trained with in order to check on their progress and making sure that everything is done correctly.
7. Aside from vacant belt for Welterweight when Agilan turn pro, is the rest of the 2014 champ defending their belts?
There will be an official announcement made soon. Stay tuned!
8. They are still many people who view MMA as a violent sports, But now that KBS ( Ministry of Youth and Sports ) is involved & support MIMMA, do u see MMA being introduce to school one day as a combat sports such as Karate & TKD?
We are fighting hard to have MMA introduced as an event in the SEA Games. This is part of our effort to ensure one day, MMA will also be included in the school's extra curricular activity. Under the right coach and supervision, MMA is a great way to teach students about discipline and self control.
9. MIMMA has a great formula of success with strong government support, excellent corporate sponsors -TuneTalk, quality product supplier -Throwdown & regulations & legal aspect by MASMMA, to whom do you attribute this successful formula to?
MIMMA is an entity where everyone shares the same passion towards the sport. Our creators, Jason Lo and YB Khairy Jamaluddin, saw the need to have a platform in order to ensure fighters have the right channel to compete and to have their safety being taken care of. With the right form of leadership and also a passionate team, MIMMA is on the right track to realize its goals.
Warriors of Borneo thanks the MIMMA team for a great experience at the tryout.
Keep up the good work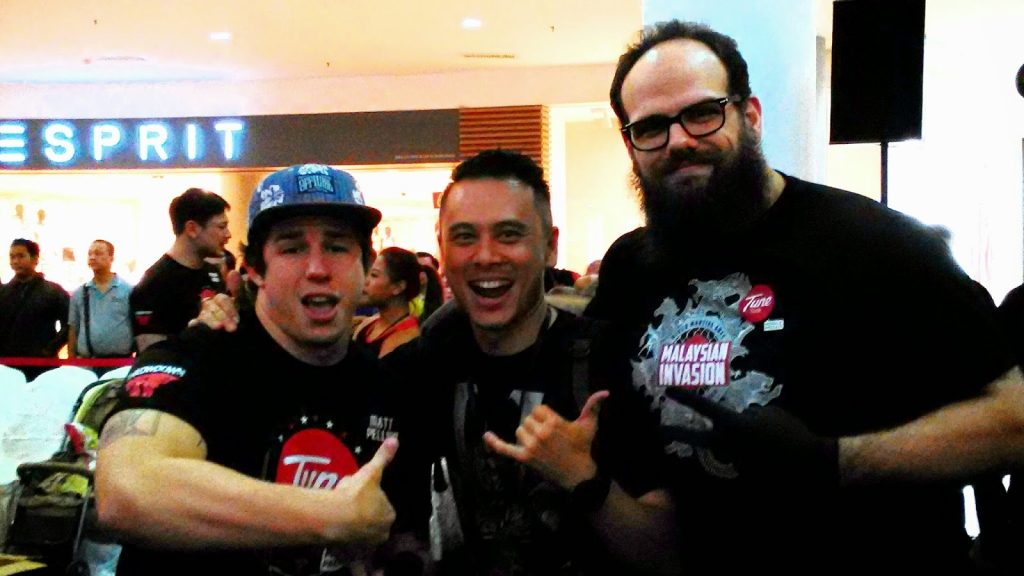 with Matt & Dana Blouin