Yea I know this post on MIMMA3 is late, but I guess the upside to this is I'm keeping the news warm; as all the other media coverage has died down about MIMMA3, at least my blog here still talks about it …..hehehe.
After a year long events of tryouts at Penang, Johor Selangor, Sarawak & Sabah; from Ladder match to the Contender Fights at Paradigm Mall, PJ, finally MIMMA3 reached it's climax  at Stadium Putra Bukit Jalil, KL for the Grand Finals on 10 Oct 2015.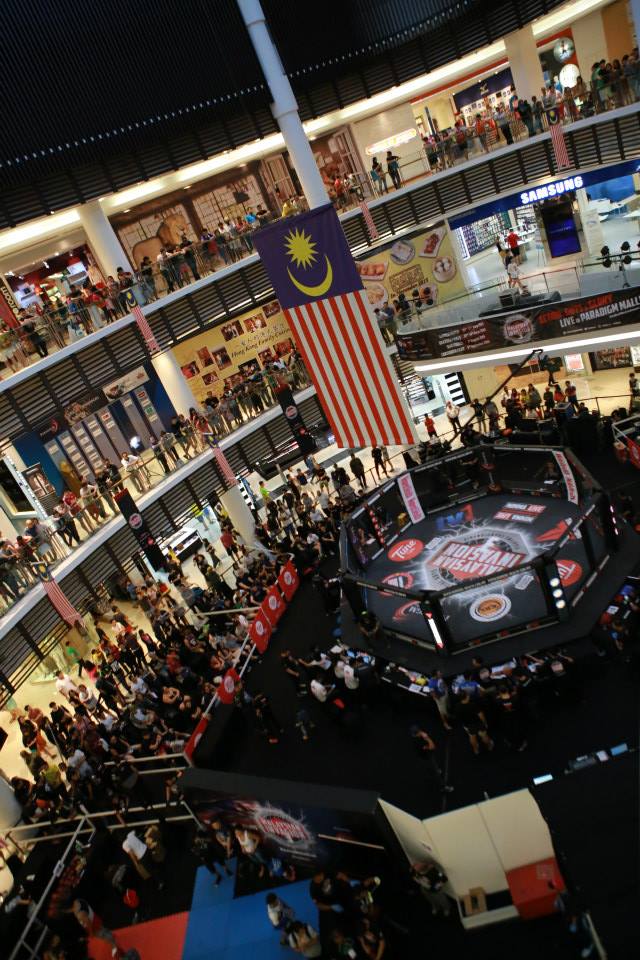 The journey to the Grand Finals was carved in Paradigm Mall
Personally this was my first time watching a MMA event live. Much thanks to the marketing team of Tune Talk that gave me this wonderful opportunity to cover it live.
MIMMA achieved many 'First' this year. For the 1st time a partnership with RTM was inked, where many fights of season 2 was aired on TV1 and of course the Grand Finals match itself available live. This is indeed a milestone achievement because TV1 is a free channel and almost anywhere in Malaysia can watch it, including the rural area. Even Brunei, Singapore and Southern Thailand can received TV1 broadcast.

Why is this important? It's not just for advertising exposure (which is vital, as we need sponsors to keep this going)  but more importantly, to expose MMA to the suburban and even the interior folks. RTM1 doing the commentating in Malay makes the average Malaysian able to understand the sports better and with better exposure, this gives fighter a chance to build a fan base and support from their home state. Also indirectly allowing parents to see the potential in this sports and which we all hope will lead to them letting their children take up MMA…hence increasing the talent pool.
First time too this year where a Foreign Pride and Female category was introduced. We are still relying on many foreign MMA coaches in MMA. Many foreign students and expats in Malaysia are great martial artist therefore having a Foreign Pride category will give them more exposure and attract more talented athlete to come to Malaysia. The more talent coming here, the more we can learn from them and improve our standard.
As for female category, this is already a no brainer. With our Malaysian media & MMA darling Ann Osman making waves and the increase numbers of female involve in MMA, the time is right to have a female category. I believe from here, a new female star will be discovered.
First time too a Celebrity Fight was held. WWE you may say and yeah I know this is not a real fight, but again, for a relatively new sports, it needs all the publicity and exposure that it can gain. Collaboration with Hitz.FM and letting two of their popular DJ fighting each other is actually a smart move. As one of the most popular radio channel in Malaysia, these two DJs certainly can draw in new fans.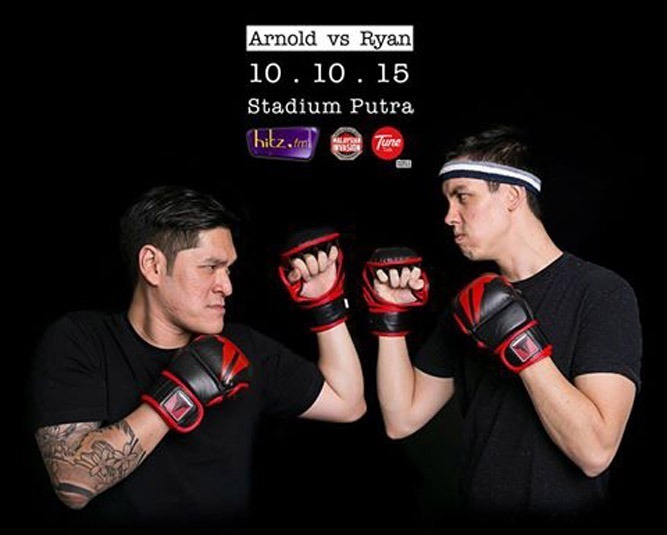 Another first: Tune Talk & ONE Championship announced a landmark partnership to promote ONE Championship and MIMMA with a multi pass ticket that fight fans could buy to attend both event back to back on 9 and 10 October.
Hence On 9 Oct, before ONE Championship: Tigers of Asia went on show, MIMMA3 held a face-off for it's Grand Finalist. Weighing in was already done & all fighters made weigh. MIMMA team was still busy selling tickets and promoting the event via some activities to engage with the public. Participants get to win free tickets for the MIMMA fight. Center of activities is the main booth selling merchandise and on top of the booth was where the stare down occur.
Conducting the face off was Malaysian Pro fighter Nik ' The Hound' Harris. It was a great way to hype the fights and rouse up the support for each fighter representing their respective state.
Warriors of Borneo is proud that out of the 24 Grand Finalist, 11 are representing Borneo.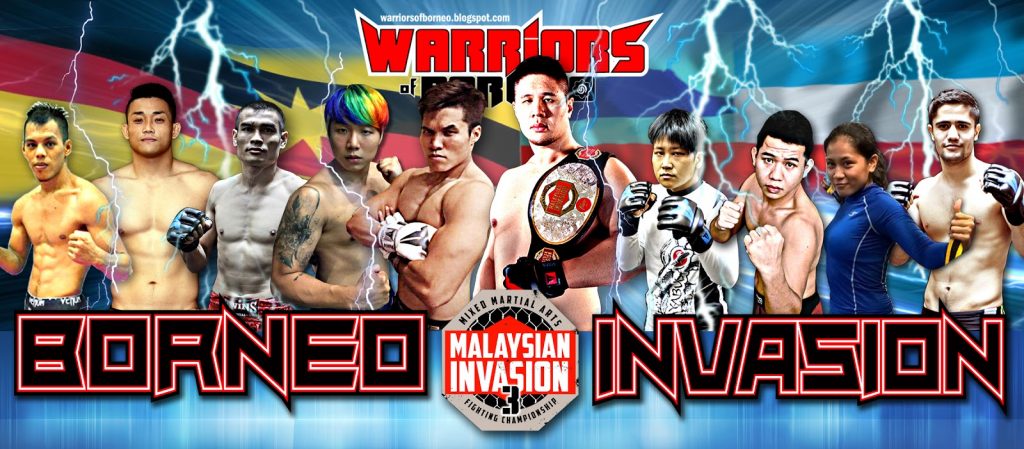 10 fighters + 1 DJ (Ryan is from Sarawak – not in pix here) = 11 from Borneo
MIMMA3 may be a championship for amateur fighters but in comparison watching ONE the night before, I felt that MIMMA3 was grander. Even before the event proper inside the stadium, the atmosphere outside was also more carnival like. At least the presence of a few food trucks and ice cream seller provide relief for growling tummies and parched throat. The night before, I missed the first 3 bouts of ONE as I was in a super long Que for my order at Subway's because that was the only food available.
Promo booth from sponsors such as PowerRoot, Throwdown, KT Tape and Potosan Corner also gives the crowds some shopping opportunities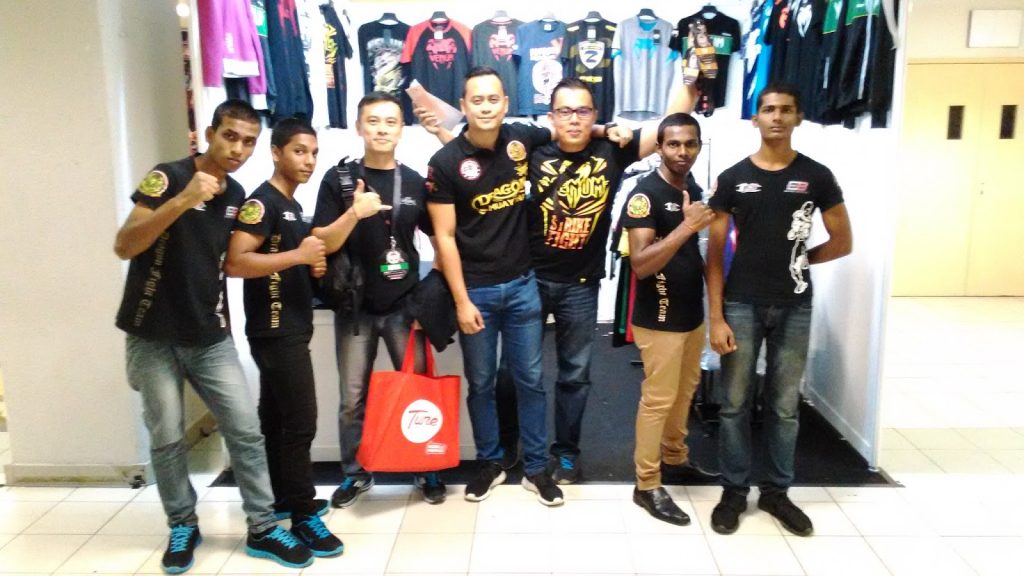 Hangin' with the boys from Discover MuayThai with Imran (center) and Ayob (in Venum shirt) at Potosan Corner booth
Inside Stadium Putra, the lighting's, the music and video display during fighters' walk in was equally fantastic for both event, but from the same seats I sat one night before, watching ONE's fights was like watching a mime show. There was no commentator, you can't hear the grunts, the landed strikes and feet shuffling of the fighters. The fights went on like a 30s TV show.
Which is why I'm glad that both Jon Nutt and Matt Pellino returned as host for MIMMA3. They played a great role in engaging the crowds and creating the electrifying atmosphere! Kudos the the charismatic duo for a job well done.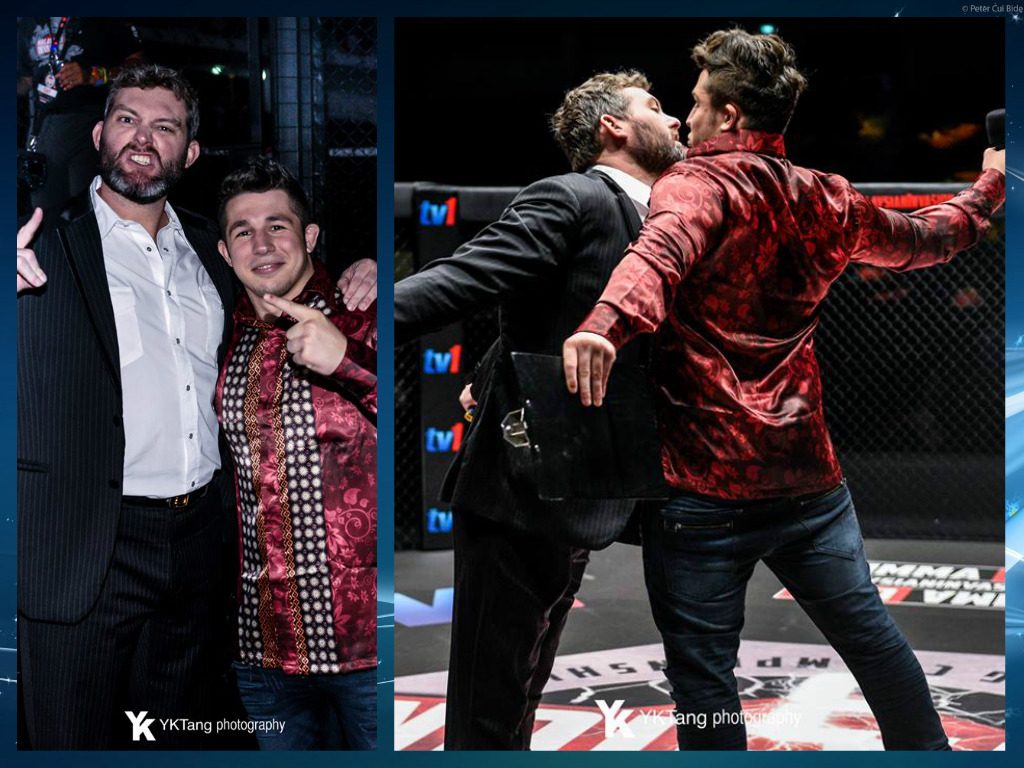 The charismatic duo of Jon Nutt (L) & matt Pellino (R)…..showing some brotherly love . ( pix by YK TANG PHOTOGRAPHY)
During fights, both of them talk the crowds through on what was happening in the cage which makes the crowd understand the moves better. This is important to create new fans of MMA as most people does not fully understand the rules. And most of the times when fights go to the cage or ground, crowds gets restless for the 'inactivity'.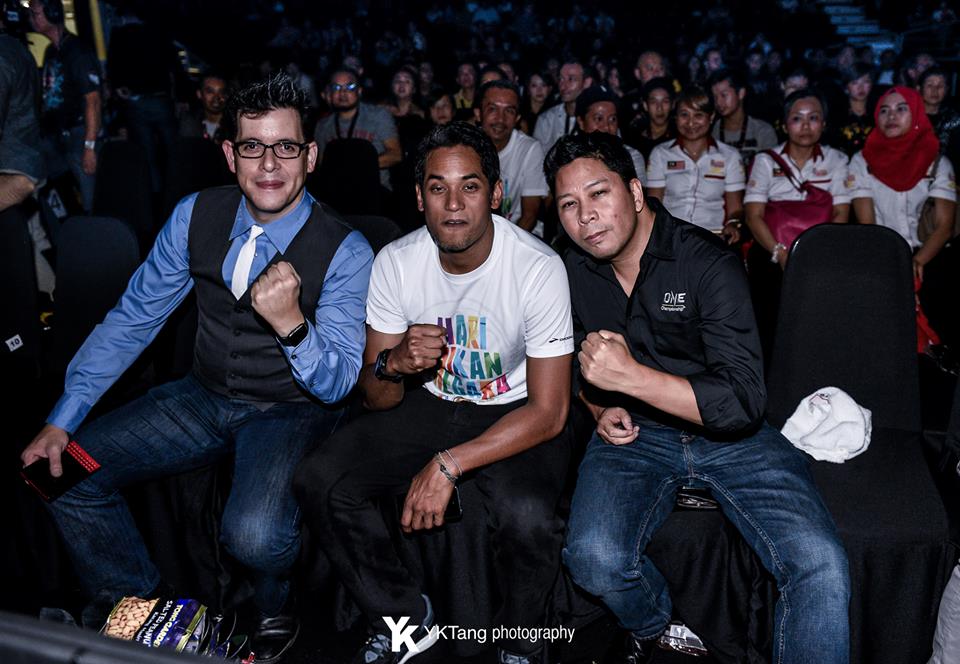 VIPs in the house : LtoR: Jason Lo – TuneTalk CEO, YB Khairy Jamaluddin ( Malaysia Youth & Sports Minister ) and Victor Cui ( ONE Championship CEO )
The opening fight from the Undercards certainly set the pace for the rest of the night.
I really like how after the 3 Undercard fights, all the Grand Finalist was introduced one by one and stand on the outside of the MIMMA cage with spotlight shining on them, heighten up the anticipation of the crowds. Standing around the cage, they look like Greek gods ready for war.
Offical Fight Results:
Undercard:


East vs West : Adrian Tham (Sabah) def. Theeban Govindasamy (KL) via Unanimous Decision
SG vs MY : Hui Keng Fai (MY) def. Nazri Sutari (SG) via Submission (Standing Guillotine) R1 2:02
Hitz.fm Match : Ryan (Hitz Night Out) (Sarawak) def. Arnold (Hitz Morning Crew) (Selangor)via Split Decision
Main Card: Malaysian Invasion 3 Championship Bouts


Women's Pride : Joanna Yap (Sarawak) def. Felicia Yunus (Sabah) via Unanimous Decision
Joanna Yap is now first Malaysian Invasion Women's Champion
Heavyweight : Darren Low (Sabah) def. Niker Tan (Penang) via TKO (Punches) R1 0:13
Darren Low remains the Malaysian Invasion Heavyweight Champion.
Flyweight : Seah Zhang Yu (Penang) def. Dhiaaul Amal (KL) via Unanimous Decision
Seah Zhang Yu remains the Malaysian Invasion Flyweight Champion.
Featherweight : Mohd Aiman (Negeri Sembilan) def. Hafizul Hakim (Sabah) via TKO (Punches) R1 1:56
Mohd Aiman is the new Malaysian Invasion Featherweight Champion.
Middleweight
: Muhd Meeraj (KL) def. Syafiq Jamal (KL) via TKO (Punches) R1 2:15
Muhd Meeraj is the new Malaysian Invasion Middleweight Champion.
Lightweight : Jason Law (Sarawak) def. Muhd Hasrul (Selangor) via KO R1 2:17
Jason Law defeated Season 2 champion and is now the new Malaysian Invasion Lightweight Champion.
Foreign Pride : Ahmadjon Karimov (Tajikistan – Sarawak) def. A.Karadech Seesombat (Thailand – Sarawak ) via KO R1 0:39
Ahmadjon Karimov is now first Malaysian Invasion Foreign Pride Champion.
Welterweight : Gino Tan (Penang) def. Melvin Kho (Sarawak) via Submission (Kimura) R4 2:08
Gino Tan is the new Malaysian Invasion Welterweight Champion.
————————————————–
Fight review coming up soon in part 2