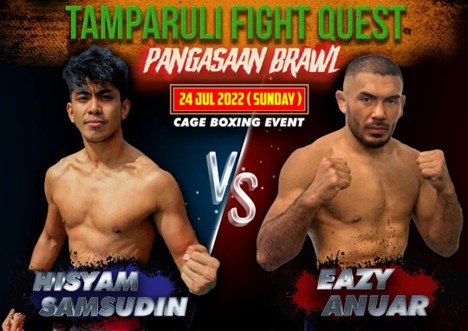 MAIN EVENT- TAMPARULI FIGHT QUEST Cage Boxing fight
Hisyam 🆚 Eazy
             ……………👊🏼……………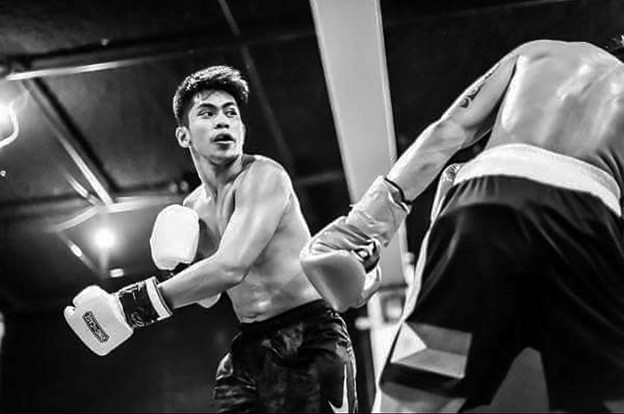 Muhammad NoorHisyam Bin Samsudin (32)
Ewako MMA
Height: 179 cm
Fighting weight : 75kg
Normal Weight : 80kg
He started training in Boxing in his home town of Tawau. Then move to Kota Kinabalu under the tutelage Malaysian MMA pioneer AJ Pyro. He learned Muaythai and also grappling art of wrestling & BJJ.
Hisyam all his learning and applied into MMA & enter into Full Metal Dojo and eventually was signed by ONE Championship. He has a pro boxing record is of 2-1-1. In 2016 he won Super-4 WBF Asia Pacific Light Heavyweight Title belt at Singapore Fighting Championship 2, becoming the 1st Malaysian to do so.
Facing adversity and overcoming  it is not alien to Hisyam. As a teenager he had to overcome obesity issue. In 2017, 16 Sept, which is Malaysia Day, he was in Jakarta facing home crowd fighter Meciaz.
Not only does Hisyam had to deal with Meciaz high grappling skills, but the devastation of knowing that his father that flew in from Sabah to support him pass away just before his fight was a huge blow. But amazingly Hisyam calm his nerves and overcame all that and took home the meaningful victory with a TKO in round 1
He now runs his own gym – EWAKO MMA, in Alam Mesra Kota Kinabalu. During the pandemic period of 2022-2021, again face adversity of keeping his gym alive, but perseverance & with the support of his wife & training partner, Edilah manage to survive the pandemic period.
2022 with easing of SOP restrictions, Hisyam has step up his training & has emerged victorious in two Boxing matches.
What makes u wanna fight in TFQ? what is the motivation?
"I still want to stay active competing professionally whether it's locally or internationally. For TFQ it's like for me to get my confidence back after couple of years not competing because of the pandemic."
               …………………👊🏼…………………..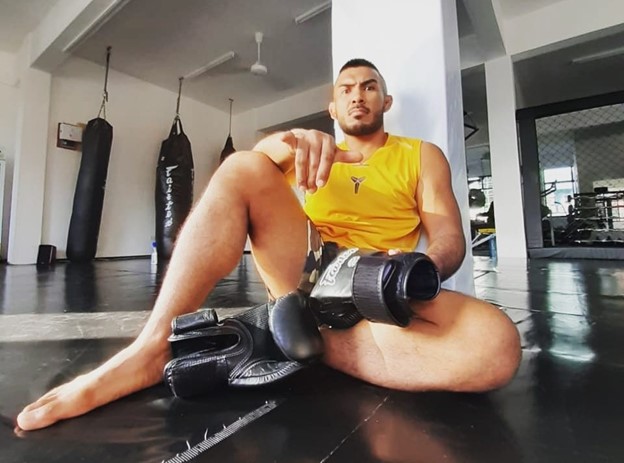 Ahmad Faez Anuar ( 36 )
Team : Khalifa Mixed Martial Arts
Height : 172cm
Fighting weight : 77kg
Normal weight : 82kg
Well known as Eazy, just mention his name in Brunei, people will recognize him as the godfather of Brunei grappling & MMA 

He owns & runs Khalifa MMA and also trains regularly
Many others would usually train in a specific striking style or grappling & combined both to transition into MMA.

Eazy did it the other way around.  He trains in MMA.
" That's the best way to train as it forces you to be well versed in every element. From there, at least you'd have the basics to transition to a more specific combat sport."
Holding a pro MMA record undefeated at 3-0. Although this 3 victories is gained by 1 unanimous win in Ultimate Beatdown & two finishes in ONE Warriors Series, for Eazy his is still on the quest to achieve the proudest moment in his martial arts journey.
The Covid-19 SOP restrictions also hit Brunei hard. Tell us how you deal with it
"It is what it is with this COVID situation, it is beyond our control. So, we focused on what we could. Maintained our training in small groups, logged in our hours, hardwork and dedication. Simple, discipline! Stay ready 52weeks in a year.
The gym managed to stay afloat, we survived on company savings and merchandise. We knew the 2nd n 3rd wave was inevitable, so we prepared financially. Stable PT sessions and the landlord's benevolence helped ease those tough times."
What makes u wanna fight in TFQ? what is the motivation?
"Now that the events are restarting, the borders are reopening, I saw the ad for TFQ, so I jumped into it because I want to support the event by bringing a good fight. It was the closest one available at the time and it's a good platform to re-enter the 'cage' with a crowd. I miss it.
I fought in a MT exhibition last year locally. I never really stopped training and was never even thinking about retirement, was just waiting for events and staying ready throughout those trying times. Staying motivated was easy with strong discipline. Although my goal now is steering more towards doing pro boxing or kickboxing. The training is not as tough as preparing for an MMA bout. So, I've been pitching some interests to multiple event and we'll see which one offers."
With Brunei borders opening, Eazy is looking to get back in action and he picks his fights properly. This TFQ main event was made possible as he pick Hisyam as his opponent.
"Yes I asked for Hisyam. I respect him as a fighter, coming from the ONE roster and an accomplished national boxer. It's simple really, I'd like to test my skills against a worthy opponent that's around the same weight and around the geographical area, hence Hisyam was on top of my head.
The only way to elevate your skill is to pair it with someone great. This will be an exciting one for me as I'm coming in as the underdog and I've always been labeled 'just a grappler'. July 24th, people will see a new Eazy Anuar."