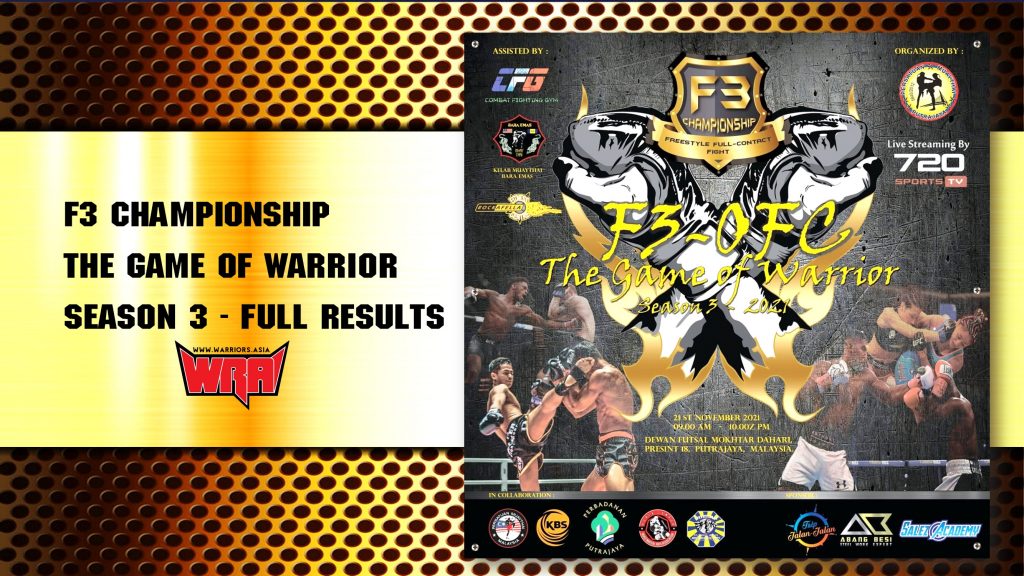 The grand daddy of combat sports promotion in Malaysia – F3 Championship has return to action!
Their GAME of WARRIOR Season 3 event, organized by Persatuan Muaythai Putrajaya was held on 21 NOV at Dewan Futsal Mokthar Dahari, Putrajaya, with collaboration with Ministry of Youth & Sports Malaysia (KBS), Malaysia Muaythai Association, Putrajaya Corporation, Putrajaya MMA Association & Kuala Lumpur MMA Association.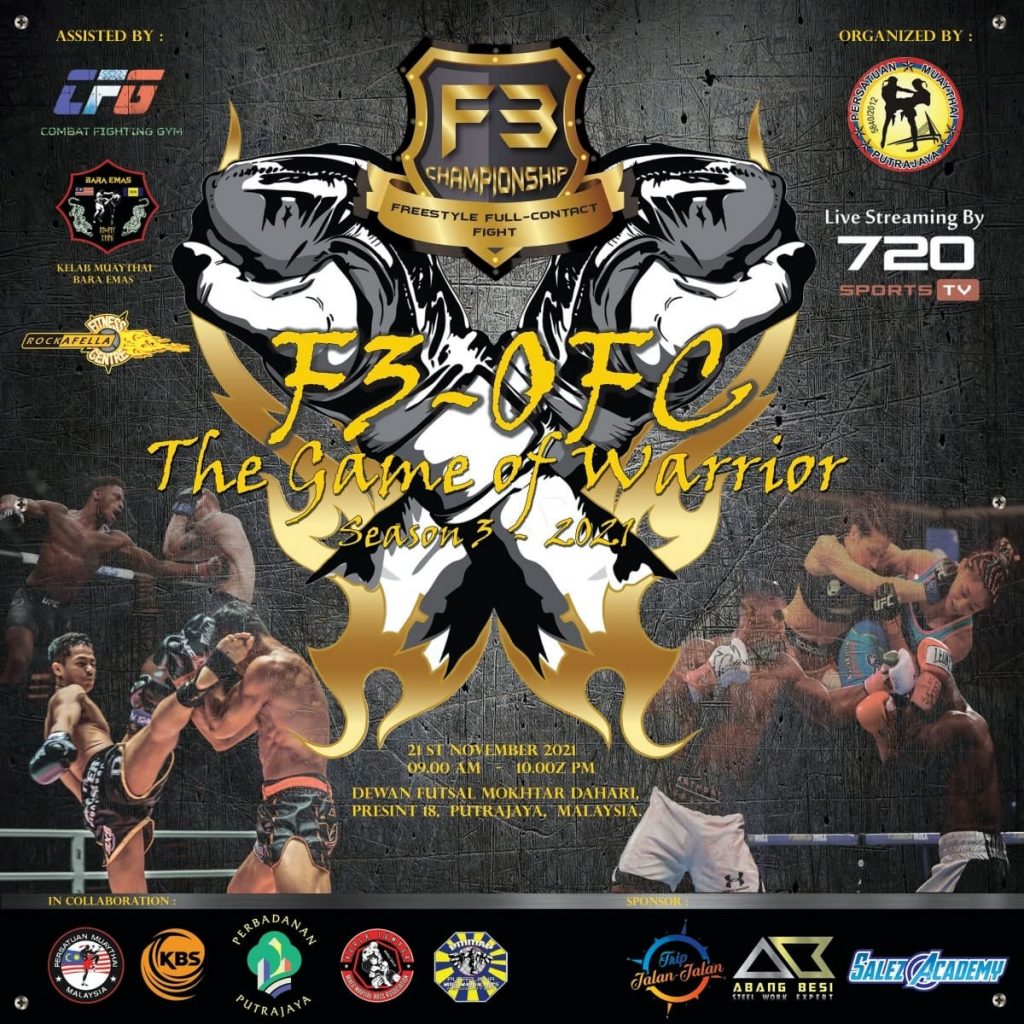 Event also was made possible by the sponsorship of TRIP JALAN -JALAN, ABANG BESI, SALEZ ACADEMY

Season 2 was held in April this year before Malaysia went into a complete lockdown. Thankfully this last quarter of the year, vaccination rate has gone up tremendously & covid19 cases has gone down, enabling more relax SOP & government allowing sports events to be held, but still adhering to strict SOPs.
Season 3 saw 23 bouts of Freestyle, 12 bouts of Boxing & 5 bouts of MMA, making the total of 40 bouts competed.
Top 3 clubs with the most wins are RED WOLVES MUAYTHAI, JORDAN TOP TEAM, DISCOVER MUAYTHAI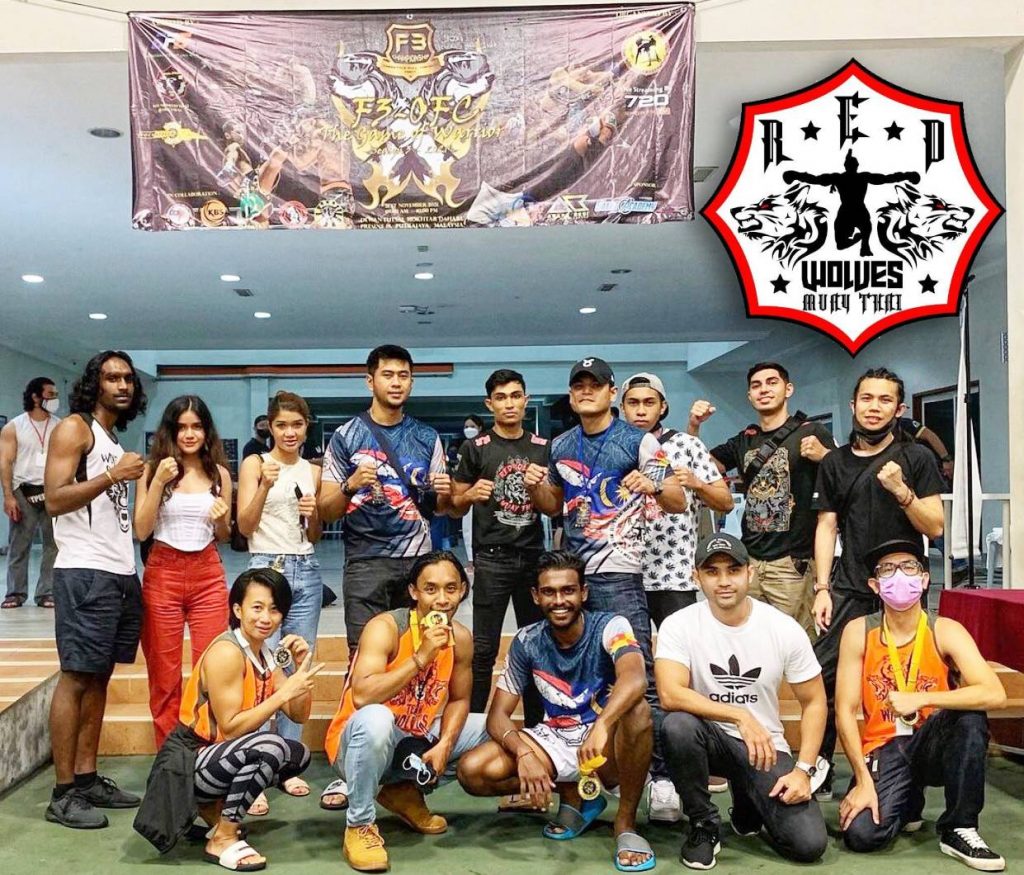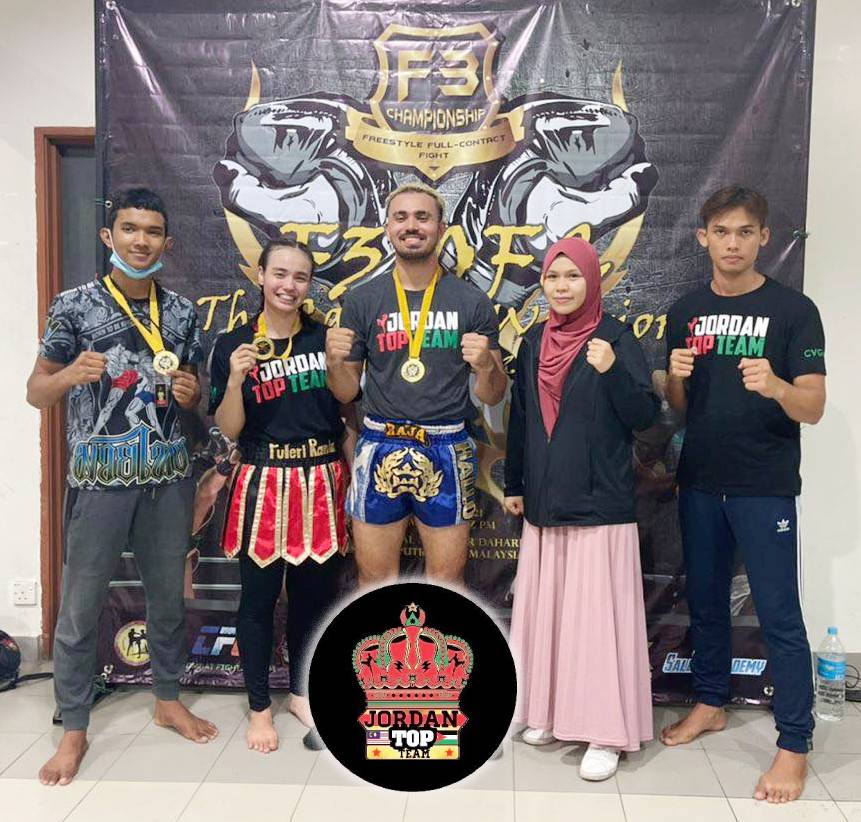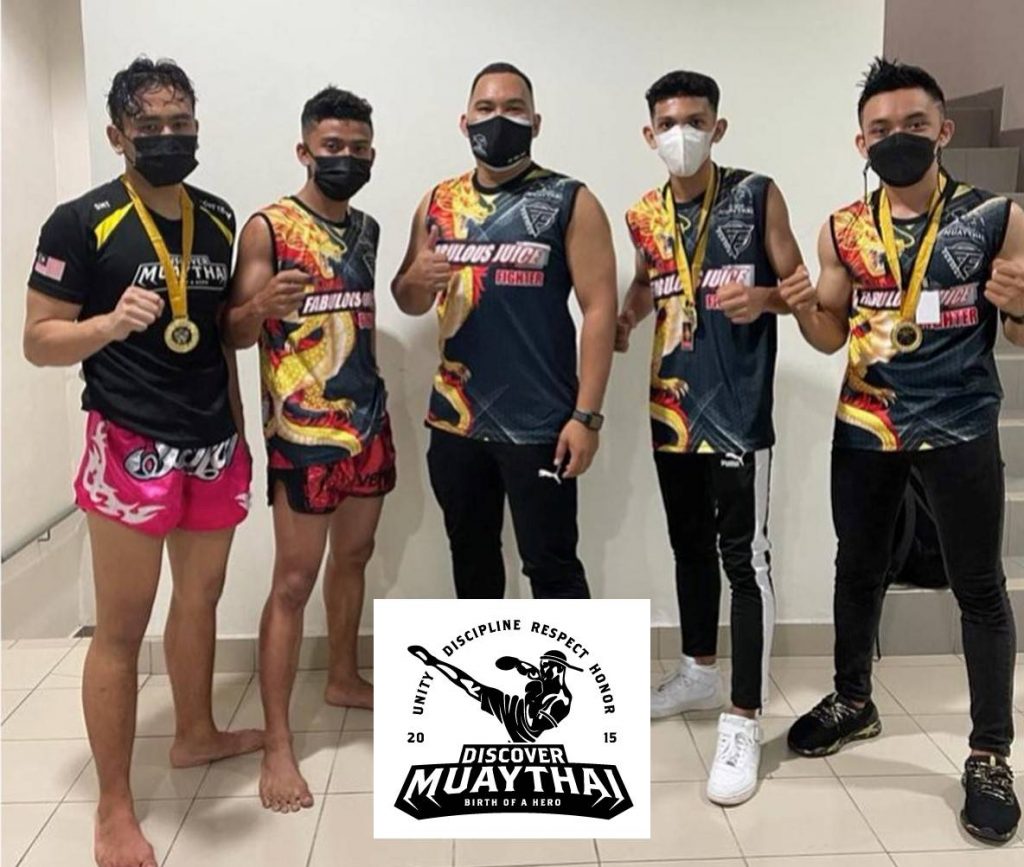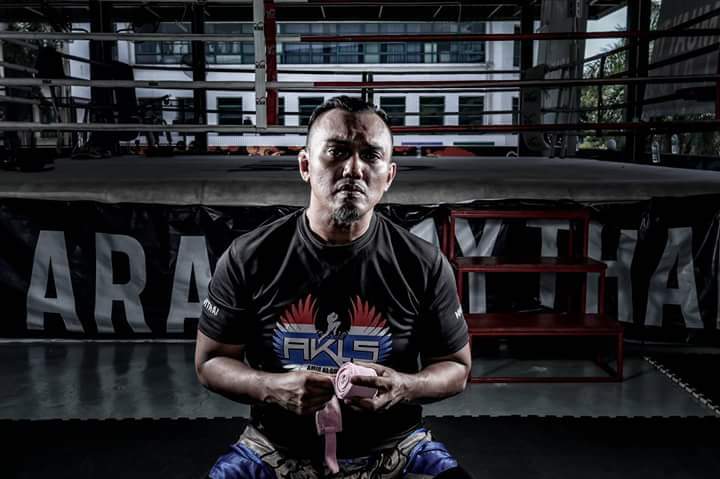 It's also worth mentioning that Sifu Amir also was a happy person as he had a hand in training 7 of the winners on that day during their fight camp.
Here are the full results of THE GAME of WARRIOR Season 3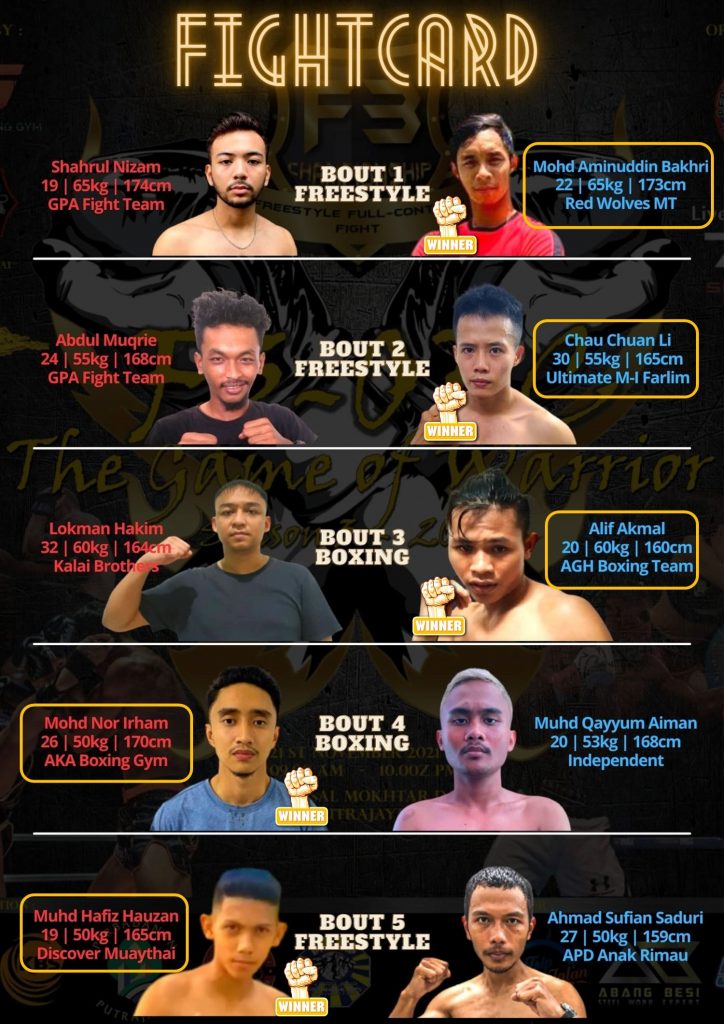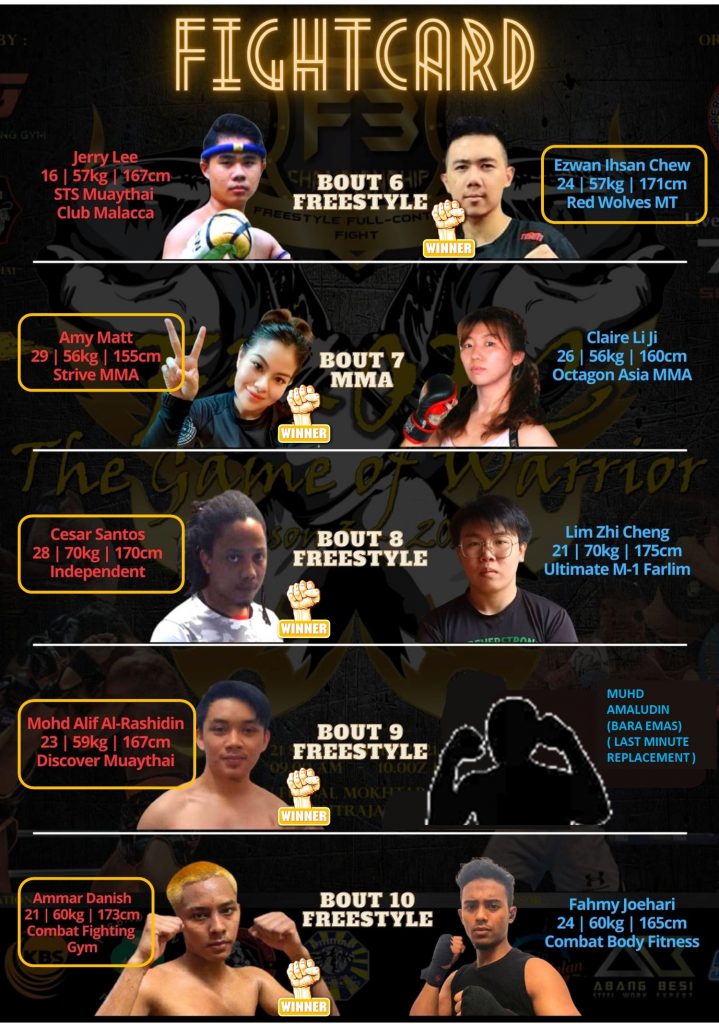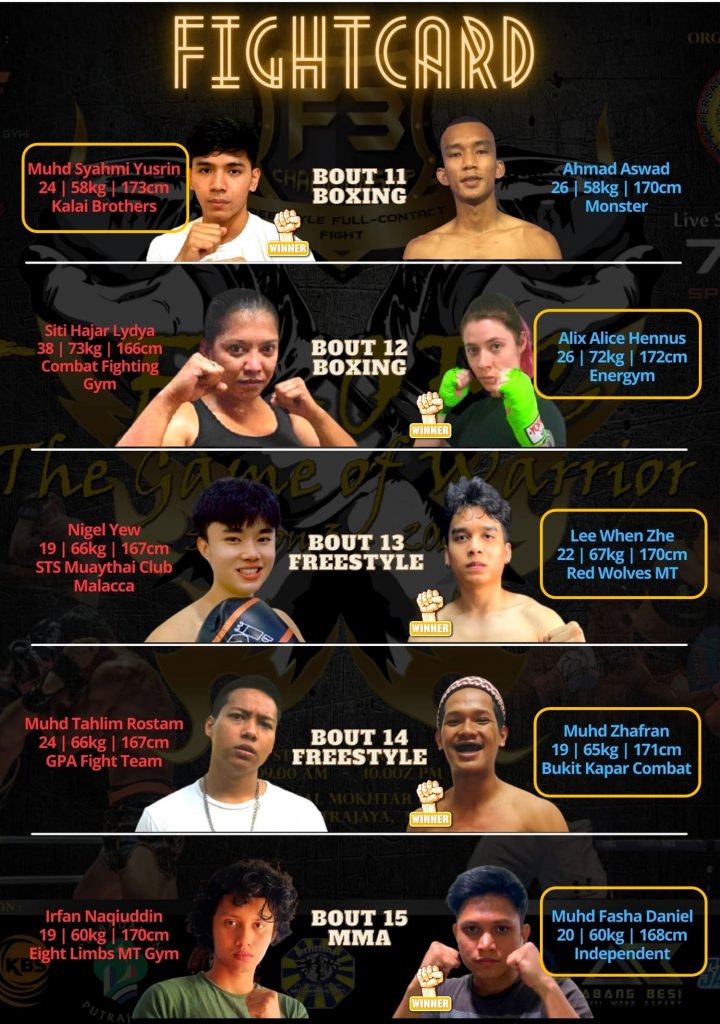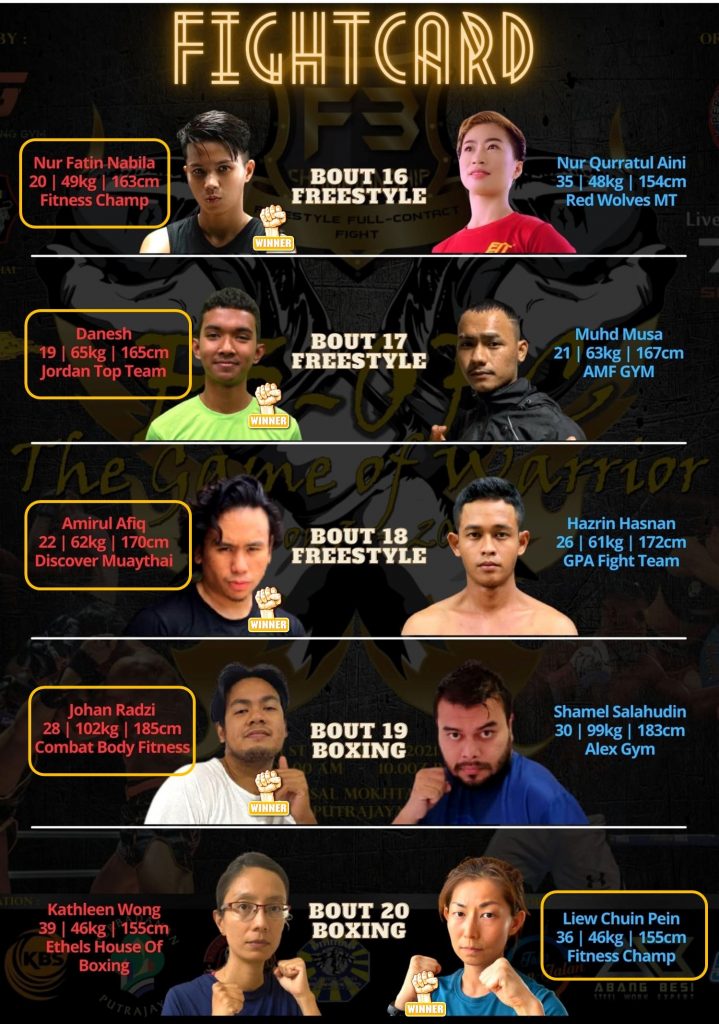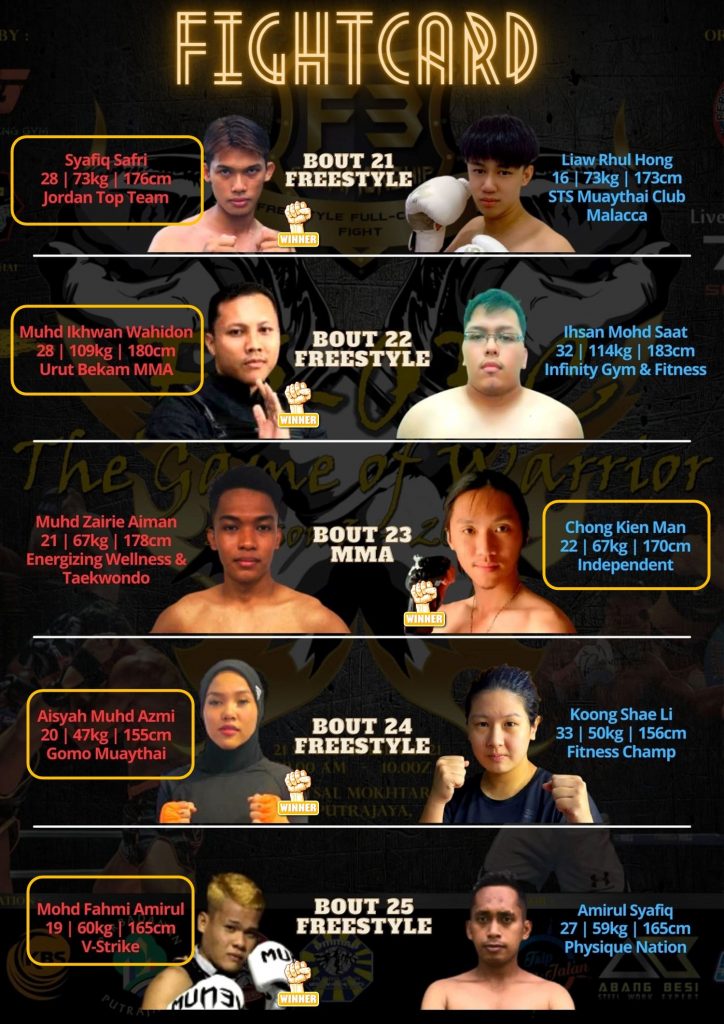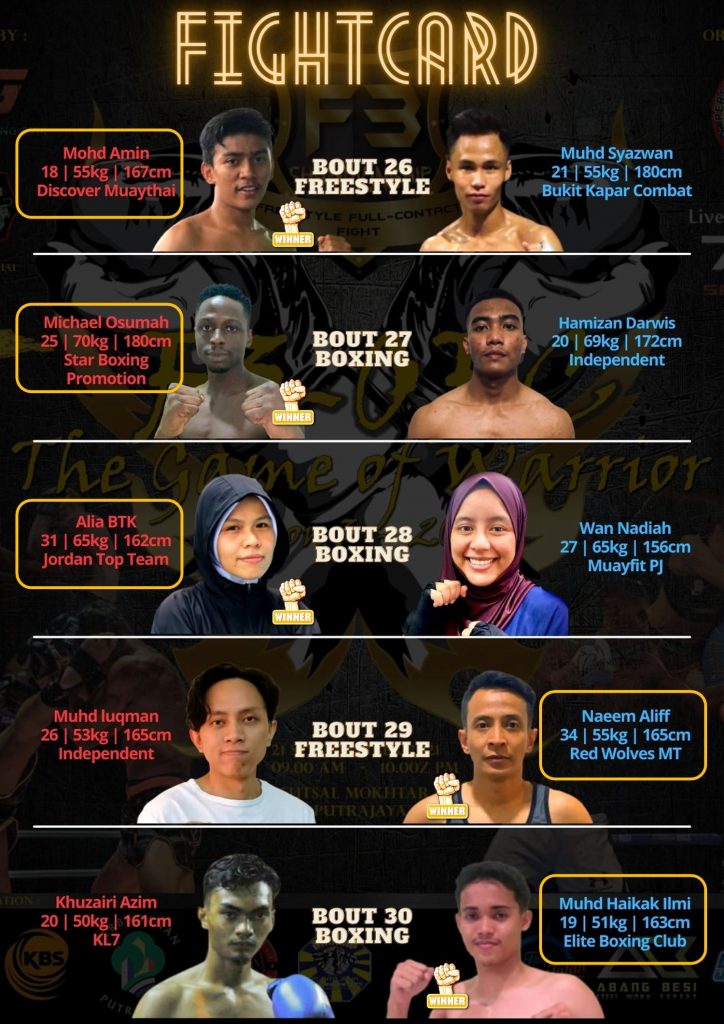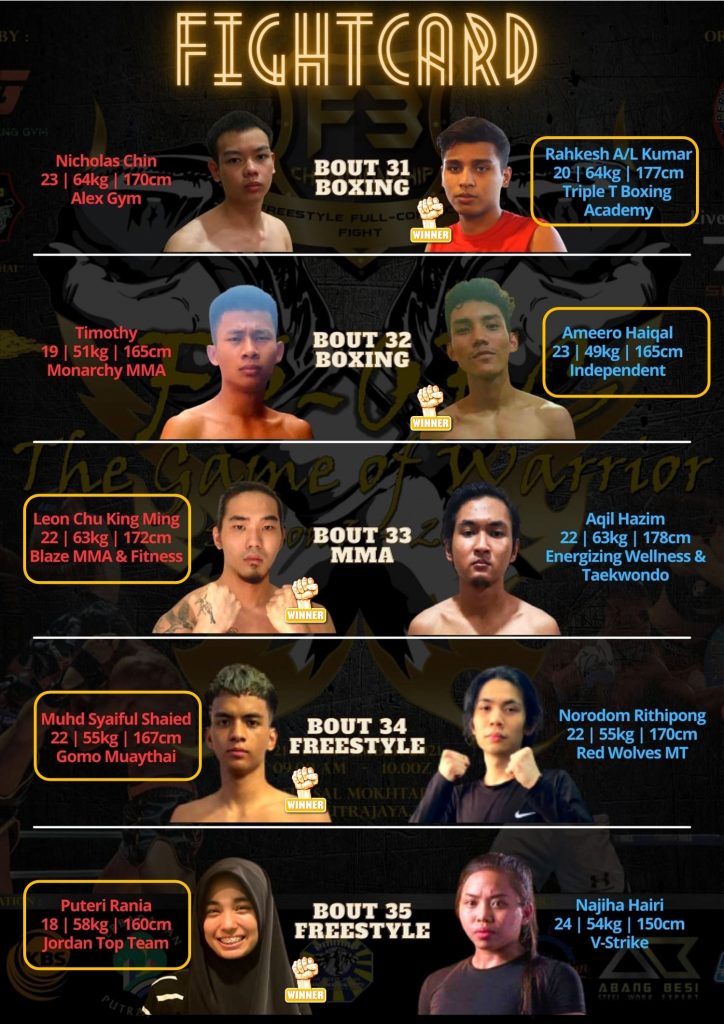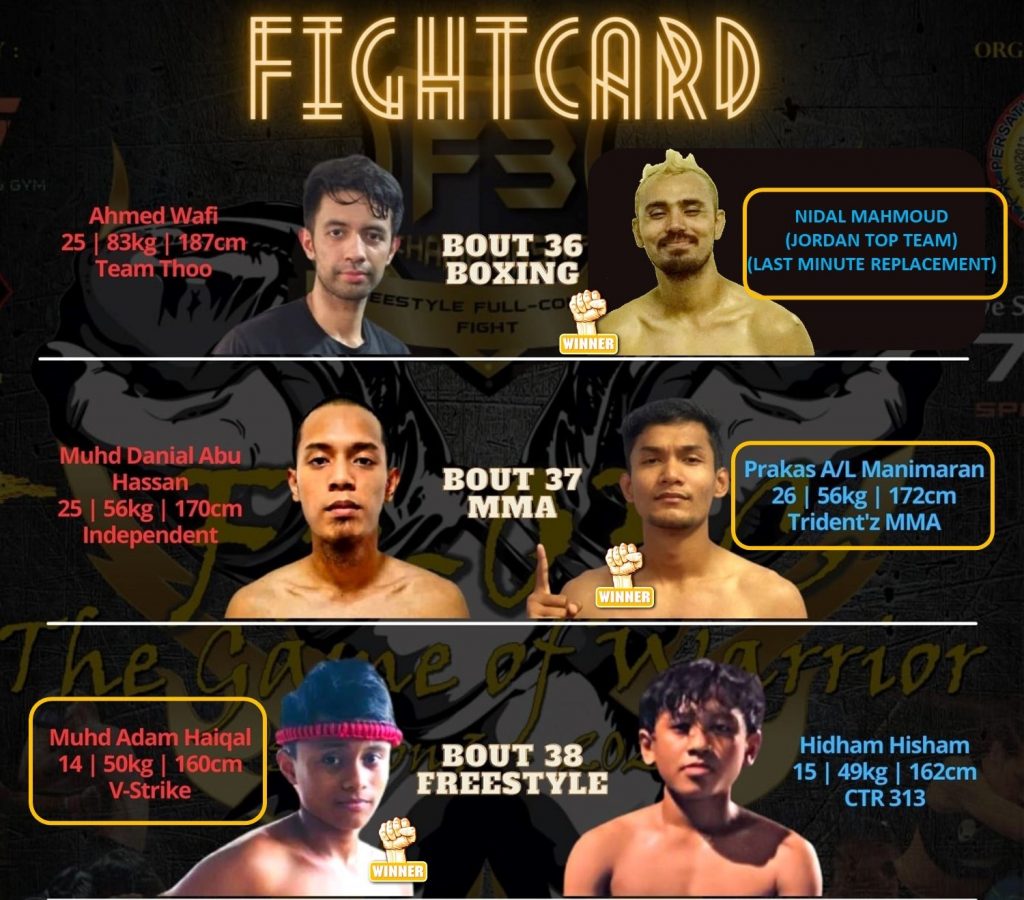 ---
The day's event was close by main event bout 39 & 40 Featherweight Super 8 Title Fight ( part 1 ).
Two bouts were held for this category. It was certainly fit for the closing fight as both bouts were high octane and all 4 fighters gave their all to get the win.
In the end, Kumaran of Red Wolves won the first leg.
The second leg was won by former MIMMA5 Bantamweight Champion Dhiaaul Amal, of STRIVE MMA whom is also the title winner of  2019 F3 Championship Bantamweight belt.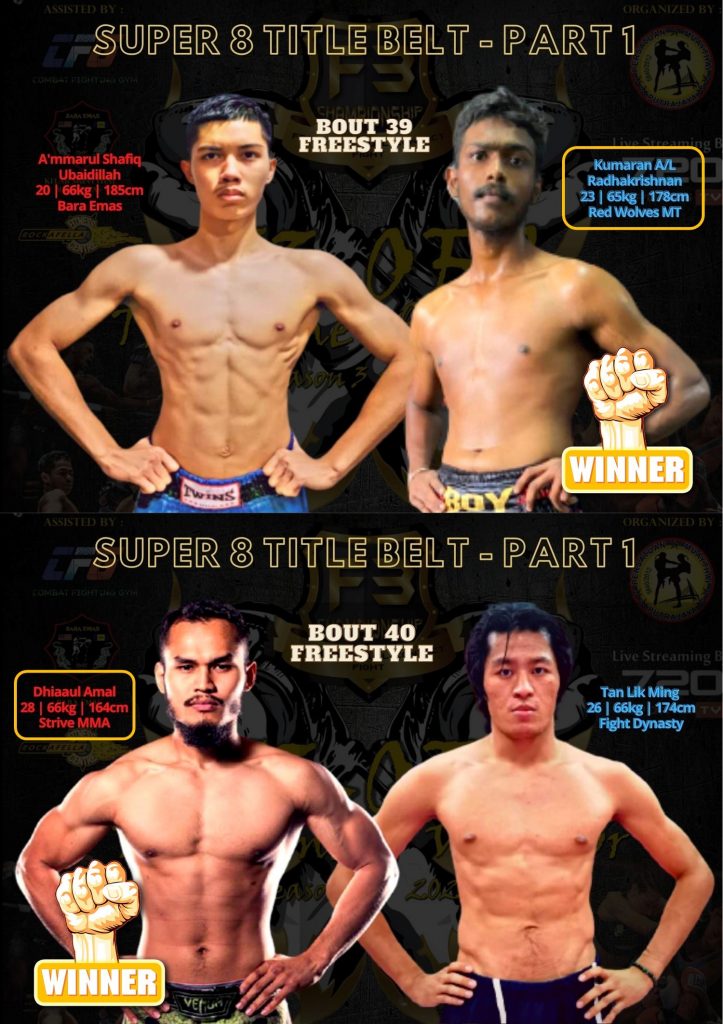 720 Sports TVgot us covered with the fight video,  click below to watch part 1 of this Super 8 fight
A'mmarul Shafiq Ubaidillah (Bara Fitness) vs Kumaran A/L Radhakrishnan (Red Wolves MT)
Dhiaaul Amal (Strive MMA) vs Tan Lik Ming (Fight Dynasty)
---
F3 Championship – THE GAME OF WARRIOR will close 2021 with Season 4. Schedule on 19 DEC 2021. Location – Kompleks D'Star Arena Ampang.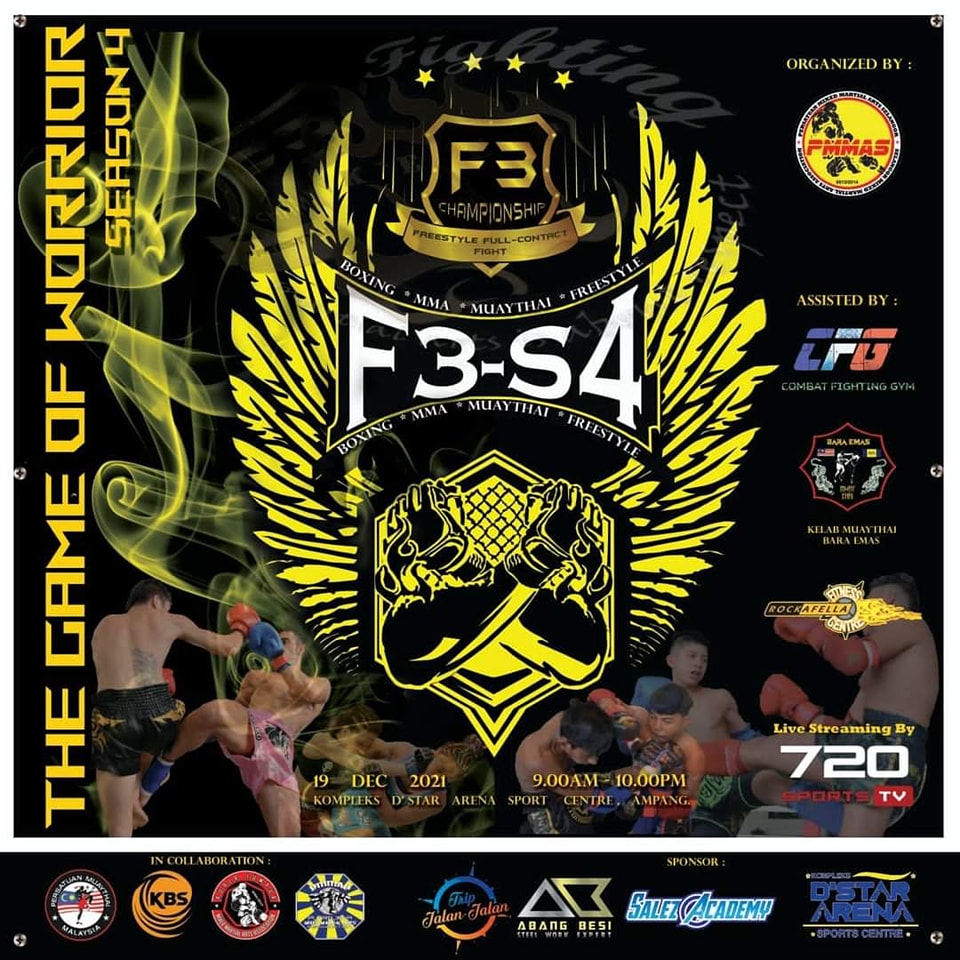 Only 25 bouts will be contested, so those looking for a fight please contact Cik Amy Matt: 017-3011541
For Season 4, Super 8 flyweight and Super 8 welterweight will be competed. All 4 bouts for each category will be on 19 DEC 2021.
As per covid19 SOP, seats for Season 4 is limited to 120 only, so do call Cik Amy Matt : 017-3011541, to get your tickets early.
The Semi-Finals & Finals of Super 8 Featherweight, Super 8 Flyweight and Super 8 Welterweight all are schedule to be held in FEB 2022 during Hari Wilayah.