STAND is back with Kickboxing action to entertain us this weekend 26-27 Nov 2016, in the interior town of Keningau Sabah. This time it's for series 3 and it's held in conjunction with The Crocker Range Festival (TCRF ).
Started on 24 Nov, TCRF is a festival with plethora of events and activities such as Fitness Concert, Local Artist performance, Ms Crocker Range, Arm Wrestling, Fun Run and a whole lot more. And Kickboxing and boxing will be part of this fun and action packed festival.
STAND has established itself as a Kickboxing events that tie in with family carnival. Started with the 1st series at Nexus Karambunai Resort in April this year, erecting a boxing ring next to the beautiful beach of Karambunai, with few food & drinks stalls surrounding it really gives this fight event a different feel, a relax atmosphere that fighters can fight, and their supporters and family and chill out enjoying the cool breeze from the sea.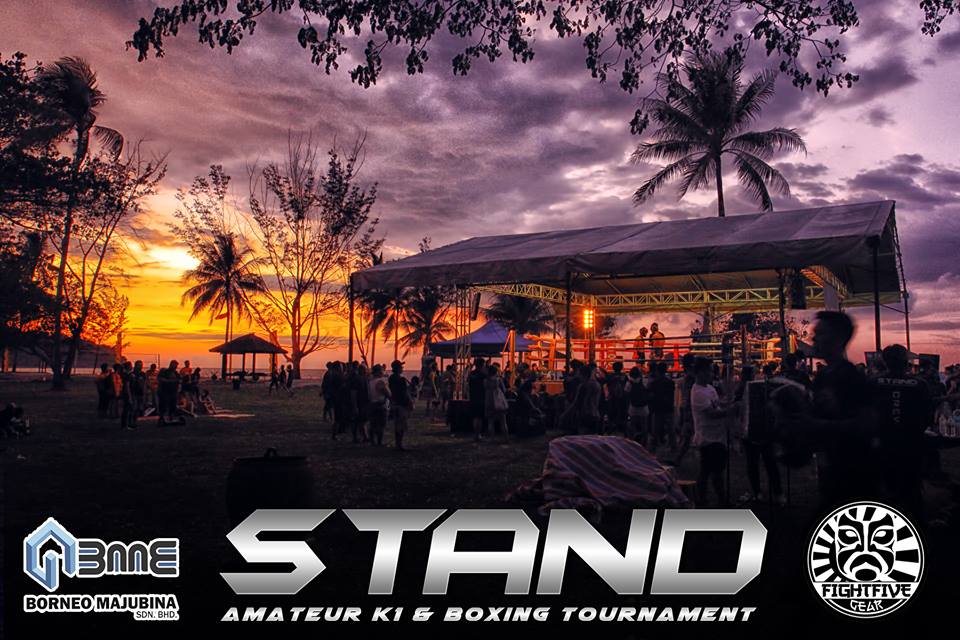 STAND Series 1
The series 2 continued this concept where STAND was part of the beach festival in Siok Bah Karnival in September, at Tg.Lipat Beach which gives good exposure to K1 Kickboxing to wider audience and a good platform for newcomer to gain experience.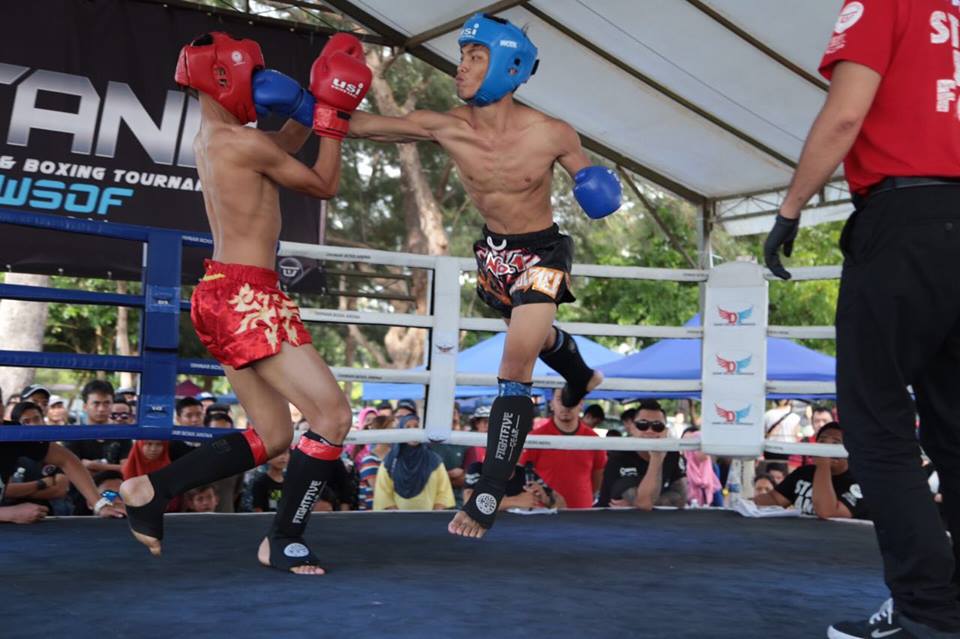 Series 2
As part of a WSOF affiliated event , the organiser, TEAM KARABAW has announced a full calender for 2017 which will see 3 tournament held in April, June and September, which will lead to the year end closing of a Super series at November.
Keningau is around 109 Km away from Kota Kinabalu and takes 1.5 hour car ride via the Kimanis route which is steep but very scenic mountainous road that traverse through Sabah's back bone; the Crocker Range.
Although it's a distance away but as the founder of STAND, Sensei Rayner Kinsiong has a close affinity to Keningau; as this is his home town. He always wanted to do something for his home town. So bringing a home grown and internationally affiliated martial arts event is really the best thing to do.
Aside from being the only Kickboxing promotions affiliated to WSOF, STAND is also a ISKA sanction event. ISKA representative of Borneo, Alving Chong will be present to guide the officials.
STAND 3 highlight will be the Super 8 70kg title fight. The fighter to watch out for is Anil Mehta from Team Relentless India. Sabah has been a successful place for Anil, with him winning the STAND series 2 Light Welterweigh title in September. He again was victorious in Fight Fest 3, winning the ISKA K1 Fight Fest 65kg title belt in October. Now for the 3rd month in a row, he is back in Sabah for fight. Will he win again for third time?
Anil's is expected to win his first fight against Lu Yi Ran of D-30. Lu may lack the experience compare to Anil, but what he lacks there he make it up with a never say die attitude.
Nidal Mahmood from Sampuri Gym will also be a fighter to watch in this Super 8. He won in STAND series 1 and is back with high intention to bring the belt back to Kuala Lumpur. Nidal is a muay thai specialist and will be capitalizing his long reach to score against Ronoldo Liew of Borneo Tiger MMA. Liew is no slouch, he has very heavy hands and may give Nidal trouble if he close the distance and connect in the pocket.
Another prospect is Mohd Eswandy from Gymbox, Kuching. Another muaythai specialist, Eswandy also dabbled in MMA and did well in reaching MIMMA 4 Semi-finals this year fighting at lightweight.
Eswandy will face Ronnie of Naga Kinabalu in the prelim.
For female showdown the high light will be the K1 Super Fight at 52kg between Shaznieffah of Team Karabaw vs Ainah of Team Revolution. Judging from pass female fights, usually they give their all out and sometimes are more relentless than their male counterparts. So with this fight promises plenty of fireworks!
According to Kaza Musa who arranges the fight card for STAND, 22 team has registered, with 80 fighters confirmed for showdown. 70 participating in amatuer K1 Kickboxing and another 10 for amatuer boxing.
Keningau MMA ( KMMA ) lead by Mohd Bakri,  this time will be sending 15 fighters, 13 for kickboxing and 2 for boxing. KMMA has been very active in participating in local fight events. Participating in fights in other town is always a challenge due to the long travel by car. But this time it's at their base and they have been preparing very intensely and expect a fine showing from KMMA.
Anil Mehta has spend time at KMMA to exchange some training tips and KMMA will be cornering him for the Super 8 fight
As for the new team of Kinabalu Kings lead by Bee Jay will be sending 9 fighters. As a new team that was just formed in feb this year, they have doing well in Kickboxing events. At STAND 1 winning 3 Gold and 2 silver, STAND 2, 2 Gold and 2 silver, BAC Labuan 3 Gold 2 silver and most recently in October – Fight Fest 3, 7 Gold 2 silver.
With a few muaythai champion in the team such as Faizal Boy Kicap, Reyan Abdul and Ben Banetto, which trains the newcomer, Kinabalu Kings has won the Inter-Club Muaythai in Sept at Sandakan. According to Bee Jay, his team comprises 2 newcomer and the other 7 fighters have no more than 4 fights in their record. He is looking to develop them further, but also confident that they will achieve the 4 gold he has set.
Fighters weigh in has been done at Friday and fight day in on 26-27 Nov. Let's show support for the fighters and cheer them on and support local fight events that bring fight action to us!
All the best to the fighters and organiser for a great STAND 3!