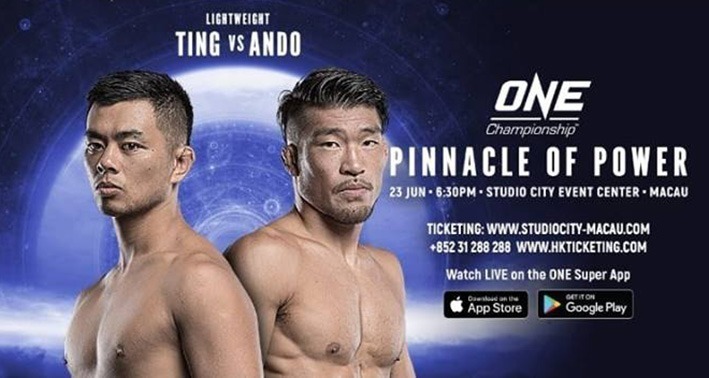 23 June 2018. One Championship concluded last night in Macau for ONE CHAMPIONSHIP : PINNACLE OF POWER. It's ONE's fourth event featuring the ONE Super Series (Kickboxing and Muaythai fight )
Two MMA title was on the line, the Flyweight title and the female Strawweight title.
In the main event of the night, Filipino
Geje Eustaquio
managed to earn a split decision to unify the flyweight belt against long time champ
Adriano Moraes.
In the co-main event, China's Xiong Jing Nan dominates Laura Balin to kept her belt via unanimous decision.

————-#WRB—————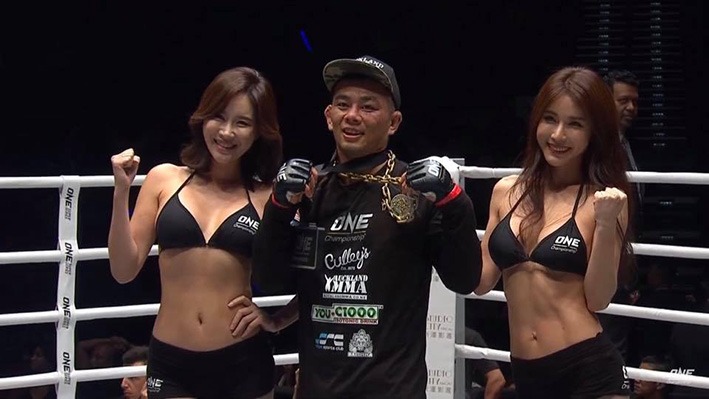 In a lightweight fight, Malaysian-Kiwi spitfire Ev "E.T." Ting defeated another notable name in the promotion's stacked lightweight division, routing Koji "The Commander" Ando of Japan. It was a striking showcase from start to finish as both men delivered shattering blows, particularly Ev with powerful high round house that battered Ando.
Ando gallantly traded punches with Ting, but the latter connected on effective strikes through excellent counterpunching. Ting pulled away in the last round when he scored on a devastating high knee. With his gutsy performance against Ando, Ting was awarded a unanimous decision win.
It is worth noting that although Ando was on a 3 fight losing streak going into this fight, but he has never been finished and recorded a win over former UFC lightweight
Roger Huerta.
'The Commmander' also went toe to toe with submission ace
Shinya Aoki
in a 5 round title fight in 2015.
This is Ev's 3rd win after he lost the title fight challenging
Eduard Folayang
back in April last year. The lightweight belt has change owner since Nov 2017, when
Martin 'The Situ-Asian Nguyen
knocked out Eduard. A win by Ev over the experience Ando further pushes Ev called for a Lightweight title fight against
Martin Nguyen
WRB: How does it feels to be back fighting an MMA match in a ring? I believe the last time u did that was in your early MMA career right? Do you like fighting in a cage or ring?
ET: Cage feels like do or die and the ring feels more like a demonstration of skills and yes correct haven't competed in one for awhile but still often train in one. I enjoyed it and look forward to more ventures in there.
WRB: Going into the fight vs Koji, did you prepare with lots of wresting & take down defense?
ET: Yes, every camp I'm always improving on all aspects, but was certainly aware of his judo credentials and his submission finishes. So the game-plan was to keep my range to pick him apart.
WRB: Were you surprise that Koji prefered to stand and trade and hardly attempt any take down?
ET: Koji is one of the toughest competitors out there and has a mindset of a real samurai. 
I think the first round he was looking for take-downs until he realised it wasn't there due to my range and movement therefore he adjusted and came back slightly in the 2nd.
WRB: Take us through the fight? You pressured him by much of combos and high kicks in first two rounds, but Koji seems to have more output in the 3rd round. Tell us about that knee in the 3rd round.
ET: I took the lead in the striking in the first, Koji adjusted and started walking me down in the 2nd, took me awhile to adjust but once I did I was able to time some combos and also that knee where I missed the first couple times with the right, so switched it to the left and it connected. Much respect to such a tough opponent.




WRB: Of the 3 wins after you challenge Eduard, which win was the hardest and most satisfying? What's the thing that changes most since the loss to Eduard?
ET: Each win since my title shot is just another learning curve and what has changed most is my mindset, instead of trying to please everyone I just invested in myself and smart training. Smarter and harder now.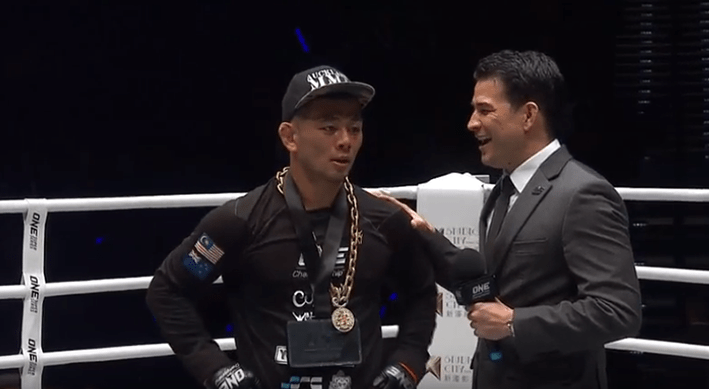 WRB: You clearly wants to challenge Martin for the lightweight title, do you think it should be your next fight?
Absolutely it should be the next fight, no other lightweight contender have taken out the contenders I've had.
Martin is not even a real lightweight so he has the choice to vacate or defend. If he truly believes he's the champ, then he would not hesitate to prove it.
WRB: When do you think you ready to fight? If ONE didn't give you that title fight, will you fight in KL card in July?
ET: Yes I've been campaigning for this but being 3 weeks out and he has another invented interim belt, it may be unlikely, but absolutely I will be ready. I'm not scared of any lightweight on his planet.
WRB: Tell us about your relationship with Martin? have you train with him before? What do you think of his recent win vs Christian Lee? How do you think your style vs Martin will play out in a title fight?
ET: We are both sponsored by the same gym Saigon Sports Club, while I spent over two years coaching there, he was getting all these awesome opportunities. Martin is the current champ for a reason. His timing and efficiency is on point but he has yet to be in deep waters.
ET vs 'The Situ-Asian' will sell out in Vietnam, Malaysia, Singapore, Australia and New Zealand simply because people know it's going to be a real fight. Survival of the fittest type of fight.


WRB: What's that gold chain all about in Macau?
Bali MMA
made it just for Xiong Jingnan the champ, Mario and myself so it would be rude not to wear it. Plus it looks pretty cool, but intrinsically it's more of a mindset for me.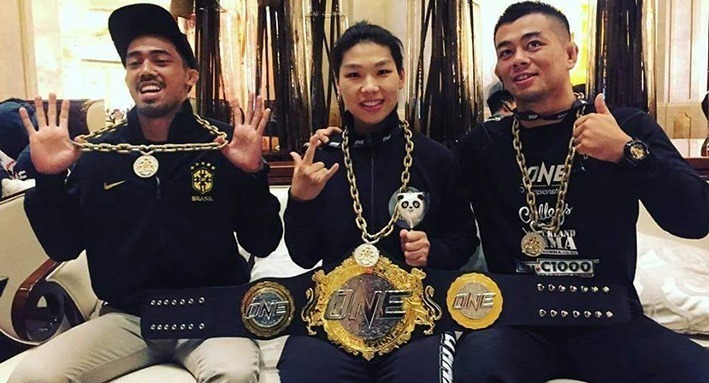 WRB: Please give readers some tips of how you develop that power in your high kicks?
ET: The more times you do something the better you get, so it's simply repetitions. Having a good pad holding coach can help with the distancing and timing. Drills and skills pays the bills
WRB: Any leisure after win in Macau?
Asides from the overpriced food, we went to the after party at Pachao in Studio City, thanks ONE for hosting was a great night and everyone had a blast. #Whiskeysquad LOL
I want to thank ONE Championship for having me on the show, I look forward to represent and express my craft each time I step in the arena. Also all my partners who make it possible for me to fulfill my camps and lifestyle.
Onward and forward, I have got my eyes on the prize.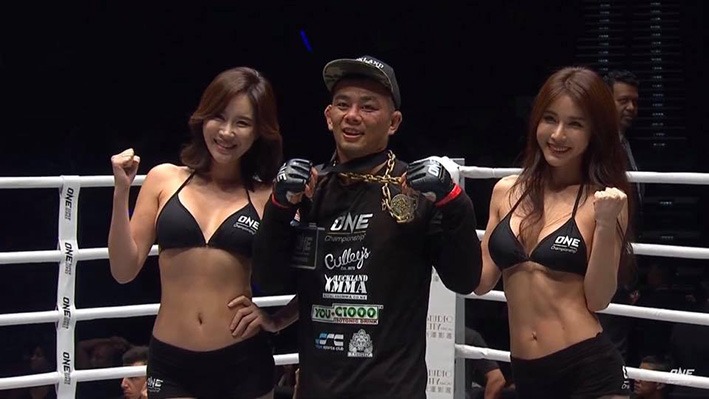 ———#WRB———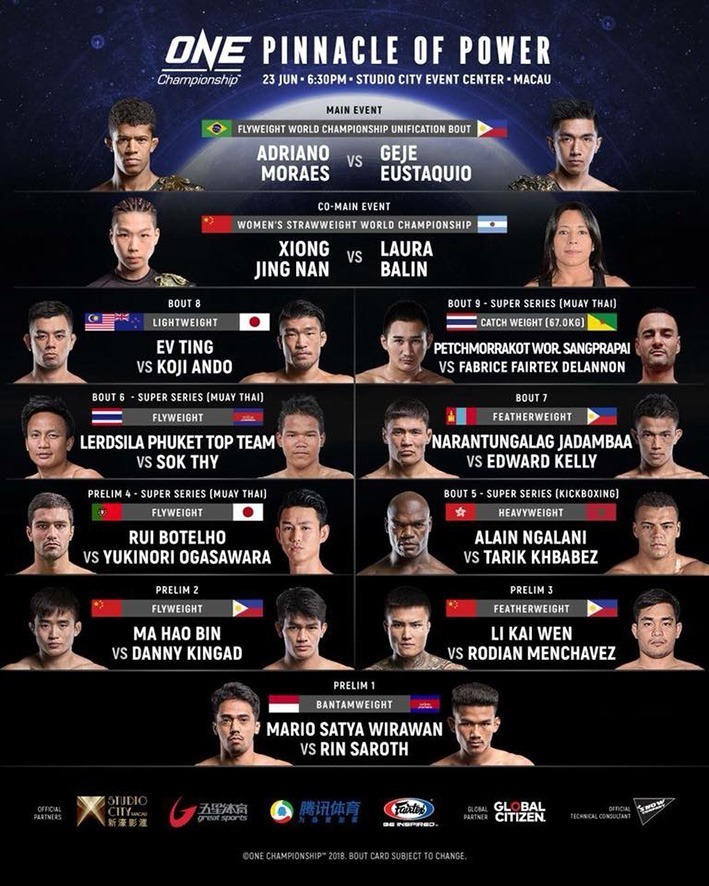 ONE Championship: Pinnacle of Power @ Macau full results

ONE Flyweight World Championship bout: 
Geje Eustaquio defeats Adriano Moraes by Split Decision (SD) after 5 rounds
ONE Women's Strawweight World Championship bout: 
Xiong Jing Nan defeats Laura Balin by Unanimous Decision (UD) after 5 rounds
ONE Super Series Muay Thai catchweight bout (67.0kg): 
Petchmorrakot Wor. Sangprapai defeats Fabrice Fairtex Delannon by TKO (Doctor Stoppage) at 0:43 minutes of round 2
Lightweight bout: 
Ev Ting defeats Koji Ando by Unanimous Decision (UD) after 3 rounds
Featherweight bout: 
Narantungalag Jadambaa defeats Edward Kelly by TKO (Strikes) at 4:58 minutes of round 2
ONE Super Series Muay Thai flyweight bout: 
Lerdsila Phuket Top Team defeats Sok Thy by Split Decision (SD) after 3 rounds
ONE Super Series Kickboxing heavyweight bout: 
Tarik Khbabez defeats Alain Ngalani by Knockout (KO) at 1:49 minutes of round 3
ONE Super Series Muay Thai flyweight bout: 
Yukinori Ogasawara defeats Rui Botelho by Knockout (KO) at 2:54 minutes of round 2
Featherweight bout: 
Li Kai Wen defeats Rodian Menchavez by Knockout (KO) at 0:10 minutes of round 1
Flyweight bout: 
Danny Kingad defeats Ma Hao Bin by Unanimous Decision (UD) after 3 rounds
Bantamweight bout: 
Rin Saroth defeats Mario Satya Wirawan by TKO (Strikes) at 2:30 minutes of round 3
One Championship next event will be in Yangon on 29 June,
ONE Championship: SPIRIT of WARRIOR
with a Middleweight title fight between Myanmar's hero and champion Aung La N Sang vs Japanese challenger Ken Hasegawa. Watch the full event LIVE & FREE on the ONE Super App , download it now 
http://bit.ly/ONESuperApp

                                             ———#WRB———