MIMMA started in 2013 and running consecutively 4 seasons with a tournament format. For it's fifth season, it was revamped and a whole new league format was introduced with the main goal was to give fighters cage time to gain experience.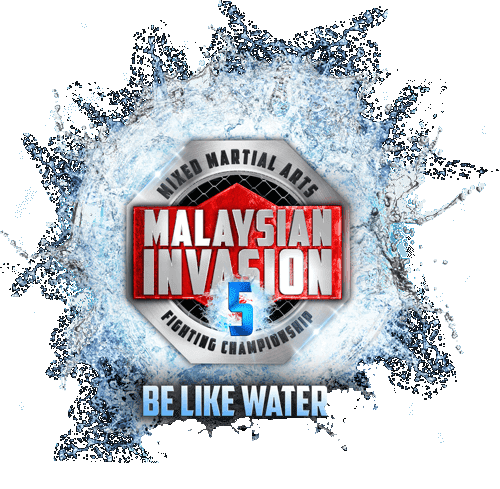 Season 5 began in April /May 2017 with try-outs in 5 locations around Malaysia. 8 fighters were selected for each weight division. They then had to fought each other to collect points to determine who the top 4 fighters were. These top four then move on to compete in the semi-finals elimination round which was held on Feb 2018. Winners of semis goes to the grand finals.
In previous seasons, defending champions gets automatic one way path to the grand finals. But for season 5, they also need to compete in the league matches to determine who goes to the top 4. Hence in the grand finals, there was a few new faces.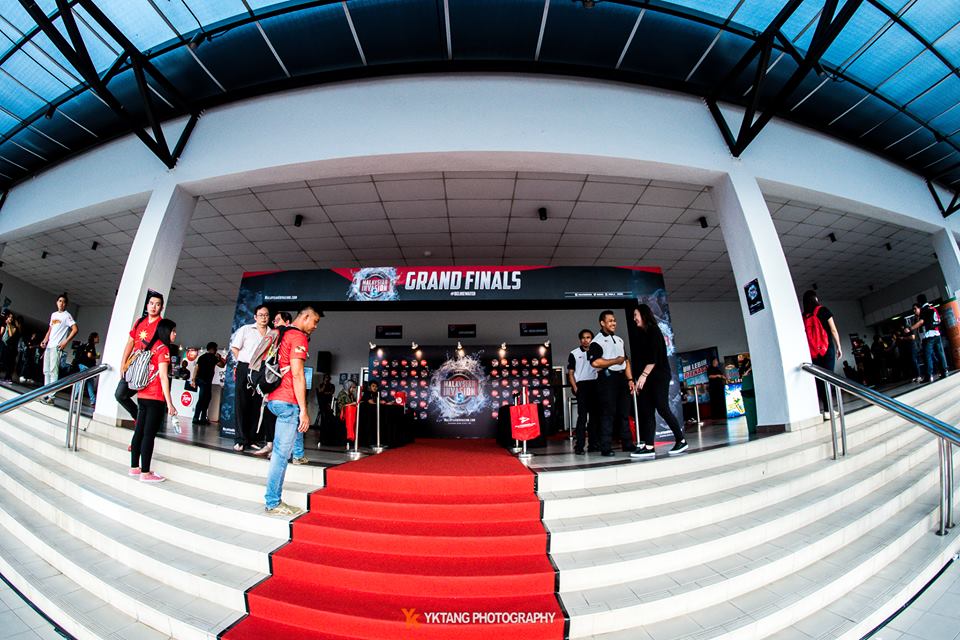 The grand finals was organised in a completely new venue, Stadium Juara in Month Kiara, Kuala Lumpur. Although the seating capacity was smaller, compare to previous venue Stadium Merdeka & Stadium Bukit Jalil, but the organiser still did a very good set up, with good lightings and excellent sound system. 4 wide screen on each corner of the hall provides live view of the fight in the cage.
And compare to previous season, MIMMA 5 grand finals this time is all about business to determine the champion. Gone were the usual feature fights & defending champions showcase.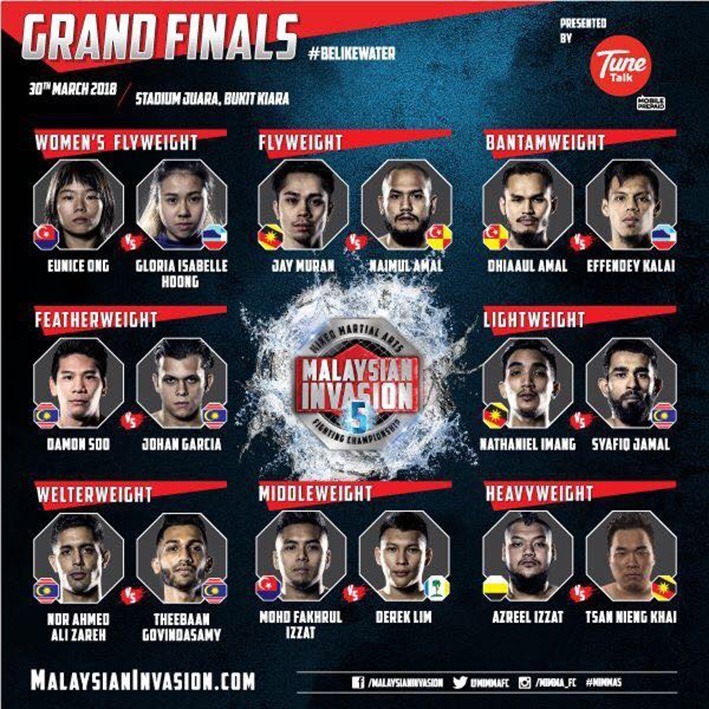 8 bouts were competed. Only three went to the judges decision. Okay let's go to the fight.
——————–
Bout 1 . Middle weight
Bout 1 was the Middleweight bout between Muhammad Fakhrul Izzat (Mok Judo ) vs Derek Lim. Mok came in as heavy favourite as he has defeated Derek twice. Once in the league 1 and then the semis.
Mok qualified to the finals scheduled to meet season 4 champion, the highly rated Muhd Meeraj (whom also qualify for the grand finals when he defeated Nik Zainul). But 2 weeks before grand finals, he pulled out due to contract issue for his pro boxing bout in April. Derek was put back into the picture.
But it was the same story all over again, with Mok Judo's dominance using his wrestling and take down which earned him a victory via unanimous decision.
Read about Mok Judo's pre-grand finals fight story here .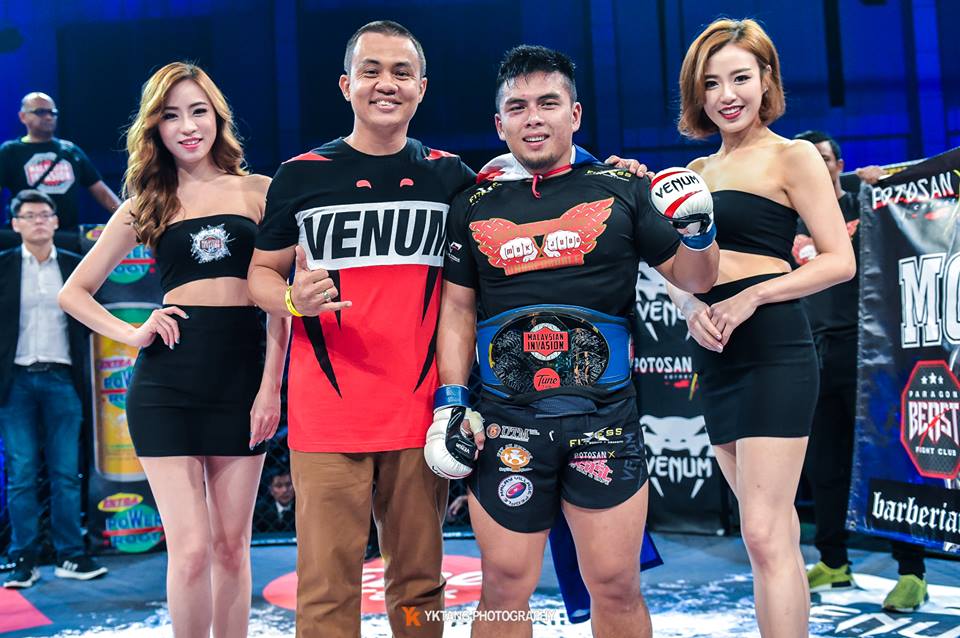 Ayob of Potosan Corner ( VENUM ) presenting the belt to Mok Judo
——————–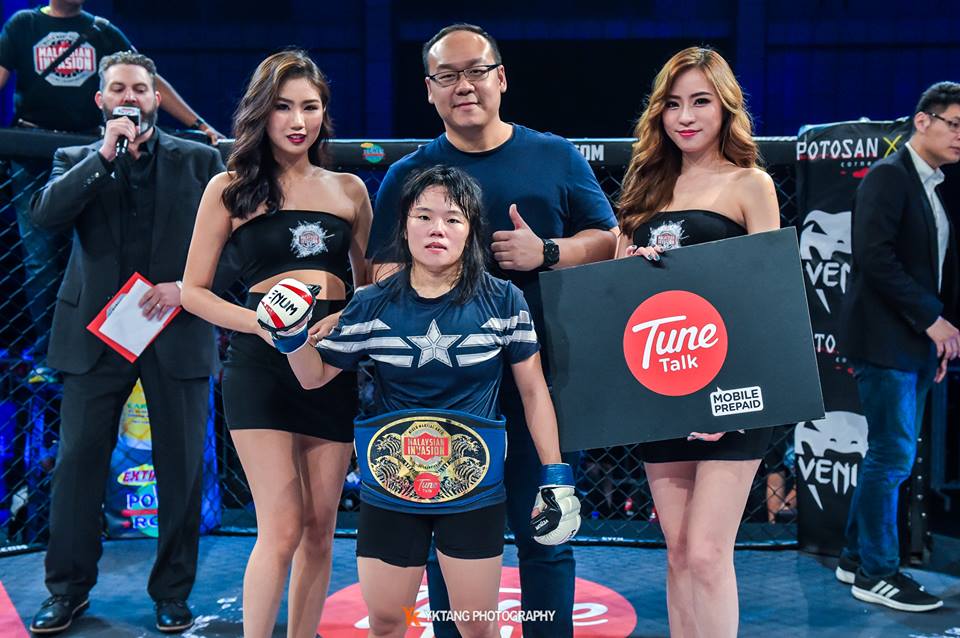 Joseph Lim , Chief Marketing Officer of Tune Talk presented the Female Flyweight belt
Bout 2 Female Flyweight
Petite size Johorian Eunice Ong which is the lightest weighing female in her category faced Gloria Hoong of Sabah. Even though there's a significant size difference, Eunice was technically sound and managed to bring the fight to the ground and control from top. Gloria did a good job reversing position but it was always only towards the end of round.
Last two round, Gloria did a better job with her striking and cage control but was not enough to win her the fight.
Eunice was declared the new female champion via split decision. She managed to retain the female belt in Johor as her team mate Jihin Radzuan was the previous winner.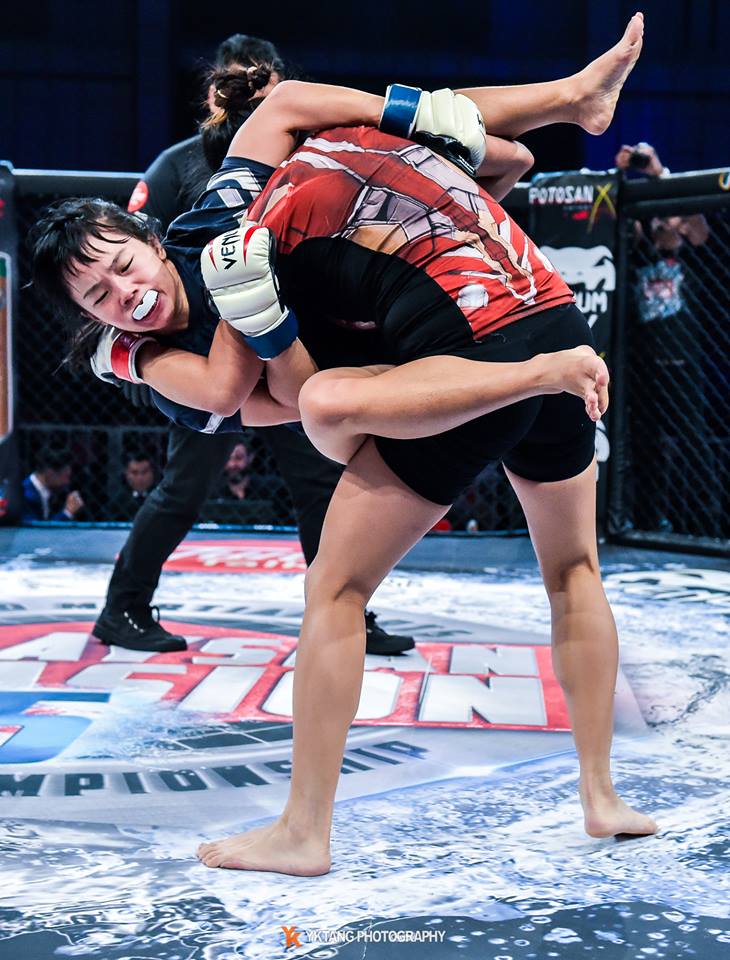 ——————
Bout 3 Lightweight.
This is another fight that saw the finalist being change two weeks before the finals. Lightweight Nathaniel Imang Lakai was schedule to meet season 4 champ Hui Keng Fai. But Hui was schedule for a same pro boxing event in April as Meeraj, hence he pulled out because his management does not want to risk him fighting so close to his boxing bout.
Syafiq Jamal whom Keng Fai defeated in the semis was given another chance for redemption and made the odds more even, as previous match-up heavily sided towards Keng Fai.
Nathaniel was quick to make a statement as the new kid on the block. He uses his speed to close the gap and get take down and in round 2, executed a straight arm-bar at 1:33 to end the fight in his favour.
He celebrated with an pro wrestling style elbow drop in the middle of the cage, and thus brought back the Lightweight belt back to the land of hornbill, which was won by fellow Sarawakian Jace law in season 3, but lost it to keng Fai in season 4.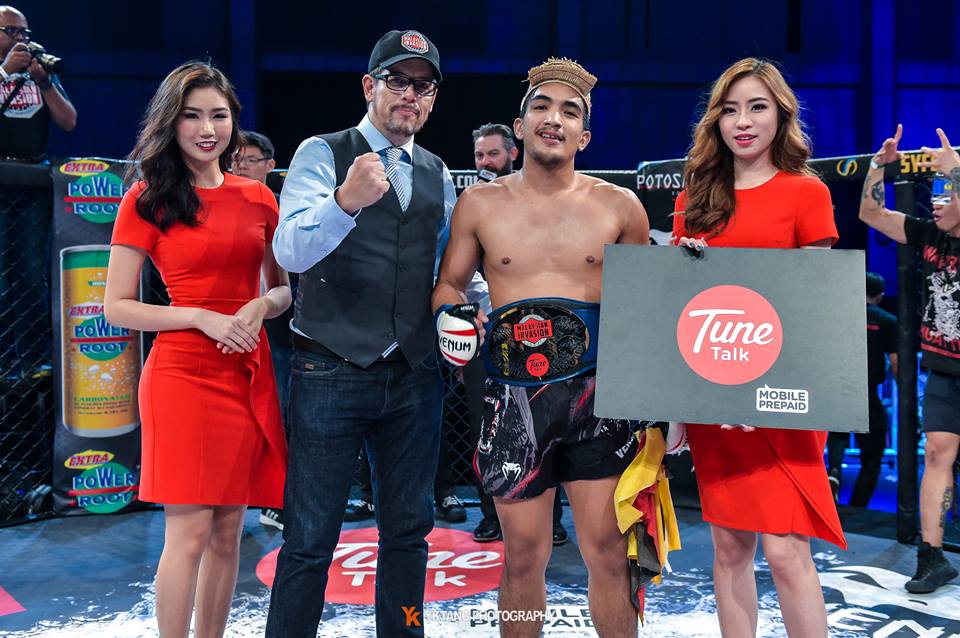 Lightweight belt presented by ex Tune Talk CEO and fellow Sarawakian Jason Lo
——————–
Bout 4 Bantamweight.
This has the tendency to be an all out back and forth war between two seasoned MIMMA fighters. Dhiaaul Amal and Effendy Kalai.
Dhiaaul Amal enters the finals with a perfect record of 6 wins, with one of the win being a split decision victory over Effendy himself.
Effendy was a two time finalist. The first time was in season 3, unfortunately in that fight he pass out due to alleged strike to the back of his head. It was declared a no contest results. Then in season 4, he was given the automatic path to the grand finals. But was stopped by Damon Soo via choke.
This time round Effendy earned his way to the finals fighting through the fields in the league matches.
Effendy started well, timing his counter. He managed to drop Dhiaaul. He packs so much power in his punch and kick. When they clinched, Effendy was stronger and managed to swing Dhiaaul across and land on his back.
In Dhiaaul guard, Effendy uses his left arm to press on his neck. Dhiaaul sensing this opportunity, immediately seized it by trapping Effendy's arm and swing his leg across for an arm-bar that Effendy tapped out to at the 1:29 mark of round 1.
Indeed sweet victory for him as Dhiaaul has participated since season 1. For Effendy, it was not his day, even though he was the stronger one that night but a small mistake is only what it takes for a reverse in fortune.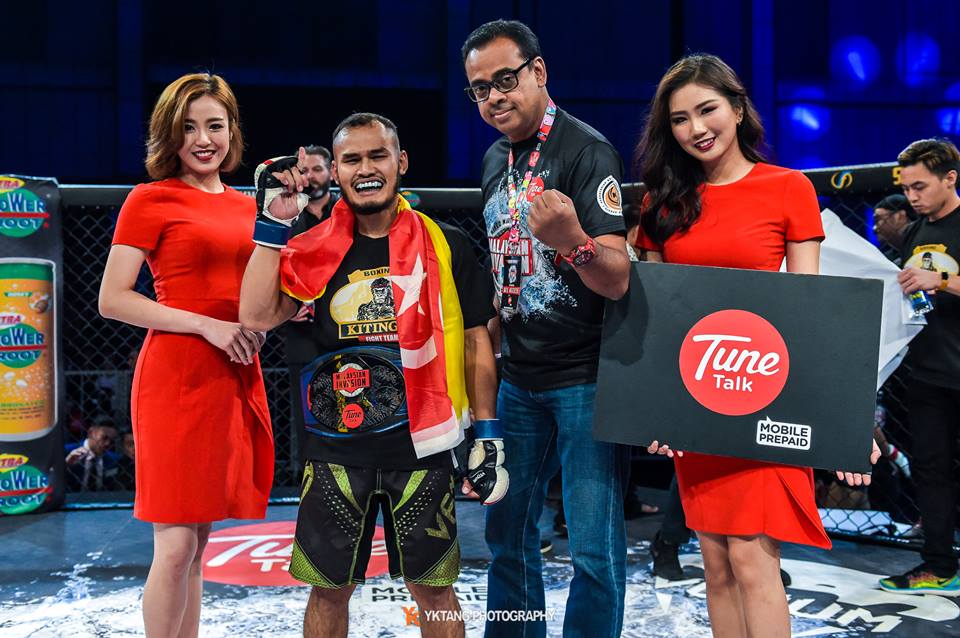 Bantamweight belt presented by  new Tune Talk CEO Ameen Abdullah
———————
Bout 5 Featherweight
MIMMA 4 Bantamweight champion Damon Soo moved up a division to fight in featherweight this season. Being a very accomplished grappler with almost all his MIMMA 5 wins by submission, many expect Damon to bring the fight to the ground.
But he displayed strong striking combos. The beginning of the end was a powerful overhand right that connect on John Garcia's temple that dropped him like a rock. Damon wasted no time and pounced on him with ground and pound. Ref stopped the fight at a record time of 0:49 of Round 1 for a TKO win.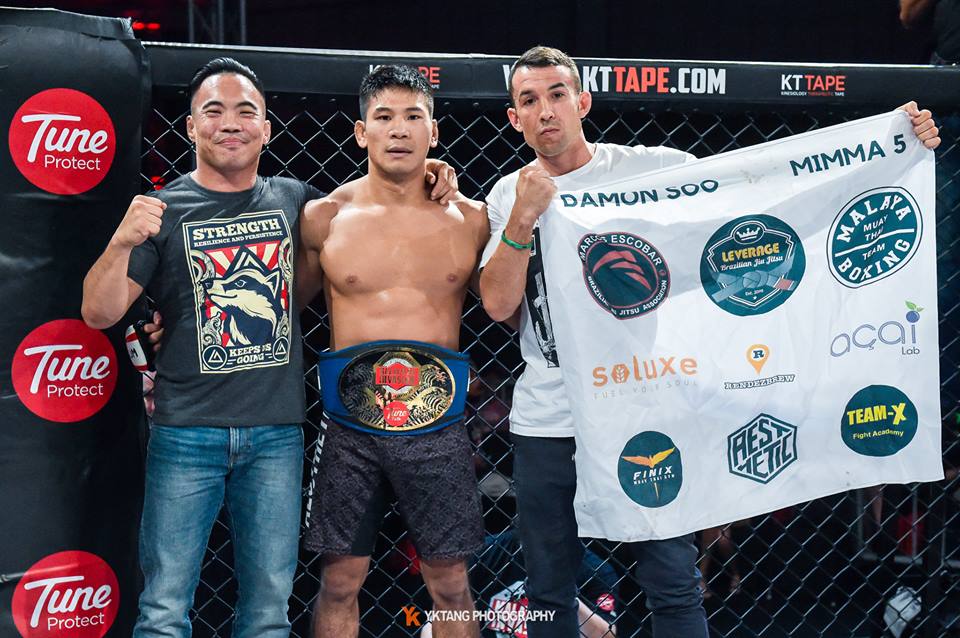 Damon with his grappling coach Aaron Goh (L) & striking coach Wes jaya (R)
———————

Bout 6 Welterweight.
This was a fight that is perfectly scripted for a movie. Team mates in Klinch MMA and close friends . Ahmed Zareh fought Theebaan Govindasamy for the welterweight title.
These two have the same physical attributes being lanky and posses long reach. Both also started their martial arts career in karate.
Theeban was season 4 defending champion, he tried to keep the fight on the feet utilising his kicks. Ahmed was able to bring the fight to the ground and kept top control for most of the rounds.
Ahmed corner gave him very good technical instructions and Ahmed followed it closely. It was back and forth chess game but Ahmed clearly has the dominant control. He won via unanimous decision.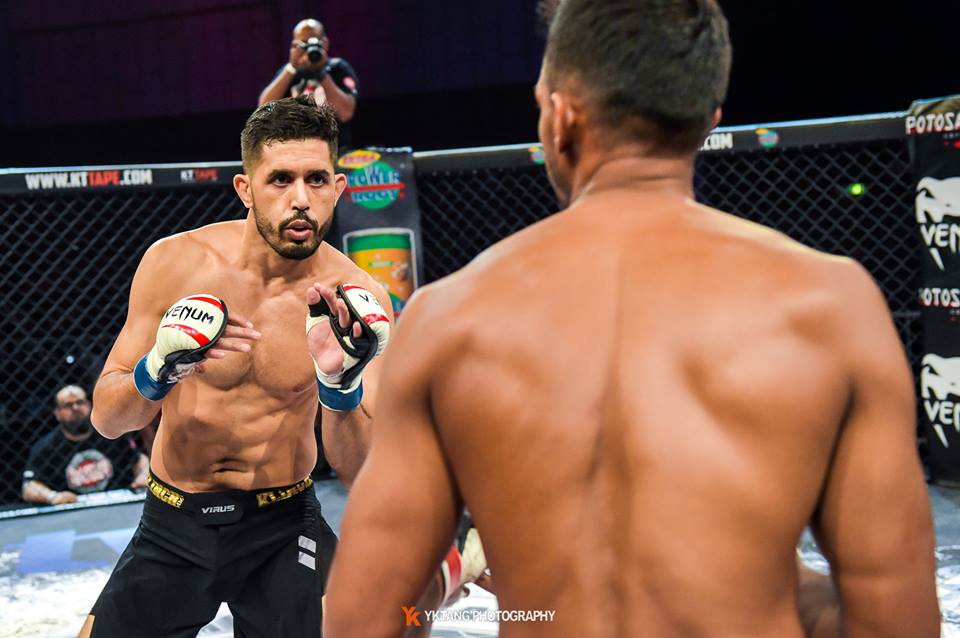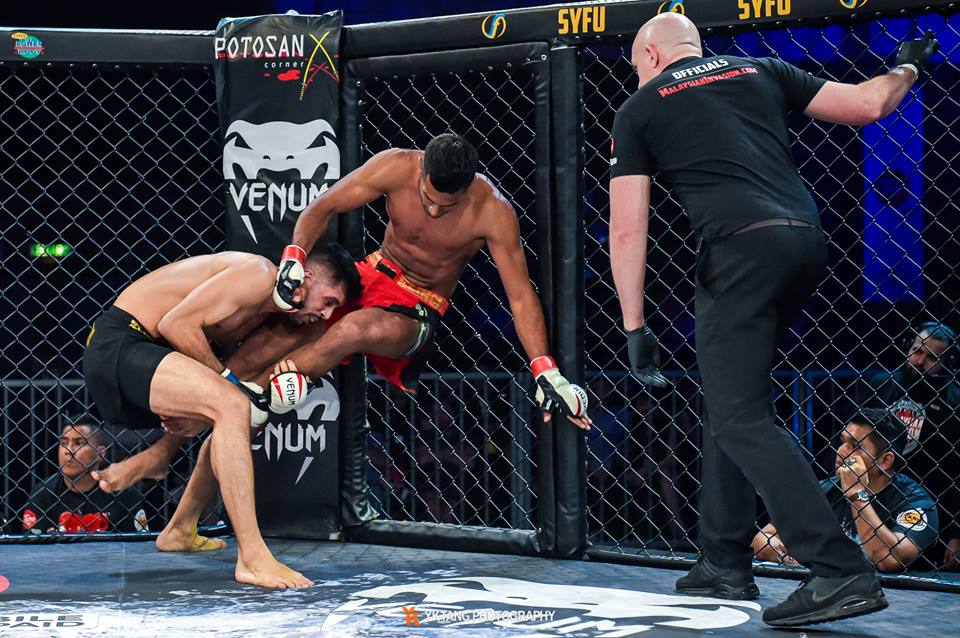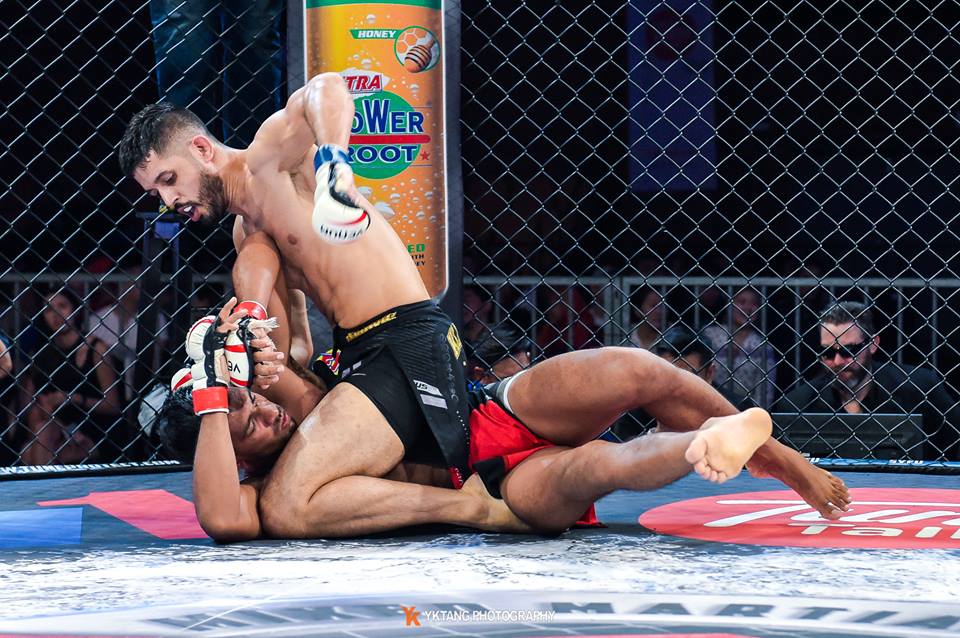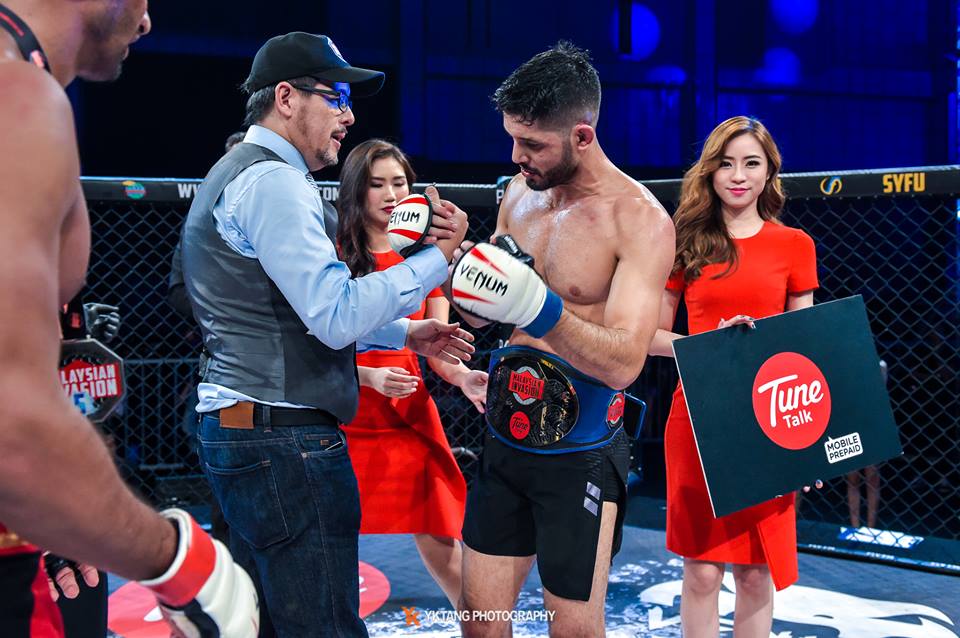 ex Tune Talk CEO & MIMMA co-founder Jason Lo congratulating Ahmed
——————–
Bout 7 Flyweight .
Naimul Amal vs Jay Jay Muran. This fight promises lots of fireworks. It didn't disappoint. Both engaged with some wild exchanges, but Jay was quick to attempt take down. He scored one ala Khabib Nurmagomedov by carrying Naimul across the cage & dumped him near his corner.
But Naimul was very hard to be kept down. He managed to reverse and continue to trade blows. But it was Naimul gaining the better of the exchanges, ending round 1 with 40 seconds unleashing ground and pound on Jay Jay.
Naimul open round 2 with a feint punches that set up for his left high kick that caught Jay Jay's chin. At one point Jay Jay got Naimul's back but Naimul control his hands well and managed to turn into Jay Jay's guard and gain top position. After few seconds he stood and let Jay Jay back on his feet.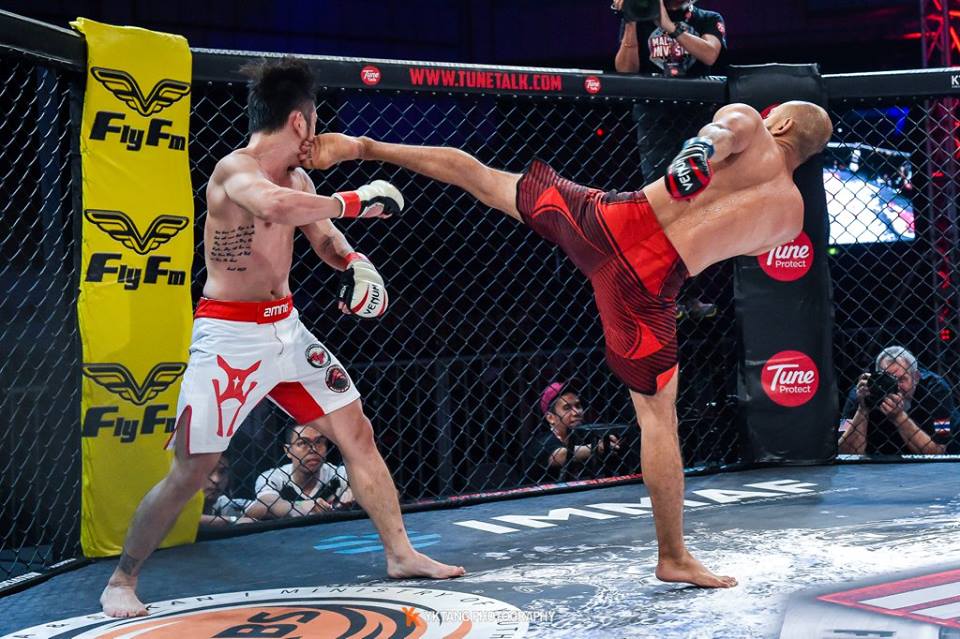 As they were pacing each other, Jay Jay pointed to something on his opponent's face, but Naimul did not acknowledge and wants the fight to continue, until ref Dana intervene and clear something below Naimul's left eye.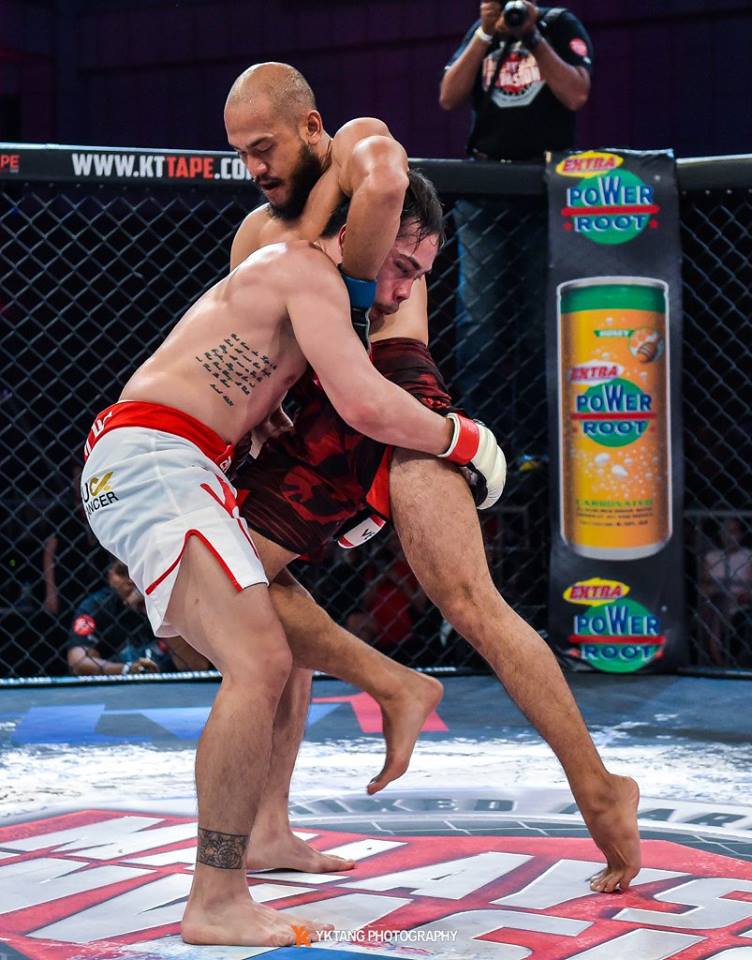 Round 2 ended with Jay Jay caught in Naimul's body triangle.
Round 3 Jay Jay got a take down but look exhausted to keep Naimul down, a few scramble later and a weak attempt by Jay Jay on a single leg led Naimul to get on top, with knee on belly he unleashed numerous strikes from top that the ref had to stop the fight at round 3, minute 1:39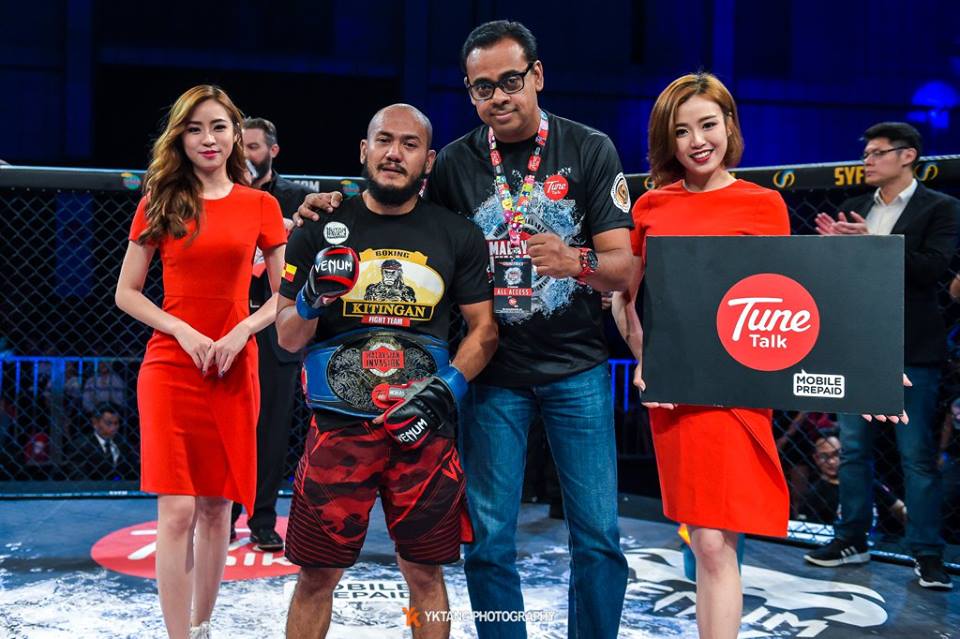 Ameen  Abdullah Tune Talk new CEO presenting Naimul with the title belt
—————–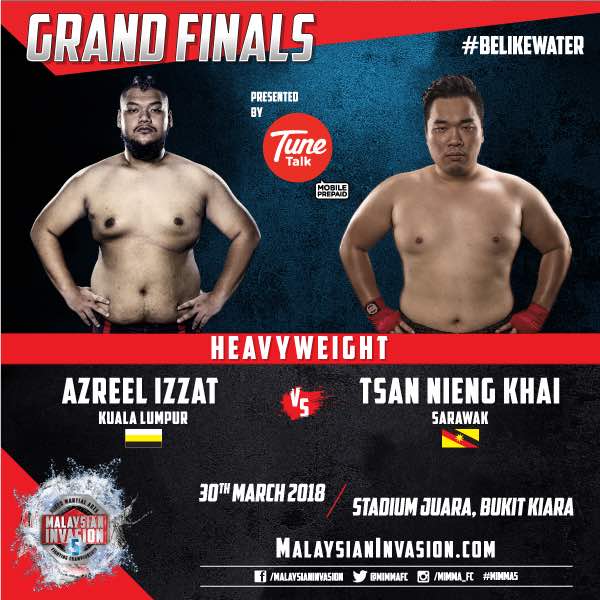 Bout 8 heavyweight
Last bout goes to heavyweight fight. Johor's Azreel Izzat vs Sarawakian Tsan Nieng Khai. Azreel was the young prospect looking to create history vs Tsan, the MIMMA veteran, since season 3.
Tsan has the faster hands combo and connect plenty of punches. But Azreel refuses to go down and in-fact counter with a few good shots back. But it was Tsan that kept the pressure throughout. Whole fight only seen one take down, as both prefer to stand and exchange fisticuffs. The fight ended when Tsan managed to mount Azreel and rained ground and pound on him which earned him a TKO win on the 3rd round, 2:39.
It was a victory Tsan has been dreaming of for a year to be crown the heavyweight champion finally, after stumbling in the semis in season 3 and lose by decision in season 4 finals .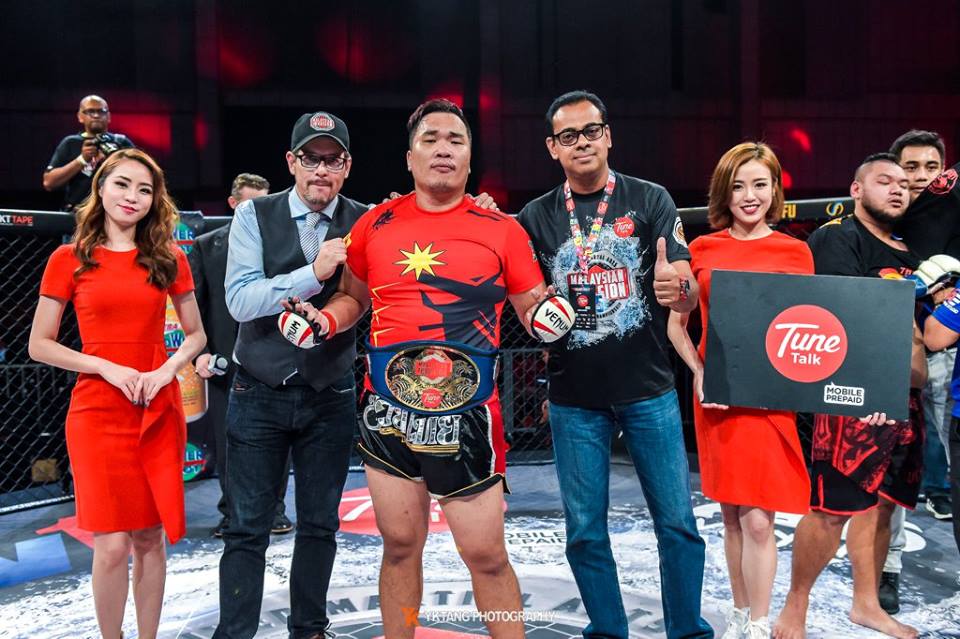 …and new MIMMA heavyweight champ, Tsan Neing Khai flank with Jason Lo & Ameen Abdullah
————————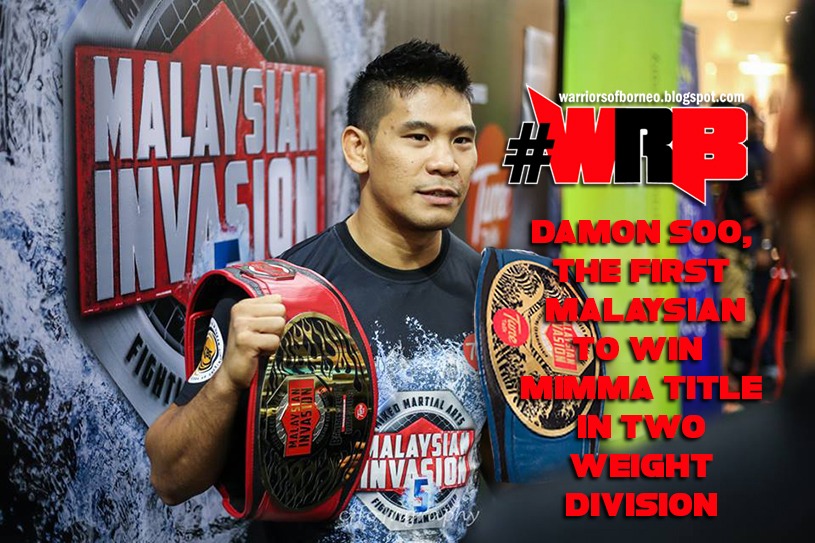 It was an early night, all fights finished before 11pm. The first 3 fights were stream live in crap.tv & malaysianinvasion.com while the rest of the bouts was telecast nationwide through RTM TV1.
Stay tuned for more MIMMA 5 winners story.
We had the animal concept in season 1, 2nd season was the wired animals, 3rd season was electricity. 4th was fire. 5th just washed by with water…so what do you think season 6 theme will be?
* All pictures are by YK Tang Photography
#
———————