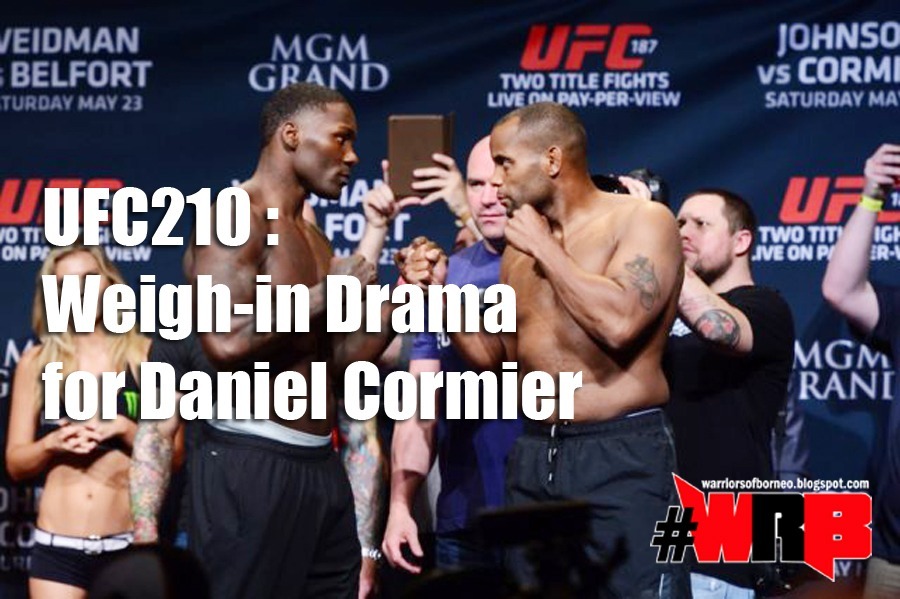 Photo by Joe Camporeale for USA TODAY Sports
The highly anticipated UFC 210 Light Heavyweight fight which will go down on 8 April 2017 ( US time ) between defending champion Daniel Cormier vs No.1 contender Anthony Johnson, nearly didn't happen.
In the report from MMA Fighting.com shows the video Daniel Cormier weighing in the first time, He took off all his cloths and look rather out of focus. Weighing in at 206.2 pounds (93.53kg) on a digital scale, which is 1.2 pounds (0.54kg) over the limit of 205 pounds (92.9kg).
In UFC rules, missing weigh will cost the fighters to lose around 20% of their show money which is given to the opponents, and if it's a title fight, then it will be called off and fighters will both need to agree to fight at a catch weigh.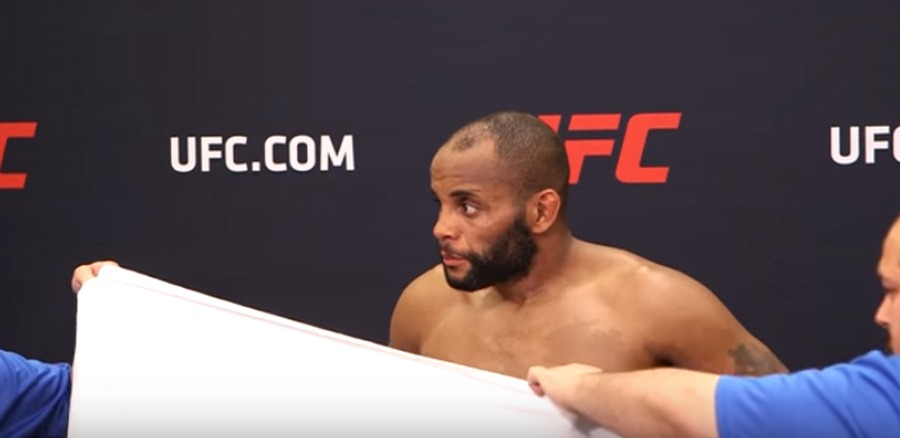 Missed weigh on his first attempt
Everyone was aghast as there seems to be not enough time for Daniel Cormier to loose that 1.2 pounds as theres only a few minutes left. And Anthony is no where to seen yet
In the weigh in system started by the state of California which was accepted at most state in USA, a two hour window of weigh-in are given to fighters, in which they can weigh in anytime but only one time is allowed.
However new York State Athletic Commission (NYSAC) differed to state rule in which championship fighters are allowed to weigh-in a second time within the 2 hours window if they failed in the first attempt.
Following this Daniel Cormier after just two short minutes, came back for another attempt. Again stripping all, with UFC crew holding up towel to cover him from the camera, he appears to be leaning on to the towel. Suddenly they announce that he weigh-in at 205 to the shouts of joy from team!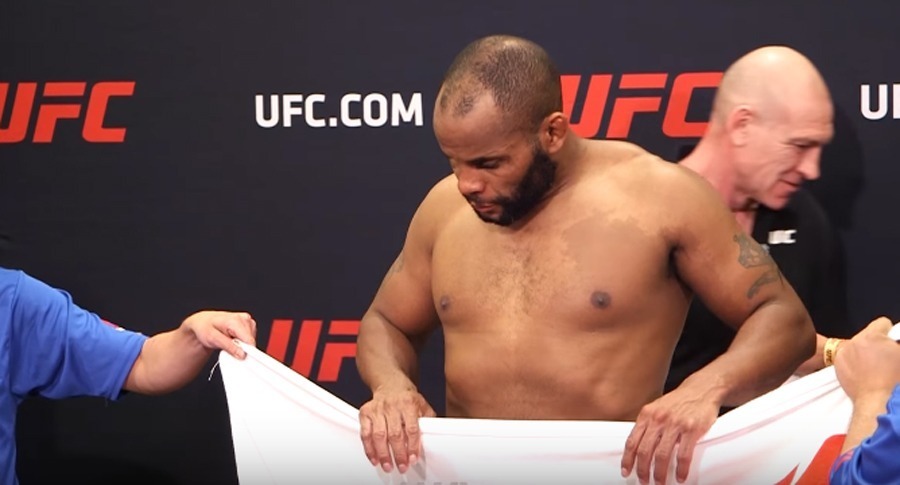 2nd attempt – on the dot 205 pounds – did the towel took the extra 1.2 pounds?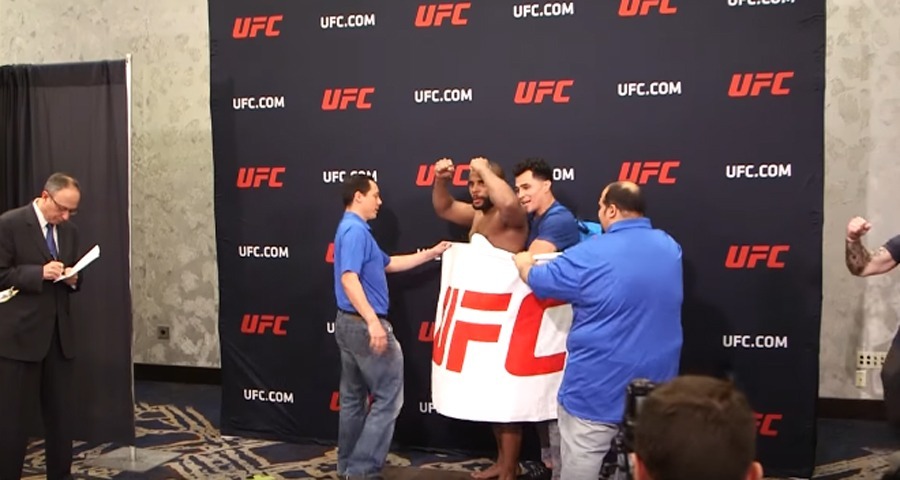 DC's team joyful when his 2nd attempt was successful
Then after Anthony Johnson appear from behind and stepped on the scale…weigh in at 203.8. So the Championship fight is still on. But it was rather controversial as many are of the opinion that Daniel Cormier cheated by holding on to the towel with both hands to make the weigh ( which appears to be an old trick amateur wrestlers use to make weigh ).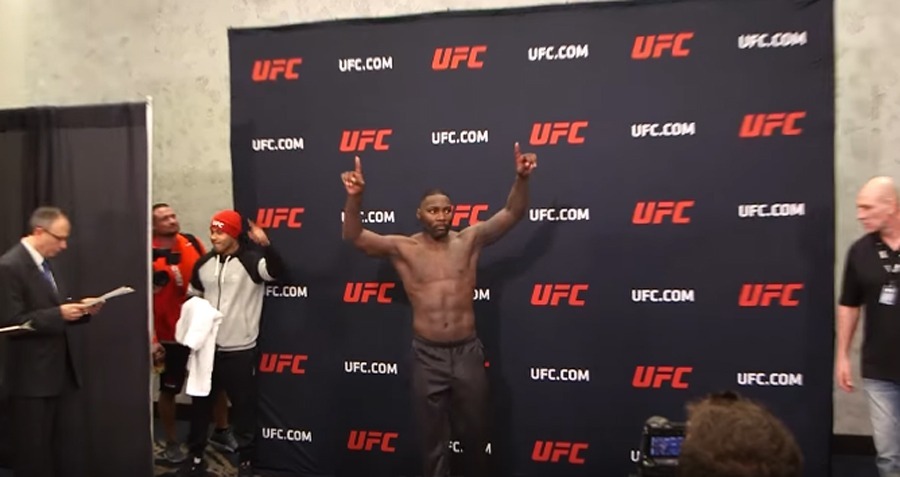 In an interview later Cormier explained that he hold on the towel so that no one sees his 'junk'. He said that before going for the official weigh in , he and his team weigh upstairs and it was OK, in which he questions the scale being use at the official weigh-in.

Cutting weigh in MMA has catch plenty of bad publicity lately. Fighters who do not make weigh are deemed unprofessional and will loose their fight purse as a punishment. If their opponents do not agree, a fight can be cancel, which is of course will be a very disappointing matters to viewership.
Fighters will cut weigh to weigh-in lighter than their usual weigh, in an attempt to gain advantage during fight as usually after making weigh they will put back on the pounds rapidly.
But the danger of extreme weigh cutting is very real. Usually the weigh loss are just water
Extreme dehydration will potentially lead to lethal neurological concerns. Depletion of the fluid that surrounds the brain not only renders fighters more susceptible to being knocked out, but it also carries with it the risk of more permanent consequences.
In Dec 2015, while cutting weigh for ONE Championship event, 21-year-old Chinese prospect Yang Jian Bing died from dehydration. Immediately after ONE Championship announce a revamp of their weigh cutting policy to prevent extreme weigh cut ( check out Bloody Elbow coverage on ONE Championship weigh cut policy )
Another drama at UFC 210 weigh in was for female strawweight, Pearl Gonzales. Pearl had disclosed that she has breast implants in her contract and was utterly surprise when she was informed by the commission that in New York state breast implants are not allowed for fighters.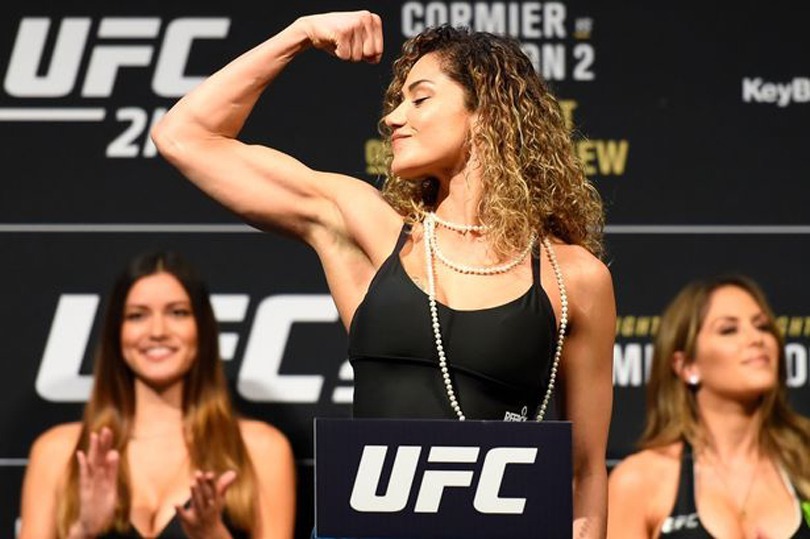 Photo: Zuffa LLC
Her fight with Cynthia Calvillo was initially called off, but Pearl and her team put in the argument that she didn't lie to the commission and has declared it to them. Eventually the fight was reinstated and Pearl said she didn't want the world to talk about her cosmetic surgery but she will ride on this wave of publicity and make sure she is known for her victory rather than her breast implant.
For UFC 210 main card between Cormier vs Johnson will be a rematch. Cormier took the vacant Light Heavyweight title when he submitted Johnson in May 2015 UFC 187. The title was vacated by Jon Jones when UFC stripped it off him to Jon's involvement in a hit and run.
Cormier defended the title against Alex Gustaffson and Anderson Silva, he was supposed to fight Jon Jones again, but Jon failed a drug test and was suspended.
Anthony Johnson himself has seen a fair share of missed weight in UFC when he was a welterweight. UFC let him go in 2012, and Anthony fought in Titan FC and WSOF winning 5 fight in a row as a Light heavyweight. He earned his way back into UFC and after his lost to Cormier, he has been chalking up 3 win in a row with win via KO from his punches.