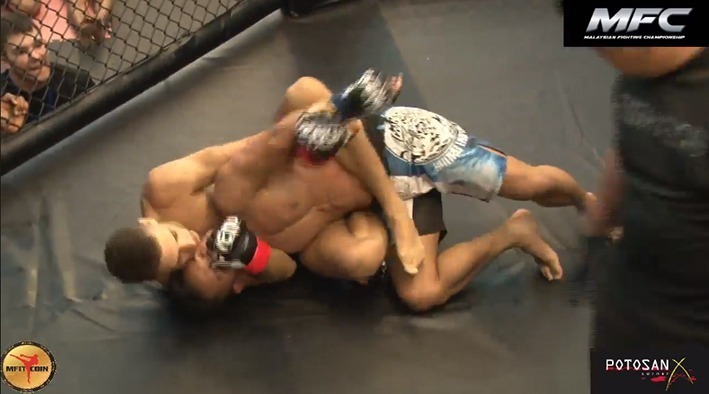 Record was created on 17 Nov in Malaysia Fighting Championship (MFC). Shaqueme Rock became the 1st person possibly in Asia to execute the technique dubbed Pyhthon Trap " the Muffler.", made famous by grappling ace Vagner Rocha.
Shaqueme or fondly call Shem among his friends executed that submission perfectly when he submitted Indonesian Hendi Praharso. He got the job done in a little over a minute in round 1. This victory extend his pro record to 3-0-0 and he has remain undefeated since his amateur days. Shem's MMA fight in MFC9 last night was the only pro fight in the cards.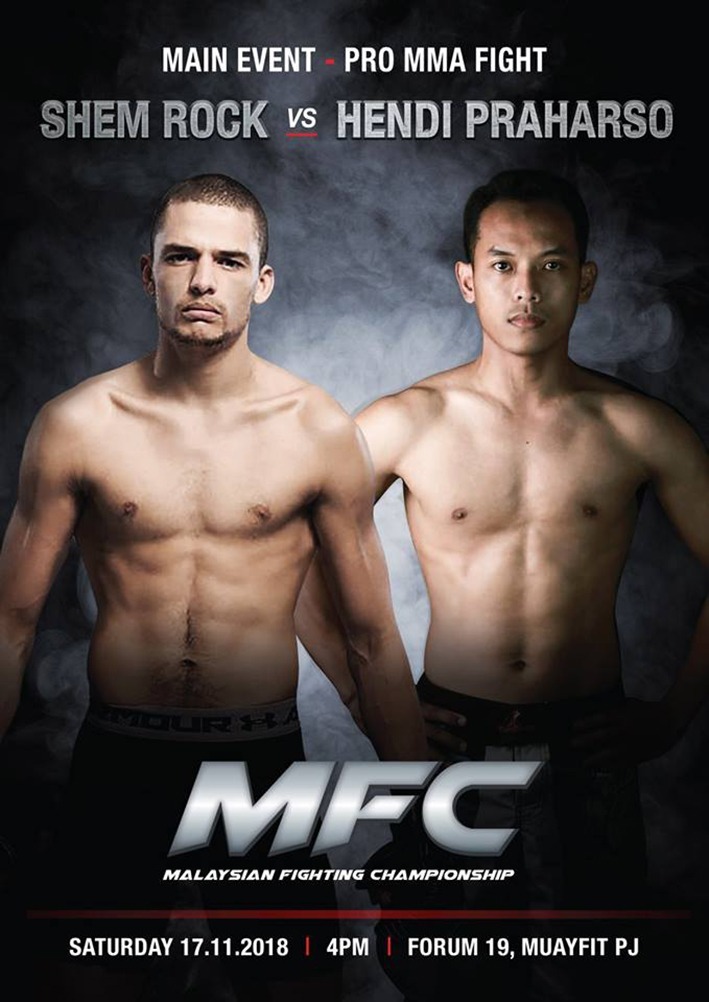 Shem is from Liverpool and came to Malaysia few years ago and trained at Monarchy MMA ( Kuala Lumpur). This MMA prodigy entered Malaysian Invasion (MIMMA) season 4 in 2016 and won all his fights and emerged champion of the Foreign Pride category.
A year after, he debuted in his 1st pro MMA fight at the now defunct Golden Warriors Fighting Championship (GWFC), winning by armbar in round 1. His 2nd pro fight in Sep 2017 also in GWFC was also a quick victory as he won by rear naked choke in round 1.
Saturday's fight was very meaningful for Shem because after his 2nd pro victory he has been eagerly looking for a match up to grow his record but nothing seems to work out as opponent seems to pull out from facing him one after another for various reasons.
"This is my 9th pull out and my 10 opponent in a row but for this event itself (MFC9) Hendi was the 4th opponent change."
Nevertheless Shem gave props to Hendi for stepping up and broke the jinx.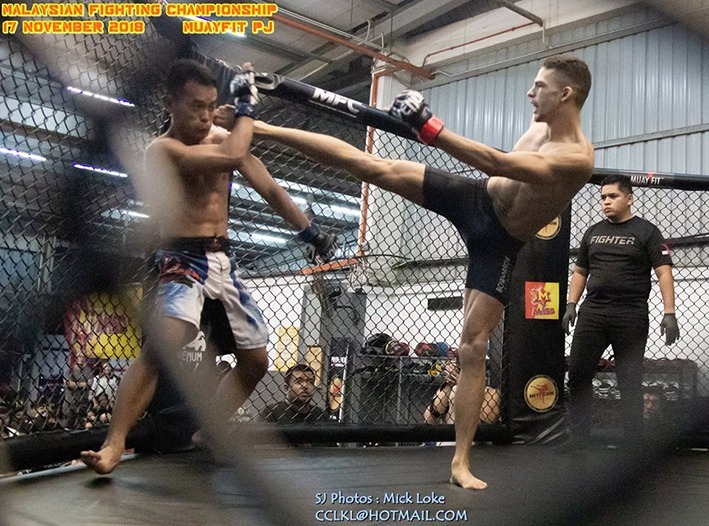 WRB: Does the constant opponent change frustrate you?
"I'm a martial artist and my goal is to go out there and impose my will no matter who I see across me in that cage.  I believe I have the ability to beat anyone when I take them to my strengths. I don't really have specific game plan depending on opponents."
WRB: How does it feel to finally been able to step into the cage? You look calmer than before.
"I've been  training hard 3 years non-stop, never took a holiday. Not a chance this guy was come into my territory and taking what was mine. I've been visualising all camp how the fight would go and it went exactly how I knew it would. 
To be honest, this was the smallest show I've fought on in all my career and it just felt like another sparring session in the gym."
WRB: Take us through that awesome submission
"Well it's a funny thing, actually Vagner Rocha has been making huge waves in the BJJ scene with this technique and it's been going viral.
So the day before my fight he made a "python trap challenge". 
Whoever sends him the best video he will give them some prize of some sort …LOL.
I just thought it would be cool to have that on my record and on the highlight reel so I reached out to him and told him I'll do it in my fight. I think he took it as a joke but he reached it back and told me if I pulled it off he will repost me.
So I woke up early the morning of the fight and only drilled that for 30 mins at open mats then I rolled for 30 mins and only specifically looked for that set up and that finish.
After that, went home sleep and went to the fight calm and feeling good and did it there almost smoother than I did drilling it."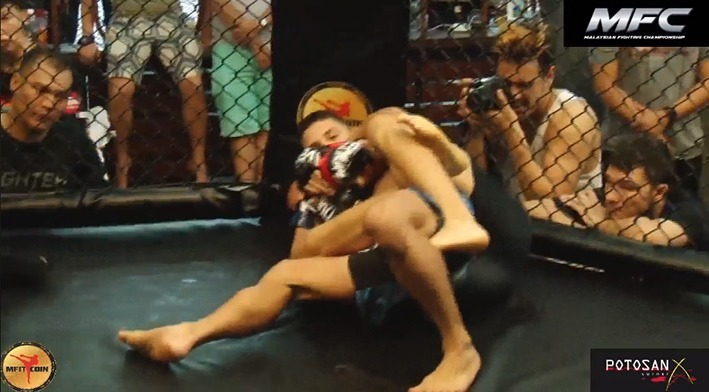 beginning of the end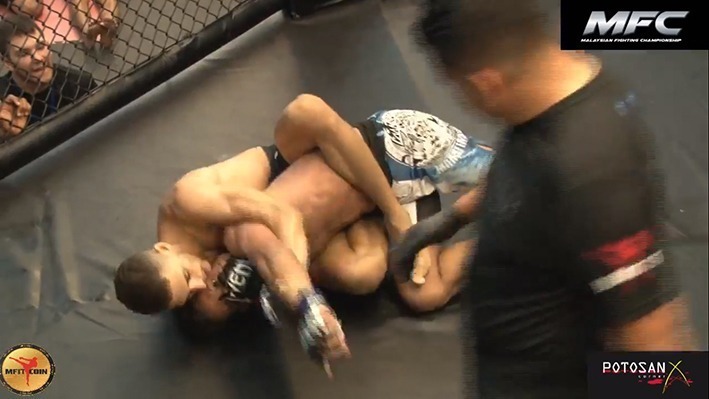 the muffler in effect
WRB: How is your mindset now that you finally got a fight before 2018 ends. Whats your message to promoter out there?
"I got no point to prove to anyone. This is my job and I need to make a living. But I've proven time and time again, if you give me a fight I can you a show hi-lights! How can you not appreciate that as a promoter. 
I believe I'm the best featherweight fighter in South East Asia and my goal is to prove that, then after that, my goal is to be the best 145lber in the world. But more importantly the best martial artist I can be!"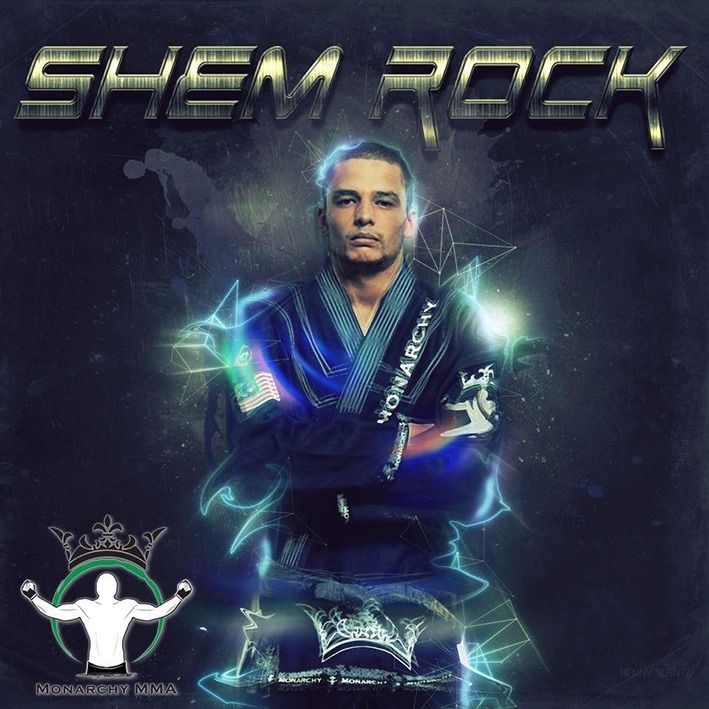 Becoming the 1st person to execute this unique submission may call for a celebration, but not for Shaqueme. He will take a short break and then go back into hard training as he is preparing for his next pro fight in Taipeh in January 2019.
Monarchy MMA sent 6 fighters (including Shem) to MFC 9, participating in amateur boxing and muaythai. 4 walkout winners.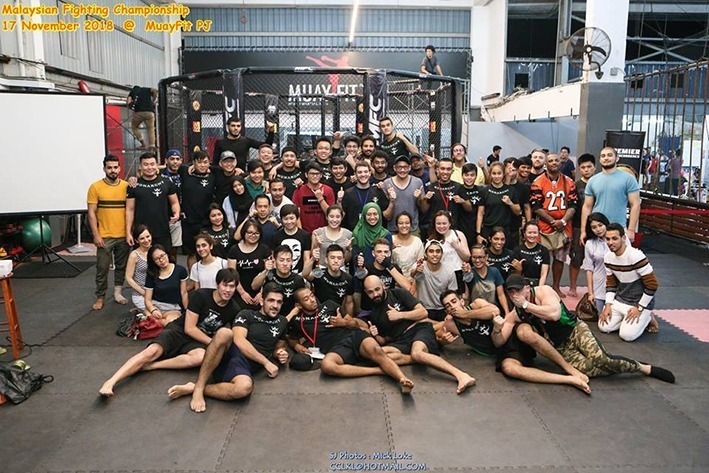 MFC 9 competitor…( with Shaqueme & friends gesturing "the Muffler")
———–#WRB————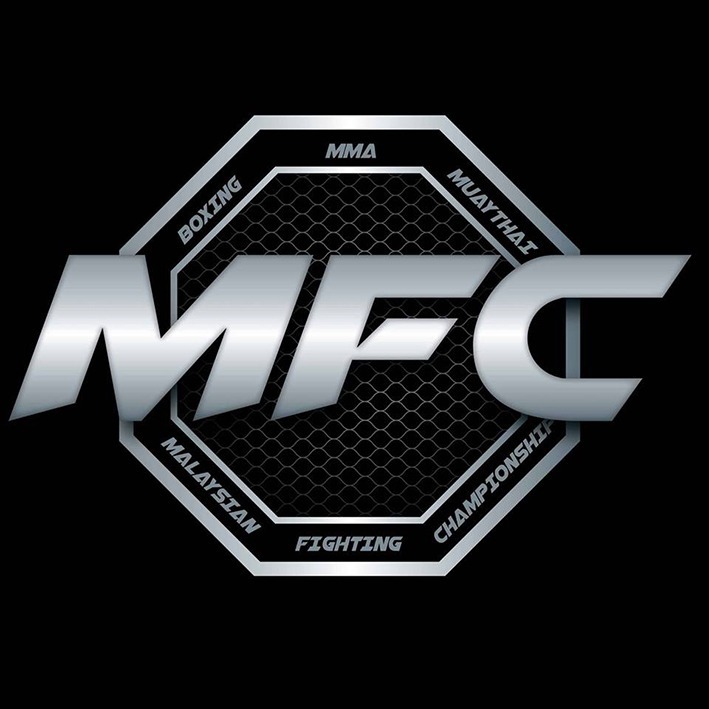 Malaysia Fighting Championship (MFC) is Malaysia's first MMA promotion started back in 2011. After a 5 year hiatus MFC returns this year in April with it's semi pro series. Last Saturday event was the 2nd for this year held at MuayFit Petaling Jaya. They have also mixing up boxing & muaythai bouts with MMA and was the first event to offer winners prizes in crypto currency (MFIT COIN)
————–#WRB—————
Story brought to you by
SISU Mouthguard.
Click the image to get special offer for WRB readers