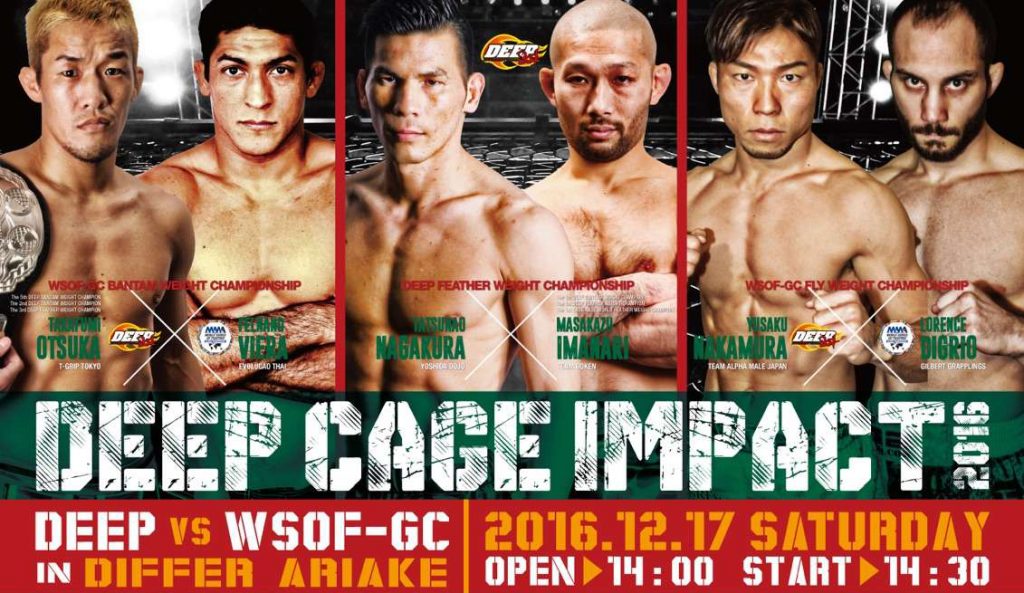 TOKYO, JAPAN December 17, 2016 World Series of Fighting – Global Championship (WSOF-GC) and DEEP Fighting Championships are just hours away from WSOF-GC 4 DEEP VS GLOBAL. Yesterday's weigh-in event was disrupted when Brazil's Fernando Vieira came in seven pounds overweight (142) for his WSOF Global Bantamweight Championship match with Japan's Takafumi Otsuka (135). Despite Otsuka's persistence to make the fight happen, and to give Vieira an unprecedented additional ten hours to make the weight, the fight has been canceled when Vieira failed to report to his final weigh-in.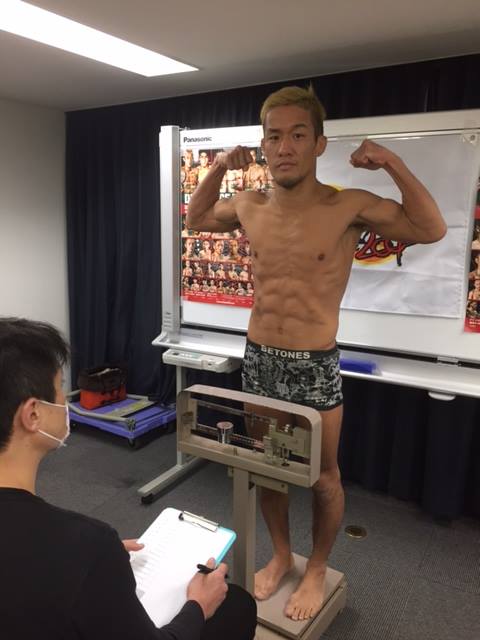 Otsuka said yesterday,
"I don't want any excuses. I want the best that he can bring me. If he does not make the weight, it won't be because I didn't give him the opportunity. I came prepared to win this title. He should have been equally prepared. I am upset that he did not, but again, I don't want excuses. I want a tough fight and to become the first WSOF Global Bantamweight World Champion."
Throughout the evening, the Evolução Thai MMA fighter continuously disappeared from his cornermen, the spa, and WSOF Global staff. A message from his cornerman, former K-1 and Dream Fighter Andre "Dida" Amade, stated,
"I did not find Fernando. I was in the room and he was not there. I'm looking for him now." Messages from Vieira stated that he left the hotel and sauna alone. 
Despite the efforts of WSOF Global Vice President of Operations, Jason Lilly, to get Vieira's location and back to the hotel, Vieira decided to "eat and moisturize" instead of weighing in within the allotted time.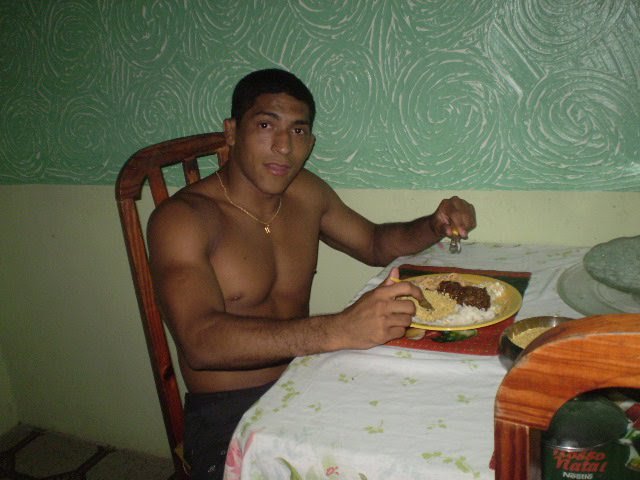 Vieira was seen happily eating…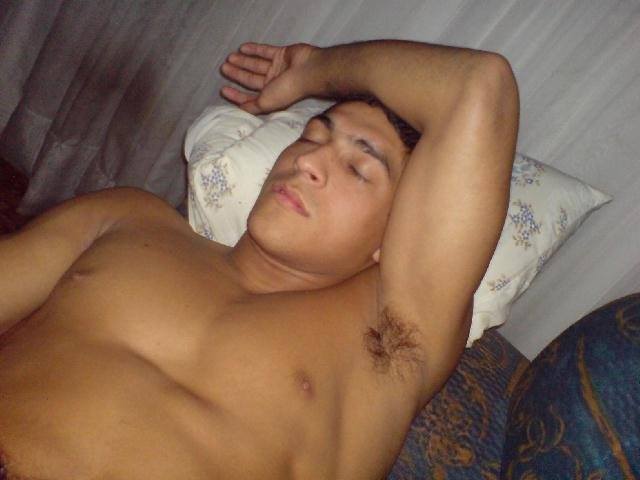 …and sleeping, not making effort to make weight
Lilly added, "Cancelling this bout is a real disappointment to the fans and Vieira is an embarrassment. Japanese fighters know more than any other what it means to have honor and respect for their opponent. DEEP Fighting Championships, their President Shigeru Saeki, and his opponent Takafumi Otsuka, went above and beyond to try to make this match happen. Fortunately, there is a surprise silver lining to all of this. Viewers will be thrilled to know that Otsuka will fight against one of the biggest fan favorites in Japan, current UFC fighter, Yuta 'Ulka' Sasaki."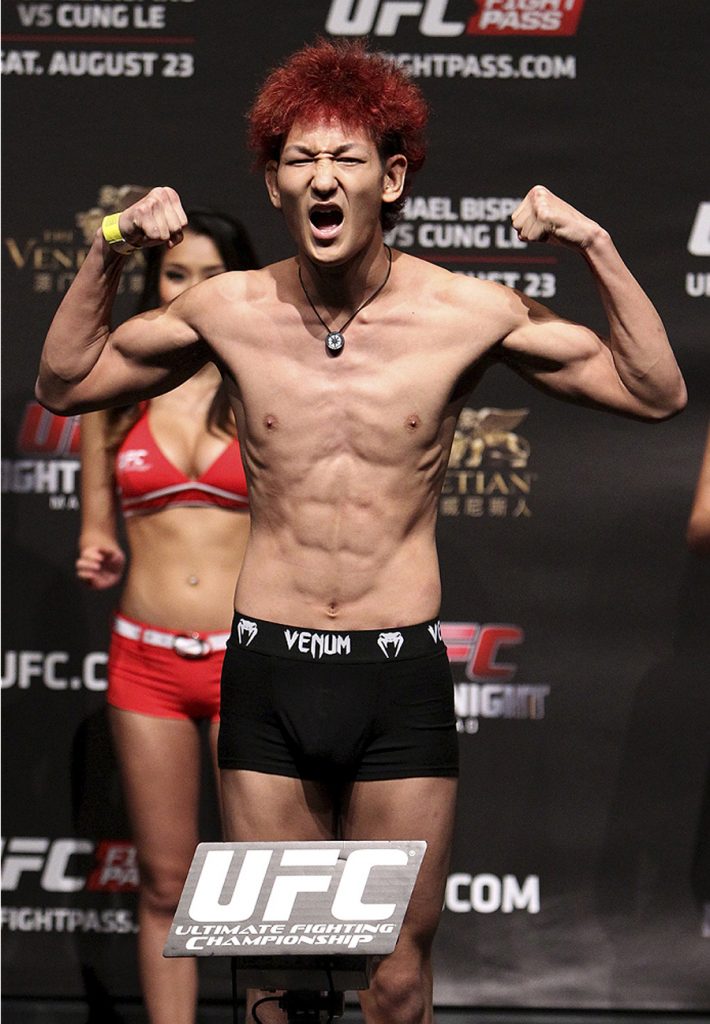 The surprise announcement was confirmed at 04:30JST in Tokyo, just a mere 10 hours before the scheduled event time of 14:30. Otsuka will face off against Sasaki in a one-round, five-minute exhibition match. Lilly continued, "I know Otsuka and his fans would rather be fighting for a belt. He certainly did more than was required of him. WSOF Global intends to honor his commitment to the match and award him with an interim championship belt during tonight's event. He will have an opportunity to defend that belt with us in the near future. I want to thank the UFC for allowing one of their rising contenders to participate in our event. It's a class move on their part and one that the fans will appreciate."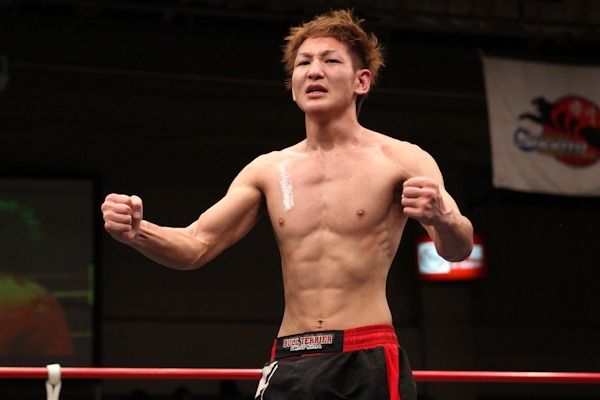 Ulka (19-3-2) is currently 2-2 in the UFC, with both of his wins coming via submission. His last bout was a win via rear-naked choke over Willie Gates. He is scheduled to fight Wilson Reis (21-6) on February 11 at UFC 208: Holm vs de Randamie.
Fight fans from around the world can watch this bouts and the entire 18-fight card, starting LIVE at 9:30pm PST on December 16 for just $9.99 at wsofgc.com. WSOF Global will host WSOF-GC 4 DEEP vs GLOBAL at Differ Ariake Arena on December 17, 2016 at 14:30JST (UTC +9). Tickets start at ¥6500 with VIP seating available for ¥16,000. Tickets are now on sale at http://deep2001.tstar.jp/.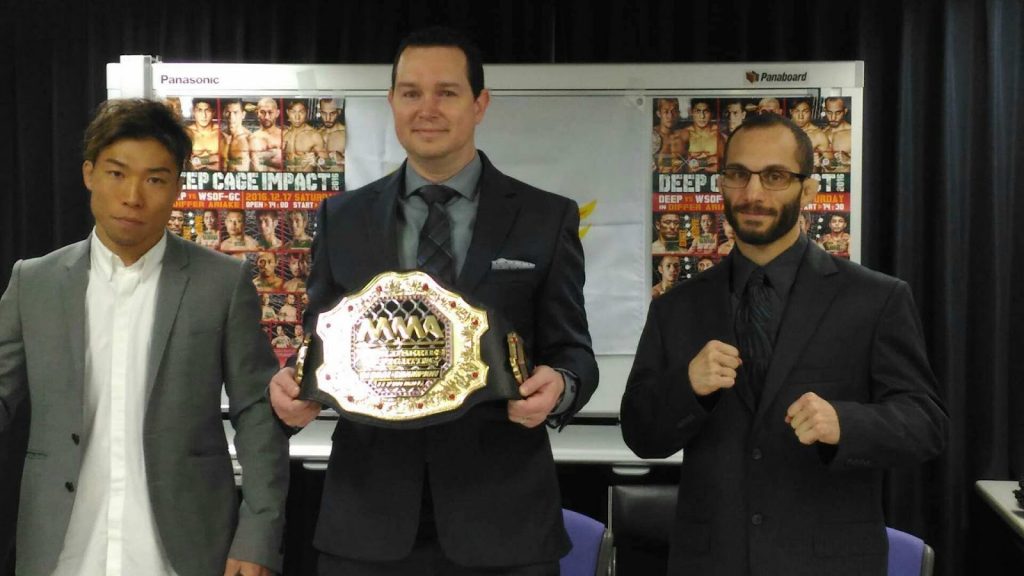 Flyweight title belt up for grabs
This year WSOF Global has brought together more than 15 MMA promotions on 6 continents for fans under one common banner, including DEEP, which has hosted over 300 events since their inception in 2001. These fights will be making their way into the WSOF Global Fight Library at wsofgc.com, as will future fights available live. There are currently five events online at wsofgc.com, including DEEP 76, DEEP 77, DEEP CAGE IMPACT 2016, DEEP JEWELS 12, and DEEP JEWELS 13. MMA fans can watch all of these fights, as well as those from all other affiliates at WSOFGC.com.

World Series of Fighting Global's ultimate mission is to bring together the best athletes from countries and organizations across the world to compete for a true, globally-recognized world champion. Media inquiries should be sent to Jason Lilly, Vice President of Operations of World Series of Fighting Global, at jlilly@wsof.asia. Follow them on Twitter @WSOFGlobal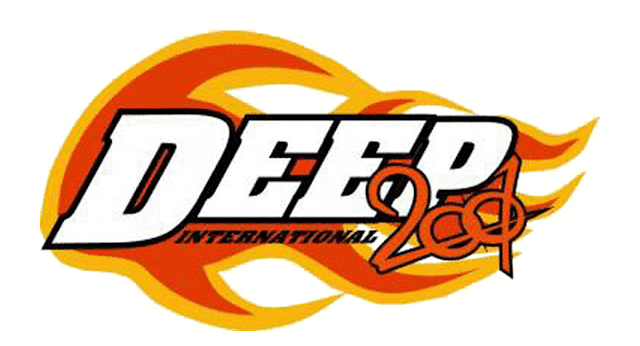 About DEEP Fighting Championships:
Founded in 2001 by the promoter Shigeru Saeki, DEEP Fighting Championships (DEEP FC) is a championship Mixed Martial Arts (MMA) series dedicated to not just showcasing the top MMA athletes in Asia but also promote the sport with many interesting and experimental approaches – promote both ring and cage events, resurrect the careers of big-name stars, provide athletes from other sports such as kick boxers, sumo wrestlers, pro-wrestlers, and ex-pro baseball players, the opportunity to test their skills in MMA. Also, DEEP implement various rules from North American unified rules, PRIDE rules to Kick Boxing and Shoot Boxing rules.
The operation is based in Tokyo and Nagoya, Japan, DEEP FC is one of the longest running premier MMA promotions in the world.
In addition to MMA series, DEEP FC also promotes grappling series named DEEP X, kick boxing series named DEEP KICK, and senior fighters' series named DEEP HERO and "Oyaji" DEEP.
DEEP FC is currently broadcasted by Sky Perfect TV / Fighting Network Samurai in Japan, Fight Network in Canada and UK, and recently, inked the deal with Abema TV, an internet TV station created by TV Asahi and Cyber Agent.