The two day Muaythai tournament gave a good closing for Muaythai in Sabah, with Kota Kinabalu (KK) emerging as the new overall champion among the 12 district that competed. 2015 Champion , Tawau took 6th placing.
It was a close fight between KK and Sandakan, both district won 15 medals each but KK edge Sandakan with 1 extra gold medal to be the champion.

KK Muaythai presiden Muslee Tuah receiveing the champion award from Sabah Muaythai president Hj Nazri. Looking on is Maman Ajamain (R) vice President Sabah Muaythai and Zamalani (L), secretary general of Sabah Muaythai & Sabah Fight organiser
Not only does it add the hype to the championship but these pro fights also showcase the best of Muaythai in this region and act as a motivating factor and inspiration to the amateur Muaythai athletes.
Datuk Idris Jumat closed the event on the evening of 11 Dec at Karamunsing Complex by giving away the Datuk Idris Jumat Cup sponsored by Parliament 171 Sepanggar to the winner of the main event of the night Anil Mehta of Team Relentless India vs Ronald Tee of Borneo Combat Gym Labuan. Anil emerged the winner.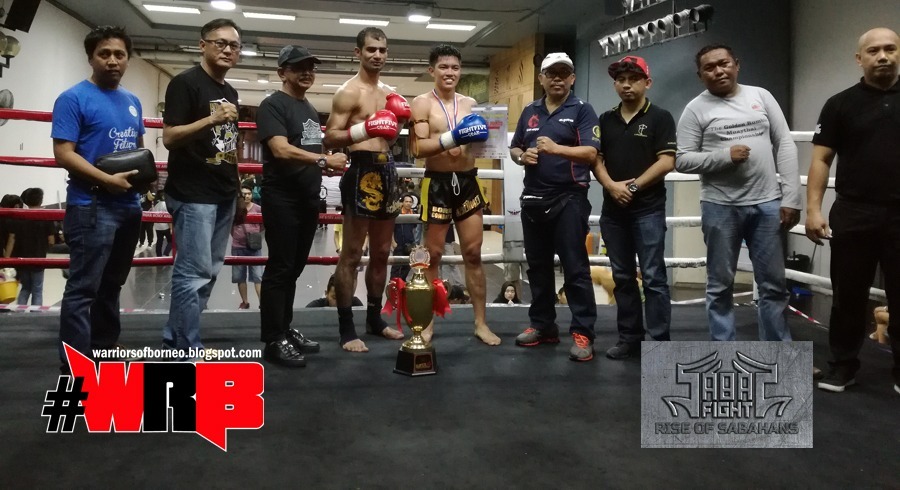 Anil Mehta of Team Relentless India won the Datuk Idris Jumat Cup
Datuk Idris commented that Muaythai is gaining popularity in Sabah and he believes this is a good sign and will always be willing to support healthy sports activities that targets the youth. he congratulated Sabah Muaythai Association for successfully organising the Inter-District Championship 2016.
Sabah Muaythai president, Hj Nazri said that Sabah will be the host for 2017 Borneo Cup, which will see participation from Sarawak, Kalimantan and Brunei and is looking forward to have a successful event in Likas Stadium in April. Sabah Muaythai has also identified potential talent that will represent Sabah to defend the Borneo Cup that Sabah has won this year.
Sabah Fight pro cards review coming soon in next blog post.