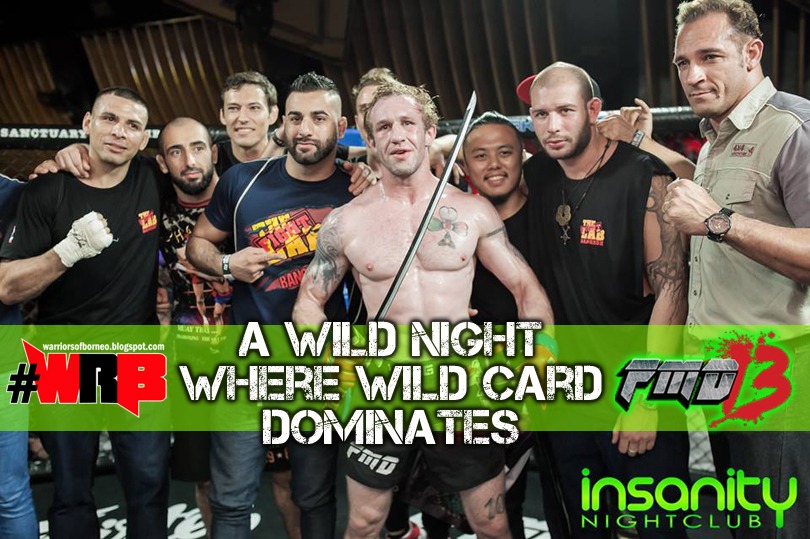 The 13th series of Full Metal Dojo 13 went down at Insanity Nightclub, Bangkok on 25 FEB. 9 fights were featured, in a night of wild fights, wild results, wild party and Wild Cards! ( read the pre-event write up in this link ).
On cage side was ex
UFC
and Strikeforce fighter
Jason 'Mayhem' Miller
and
One Championshi
p fighter Brad Robinson giving live commentary for the benefit of those who watch it on the live FB streaming.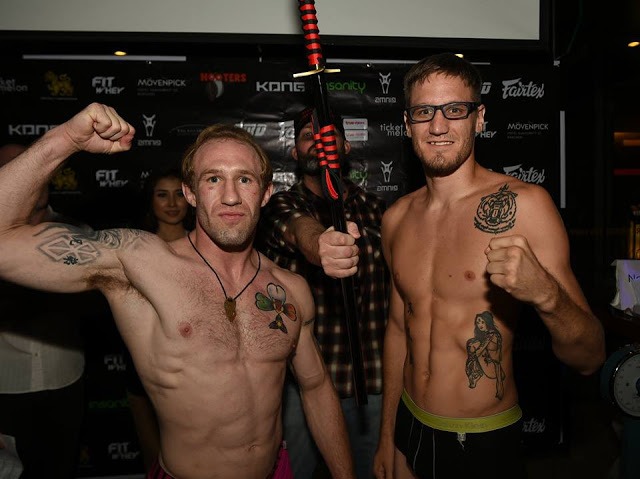 main event
Check out the full results from
Tapology
: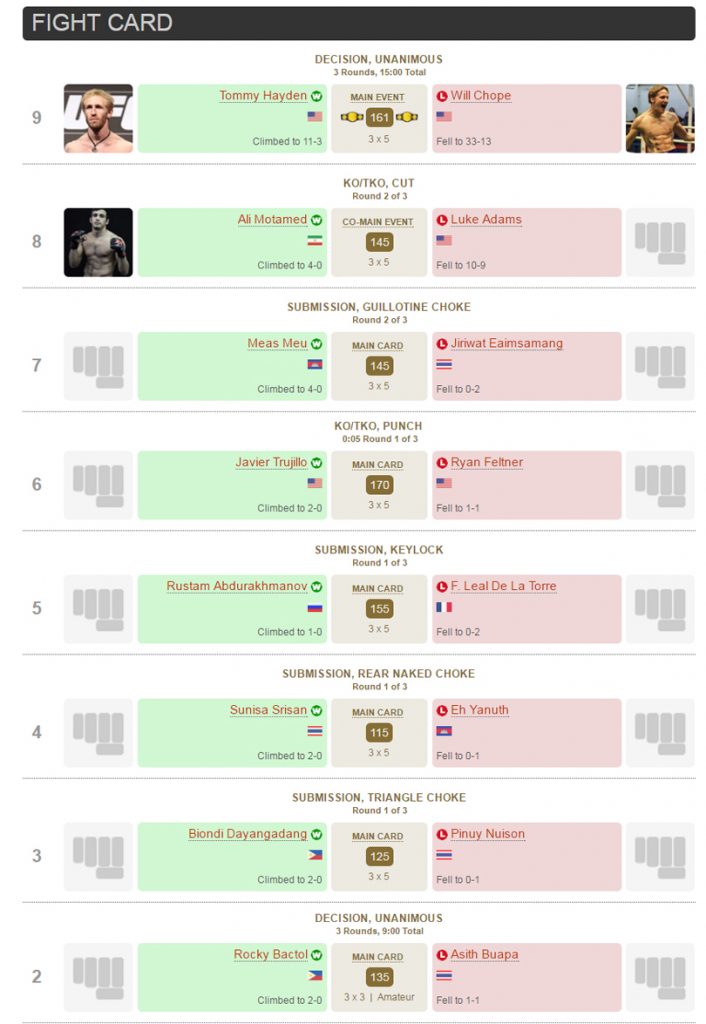 In a highlight reel finish and one of the most shocking results was the Lightweight fight between Javier Trujilo of Bangkok Fight Lab vs Ryan Feltner "Crazy Gweilo".
Ryan live up to his nick name Crazy Gweilo ( which means crazy white guy in Cantonese ) as he rushes in carelessly and his chin went straight into Rustam's right hand. The timer in the live stream was not even started yet when he fell down from that right.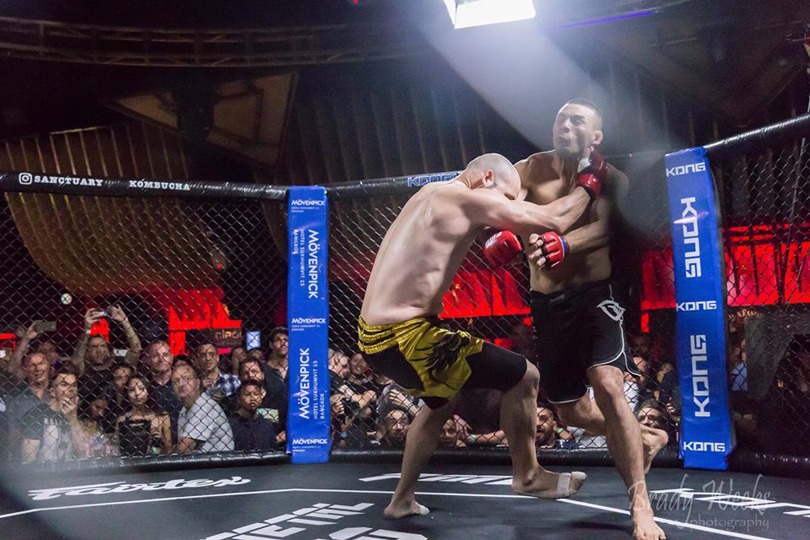 Boom!…Fist to chin = KO ( pix by Brady Weeks )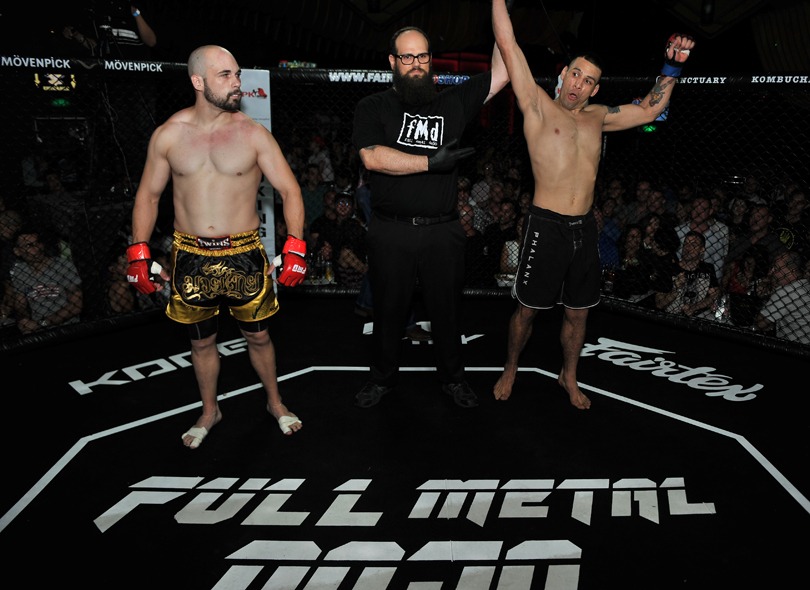 Possibly the fastest KO in Asian MMA ( pix by David Ash )
Javier deliver a few hammer fist to seal the deal, but Ryan was already out even before the additional punches as referee
Dana Blouin
came in to stop it. This could be the fastest KO in Asia MMA.
" He doesn't even know which country he's in! " said Jason Miller as Ryan still look dazed when he stood up.

It was cross border rivalry at its best at the Featherweight fight, Maes Meu of Cambodia vs Jirawat of Thailand.
The Thai rushes in with a push kick. Maes instintly side stepped and Jirawat missed, slipped and fell. As he got up, Maes taunt him. Jirawat attacked and got a body lock and brought the fight to the ground. Maes able to switch, they scrambled and both got to their feet. But Jirawat looks better at grappling as he body locked Maes, picked him up and slammed him on the canvas.
Maes spend the rest of the 4 minute on his back as Jiriwat's superior wrestling control the game.
At the start of 2nd round, Maes return a favour with a front kick of his own which Jiriwat barely blocked. They grappled and Jiriwat executed a perfect Judo throw on Maes and he rushes in with a soccer kick that almost connect.
Referee rushes in to break the fight and gave a verbal warning to the Thai as FMD rules does not allow soccer kick to the head of a down opponent.
The fight restart and Meas connected with a front kick, punch exchange and Jiriwat with the take down. As Jiriwat was in Maes guard, he gestured with his left hand and the referee cut in and Jiriwat complaint of a eye poke.
Fight resume and this time Jiriwat with a hard right low kick and went in to grapple, again he executed a throw and the fight remain on the ground for close to 2 minute, as Jiriwat disengaged, they stood up.
Restart and Jiriwat ducked Maes' punches and went for the body take down, but this time Maes got hold of a guillotine and shortly after Jiriwat tapped out.
It does not look like a deep guillotine, perhaps Jiriwat was already out of gas. Victory to the Cambodian.
Brad mentioned that he's been in the Asian MMA scene for around 10 years and they used to be no grappling or wrestling in South East Asian fighters, but now it's amazing to see Thais and Cambodians going at it with body slam, double leg take down and plenty of grappling.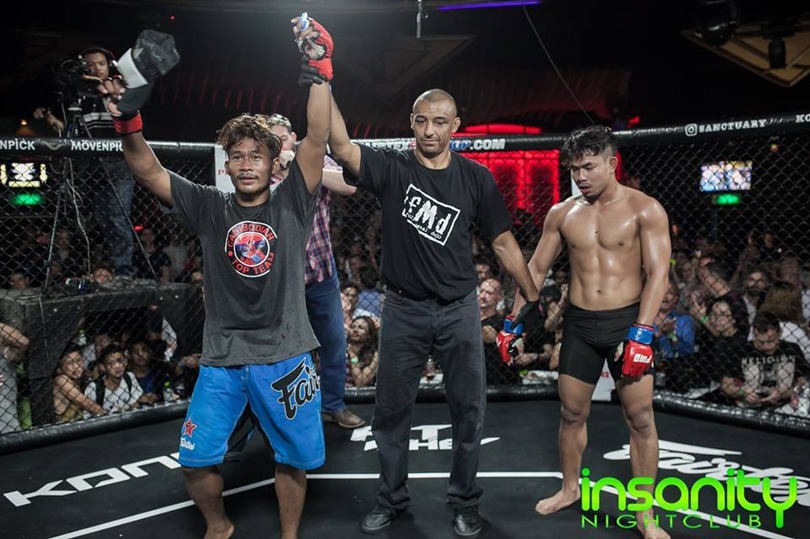 The co-main event which almost didn't happened when Tiger Muay Thai's Ali Motamed's opponent pulled out in the last minute. In came the ever ready Luke Adams of Juggernaut Fight Club Singapore and FMD have a great match up at the co-main event.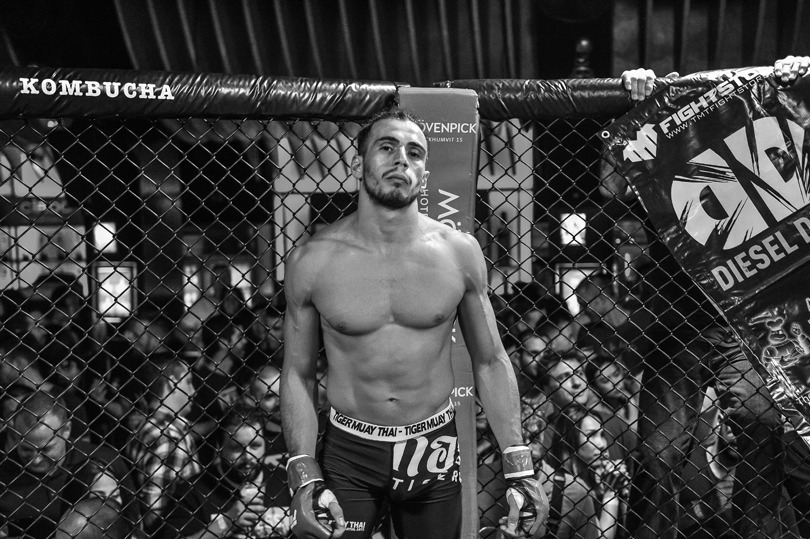 pix by David Ash
Ali look lighter as he move laterally side to side stalked by Luke. A couple of kicks exchange at the beginning , Luke grabbed Ali's left kick got a single leg , good cage control and wrapped up both Ali's leg for a take down. Luke control well from top. When they stood back up, Luke easily took Ali down. At a north south position at one time landing knees. Even tried a toe hold but Ali survived.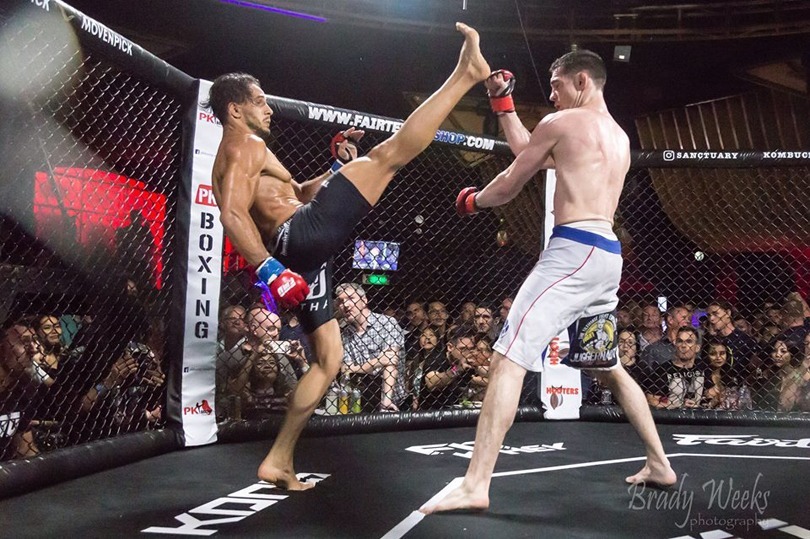 pix by Brady Weeks
Ali tried to escape but gave his back and Luke capitalised and control the whole remaining round from top.
Round 2 was similar story, Luke exerting dominance from top , for almost 3 minutes constantly looking for a submission finish. In the slippery moment, Ali manage to switch, got top position, stacked Luke. Luke rolled and Ali connected with a knee to Luke's head. Luke scramble forward for Ali's leg, Ali escaped.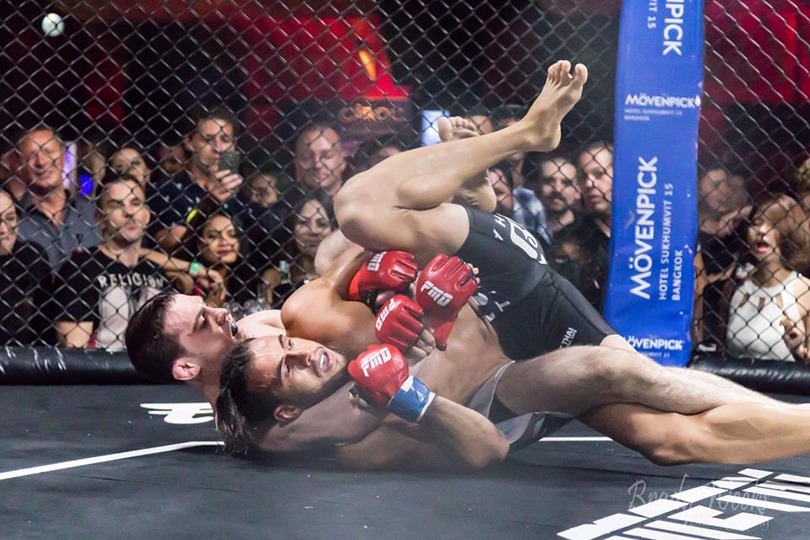 pix by Brady Weeks
The stalked each other. Luke's right brow bleeding. Luke again going for a take down, Ali avoided. At 1 minute left, referee Olivier Coste call for a time out to check the gash on Luke's right brow.
Medical team deliberated and decided to call off the fight as the cut's opening was too big.
Ali won by TKO and improved to 4-0. Luke was still fresh and could go on to dominate but it was not his night. This warrant for a rematch.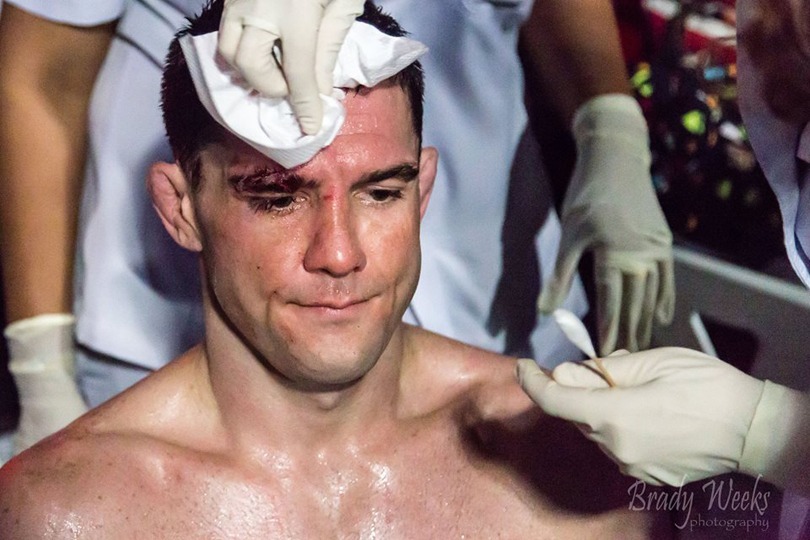 pix by Brady Weeks

Pitting two ex FFC warrior creates a highly anticipated main card in Tommy 'Wild Card' Hayden vs Will 'The Kill' Chope. In a combined record of 61 fight for both fighters, this is considered the card with the most experience fighter ever put up in FMD.
In FMD style, Tommy Hayden's walk in song was Trey Parker's 'Now you are a man', …sang live by FMD's founder Jon Nutt himself.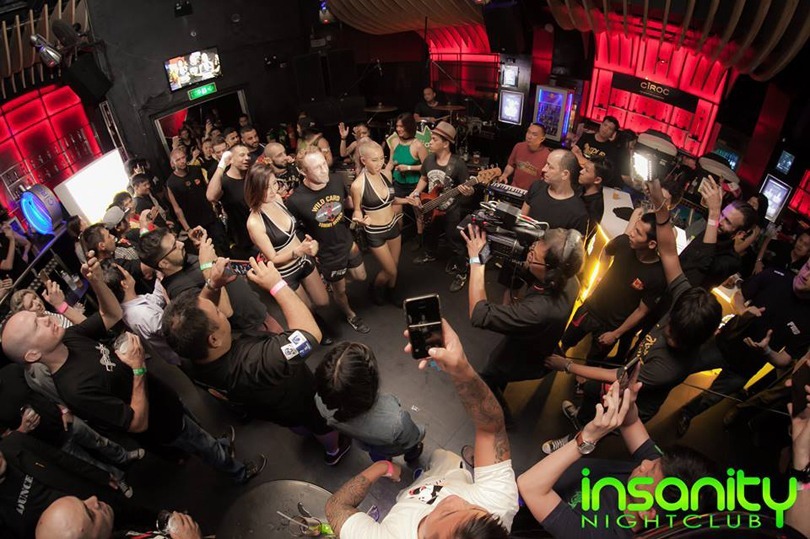 Tommy Hayden walking out to Jon Nutt's singing
Will was expected to control the distance using his longer reach. But Tommy was very effective in initiating a few feints and immediately to the take down in the beginning of all 3 rounds.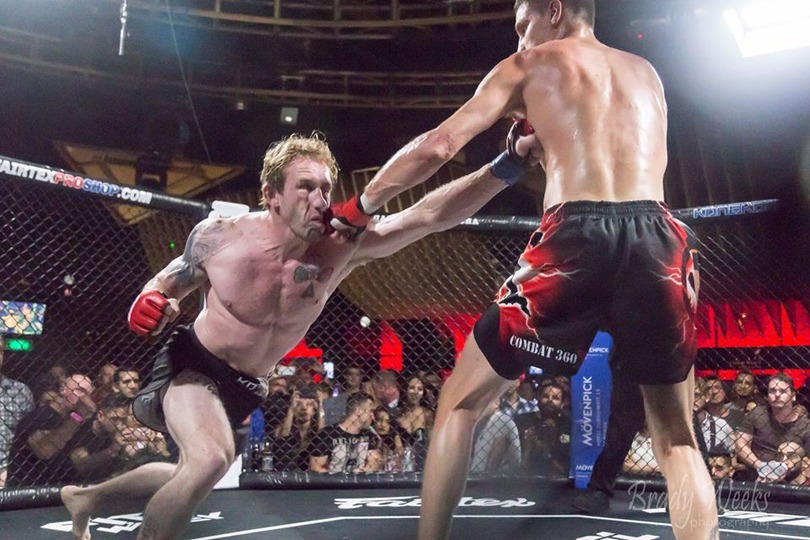 pix by Brady Weeks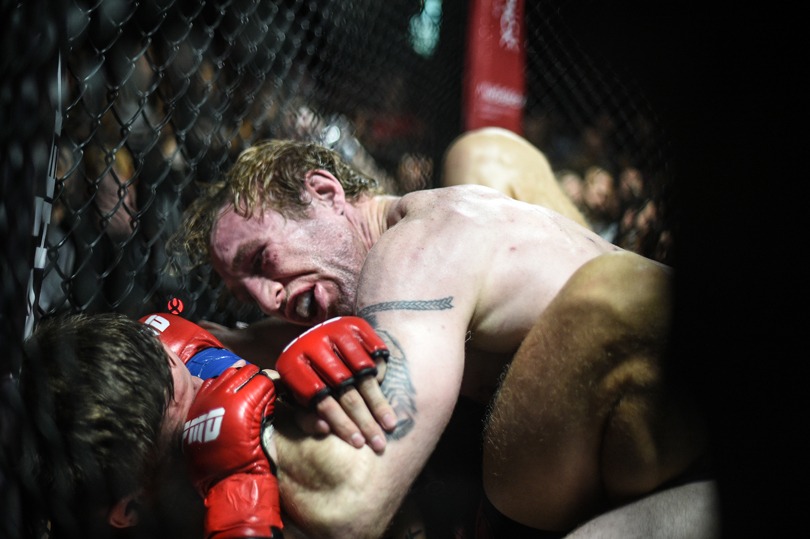 pix by David Ash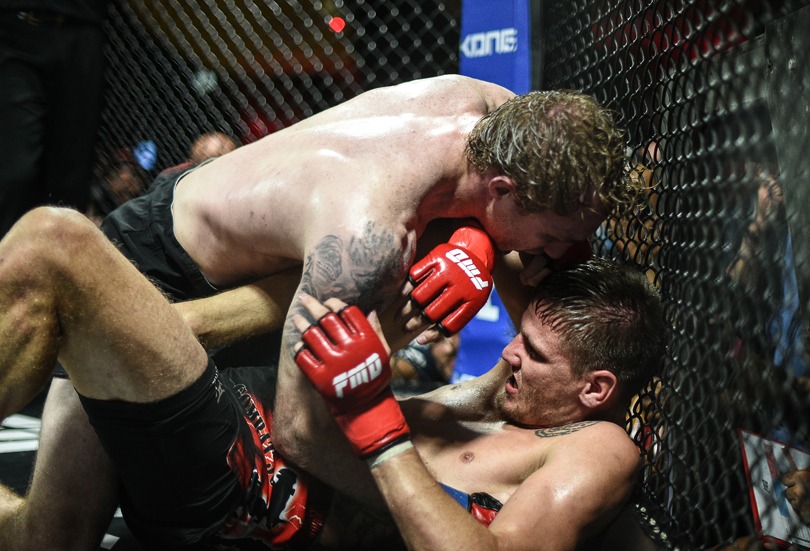 pix by David Ash
The clash of styles was very obvious, Tommy totally control the fight. He may be shorter but he does came well prepared looking rather buffed. He took the fight where he wanted…onn the ground and put a whole lots of pressure on Will and totally shuts down Will's game
Tommy earned himself a Full Metal Dojo's Samurai Sword as the winner of the Lightweight title. Tommy's victory capped off a very glorious night for Bangkok Fight Lab, making them 4-0 in FMD 13.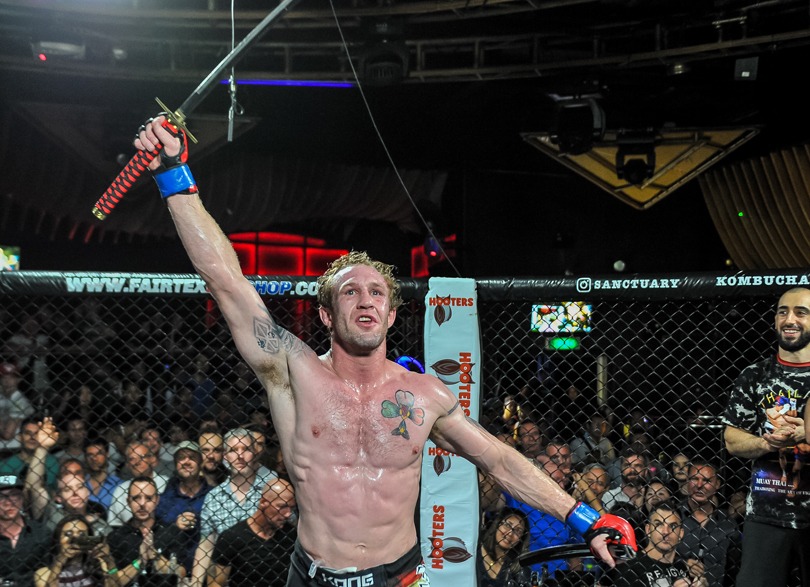 Where else can you win a Samurai Sword but in FMD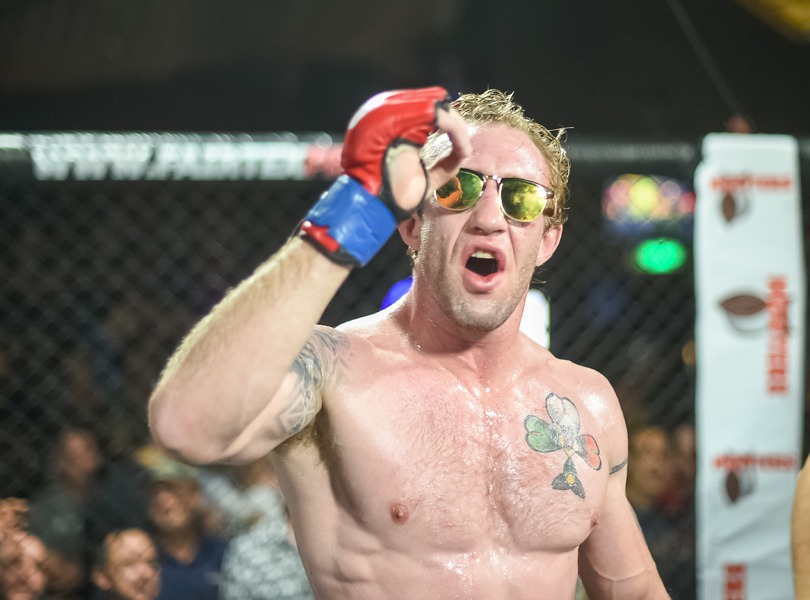 Time to partyyyy!
As for Will, it's just another day, another fight. He's in good spirit and will take this loss as a learning to do better against wrestler. No rest for him as on 5 March he will be in China to fight again
After fight, the party continues at Insanity, then to Movenpick, to Hooters and finally the FMD crew went to Guns n Roses concert in Bangkok!
Caught up with Jon after fight…
WRB: Did the show went as you expected?
JON: "I knew FMD 13 was gonna do well, but I didn't think it was gonna do that well in terms of the view in FB. We had like 100,000 view on FB. It was absolutely nuts! It far exceeded expectations!"


WRB: The Cambodian vs Thai match was a killa!
JON: "Definately gonna have more Cambodians on the next show. And Koreans, yea more Koreans on the next show. I had no ideas how large our market in Korea was. A lot of love from the Koreans."


WRB: Any rematch you wanna set up?
JON: "The only rematch I want to make is Luke Adams vs Ali Motamed. Luke Adams took the fight last minute and didn't have much prep. I think he definately overlooked Ali Motammed, …Ali Motammed is a stud!"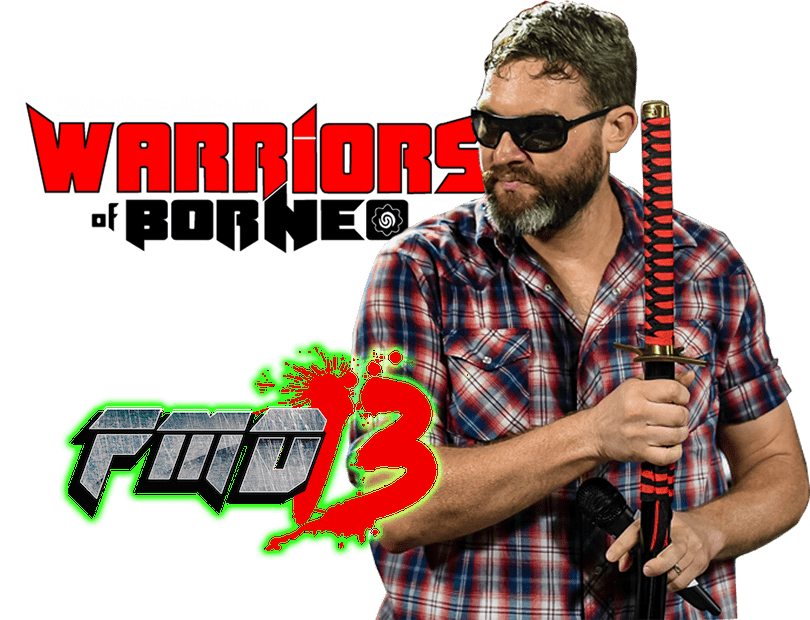 The Rockstar of Asian MMA – Jon Nutt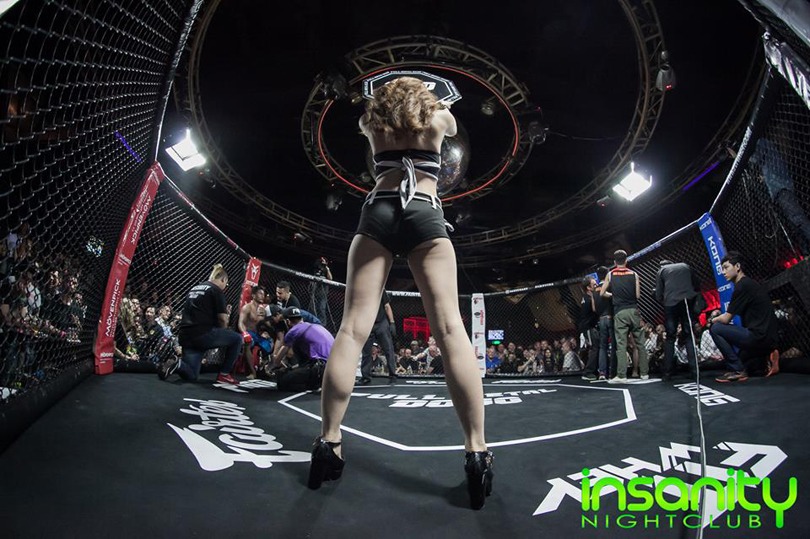 FMD will be back!