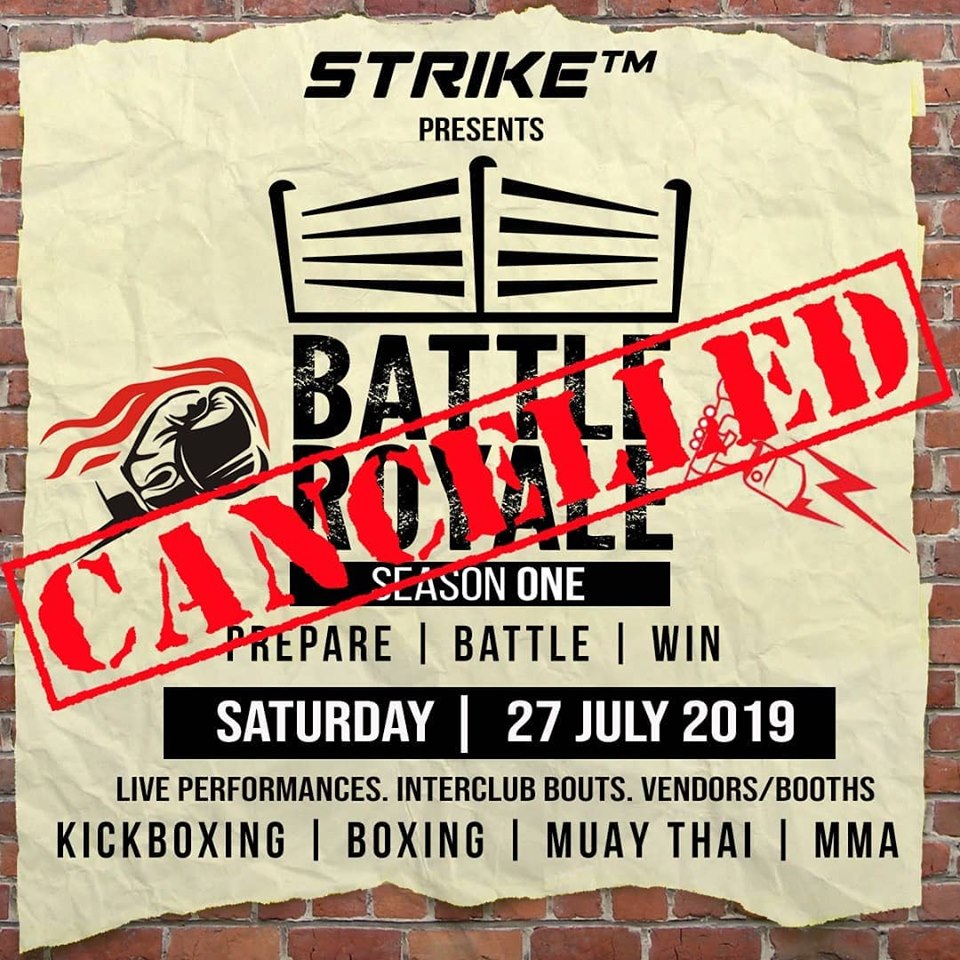 STRIKE Promotions of Brunei has just announced the cancellation of their planned 27 July 3rd edition which was dubbed BATTEL ROYALE.
This is the statement they released in their FB.
Brunei is an Islamic country with abundance of oil, with this comes high standard of living, and with this too comes very high obesity rate. But of late there's a surge in fitness & health awareness and activities. Martial arts is one of the activities that is easily introduce to combat obesity. Martial arts such as Silat, TaeKwon-Do is still very popular in school, but BJJ, Kickboxing & MMA is very fast catching up & brought international attention to Brunei.
As shown by how BJJ which pioneered by Eazy Anuar now has gave birth to a few gyms that produce local Bruneian MMA athletes that now competes in the international stage of One Warriors Series. But many of these Bruneian horned & sharpened their skills by competing in regional events because there's no such event in Brunei.
STRIKE aimed to filled that gap by being a platform for Bruneian martial artist to showcase their skills and also an event to unearth more talent.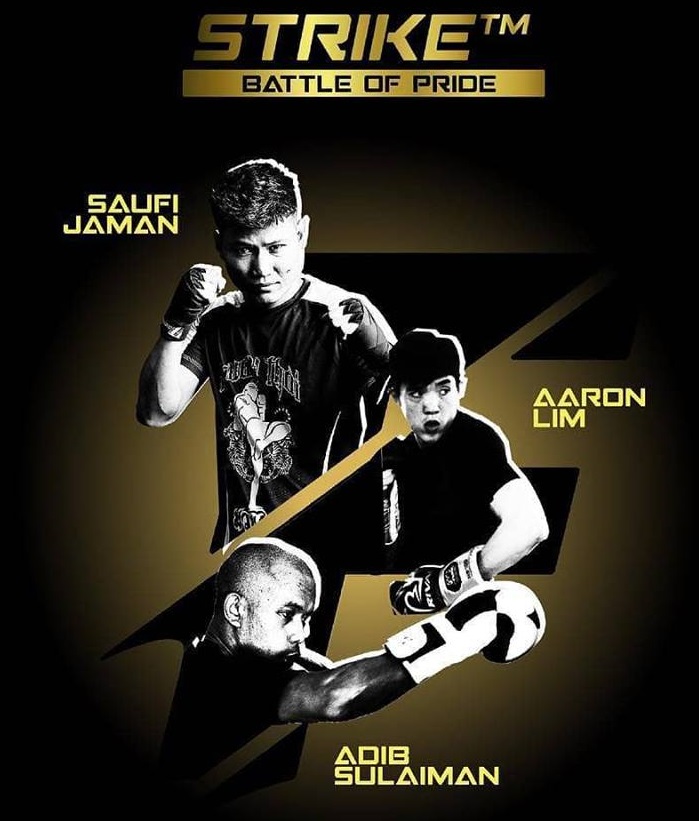 STRIKE 1st edition was held in Airport Mall Brunei in Nov 2018. It was well planned with lots of support from local sponsors. It was also held together with a health and fitness expo to promote healthy lifestyle in Brunei.
BUT, with just one incidence from one troublemaker that created a huge ruckus which was quickly viral around Brunei gave a bad impression to the event, the 2nd day which was scheduled to have local Bruneian compete for title belt was cancelled.
Some of the fights was moved to Labuan's Borneo Martial Arts Expo (BMAEX) as a continuation. Brunei Saufi Jaman fought Saharuddin Hamsah but lost the fight for the Semi-Pro K1 title.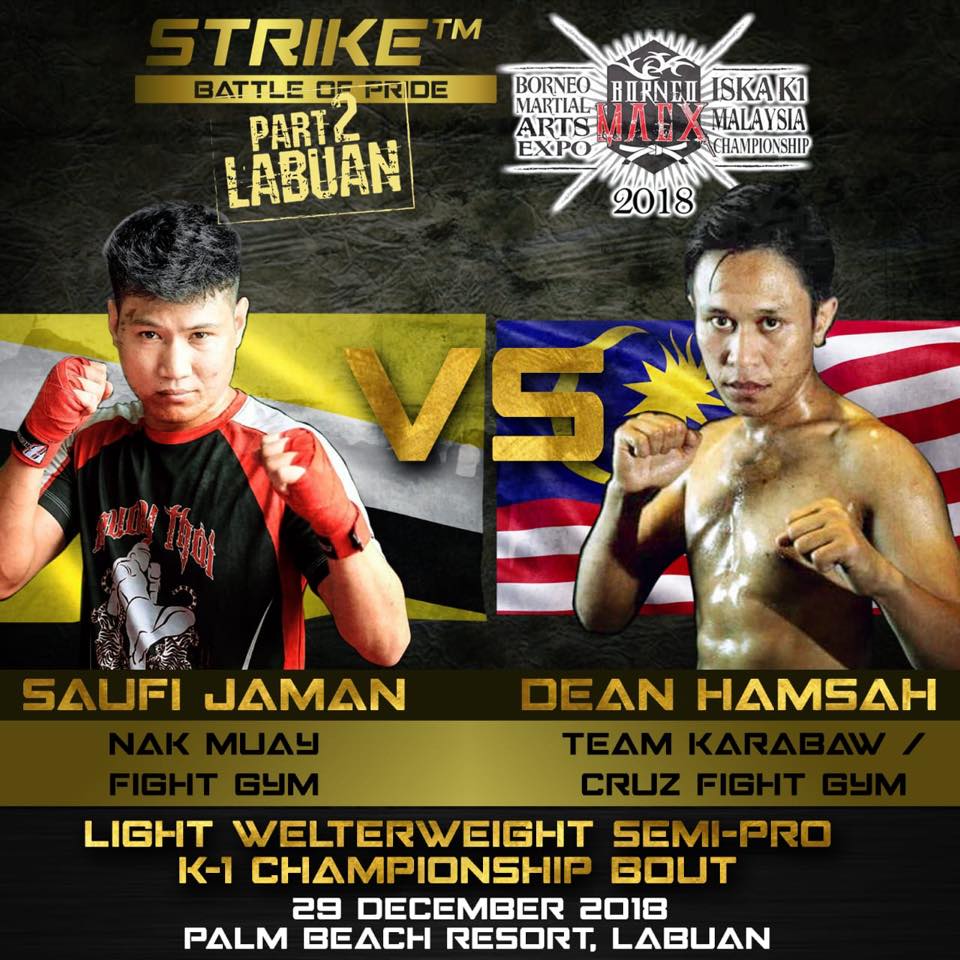 STRIKE organisers, Firdausi Zainidi and Younis Asmad did not give up. They work hard at rebuilding STRIKE's image among the Bruneian authorities. The fruit of their labor finally saw STRIKE being approved.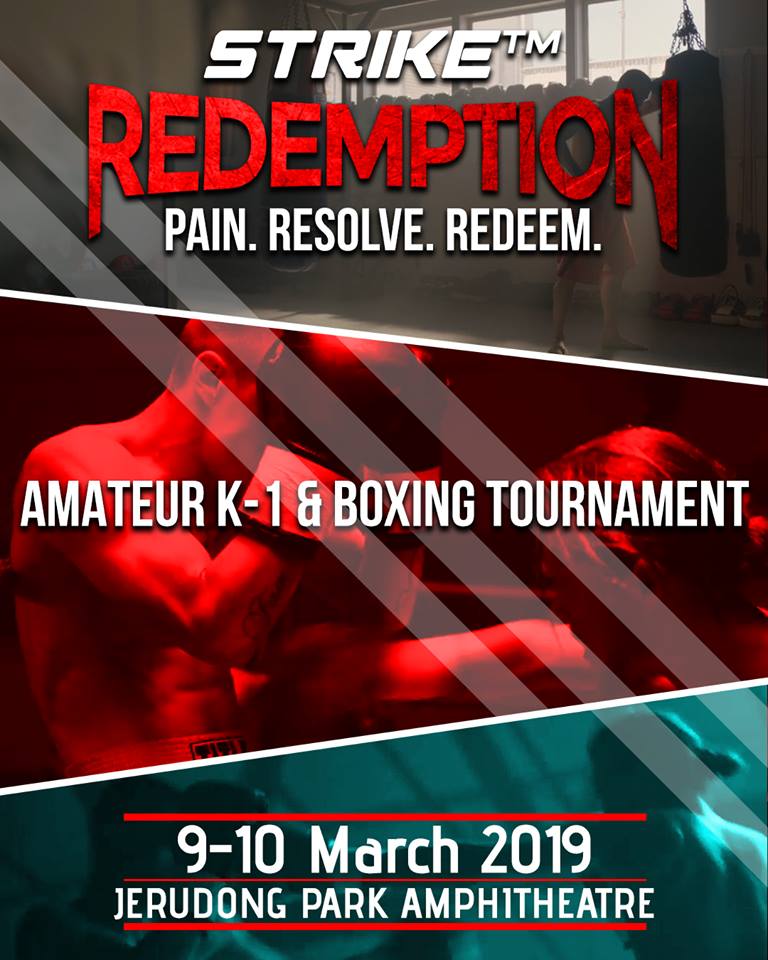 2nd edition, dubbed as REDEMPTION was held on March this year in Jerudong Park Amphitheatre. It was an astounding success. Day 1 saw K1 Kickboxing tournament being held and many locals' gyms & fighters from around the region participated. Followed by day 2 which saw a boxing tournament sanctioned by Brunei Boxing Association held.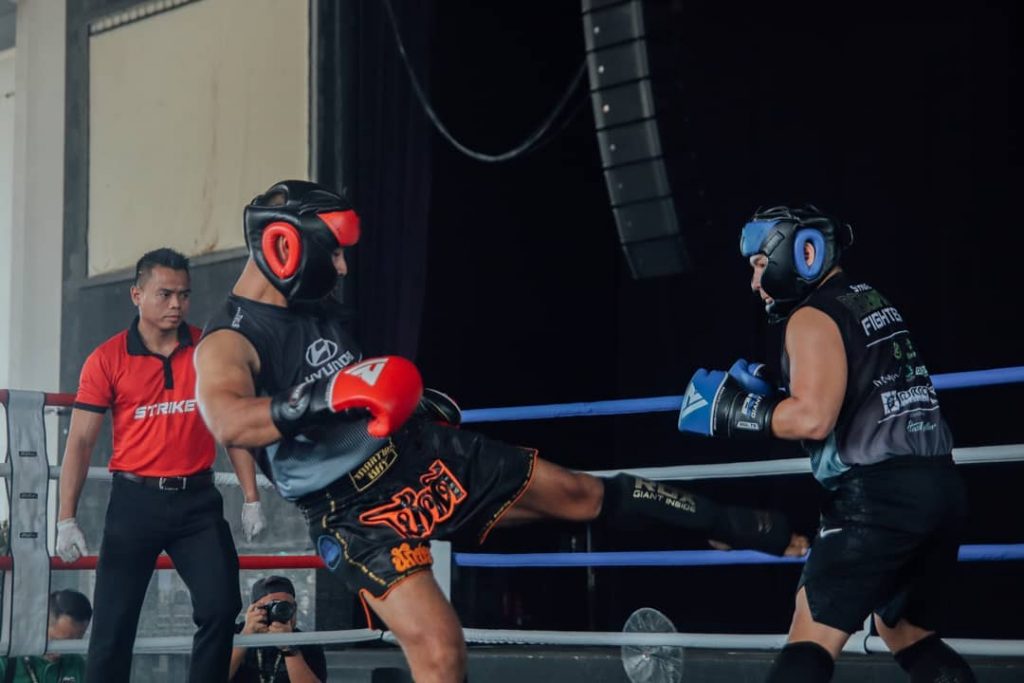 Day one hi-light was the tile fights galore at night as STRIKE match-up the best fighters in the region up against Bruneian top talents, in 8 action packed bouts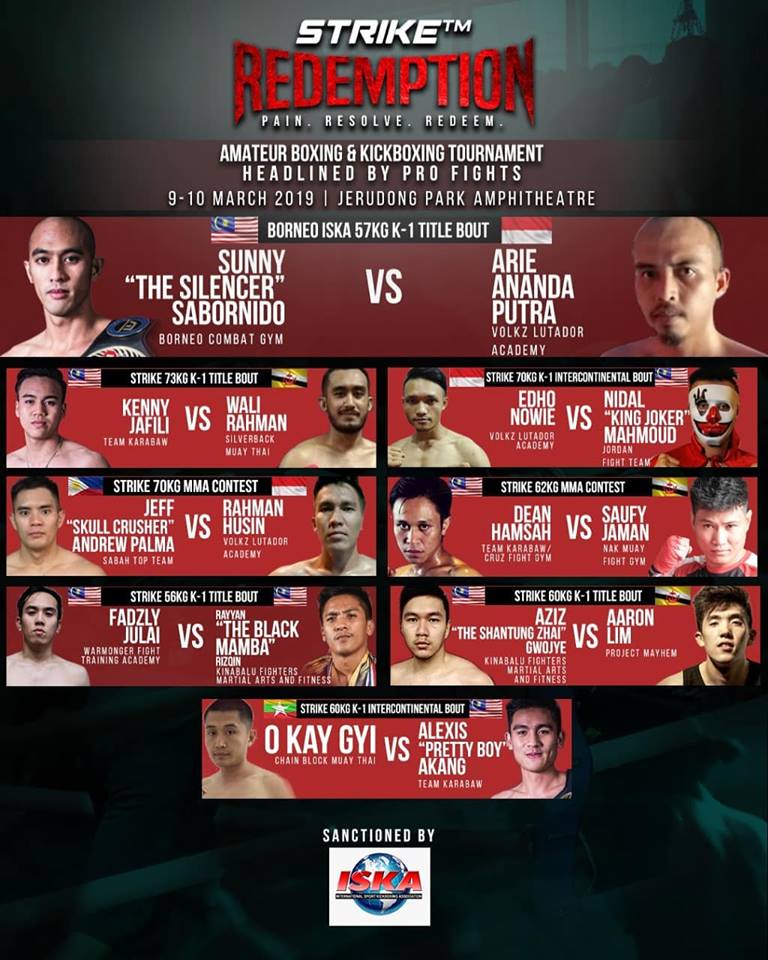 It couldn't have end at a better note, that night saw high level fights & plenty of finishes.
Wali Rahman of Silverback Muay Thai tasted sweet success by claiming the STRIKE 73kg K-1 title with a second round TKO against Kenny Jafili of Team Karabaw (Malaysia).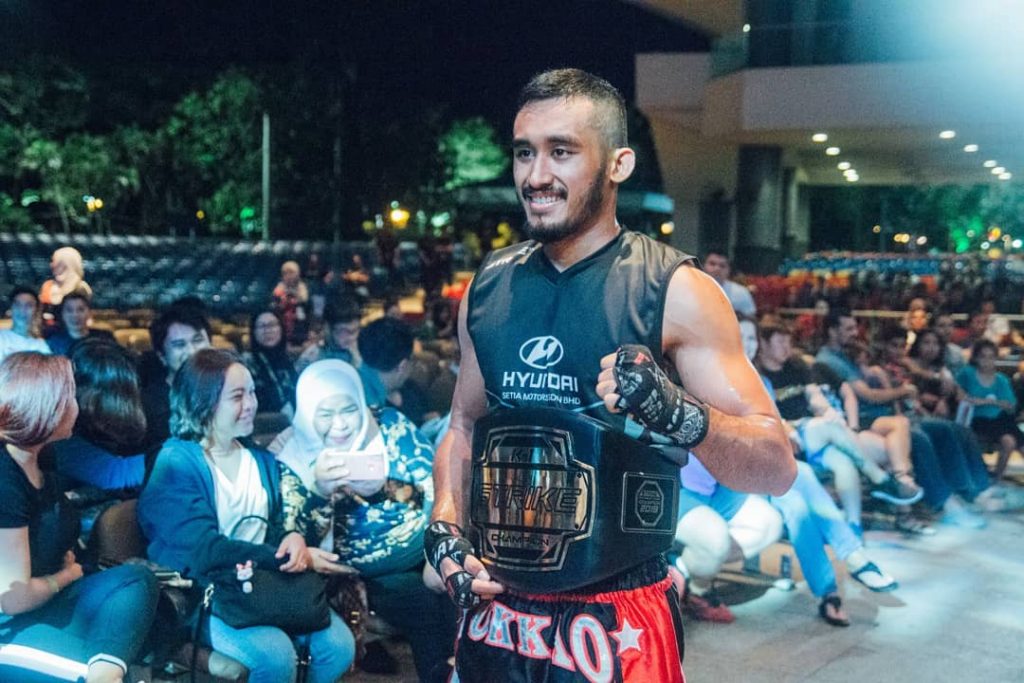 In a highly anticipated rematch, Project Mayhem's Aaron Lim got the whole Bruneian crowd behind him as he went the full distance and edged Aziz 'the Shantung Zhai' Gwojye of Kinabalu Fighters for the STRIKE 60kg K-1 title following a split decision.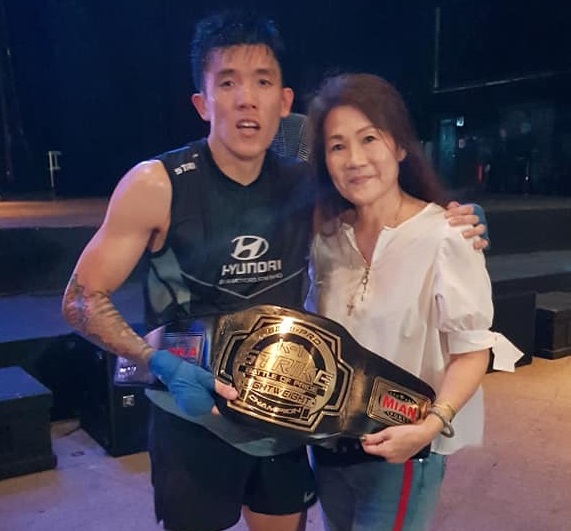 In another rematch, between Saufy Jaman of Nak Muay Fight Gym & Saharuddin Hamsah of Team Karabaw, this time in pro MMA rules. Saufy ensured three out of three for Brunei after delivering a TKO against in just 1min 39s.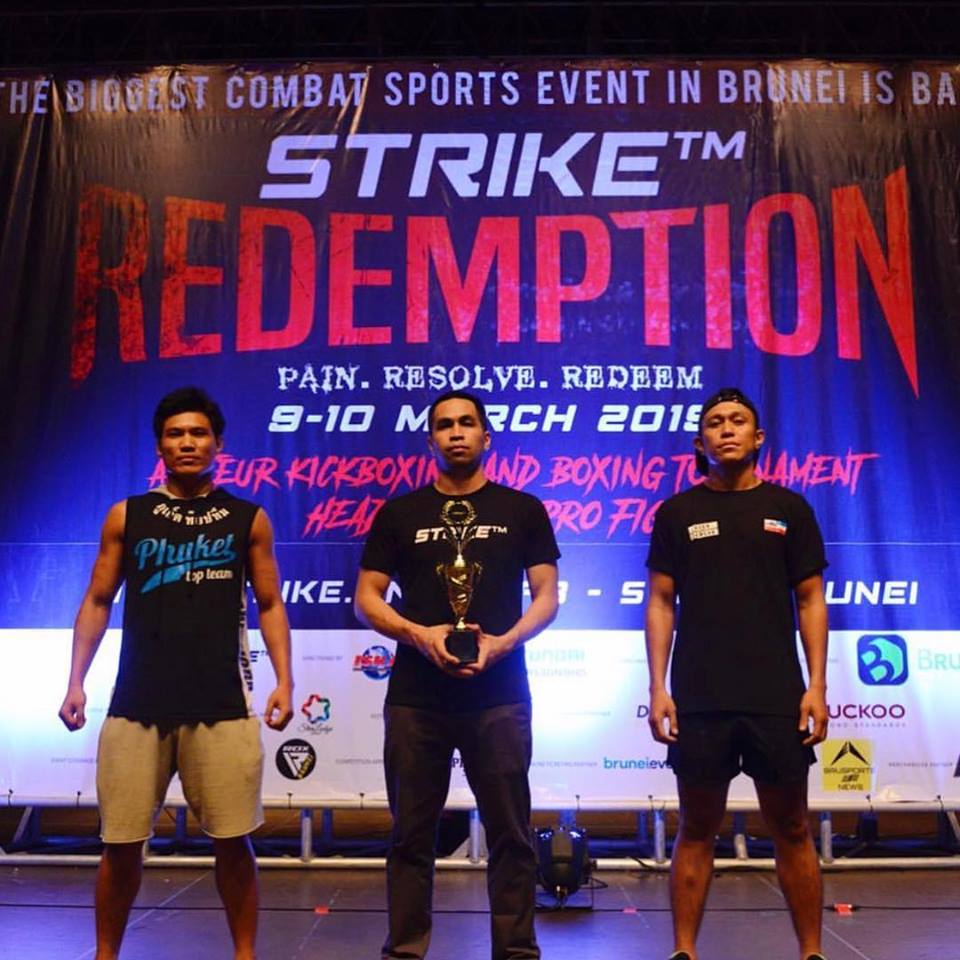 The event which was sanctioned by International Sports Kickboxing Association (ISKA) also received much praised by ISKA Borneo's representative, Mr Alvin Chong. In his speech he praised organisers.
"STRIKE is a special combat sports event that displays care towards the community. Strike event is a leading example in Brunei that welcomes the deaf, disabled and special needs children. We need more event organizers like them to rise up."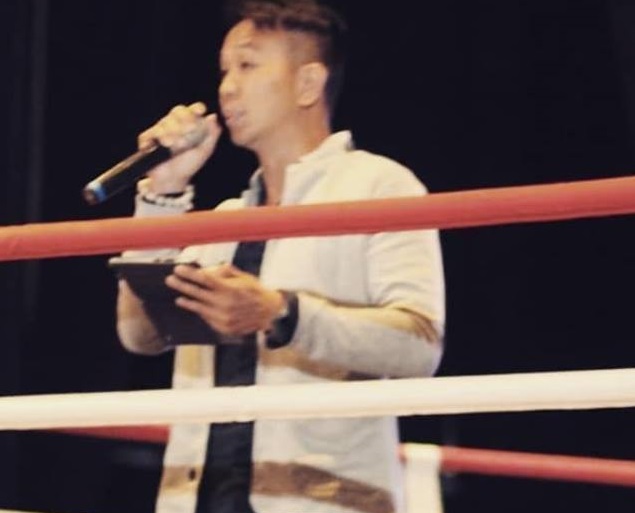 Organisers also went the charitable route by donating to Pusat Ehsan Al-Ameerah Al-Hajjah Maryam.
In the main event also saw the 1st deaf & mute fighter in Malaysia Sunny Sabordino won the 57kg Borneo ISKA K1 title belt against Indonesian Arie Ananda Putra.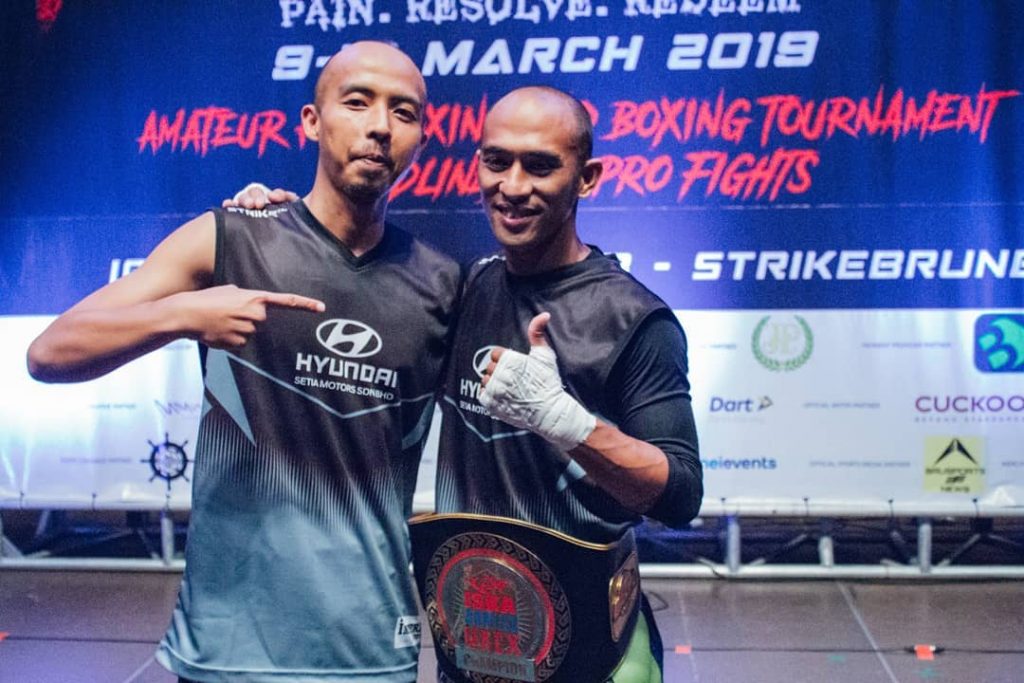 Working with sponsor, Jerudong Park, STRIKE organisers also gave a full access to fighters & their team to have a good time in the amusement park, ensuring they bring back great memories of Brunei & promote it to their friends & families back home.
Personally for the many events that I have covered, I saw first- hand how well STRIKE was put together.
Firstly the venue of Jerudong Park Amphitheatre was an excellent choice. It has great theatre seats that gave audience great view from all angles. The lightings was very professionally done & gave an exciting ambience.
The event was well run, from the weigh in, face off, fighters briefing to the post fight session was all smooth.
The ring was brand new. The structure was very sturdy & safe. Materials on it was high quality.
As the events was sanctioned by ISKA, there were qualified referees & judges officiating the event, lead by the very experience & well respected Master Khoo Meng Yang ( ISKA Malaysia ).
Medical team from the nearest hospital was ever ready to deal with any injuries.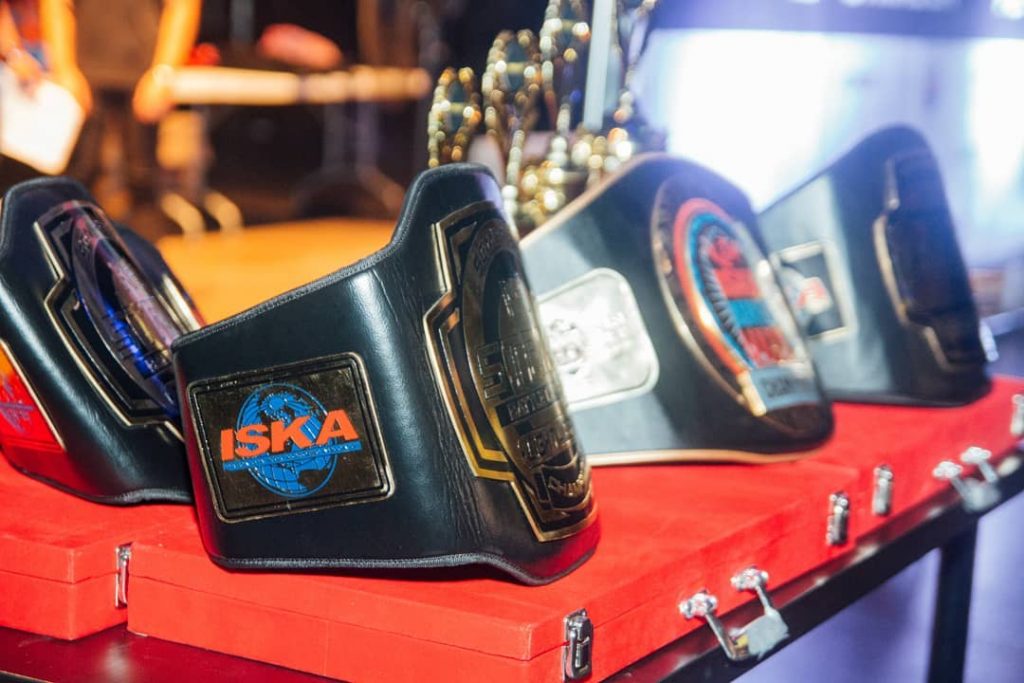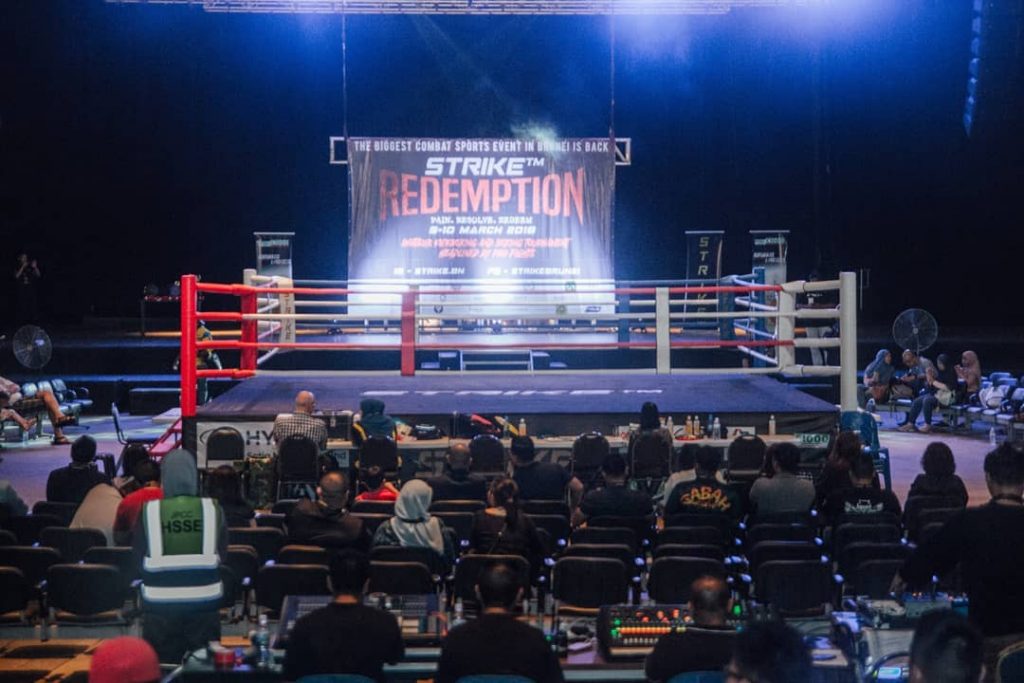 The overall visual design was well executed. The posters design, the certificate & backdrop all have a central theme of redemption. The medals & the title belt are of high quality & very well design.
Organisers also ensured fighters & their teams have comfortable, clean & safe accommodation at the Brunei Sports Village and also provide transportation need.
I particularly like the tank top that was sponsored by Hyundai. It look great on the fighters and also is very suitable for event of this nature in Brunei to not have the fighters fully expose. Perhaps the only improvement needed in my opinion is to have the different colour scheme for opposing fighters.
Most important of all, organisers pay extra focus to security. They hired security personnel to ensure no untoward incidence occurred again.
Overall STRIKE : REDEMPTION received very positive feedback from the local community. Many good friendship was build & strengthen. The good value of martial arts such as discipline, respect, humility & warriors spirit was displayed throughout the two days. Aside from promoting Brunei as a great destination it also rally local Bruneian to have a sense of pride that not only they have champion caliber combat sports athlete but also capable event organizer.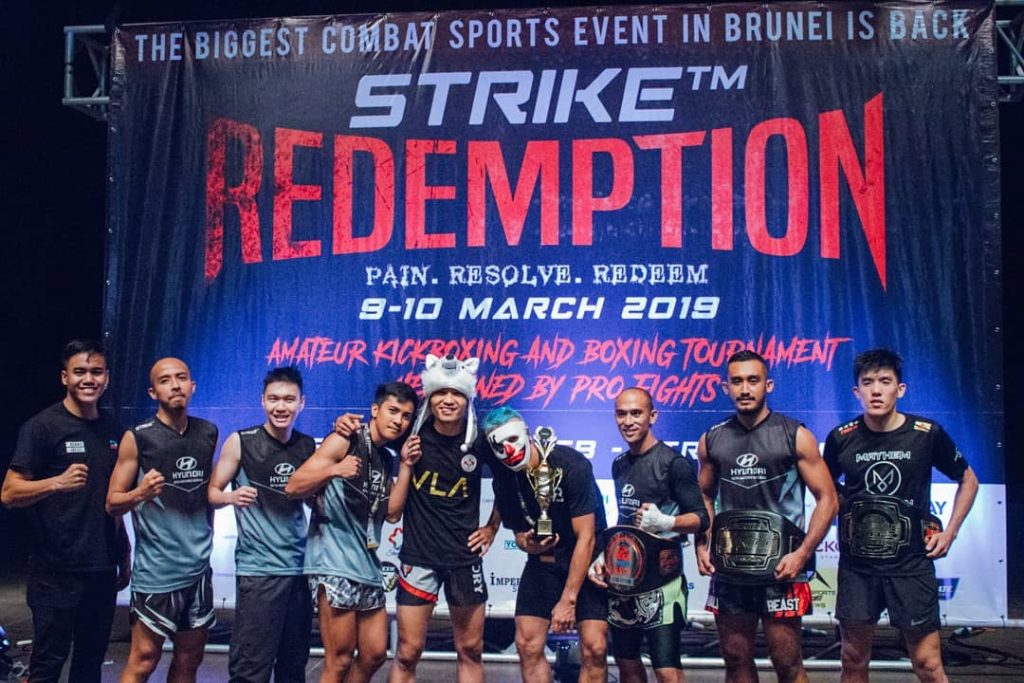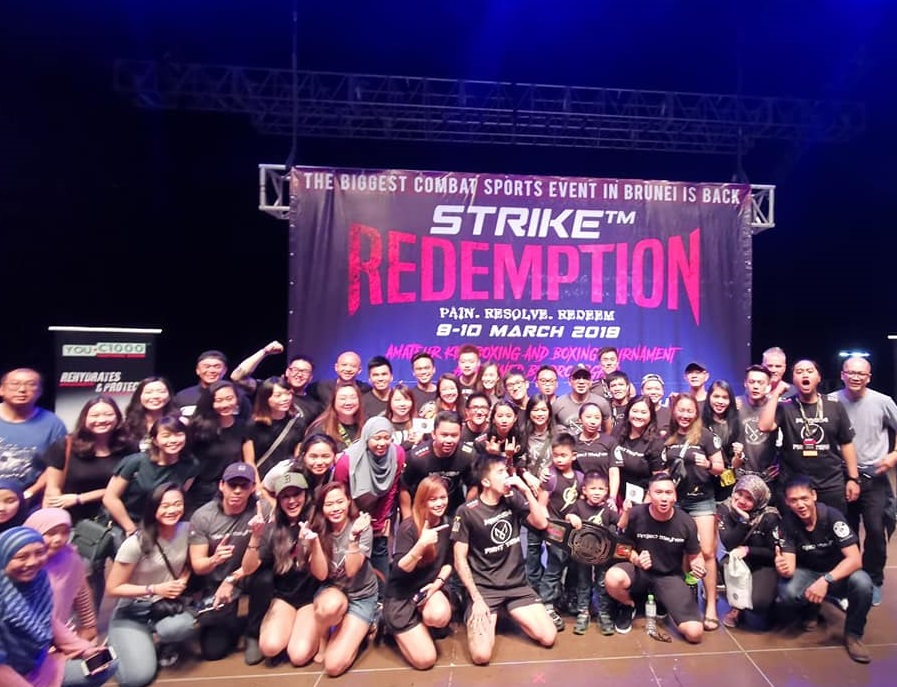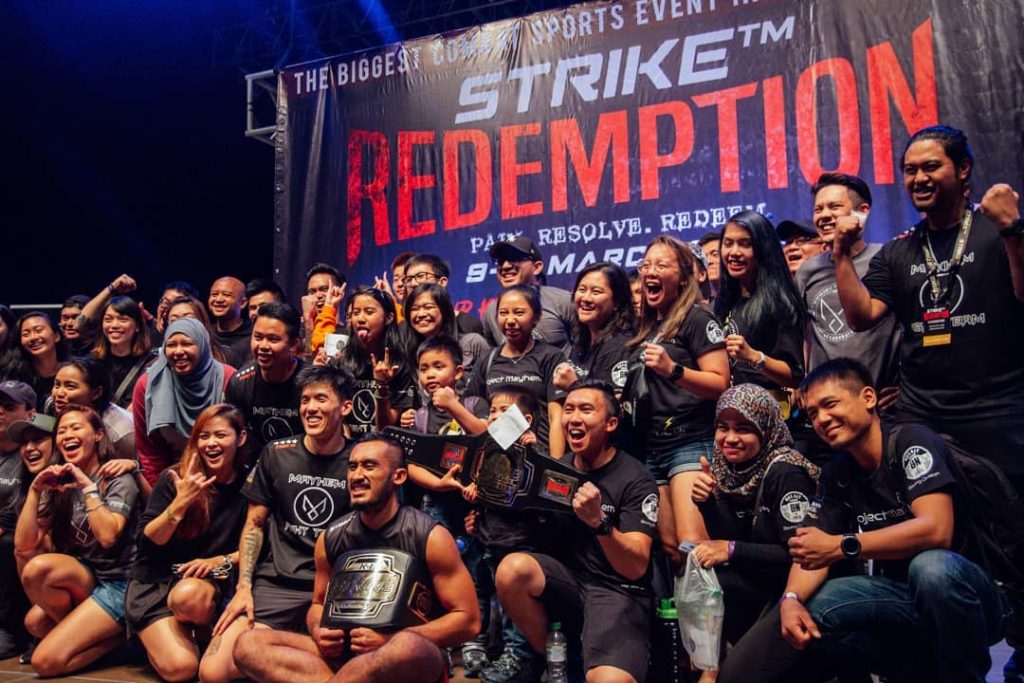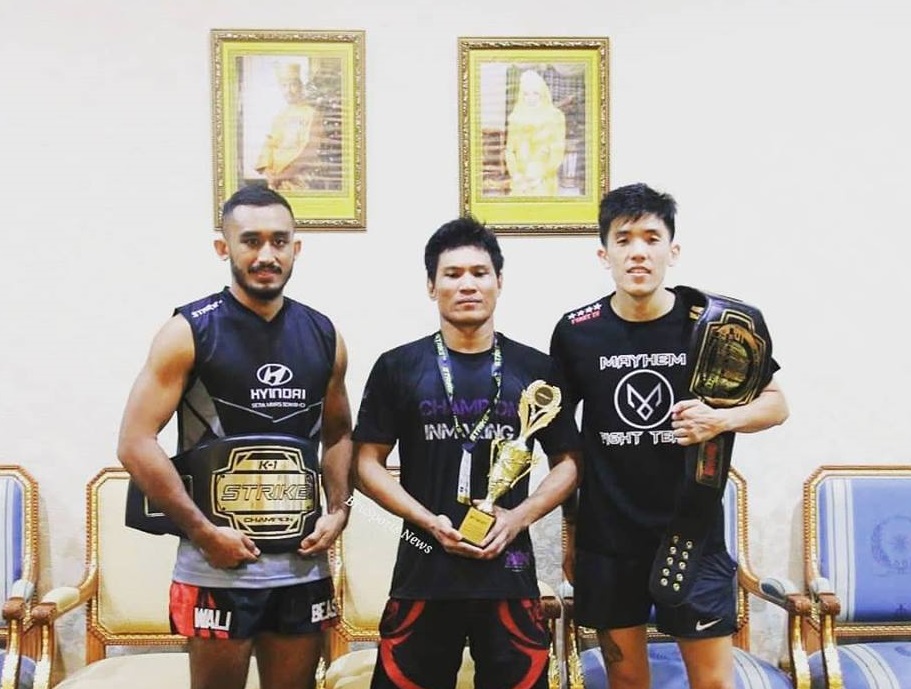 STRIKE 3rd edition, BATTLE ROYALE was first announced in STRIKE's FB page on May 22. It aimed to introduce 4 discipline, namely, MMA, Kickboxing, Muaythai & Boxing. On top of that organizer also creatively planned for the very first Battle Rap competition in Brunei.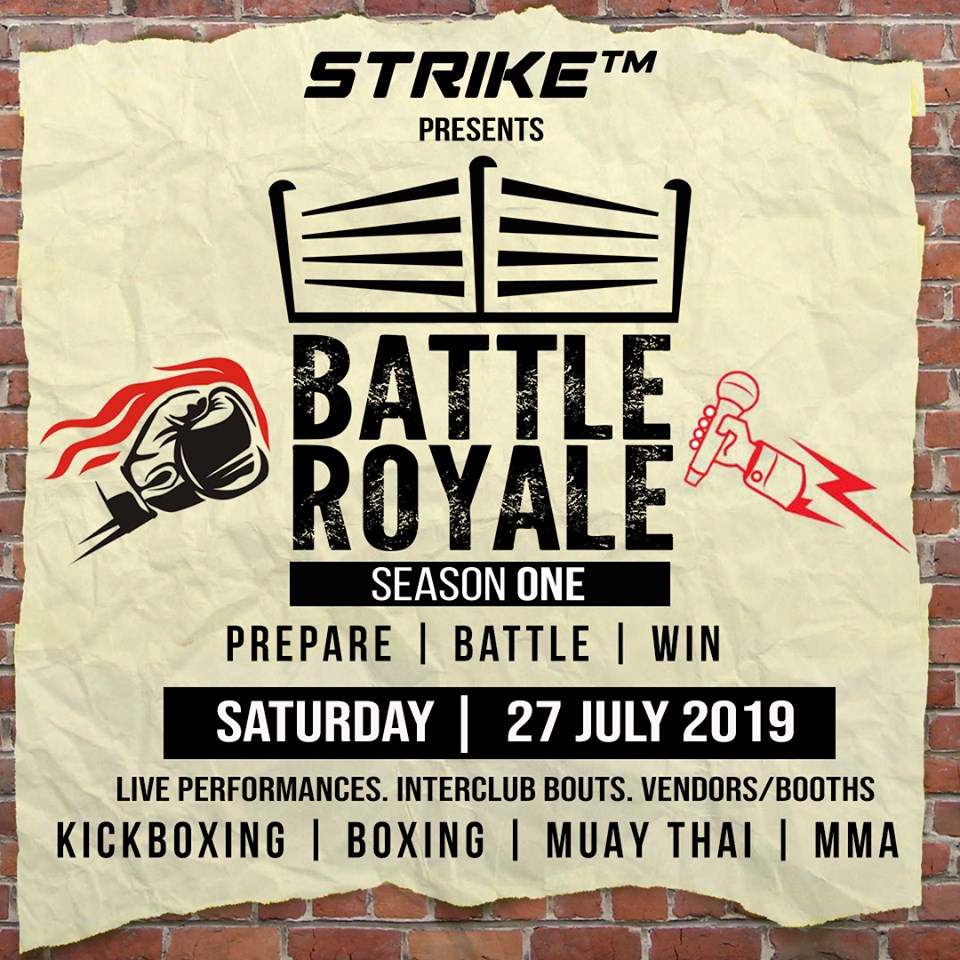 This freestyle battle rap is certainly unique for a fight event.  This will give opportunity to Brunei's youth to showcase their oratory skills in a music genre that can appeal to the young generations. Organiser also went as far as having an audition to select the best rappers from Brunei.
But alas all this will not see the light of day.
I hope this article will bring attention to the authorities on how much positivity STRIKE was able to do for Brunei. Let's hope this is not the end but a continuous journey to bring awareness of how much benefits martial arts can bring to Bruneian community.