When I first met Hisyam, he struck me as a very courteous gentlemen. He conduct himself admirably and speak with respect and politeness. Surely his parents have done the right things bringing up this young man.
With his friendly attitude, I was mildly surprise that he is an active fighter, not only in the ring but also in the cage. In boxing there's a certain amount of control and respect. But in MMA, you need that ferociousness and that killer instinct  to survive a fight, let alone winning it. Hisyam seems to be more fitting as a boxer than a MMA fighter, but he proof to be best at both.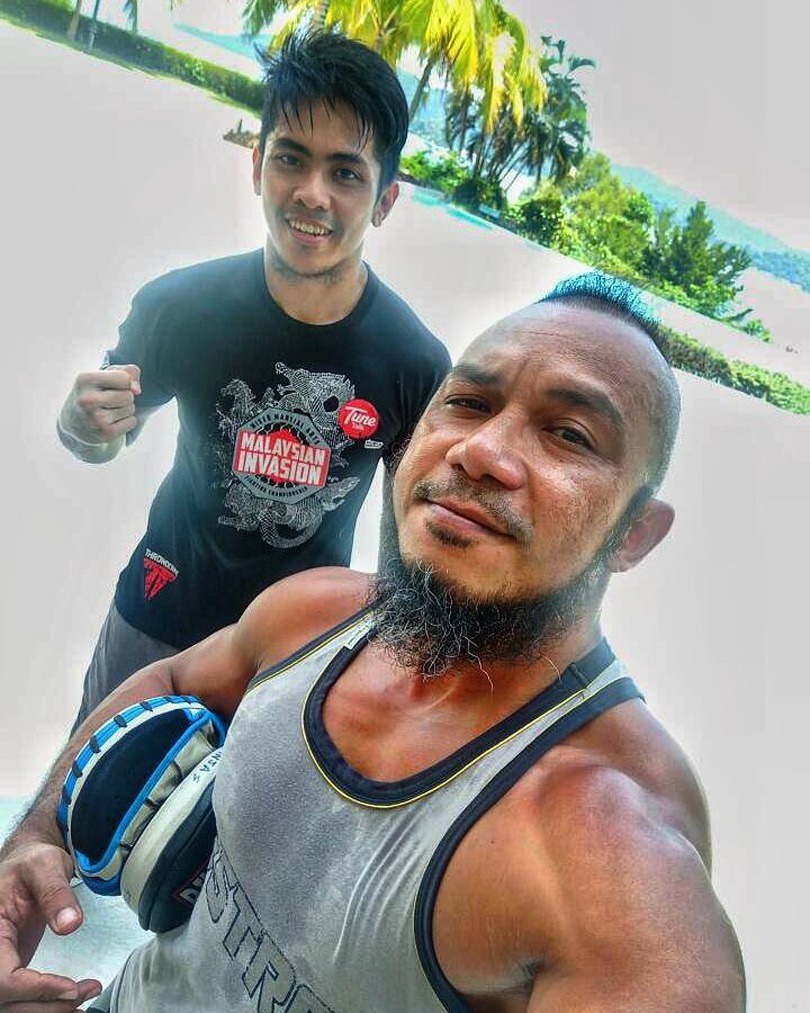 Hisyam with AJ Pyro
Train under the watchful eyes of AJ Pyro of Borneo Tribal Squad in Kota Kinabalu, Hisyam has grown into the sports that he started as a way to lose weight. His successful story of overcoming an overweight problem in his teenage years has been widely cover in the media.
Growing up overweight during the formative years of a teenagers is certainly tough especially when teenagers are so occupied by external qualities. To be able to overcome this shows the first sign of the resilient of Hisyam.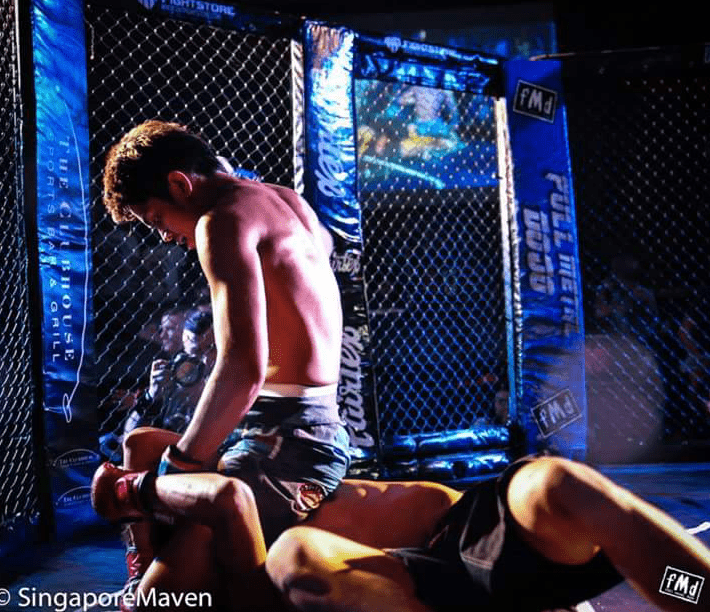 Hisyam in his FMD3 fight (pix by Singapore Maven) 
His pro MMA career began in the land of Muaythai in Full Metal Dojo 3. Victorious against a Thai in their home ground is no small feat. Hisyam took home the debut win with a TKO in round 1. His second outing in FMD 7 didn't went his way as a bad cut in the early rounds affected his focus, he lost with a unanimous decision to a local Thai with a record of more than 200 Muaythai fights.
Given the fight name Zephyrus by AJ, Hisyam took to his nick name like the west wind itself. He train all year round and is always ready. In Feb 2016, taking up a short notice fight, he was one of the four boxers fighting for the Super-4 WBF Asia Pacific Light Heavyweight Title belt at Singapore Fighting Championship 2. Among the pro boxers were Singaporean hero Syafiq Samad and Filipino warrior Richard Corminal and Malaysian young buck Ridzuan Dahari.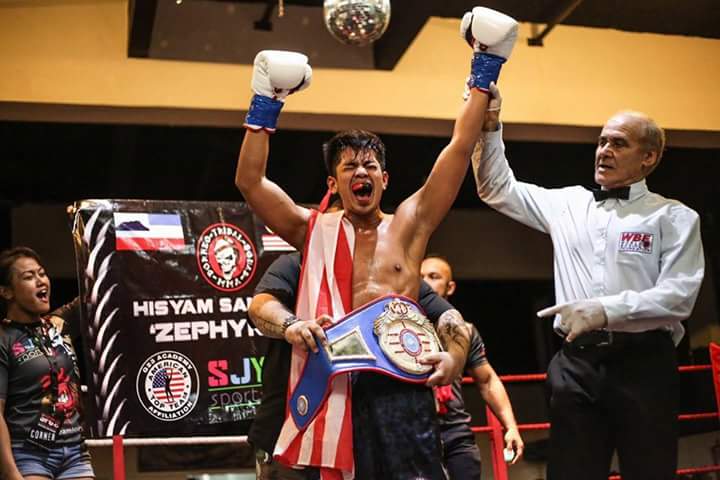 winning the WBF Asia Pac belt
Being the lightest among the four does not bother Hisyam. He fought and won a  technical fight vs Richard and in the title fight, although both him and Ridzuan was out of gas, but Hisyam was able to dig deep and emerge as the Champion, becoming the first Malaysian to win a international boxing belt.
Hisyam is one of the coaches in Borneo Tribal Squad, but when he gets a break he would travel back to his home town Tawau in the east coast of Sabah. He love to hang out with his young nephews. They look up to him as a role model. Back home in Tawau he spends as much time as he can with his family.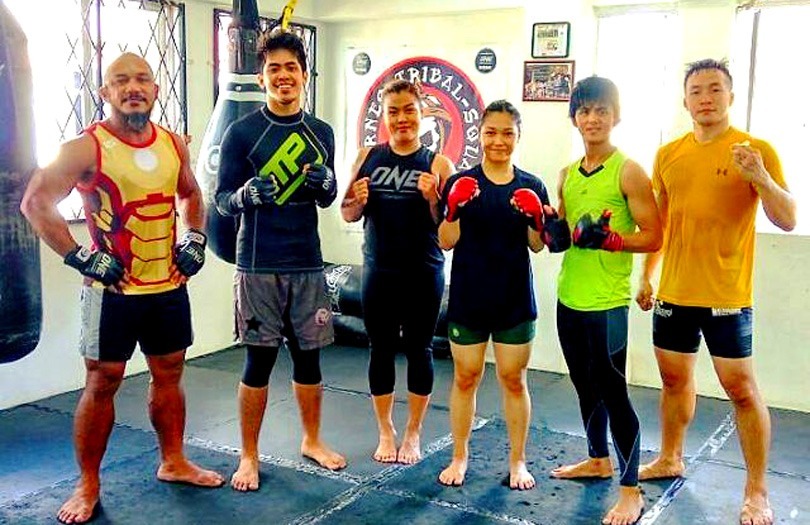 The BTS fight team
His parents now supports him fully in his fight career. Initially they voiced their concern and worries as they can't bear the thoughts of their son getting hurt. Hisyam, through his dedication and passion to martial arts manage to convince his parents that he prepares himself very well before entering any fight, hence reducing the risk of injury,…infact he may be the one inflicting the injuries.
This year AJ has been busy planning and arranging fights for his stable of pro athletes in BTS. In Sept a deal was seal for Hisyam for his ONE Championship debut. Although fighting in the preliminaries card, it was certainly a high profile debut as his opponent is Muhd Aiman who's name is propel up in the MMA scene being the fighters that enter MIMMA 3 times and won it on his 3rd try.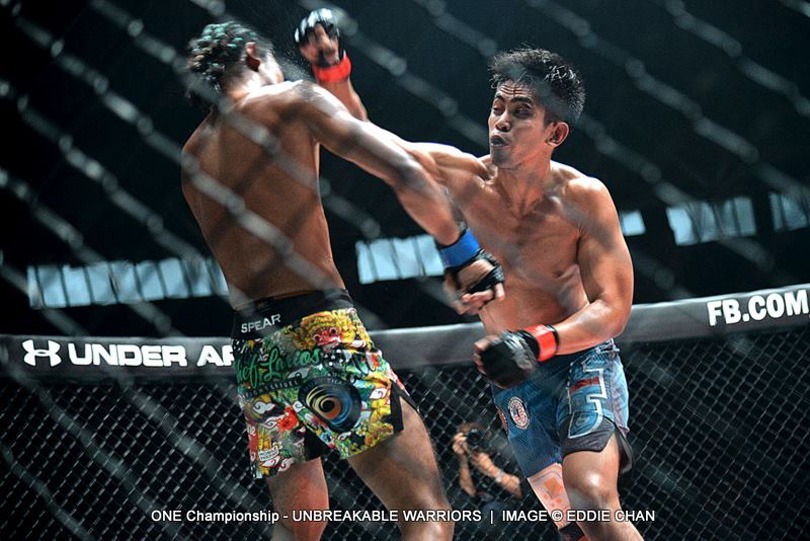 Hisyam vs Aiman – (pix by Eddie Chan)
I was cage side during that fight. It was a barn burner. Aiman being more swift and all rounder, Hisyam seems to be running low on fuel after being tire out by Aiman's pressure on the cage. Hisyam's didn't give up. With his parents watching on the side, he dig deep and towards the end of fight, executing a reverse elbow that almost knocked-out Aiman, but the fight ended with a 3 round victory for Aiman.
After that debut in ONE, he took a short break in Tawau, spending time with his parents.
Then it was back to BTS to resume training, polishing his striking and brushing up on his ground skills In the process earning his BJJ blue belt from Prof Adam Kayoom last month.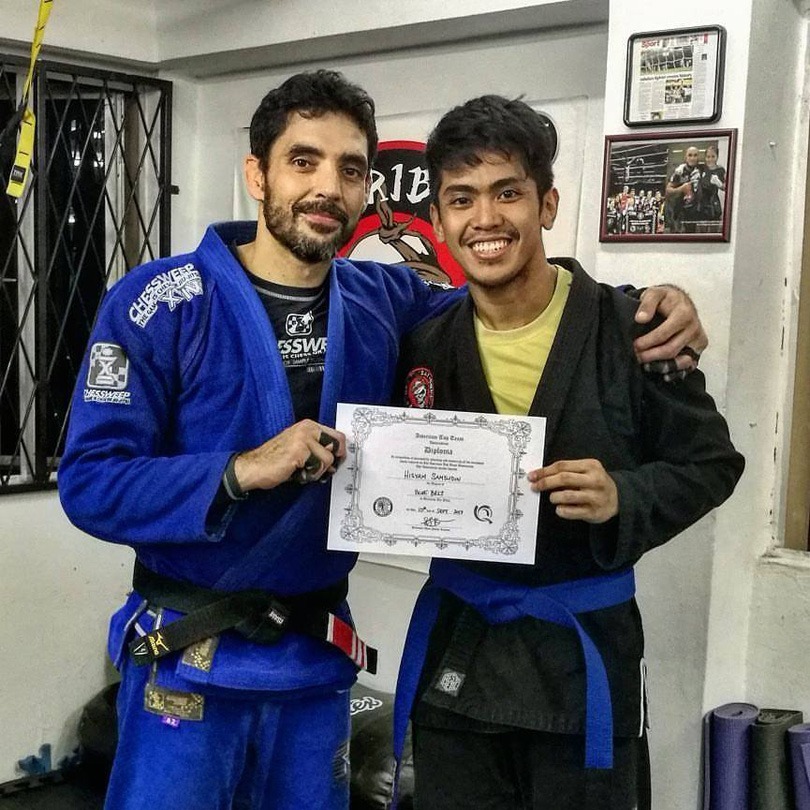 with Prof Adam Kayoom
Time for him to enter the cage again, as AJ managed to get him a fight in the Jakarta cards of ONE Championship Total Victory. This time in the main card, going against Indonesian Jeremy Meciaz. Jeremy is Indonesia's national grappling champion. Fighting in Jakarta is a very intimidating experience as the war cry of Indonesian supporters are well known to unnerve even the most season fighters.
Hisyam was fighting on 16 Sept 2017. A significant date for Malaysian especially from the Borneon states as this is the date 54 years ago, that Sabah together with Sarawak, Singapore and Malaya came together to form Malaysia.
Also going into this fight, Hisyam carry on his shoulder the burden of erasing the memory of the hi-light reel lost of his coach AJ to Dutch Indonesian Anthony Engelan in Jakarta in January this year.
He also need to wipe out the image of being the nice guy, lacking killer instinct.
But Hisyam take all this with stride. Fight camp went very well for him and cutting weight was smooth, he was full of confident and eager to record a win in the oval cage.
His parents flew in to Jakarta to support him, getting themselves cage side seats to cheer on Hisyam. Thursday weigh in was done and he was happy to have his parent around, able to joke and have light moments with them to get his mind away from the pressure of the fight.
Then a message from his mother on Friday morning asking him to come to the hospital to see his father, broke his quiet morning. Hisyam did not expect anything serious. On the back of his mind, he was thinking that his father was perhaps exhausted from the travelling.
As he arrived at the hospital, the feelings changed. He was told of the sorrowful news that his father has pass on. What a shock this news was to his mind. His father was only 66 and without any illness,… Hisyam could not accept this lost.
His first thought was to cancel the fight, go home and be with his mother. But his mother knew that his father would not want Hisyam to give up. He came to see him win, maybe physically he is now not able to do so, but spiritually he is with Hisyam and the fight must go on.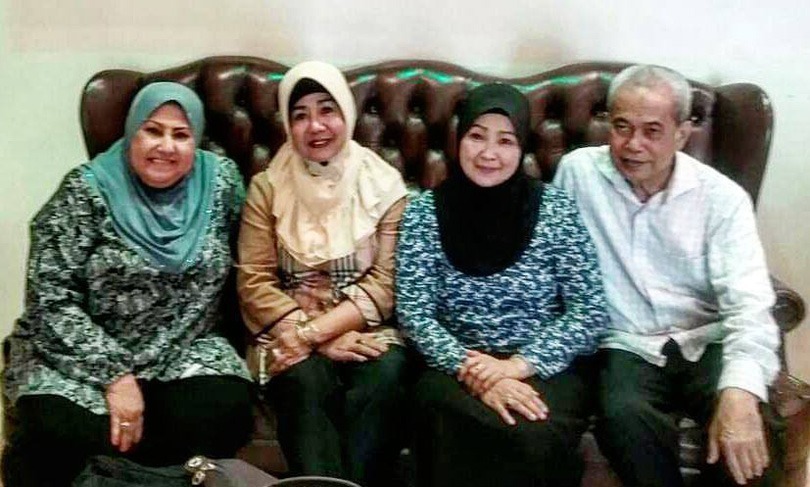 The last photo Hisyam father the late Mr Samsudin  took on Thursday in Jakarta
Hisyam made the decision to keep all this news to him and his family only. The only one outside his family that he informed was coach AJ. He didn't even inform ONE Championship management, as he does not want pity and does not want to give excuse to cancel the fight.
His mother and family made arrangement for his father's body to be sent back and made funeral arrangements. They ask him to focus on getting the win in memory of his father.
No one knew how much pressure and mental anguish was in Hisyam's head when he enter the cage to face Jeremy. The sound of booing from the crowds as Hisyam name was introduced, was enough to discourage anyone.
AJ whom has seen him grow from an overweight kid to 'Zephyrus' was a pillar of strength, as he look into Hisyam eyes, without saying much, but it was enough to calm Hisyam down and allow Hisyam mind to focus on the task at hand.
They have studied Jeremy before from his first fight as he rushed his opponent. Thinking he won't do the same mistake, initially it surprised Hisyam that Jeremy followed the same game plan as he leap across the cage and charge at Hisyam trying to connect with a flying knee.
Both exchanged furious strikes, aggressively change position as both tries to exert control. The fight went to the ground and as Hisyam tries to escape Jeremy immediately uses his grappling prowess to attack Hisyam's leg. Locking in tight for leg locks and variations of heel hook. The crowd went wild cheering on Jeremy as he relentlessly trying to break Hisyam's leg.
Hisyam can hear his knee cracking, he tries to drown the noise of the Indonesian crowd with the thoughts of his father. He then visualized his father's face in front of him, he can hear his voice cheering him on, drowning out the Indonesian supporters noise.
Deep in his heart, he knew that he needs to stay calm and change position to release the pressure and buying time and wait till Jeremy tires up.
The plan worked, as soon as his leg was free, Hisyam took side control and rained damaging knees on Jeremy's head. A couple more impactful elbows to Jeremy's face finally urged the referee to stop the fight at 2:47 Round 1.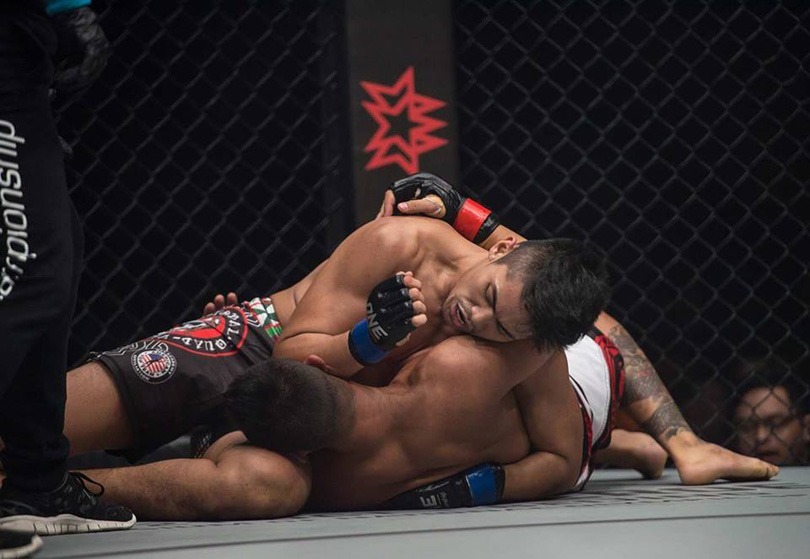 Pix by Singapore Maven – David Ash
What a triumphant win that was for Hisyam, as all the emotion now rushes to his mind, the sorrow of his father's passing mixed with the joy of bringing home the win.
In his victory speech, barely holding back his tears, Hisyam revealed to all present that the win was dedicated to his father that just pass away the day before. Viewers was taken aback and now understand that indeed a victory like this means more than winning any championship belt.
Hisyam does not have a specific special memories of his father, to him every moment with him was special. He wants to have more fights to established himself, to slowly climb up the featherweight category and to eventually one day become the Champion.
Hisyam meaningful win is a story that I hope will give motivation and inspire readers out there to never give up, to not have excuses, to fight against all odds.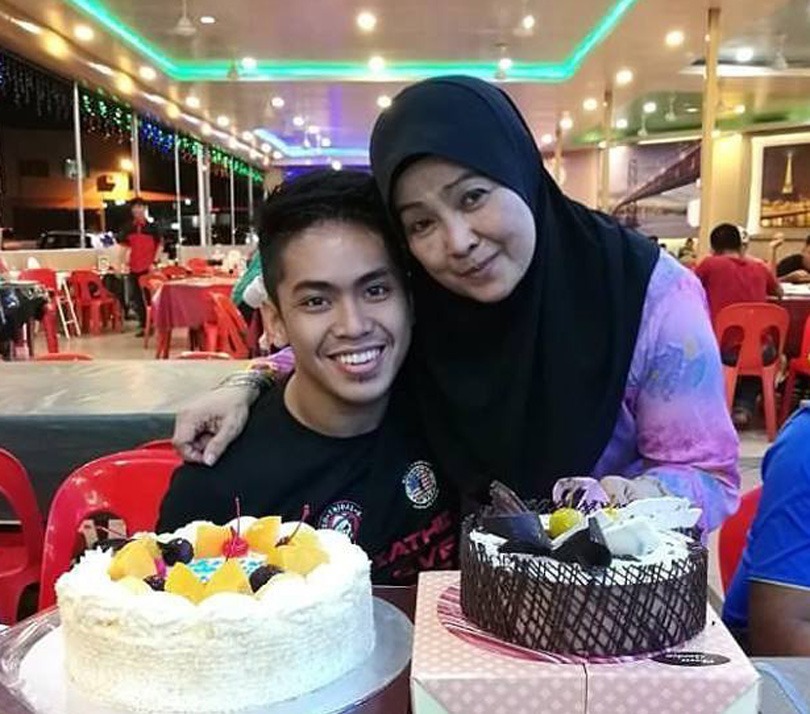 with his beloved mother
He celebrated his 27th birthday yesterday 20 Sept 2017. Even though without his father by his side, his mother's and other family members celebrated with him and reminded him that the only way to make his father proud is to keep on fighting.
AJ and his BTS team members are always there too to support him all the way, and Warriors of Borneo will always be here to chart his journey of becoming a world champion one day.
Happy Birthday Hisyam!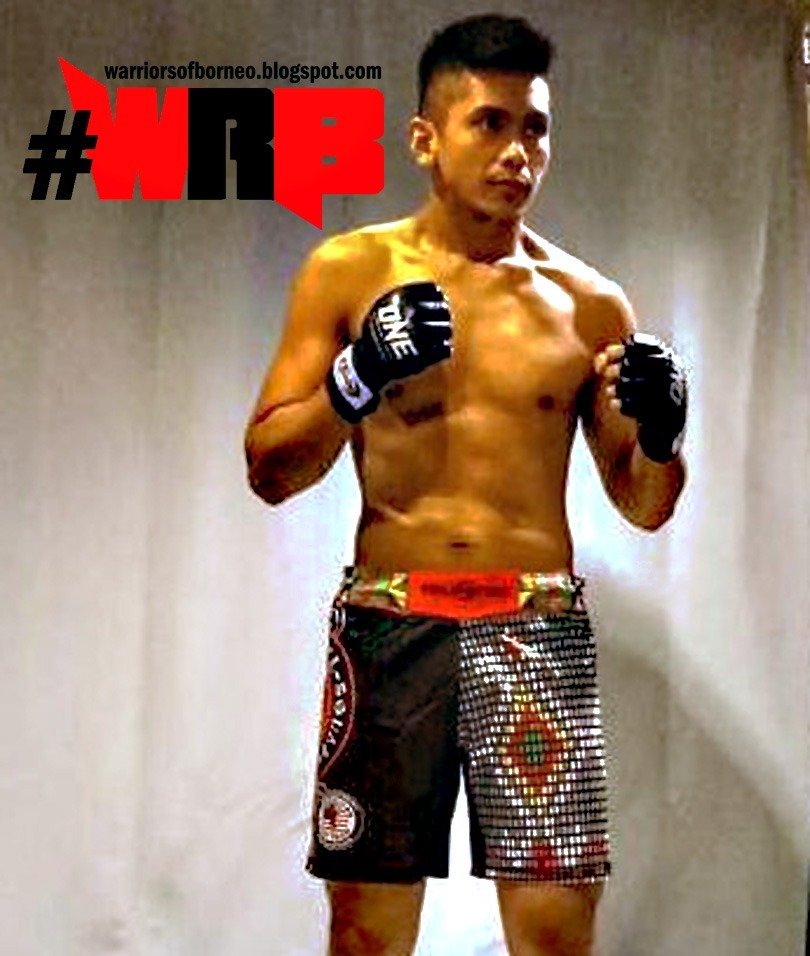 Hisyam proudly wearing the BTS fight shorts ; sporting the ethnic native motifs of Sabah