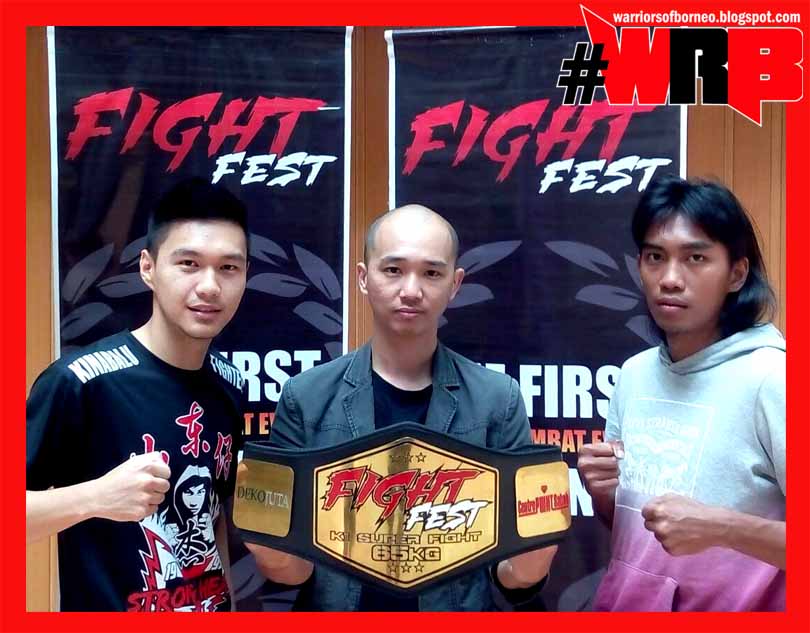 Martial arts can change lives. This certainly ring true for Mohd Reyan and Aziz Hoo Gwo Jye.
Both of them will be fighting for the FIGHT FEST IV 60kg K1 Kickboxing title belt.
They both grew up in their teenage years that was full of challenges.
Aziz is a Shandong Chinese. Shantung Chinese are predominantly Muslim and came to Sabah in the early 20th century. They were brought in by the British government as settlers to Sabah, opening up farmlands and small businesses.
He attended an all boys school of La Salle Kota Kinabalu. In his teenage years, he loved basketball. But being among all the boys and playing basketball, at times small squabble became fist fight.
His father does not want Aziz to end up at the wrong side of the law. Being a former state footballer himself that used to practice Chinese Wushu, he understand the good influence of sports and martial arts can have on a person. Also he knew that if his son was able to attend training regularly, he would not have time to mix with the wrong group of friends.
Aziz father knew one of his staff trained Muaythai at Kinabalu Fighters Gym. So he decided to check out the place. After talking to owner Johan Julian, he knew he found the right place and right people for Aziz. At 16 years of age, Aziz tasted his first Muaythai lessons.
Aziz immersed himself in it and improved under the watchful eye of trainer Randel Kadayum and coach Johan Julian. After taking his SPM exam he was selected to attend the Malaysian National Service. After the 6 months at the training camp, Aziz was happy to be back to Kota Kinabalu which enable him to go back to Muaythai training.
To save money, he even jog from his home in LIDO area to Kinabalu Fighters gym in Lintas Plaza. He love the enviroment at Kinabalu Fighters, surrounding himself with positive people that train hard and always supports each other, which slowly but surely mould Aziz into a discipline fighter.
He has more than 25 amateur fight under his feet and he remembers the first time when his coach ask him to join a tournament. He had to consult his father for approval. His father was more than willing to agree. He told Aziz that to compete is a good thing, it can build his confidence. Put what he had practice diligently into real situation. Competition will also be a gauge for Aziz to know what level he is at and to improve on weakness that he may have.
Going by the name The Shandong Kid, Aziz didn't look back and to date has fought 4 times as a pro athlete. His first pro match was in Jakarta and after that fought in Bintulu, Sandakan's Elopura Fight and most recently last year winning in Penang.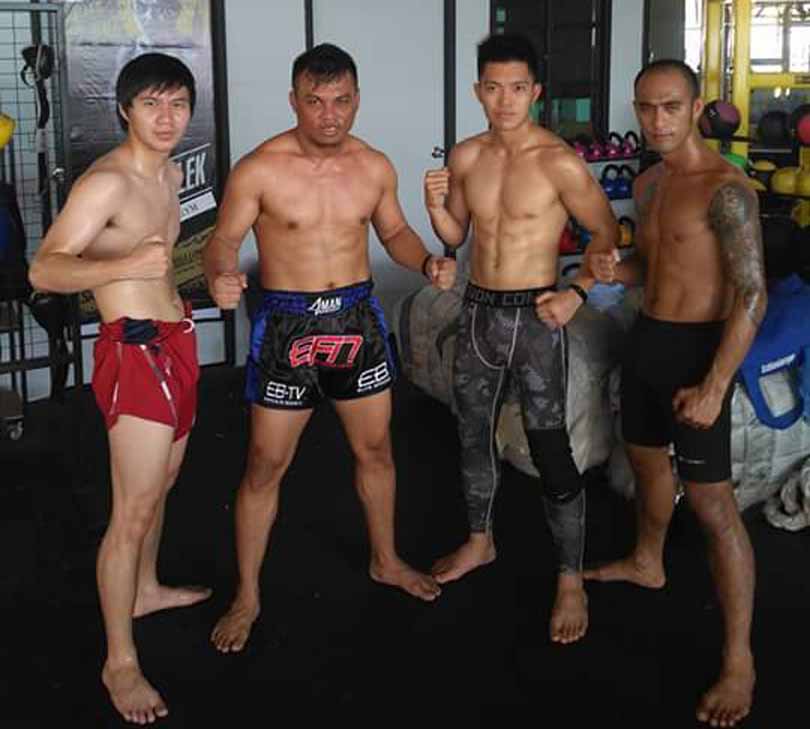 training at BCG Labuan
For this fight Aziz was in Borneo Combat Gym to train with coach Alvin Chong and Ronald Tee. Aziz also is the Muaythai coach in The Legend Brotherhood gym in Cyber Perdana but when he is not busy coaching he would help his father in his work as a repo man, …well fortunately Aziz till date has not need to use his martial arts skills to settle any dispute.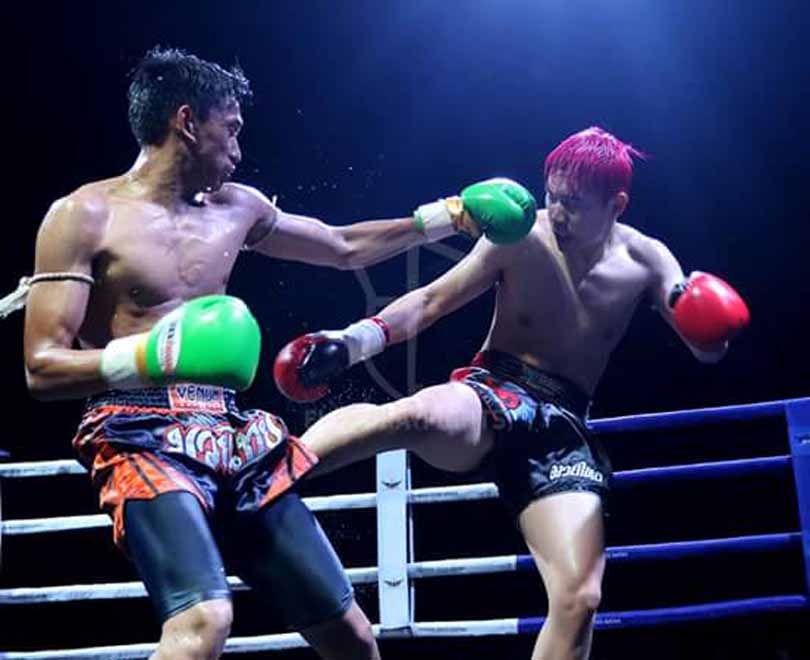 Fighting at Elopura Fight 2016
Mohd Reyan Abdul was born in Sabah but grew up as a kid that does not have a Malaysian ID. This was because his parents hold the IMM13 documents that recognize them as refugees in the early 70s escaping the war in southern Philippines.
Without a proper ID causes him to have difficulties enrolling in government school. He didn't attend high school and spent his teenage years loitering around with the wrong type of friends. This landed him in trouble with the law a number of times. He was also once slept in a lock up when police took him in for questioning as a major squabble turned into a fight which he took all the blame for.
After the death of one of his friends, Reyan realised that this type of live will eventually lead him to a bleak future. He does not have the education nor does he have the finance to get himself out of the rut. The only thing he knew he can do is with his hands and feet.
He ended up at Naga Kinabalu gym in Tanjung Aru. He told the head coach Muslee Tuah that he wants to train but does not have the means to pay for training. Muslee took him in as a student and does not charge him training fee. He felt that it's his duty to mould this young kid into a good person through Muaythai.
From there Reyan has amassed over 30 amateur fight and has build friendship among the Muaythai fraternity. He goes by the fight name 'Pemburu Bayang' ( Shadow Hunter in english ), a name he uses for his FB initially base on a popular Malay movie; but when it was announced by Kaza Musa in a Muaythai competition years ago, the fight name has since stuck with him.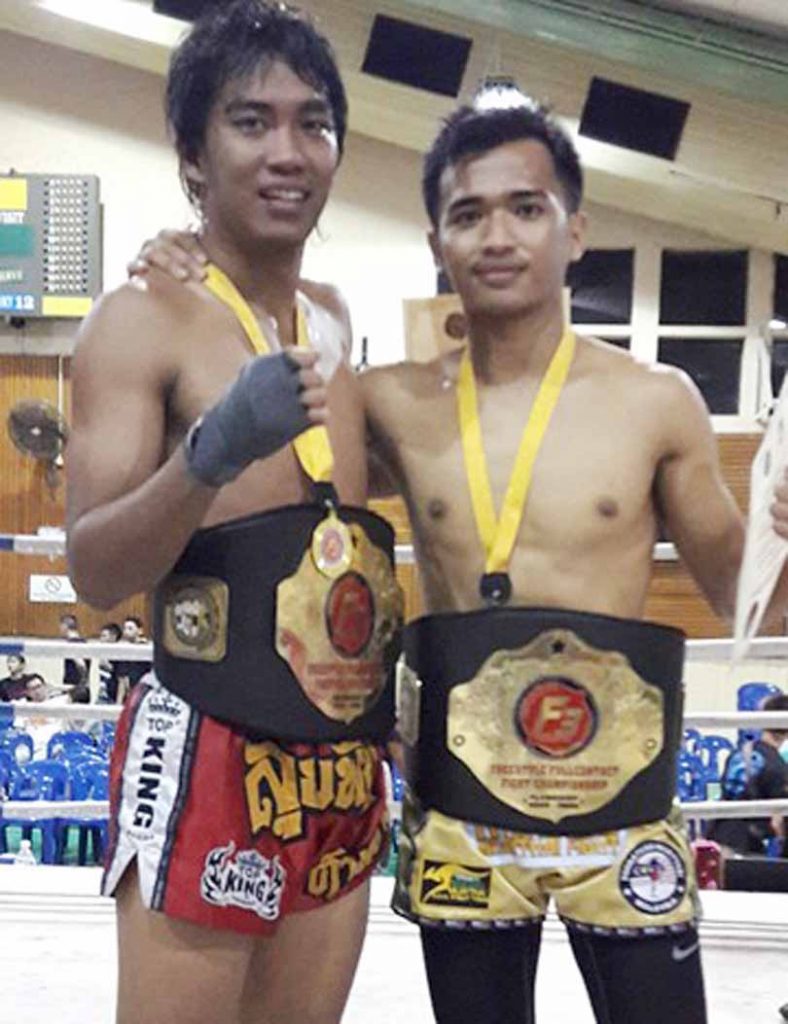 winning the 60kg title at F3 Championship
He won his first belt in F3 Championship in 2014, but his biggest success so far was reaching the grand finals of Muay Fight in Dec 2015. It was a league format and to reach the finals was already a great accomplishment as he had to fight through more than 12 fights among the best 60kg nak muay in Malaysia. In that finals, Reyan fought Jordan Boy and lost by points due to his injured ankle.
Reyan has since became a member of Kinabalu Kings in Petagas. In 2016 Elopura Fight, Reyan won his match against Nizam of Buaya Saka. In 2015 F3 Borneo Series Reyan defeated one of the top 60kg nak muay in Borneo – Randal Kadayum. In Dec 2016 a rematch between him and Randal Kadayum for the Sabah Fight special trophy saw Reyan succumbed to a liver kick.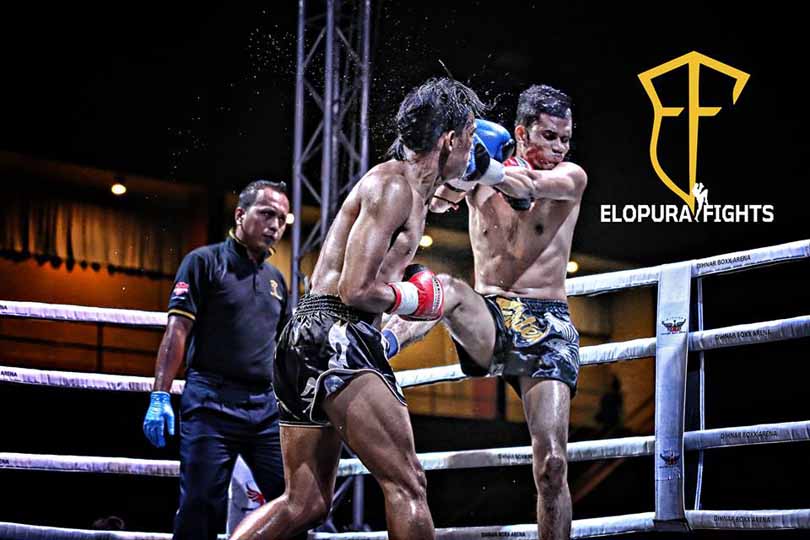 in Elopura Fights 2016
Then in May this year in D1FC : PRIDE of RHINO WARRIORS, Reyan was in the main event vs Philipines top fighter Ramon Saluya. In that fight Ramon's background in Kyokushinkai Karate saw him executing a signature Kokushinkai kick Do Mawashi Kaiten Geri that KOed Reyan.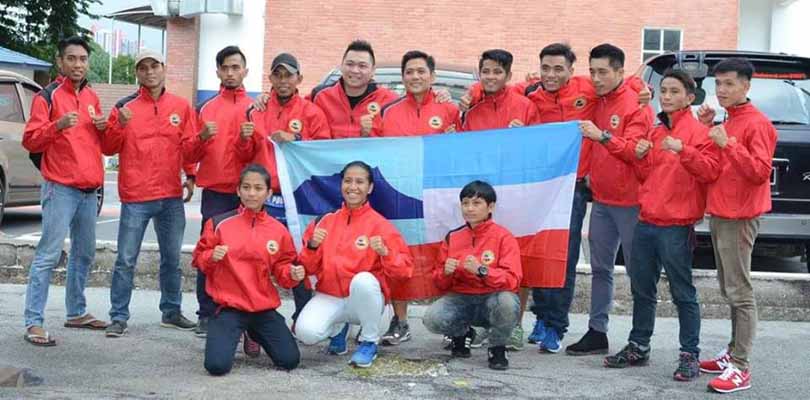 Reyan in the Sabah state Muaythai team 2016
Reyan does not let his pass results define his future. He is thankful of what Muaythai has given him in life and at only 23 this year he knows that the best years are still ahead of him.
Looking to bring back the K1 Belt, but fighting a friend is definately something he does not planned for himself. He just followed his coaches instructions and will do his best in the ring to showed them that the training they gave him and the knowledge they have impart on him are put to good use.