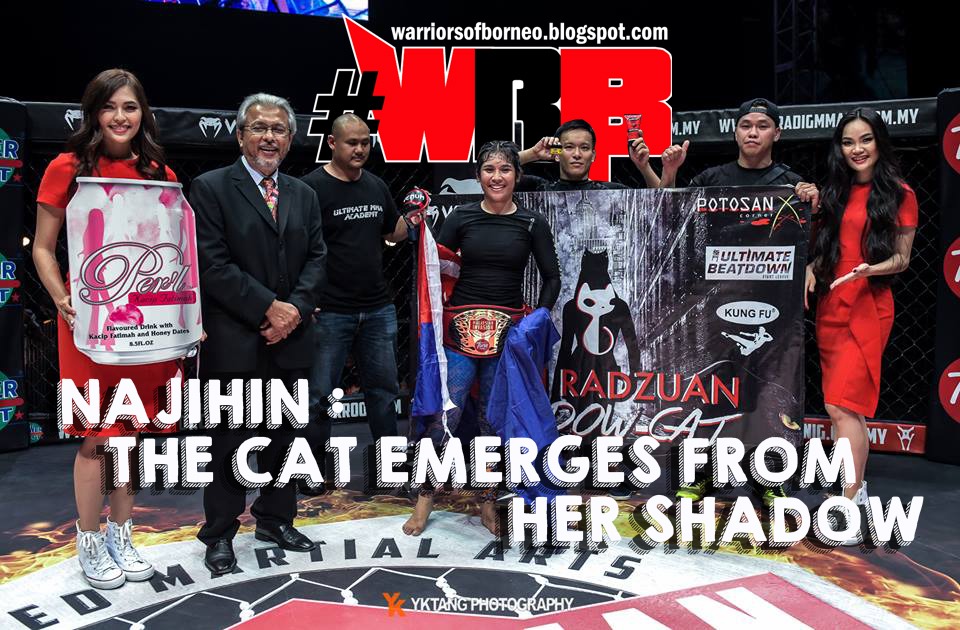 She came, she saw the belt, & she took it to Johor. Hayatun Najihin is Johor's answer to a comeback in MIMMA's title. Johorean Chong Yi Jing was the first MIMMA middleweight champion in 2013, defended it in 2014 but he didn't defend the belt due to injury in 2015.
Tee Jac Yoe another Johorean made it to the 2015 grand finals of bantamweight bout but it ended in no contest decision.
This year, Jihin made sure the belt made it back to Ultimate MMA Academy (UMA), which happens to be Chong & Tee's gym too.
Last year Jihin qualified for MIMMA 3 after the tryout in Johor but stumbled at the ladder match. But it was not a quiet year for her as she amasses two win in Ultimate Beatdown, 16 & 18, beating an amateur muaythai champion in the process. But her she got her eyes on Joanna Yap's belt.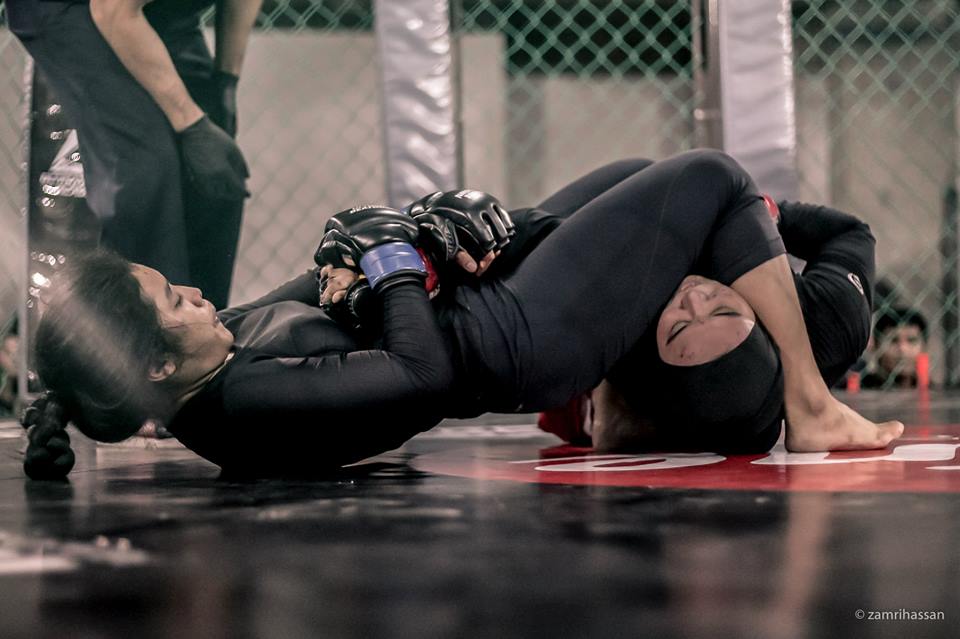 Jihin in her Ultimate Beatdown 16 submission win
At only 18 this year, Jihin 's first exposure to martial arts was as early as kindergarten, where her parents send her to Silat classes. But it didn't last long and it was just a fun activities for her. In high schools, Jihin was active in netball and hockey. She's was also regular in track and field event especially in 100M, shot put and high jump.
It was when she was 15, she was engrossed with Korean TV reality show ROOMMATE. In that show, one of the star was Song Ga Yeon, a Korean female MMA fighter made a great impression on Jihin.
As she learn more about Song, Jihin came to know what MMA is all about. Watching Song really inspired Jihin to learn MMA. MMA is so empowering for women, and she wants that ability to defend herself and be fit at the same time. So she started Googling for the nearest MMA gym to her place.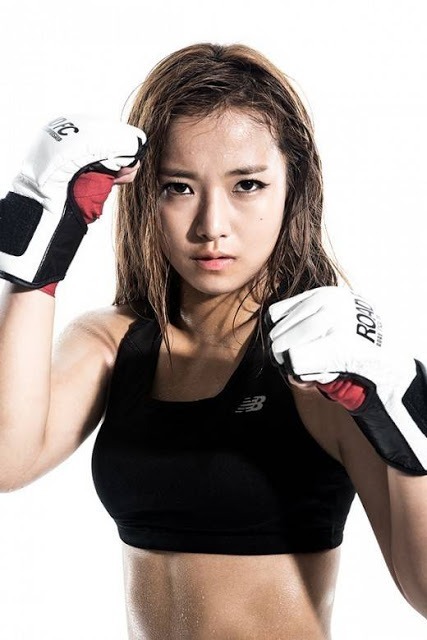 Song Ga Yeon – Koreean Female MMA superstar
Ultimate MMA Academy (UMA) kept popping up. But Jihin being the careful one did not sign up immediately. She followed UMA's FB page. She keep track on their activities for 1 month before finally making the decision. Picking the right timing on her birthday, Jihin asked her sister to let her sign up as a birthday present.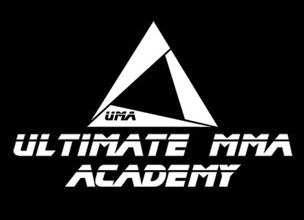 Her family does not know much about what MMA was, but they did not deter her, in-fact they encourage her as it's a good form of exercise.
Melvin Yeoh, founder of UMA describe Jihin as a kind and friendly person.
"She has a pure heart and very discipline for a teenager. She has natural talent, very rare to see such talent here locally."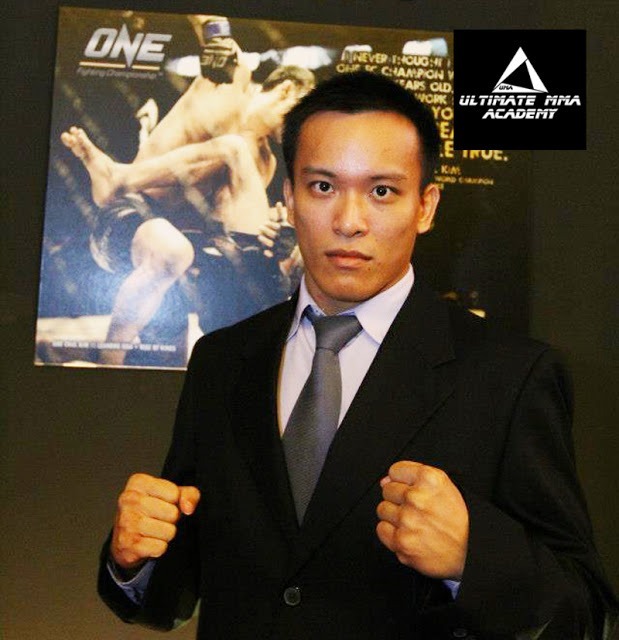 Melvin is no stranger to MMA. If he noticed the talent in someone, it means that someone has the potential to go far. This comes from the fact that Melvin is highly regarded as the pioneer of MMA in Malaysia.
He is also one of the earliest batches of Pro MMA fighter to fight at ONE Championship. UMA was the first of such gym back then when most people are still not aware of what MMA is.
Melvin is also the founder of the longest running MMA promotions, Ultimate Beatdown, which is based in Johor.
Melvin recalled meeting Jihin when she first joins UMA in Sept 2014.
"First I langsung tak layan her because all newbies is layan by my assistant coach Isaac Yap. " (At first I didn't pay attention to her at all, as all newcomers are taught by my assistant)


"I thought she is just another plump girl coming here to lose weight, and I didn't really have the confidence to see her stay long. I teach classes for advance students, some of the newbies will get a chance to attend my class when they do well in the beginner's class. 
Jihin earn her spot. When she got to my class, I ask her to do drill of 50 reps… she didn't give up. I was quite amazed that for a teenager in form 4, she was very determine and hardworking. She come to class every day even though she stay 40 minutes away. "
Jihin progress really well after more than 1 month of training, and Melvin began to pay attention to her. It was Jihin who approach Melvin herself to ask for a muaythai fight. Melvin agree as he believes this will give her motivation to train harder and it's a good way to gain valuable experience.
Jihin lost that muaythai fight. But it didn't disheartened her. It pushes her to join more competition, in BJJ and muaythai. Melvin moved Jihin permanently to his fight class. He was really impress with Jihin 's progression. He describe her as having natural strength and talent; she just need guidance to enhance that area and grow her skills.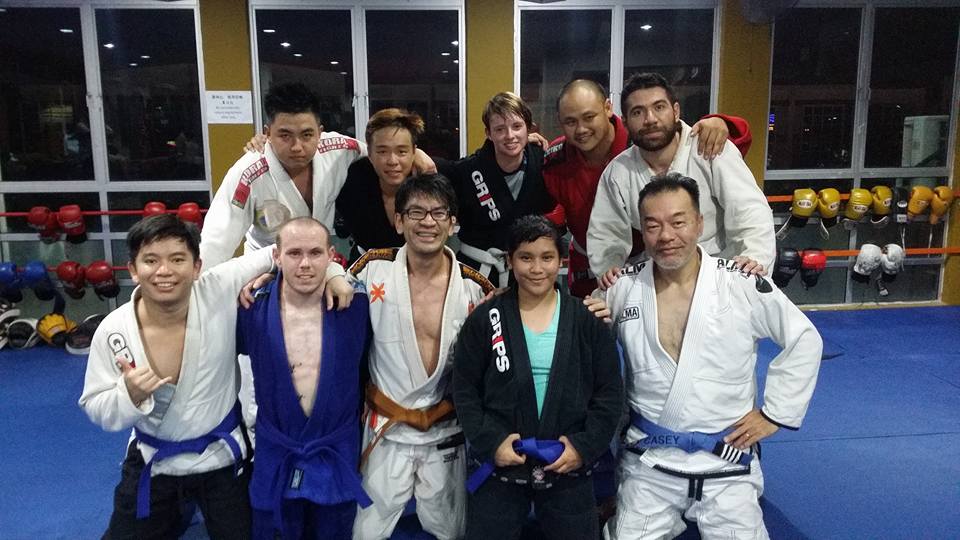 Training among the best in UMA
"My gym's BJJ coach Roger Chan seek my approval to upgrade Jihin to blue belt after less than 1 year training. I told Roger, yes no doubt about it.

As a new blue belt, she was able to win 2 silver medals in BJJ comp. She didn't get the gold not because she got submitted, but got DQ lost due to opponent make her stall the fights"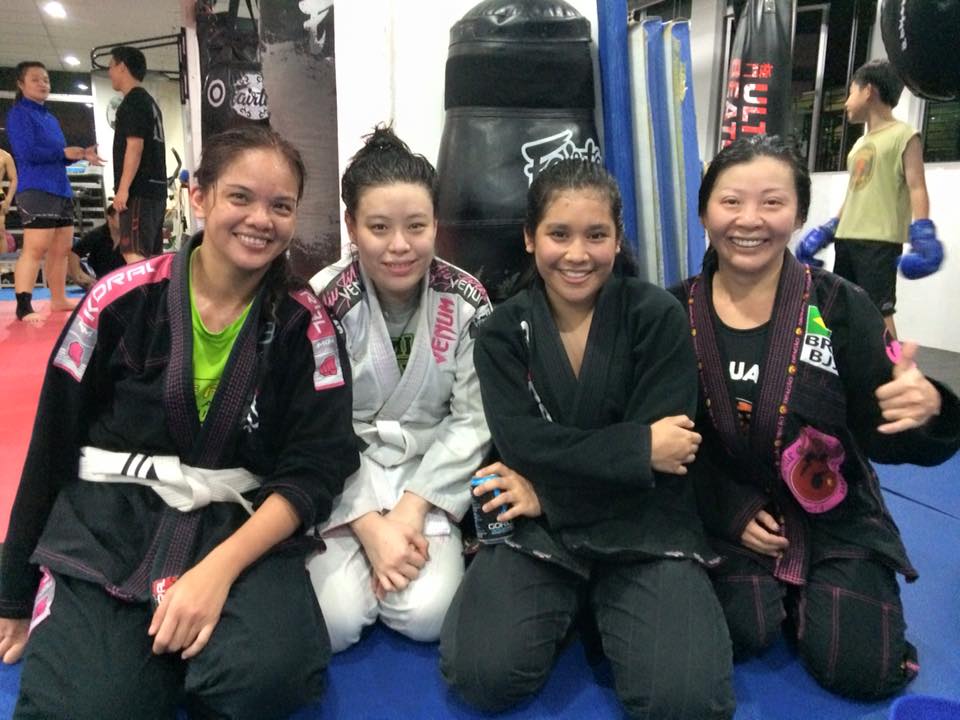 The ladies of UMA


Asked on who is the most influential in her development in martial arts? Jihin explained,
"Coach Melvin Yeoh, the pioneer of Malaysia MMA. He is the most influential even though at first he just look at me like a random girl came to the gym only for a few months."


For MIMMA 4, Jihin took 3 wins to enter the grand finals. Her first win was over Nur Sabrina with a submission in round 1. Meeting Koh Ling Bee in the semi-finals she overcame her with another submission win by arm-lock.
In the contender fight, Jihin again was match with Nur Sabrina. This time, the improved Sabrina gave her a tougher fight. But still Jihin was able to repeat her victory with a unanimous decision win.
Jihin was a bit perturbed when she won in the Contender Fight, as the crowd was behind the more popular Nur Sabrina. As she goes back to her Coach after the win, she asked Melvin whether she deserve to win, Melvin gave her a pep talk,
"The crowd are like grass in the wind, they swing to whomever is popular. You did the job and got the win. You deserve to be in the grand finals."
In the grand finals, going against Joanna Yap, a high level BJJ exponent known for her grit and toughness present the strongest challenge for Jihin.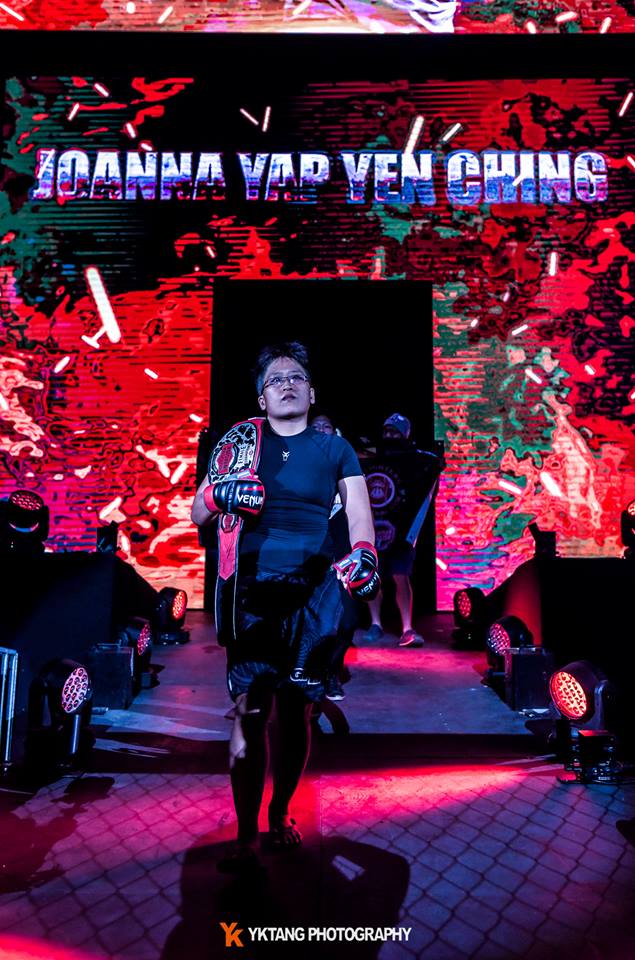 Joanna Yap
In round 1, Joanna rush forward looking to clinch. Jihin back step and deliver knees. Jihin got Joanna down and began to deliver blows from top. Throughout the round, Jihin switch from side control to half guard and full mount. Joanna was able to control Jihin's posture from landing too many hard blows, but it was clear Jihin was dominating. Joanna survived the round with an escape from Jihin's arm-bar.
2nd round, the early minutes was also a grappling match, where both fighters switch position against the cage and exchange knees. Jihin was able to hip throw Joanna but Joanna was able to defend and quickly got to full mount. But Jihin control her tight and Joanna was not able to posture to execute significant strikes.
3rd round was the same story as both clinch early. It was a game of control but Jihin had the edge in strength. A knee from her got Joanna to the canvas and Jihin maintained top position till round ends.
4th round, again Joanna rushes in. But this time Jihin was able to control her advances with couple of strikes to her head. Joanna was tough as nail and absorbed those punches and clinch. Both again exchange knees. Jihin undoubtedly has the stronger upper body strength and with double over brought Joanna down. Jihin got the mount and delivered ground and pound, connecting many hard shots. Last ten seconds Joanna with the sweep but did nothing to turn the tide.
Again the start of round 5, both women clinch and went against the cage. Joanna with double under could not bring Jihin down as Jihin creates too much space, as she throw knees. They fell and a scramble followed with Jihin on top. Joanna then got a reversal and into Jihin's full guard. Few body shots from her but Jihin was actively controlling Joanna's wrist and head to prevent any significant strikes.
It was evident that Jihin dominated all the rounds and was declared the new MIMMA Women Pride Champion 2016, by unanimous decision.
Being the youngest in the family of 5 siblings, Jihin was rather protected. In the beginning only her brother watch MMA and understand about the match, but as Jihin progresses in the prelim of MIMMA 4, all her family members will gather to watch her fight in front of the TV.
For her grand finals match, even her aunts, uncles and cousins gathered to watch her fight. Jihin's mother was extremely nervous; and looked away lots of time but she was ecstatic to see Jihin won the championship without any bad injury.
Asked on her game plan for that night, Jihin explained,
"There was no game plan and I'm always ready for every fight, what I've learned from my coach, the drills with my teammates, I use it inside the cage. Once I step into the cage, I know what I'm going to do, even if it's not a good performance but at least you can see I put an effort on it."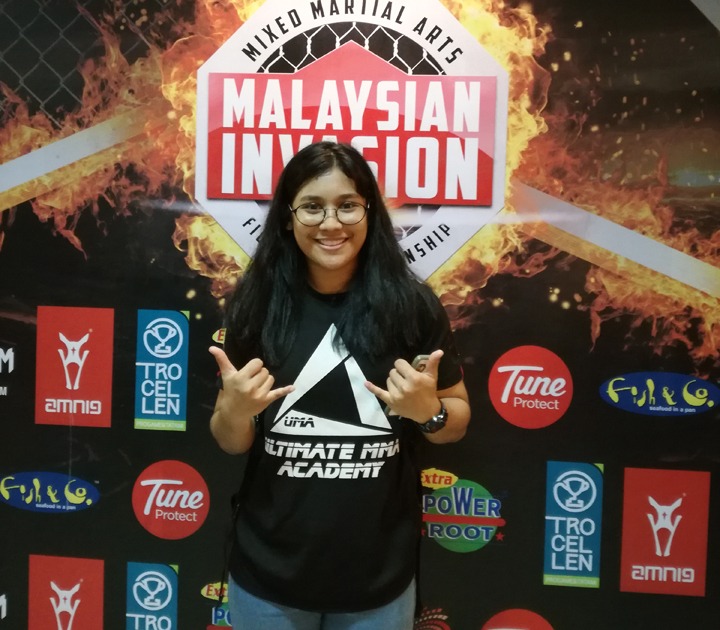 Jihin's opinion on the quality of Women fighters in MIMMA 4, is that she believe everyone stood a 50-50 chance. It depends on who had the bigger drive and who was hungrier at that moment.
I wanted to know what went through her mind at the beginning of the fight.
"When the first bell ring, I straight away took the center of the cage, at the same time Joanna charged in. So I started to panic, but I tried to control it and I did. 
When break time, I told coach I cannot do it anymore, he then slapped me, but not so hard LOL. Immediately I asked myself, what the heck am I thinking saying things like that? I went back in and got the job done….annnnnd I made it!"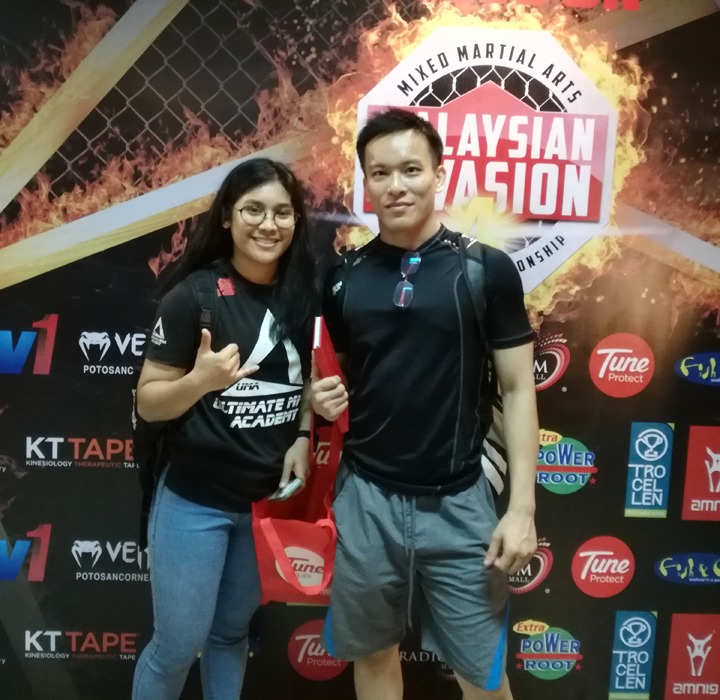 with her coach Melvin Yeoh


On what was her motivation to win the belt?
"Coach is my motivation. Every day I get scolded by him, he keep saying every one underestimate me and look at me as a random Malay girl bla,bla,bla…. 
He kept repeating it to me every day. Until I can predict what he's going to say. This pushes me to proof to that every one, that they are wrong! I'm not some random girl who trains in the gym…I will be the champion!" 


Indeed she has become one.


Melvin does not sugar coat his advice to Jihin. Jihin does have a rebellious character in her, where she will question back constantly. Which many times led to many small arguments between the two. But it's all with good intention, as Melvin understands her character and he knows he needs to push Jihin hard to let her excel.
I asked Jihin how she feels being a champion. And how did she celebrate the victory?
"It feels strange… I mean, it's a good strange. Suddenly everyone come and talk to me, congrats me; and some of them who never talked to me throughout the year LOL.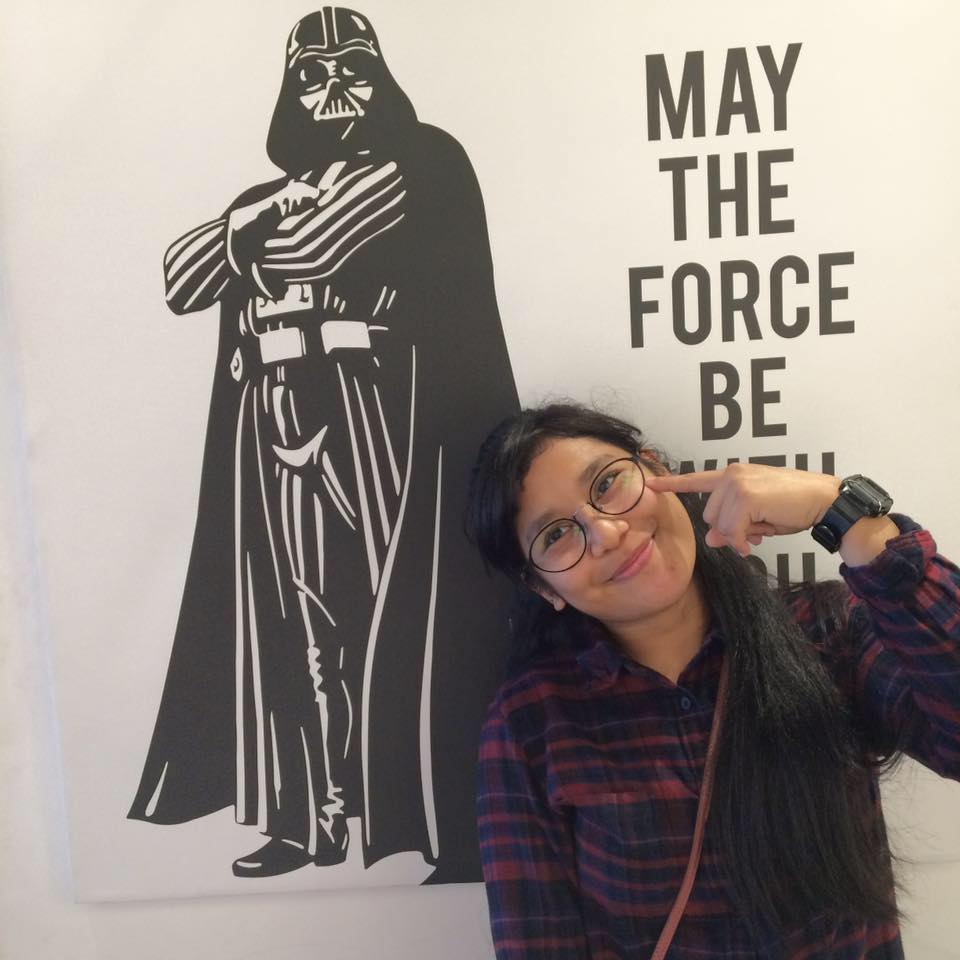 I'm a rather shy person, I won't talk to a person I'm not close to. After the fight I did not celebrate. We went to eat, then go back hotel room and had a good rest, finally! All the pressure and anxiety…disappeared!"
So how does her nick name Shadow Cat came about?
Jihin works as a vet nurse. She love animal. At the same time she came to UMA, the kitten was at the gym. Jihin has grown close to the cat and took care of her and play with her a lot. With Jihin's fondness of wearing black, Melvin picked the name Shadow Cat for her.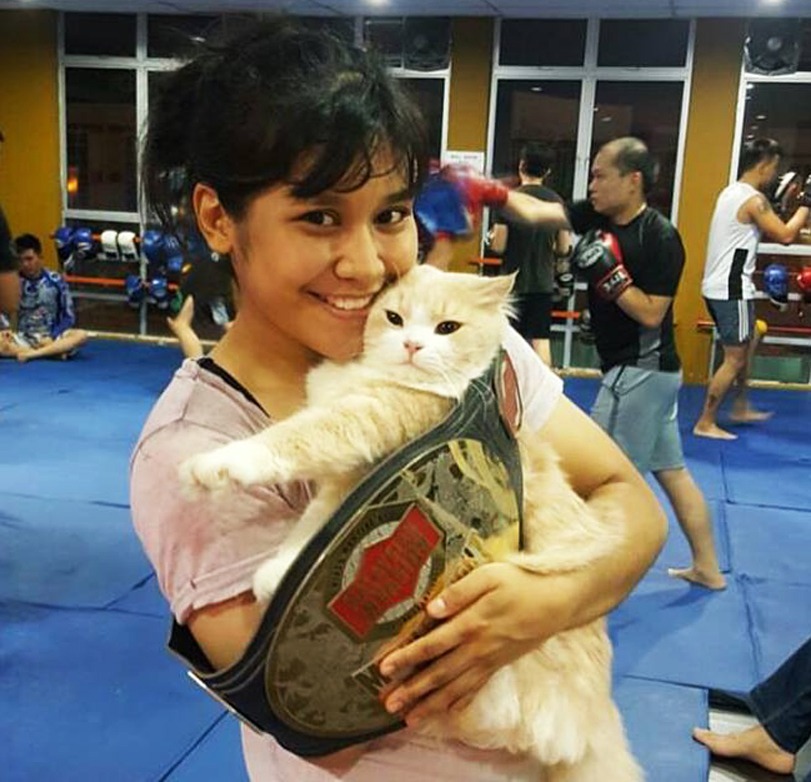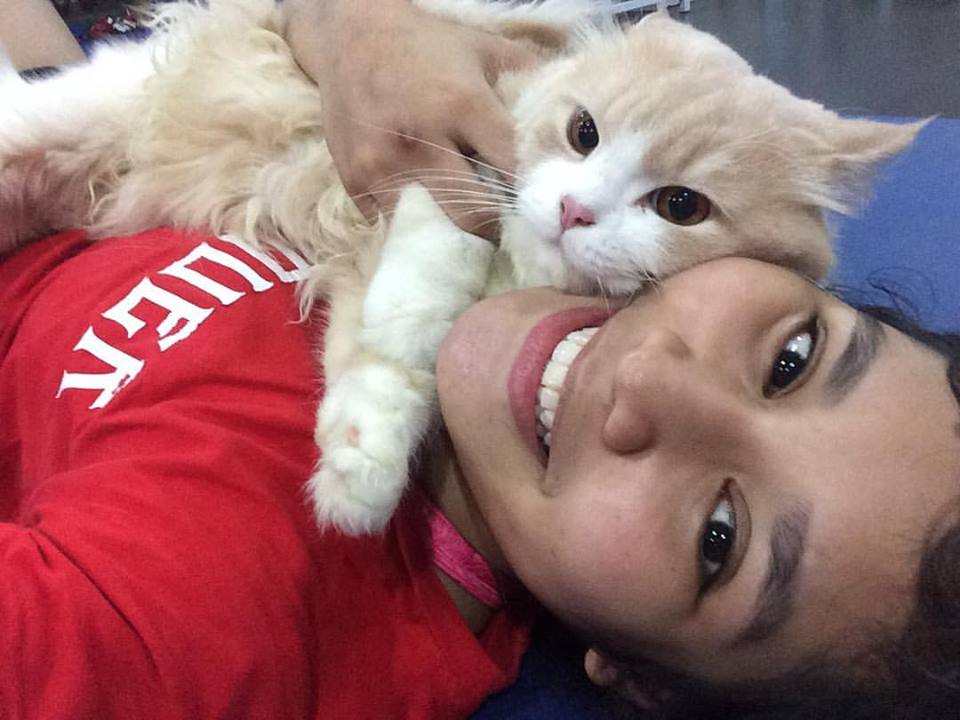 with her favourite friend in the gym…Overmeow
Melvin knows Jihin has a great future ahead of her in martial arts. At such young age, she already achieved the pinnacle of Malaysian amateur MMA. The next step is harder, defending a belt against other hungry fighters out there certainly needs harder effort.
But Jihin is in for the ride. She is adamant to keep progressing and make sure the belt remains in Johor. The Shadow Cat will move stealthily among the shadows and strike hard when every one's guard is down.