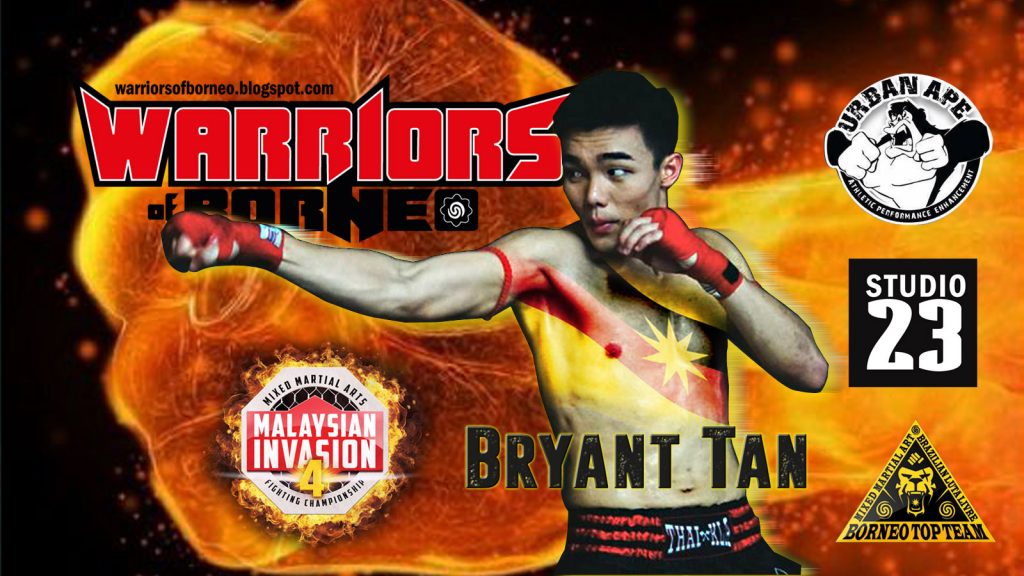 Love is a powerful emotion. It can motivate & inspire and move people to do unthinkable things. Bryant Tan uses it in a positive way. Ironically the lack of love causes him to do so. In college during his business studies Bryant fell in love. He was head over heels over a girl. Thinking that the girl was going to be his soul mate he was definitely crushed when the relationship fell apart after 9 months. Brokenhearted and very much overweight he sulked for 2 months. Then Bryant decided to make something out of this. He made a decision to shed off the extra pounds. Knowing that an image change will definitely boost his confidence and inflict sweet revenge on his ex.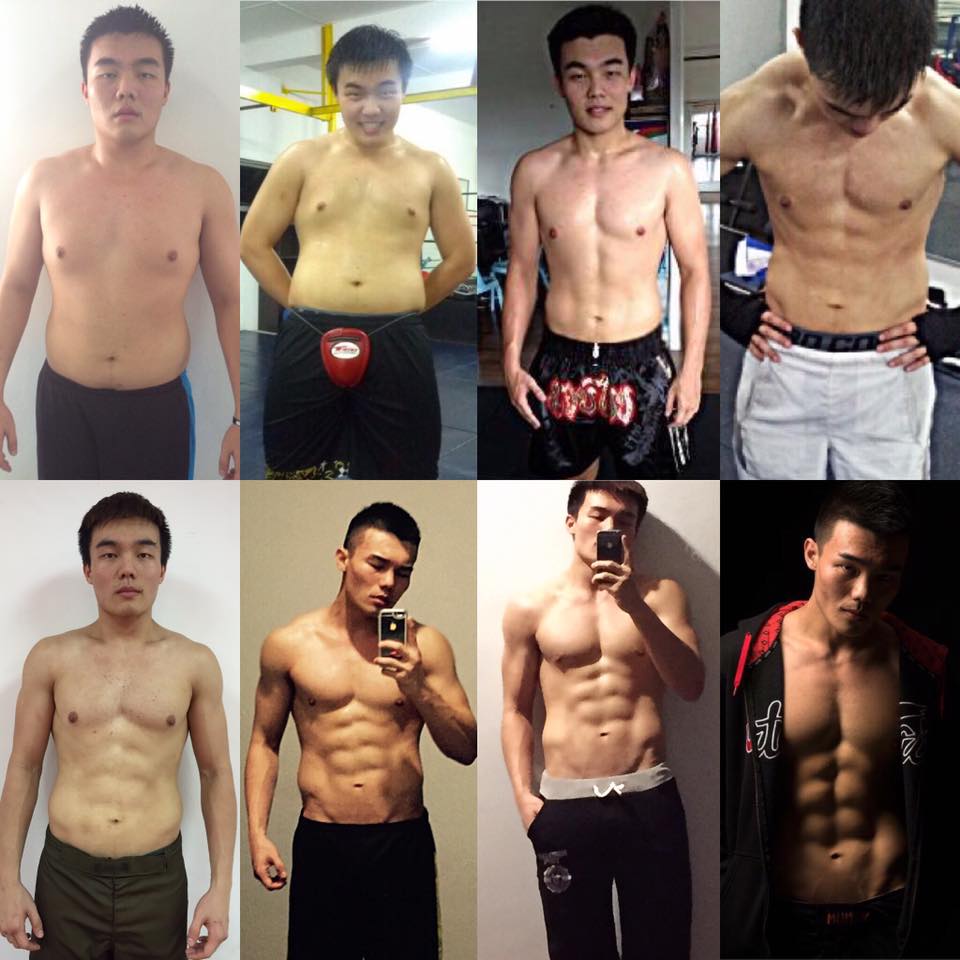 Bryant's journey of martial arts transform his body to a fighting fit machine
In 2012 July, meeting his first Muaythai coach Lucas Lau of Borneo Top team was a crucial point in Byant's life. Lucas mentored him in his weight loss journey. Lucas pushed and challenged Bryant to go beyond his comfort zone. Seeing the potential in him, Lucas signed Bryant up for his first Muaythai fight. Being the only son in the family this did not go down well with Bryant's parents. Although feeling disheartened for not receiving his parents full support, Bryant continued training. After much persistence training with blood, sweat and tears he was fruitful in that first fight, claiming a 1st round KO victory.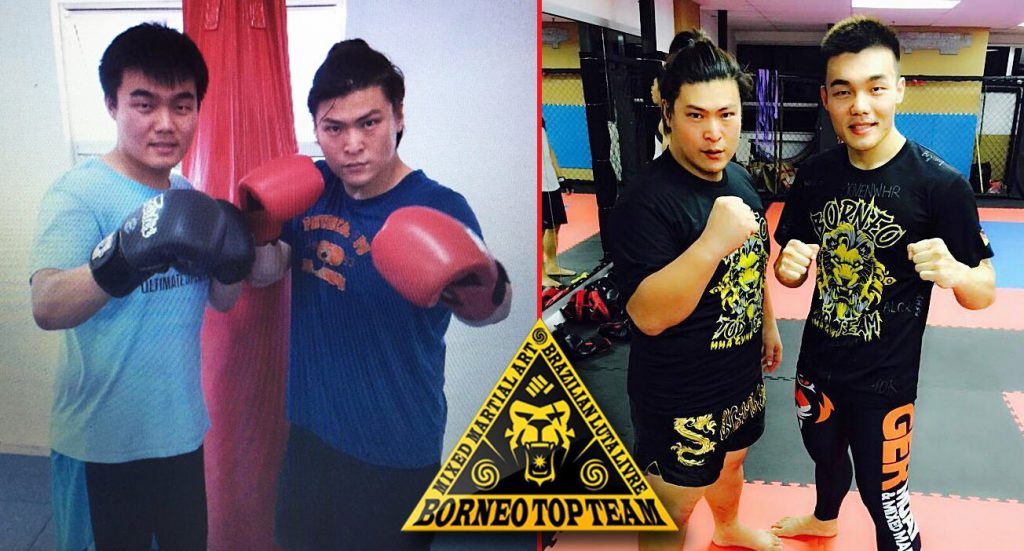 with Lucas Lau (L) as Bryant began his martial arts journey and (R) after a year of training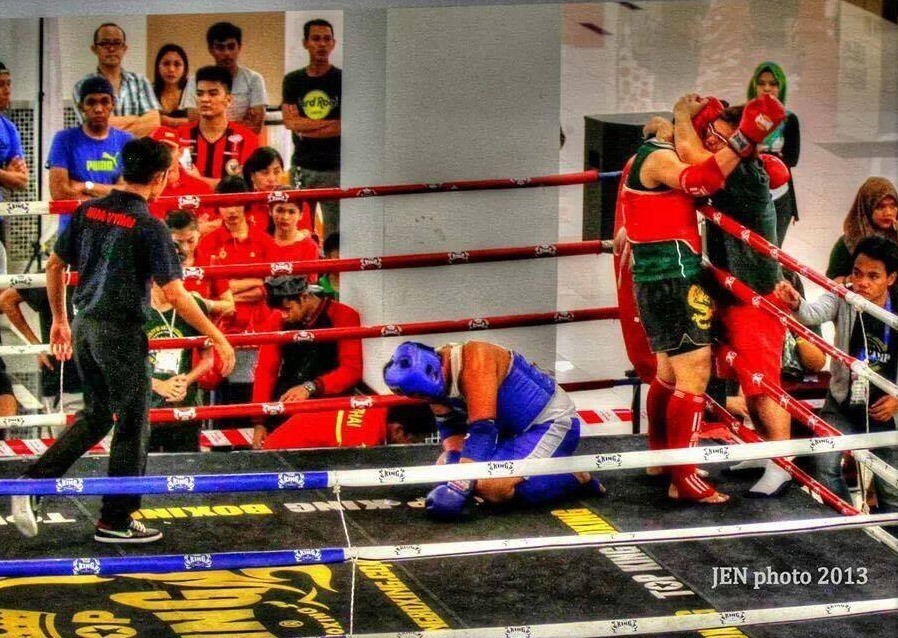 victorious in his 1st Muaythai fight
After tasting success, Bryant realized that martial arts has a positive effect on him and he decided to leave behind the ego of revenge and focus on achieving more in his martial arts journey. His success caught the eye of Sarawak boxing coach Fred Mandagi & selected him for the 2014 SUKMA Games in Perlis. But Bryant had to miss it due to his commitment in his studies.
Bryant was born in Sibu, Sarawak and grew up in Daro, a small village accessible by 2.5 hours ferry ride from Sibu. His family own a farm in Daro, planting vegetables and bee farming and bird nest. Bryant graduated in Diploma in Business Management from Methodist Pilley Institute(MPI), Sibu.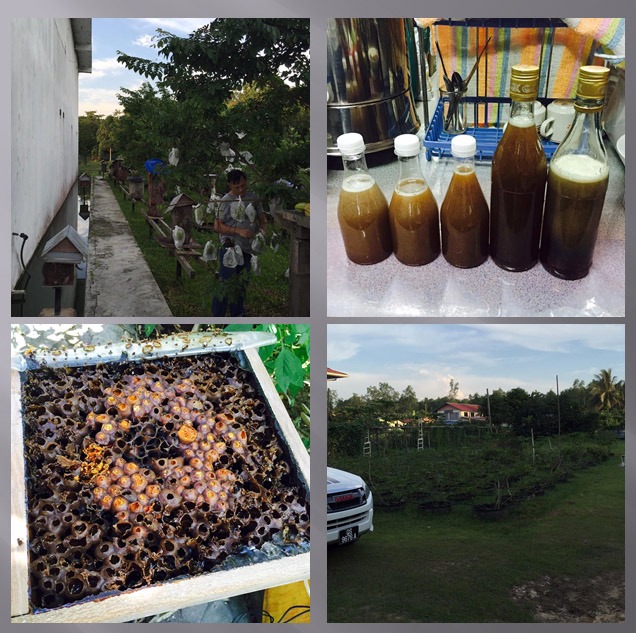 Bryant's family farm in Daro Sarawak
In 2013 May after finishing his studies he decided to further his martial arts training in Thailand. Coach Lucas recommended Chiang Mai. Where the hard core pure Muaythai training are at. Bryant ended up in Santai Muaythai, in the rural area of Sankamphaeng, Chiang Mai; touted as the most technique orientated Muaythai Gym in Northern Thailand.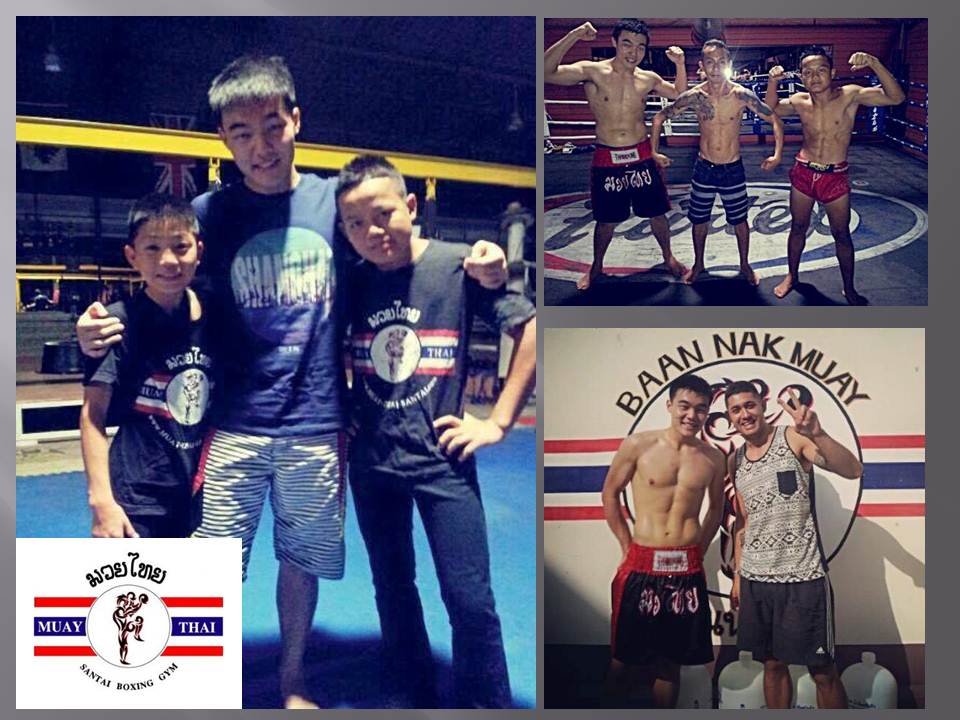 Memories at Santai Gym
At only 19 at that time and travelling for the 1st time in his life on a plane to a foreign land where not much English is spoken, it was certainly a nerve wrecking experience for him. But his mind was set. He was not on a holiday, but on a lifetime learning experience. Living there for a month of pure intense Muaythai training.
MIMMA4 is Bryant first foray into MMA. At only 22 this year, he is now part of the Urban Ape & Borneo Top Team family. Training boxing at Urban Ape under Coach Fred Mandagi and adding grappling into his arsenal at Studio 23. As for his strength and conditioning, it is being taken care of by the very highly qualified Sean Trevena. Bryant is working as a personal trainer at Urban Ape and heading up their Fightclub along with coach, Fred.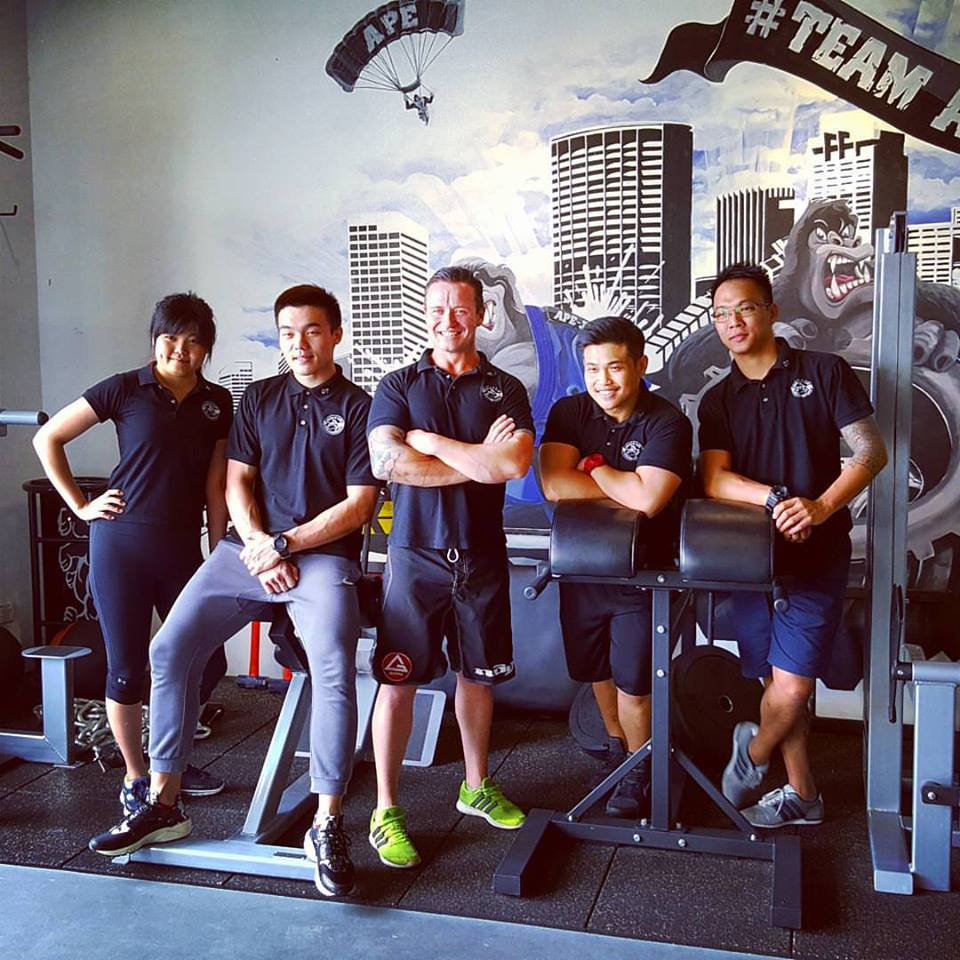 with the Urban Ape team . Sean Trevena ( middle ), Andrew Liew (2nd from right)
Hi Bryant, congrats for reaching the contender fight at MIMMA4
Please give us a profile of Urban Ape?
The Urban Ape concept was originally envisioned as a strength and conditioning brand for youth rugby, developed by one of the partners while he was living in the United Kingdom. The A.P.E stands for Athletic, Performance, Enhancement and the Urban part, well that simply comes from the fact that the clients we mainly work with are from cities or towns.
In 2012 my bosses, Olivia, Andrew Liew and Sean Trevena worked together on another project in Kuching and they realized that Urban Ape was a catchy and unique sounding name. They decided that by setting up a training facility that encouraged people to enhance their lives by performing more athletically they could provide a service to many people while helping to promote health and fitness in Sarawak.

Urban APE's mantra is "Devolve 2 Evolve" and at its very core we teach people to value health and nutrition so that they can live a healthier life.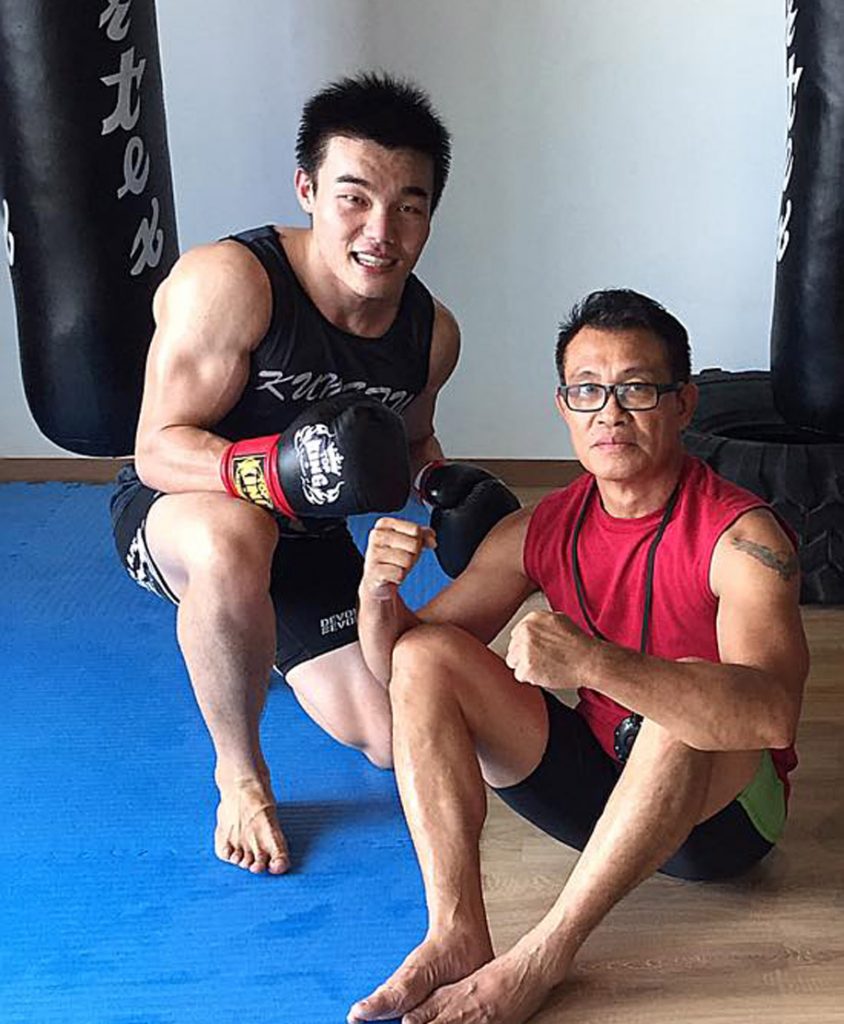 with Boxing coach Fred Mandagi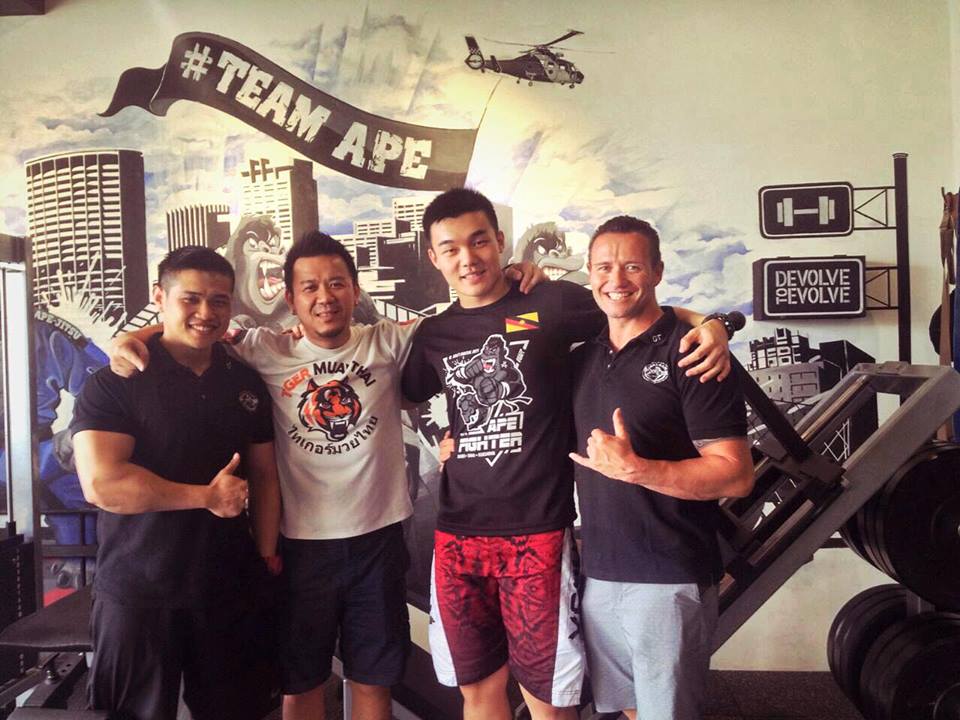 The services that we offer are wide and varied and include everything from 1-to-1 Personal Training, through to our recently launched Urban Ape Fight Club #UAFC where I and Coach Fred (he's the main man when it comes to all things boxing) head up the classes.
What motivates you?
I believe in continuing my MMA journey because I believe in living a life with no regrets. To live life to the fullest and not miss out on any opportunities. The last thing I want happen is to be 60 years old on a rocking chair and not knowing what it feels like to be in a caged MMA fight. I also get a lot of motivation from my coaches and YouTube motivational videos.
I believe this is your 1st MIMMA right? Any other martial arts competition u have join before?
Yes, as far as MMA competitions goes, only MIMMA. I joined an amateur Muay Thai fight once and 3 professional Muay Thai tournaments. I was also chosen to represent the Sarawak State boxing team during SUKMA XVII. But because of my final exams, I couldn't make it to the fight at Perlis.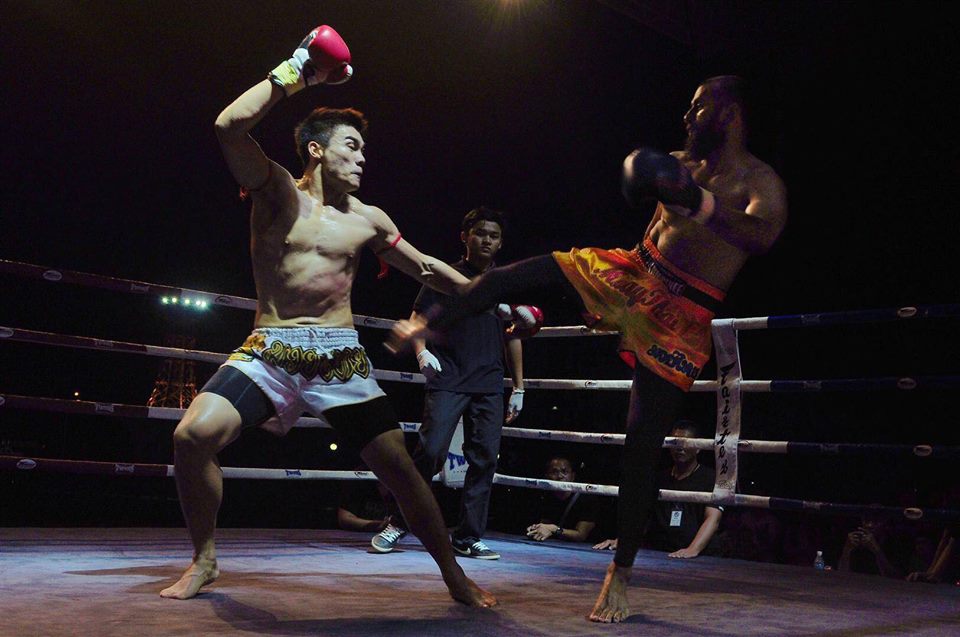 Fighting in Pro Muaythai

Your strong area I believe is Muaythai right?…What about grappling?
Yes, I had been trained mainly in Muay Thai for 4 years, Boxing for about 1 year and most recently BJJ about 1 year. I'm looking to go into Taekwondo next potentially.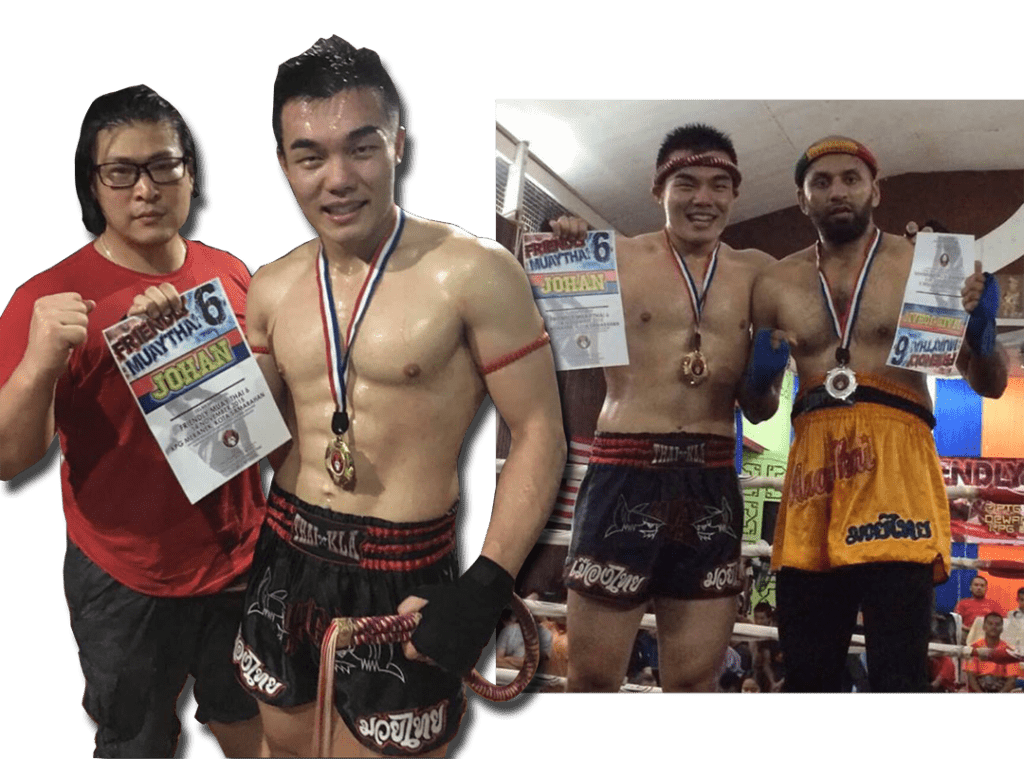 winning his pro Muaythai match vs a tough Pakistani opponent

Who help you most in during your fight camp? And why?
The person who help me most in my fight camp there's a few people. One is Sean Trevana, he was my strength and conditioning coach, who provided me with all the S&C program. Next, my boxing coach, Fred, he has over 22yrs experience in teaching boxing. He trained my stamina, speed and agility. Then, Andrew was my mobility trainer and helped me with muscle pain release and rehabilitation. Chloe Tay my flexibility trainer, she trained me with yoga. And lastly Albert Lim from Studio 23, my BJJ coach, he is a BJJ brown belt. He has had a huge impact in my preparation training. Especially when it came to my game plan on what to do and not to do in the MMA ring. I believe fight psychology is critical and that 80% of all success, especially in MMA is due to this, only 20% is about your stamina, skill, strategy.


What is the toughest fight so far for you?
I believe every fight I fight becomes tougher. Because I constantly remind myself that I'm not in competition with just my opponent, but also myself. I will always watch my fight replays and constantly improve myself, especially when it comes to my weaknesses, and turn my weaknesses into my strengths. I would say that's my secret or any other fighter's secret to success.

As a Sarawakian…and just celebrated for 1st time Independence Day on 22 July…how do you feel representing Sarawak in MMA?
I feel pretty proud actually and humbled for the opportunity. I also want to take this chance to thank all my supporters, followers and my haters. You all are my source of motivation.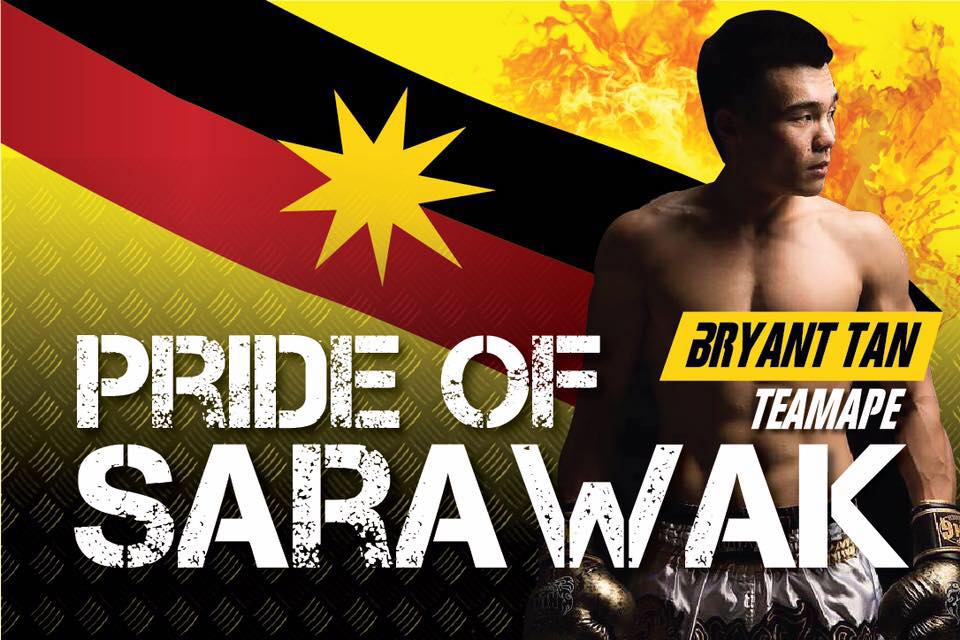 Please share with readers what is your personality like?…how do you describe yourself?. What is your principle in life?
I would guess I'm a pretty nurturing person. I believe in the importance of trust and relationships between my family, friends and especially my coaches. But at the same time I value the importance of freedom and success. I might be young but I think I am pretty mature for my age. I value respect, the giving and receiving of it. Finally, my main principle in life is the Principle of Discipline and Being Patient. Consistency over time, is what guarantees success, whether in the ring, in business or just life in general. Lastly, be confident. Confidence is the KEY to success
Bryant's path to the MIMMA4 Contenders Fight on this 3 Sept 2016 is a win over Richael Amatus of Sabah. Beating Penang's Tan Chun Keat in the quarter finals and a win over Mohd Samsuri of KL in the semi-finals. Bryant will face Faiz Faisal in the Contenders Fight to determine who the worthy opponent to face defending middleweight champion – Mohd Meeraj.
MIMMA4 Contenders Fight will be happening at Paradigm Mall on 3 Sept 2016. Or you can catch the live streaming on  malaysianinvasion.com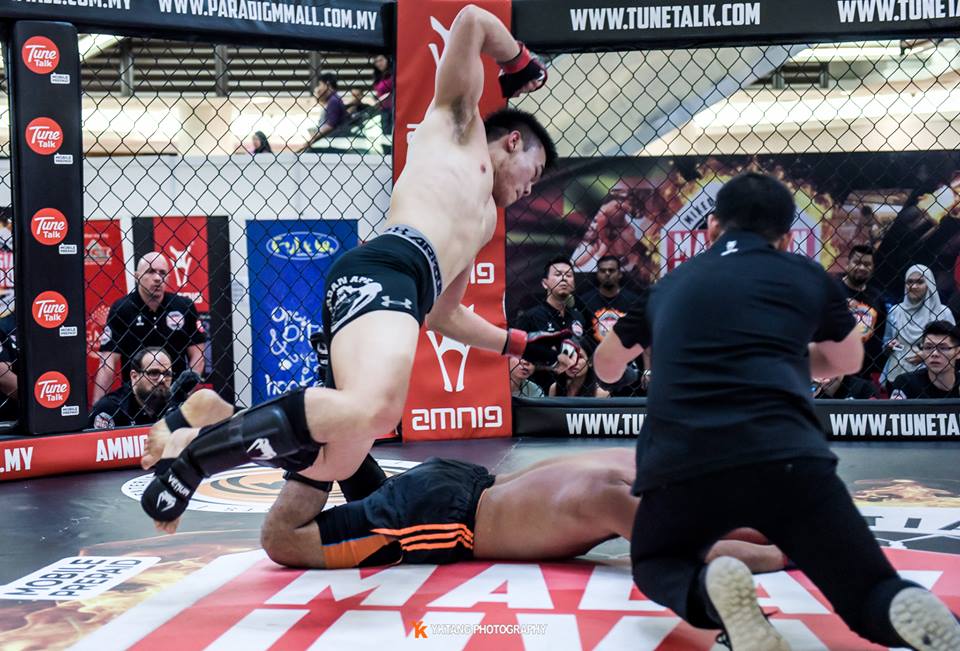 Enroute to winning his MIMMA4 semi finals fight ( pix by YK Tang)