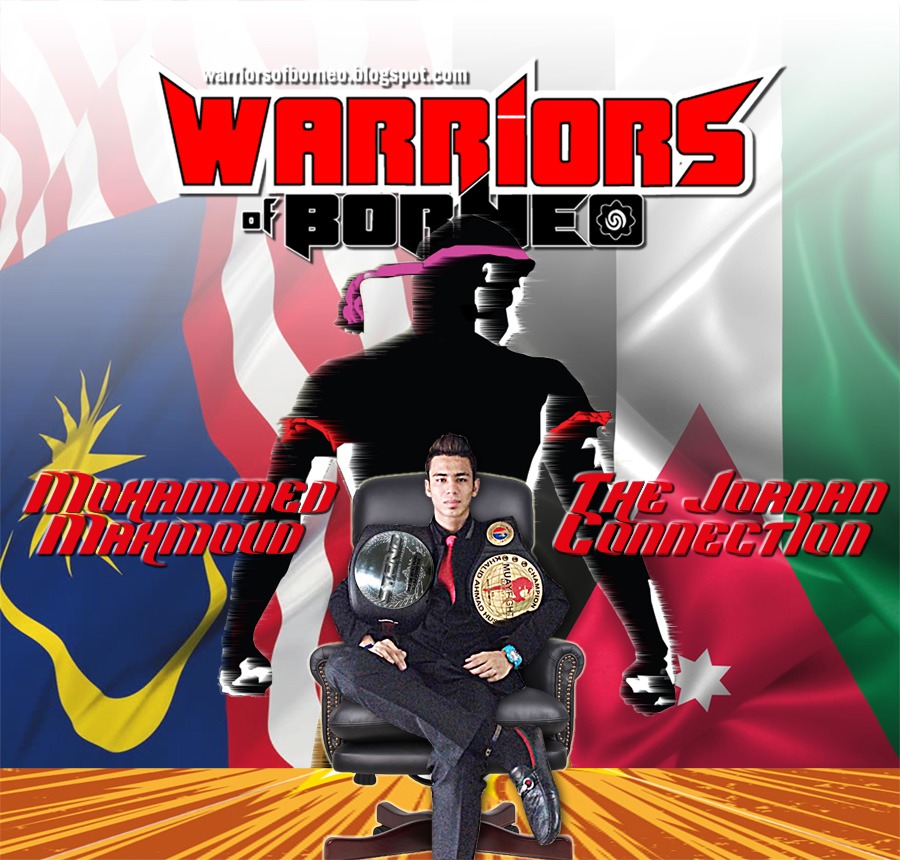 It was 27 years ago in 1989 a young Mahmoud Omar, decided to pack his bag and come to Malaysia. He has heard much about Malaysia through his uncle whom has moved here since the 70s. Travelling half way across the world from Jordan, Mahmoud enrolled in U.I.A ( Intl. Islamic University ).Eventually met a Malaysian woman of his dream and started a family.
Raising 3 boys and a girl in KL is not an easy job. Equipped with the Economics degree from UIA Mahmoud started a trading business to support his family. When his second son Mohammed Mahmoud was born, Mahmoud thought he has Chinese features and thinking that his boy will help him in business one day; enrolled him in a Chinese kindergarten.
Mohammed Mahmoud does not show much interest in the academics field. Growing up he always got into fights. Many times Mahmoud had to discipline him, and as a father Mahmoud recalled how Mohammed would hold back his tears and showed no fear when scolded.
Gifted with good looks and natural athleticism, Mohammed was keen on fitness and building a fit body. He would always do pull ups and sit ups at home. " Dad can I join the gym nearby?" that was the questions that lead Mahmoud bringing his son to check out Sampuri MuayThai Gym that was just a few blocks away from their home in Bandar Baru Ampang.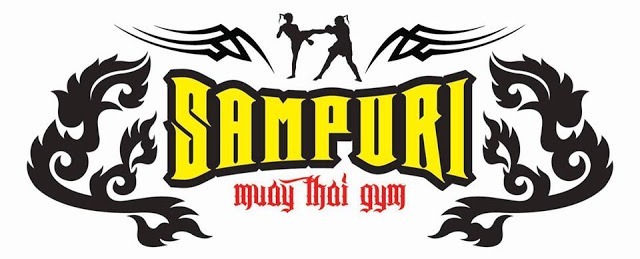 Mahmoud knew that his son's only played soccer and futsal in school; feeling a bit intimidated as he watched the people at Sampuri kicked pads and sparred, asked his son again, "Are you sure you wanna do this?" " Yes" answered Mohammed enthusiastically, thinking Muaythai will be a good way to keep fit.
That was in Dec 2014, and so the martial arts journey began for Mohammed. It was like putting fuel to fire, Mohammed learned fast. He was very dedicated and discipline in training. Even when Sampuri Gym moved to Ampang Jaya, he bugged his elder brother Nidal to send him for training on his bike. What started as a fitness endeavor now became an obsession for Mohammed as his Muaythai skills developed.
Emiey Sampuri was Mohammed's first coach. After just 5 months of training by, Emiey felt he is ready to take his first fight. It was in a Naga Api event in Gombak. Mahmoud was at ring side nervously capturing his son's first fight on camera. It took Mohammed just 2 minute to end the fight with a head kick TKO. Mahmoud hand was still trembling as he witness his son's victory. Tasting victory and knowing that he can still improve from there on, Emiey continue to nurture Mohammed as a fighter. His brother Eman also was instrumental in developing Mohammed's fighting skills.
Mohammed eventually turned pro and by the time he came to Sabah in June 2015 for D1 Fighting Championship: Rise Above the Rest, was already having a 7-0-0 record. But it was not a successful outing going against local Sabahan – Shah 'The Black Machine'. A bad weight cut badly dehydrated Mohammed and affected his performance in the ring. This loss made him learned more about his body and he knew that he best fight in featherweight and it affected him mentally too…in his mind he is determined to learn from this loss and come back stronger.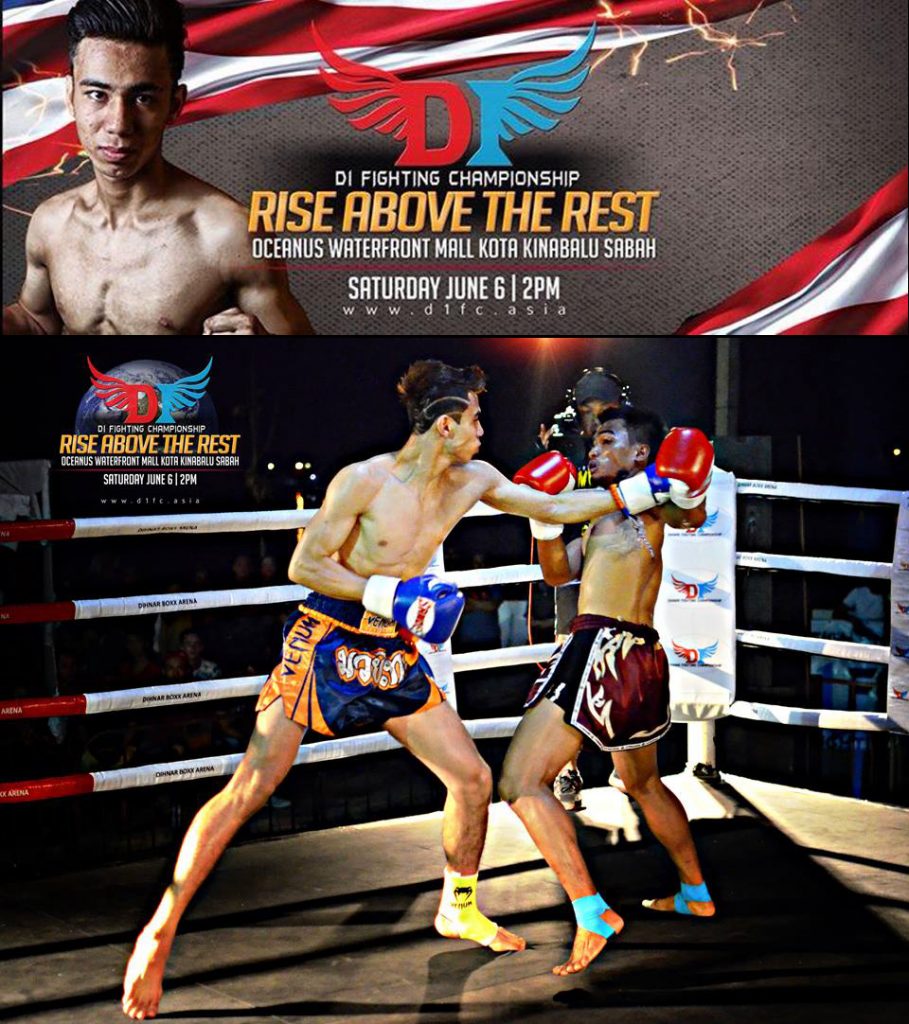 Fighting Shah in D1FC
Stronger he indeed became. By Dec 2015, he was the MUAYFIGHT featherweight champion. MUAYFIGHT was a huge national level Muaythai challenge that gather all the Nak Muay in Malaysia for a league format fights. Muayfight belt was truly a very sweet victory for Mohammed. He fought through 13 tough opponents to meet a formidable – Rayan Abdul from Sabah in the finals. The grand finals fight was televised in RTM – TV1. His victory was celebrated not only by his family here in Malaysia but also in Jordan by Mahmoud's side of the family.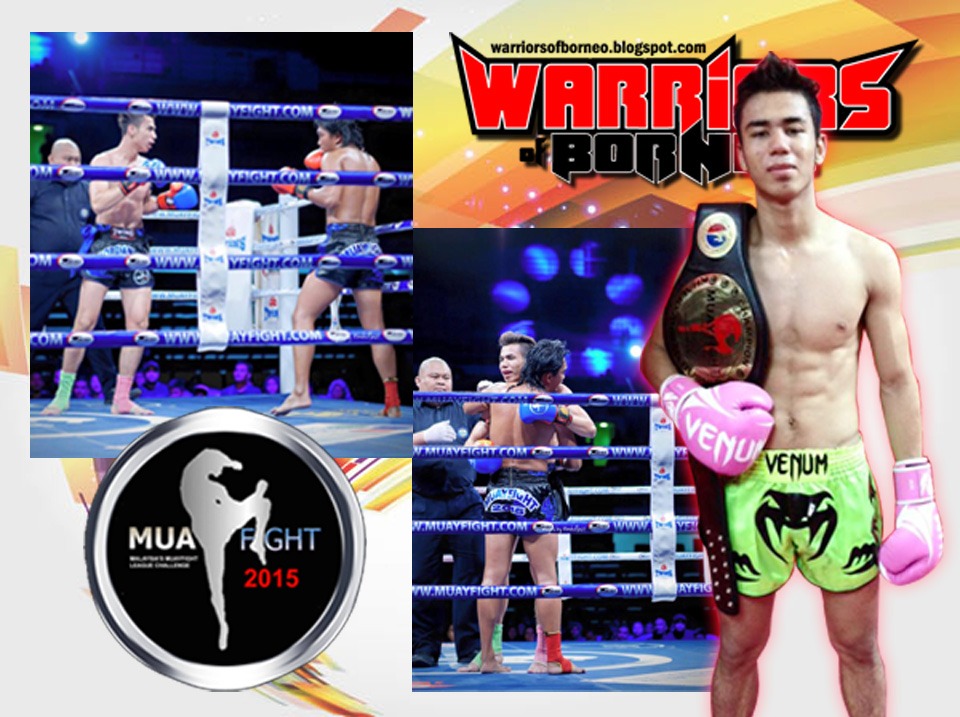 Sweet victory winning the Muayfight belt in 2015
Mohammed is always game for a good fight. In Jan 2016, he cornered his brother Nidal for an MMA fight at Pesta Selangor. Turns out a fighter pulled out, Mohammed decided to step in. His father was worried as Mohammed does not train MMA and has no experience in grappling. Determined that he can keep the fight standing, he finished his opponent in the 90th seconds of the 1st round. That was his first ever MMA fight but Mohammed's heart is still in Muaythai. That 1st fight was just a chance that came upon him and he loves a challenge and took it without thinking twice.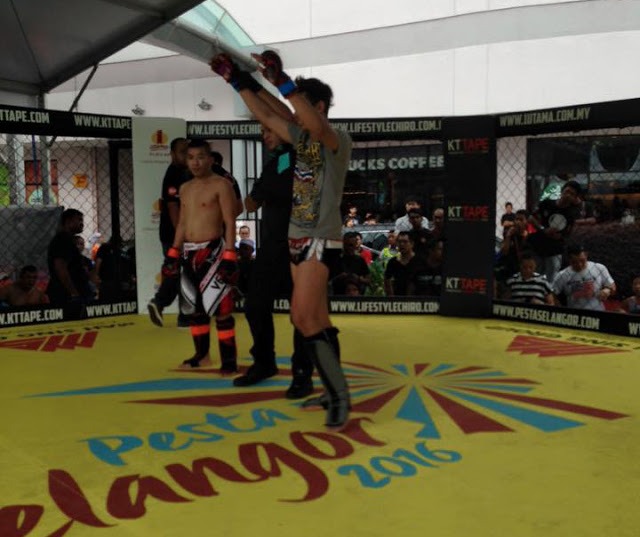 Recently in April 2016, he came back to Sabah to fight in STAND, in the main event- Super 8 Featherweight. He came back determine to wipe out the memory of the loss in D1FC. STAND was organized by Karabaw Gym in the scenic beach resort of Nexus Karambunai. But it was not a holiday for him as he prepares himself mentally & physically.
He qualified for the Grand Final. Meeting Uriel French of MuayFit in a 3 round final fight, it was a close fight, as both fighters was aggressive in the attack and accurate in the counter; but a flurry of punch combos in the 3rd round from Mohammed resulted in Uriel getting a standing count which gave Mohammed a decision victory and emerge as Champion.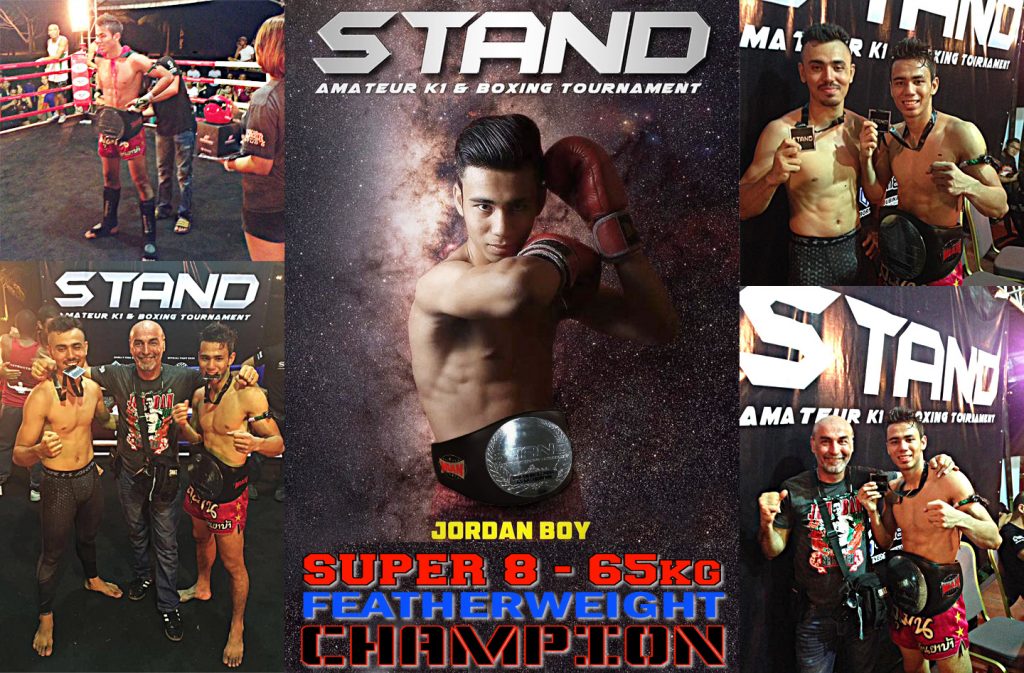 This victory in his second time in Sabah erased the memory of his loss in D1FC. "STAND competition was excellently managed, I hope to compete here again with them; and hopefully next time they can make it in a big place or a stadium so that many people can come and see."
Mohammed's record now is 23-0-0 for amateur fights, 11-2-0 for Pro fights with a total K.O. wins of 20 times. Mohammed has dedicated his life to fighting. It takes a lot of resources to keep an active full time fighting career. Sponsors are crucial as pay for pro fighters in Malaysia is not something that can make you rich. Mahmoud himself spend a lot supporting Mohammed on flights, accommodation and even printing of T-shirts. Not forgetting on supplements and treatment as this job comes with plenty of injuries.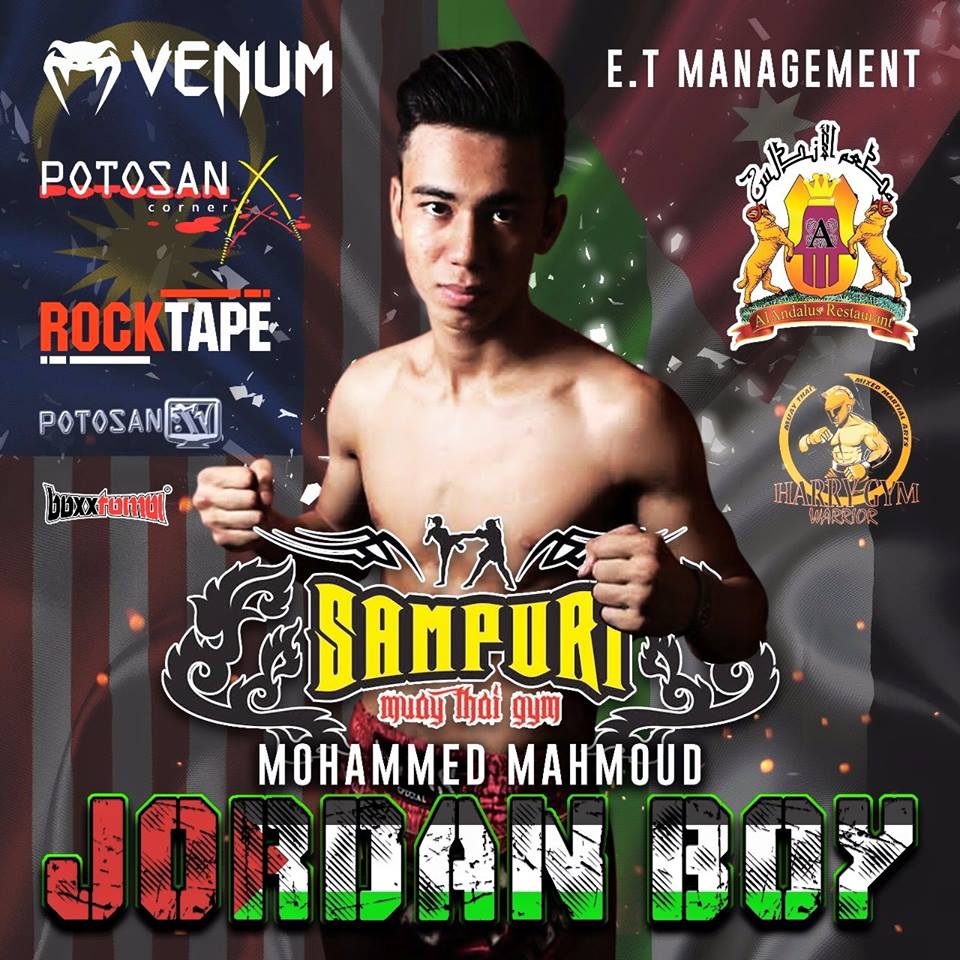 Sponsors the life line of a full time fighter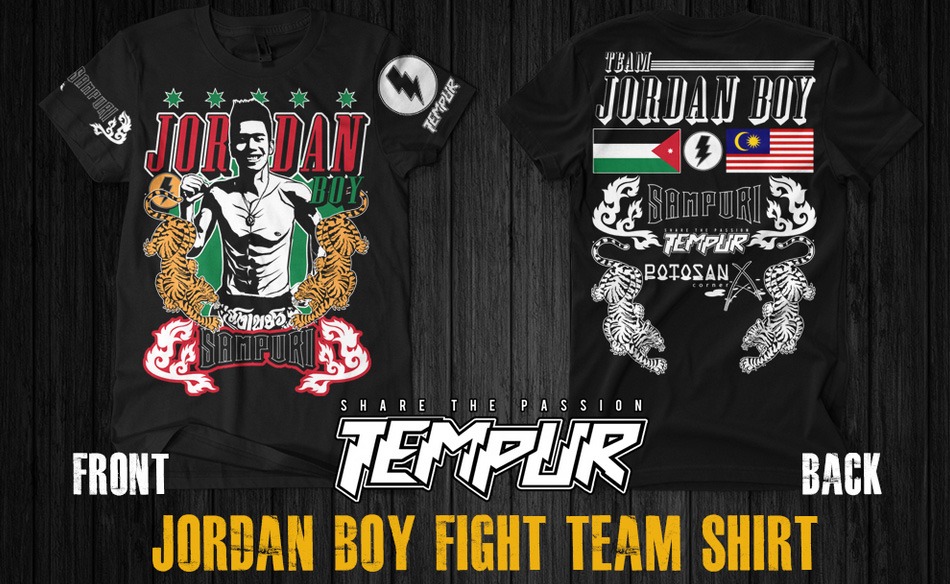 The limited edition Jordon Boy t-shirt , design by fight design maestro Bob Khairy of TEMPUR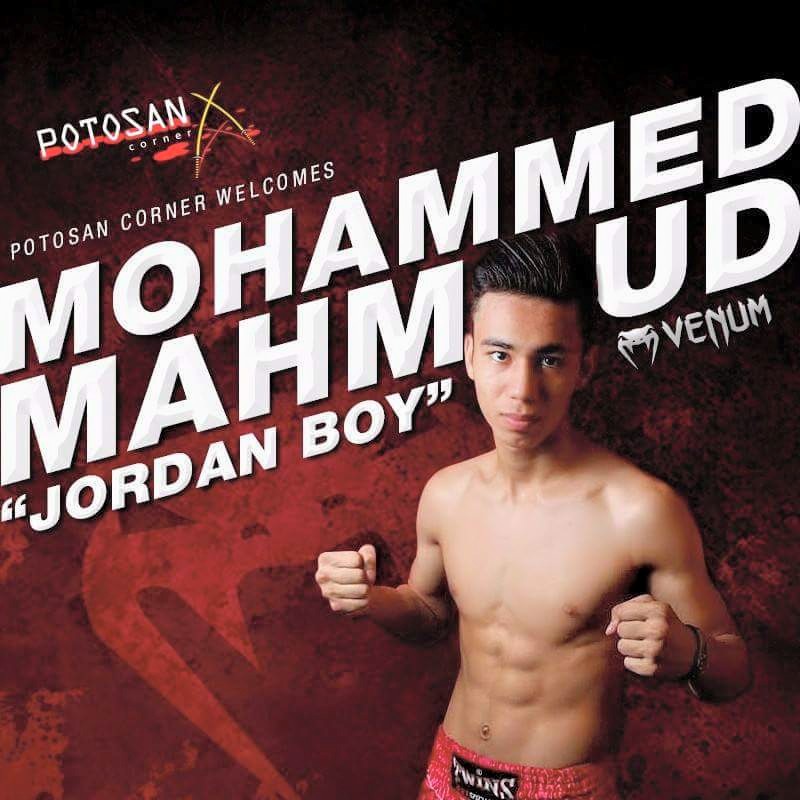 Potosan Corner – always being very supportive of young potential fighters in Malaysia.
Mahmoud never misses his son's fight. When Mohammed started fighting, Mahmoud change career to become a contractor. He also helps manage Al-Andalus, an Arabian Restaurant, which he did some contract work before. This gave him a more flexible time which enabled him to travel with his son to support him in his fights. This is why Mohammed decides to use 'JORDAN BOY' as his ring name to honour his dad's many sacrifice for him in this sports.
Now Mohammed also has his elder brother Nidal in his corner. Throughout those days of sending Mohammed to training, eventually Nidal also picked up Muaythai and quickly became a formidable fighter himself.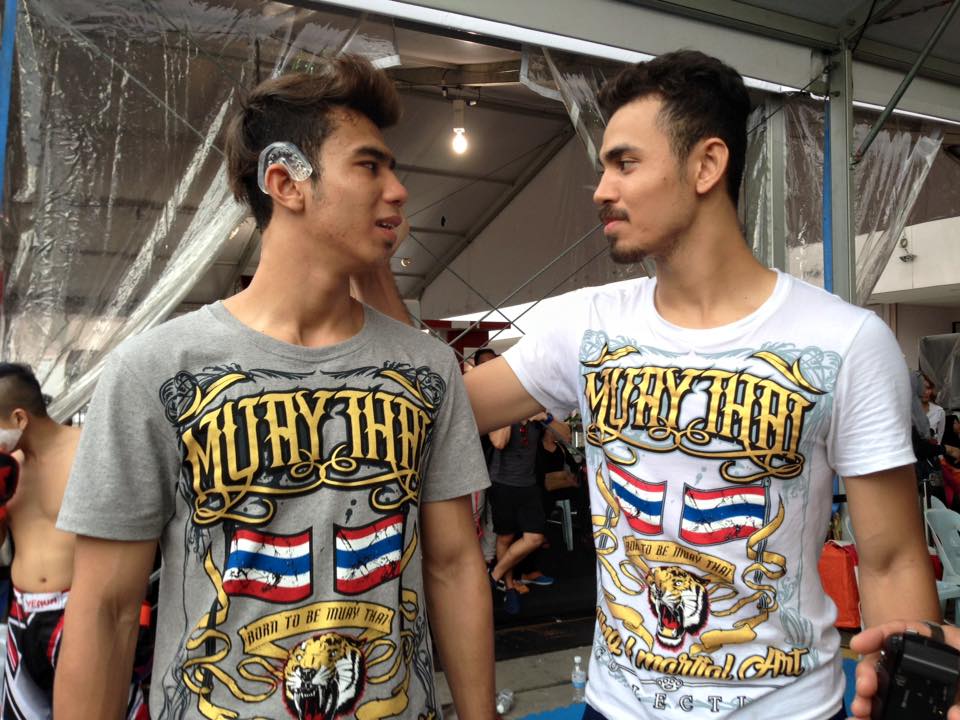 Brotherly love…lookin out for each other
Mahmoud and Nidal is Mohammed's pillar of strength. Mahmoud manages Mohammed's fight career and Nidal is always there to help him in training. The motivation from his mother and younger sister and brother also gives Mohammed a reason to carry on. His younger brother Putera Abdullah now also has taken up Muaythai and training hard to become a fighter himself.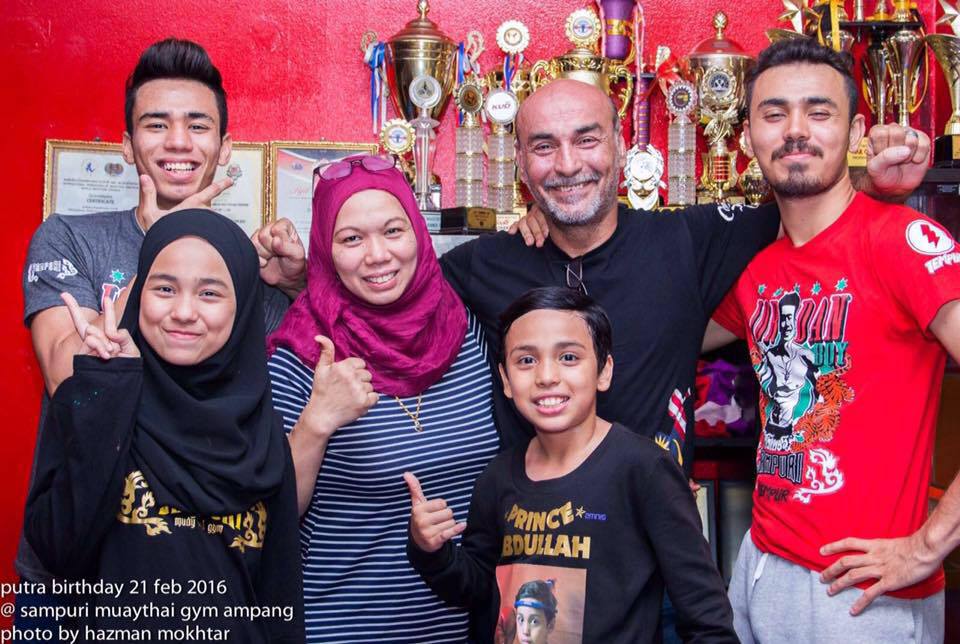 Family support – the foundation of a successful fight career
Aside from training and fighting, Mohammed's life revolves around his family. His idea of a break is to spend time at home with family and watching TV or listening to tunes from One Direction. A good meal for him is a plate of good steaming Nasi Lemak with good sambal and a cup of tea.
You will notice that he always smiles…"I am an easy going person outside the ring, in the ring I will be a different person. I will be more focus on my fight and my opponents. I have many friends around me; smile is the key to attract people."
On his fighting style," I have my own style in the fight, people come not only to see the fight; they come to see the fighter, their way of entering the ring, their Wai Kru dance, and their costume. Cause some fight end up in few seconds. I like to smile and be happy when I fight, but once the fight start in different direction I try to change my style and change my technics."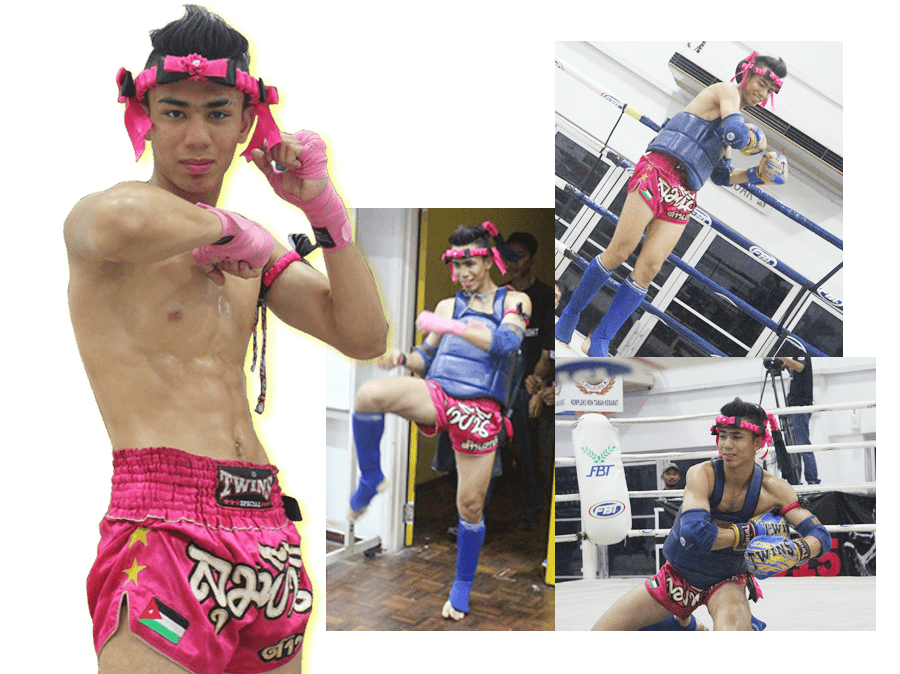 Showmanship….an important way to build character and create a fan base
Mohammed Jaraya is Jordan Boy's favorite fighter. This 20 year old kid is from Morocco and a kickboxing sensation in Europe that is the current ENFUSION League 70kg Champion. Jordan Boy admire the skills of this Moroccon fighter that packs a bomb in his hand and machine gun combo of kicks and hooks.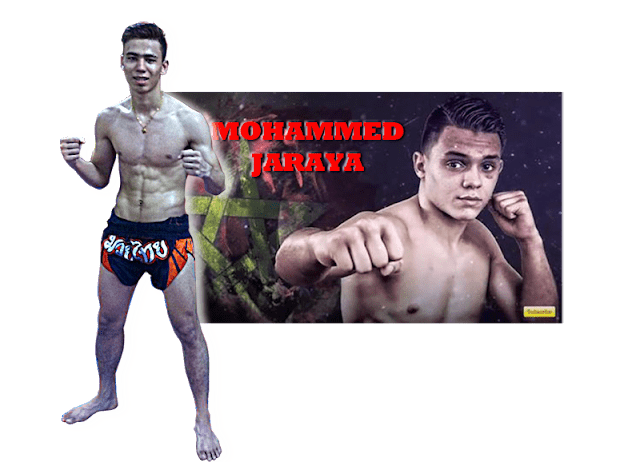 Jordan Boy next fight will be in boxing. He has been selected to represent Kuala Lumpur for SUKMA (Sukan Malaysia) in July, after that will be back to Muaythai. He is one of the feature fighters ( together with his brother Nidal ) in The Warrior; an upcoming Muaythai championship that pit Malaysian's best Muaythai exponent with the best Muaythai  fighters from Thailand. Mohammed and Nidal was chosen due to their youth and the potential they have shown not just in their fighting skills but the warrior spirit they have.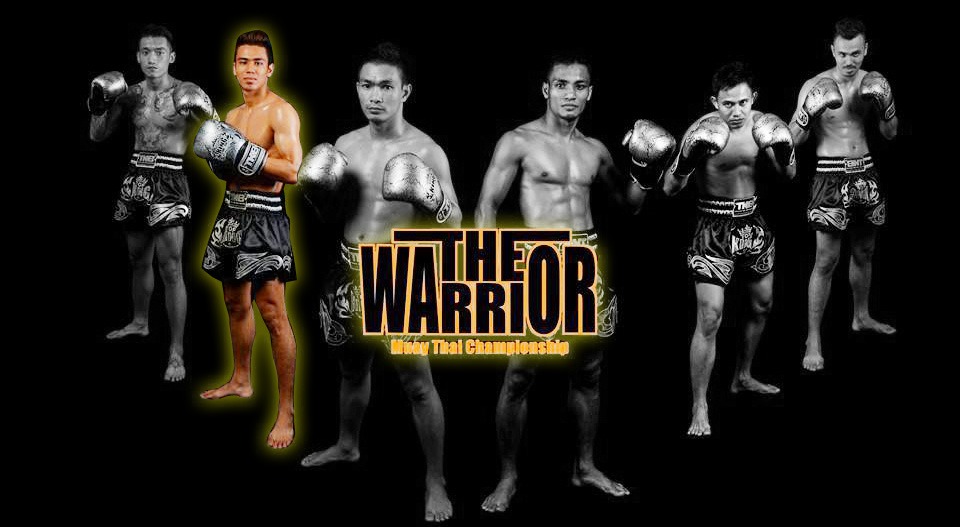 The journey to carve a name for himself as a fighter has already begun for Mohammed. He was known as Malaysian Muaythai wonderkid. Now is the time to for him to excel and build his name as a formidable fighter in this region and also the world.