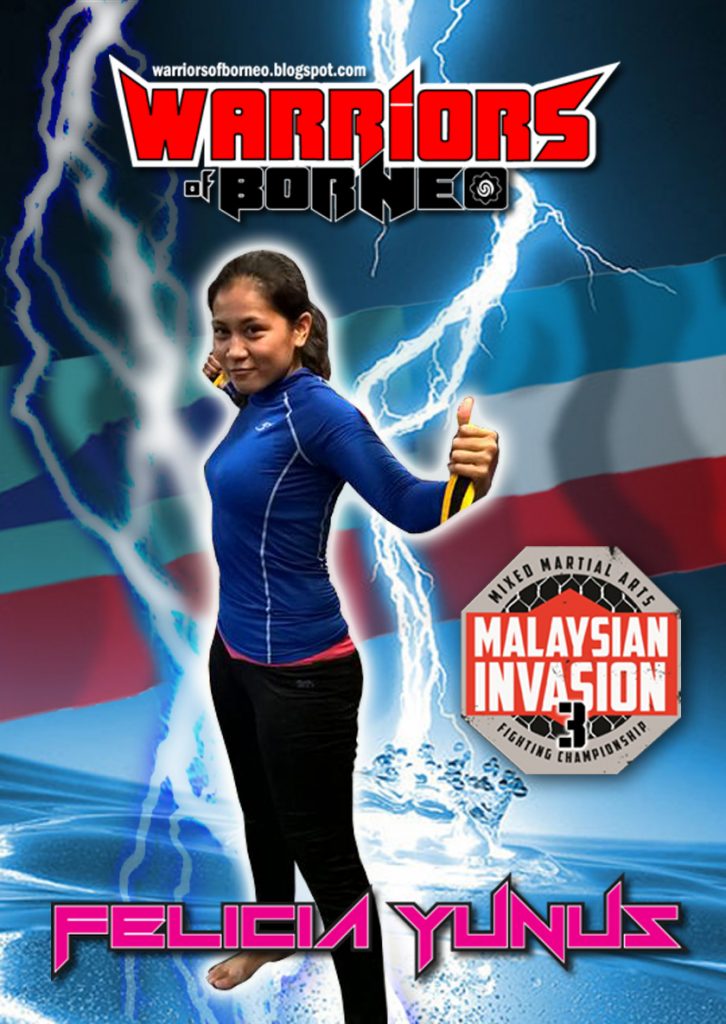 The Huntress – Felicia has some learned Taekwondo when she was in school.
She then switch to boxing, but when she found BJJ two years ago it's like an addiction to her. The more she train, the more she wants to. Having bachelor degree in Business Admin, she works for an international soft drink company as an admin coordinator. At night she commit herself to martial traning, alternating between Aristo Fitness training boxing under coach Ferdinand Santos and BJJ at Alpha MMA coach Michael Chong and TUF ( The Ultimate Fighter ) alumni, coach Allen Solomon Chong. According to her coach and team mates, Felicia is very passionate about BJJ and boxing.
Reaching the semi finals of MIMMA3 is totally unexpected for Felicia. To think that she was initially not interested in MMA. Her main focus was BJJ. In 2014 Pan Asians BJJ, she collected silver in nogi category and bronze in absolute nogi. Focusing and preparing herself for Pan Asian 2015 in Manila to improve on 2014 results but coach Michael push her to take part in MIMMA try out. With a crash course in MMA with just one day preparation, she took up the challenge and got selected in the try out and look at where she is now. All because of the believe of her coaches in her ability.
For this, Felicia will go all out to bring back the inaugural MIMMA female title belt home to Sabah.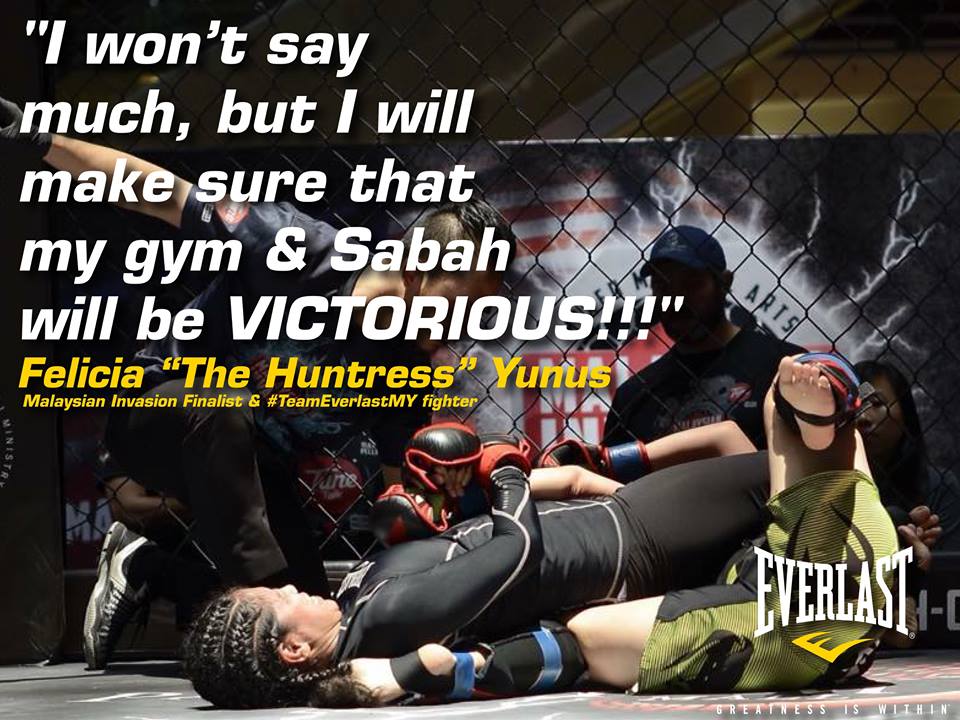 Enroute to MIMMA3 Grand Finals, Felicia has recorded 3 wins, all by submission.
She will be facing fellow Borneon from Sarawak Joanna Yap also a specialist on the ground game. This will be the battle of the grapplers.
As this is the first Female Title fight in MIMMA's history, both fighters will be eager to be the first women to be able to claim that Belt.
——————————————————————–
Which part of Sabah are you from?
I'm from town 34km north of KK, called Tuaran.
Are you a Kadazandusun? Your coach Allen seems to call u Ongkok…I thought that's your father's name?
Yes I am. Ongkok..well, that's not my fathers' name., As Kadazandusuns, we all have our nicknames given within the family. I was nicknamed Ongkok since I was a baby by my grandmother.
The win via armbar on Gladys in the semis…can you tell me about the fight? Your feeling going into it, what was going thru your mind?
Gladys was a tough opponent to measure up… I watched her fights and did some research on her martial arts background and realized I'm no match for her on a stand up fight. So, naturally, as a jiu-jitsu practitioner, taking the fight to the ground was the best strategy. And the plan was to finish the fight in the 1st round as I felt her stamina could be better than mine as a striker.
The plan didn't went all well, as I couldn't get the submission in the first round (and a bit disappointed) but I continued to focus on my game plan and eventually, after taking her to the ground in the 2nd round, I transitioned from a guillotine attempt to arm-bar which ended the fight.
Can you tell me a bit on your family background? How do your parents react to u joining MMA fights?
My elder brother and I was raised by my mum alone, all three of us are really close to each other. And being the youngest, my mum was really protective and didn't encouraged me to participate in MIMMA. But she has seen me progressed till the semis, and she told me "Good Luck, All the best"… I guess that is her, showing her support for me.
Are you married?
And no… I'm not married, that's all I'm telling. The rest is for me to know, and for everyone else to find out.
You told me before,  you were actually reluctant to take part in MIMMA tryout, how do u feel now reaching the Grand Finals?
At first I was really reluctant to join the try outs as I have a scheduled tournament in the Philippines Pan Asian really soon. But I was encouraged by my coaches to just take part and see how it feels… just for the fun of it. Well, one thing led to another, and I'm at the Grand Finals.
Being in the finals now really surprised me as well… I'm really satisfied with the outcome and found a new confidence in me that I can be a MMA fighter. Most of all, I am feeling proud that I can represent not only my gym in MIMMA, but for all Sabahans.
How do you see youself fighting Joanna Yap? She is also a BJJ stylist from Studio 23, trained by Albert Lim, do u see her as an easy opponent?
There is no easy opponent… In fact, I find all my opponents really tough, and especially Joanna.
I feel I'm fighting with myself as we both similar expertise in martial arts. She also has the weight advantage over me, so Joanna will be a tough fight. But I'm putting my best in the cage, and I'm sure she will too.
What motivates you to fight?
Well, besides being forced to fight sometimes… I'm driven with curiosity and to prove to myself that I can do more than I am capable of.
What is your opinion training in Sabah? Do u think Sabah have enough quality sparring partner for you to improve?
If you look beyond MIMMA, we have good fighters representing Sabah in international levels such as OneFC and UFC China, and that only means we do have good standards of trainings programs here by our local gym and coaches.
But I feel we lack women fighters, so while sparring with the boys is tough, but it does has its benefits.
This one month to fight date, do you control your food? What food is your vice? What is your favorite cheat meal?
Control Food? In Sabah? Are you kidding me? But I do take in moderation and focus my intake on good protein and carbs to fuel my training… so, every day is a cheat meal, in the right amount.
What is your favorite techniques?
In aspects of Jiu-Jitsu and Mixed Martial Artist, I love the Kimura… So sneaky and deadly.
Till to date your MMA fight record is 3-0 right? What is your hardest fight so far? & which is the one you r most satisfied with?
My hardest fight was my ladder match against Dharma. She's actually the only win for me on decisions and it was really difficult the get the submission as she has her height and weight advantage over me. So far, I'm not yet satisfied with any of my fights… so we'll see if the Grand Final would be the most satisfying for me.
What is your natural weight? Do yu need to cut weight to make 56.6kg? Do you see fighting at a catchweight to your advantage?
I weight normally around 52- 53kg… so, it is fortunate I don't have to cut weight to compete.
So, obviously I don't see fighting at catchweight is an advantage as I would be and the lower end of the scale.
What do u do to unwind & relax?
I train and I train and I train….
Do u think you need to learn more on striking? or you would try to make your ground skills even better.
That's a secret for now
How do u feel going to train at TMT?
It is definitely one of the more fun trainings I had so far. Their conditioning programs are really good and I get to live the life of a Pro-Fighter during the five days… Train, Eat, Sleep, Repeat.

What makes you proud being a Sabahan?
A place where we have Kinabalu Mountain to be proud of. Togetherness of the people here from variety culture and religion. I ca'nt really describe more about it, but I am proud to be sabahan.