The path to the grand finals is getting closer and closer. MIMMA has announcde the grand finals to be held at Stadium Putra on 10 OCT 2015. This is a great event to watch the best amatuer MMA competition in Asia and it will be held back to back after ONE Championship on 9 OCT 2015,…the best Pro MMA competition in Asia.
But before we reach the grand finals at Stadium Putra, there is unfinish business at Paradigm Mall. Yes tomorrow 5 SEPT 2015 will see the Contender fights being held starting at 1pm. Contender is to determine the winner that will challenge MIMMA season 2 champion for this year's season 3 Championship belt.
Here are the fight cards:
There will be 13 bouts all together. As you can see from the fight cards, there are few fighters which is missing from the contender match, why?… We know that the Welterweight Belt is vacant as season 2 Champ, Agilan Thani has turned pro with a successful debut at ONE Championship.
Looks like Featherweight & Bantamweight is up for grab too and season 2 Featherweight Champ – Keanu Subba and Bantamweight Champ – Prabu Somanaidu will also be turning pro.
It's about time I think, because these two I believe have improve so much that they need to be fighting in the pro division now.
Two categories will see MIMMA crown it's inaugural champ this year…it's for the Women Category and Foreign Pride. Women category was introduce this year to further expand the categories for MIMMA and especially to nurture, build and gives opportunity to women fighters in Malaysia to become a MMA star.
Foreign Pride category was introduce to add more variety to the fights as there are many foreigner living in Malaysia that practice MMA and with them in the mix will eventually bring up the level of skills among locals and also give the fight fans great fights.
The women are fighting at a catchweight of 56.6kg while Foreign Pride catch weight of 70.3kg.
Warriors of Borneo are behind all the Borneo fighters in the Contender Fights. For women categories, two ladies representing Borneo is Felicia Yunus of Sabah and Joanna Yap of Sarawak.
Felicia's journey so far is an amazing one, from a competitor that was 'force' to take part in the tryout by her coach Michael Chong of Alpha MMA, she has come this far relying on her excellent BJJ skills. She will need that more when facing har hitting Gladys Moiling.
As for Joanna Yap, the reporter that fights…facing the calm and skillful Samantha Tan will need her to dig in deep and give her best
The hi light will be the light weight. Jace Law of Sarawak vs Vinod Dave Singh of KL.
Jace is ever ready to rumble. But he is mindful of Vinod Muaythai skills, which favor clinching and kneeing. Jace is no stranger to Muaythai and he is prepare to counter those moves with take down and ground game if he need to. Jace is confident in his striking game and will of course be ever on the look out for unleashing his bomb from his heavy hand.
Jace is a finisher but he aim to stay calm and control the pace and not rushing it and will be cautious on Vinod standing guillotine.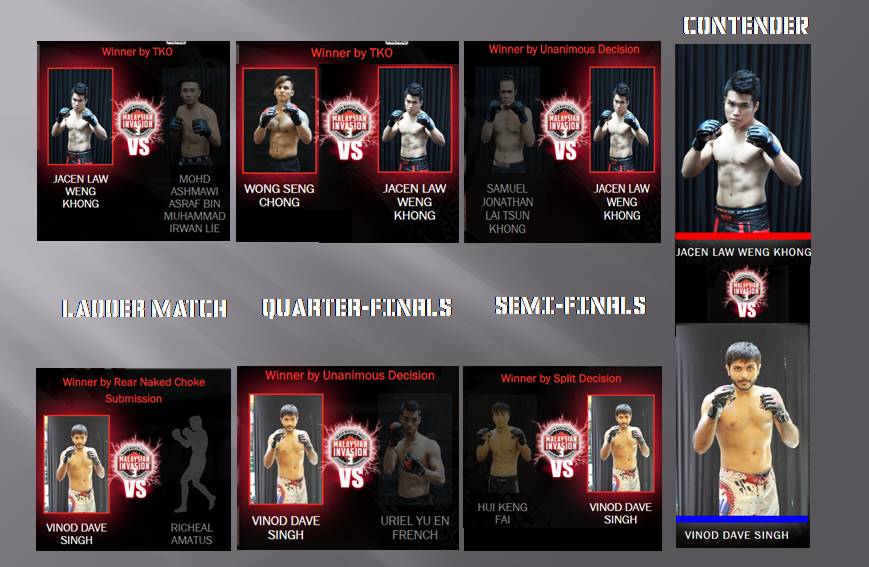 Jace's and Vinod's journey to the Contender
Stephen Onn Jenggieng, is Jace's team mate at Gym Box Kuching. The MMA fighters in GymBox are trained under head coach Matt Pellino and they certainly are drilled hard by him.  As a team, these fellas are never satisfied and never really think they are successful, hence the continuos drive to be better. Personally for Stephen, he can see it in Jace's eyes on his determination and focus. Stephen himself a grand finalist of 2014 MIMMA, has seen how much Jace has improved since 2014 when Jace reached the Semi Finals.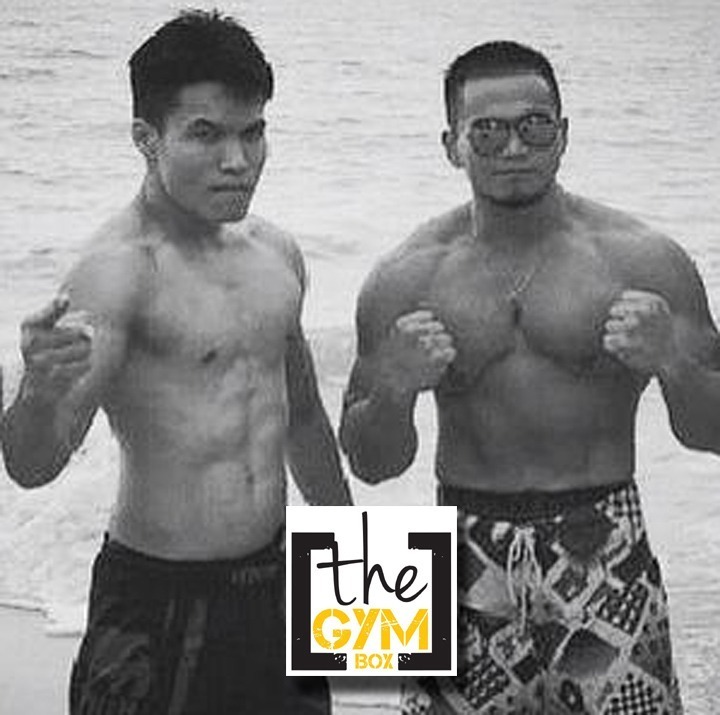 GymBox brothers : Stephen ( R) with Jace (L)
" This is the first time I've seen him really hungry, focus and discipline. He is in his most competitive mode and always works his butt off to be the best in every training session. He accepts no defeat as an option"
Stephen strongly believes that Jace will be the 1st Sarawakian to bring back the MIMMA belt.
" I did asked him, what drives you?…Jace said ' Just wanna be the best, I don't like to just say it, I wanna prove it"
All finalist will be brought by MIMMA to have a centralised training camp at the fame Tiger Muay Thai in Phuket on 10 Sept 2015. Training there will further improve their skills set for an explosive encounter later on at the grand finals.
Warriors of Borneo wishes all the Borneon fighters the best for MIMMA Contender Fights!
Boys and girls …go all the way to the finals and bring back those belts!