Ultimate Beatdown fight is back again! 65 bouts of integrated combat sports of boxing, free fight, and MMA in one night! This event also will bring together fighters from 11 different nationalities, namely Malaysia, Singapore, United Kingdom, Ireland, the United States, Russia, France, Australia, Timor, Iraq. Tickets are only RM30! VIP ticket only RM100!
Event: Ultimate Beatdown 23 
Introducing the main event of the night:
The first ever female main event in Ultimate Beatdown series.
Introducing fighter from left to right:
Jihin"Shadow-Cat" Radzuan (Malaysia)
Train and coaching full time in the best and biggest gym in Batam, BFC. The team also provided security service for hire. A master in hand to hand combat of various discipline of martial arts such as Boxing, BJJ and Indonesian art of Pencak Silat, she will be trying to use her weight and size advantage to shut down Shadow-Cat aggression and take away all her fame.
Kickboxing Middleweight Super 4 Championship
Introducing fighters from left to right:
Bangkang "The Hellhound"
Started his fighting career in UB has & has  fought multiple time in the previous UB. This hot-headed Johor native is a raging bull. Being famous for taking every fight as an underdog, he manages to upset the crowd many time. This time he takes on a fight on short notice as a late replacement. He would like to show those 3 big boys what he is made of.
Charlie Pennington"The Sky Scraper"
From Luton, England works in sales Industry in Singapore. Although he just trained in Fight G under the watchful eyes of coach Darren for nearly 2 years, he is very active and won the Kickboxing Welterweight Championship title via a highlight reel head kick knockout in the previous Ultimate Beatdown 22. Right after that victory he immediately asked for a shot at the Middleweight 4-men tournament. He has long reach and keeping his opponent in the distance is his main key to victory.


Wali"The Beastmaster" Rahman
Wali Rahman aka the Beastmaster gets his name by the amount of nonstop work he puts in his training regime. He eats, sleeps and breathes Muay Thai. He is a hardcore practitioner of the "Dutch style" kickboxing. He has been training the fundamental and technical of boxing for 2 years and has been traveling around in search of the art of fighting and now he is with the Red Wolves family. He is well-versed in boxing, kickboxing, and Muay Thai. UB's : Legends Never Die Super 4 title belt is one of his bucket list that he wishes to cross out after this weekend.
Abin Ag"Carpenter"
He gets his nickname "Carpenter" as he likes to leg kicks his opponent in every fight and chop down opponent legs like chopping a tree. Every opponent had fell victim to his vicious leg kicks. His famous quote :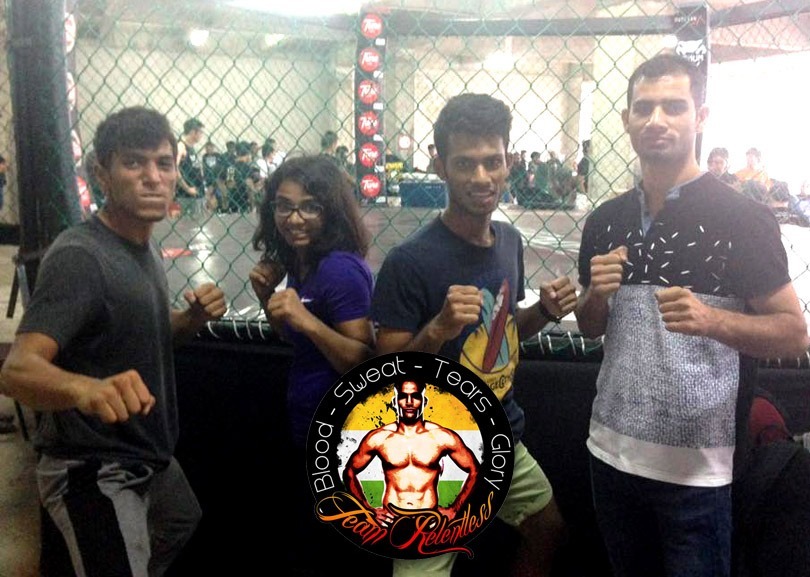 from (R to L ) Anil Mehta, Manthan Rane, Akshata Khadtare and Rudransh Azad