18 August 2017, Stadium Negara again shocks the world of MMA when
Martin Nguyen knock out defending Featherweight Champion Marat Gafurov
with a huge overhand right.
It was in Oct 2015 when in Stadium Negara, I watched how a newcomer to ONE, Vitaly Bigdash came back from being dominated in round 1 to knock out Igor Svirid to capture the Middleweight Belt.
The feeling of witnessing this historically moment again in MMA was thrilling!
You can also hear it in the voice commentator 
Michael Shciavello
 ( new to ONE but a veteran commentator in combat sports ), in which he repeatedly shouted
" Martin Nguyen Shocks the World!"
until you think he will shout himself hoarse.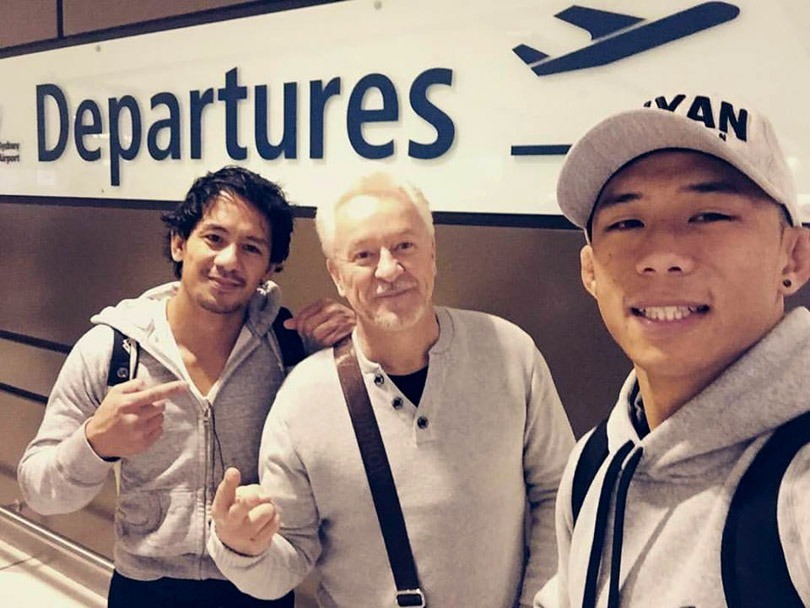 Enroute from Sydney airport to KL to collect gold, (from Left : his striking coach Chrysler Esma De Castro, KMA Head coach Fari Salievski )
Nguyen vs Gafurov was a rematch of the first fight that happened on Sept 2015 in Jakarta for the Interim ONE C Featherweight Belt. Martin jumped on the chance to fight for gold even though it was in very short notice. It ended in just 41 seconds via Marat's infamous rear naked choke.
After that loss, Martin went back to Sydney's
KMA MMA Top Team
 and under head coach
Fari Salievski
put in extra hard work which earned him four straight round 1 victory; putting him enroute to a  rematch with Gafurov
Martin and his team believe whole heartedly that they were able to create an upset, even though Marat's credentials and invincible aura seems to be unbeatable. It was almost a repeat of the first fight when in round 1 Marat's grappling prowess proof effective when he dominate with effective take down and was able to take Martin's back & secured a rear naked choke. But Martin had prepared for all this, he has trained hard for weeks with BJJ Black Belt
Bernado Magalhaes
 to anticipate Marat's move and weathered the storm in round 1.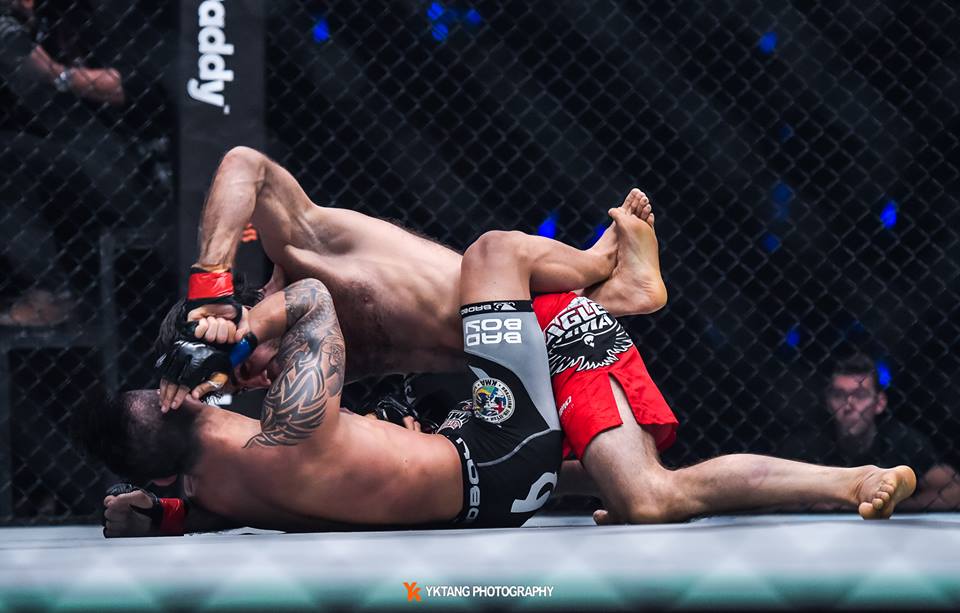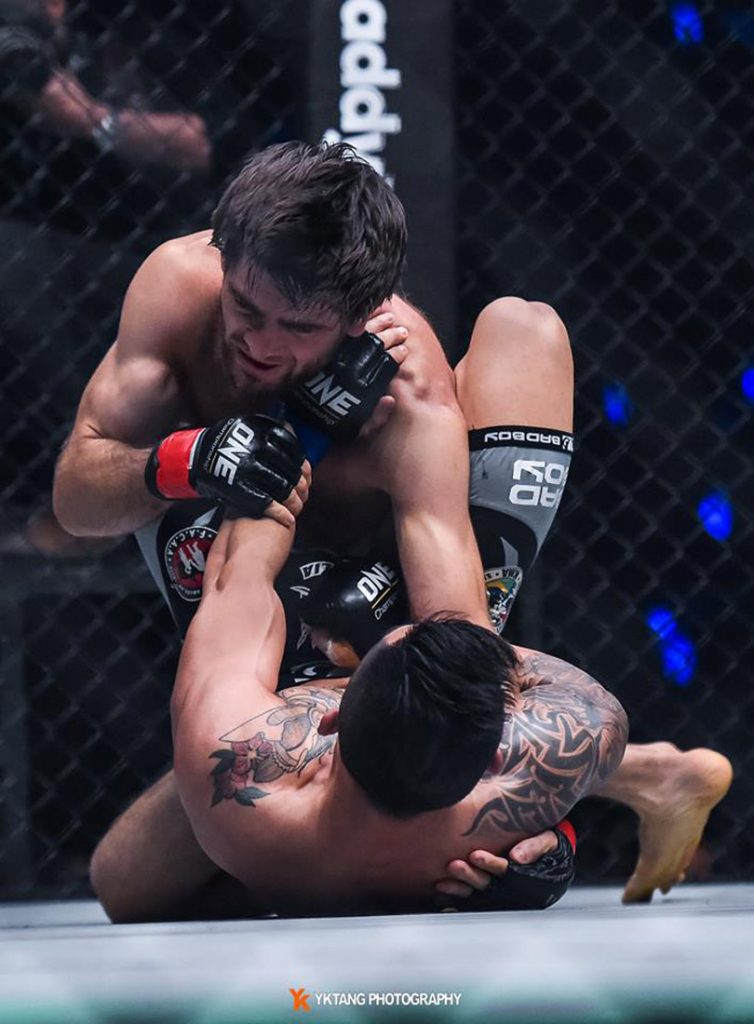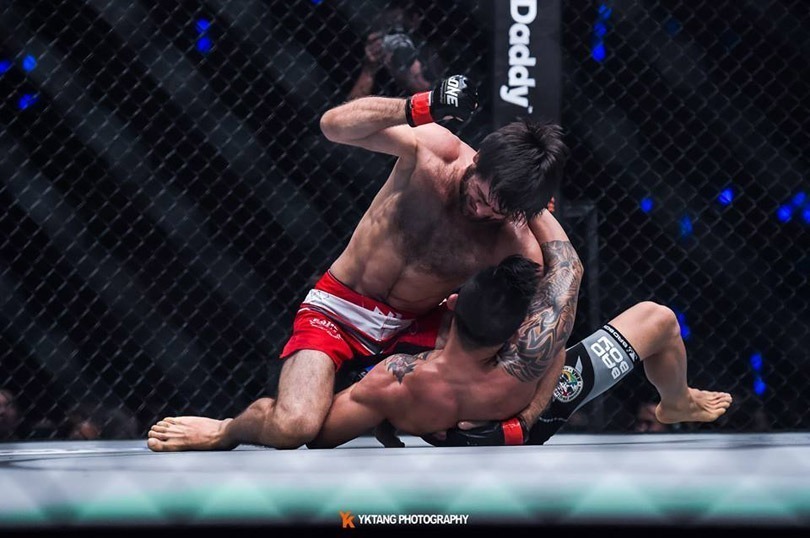 weathering the Gafurov storm ( pix by YK TANG )
In round 2, recognizing an opening, Nguyen countered Gafurov's low kick with an overhand right that knocked out the Dagestani grappler, face first to the center of the 
ONE Championship
 cage.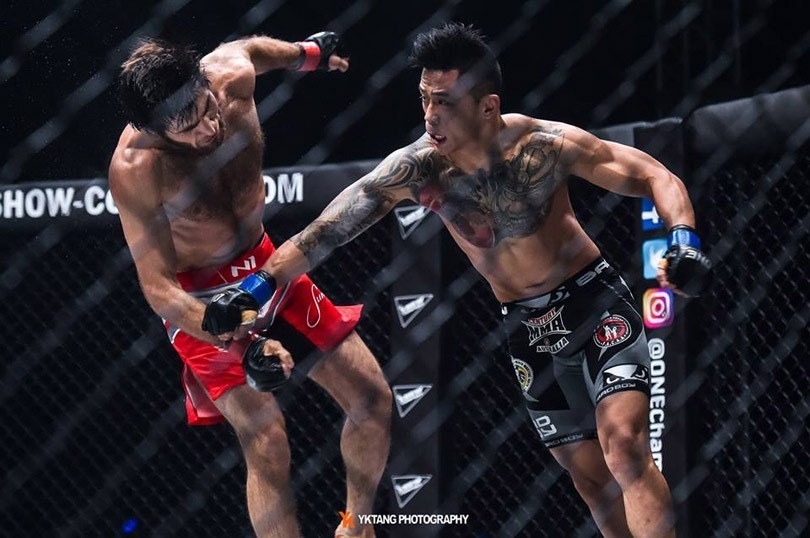 the overhand that settles the score (pix YK TANG)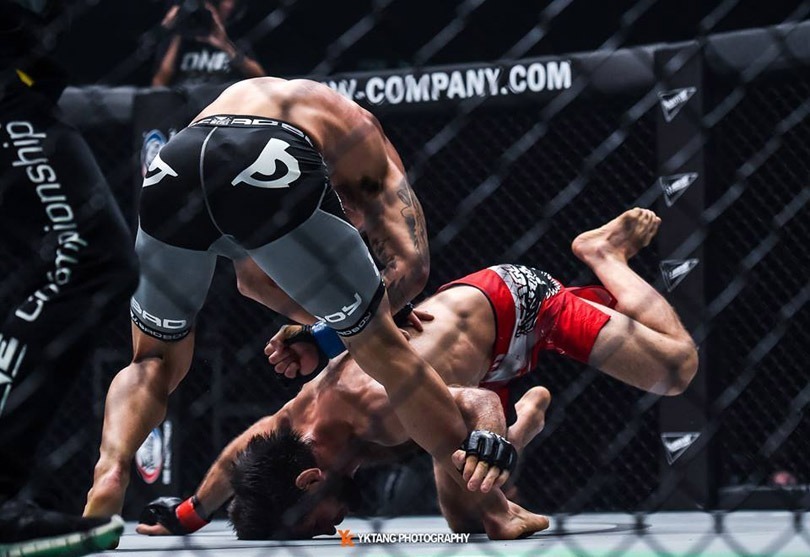 the aftermath (pix; YK TANG )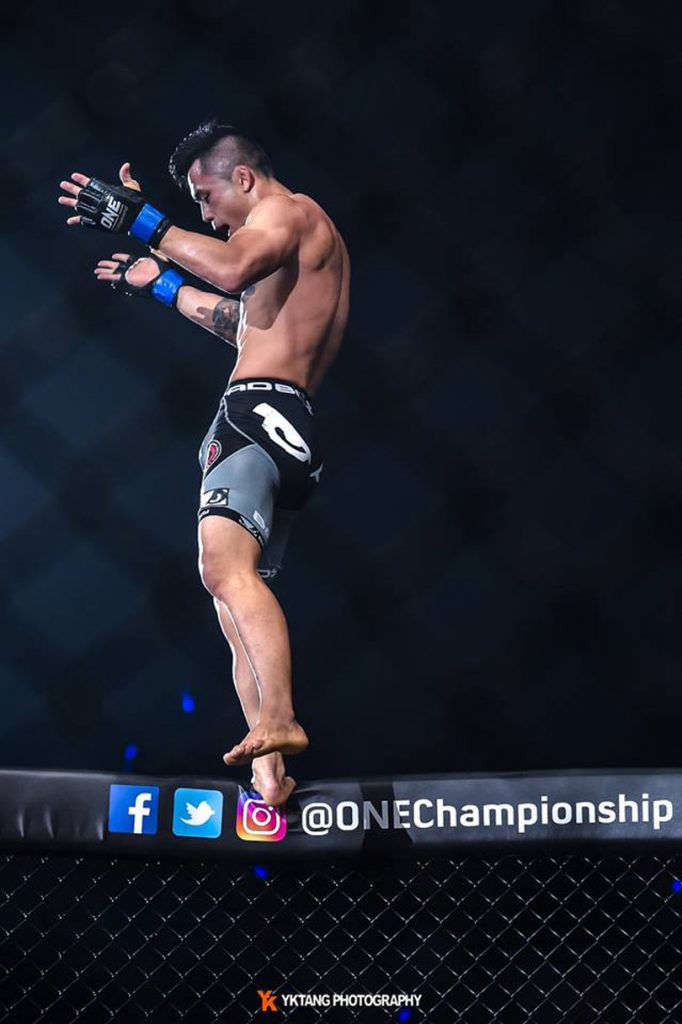 Standing on top of ONEC oval cage has become a Martin Nguyen's signature victory pose (pix YK TANG )
Achieving this dream for Martin was a wonderful reward for his hard work & the support and commitment from his coaches and team, but however, the sweet victory was about more than just the belt for himself, instead it was all for his family.
Admitting that he was a trouble maker during his teens, Martin never had to look far to find inspiration and set himself on the right path. For him, it was right at home and came in the form of the man he called "dad."
"My dad worked hard just for us to get by. We were not the richest family, and we were not as poor as other people out here, but we got by. He was my sole inspiration to work hard, just the way he was able to provide for his family," 
he said.
While Nguyen's father was not particularly fond of his son stepping into the cage, he watched with a keen eye and supported him nonetheless. In July 2012, Nguyen made his professional debut and proved to be quite the talent as soon as the bell rang. Nguyen was flawless, winning every bout en route to capturing the BRACE featherweight championship belt in November 2013. Like a good son, he brought the belt to his father shortly after winning it.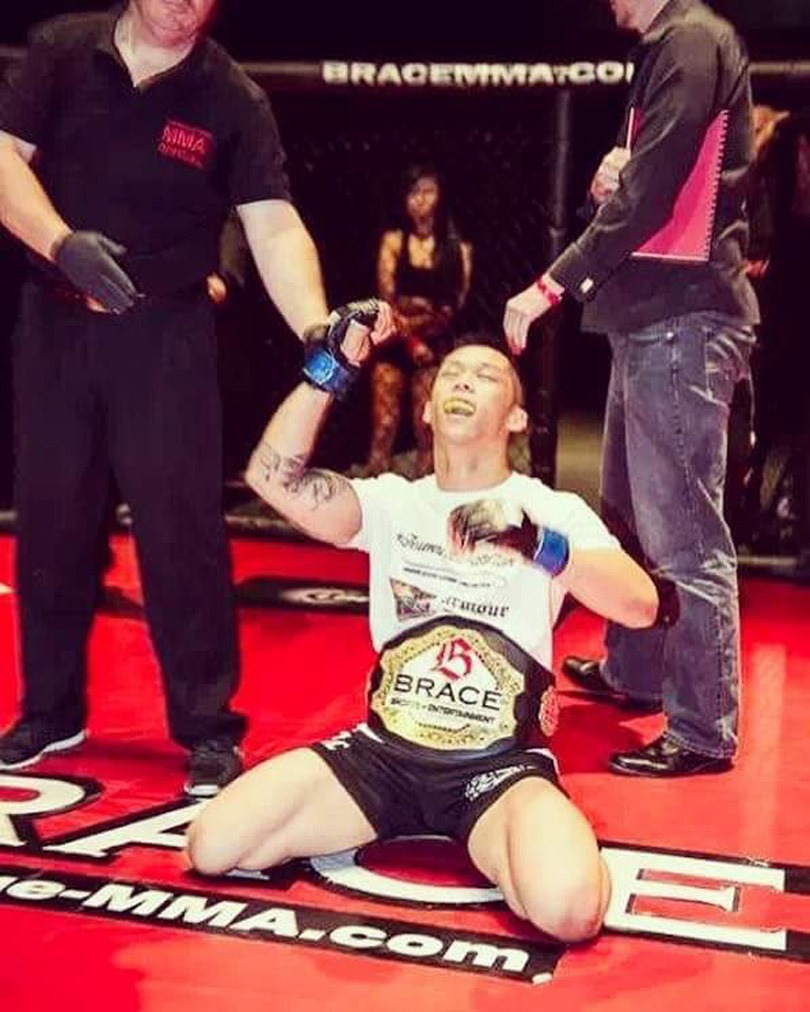 winning the BRACE Featherweight title
"My dad looked at it. He was all happy and taking pictures with it. It was awesome," 
he recalled. 
"And then he said, 'Alright, you got the belt now. Enough. Just call it quits."
No parent likes to see their child getting injured in a match or anything like that, so he said, 'Enough now. No more.'" Sadly, it was the last thing Nguyen's father said to him with regard to his professional martial arts career as his dad tragically passed away just a few weeks later.
His father had undergone a bone marrow transplant so he could get more white blood cells into his body. The procedure was initially a success, but the healing process taking longer than usual. As doctors were preparing to do more testing, Nguyen's father contracted the flu, and that eventually turned into pneumonia and took his life.
"I never experienced any hardship or heartbreak until then, and I will never forget that day. He was in Melbourne at that time, so I flew into Melbourne to see him. Everything was happening so fast, and then he was gone. I did not even get to speak to him, and there are a lot of things I wish I could have said to him. It was heartbreaking,"
Nguyen shared.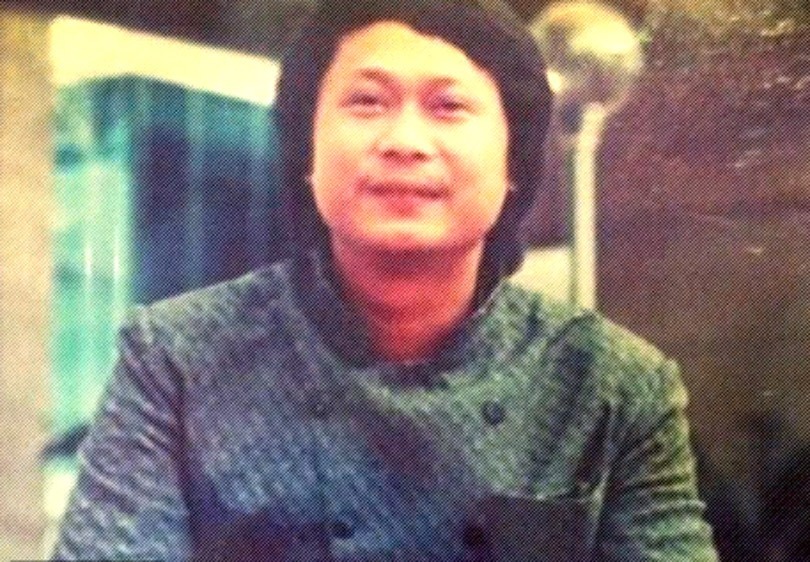 Martin's beloved late father Francisco Nguyen
Nearly four years later, Nguyen still carries the loss of his father like an anchor around his neck. Even though Nguyen is constantly reminded of his dad, he knows that his world-title winning performance was a fitting way to pay tribute to him.
With tears streaming from his eyes, Nguyen kneeled at the center of the ONE Championship cage, basking in the adulation poured upon him. While the sought-after belt is draped over his shoulder, Nguyen expressed a wondrous rhetoric in his post-bout interview.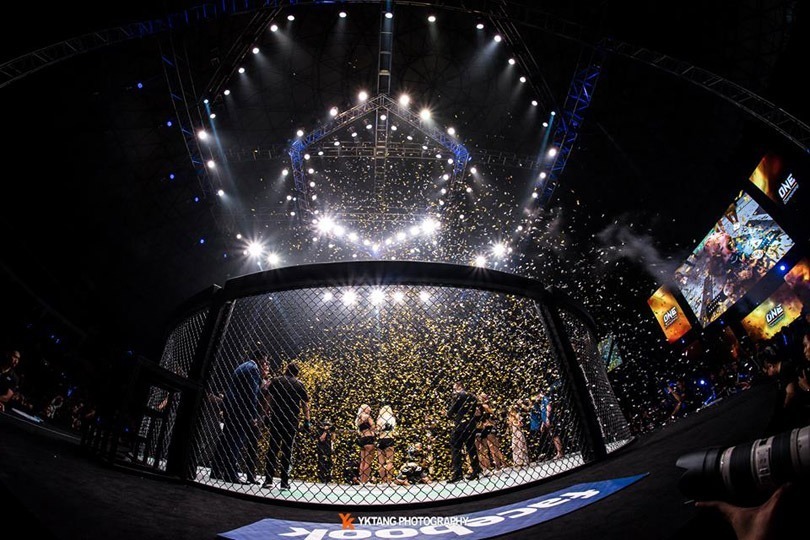 Shower of gold. (pix: YK TANG)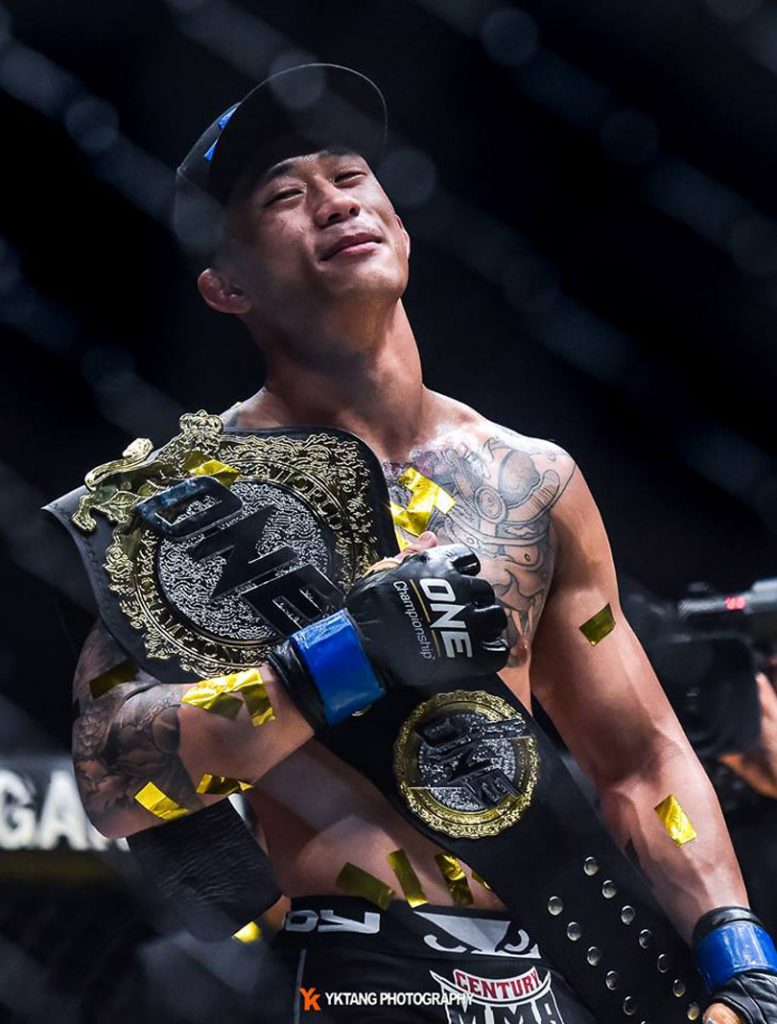 (pix: YK TANG)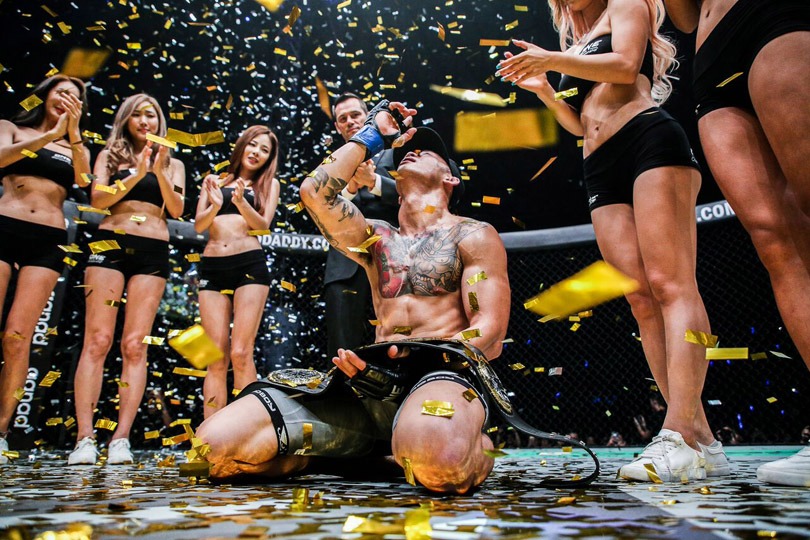 pix : ONEC
"This is for my dad. He was my inspiration for the whole camp when I mentally broke. (He and) the boys kept me together,"
he stated.
Two days after accomplishing the monumental victory and claiming the No. 1 status in ONE Championship's stacked featherweight division, Nguyen visited his father's grave with the belt.
"I am doing this all for him. One big title to put the icing on the cake. It's the only thing I wanted to do once I got home. I hope he is so proud right now."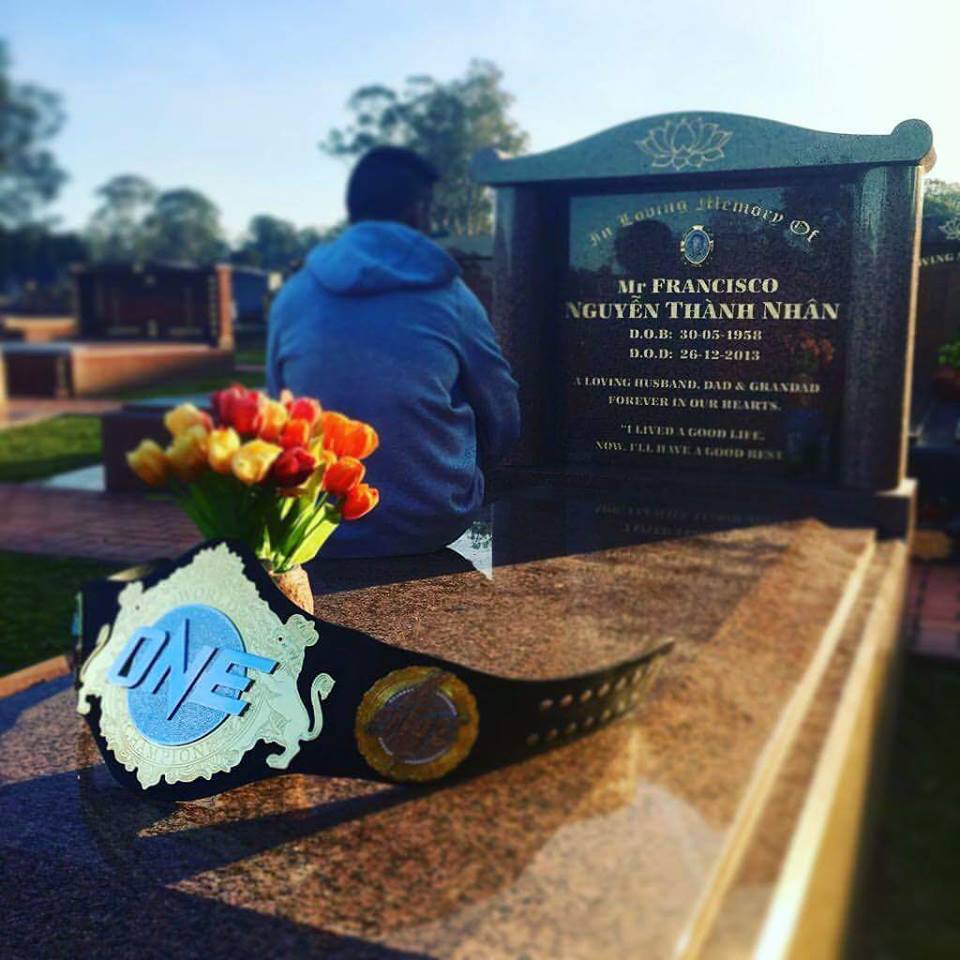 visiting his late dad
Martin will be aiming to make his late father proud again. This time he is proposing to ONE to let him challenge for Bibiano Fernandes bantamweight belt. If he succeed, he will be the first two weight Champion for ONE Championship!
——————————————–