The rush beating of hearts, the hurried breathing from nervousness, heads spinning with so many thoughts of what you should or should not do…these are the feelings many experience before especially when they want to get in the ring to face their opponent. Most of this feeling is because of lack of experience. Usually after a few fights, most will learn how to deal with it and learn from the pass and move forward.
This is what STAND wants to achieve. To build the younger generation of fighters by giving them opportunity to fight. Fight among their peers, not someone older with more experience.
STAND Junior edition orgarnised by Karabaw and sponsored by Borneo Majubina and supported by MILO will go down this Saturday 20 May at Karabaw HQ gym in 88 Marketplace, Kota Kinabalu.
According to STAND founder Rayner Kinsiong, this is the first time in Malaysia Junior Title Belt are up for grab in 10 categories for boys and girls. The winners will need to defend their Title Belt in future STAND Junior event.
The fights are sanction by ISKA ( International Sports Karate Association ) and will be 2 mins x 3 rounds with 1 minute rest in between rounds, with amateur rules. Open to only fighters age below 18. Head gear, mouth guard and shin guard is a must to keep all fighters safe.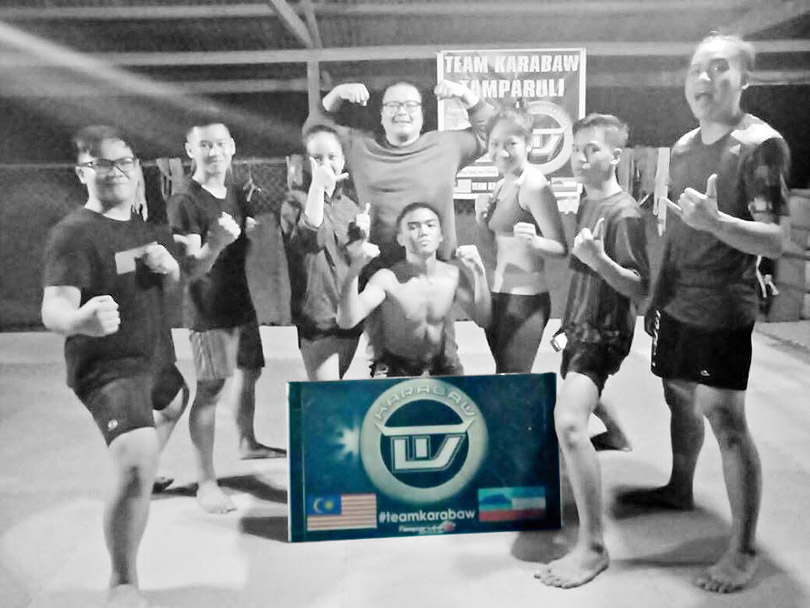 Team Karabaw Tamparuli, their Junior ready to come out and play!
STAND Junior edition will the fifth STAND event being organised. The original idea began with having a kickboxing event to be the platform to unearth and develop new talent in combat sports. Kickboxing under K1 rules are chosen because it uses rules that can benefit all type of stylist. Practioner of different style, such as Taekwon-Do, Karate, Silat, Kung Fu, Muaythai can get in the ring and compete in a common rules fight.
Rayner is very proud of the achievement and the progression of STAND so far, but he still harbour much hope that the state sports ministry are able to see the positive impact they are doing to the young people, and hope that the ministry will come in and support this effort.
He said he received many request from different districts such as Sandakan, Tambunan and Keningau to have STAND organised in their place because lots of people can see that STAND are able to move more young people to learn martial arts, to be active and live a healthy lifestyle.
He would love to full-fill their request, but obviously financing it is the biggest challenge. Organising a combat sports tournament is not a way to earn money. Many times he has to sacrifice his own time and invest his own money into making it happen. And he said without the constant supports from his family and his Karabaw family, STAND would not be what it is today.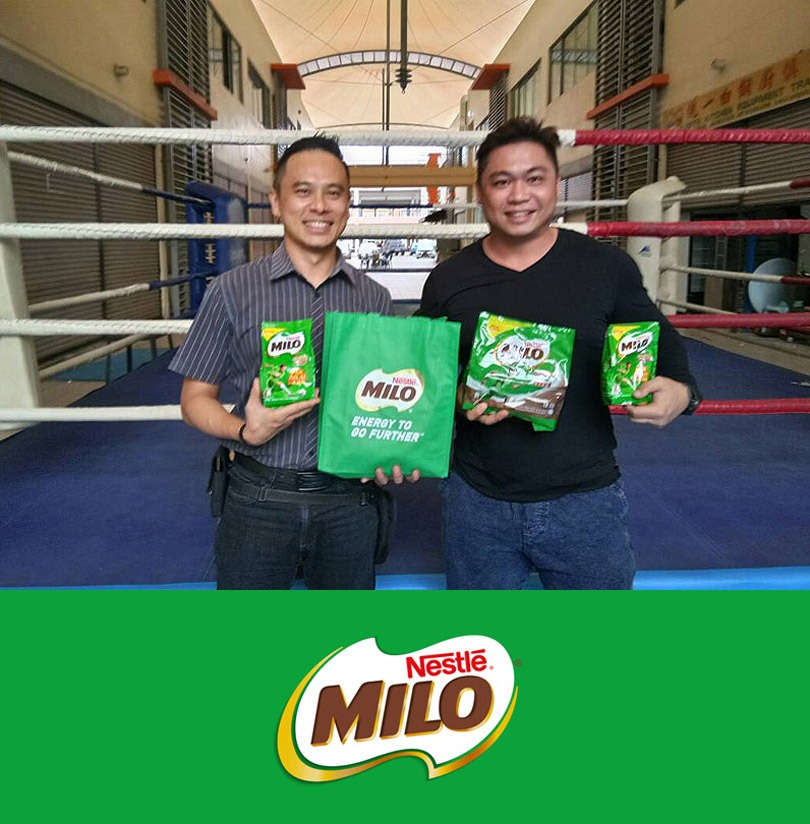 MILO supporting the development of Junior Kickboxers. Myself with Rayner handing over the sponsored MILO
And most importantly too, is to have sponsors that are equally passionate about the event they are involve in. This is where he said he is very thankful to have Borneo Majubina Aidil Zakuan believing in the same objective and supporting the same cause as he does which together they have build STAND.
STAND is only in it's 2nd year, it is still in a developing stage but is surely charting it's course to have more events this year and years to come. With the support of all party, STAND hopes to make Borneo a powerhouse in Kickboxing, not just in producing more talents but also to become the premier Kickboxing event in Borneo.