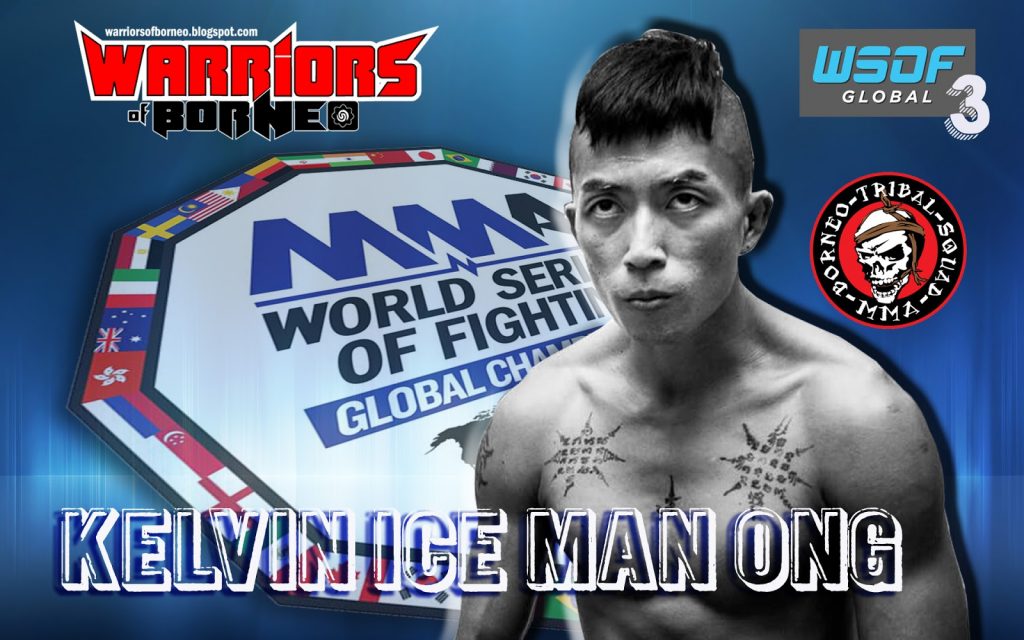 In the early hours of 2am every morning, Kelvin Ong wakes up and starts to prepare for work. As the eldest and only son in the family, Kelvin run a family business with his mother in a stall at the LIDO market in Kota Kinabalu, Sabah. Kelvin will be busy preparing all the ingredients to make porridge and herbal tea. These items are the hot selling items and he prepares them meticulously. By 5am he is already at the market setting up his stall and business will continue till 10am.
From LIDO market it's off to join Coach AJ Pyro and his Borneo Tribal Squad (BTS) team mates for a grueling session of strength and conditioning training. Coach AJ's session of Spartan like training for his team. He work them on hill sprints and lots of high intensity interval exercise which is certainly not for the faint hearted.
After morning training, often under the hot sun, Kelvin will go back to have a break and sleep for a few hours. By 5pm he will be ready and leave for BTS gym for the evening session training to polish his martial arts skills. Wrestling, BJJ, Muaythai and boxing is a weekly routine. After the evening session, Kelvin goes back to rest and sleep for another few hours and wakes up at 2am again to continue his routine.
This is Kelvin's life, 7 days a week and 30 days a month, no off day. This is the life he has choosen and dedicated to ever since he join BTS two years ago. Kelvin has always been interested in fitness but never practice martial arts before BTS. Consider a late comer at age 26 when he started training but due to his passion and the hardwork he put in he is able to improve fast and has won in Sabah BJJ Open, Sabah State boxing, K1 Kickboxing & Mata Leao grappling in Fight Fest and MIMMA.
Tonight, 30 JUL 2016 will see Kelvin representing Malaysia in his pro MMA debut against This is a fight in World Series of Fighting Global Championship 3 (WSOF GC), happening in Smart Araneta Coliseum Manila, where the late boxing legend Mohamad Ali defeated Joe Frazier in 1975.

WSOF GC
focus on the international development of combat sports of the WSOF brand. WSOF GC-3 will have 10 bouts headed by the main card of Evgeny Erokin of Russia vs USA's Richard Odoms. Having 5 Pinoy on the cards will be featured as Philipinos vs the world and Kelvin will face one of them –
Jessdan dela Pena
. He is a matchmaker for
UnderGround Battle (UGB)
, a Philipine base MMA promotion and this is his 2nd fight after a loss in March this year at UGB 14.
Kelvin took this fight at a month notice, but at BTS, coach AJ's philosophy is to always train and be prepared – always learning and improving, so when a fight comes along, his team can focus and fine tune and they will be ready.
Kelvin will be fighting at Lightweight. ( at the time of writing, Kelvin has made weight but Jessdan was over by around 8 pounds ), but the fight is still on,
" I am excited! I train hard daily, I have been waiting for an opportunity like this fight with WSOF Global! This is huge – I really feel honoured and cannot wait to bring it in this cage tonight!"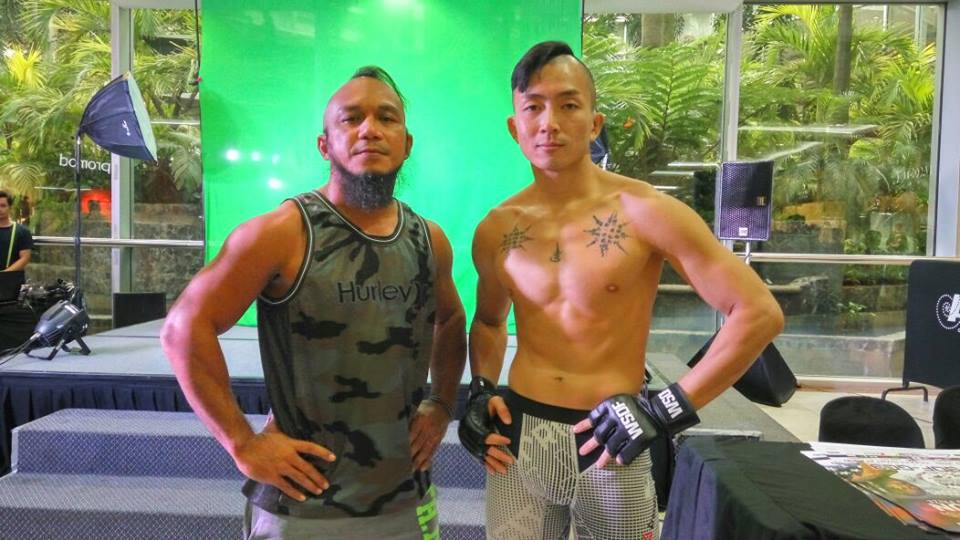 On how he feel to be challenging a Pinoy in their home ground?
"I am ok with it. I go into the cage not for the fame, or fans, but for myself, for BTS (my team), my family, Sabah and Malaysia. I don't care if the audience boos me because I am fighting a local Philippino, really it is my opponent that is under the real pressure."
Ask about his crazy schedule daily, Kelvin has this to say,
"I train like this EVERY DAY ALL year round – I also work EVERY DAY, no days off. It is not easy, but I want it and I work for it. Some people see me smiling in the gym or on facebook, and I love my life, but there are some serious sacrifices behind the scenes that people never see. I think to be successful, you need to put in the hard work, be disciplined and focused. Many people see the fame and glamour and want it without working for it. I see the athletes and the fights and I don't want the fame, I love the journey – I want to train and compete – simple as that."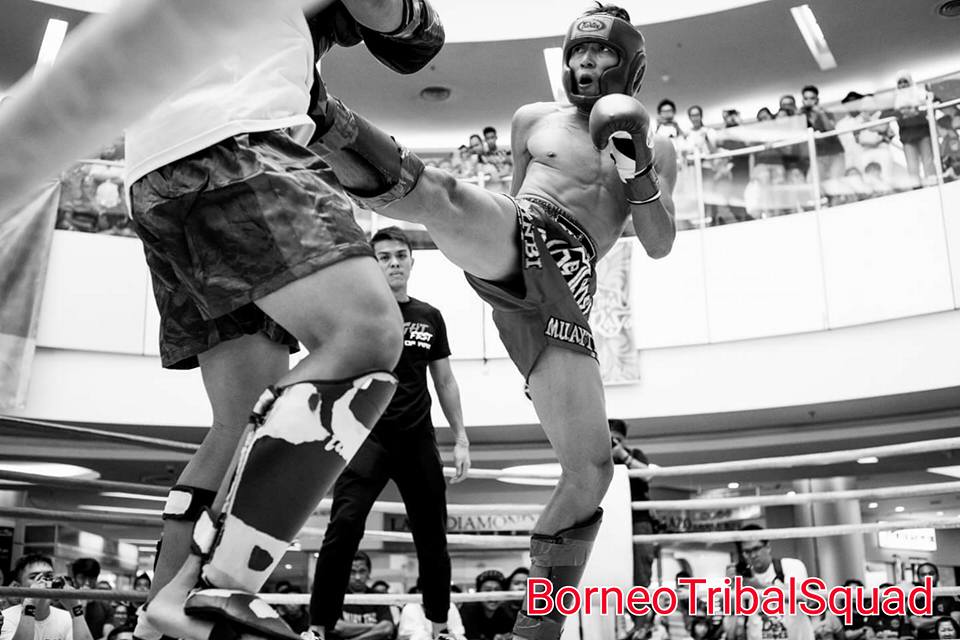 Dr Audrey Laura
is Kelvin's team mate. She's a pro fighter and also has a hectic schedule being a doctor in the emergency unit of Kota Kinabalu Queen Elizabeth Hospital. But even she feels that Kelvin's daily routine is crazier and more packed than hers, but despite that, she says he still shows up and give his all during training. She describe Kelvin as a dedicated, disciplined and determined person.
" He is my source of energy. Whenever I feel tired or feel like giving up but when I think of Kelvin…he motivates me to keep going. His passion drives me forward."
She look up to him as a big brother and love the sincerity and humbleness that Kelvin has.
" Kelvin is a gentleman who probably won't talk much to a stranger but once he is comfortable with you, he just cant stop talking"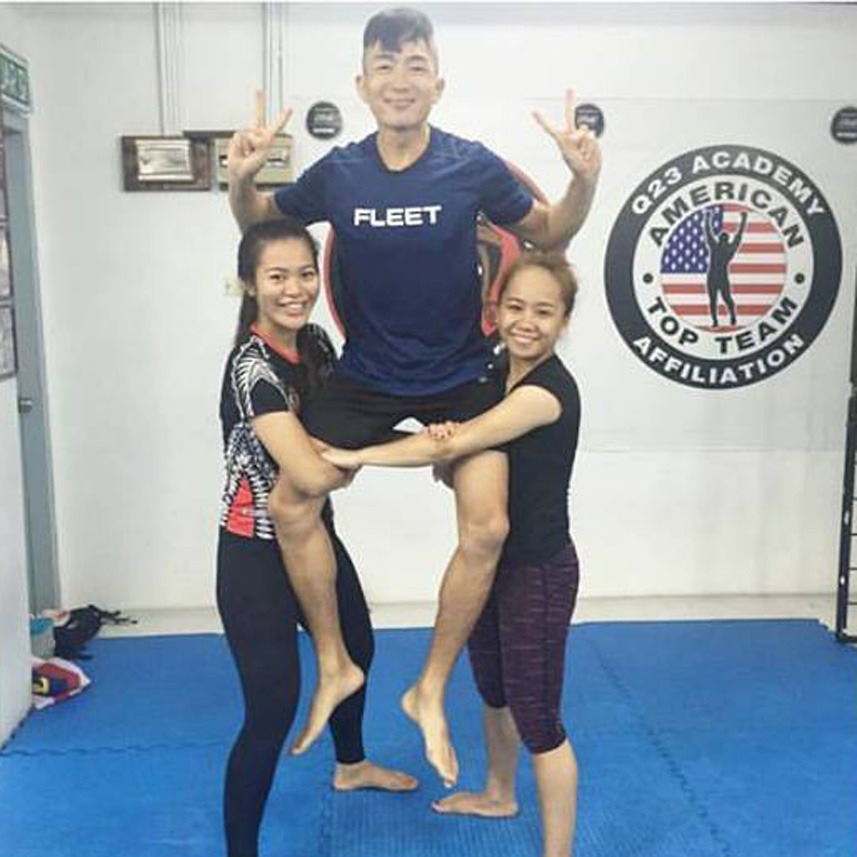 Kelvin and his BTS team mate, Tira (L) and Dr Audrey (R) literally supporting him for his WSOFGC fight
Beffiting his quiet personality , AJ gave Kelvin the nick name 'ICE MAN'. Not just because Kelvin don't talk much, but also to portray's Kelvin's fighting style…like an assasin, cool as ice…the noise will not come from his mouth but will be from his fist impacting his opponent's face.