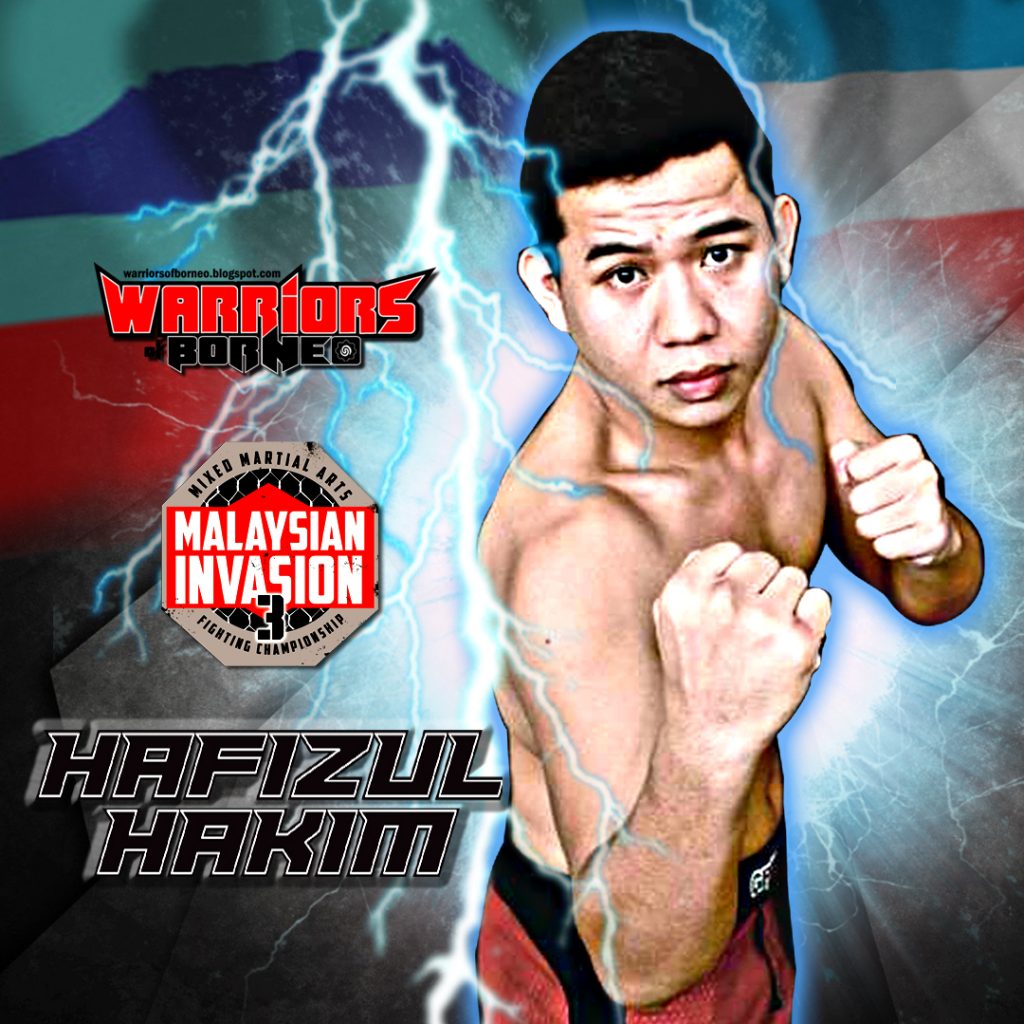 This 20 year old lad helm from the small town of Sipitang in Sabah. Completed his STPM at S.M Pengiran Omar, Sipitang. He started MMA training only a year ago. He reached the Semi Finals of Jesselton Fight League but had to pull out as it clashed with his TESL exam. During his school days basketball was more of his things. He has heard of UFC & MMA but being in Sipitang didn't expect that training is already available in Sabah.
Together with his home town friend Ricky Cheong whom has the same interest to train in MMA, they met up with Sensei Rayner of Karabaw Gym, and he started teaching them and help them in setting up a gym in Sipitang. Hafizul and Ricky would train in Karabaw Gym in Kota Kinabalu,
back home in Sipitang these two friends trains at home and at time in school compound.
Now Ricky as owner of Karabaw Gym Sipitang has got a fixed place for them to train and they have not look back since, with members increasing and awareness of MMA from Hafizul's success.
Hafizul or Popo to his close friends, is a relentless bull. According to Sensei Rayner, this lad can eat punches like cookies and have the endurance of a pick up truck! He is well rounded and in good shape. With 3 fights winning streak : 2 TKO and 1 split decision Hafizul will challenge Muhd Aiman of Negeri Sembilan for the featherweight title.
Aiman will not be a easy game for Hafizul as Aiman is seasoned MIMMA contestant. He was the finalist in season 1, loosing to eventual Champion Prabu Somanaidu. Again in 2014, he qualified for the finals but didn't make weight, which saw Seah Zhang Yu, the opponent he beat in the Contender fight became the eventual Flyweight Champion.
—————————————————–
Where are you from? Are you pure KadazanDusunMurut (KDM)? what's your heritage?
Basically I live in sipitang, I was born in Kuala Penyu, Sabah.  I'm mixed, my father is Iban+Chinese and my mum is Dusun.. therefore I'm Iban..you can follow my ig account hhakeem08 and my facebook Hafizul Hakeem.. hehe.. promoting! 😛
Tell me how you feel reaching the final of MIMMA? Do you expect this?
I really didn't expect to reach this level, but nothing is impossible. I did my very best in every fight so that's why it brought me to the finals. I'm super excited to fight at the grand final, it is my 1st title match. I hope and will do the best to make the belt to be on my waist.
Since when did you get involve in martial arts? Can you tell me a bit on your martial arts journey?
I'm a big fan of UFC, and thats when I started to like MMA. First I joined boxing, but it was unorthodox boxing. We learn and teach each other. Before I join #Karabaw I learn a few grappling knowledge from youtube, after that I started to notice Karabaw gym in Austral Park , Kota Kinabalu and I went there.. and that's how I met my beloved coach/brother Rayner Kinsiong…hahahaha..
What motivates you to fight?
I think it's because of my doers attitude, I'm always up for anything that I like. Since I like MMA so I did and give my best to this sport. Although it took a lot of time and money but I still want it. Besides, my family and my girlfriend also supporting me. They always concern about my weight and control my eating habit because I really love to eat! Hahaha..
You are still studying right? currently where?
No, I'm currently looking for a permanent job. I'm hoping that I can find a job that allow me to train and work.
Do you get much attention in Sipitang for reaching the MIMMA3 final?
Yup, a lot of people that I dont know starting to greet me and it was good because I like making friends.
What's your game plan? stand & strike or challenge him on the ground?
Ahhh, I'm planning to go with the flow, if he wanted to go for the ground then ground it is and vice versa. But I'm planning to fight calm and not rushing, I just want to feel the 3 minutes x 3 rounds in the cage…
Have you studied your opponents fighting style & noted any weakness?
Emm, yes of course..
Yeap I notice a weakness that I can take advantage off..so I already prepare a few moves to fight with him.
Aiman has defeated your team mate Douglas, how do you feel meeting him in final?
Douglas! I'll avenge him for you brother, and I will make my team proud of me and I want Team Karabaw to be a well known gym for creating a great fighter.

What is your MMA fight record to date?
I think its 5-1, I had one lost at the Full Metal Dojo, its Lightweight title. You can check it at Tapology, but there were a mistake at the website for spelling my name wrong, my name do not have Muhammad, my name is Hafizul Hakim.. change that pls 🙂
Which fight for you is the toughest? and which is the most satisfying win?
Errr.. the toughest fight is against Damon Soo. He was so strong, his punches were heavy and makes me hard to chew my food for 2 days. Hahaha..

What was the experience in TMT like?
TMT, it's one of the best fight camp in the world.. there is a lot of pro fighters there and more experience for sure. Since we went there for 5 days so sorry to say that only get a few techniques and tips, but if I'm staying there for a few months I think I will be a better fighter.. 🙂
What's your message to Aiman?