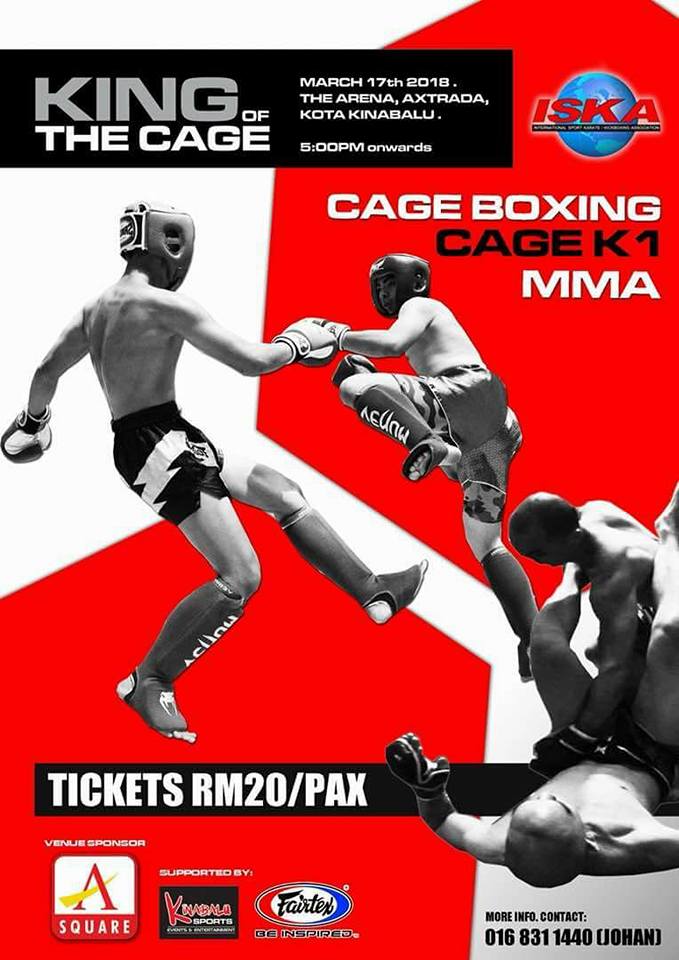 March 17 2018
There's a raw vibe to watch fighting in a cage. In the early days of UFC it was label as human cock fighting. The cage was use to give it a very underground, no holds barred kind of feel. The birth of MMA was in a steel cage. But as the sports grow with better safety rulings and proper weight division, fighting in a cage is not something unusual anymore.
Last year in September, Johan Julian the founder of Fight Fest worked with venue owner of A Square Container Night Market to kick-start a new activities there. Cage fighting. A Square is a place where creative street food are serve from container shape kiosk. This venue used to be the popular Ocean Seafood restaurant, which has stopped operation many years ago due to changes in ownership.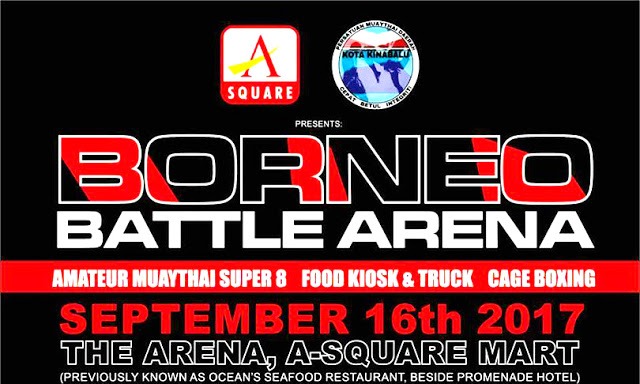 Julian organized a cage fighting event named Borneo Battle Arena with Boxing and Muaythai bouts. They placed a steel cage (for cage boxing ) and a ring ( for Muaythai ) inside the hall where the restaurant used to be, which they now named the place The Arena. The idea is to make this place a hub for combat sports. Which fight fans can gather to watch fights and enjoy some good street food at the same time.
This 2nd event on 17 March 2018 was named Borneo King of the Cage. This event is to further promote combat sports in this region, giving newcomer a try to fight in a cage environment.
See the full results below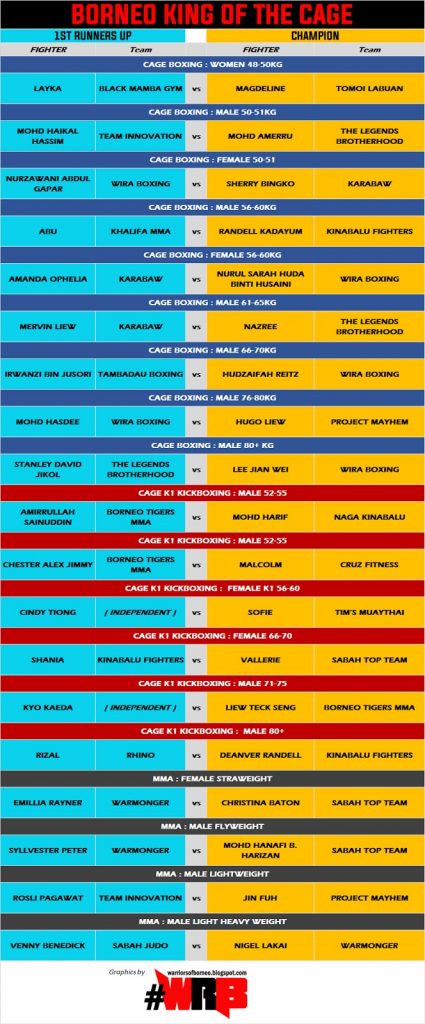 Borneo KOTC full results
The event was held at night and this time 19 bouts under amateur rules were contested. 9 cage boxing, 6 K1 Kickboxing and 4 MMA. This event was sanctioned by ISKA.
——————————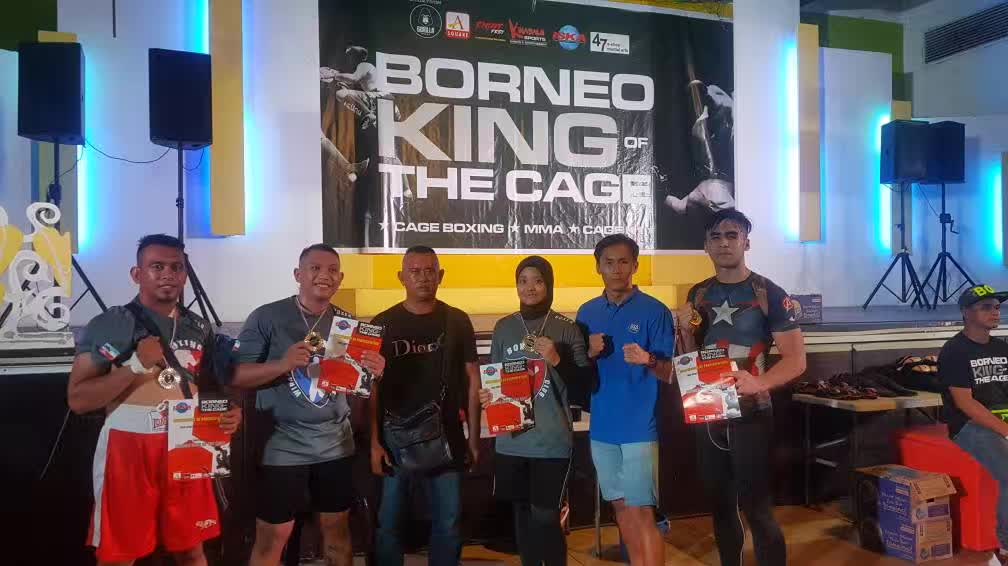 Wira Boxing – Tawau
In the cage boxing event, out of 9 bouts, Wira Boxing from Tawau dominate with 3 Gold and 1 silver.
Young boxing prospect Hudzaifah Reitz, 22 from Tawau displayed very crisp and highly technical skills to win his match. He knocked down his opponent in finals a number of time until finally the ref stops the match & award the win by TKO. Hudzaifah is a UITM Sarawak graduate in Sports Science. He is now fully focusing on his boxing training.
Coming from a family of boxer where his father, Reitz Jakaria and grandfather, Jakaria Talad were former national boxers.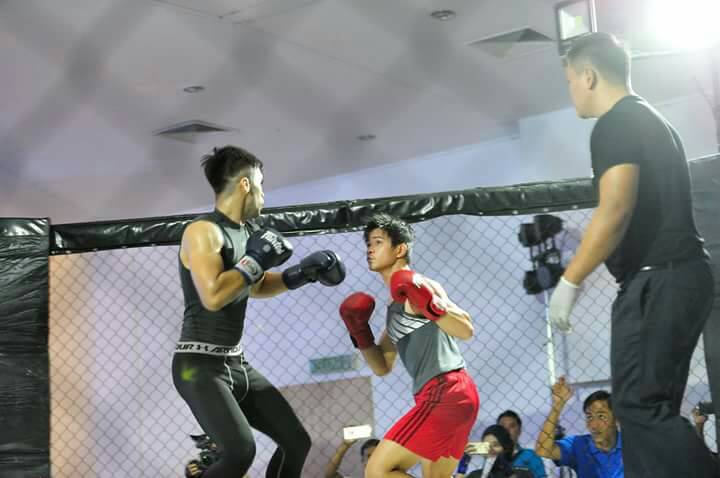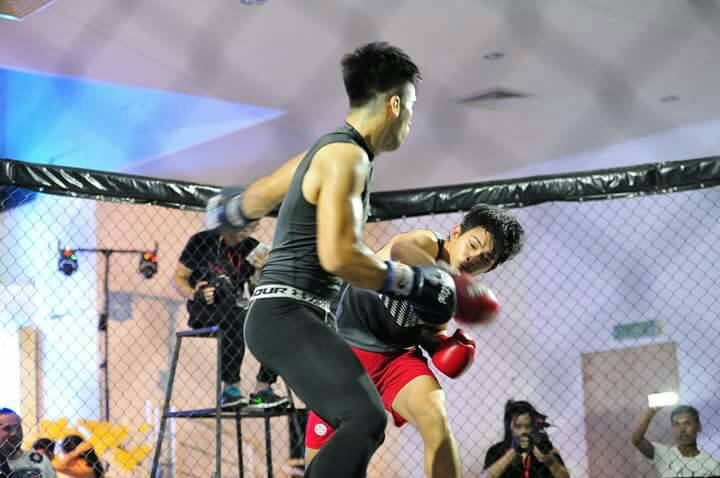 Hudzaifah is the youngest among his 3 brothers. Since his elder brother focus on their studies and the other one has a sinus problem, he is the only one continuing his family's legacy in boxing.
He said he learn a lot from his father, not just in Boxing skills but also character building. His father emphasis discipline and humbleness.
Hudzaifah (R)
——————-
In Kickboxing, Borneo Tigers MMA stand out, Liew Teck Seng won his fight in a blistering match at 75kg vs Kyo Kaeda. Liew with his stocky stature was able to connect with many powerful shot to win the fight by decision.
Kyo was a former fighter whom possess exiting style but has been inactive for some time. This was his first competition after a few years of lay off, but it was good to see him back in action and we hope he continue to train and compete.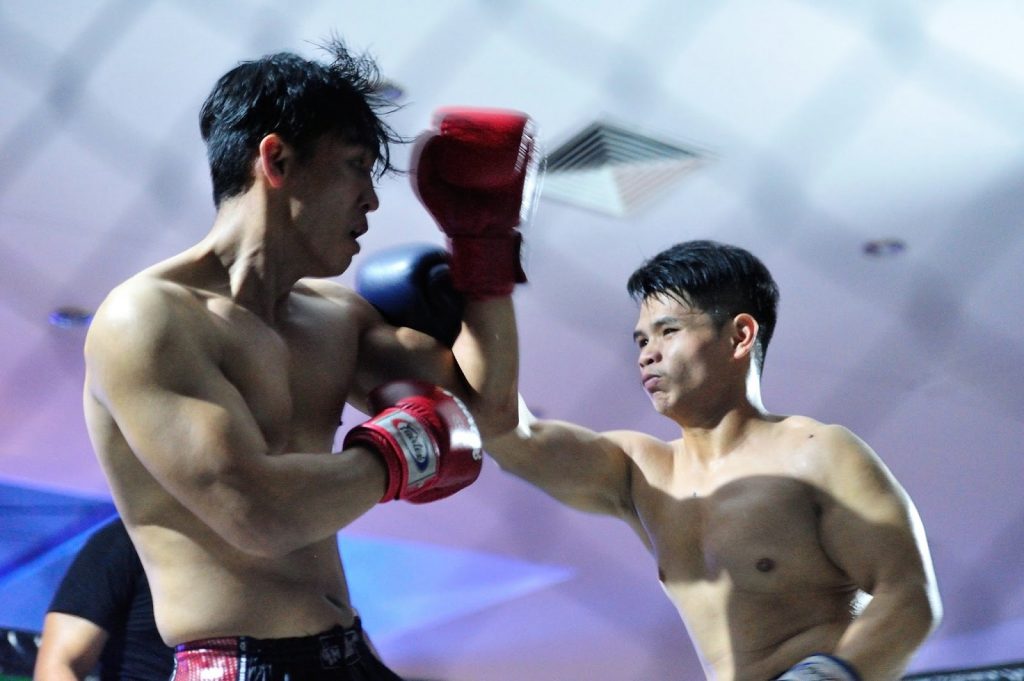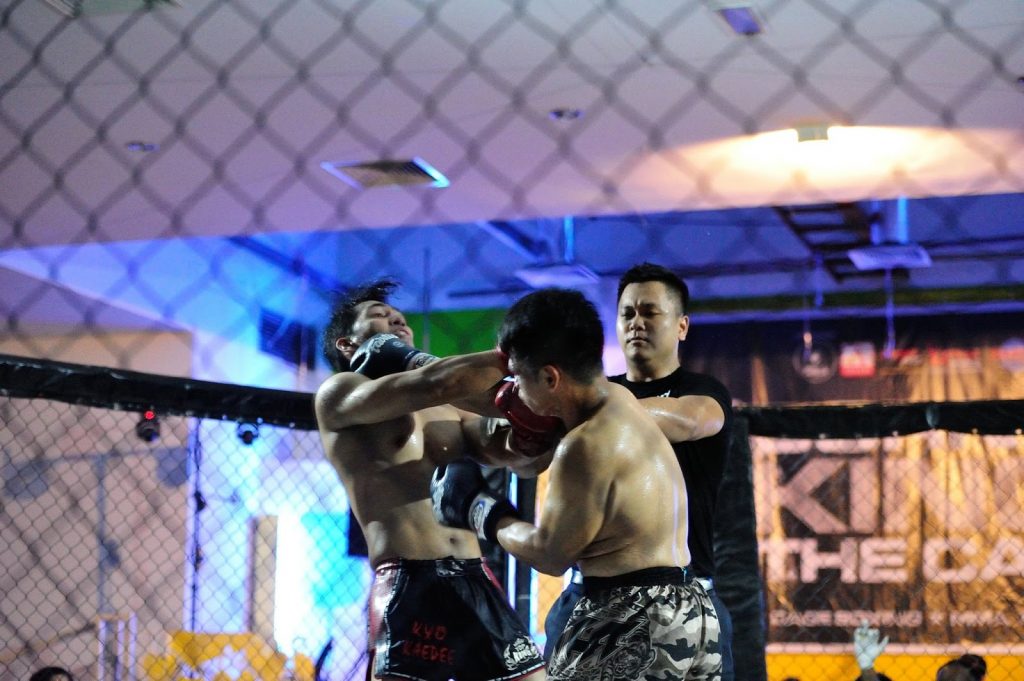 Liew (R)
—————————–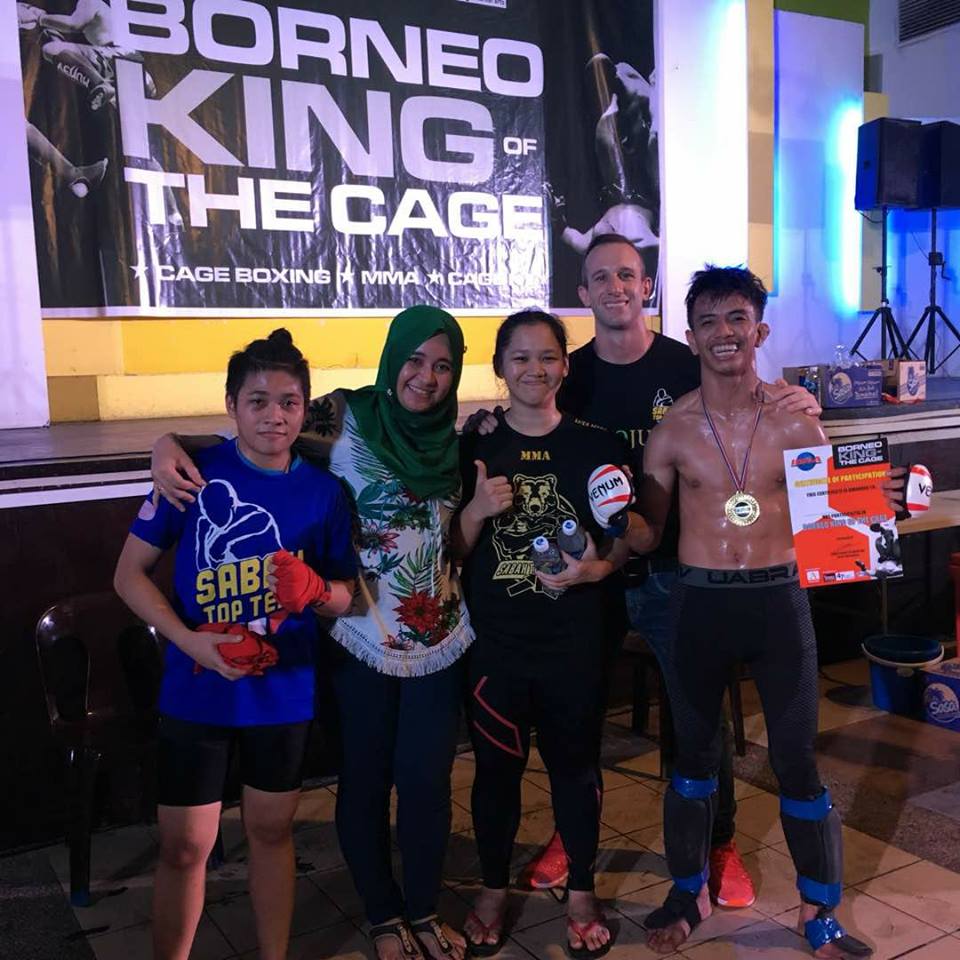 Antonnio and his 3 Gold medalist
Sabah Top Team had a good result in bringing back 3 Gold. They participated in cage boxing, K1 and MMA.
In MMA, a debutant from Sabah Top Team (STT) caught attention of the referee when they did the initial body inspection before fighter enters the cage. Medical team was stunned to see Mohd Hanafi of Sabah Top Team, they discovered that his left feet, the toes and sole are missing. This was because of a motorcycle accident he had some time back. After Coach Antonio of STT assured the officials of his student capability to fight, Hanafi was given the green light to enter the cage.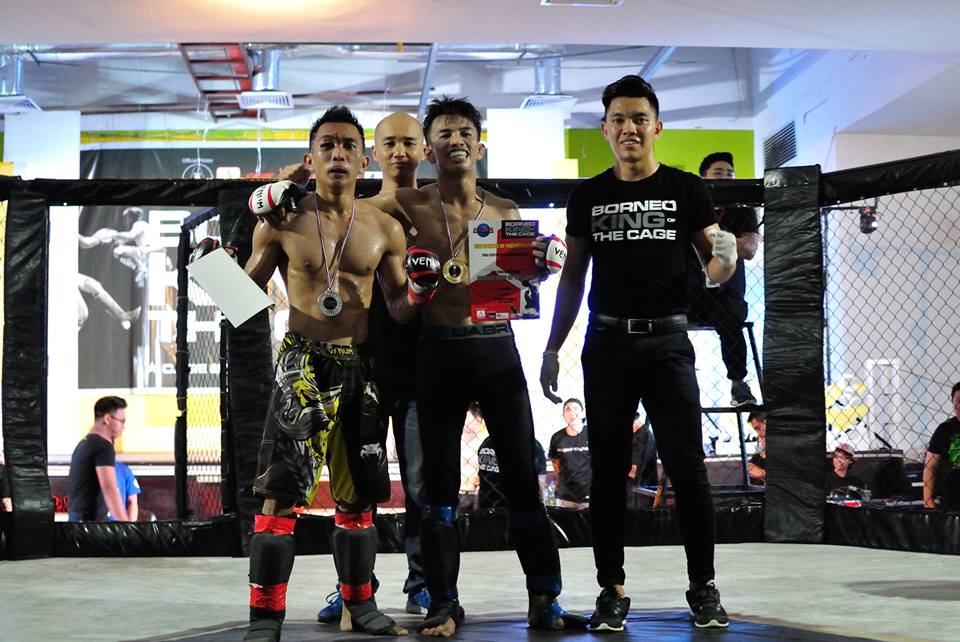 Hanafi (Blue) 
Hanafi works as an assistant at CKS Supermarket, located just below STT. He was always curious about the training there but was rather shy in asking due to the condition of his feet. But finally he worked up the courage to ask Coach Antonio to teach him. That was only 6 months ago.
Fighting at flyweight, he faced Sylvester from Warmonger Miri. Despite his left feet's inadequacy, Hanafi does not have a problem with his footwork. It was quite a funny situation when Coach Antonio was shouting instructions to guide him in the fight, but he stared back with a blank expressions on his face; because he does not understand English well. Then he holler back, asking his team to speak in Malay. With the guidance from his corner and the experience of training with Luta Livre grappling skills at Sabah Top Team, he managed to sunk in a standing choke that gave him the victory.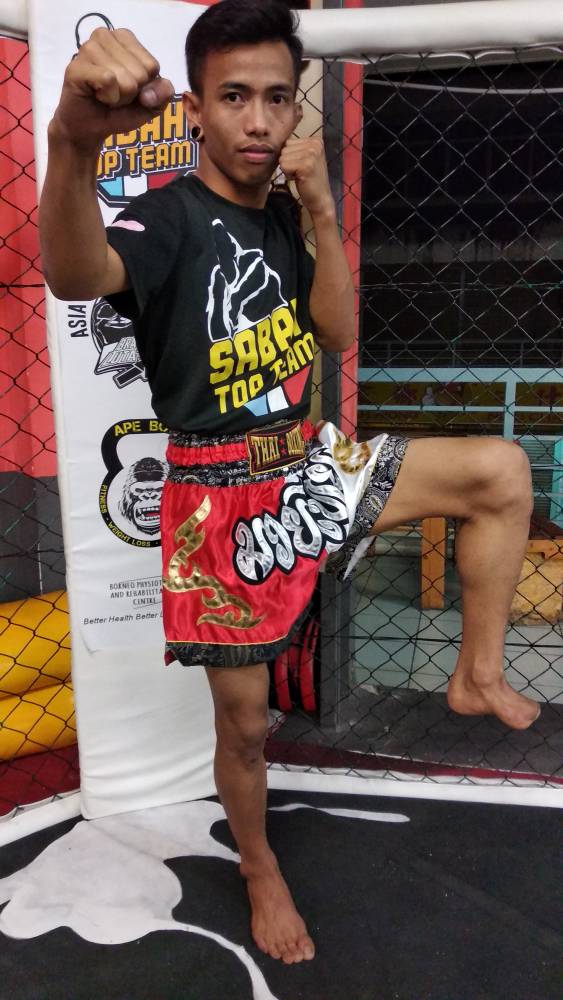 when you willing to work hard, nothing is impossible
———————-
Johan Julian was very happy with the turn out from various gym across Sabah, Labuan, Brunei and Miri for the support they have shown for the event. He mentioned that the event was organized at night to ensure comfort as it is cooler. Crowds that came to enjoy food at A Square also walk in to catch a glimpse of what cage fighting is all about, and this he hopes will raise more awareness for the sports.
This is a great venue to promote the sports due to its central location in KK city. I personally I hoped that the venue owner can put in some effort to upgrade the ventilation of the hall and keep the place cleaner to ensure a win-win situation for all parties especially the visitors.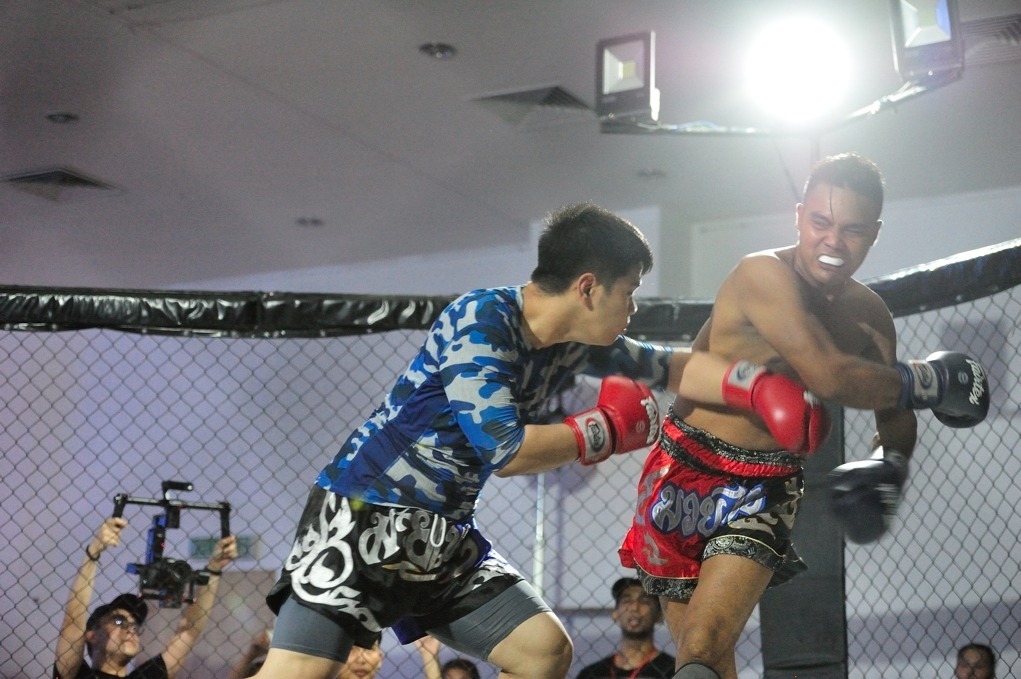 Deanver Randell (Kinabalu Fighters) – red corner, wins the Cage K1 80kg
Nigel Lakai (Warmonger) – red corner wins the MMA Lightheavyweight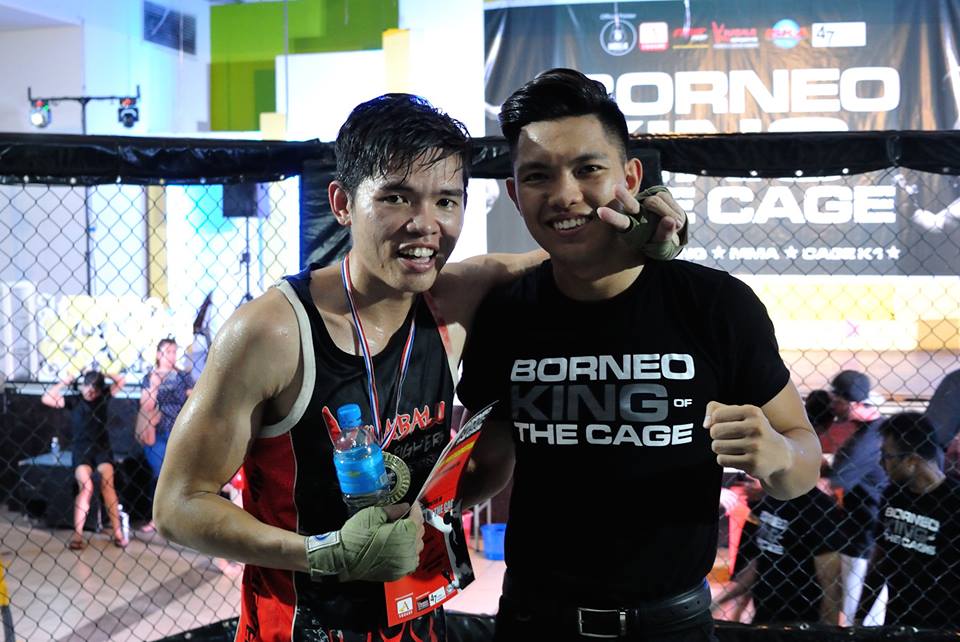 Randell Kadayum (Kinabalu Fighter) wins cage boxing 60kg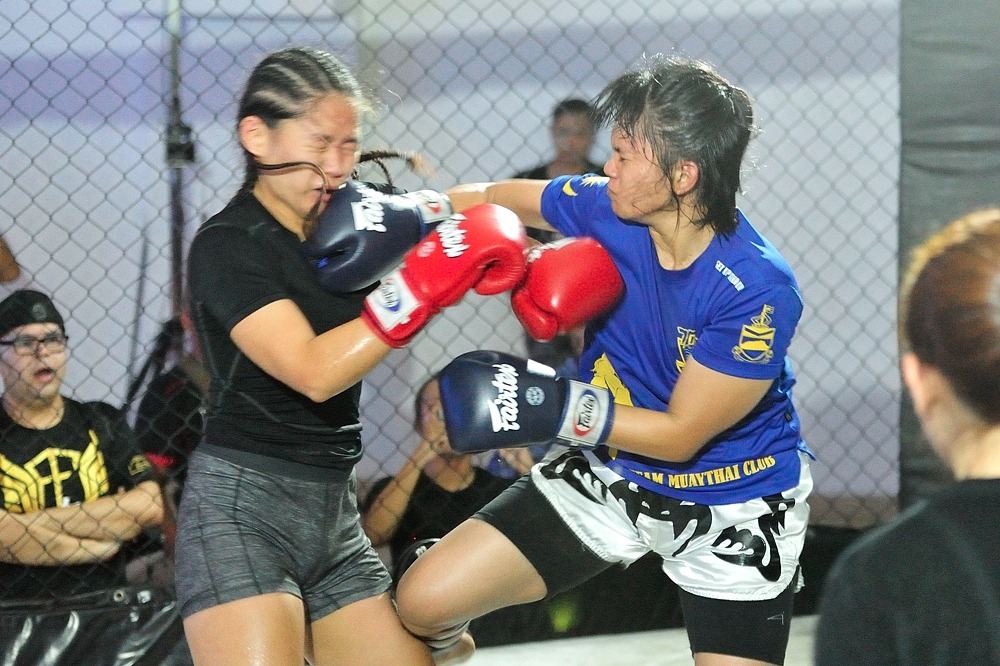 Sofie 'Opie'(Tim's Muaythai) – blue corner wins Kickboxing 60kg vs Cindy Tiong (Labuan)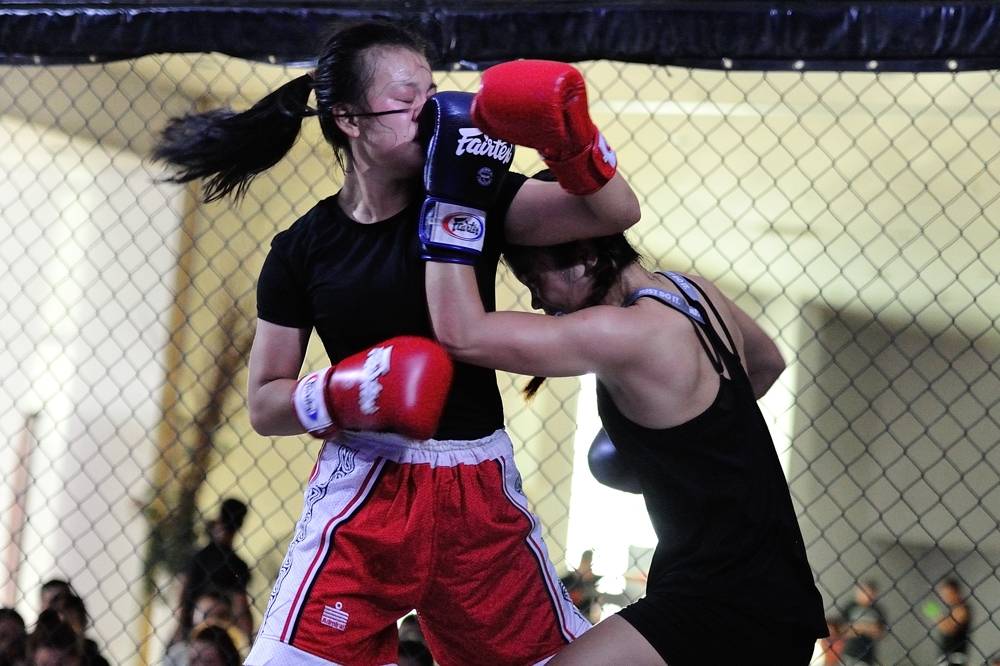 Magdeline (Tomoi Labuan) – blue corner, wins cage boxing female 50kg vs Erliana (Tim's Muaythai)