Co-main event of the night, Adrian Tham vs Harold Untol for the Welterweight title.
Adrian representing Team NOMAD has come off convincing win on his journey to the finals. Being the experience fighter, it was not easy to find a match for him. He won by walkover in the ladder match and submitted Syafiq Akmal in the quarters.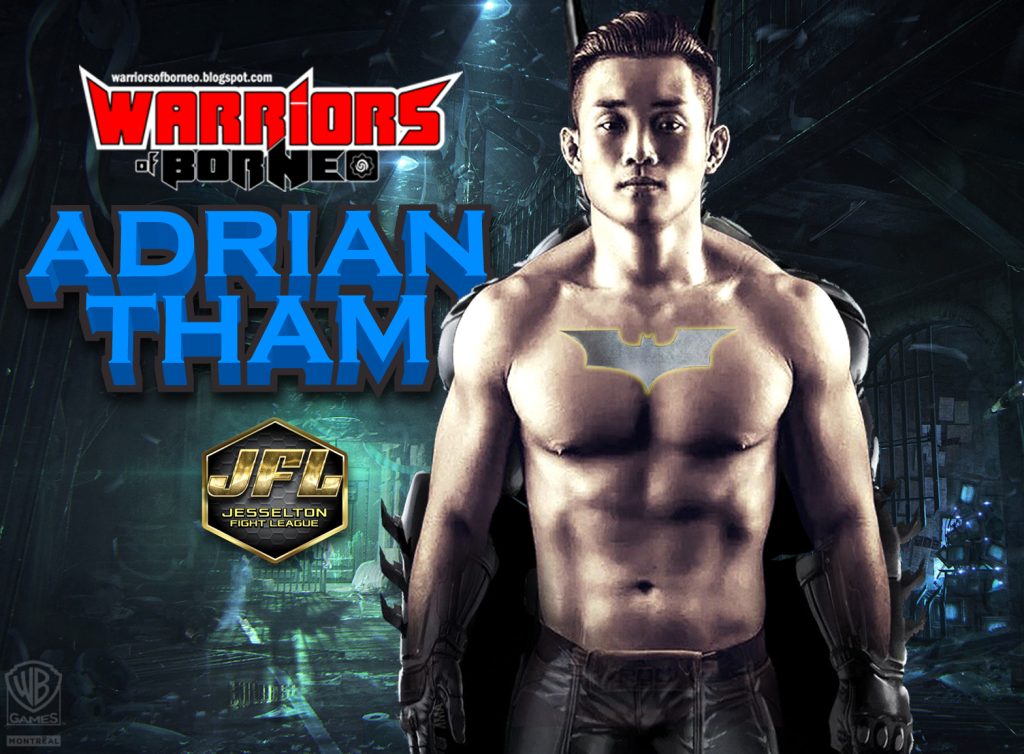 (0riginal heroes character reference from DC & Warner Bros. Original fighter's
photo by Jonyesi Studio. Artwork editing by warriors-of-borneo blog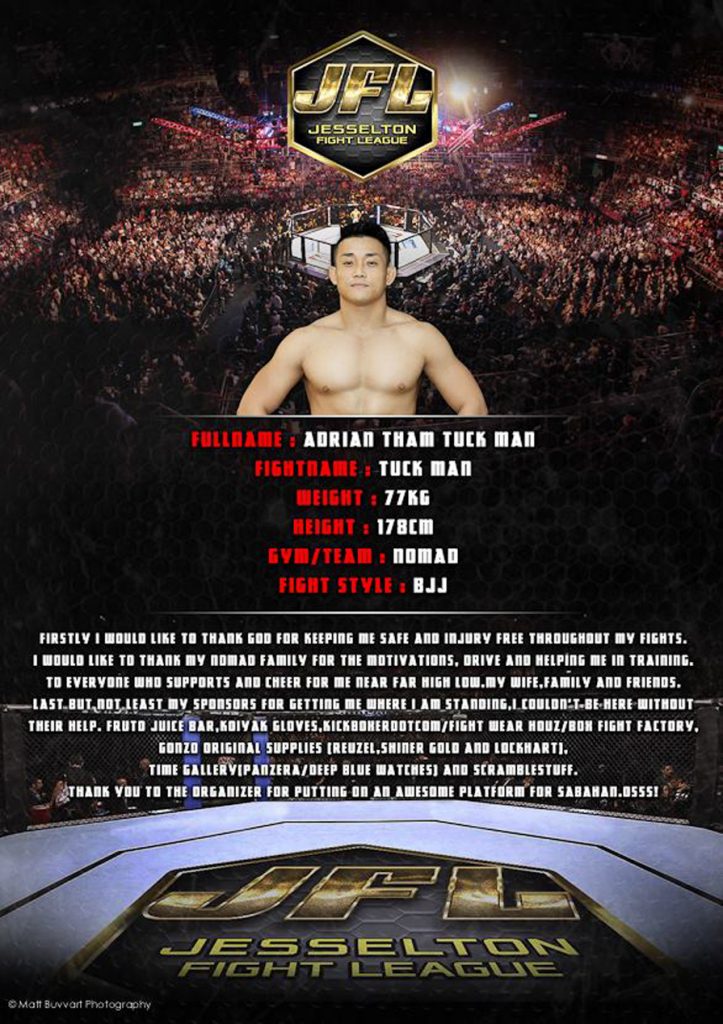 (artwork by Matt Buvvart)
Are you chinese? What's your heritage? Tell me a bit on your family background?
I'm a Sabahan Sino-Kadazan. My dad's chinese from Raub, Pahang and mom's a KadazanDusun from Penampang. I'm the eldest within a siblings of 4.
Tell me how you feel reaching the final of JFL?
I feel great!
You are very calm in the cage, what goes through your mind when you first step into the cage?
I just wanna get it over as soon as possible.
Are you the type that follow game plan strictly? or the type that just adapt, react and improvise on the go?
As usual I'd work out a game-plan for weeks or even months ahead and visualize them time to time.
But then again I strategize, adapt and react in the fight itself. It's not entirely planned to be honest.
Have you studied your opponents fighting style?
Not really.
To date in your fighting career, which fight for you is the toughest? And which is your most satisfying win?
Toughest fight was the one I had at Vegas at IMMAF (International MMA Federation). I went up against an undefeated American. It was a rather unfortunate event for me but then again I learn a lot from it.
Winning the MIMMA1 belt was most satisfying cause it was dragged on for so long and fighting once a month was crazy.
( Adrian won MIMMA season 1 Heavyweight Belt in 2013, and represented Malaysia in IMMAF – World amateur MMA tournament )
In Team Nomad, you are the one with the most experience…how do you prepare for fight? Do you look for training partner outside your team?
I train with our team members most of the time but then again I am truly grateful of having a big BJJ affiliated family in Borneo to cross-train. Team Leke BJJ/Checkmat BJJ. I cross-train within Valor, Karabaw and Alpha MMA for JFL.
I also have a great strength and conditioning programme with one of my sponsors, Borneo Titans Strongman Academy.
JFL finals will be a big event in Sabah, how do you feel so far about this event?
Props to Team Karabaw and Sensei Rayner for pulling off one of the best event in Sabah.
You are MIMMA season 1 Champ, going into this fight, do you feel the pressure to perform?
Nope. To give credit to my opponents they are all equally hard. Everyone has been training for this.
I expect it to be a hell of a fight.
Preparing for fight in the final weeks must be intense…how is your preparations coming along?
To be honest I am very comfortable with my weight cut, conditioning and technical preparations.
Experience certainly played a big part in my preparations, it brought everything down a notch and I'm just trying to keep myself injury free.
Usually how do you unwind after a hard training week?
Chill at Fruto Juice Bar or watch a movie.
What is your normal weight? Is it easy for you to make welterweight?
My walking weight is around 85kg. Cutting and putting on weight is easy for me nowadays.
I can cut to 68-69kg or be as heavy as 91-92kg. It depends on what I'm fighting or competing for.
So far which was your favorite match in JFL? Which fighter impresses you most?
Syafiq in semis.
What's your message to Harold?
I would say "don't blink" but that's not my style. I wish him "May the best man win"
—————————————————————
Finding a match for Adrian, with his reputation and fight record was not easy. Not many welterweight was available until Harold steps up. Working as a corporate banker, Harold has immerse himself in martial arts since 2013.
Representing Team Karabaw, he started with boxing and now has incorporate other martial arts into his arsenal to compete in MMA.
According to his coach Rayner, Harold has good boxing base and has strong chin that can eat punches.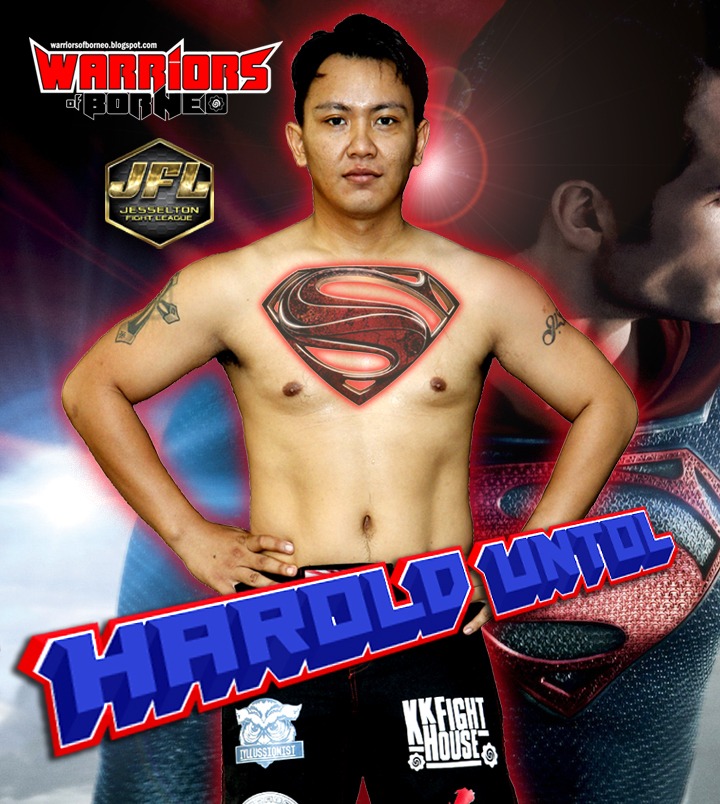 (original heroes character reference from DC. Original fighter's
photo by Matt Buvvart. Artwork editing by warriors-of-borneo blog)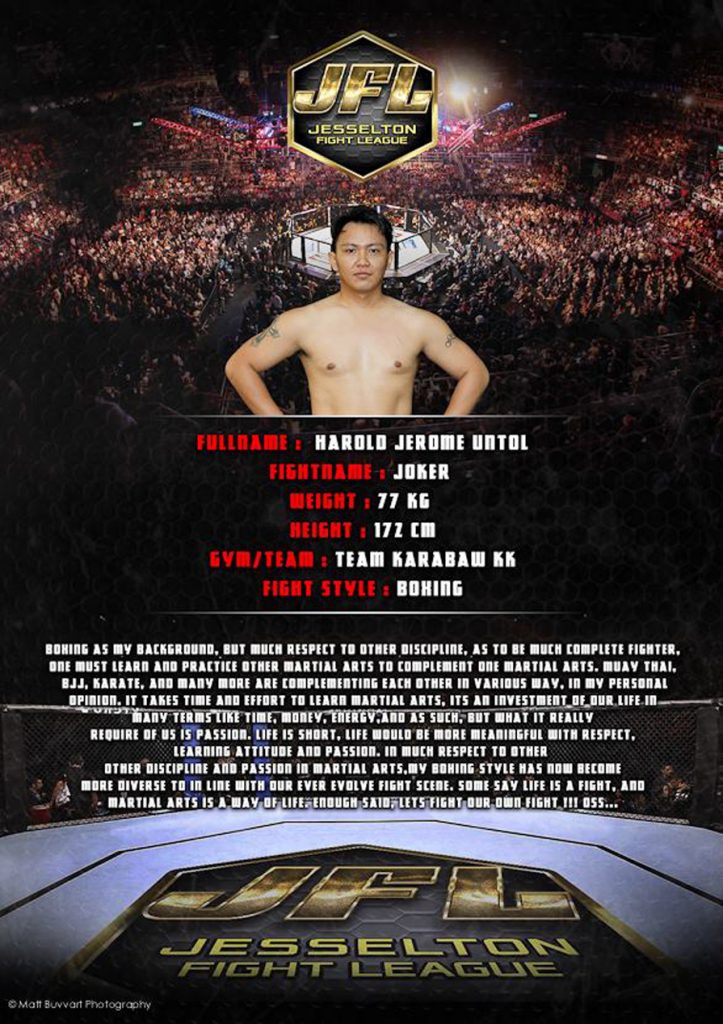 (artwork by Matt Buvvart)
How old are you and where are you from?
29 from Tuaran, Sabah
Can you describe your personality?
Not sure how to really describe myself, maybe depending on circumstances. I say a bit cautious to my surroundings and that makes me look serious. But when I'm with friends, you may say cheerful and I try to be active in conversation.
When did you got involved in martial arts? Aside from MMA do you compete in other style?
I started MMA since Team Karabaw gym opened in 88 Market Kepayan, back in September 2013.
Other than MMA, I do amateur Boxing.
What is your MMA fight record?
So far, my MMA record 0-1 since my last MIMMA2 participation.
How do you feel challenging Adrian for the welterweight title belt?
Nervous obviously, but excited at the same time.
What motivates you to fight?
For JFL, Adrian himself is my motivation and out Karabaw gym itself. To grow together and aim higher to pro.
You favour striking or the ground game?
Striking.
What is your normal weight? Do you need to cut a lot of weight?
Normal weight is 81kg. 4kg is ok, in fact, it does not really affects my performance. Before MMA, nobody really coach me on how to make weight or any diet program, after I joined Karabaw, I learned a little here and there about diet and cutting weight.
I eat 3 times a day, eat some 2 hours before training, drink a lot of water, avoid oily food, take some vege and have enough rest.
To make weight, I take lean food 1-2 weeks before the weigh-in, and a lot cardio activities.
What's your profession? Where did you studied?
I presently work as Asst. Sales Manager in Alliance Direct Marketing SB (subsidiary of Alliance Bank) in Sinsuran.
I graduate from UiTM Shah Alam in BBA (Hons.) Finance, back in 2008.
Does your job gives you flexibility of time to train?
My working hours is flexible except that my job requires me to go travel outstation, and when I do, I normally can't make it to the gym.
Adrian is MIMMA Champ season 1, do you feel as underdog you have less pressure to win?
Yes, I know his achievement, so the pressure is there. But it is also exciting because I get to fight him as he is one of my idol.
There is no way he is fighting me 100% other than in a real match. In JFL, I will give everything I got and bring the game to him. Anyway, anything can happen in MMA.
What's your interest? Any hobby?
Obviously, combat sports. And at the moment, these are my interest and hobby. Aside from that, I do reading, all sorts of reading, manga, novel, news, etc.
Your martial arts idol?
Locally, my coach, Rayner and also my opponent in JFL, Adrian. Rayner aside from being my coach, he is also ONE Championship fighter and he started from Karate and now climbed up to the MMA scene. His striking amazes me. While Adrian, a great but humble fighter, also an all rounder with effective ground technique.
Internationally, My idol is Pacman – Manny Pacquio, as I started from boxing, for the love of the sport, and his boxing speed, power and aggressiveness.
Your favorite techniques?
Body shot and overhand.
What is your philosophy towards life?
Life is a fight.
————————————————–
Warriors-of-Borneo wishes both fighters all the best!