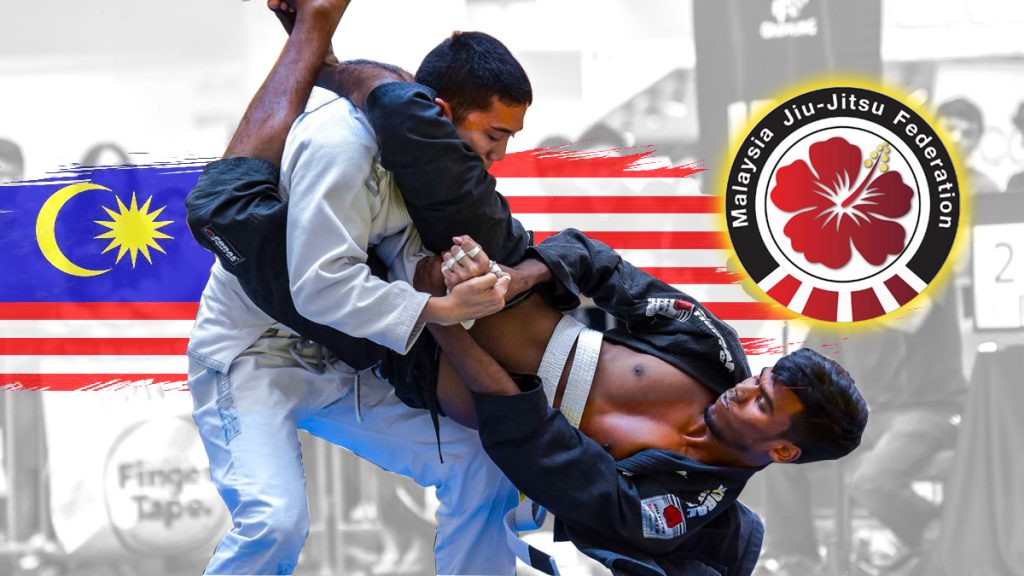 Jiu-Jitsu is relatively new in Malaysia. Popularised by the rise of MMA during the early 2010s, Jiu-Jitsu particularly the Brazilian version or fondly call BJJ saw a rise in numbers of practitioner as martial artist wants to add grappling skills to their arsenal.
One of the first association formed in Malaysia was in Sabah, Persatuan BJJ Negeri Sabah ( PBJJNS ) led by MMA pioneer & the first MIMMA Lightweight champion Allen Solomon Chong. PNBJJNS also pioneered BJJ competition in Sabah through the yearly Headhunter competition and also the big comp such as Sabah Open & Kota Kinabalu International Brazilian Jiu Jitsu Championship by Valor Jiu Jitsu Academy.
In West Malaysia the scene grew stronger with the introduction of Malaysian Invasion MMA (MIMMA) in 2013. One of the pre-requirement in MIMMA's trial was to show grappling ability. Jiu-Jitsu proof to be an essential skills in MMA as BJJ practitioners like Allen and Adrian Tham won their lightweight and heavyweight title using their BJJ dominant skills.
As MIMMA progresses and many other MMA competition was organized, BJJ studio and classes sprouted up all over Malaysia.
As more and more people pick up BJJ and improve on their grappling skills, it calls for a need for competitions to let practitioners put their skills to the test. August 2015 saw the first Copa Da Malásia being organised. It has grown to become the biggest Jiu-Jitsu tournament in Malaysia. Nov 2019 was their 13th edition and big plans was in store for 2020 until Covid 19 wreak havoc in the plans.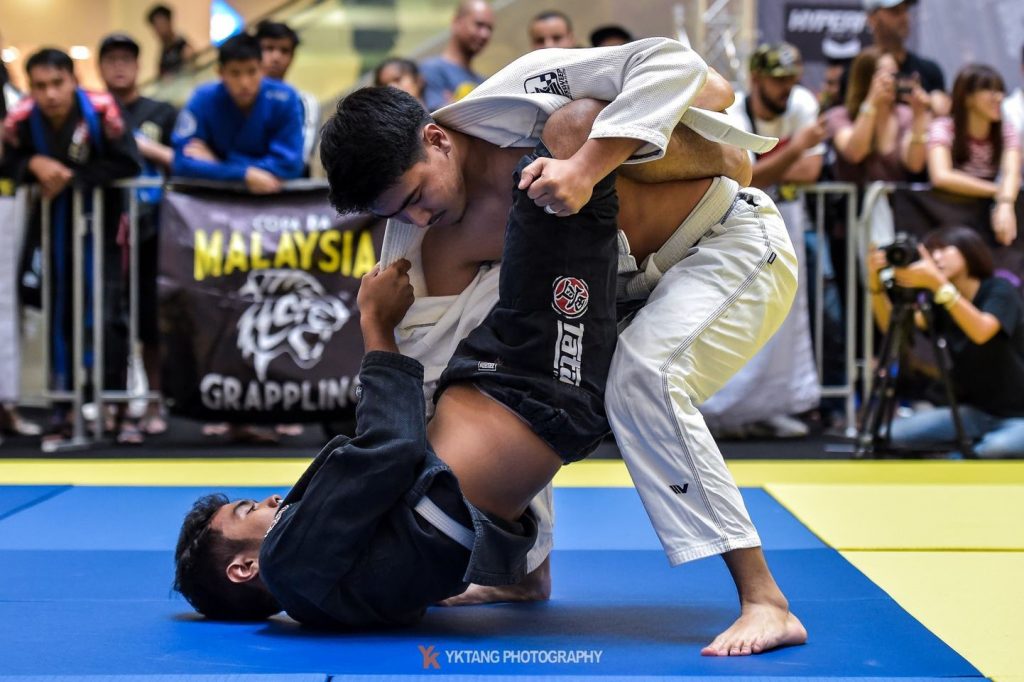 In Johor saw SubZero Grappling, Johor Open and Copa da Johor being organized. In 2017, in Sabah two major grappling tournament – Copa de Borneo & Sabah Grappling Quest  attracted many participants from West Malaysia, Sarawak & Brunei and black belt from foreign countries. Last even saw an event Malaysia BJJ – Kids International being organized just for kids to compete.
Malaysia's Jiu-Jitsu exponents also have been participating on their own and representing their gym and clubs in international Jiu-Jitsu tournament and many have won medals and proudly flown Malaysia flag in foreign land.
Among them are Prof Lim Fang Han – IBJJF Manila Masters 1 Brown Belt Champion, Prof Soh Boon How – Gold medalist, Taiwan Open & Pan Asia BJJ, Cassandra Poyong – Gold medalist – Abu Dhabi World Jiu-Jitsu Championship 2019, Damon Soo – Gold medalist in 2019 Dumau Saigon, Adam Akasyah – Gold medalist IBJJF London Open Jiu-jitsu Championships.
Last year in Manila's 30th S.E.A Games saw the first time ever Jiu-Jitsu included in the biggest biennial multi -sports event in South East Asia. Team Jiu-Jitsu Malaysia had a hard time convincing officials to let them go to Manila as OCM need some pre-requirement to be fulfilled. Eventually Team BJJ Malaysia managed to make it as category B ( which means they have to fund their own expenses ). 4 athletes competed and they brought back 1 silver ( Cassandra Poyong – Female 55kg ) &  2 bronze ( Adam Aksyah –  Male 69 kg & Ai Jin Lee – Female 45kg ).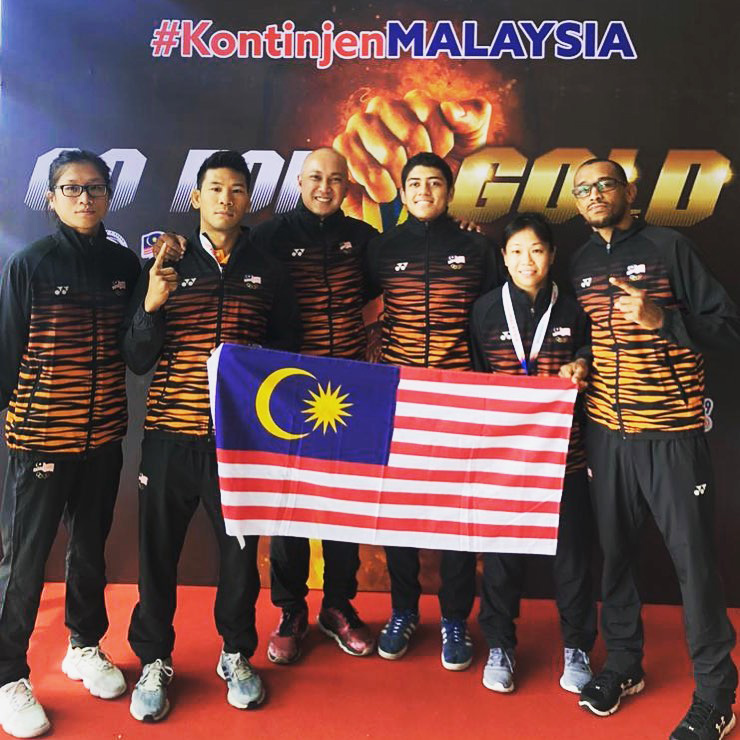 Which leads to this story on Malaysia Jiu-Jitsu Federation ( MJJF ).The formation of MJJF will see a great leap forward for Jiu-Jitsu as a sports in Malaysia. With a national sports body in place the overall governance of a Jiu-Jitsu as a sports including support, development, leadership and direction will be more structured.
One of the pre –requirement of OCM for BJJ was the sports need a structured programme from grassroots to the national squad. A national body can help in this by developing Jiu-Jitsu from school level right up to national squad competing in international events.
It can also be the organisation that select the best athlete to represent the country in international sports event and give athletes the support in terms of centralized training and travelling expenses.
Lead by president, Akasyah Bin Sabri. These are the others in the committee: Vice President – Lim Fang Han. Honorary Secretary – Sharizal Bin Md Sidek. Deputy Secretary – Natalie Cheng. Treasurer – Jonathan Yip. Md Nashriq Bin Md Nassir, Chua Chien Ming, Mohd Fouzein Bin Mohd Fozi, Benjamin Ong, Mohd Rizal Ismail Celestial, Raphael Moa.
Warriors.Asiatalked to Vice president, Prof Fang, on finding out more on MJJF.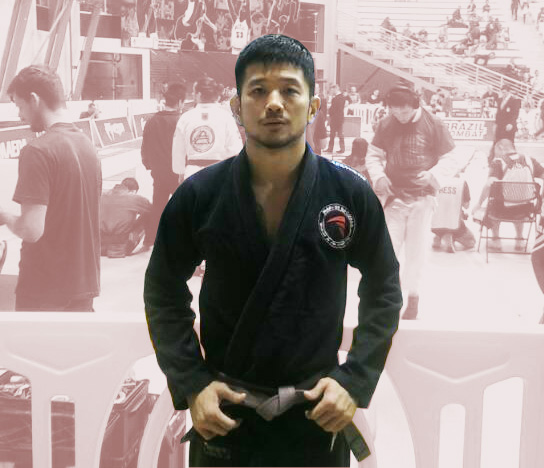 First of all Prof, thank you for doing this interview.  Can you share with readers what is the objectives of MJJF?
Develop, encourage and promote the growth of the sport of Jiu-Jitsu in Malaysia;
Plan, encourage and promote grassroots development of the sports of Jiu-Jitsu in Malaysia;
Identify and support talent development of Jiu-Jitsu athletes, coaches and officers;
Select athletes for Malaysian national teams competing in local and international sports Jiu-Jitsu competitions; and
Represent Malaysia in JJIF and other recognised international bodies representing the sport of Jiu-Jitsu.
MJJF's name does not contain the word "Brazilian". Does MJJF include Japanese Jiu-Jitsu?
MJJF is the national governing body for the sport of Jiu-Jitsu in Malaysia and Malaysia's representative and member in the Ju-Jitsu International Federation ("JJIF").
Jiu-jitsu originates from Japan and spread around the world as a form of martial art, self-defense and sports. A number of modern martial arts trace their origins to Jiu-Jitsu including Judo, Aikido and Brazilian Jiu-Jitsu.
MJJF's focus is in the sports aspect of Jiu-Jitsu.
As a member of JJIF, MJJF may eventually develop all three different types of Jiu-Jitsu competitions:
(1)          the Duo System;
The Duo System is a discipline in which a pair of Jiu-Jitsu practitioners from the same team show possible self-defense techniques against a series of 12 attacks;
(2)          the Fighting System;
Three-minute combat rounds between athletes from opposing teams covering stand-up, grappling and groundwork; 
(3)          Jiu-Jitsu (named as Ne-Waza or Brazilian Jiu-Jitsu).;
Also known as Brazilian Jiu-Jitsu.
MJJF is currently focusing its efforts on Jiu-Jitsu/Ne-Waza as Jiu-Jitsu features as a medal sport in the South East Asia (SEA) Games, Asian Games and there are efforts to make Jiu-Jitsu an Olympic sport.
The Malaysian BJJ scene has different gym affiliations to different Black Belts and schools. Does MJJF intend to consolidate the whole scene into one group for belt promotions?
MJJF recognises that Jiu-Jitsu in Malaysia is taught in many Jiu-Jitsu gyms and schools which are affiliated to different international Jiu-Jitsu gyms, schools, associations and federations. As such, MJJF will not grade nor promote Jiu-Jitsu practitioners but rather focus on helping to develop and promote the growth of the sports of Jiu-Jitsu as a whole in Malaysia.
How does MJJF rate Malaysia's Jiu-Jitsu scene in comparison to other countries in ASEAN?
What does MJJF intend to do to improve Malaysia's position?
With the establishment of MJJF, we hope to work closely with Jiu-Jitsu state associations, gyms and schools to encourage grassroots development of the sport of Jiu-Jitsu by having Jiu-Jitsu taught in schools and universities. In the future, we would like to see Jiu-Jitsu feature in Sukan Malaysia ("SUKMA") which is a biennial national multi-sport event involving young athletes from the various states in Malaysia.  
MJJF intends to collaborate with Majlis Olimpik Malaysia, Kementerian Belia dan Sukan and Majlis Sukan Negara to benefit from their expertise as well as their modern sports facilities such as Institut Sukan Negara to elevate the performance of our Jiu-Jitsu athletes.
MJJF will work with the media to raise the profile of Jiu-Jitsu in Malaysia so that we can bring Jiu-Jitsu into the mainstream and increase the participation from the general public, companies and government bodies with the sports of Jiu-Jitsu.
All of the above initiatives are important to propel Malaysian Jiu-Jitsu to greater heights.
If other countries have any advantage over Jiu-Jitsu in Malaysia, it would be that they are better organised as they have established their governing bodies much earlier and able to pool their resources more effectively to support the growth of Jiu-Jitsu in their respective countries and help improve the performance of their national athletes.
With current pandemic situation which affects the practice of BJJ generally, how does MJJF intend to help gyms/ members?
Covid 19 has put the entire world into unchartered territory. To stem the tide of Covid 19, our Government has taken steps such as issuing standard operating procedures ("SOPs") to regulate various activities. BJJ which is a combat/ contact sport is not exempted and partner practice not allowed for the time being. This unfortunately has led to gyms being shut and some closed for good. There is very little that MJJF can do in the current situation other than to encourage Jiu-Jitsu gyms and schools to abide by the Government's SOPs as the safety of all individuals is paramount.
MJJF hopes that the situation will improve in the not too distant future to allow Jiu-Jitsu gyms and school to operate normally. At the same time and depending whether the Covid 19 situation improves, MJJF is preparing to organise state and national level tryouts for the national team in Q1 2021. If Jiu-Jitsu is selected as a medal event at the SEA Games 2021 in Vietnam, we intend to send a fully prepared and highly competitive team to the Games.
As for the committee members, can you share with readers, what experience and aptitudes does each individual bring to the table?
It is important to know that there are 2 major aspects to setting up a Federation, the administrative and technical (Jiujitsu skill, knowledge and experience) aspects. While everybody wants to be on the mats, there is a lot of governance and administration required to run a Federation well. These are behind the scenes activities nobody likes to do.
Therefore we have formed a group comprising various cross functional experience and expertise.
From the administrative side for example, Mr Akasyah, Mr Sharizal were instrumental in our Malaysian Jiujitsu team's 2019 SEA Games success. It was through their efforts in engaging with the OCM and Ministry of Sports that a team was eventually allowed to be sent to compete in Manila. Thankfully their efforts paid off with a medal haul of 1 Silver, and 2 Bronzes. Mr Akasyah also has experience in setting up sport associations in the past which proved useful in the formation of the Malaysia Jiujitsu Federation. From the technical perspective, we have myself (Prof Lim Fang Han) as the Vice President. I am a BJJ Black Belt under Marcos Escobar, and have been training for 13 years. I am one of the first 15 Malaysians to achieve the rank of a BJJ Black Belt. Amongst some of my competition achievements are
Gold medals at the 2019 IBJJF Manila Open, 2015 Bangkok Open as well as the 2017 Copa da Malaysia, all at Brown belt. I have also competed at the World Jiujitsu Championships in Long Beach California three times (2014, 2016, 2017) and the World Masters Jiujitsu Championships in Las Vegas twice (2018, 2019).
Apart from that, the other members of our committee are comprised of seasoned brown, purple and blue belts who know the Malaysian Jiujitsu scene very well. I am also proud to mention that the major 3 teams in Malaysia are well represented in this committee.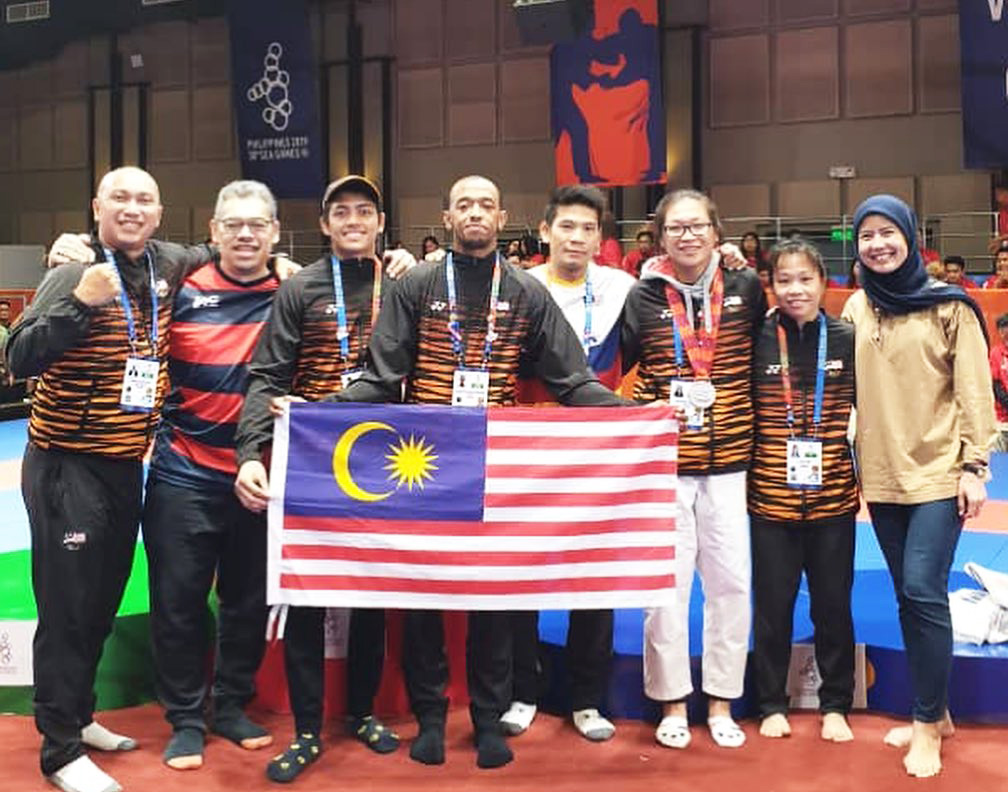 A pictures speaks a thousand words, we end this article by getting to know better MJJF's objectives, aspirations and vision by looking at their logo rationale;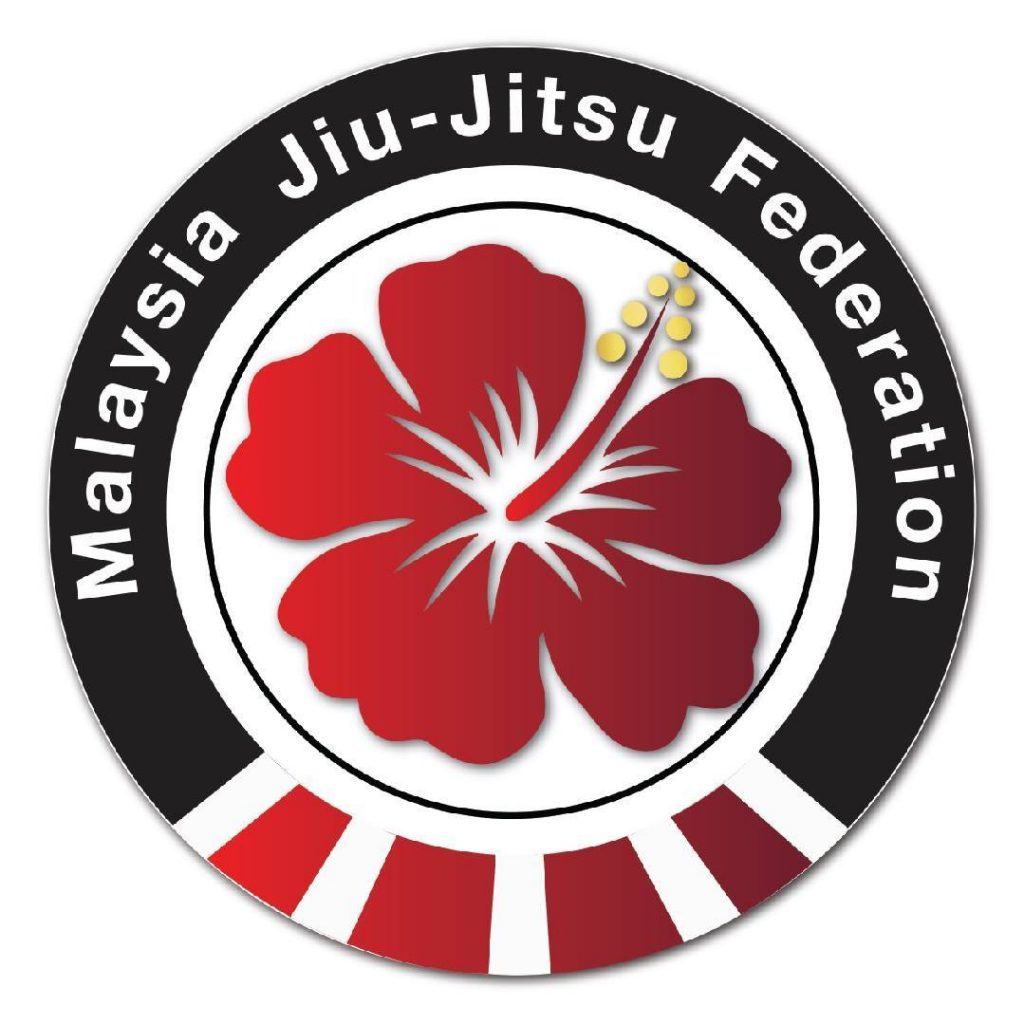 This is the description and meaning behind the MJJF logo:
1. Hibiscus rosa-sinensis or "Bunga Raya" is Malaysia's national  flower. The vibrant colour of the Hibiscus symbolises the strong determination and capability  of the Federation as the national governing body to promote and develop Jiu-Jitsu in Malaysia.
2. Black circle represents the black belt in Jiu-Jitsu which denotes an expert level of technical and practical Jiu-Jitsu knowledge and skills.  The black circle symbolises the Federation's commitment to develop, raise and maintain the quality of  technical and practical knowledge and skills of Jiu-Jitsu practitioners in Malaysia.
3. Red strip represents the red belt of Jiu-Jitsu which is the highest attainable rank in Jiu-Jitsu. The red strip symbolises the Federation's commitment to develop high-achieving/ winning national teams to represent Malaysia in international Jiu-Jitsu competitions.
4. The 5 white stripes represent the 5 objectives of the Federation:
* To create awareness of, promote and develop Jiu-Jitsu at national level;
* To undertake grass roots development, discover talent and develop athletes, officers and coaches;
* To select athletes for the national team to represent Malaysia in Jiu-Jitsu competitions at national and international level;
* To represent Malaysia in and be associated with international bodies which are recognised as representing sports Jiu-Jitsu.
* To affiliate with the international governing body Ju-Jitsu International Federation (JJIF).