.
Warrior Fighting Championship is back. This will be the 2nd WFC, the 1st one was back in Nov 2014, but some of the fights were called off due to rain. They are back stronger this time, with a theme – Combat Carnivale. There will be a rave party after fights which features Korea K-Pop girls group Laysha, Asia's Top Female DJ RayRay from Taiwan, and local popular DJ Jenni-F and DJ Ramsey.
10 bouts of fights are scheduled and 1 Grand Prix Final fight for the bantamweight MMA belt.
Today 19 SEP starting at 6pm till midnight, will see 20 fighters from Malaysia, Singapore, India, Philippines, England, France and Russia.
Representing Borneo will be two fighters from Sabah. Davendra Kumar and Clement John from Karabaw Gym.
Clement will be fighting his 1st pro Muay Thai fight. But at WFC this will be done in an octagon cage. Clement hails from the quaint town of Tamparuli around 40 mins drive from Kota Kinabalu. Home to the popular local Dusun song 'Jambatan Tamparuli' and a popular stop before the journey to Mt. Kinabalu National Park. This is also home to Karabaw Gym – Tamparuli branch. Headed by coach Vallerio Gumbilai. 
Clement trains at Karabaw Gym Tamparuli whenever he's back home as he is still studying in Kuching Polytechnic, in his last year of Petrochemical Diploma. While in Kuching, Clement sometimes train at the fame Muay Thai gym of Kuching – SS Fighter.
Clement is from a family of 4 siblings, all boys. All of them is into football, only Clement venture out to martial arts. But he still plays football actively
Clement only got started in martial arts a year ago. He used to watch UFC and MMA fights in youtube during school days and decided to enroll in a martial arts gym. Coach Vallerio trained him in MMA and MuayThai. With the guidance of karabaw Gym Head Coach – Sensei Rayner Kinsiong ( ONE FC fighter ) , Clement skills improved and he started to participate in amateur MuayThai competition. For MMA Clement fought in Jesselton Fight League ( the 1st & biggest MMA fight league in Borneo ) fighting as a bantamweight, he reached the Semi Finals. He also managed to reached the quarter finals of MIMMA3 this year.
For this fight Clement need to bulk up for Featherweight. Clement actually took this fight in short notice. He is replacing Matt Clare of USA. Clement will be fighting Wevind Bhaskaran. He will be looking to use his favorite technique of low leg kicks to control the fight.
Life is a fight. For Davendra Kumar this really rings true. During his school days in Labuan, he used to get bullied a lot. Getting fed up with not having the skills to fight back, Dave learned boxing from ex Malaysian national boxer Koh Chan Lee in Labuan.
Finding it hard to get a good paying job and with lots of financial challenges, Dave have chosen to do this full time, because fighting is what he knows best. He trains like a man possessed.
" Probably the hardest working boy in our gym. I promised him a shot if he prove to me that he wants it bad enough! He did, everyday without fail! So i kept my words… a title shot for him at the Warrior Fighting Championship 4 men bantamweight Grand Prix Title in Penang's top event! Fighting along with some very tough opponents. Win or Lose, this is a journey every fighter would have to go through… waiting for an easy fight isn't one" – Sensei Rayner Kinsiong.
—————————————————-
WFC 2 will also see the rematch of female MMA fighters ; Rachel Short of England vs Adek Omar of Malaysia. Policewoman Adek will seek her revenge after she lost by TKO to Rachel in Mixed Martial Arr – MMA on a cruise ship back in June 2015.
At Pro MMA – Middleweight, Soon Keat Lim will be representing Penang, Malaysia. His heavy hands will be meeting Nikolai Kozyrev from Russia, fighting out of AKA Thailand.
Yadwinder Singh from India is a kickboxing and BJJ champion from multiple organisations with a complete MMA background.
He will be taking on traditional martial artist Marc Guyon who's a Wing Chun master. Yadwinder is a full time fighter while Marc is a full time professional with a degree in finance from London.
————————————————–
WFC 2 will see Malaysian ONE Championship fighter, Nik Harris as the commentator
And what is a fight without the ring girls?….WFC really knows how to get this right, by selecting the most eligible girls for this through a Warrior Cage Girls Search. This is certainly a first for a fight event in Malaysia. Today fight fans will get to see the the girls that won the search which was held on 10 SEP. Cheer on guys!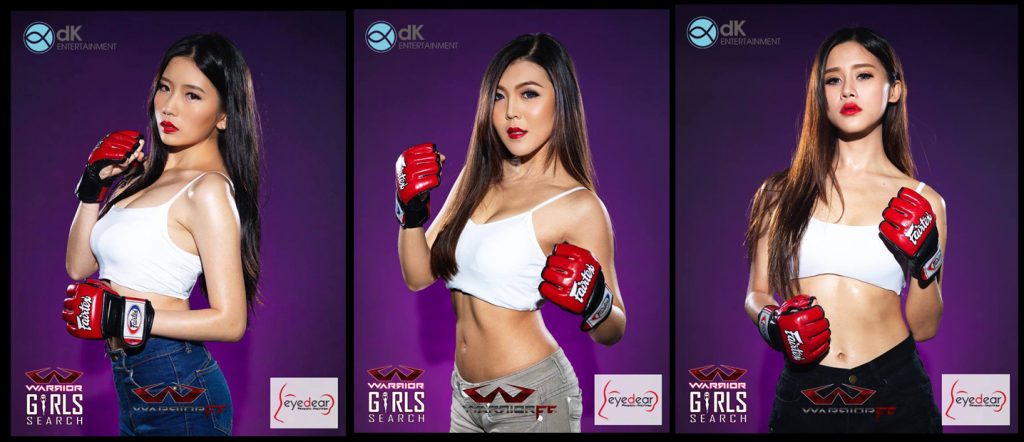 Some of the finalist…which one will be the Ring Girls of WFC…witness their appearance today 
————————————————-