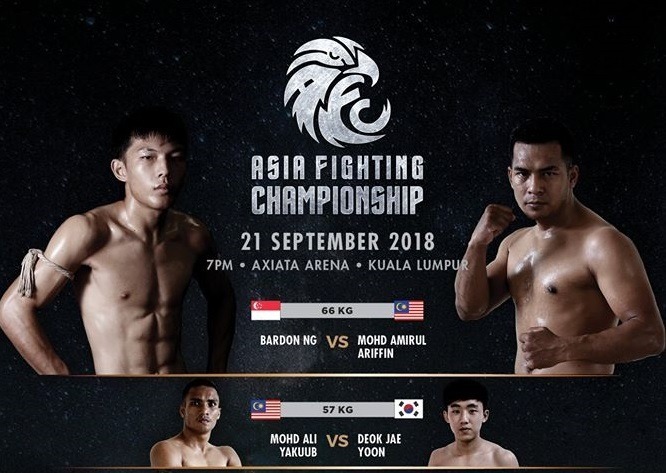 Asia Fighting Championship (AFC) returns tonight at Axiata Arena Kuala Lumpur. It was one year ago when AFC debut in Singapore. It gain a lot of attention after the 1st event when in their celebrity bout, body builder Pradip Subramaniam died from cardiac arrest after the fight.
The 2nd edition tonight in Kuala Lumpur will be all about serious business with experience Muaythai fighters from various countries around Asia competing in 11 bouts, no more celebrity fight.
Yesterday, 20 Sept was the face-off that went down at at KL Gateway Mall, Kuala Lumpur to introduce all the fighters.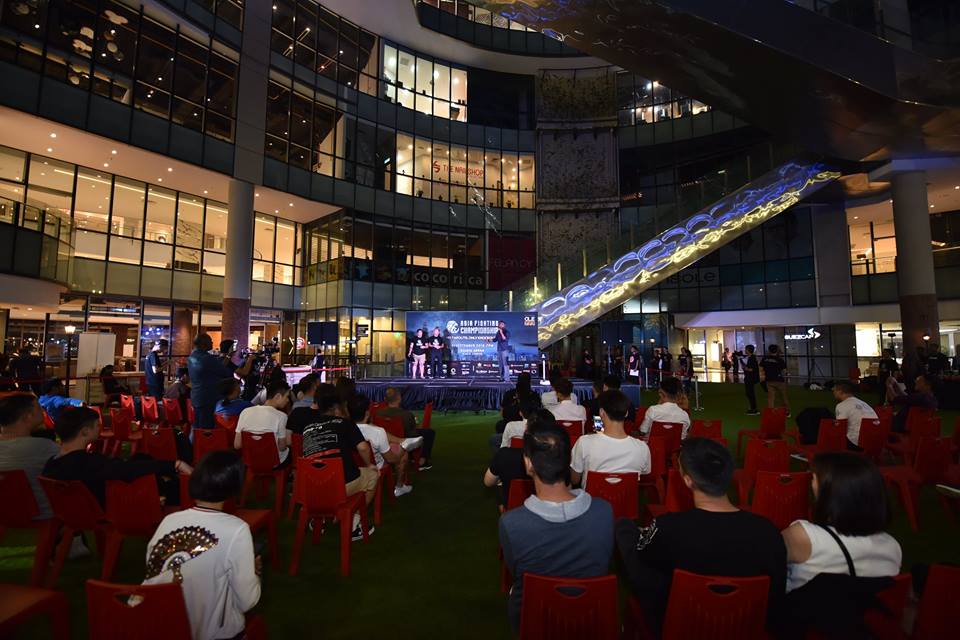 Face-off & weigh in session 20.Sept
——–#WRB——–
The two main bouts will feature Malaysia vs Singapore and Korea. SEA Games gold medallist, Mohd Ali Yaakub will be up first against Deok Jae Yoon (Korea).
Mohd Ali said,
"This is my second appearance in AFC after my inaugural fight last year in Singapore where I managed to defeat my opponent from the Philippines, Ral Sarol Francisco through technical knock-out (TKO)."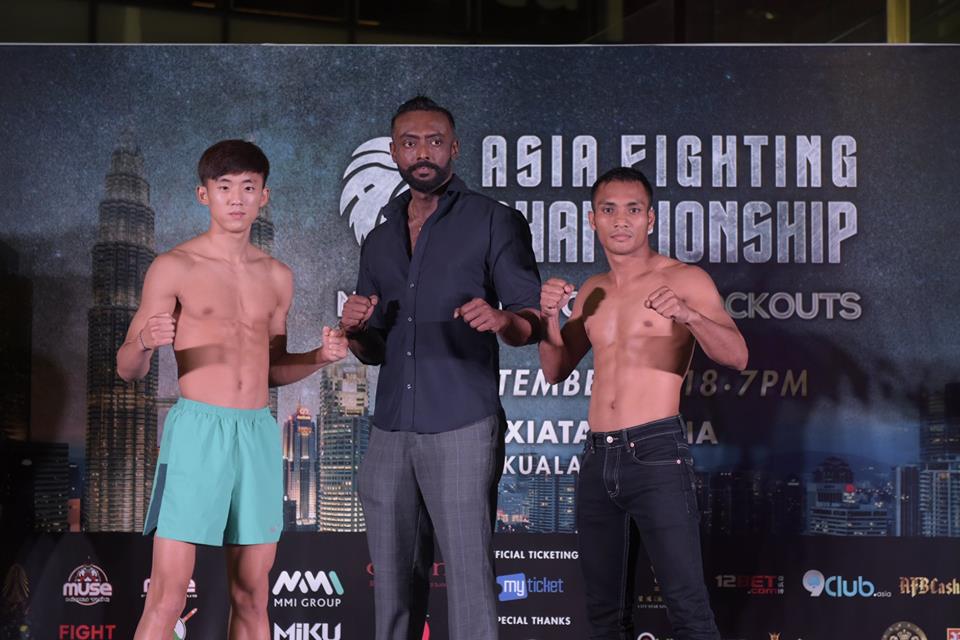 "I admit that I am a bit nervous especially as the fight draws closer. For me, this is normal and it will not affect my performance as I have been training and preparing for this fight for over a month. Now, I can only stay focussed and keep my eye on the prize when I enter the ring to face my opponent,"
added the 32-year-old fighter.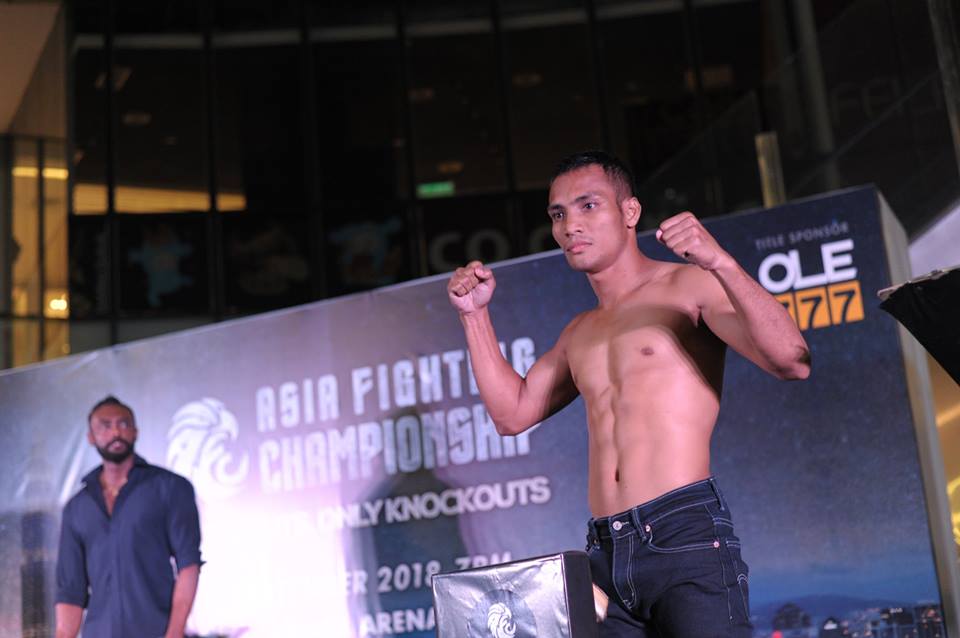 ——–#WRB——–
Another main event fight featuring our local fighter will be the duel between Mohd Amirul Ariffin also known as 'Ban Mero' against Singapore's Muay Thai champion, Bardon Ng.
Mohd Amirul said,
"I am doing some last minute preparation and working out hard to make weight for the fight. Apart from that, I still do my regular drills to stay sharp. Personally, I know facing Bardon is no easy task especially because of his obvious physical advantage. To counter that, I will have to constantly pay attention to his movements throughout the fight."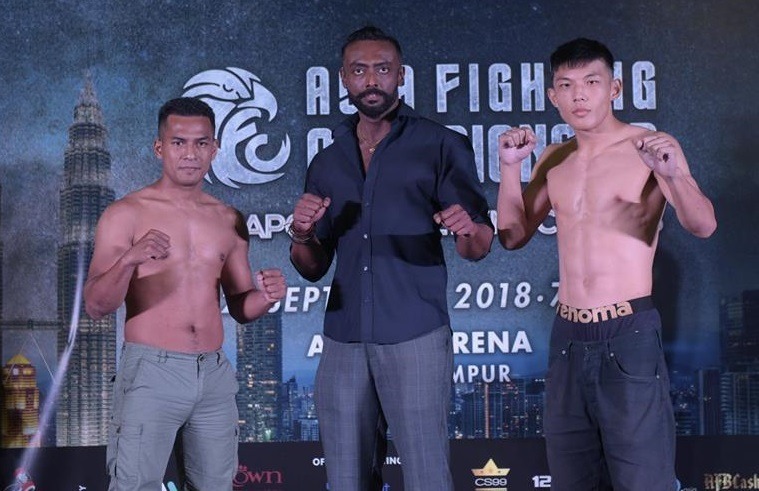 "I am thrilled and excited because I am expecting a full arena with a lot of local fans on his corner. It will definitely inspire me to do well on my home turf and get the win over my opponent on Friday,"
added Amirul.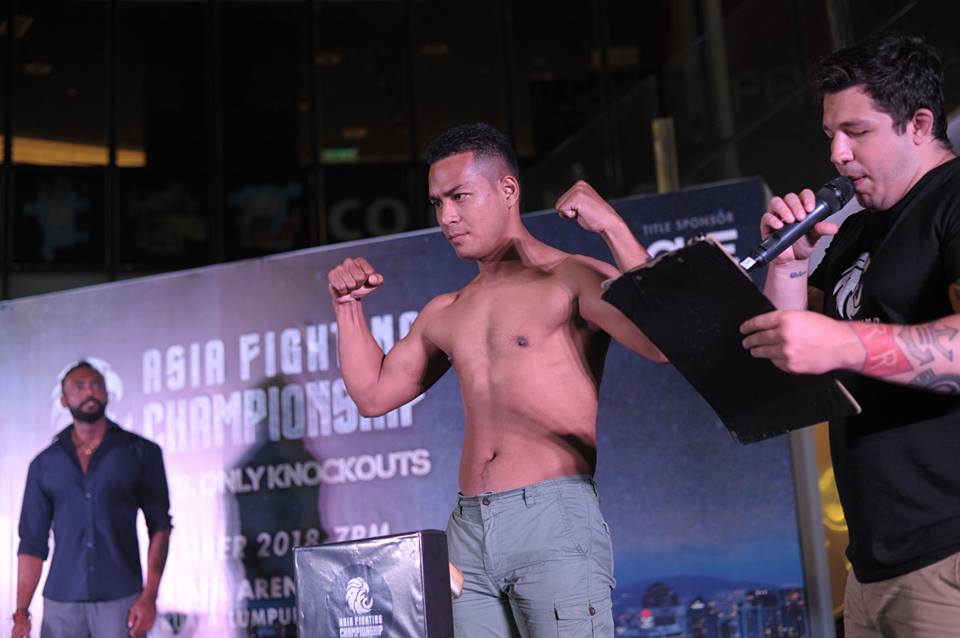 ——–#WRB——–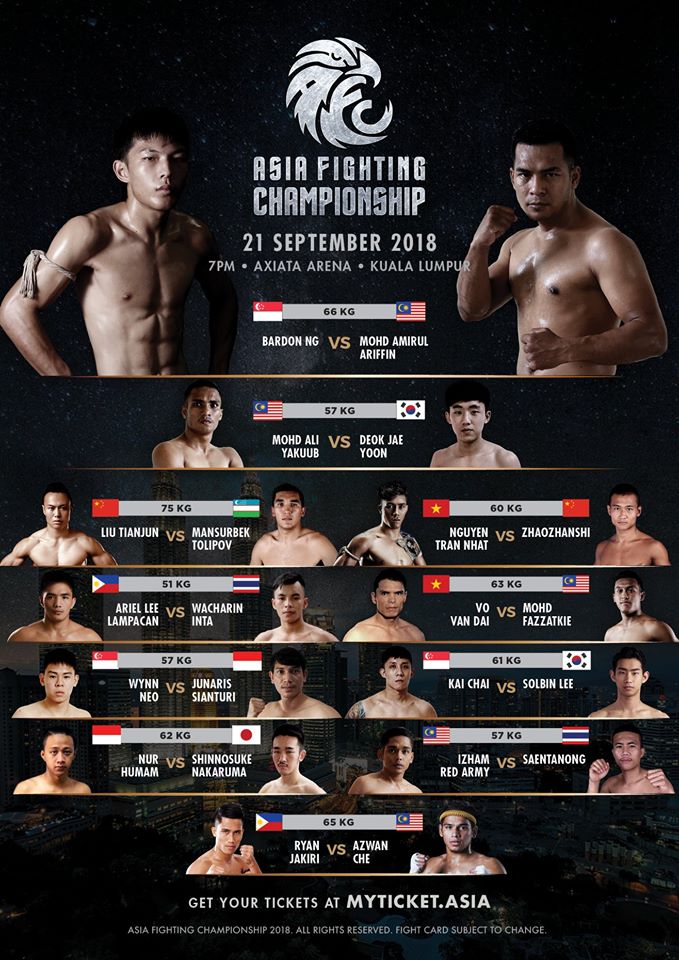 Apart from Ali and Amirul, three other local fighters will be fighting in this second edition of AFC tonight. They are Azwan Che, Izham Red Army, and Mohd Fazzatkie Zaki.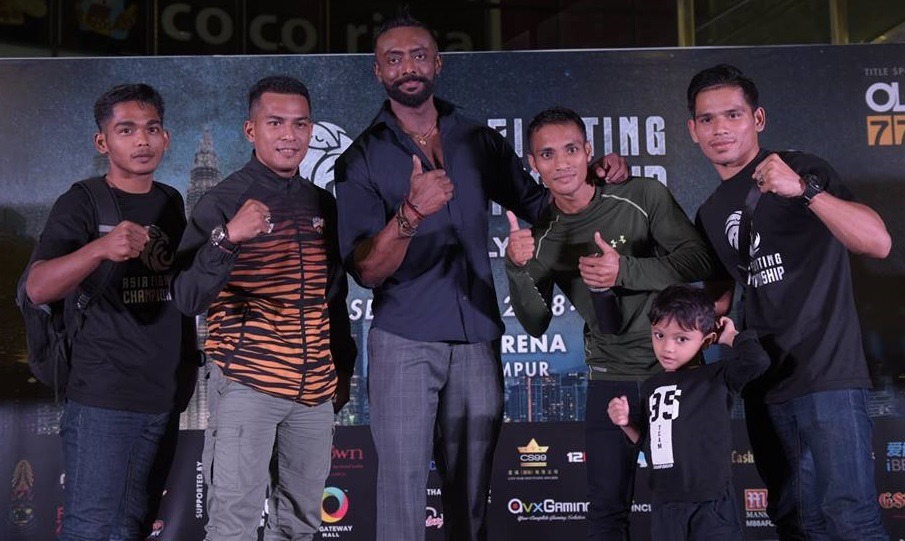 AFC founder Sasidharan (middle) with Malaysian fighters
AFC is a new brand which presents a futuristic concept of Muay Thai. The championship also features some of the best fighters from different parts of the continent such as Thailand, Singapore, Vietnam, South Korea and many more.
Tickets to watch AFC02 are still available online at www.myticket.asia and also at the door ranging from RM50 to RM150.
For more information, please visit AFC's official Facebook page at: https://www.facebook.com/asiafightingchampionship/ or log on to their website: http://asiafightingchampionship.com.
——–#WRB———