Last weekend 18-21 Mac, combat sports fans that's hungry for good fights was served with a Muaythai fest . The events was Kejohanan
Muay Thai Piala TYT Sarawak ( Sarawak Head of State Trophy – MuayThai Competition). Up for grabs are TYT Trophy, Borneo Trophy & Bintulu Trophy.

Held at the Bintulu old airport ground, the event was a huge success, saw great participation from Nak Muay ( Muay Thai practitioner ) in this Borneo region. Organised by BDA ( Bintulu Development Authority ) & PMS ( Sarawak MuayThai Association ), the objective of this competition is to discover & develop local MuayThai talent for Sarawak. Sarawak will be the host of SUKMA in 2016 & PMS is working hard to lobby for MuayThai to be included as the main medal sports.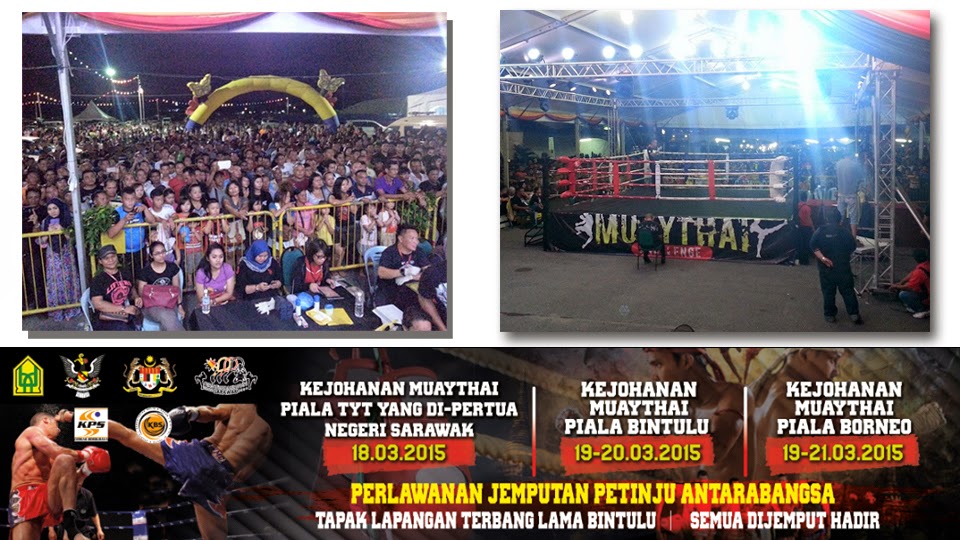 Many Pro Fights & Amateur Card was offered during the 4 days event. Among the notable results… Shafilaluddin Nordin ( SS Fighter Kuching ) defeated Hunsson Kayan ( Kenyalang MuayThai Club) to retain  his TYT Trophy. In the Pro Invitational Fight,  Ijoy ( SS
Fighter Sarawak ) won over Faisal LION BOY Ismail (  Borneo Red Lion Sabah ). 60 kilogram Pro –  Abdul Basri  ( Muay Thai Gelang WFight ) of Pulau Pinang overcome  Sunny The Silencer from Borneo Combat Labuan. Mohd Zairul Nazizan (SS Fighter Kuching) won over  Mohamad Iskandar Bakar (PS Muaythai Sebiew ) Bintulu. Pro 48 kg Borneo Trophy  saw the success of Teo Seng Meng ( Labuan TomoiAssociation ) over  Awang Abdul Rahman ( PS Muaythai Club Sebiew Bintulu ), winning by KO in the fourth round.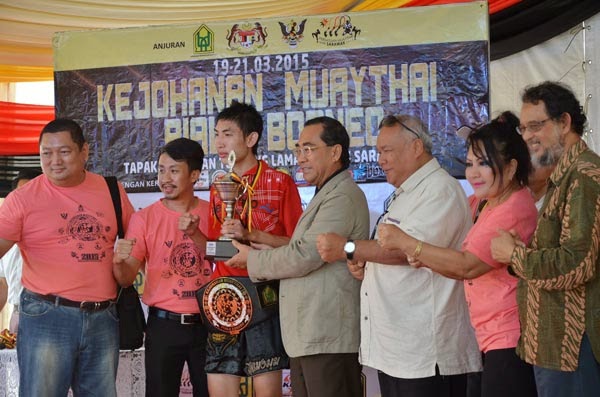 Teo Seng Meng ( LTA ) receiving his Borneo Trophy ( pix source from the Borneo Post online )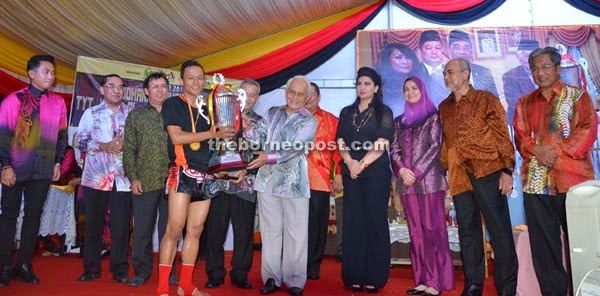 Shafiqluddin receiving the trophy from Sarawak Head of State Taib mahmud ( pix source from the Borneo Post online )
On Mac 21 also saw the signing of M.O.U between Sarawak, Labuan, Sabah & West Kalimantan to work out closer relationship among the MuayThai association in Borneo for future tournament in the region. The MOU was
signed together by Sarawak Muaythai Association president Jumaat Ibrahim ,  Sabah Muaythai Association president Ir Nazri Ab Razak, Labuan Tomoi Association president Aswadee Taba and West Kalimantan Province Muaythai Association president Markus Koknak.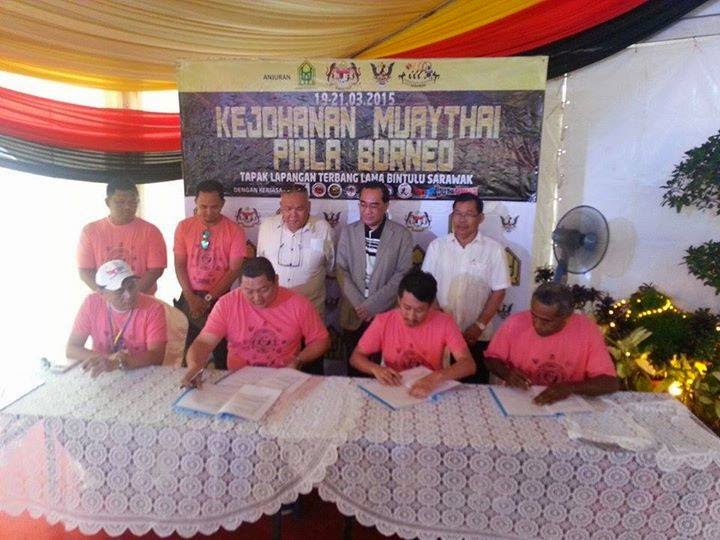 Sabah team was lead by Chef De Mission Ir Hj Nazri Razak. Through his effort the Sabah team was selected from various gym in Sabah & he also formed the managing team that supported the athletes. Hj Nazri is no stranger to MuayThai in Sabah. As the Group MD of Dihnar Group, he has contributed tremendously to MuayThai in Borneo, especially in Sabah where D1 Fighting Championship has been held for 4 times. With the
help of Sensei Rayner Kinsiong of Karabaw Gym, Sabah team brought home 6 Gold, 4 Silver & 5 bronze.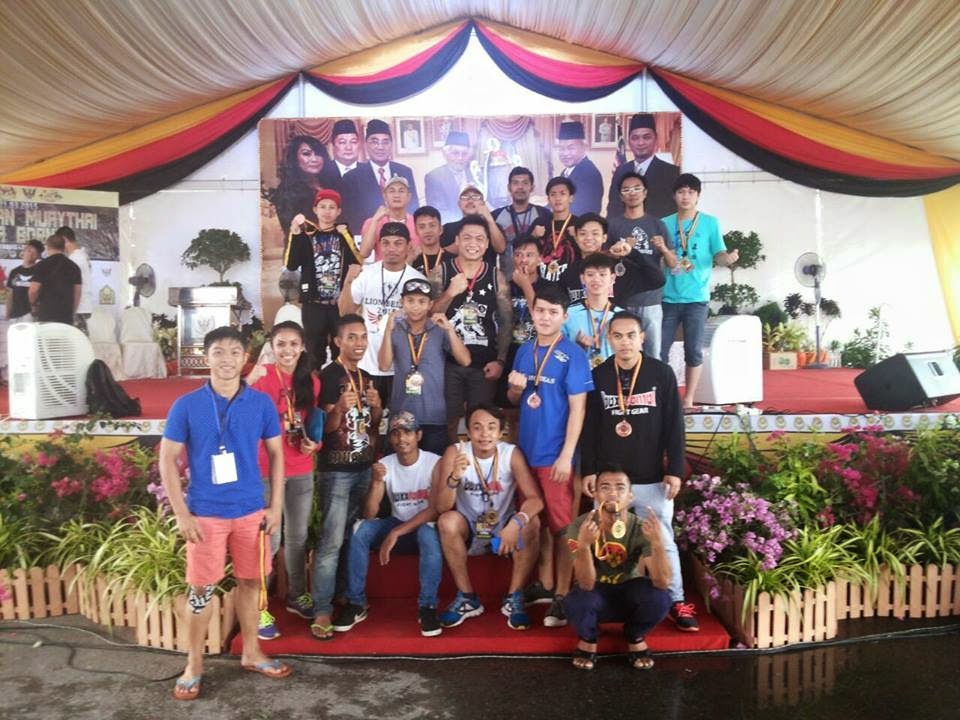 The sucessful Sabah team ( pic source from Dihnar FB page )
Syafiq Akmal of
Dihnar BoxxArena
who won gold his win will give him more confidence for his upcoming fight at Jesselton Fight League (JFL ) 4 April 2015. Read more on 
JFL facebook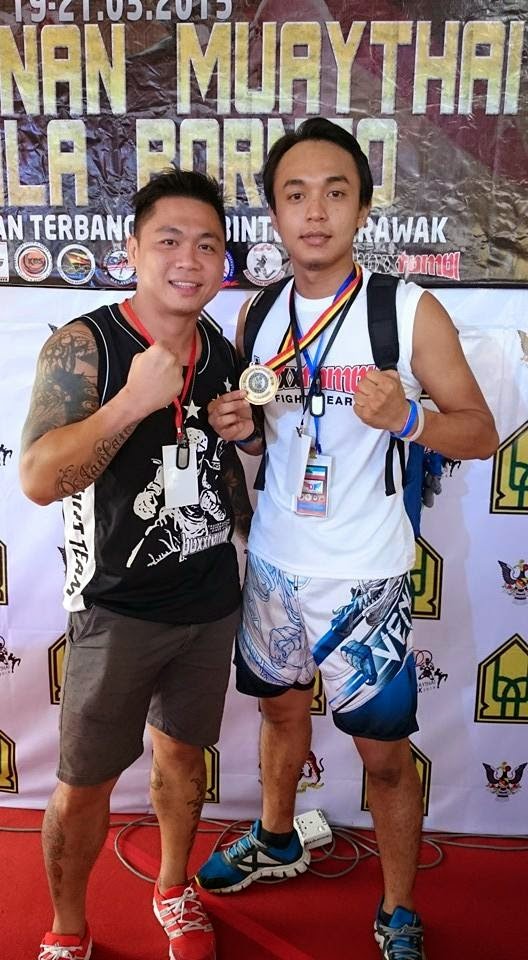 Syafiq (R) with his mentor Rayner Kinsiong (L)
From Warriors of Borneo,…Congrats to all the Warriors from that participated in this tournament!News source from BorneoPost Online / Utusan Borneo
Read
more: www.theborneopost.com