Ultimate Beatdown 24 is set to take place tonight at their iconic location of rooftop of Plaza Sentosa Johor Bahru; hence the name Rooftop Duel for this edition.
This is their third show for the year. UB will close the year with a bang in Nov when they move location to Medini Mall.
As for this 24th edition, a really packed card of amateur fight has been planned. 17 Boxing, 17 Kickboxing and 20 MMA, bringing it to a total of 54 bouts! from as many as 14 countries competing.
Astounding numbers indeed, but in their 23th edition, UB hit a high of over 60 bouts, which drag the show to 1.30am. Amazingly the crowds stayed through the whole night to catch the main event where Johorian home grown MIMMA 4 women champion Jihin Radzuan took home the victory in her 1st pro MMA fight vs Masrina Hamka of Indonesia.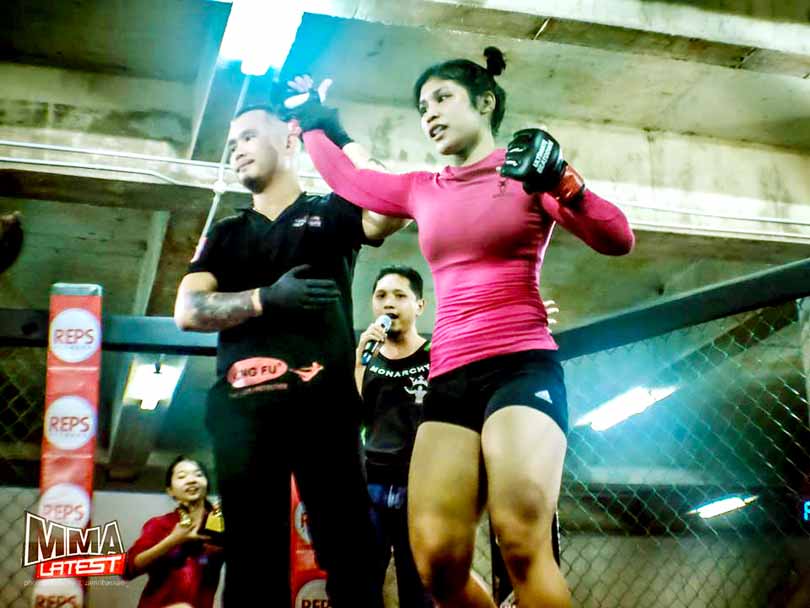 Jihin securing her first pro MMA win in UB23
This goes to show the amazing support UB received from it's fans. What started as a competition among MMA practitioner to improve on each other's skills in the early days of MMA in Malaysia way back in 2008 has now achieved legendary status as the pioneering MMA promotions in the region and the longest running promotions in Malaysia.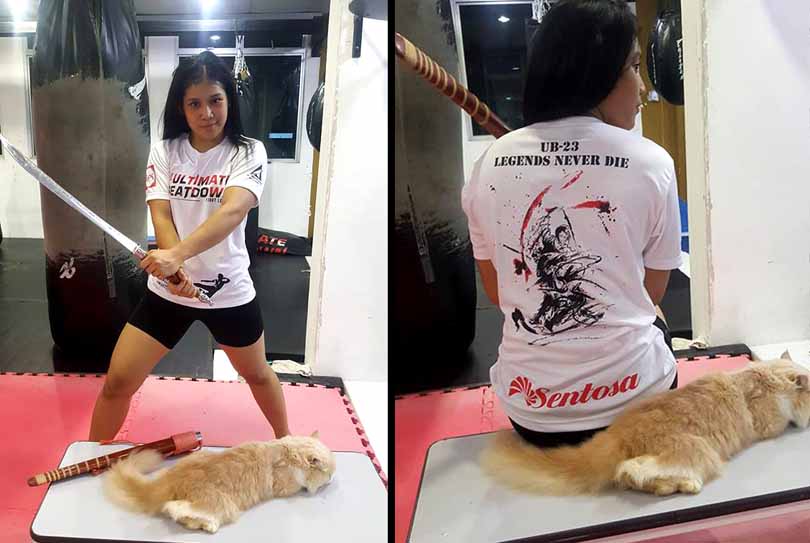 check out the UB t-shirt for sale at event ground, only the Tshirt available ya, not the girl, not the sword or the cat, those are taken
UB is founded by the pioneer of Malaysian MMA, a school teacher name Melvin Yeoh. He himself self taught and learnt through trial and errors and became a ONE Championship pro MMA fighters. Achieving success in the cage and gave Sabahan AJ Pyro a great fight for the ONE Championship Malaysian National Featherweight Belt in 2013.
Also through his own effort and passion to grow the sports he got together his team to organised UB, slowly improving it show after show. Through the UB metal cage, many local MMA fighters has gain valuable experience and some have progress to the bigger stage. Melvin also happily shared his experience and guidance and inspired Rayner Kinsiong to start Jesselton Fight League in Sabah.
Melvin's effort to bring MMA to the forefront of Malaysia has definately shown results as there's no difficulties to look for fighters to fight in UB. The grassroots is the future of MMA. By pitting local Malaysians with international fighters also can push the level of standard for us.
Even Victor Cui ( the CEO of ONE Championship ) made an appearance in 2013 in a UB event, perhaps to scout for new talents for his organisation.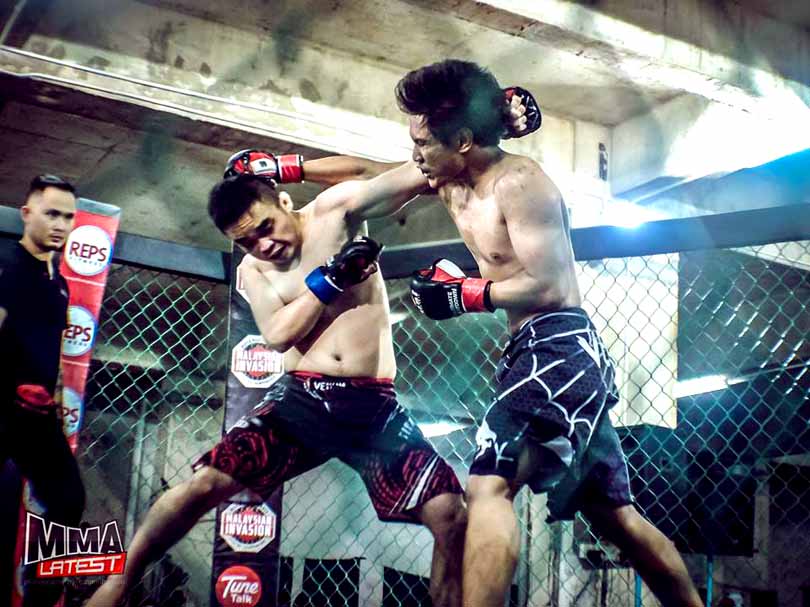 Aaron Lo in action during UB 23
Tonight's edition will see the main event of Aaron Lo vs Shihab Mustafi from Liberia for the Bantamweight Title.
Aaron a practicing accountant from Kuching Sarawak is a product of UB itself, fought first time in 2015 in UB 18, Aaron fought four times in UB, kept improving from fight to fight and is currently undefeated in UB. Which qualify him now to fight for a title belt.
Aaron started his MMA journey in GymBox Kuching, under head coach Matt Pellino. Matt has since left and worked in Hong Kong, but Aaron and his team mates still continue training on their own. Most of the time he trains with Jace Law, MIMMA 4 Lightweight champion.
Even without a head coach, the one that kept him going is the desire to fight and to test himself in the cage. Aaron does not see MMA as a career but as an outlet to release stress and to constantly push himself to improve on his techniques. It gives him satisfaction seeing the techniques he learnt and drill worked in the cage.
Aaron last fight was just a month ago in Penang's Golden Warriors FC. Defeating a fellow Borneon by KO in the 1:56 of the first round.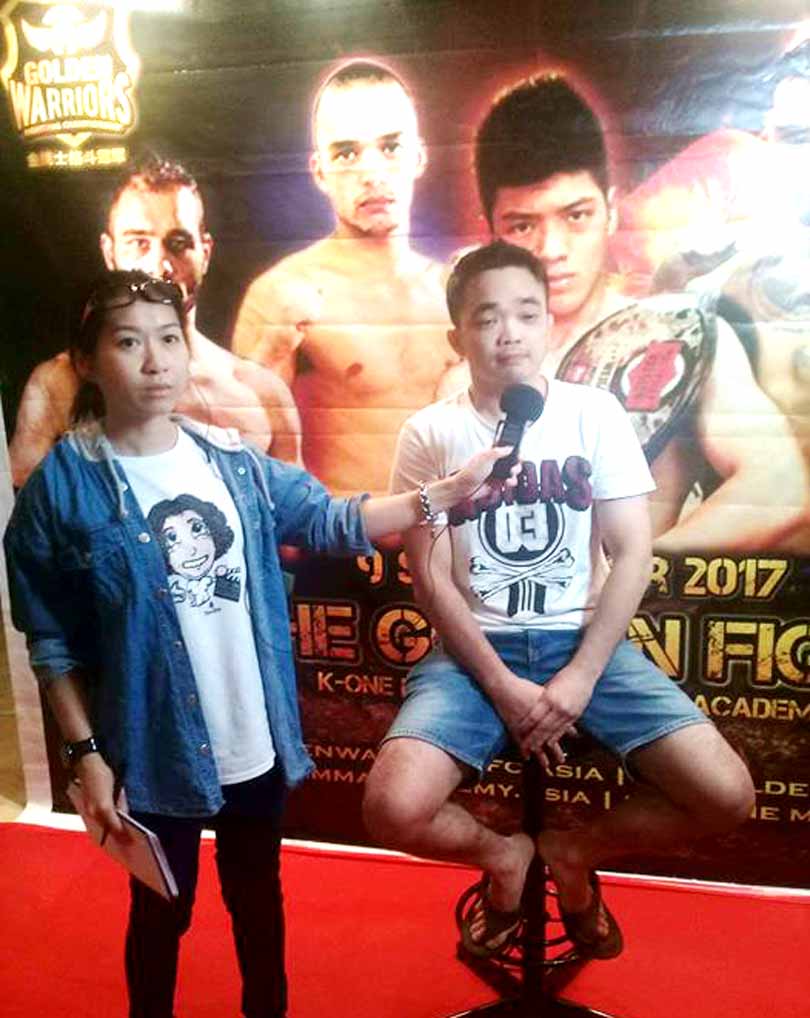 Judge Aaron unassuming apperance at your own peril…
As for Shihab, this is his 3rd fight in Malaysia. Last year his win over Hao Ting Ng with a spinning tornado kick KO became viral in the internet. But his last fight in July in UB 23 was a lost to Manthane Rane of India, so this is Shihab's redemption to collect a win and the title at the same time.
Two more representative from Borneo, Ian Sua and Edwin Aping of Team Karabaw will also be featured in the MMA cards. Ian will face Hajrah Hazwan of Lekir MMA for Bantamweight 61kg meanwhile Edwin to fight Ariff Aiman of Kelab Muay Thai Singa Muda in flyweight 57kg.
Warriors of Borneo wishes all the Borneo fighters the best of luck!