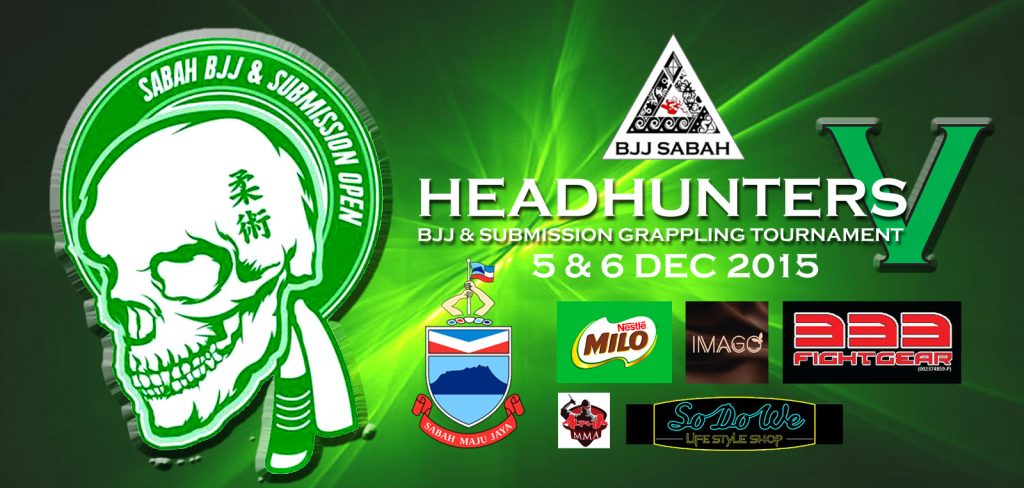 Allen Solomon Chong is a busy man…not only is he a young father to a active toddler, he works as a resident architect in Architect KDI in Kota Kinabalu, he also heads BJJ Sabah and his own martial arts & fitness gym – Alpha MMA.
In August Allen and the team from BJJ Sabah was occupied heads to toe organising Sabah Open BJJ, then in Oct back Allen and his team from Alpha MMA was busy preparing his star students Felicia Yunus whom fought at the Grand Finals of MIMMA3.
December is again time to roll….for Headhunters 5 is here!
Headhunters is a local BJJ Tournament started in 2011 by Allen with more than 80 participants. Making itself into the record book as the 1st BJJ Tournament in Malaysia. As a pioneer of BJJ in Malaysia, Allen form Persatuan BJJ Negeri Sabah to ensure a good development of BJJ in Sabah and his ultimate goal…to get BJJ into SUKMA ( Sukan Malaysia ) and with the aim of Sabah talent leading the medal tally.
Check out my previous posting about the background of BJJ Sabah here.


Headhunters & BJJ Sabah has play such a big role in Malaysia's MMA scene, athelete such as Osman ( ONE Championship Pro fighter ), AJ Pyro ( ONE Championship Malaysian Champion ), Adrian Tham ( MIMMA1 heavyweight champion ), Darren Low ( MIMMA 2&3 Heavyweight Champion ) Samuel Lai ( JFL Finalist ), Valerian Rosario ( JFL Female Champion ), Md Hasbullah ( JFL bantamweight Champion ) have all sweat, grind and roll on the matt of Headhunters before.
Looking back in 2011 when Headhunters was first organise, ONE Fighting Championship was just launch too.
This year will see Headhunters having a green theme, matching the colours of prizes sponsors – MILO.
MILO is one of the prizes sponsors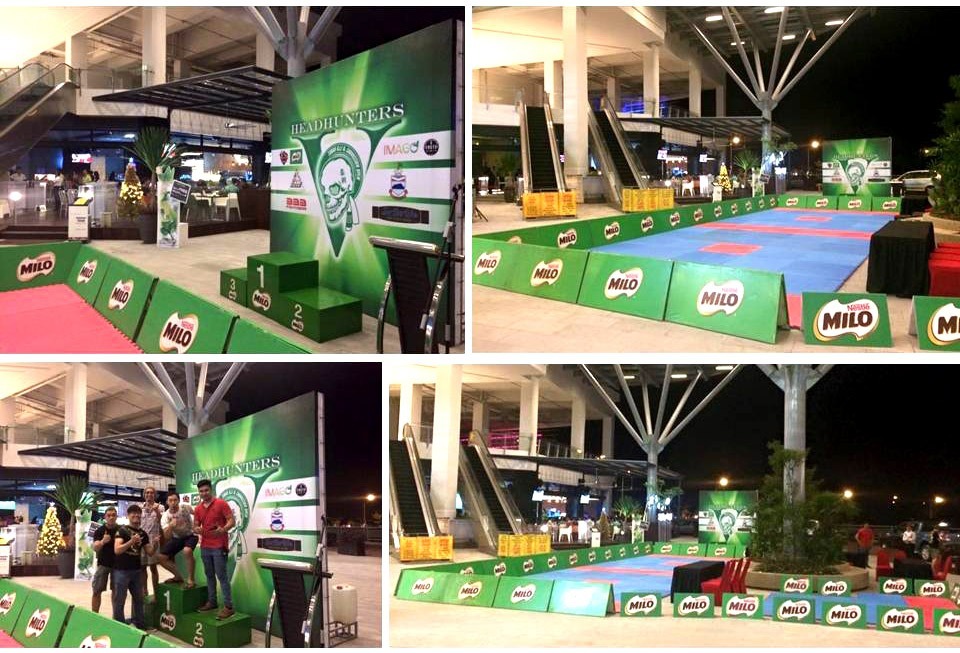 Allen and his team working late into the late to ensure all set up is proper
Winners will also get prizes sponsor by SoDoWe Lifestyle Shop & 333 FightGear. The regular venue at Citymall will make way for IMAGO Mall.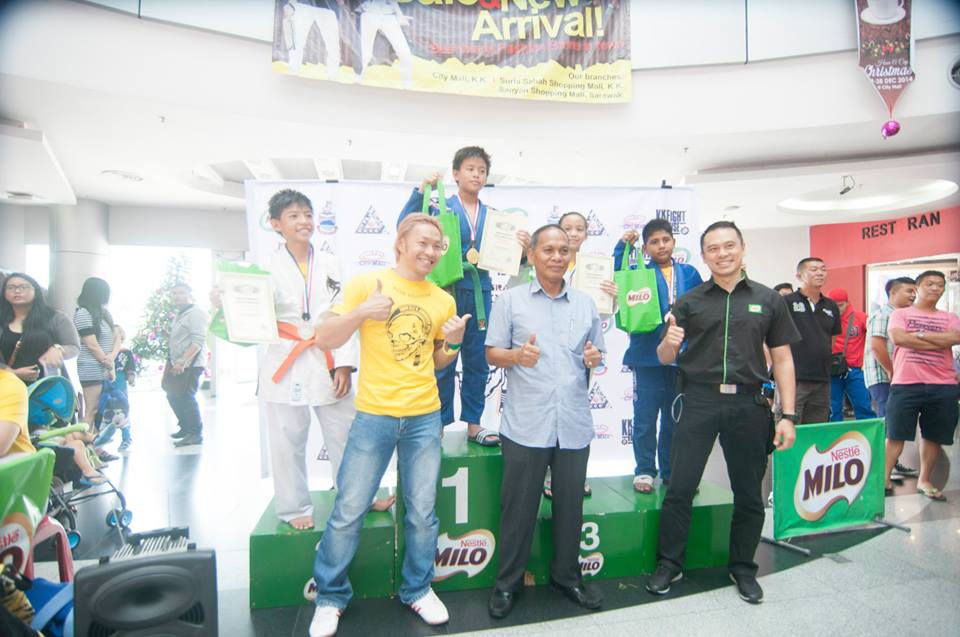 2014 Headhunters at Citymall
This year will also see greater support from the Sabah state government with the Sabah Sports Minister himself, Datuk Tawfiq Abu Bakar Titingan, officiating the launch.
————————————————————————–
Let's have a chat with Allen…
What made you started organising Headhunters? What's your goal?
" Our primary objective, in lieu with the Persatuan BJJ Sabah, is to ensure the progress of the sport of BJJ and ensure professionalism in its practice. we register members practicing the sport and also maintain a database of recognised and approved list of instructors and exponents in Sabah. the sport is new and anybody can throw on a belt, but we have a duty to upkeep the quality so that if gym owners come to us for recommendations of available coaches, or check on qualifications, we can give them reassurance of quality or address issues of conduct among our members. we take cue from other professional organisations. Like how established associations in Sabah arbitrates architects, engineers and also its clients. we are still learning and ironing out issues along the way, and we aim to eventually bring BJJ into SUKMA."
This year you are expecting how many participants? Any special activities this year?
" We expect to see up to 90 competitors signed up. We are being conservative on estimates as this is the first time we are experimenting with alternative rule sets for no-gi since we are having Sabah Open every year to cater for the IBJJF rule set. Understandably the ADCC type rules may be unnerving to some, but I am confident Borneo's warrior spirit always have surprises up their sleeve.
Aside from increase number of participants, what has greatly change or evolution over the years?
"The community has seen a remarkable growth stemming from how important the art is in the MMA scene and also availability of large reknowned tournaments in the Asian region. Local Sabahans are very passionate and shows great promise and character. the local tournaments like HH5 has always been the whetstone for which the locals sharpen their game before bringing it to the big scenes, and we revel to cater for the needs of the community. we hope to have a Sabahan BJJ Mundials champion one day."
In the early years what is the public reaction to BJJ?
" Contact! There is simply too much contact for the average person to fathom. we are brought up on stories of no-touch fighting and air punching training, but globalisation has now allowed us to be more well informed as to how physical altercations can unfold and how the grappling game has its niche."
What other activities BJJ Sabah organise besides Headhunters?
"Our annual tournaments include the Badak open, Sabah Open and Headhunters grappling tournaments."
We also have a youth development program and frequently send our youths to participate in major tournaments around the region. this could not happen without the support of the State Sports Ministry and the enthusiasm and unity of the athletes, training partners and coaching team."
BJJ Sabah also was very successful in Sabah BJJ Open, in the future how do you differentiate the events?
" Sabah Open will primarily operate with the International format, namely IBJJF style.
Headhunters will cater for submission grappling rules like ADCC. We will still have the gi operate in IBJJF however."
From interactions with people, many are still rather blur to BJJ, I mean they do not understand the techniques and what the athlete is trying to do and how points are scored…from my observation the way MIMMA do the live commentary it seems to educate and make the general public undertsnad MMA better, would u be thinking of such move in future?
" I believe live commentary should stay within promotional events. We aim for athlete performance and we seek not to distract the athlete's focus. We have many recognised gyms and instructors listed by the association that will be more than happy to spend the light of day to explain to prospective practitioners the nuances of the sport, personally. BJJ guys are a very friendly bunch. Our focus is on the athletes. our tournaments are for the athletes.
And if all else fails, i will advise the famous quote: google it."
Over the years who are the contestant from Headhunters that you see has achieve great success?
" The greatest success is always the success that has yet to come. look to the youths for the answer."
Which team are strong this year?
" Every team brings something special to the table. The strongest team is the most united team. We may have different factions, but we are all united in Persatuan BJJ Sabah. We are Sabah strong!"
Tell me about Alpha MMA 's youth program?
" The Persatuan has elected Alpha MMA to host its activities. As such, recognised potentials will not be charged for training and will receive sponsorships that are pending approva; by the Ministry on a case by case basis. Our list of sponsored youths are growing annually and look to see big things come out of the future generation. The new will almost always outperform the old. It is our job as peers to set the bar as high as possible for their betterment of aim."
BJJ Sabah also send athlete to participate elsewhere right? Tell me about it.
" Every tournament that we plan to enter, we make an estimated cost for the sponsored athletes. It is pending approval on a case by case basis. we are a class B sport, so we have to pay for the cost ourselves and hope to gain full approval after. We mainly hit up the Pan-Asia comp in Manila but this year we may expand our horizons to compete in the IBJJF circuit in japan. Expect insanity in training leading up to that."
Warriors of Borneo wishes BJJ Sabah and you a successful event for Headhunters 5.
Thank You Allen for your time.