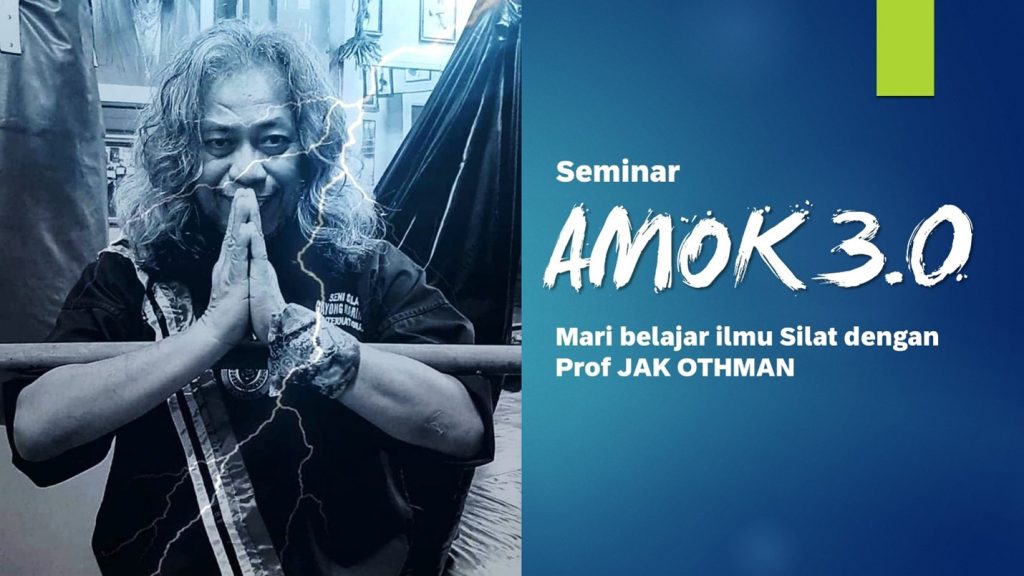 Saya masih ingat pada pertengahan tahun 90-an, ketika siri TV – MAHAGURU ditayangkan di TV3, saya akan melekat di depan TV. Siri TV ini memaparkan pelbagai seni bela-diri. Rupa-rupanya siri ini diproduksi oleh warga Malaysia sendiri yang bernama Jak Othman, nama yang sememangnya terkenal dalam dunia seni bela diri.
Lahir di Johor pada tahun 1962, beliau belajar Silat sejak usia 5 tahun, di bawah bimbingan ayahnya, almarhum Pendekar Haji Othman Kassim, generasi pertama dari silat Harimau Berantai di Malaysia. Kini beliau aktif mengajar Silat Harimau Berantai, Gayung Harimau & Kickboxing (tomoi) di Malaysia dan di seluruh dunia.
Pada tahun 80-an, beliau telah menyebarkan Silat ke United Kingdom dan mendirikan Persatuan Silat British.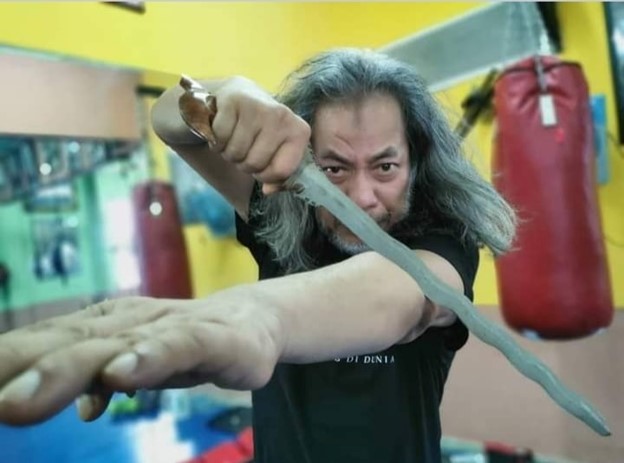 Beliau juga seorang profesor dan anggota senat di Universiti Terbuka Asia Pasifik. Menempah nama dalam Hall of Fame Seni Bela Diri Malaysia tahun 2009; dianugerahi gelaran Pendita (profesor) dan Ajarn (Grandmaster) organisasi Silat Harimau Berantai dan Silat Tomoi pada tahun 2011.
Beliau amat berpengalaman dalam bidang Silat dan ilmu senjata tajamnya sangat disegani. Beliau amat terkenal sebagai master yang mengajarkan senjata Kerambit.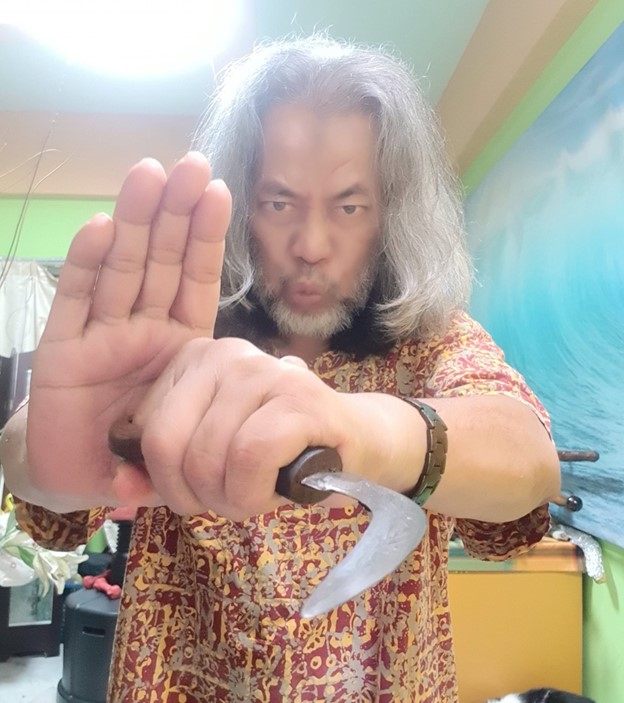 Prof Jak Othman adalah pengasas dan Grandmaster Silat Harimau Berantai International, Silat Gayong Harimau Silat International, Silat Tomoi Group, Bladetech International, King Tiger Muay Thai Kickboxing International dan The Jak Othman Kickboxing & Martial Arts Studio yang berpusat di Selangor, Malaysia.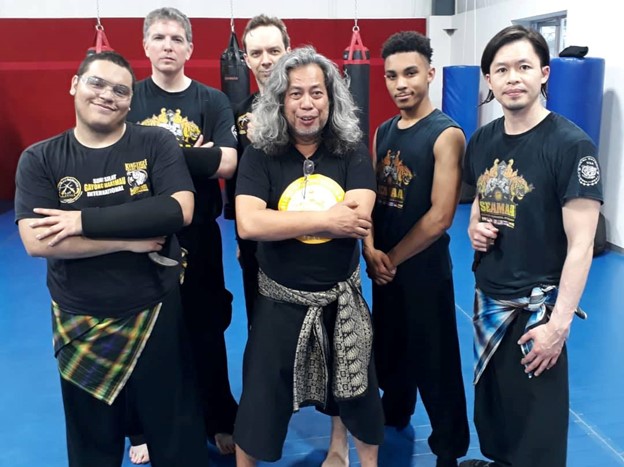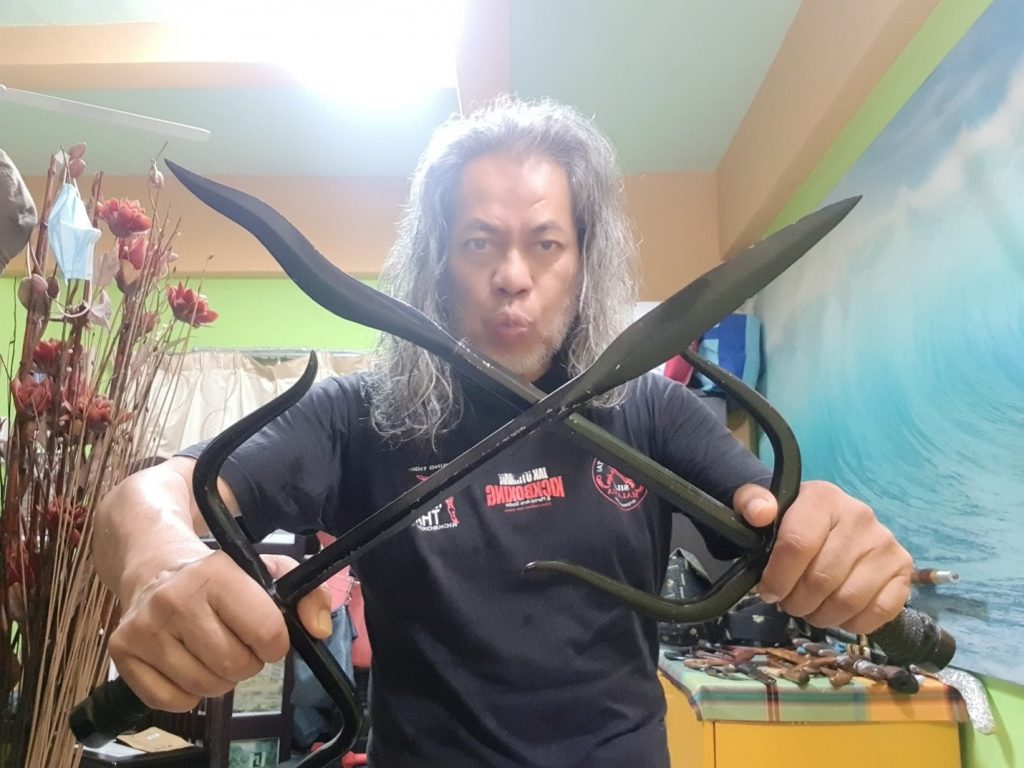 Sirkit seminar Prof Jak sangat popular & beliau aktif mengembangkan ilmu Silat di dalam Malaysia & jugak luar negara.
Pada 2020, sebaik sahaja PKP dilonggarkan, beliau telah menganjurkan AMOK 2.0 yang menjelajah Malaysia.
Tahun 2023 AMOK Kembali dengan siri  AMOK 3.0. Prof Jak sudah mula sibuk pada 28 & 29 JAN 2023, dengan seminar di Pulau Pinang & Perak. Di Sabah sahaja, beliau telah ke sini pada tahun 2020 untuk seminar AMOK2.0
Pada tanggal 4 & 5 Februari 2023 ini, untuk kali ke-3, Prof akan berkunjung ke Sabah untuk seminar AMOK 3.0 . 4 FEB di AWP martial Arts Academy , Kota Marudu & 5 FEB di Kinabalu Fighters, Kota Kinabalu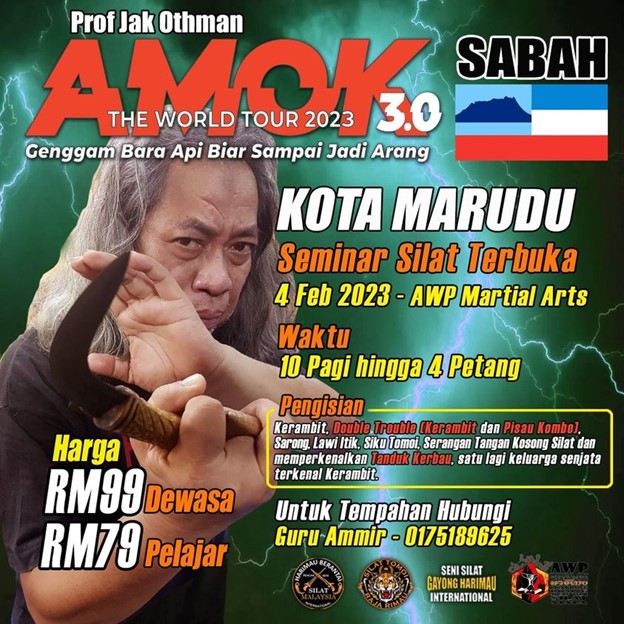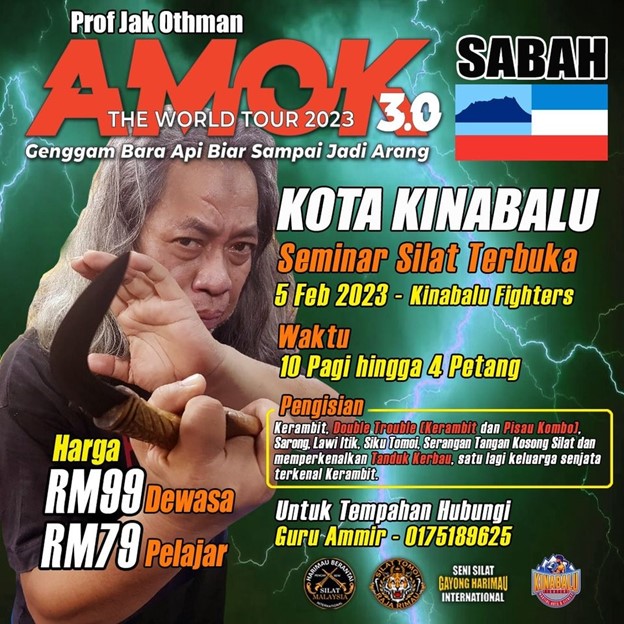 Warriors.Asia sempat bercerita dengannya.
Ini adalah kali ke-2 Prof ke Sabah, apa yang buat Prof pilih untuk menganjurkan seminar di Sabah?
Sabah ialah 'home of the headhunters and home of the ancient warriors'. Cucu cicit bangsa Pendekar Inilah orang paling berminat untuk belajar ilmu beladiri unik. Lebih-lebih lagi dari rumpun bangsa kita. Sabah is a perfect location for my seminars.
Apakah topic untuk Seminar 3.0 ini? Untuk yang tidak hadir Seminar 1.0 & 2.0 sebelum ni, boleh ke ikuti Seminar 3.0?
AMOK3.0 ialah Siri Seminar Silat & Martial Arts Prof Jak menjelajah dunia. USA dan Europe dah settle. Temanya 'Genggam bara api biar sampai jadi arang'. Semua boleh hadir. No problem. Enjoy.
Dari pengalaman Prof masa Seminar AMOK 2.0 apakah pendapat Prof tentang murid2 di Sabah ni?
Cucu cicit warriors memang minat betul tentang ilmu-ilmu tempur RARE ni. Mereka sungguh tekun belajar dan mahu mewarisinya.
Boleh ceritakan sedikit apakah kenangan yg paling nyata masa lawatan ke Sabah dulu.
Orang-orang Sabah are very welcoming. Ada yang kata "Prof ni orang Sabah ya? Rupa Prof macam orang Sabah" . Saya ya kan aja. Cuma saya belum ada peluang untuk jadi orang Sabah lagi. Tu je.😀
Masa di Sabah, di mana kah tempat yg Prof suka lawat?
Masa terlalu ketat. Jadi saya belum lagi melawat mana mana tempat menarik secara khusus😔
Apakah makanan di Sabah yg paling diminati?
Seafood sudah tentu😃
Apa pendapat Prof tentang scenario martial arts di Sabah?
Sabah bangsa warriors.  Apa saja mengenai fighting arts dan fighting events, anak-anak Sabah akan ke depan. Untuk Amok3.0, saya akan mengajar ilmu berkerambit, lawi itik, tanduk kerbau, sarong dan serangan tangan kosong.
Saya ingin mengambil kesempatan ini untuk menjemput semua rakyat Sabah untuk join saya di Kota Marudu dan Kota Kinabalu. See you all soon. Book tempat menerusi whatsapp Guru Ammir di 017-5189625. Book sekarang. Kami perlu tahu jumlah certificate yang perlu disediakan.